Creamy Tomato Pasta with Italian Sausage
This 30-minute Creamy Tomato Pasta with Italian Sausage is an easy dinner recipe perfect for busy weeknights! Chewy rigatoni pasta with Italian sausage tossed in velvety, garlicky creamy tomato sauce along with spinach. Topped with freshly grated parmesan cheese and fresh parsley.
If you want love a hearty pasta dish with sausage and creamy tomato sauce, this gem of a dish is for you!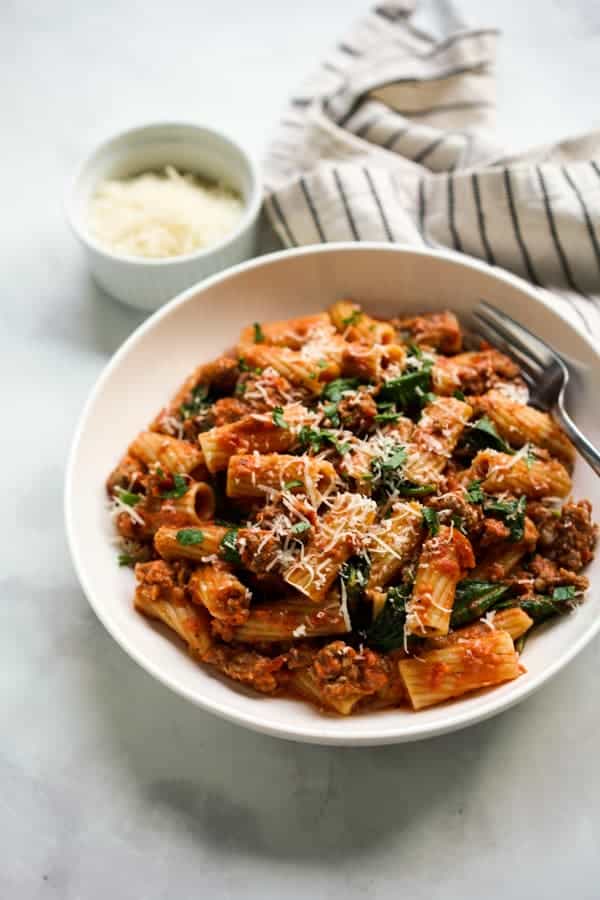 Pasta with Italian Sausage
I wanted to created a simple yet delicious meal that incorporates pasta with Italian sausage.
Italian sausage is a bold-flavored and delicious crumble meat usually made with ground pork that has so much amazing flavors by itself, it will make any dishes taste amazing. Pro tip: if you want flavor and you want it quick, Italian sausage is one of the ways to go about it!
I created this rich and delicious creamy tomato sauce made with canned tomatoes and cream that is flavored by the sausage and herb, that will coat our chewy pasta and spinach.
This creamy tomato pasta with sausage is a hearty, comforting meal that is always a big hit whenever I make it.
Something about the combination of chewy past with sausage and spinach that is kinda hidden and picky veggies eaters will even eat it.
Here's why you need to make this creamy tomato pasta with sausage and spinach recipe!
Easy to make – ready under 30 minutes with minimal ingredients. In fact, you probably have most of the items in your pantry already!
One-bowl meal – easy to eat and minimal cleanup.
A balance meal – you have your carbs, your protein and your veggie all in one bowl!
Great for make ahead and reheating – keeps and reheats incredibly well! Tastes the same the day after.
Perfect for meal prep
How to make Creamy Italian Sausage Pasta
First up: Boil pasta in water.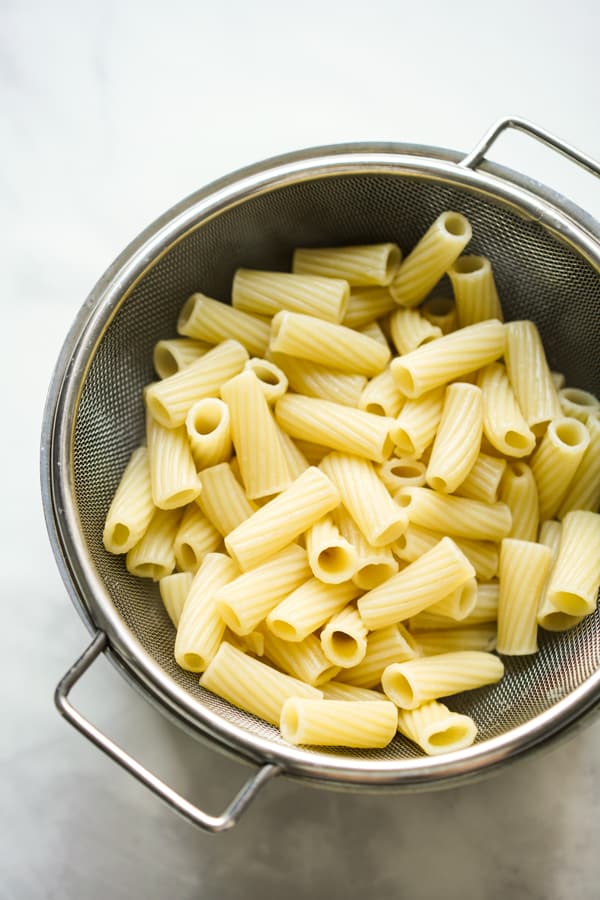 I like using rigatoni for this because it catches just enough the creamy sauce in its ridges. Not too much, not too little. Just the right amount.
It is a personal choice. So feel free to substitute with penne, ziti, rotini, macaroni, or any of your favorite pasta!
Next. While pasta is boiling, go ahead and start making the sauce on a separate skillet.
Because Italian sausage is packed with lots of herbs and spices, it brings so much great flavor to the creamy red sauce.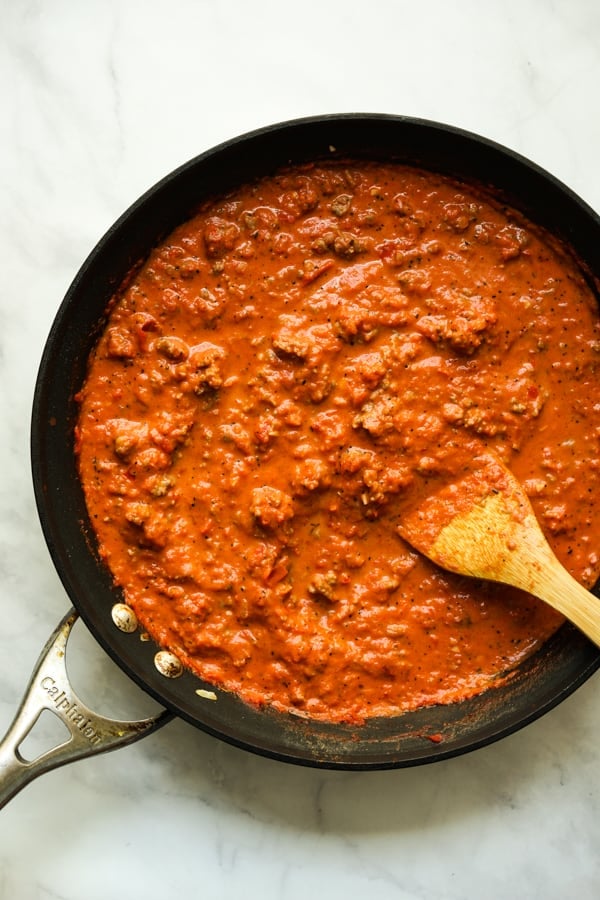 I like to still add a some spices and a little cream to bring alive this thick velvety sauce. Here are what go into making the sauce:
Crushed tomatoes
Sweet onions
Garlic
Heavy cream
Dried basil
Dried oregano
Black pepper
Bonus: if you let the sauce sit for a day or more, it becomes even more flavorful as the spices from the Italian sausage permeate even more into the sauce.
One thing is for sure – there's no lacking in the flavor department when it comes to this Creamy Tomato Pasta!
Lastly. When the sauce and pasta are respectively done, combine everything!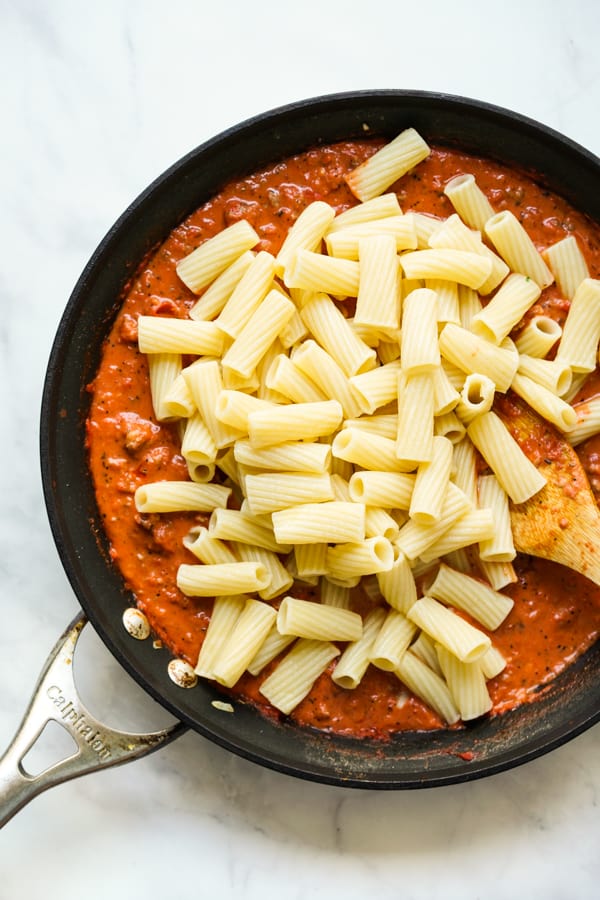 I also like to add spinach to incorporate veggies into this meal. Makes it more well-rounded, healthy, and even if you don't like spinach, the sauce and Italian sausage have such prominent flavors you can barely taste the spinach.
A great way to hide veggies for picky eaters.
Other veggies you can add to this: kale, shredded carrots, bell peppers etc.
And hold up, we are not done yet!
Garnish with fresh parmesan cheese and chopped parsley. Fresh parmesan cheese brings incredible flavor to the sauce and gives it that extra hint of saltiness.
Parmesan is non-negotiable in our household, but I won't hold you to that standard.😉 Just passionately recommend it ❤️.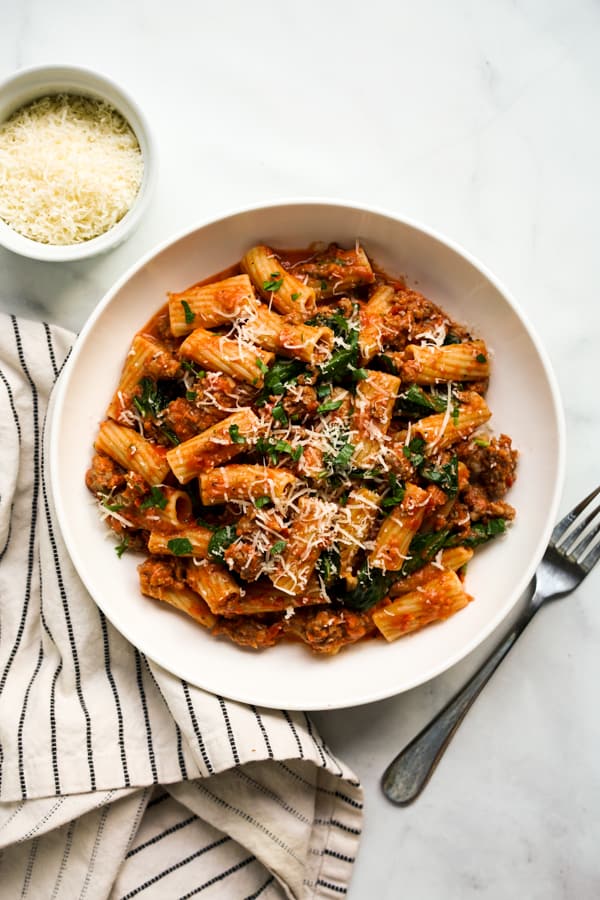 Can you freeze Creamy Tomato Sauce?
Yes! Store in airtight container and freeze it for whenever you need it! We do this often and to meal prep it for busy weeks.
I typically don't freeze pasta and only cook pasta when ready to eat. You can store leftover cooked pasta in the refrigerator though.
What to serve with Creamy Tomato Pasta?
Highly recommend pairing this meal with some of my favorites below: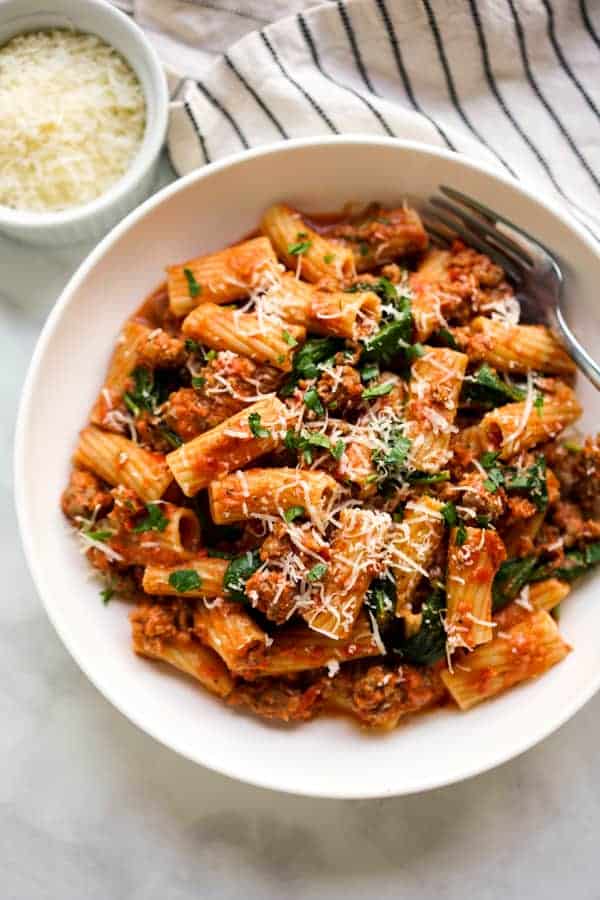 Every now and then we even fancy it up by pouring a glass of wine, make a cheese platter as the antipasto, as the Italians would call it, and turn this into fun romantic date night at home.
A lovely pasta dish that we have enjoyed thoroughly. And have eaten way more often than we probably should. 😉
This is one for the indulgence, my friends! Enjoy!
DID YOU ENJOY THIS RECIPE? Please comment below and give us a 5-star rating! This will help others find this recipe on Google and Pinterest. We very much appreciate your help! 🤍
More Pasta Recipes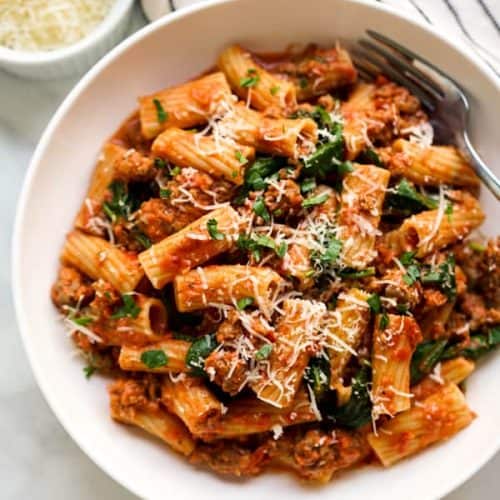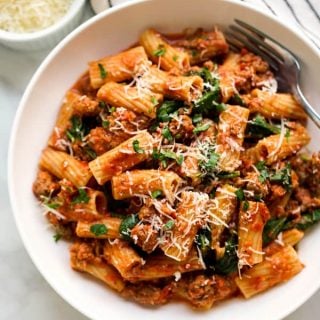 Creamy Tomato Pasta with Italian Sausage
An easy pasta meal that takes only 30 minutes! Creamy, garlicky tomato sauce packed with Italian sausage and tossed with rigatoni and spinach. The ultimate comfort food!
Print
Pin
Ingredients
8

oz

rigatoni pasta

1

tbsp

olive oil

3-4

cloves

garlic

minced

2

tbsp

sweet onions

diced

1

lbs

Italian sausage

28

oz

canned crushed tomatoes

3/4

tsp

dried basil

3/4

tsp

dried oregano

1/3

cup

heavy cream

more if needed

2

cups

spinach

a

dash

black pepper

to taste

2-3

tbsp

parmesan cheese

grated

1

tbsp

fresh parsley

chopped
Instructions
Bring water to boil in a large pot, then add rigatoni pasta. Cook using package instructions. Drain and set aside.

While waiting for pasta to boil, heat olive oil in a large skillet under medium heat. Then add garlic, sweet onions and Italian sausage. Break apart Italian sausage into smaller pieces. Saute until Italian sausage is almost cooked.

Add crushed tomatoes, dried basil, and dried oregano to sauce. Stir and bring to a boil.

Add heavy cream to sauce (see Note 1). Bring to boil and simmer for ~5 minutes. Add spinach and black pepper to taste. Stir to combine.

Remove from heat and add rigatoni pasta to sauce. Stir to combine.

Garnish with fresh parmesan cheese and parsley.
Notes
Note 1: If you like the sauce creamier, add more heavy cream.
Nutrition
Calories:
785
kcal
|
Carbohydrates:
60
g
|
Protein:
29
g
|
Fat:
49
g
|
Saturated Fat:
19
g
|
Cholesterol:
115
mg
|
Sodium:
1155
mg
|
Potassium:
1102
mg
|
Fiber:
6
g
|
Sugar:
11
g
|
Vitamin A:
2229
IU
|
Vitamin C:
27
mg
|
Calcium:
168
mg
|
Iron:
5
mg