This post may contain Amazon or other affiliate links. As an Amazon Associate I earn from qualifying purchases at no additional cost to you.
30 minutes is all you need to make this Creamy Tomato Pasta magic happen!
Velvety, tomato-y, garlicky sauce packed with flavorful Italian Sausage tossed with chewy rigatoni pasta and spinach. Topped with freshly grated parmesan cheese for an added layer of flavor and fresh parsley for that extra burst of freshness.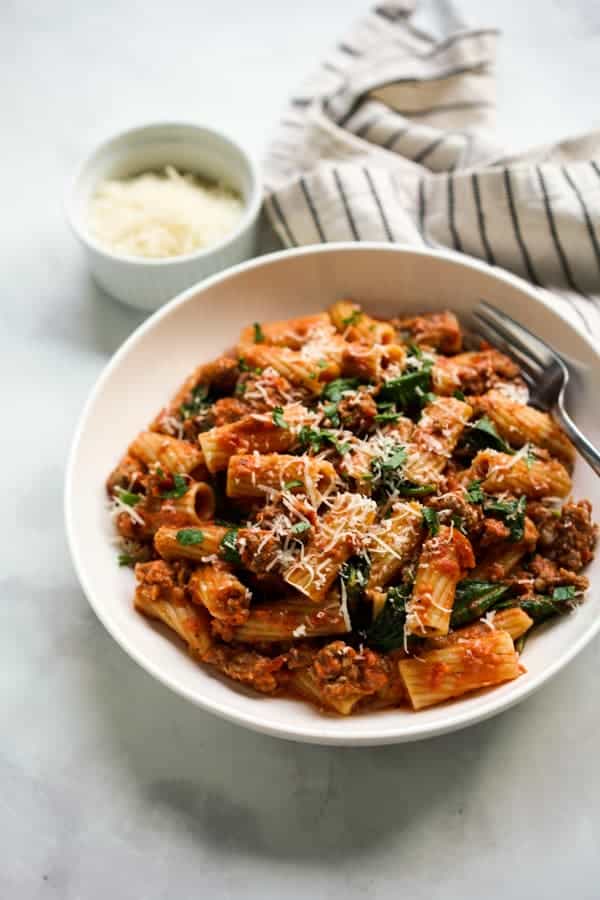 Fill up your bowl, grab a fork, and enjoy this yummy bowl of goodness on your couch, at your dining table, standing by your kitchen counter…or pack it into your lunchbox and make your co-workers jealous.
That's the beauty of a meal like this. Carbs, meat, veggies piled into one bowl. Transport it wherever you want. Easy to eat, delicious and extremely satisfying.
We love making a big batch of this during the weekends and heat up leftovers for dinner throughout the week.
It is a hearty, comforting meal that we never get tired of.
A no brainer for busy weekdays.
Let's make it!
First up: Boil pasta in water.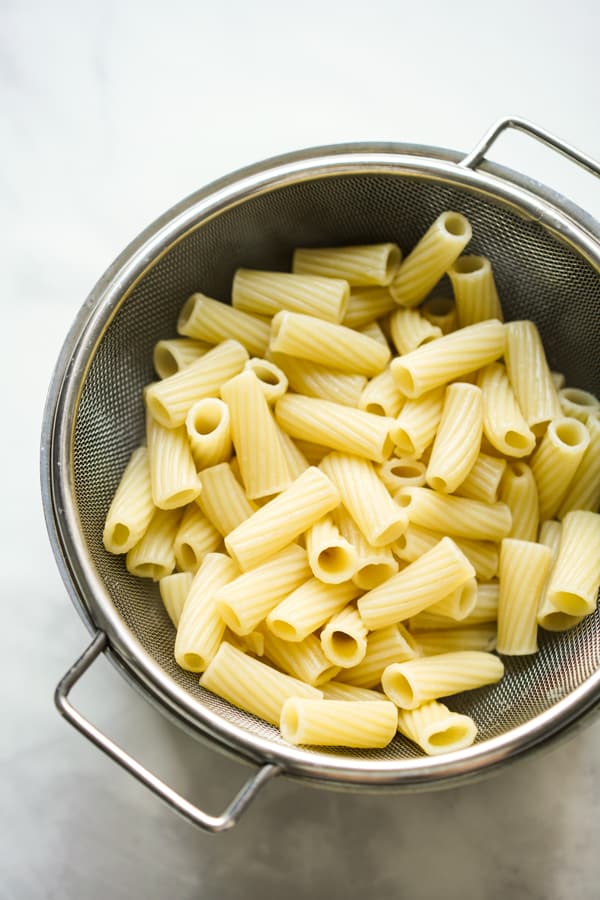 I like using rigatoni for this because it catches just enough the creamy sauce in its ridges. Not too much, not too little. Just the right amount.
It is a personal choice. So feel free to substitute with penne, ziti, rotini, macaroni, or any of your favorite pasta!
Next. While pasta is boiling, go ahead and start making the sauce on a separate skillet.
Because Italian sausage is packed with lots of herbs and spices, it brings so much great flavor to the creamy red sauce.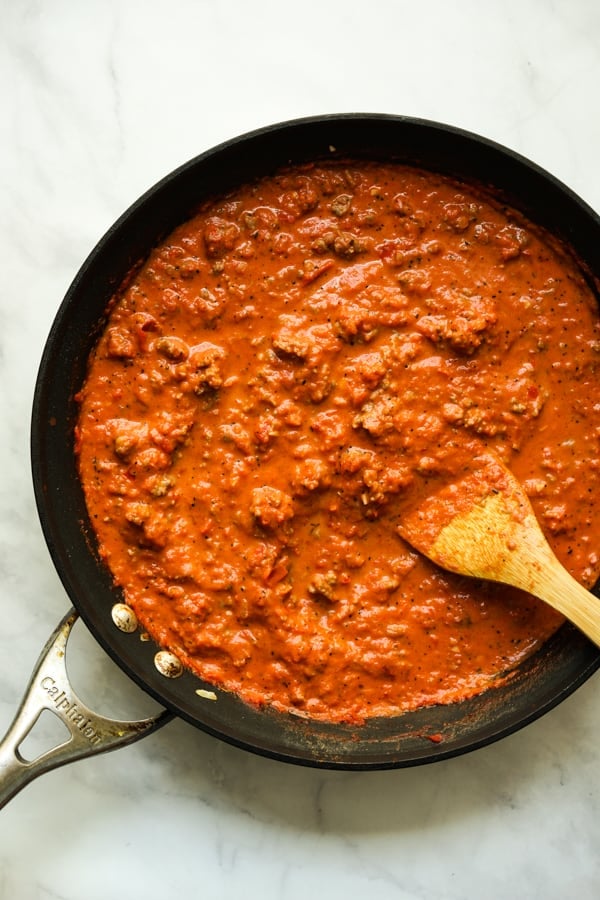 I like to still add a some spices and a little cream to bring alive this thick velvety sauce. Here are what go into making the sauce:
Crushed tomatoes
Sweet onions
Garlic
Heavy cream
Dried basil
Dried oregano
Black pepper
Bonus: if you let the sauce sit for a day or more, it becomes even more flavorful as the spices from the Italian sausage permeate even more into the sauce.
One thing is for sure – there's no lacking in the flavor department when it comes to this Creamy Tomato Pasta!
Lastly. When the sauce and pasta are respectively done, combine everything!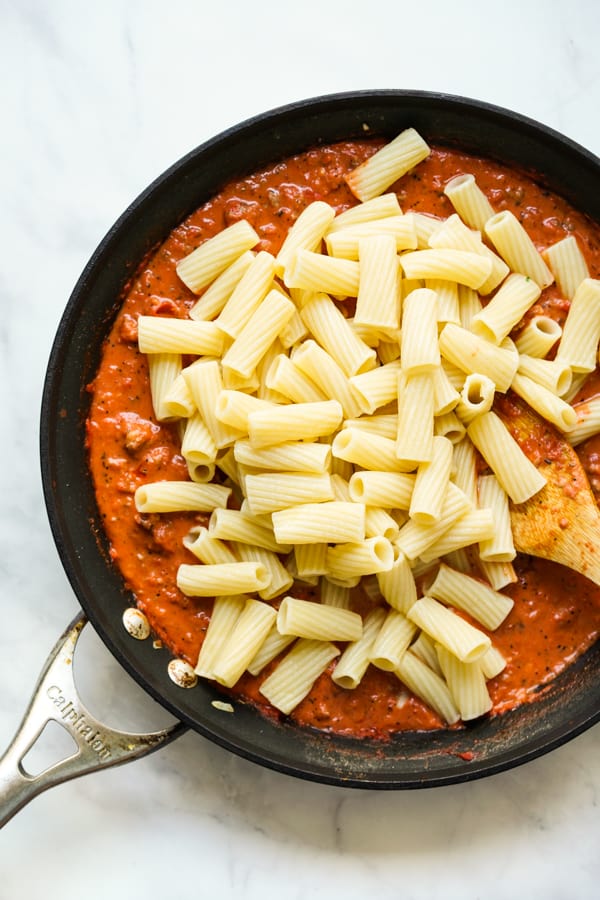 I also like to add spinach to incorporate veggies into this meal. Makes it more well-rounded, healthy, and even if you don't like spinach, the sauce and Italian sausage have such prominent flavors you can barely taste the spinach.
A great way to hide veggies for picky eaters.
Other veggies you can add to this: kale, shredded carrots, bell peppers etc.
And hold up, we are not done yet!
Garnish with fresh parmesan cheese and chopped parsley. Fresh parmesan cheese brings incredible flavor to the sauce and gives it that extra hint of saltiness.
Parmesan is non-negotiable in our household, but I won't hold you to that standard.😉 Just passionately recommend it ❤️.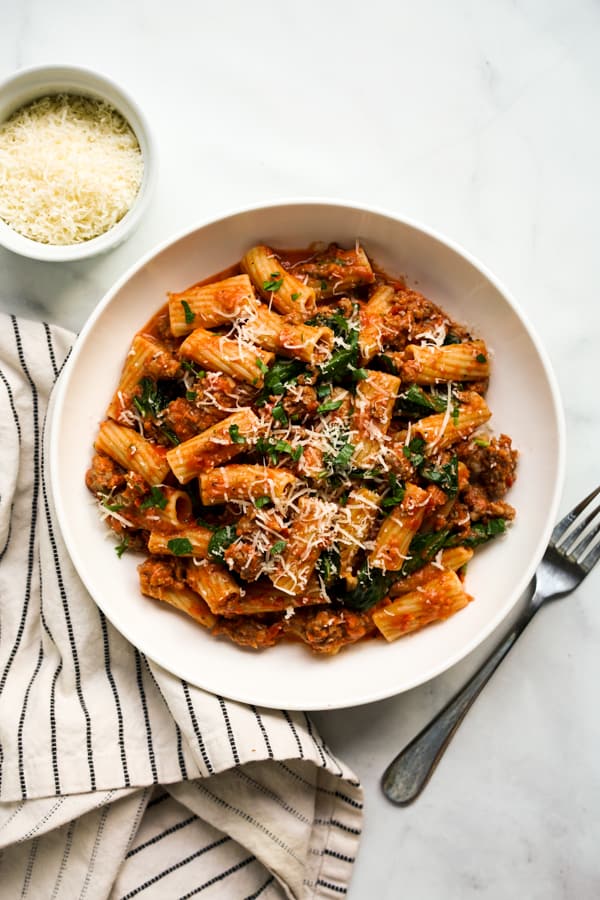 Can you freeze Creamy Tomato Sauce?
Yes! Store in airtight container and freeze it for whenever you need it! We do this often and to meal prep it for busy weeks.
I typically don't freeze pasta and only cook pasta when ready to eat. You can store leftover cooked pasta in the refrigerator though.
What to serve with Creamy Tomato Pasta?
Highly recommend pairing this meal with some of my favorites below: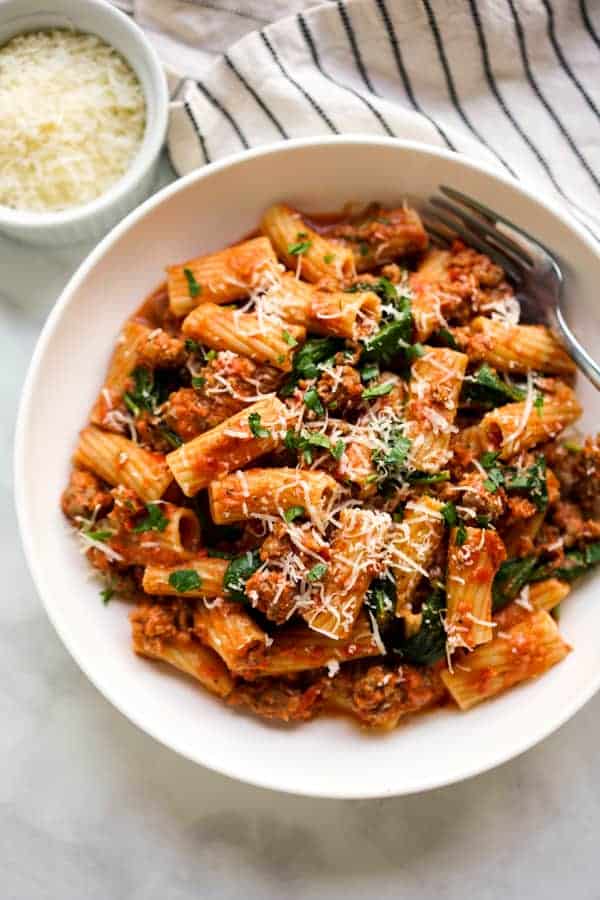 Every now and then we even fancy it up by pouring a glass of wine, make a cheese platter as the antipasto, as the Italians would call it, and turn this into fun romantic date night at home.
A lovely pasta dish that we have enjoyed thoroughly. And have eaten way more often than we probably should. 😉
This is one for the indulgence, my friends! Enjoy!
If you make this recipe, comment below and let me know what you think! Also, don't forget to take a picture and tag me on Instagram, because I WANNA SEE!!