Classic Lasagna with Béchamel Sauce (without ricotta)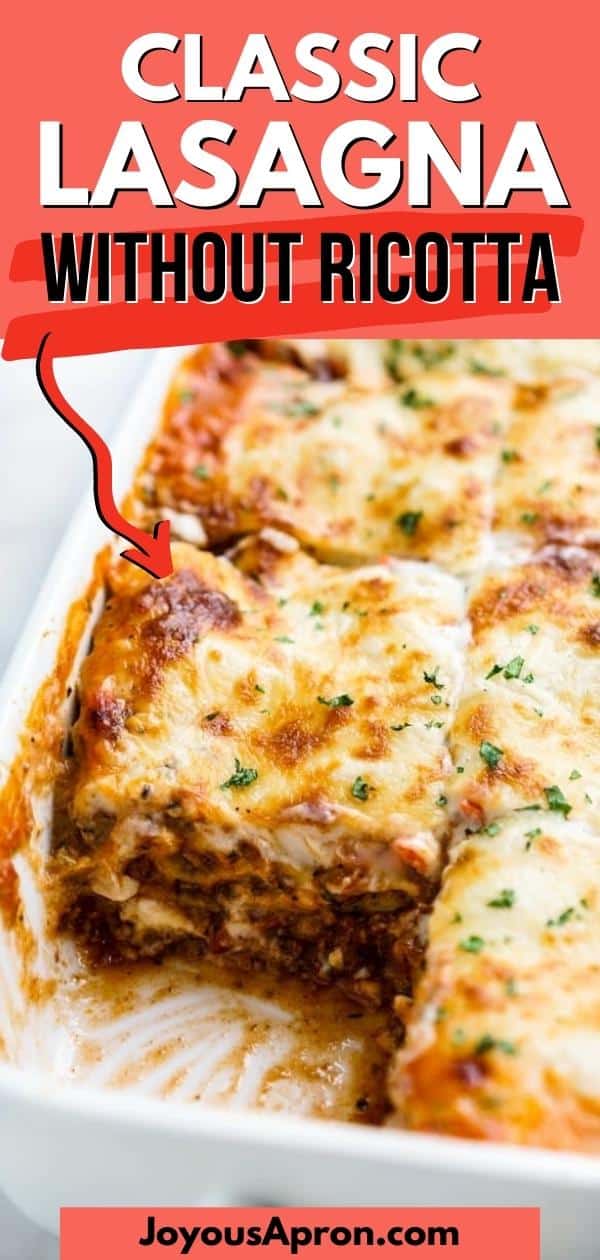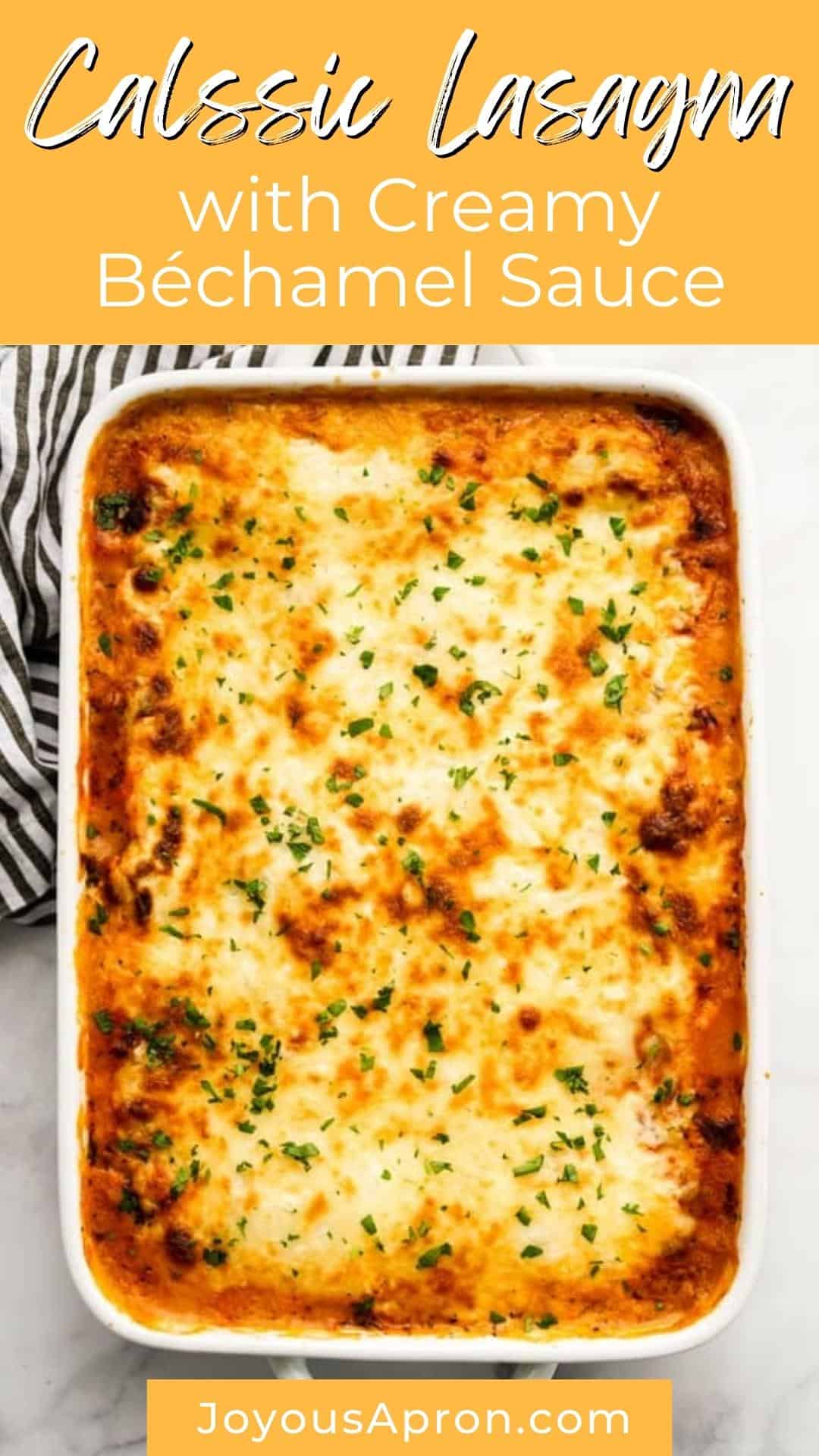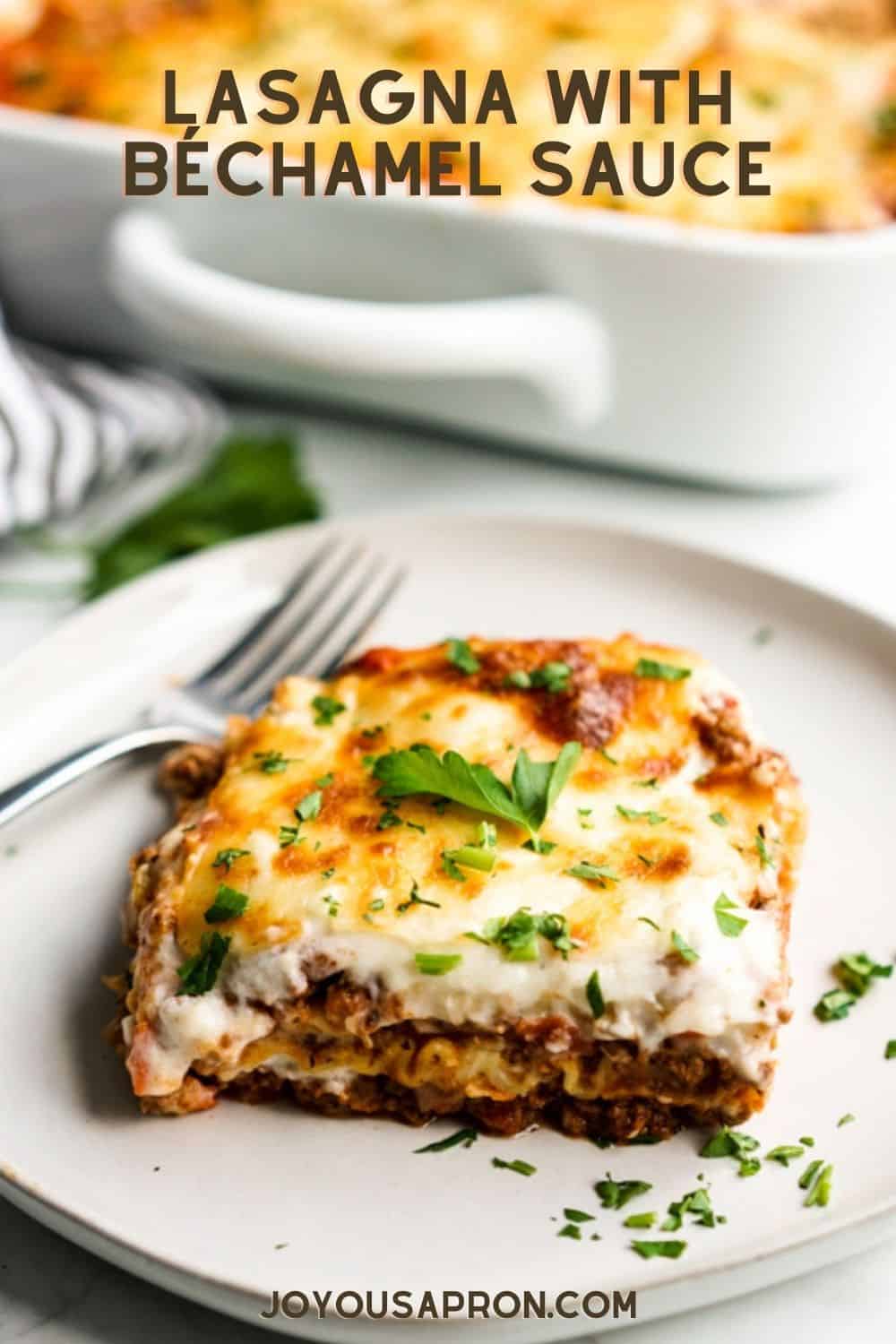 There's nothing as comforting and satisfying as this classic lasagna with béchamel sauce. That's right, white cheese sauce layered in with pasta and bolognese meat sauce, and without ricotta.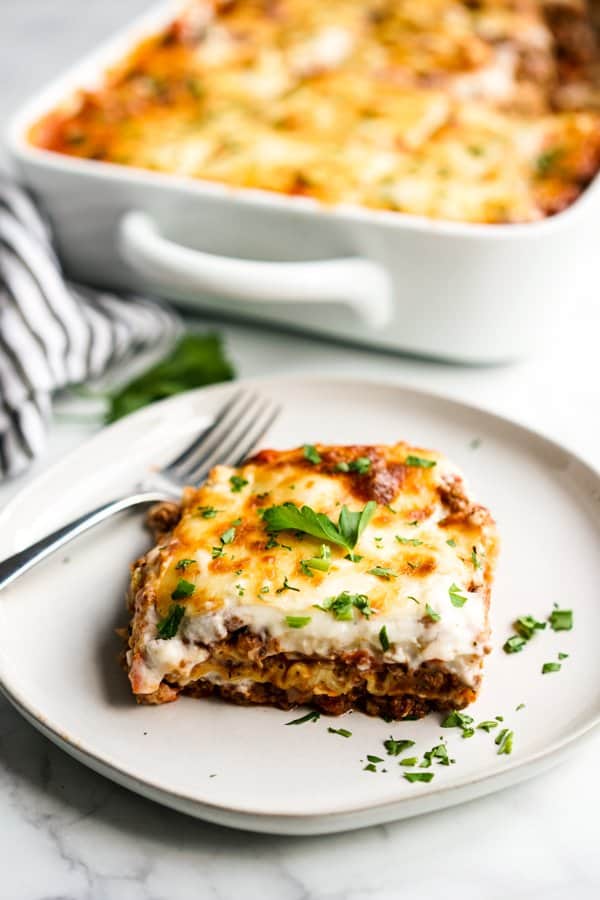 Lasagna with Béchamel Sauce….the best lasagna!
I am obsessed with lasagna.
Especially when it comes to lasagna with creamy béchamel sauce.
Nothing against ricotta. In fact, I love ricotta in a lot of things! Like this Baked Ziti, Spinach Lasagna, or even in sweet items like this yummy cheesecake recipe.
But lasagna with béchamel sauce…is definitely the far superior lasagna.
Something about that creamy, yet still fairly light cream sauce sandwiched between chewy pasta and tomato meat bolognese sauce just takes lasagna from good to amazing.
One bite into it and it feels like you are floating in heaven.
Lasagna with béchamel sauce is also the more traditional Italian way of making lasagna.
One of our favorite special-occasion restaurants that we go to growing up is this cute little Italian place in town with dim lighting, soft music, and white table cloths.
My favorite thing on their menu is their melt-in-your mouth lasagna (yes, lasagna made with the best béchamel sauce). And I still remember how amazing it tasted today.
I modeled this lasagna with béchamel sauce recipe after that lasagna I have known and loved for such a long time. And I'm in love!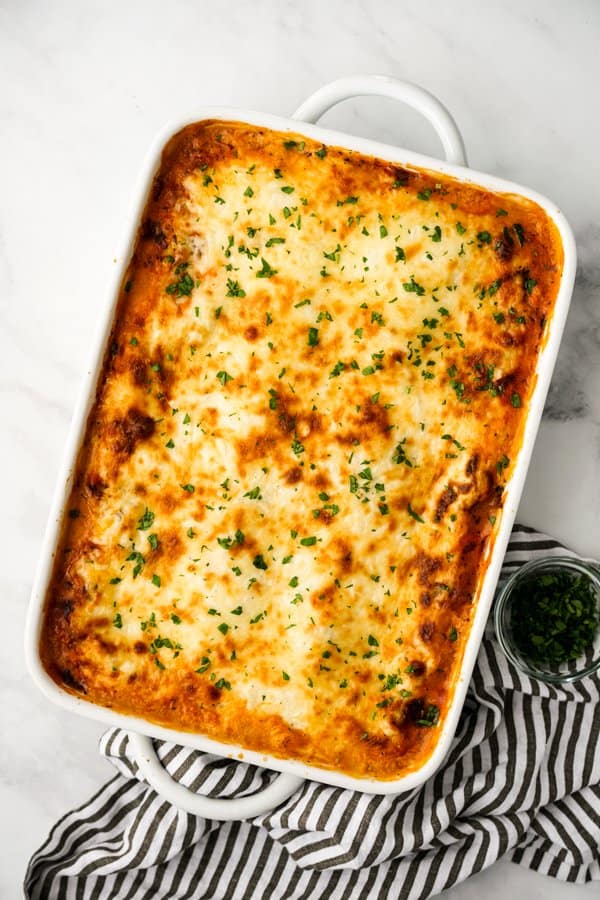 For the longest time I refused to publish a lasagna recipe. It just feels like the most basic, can-find-it-anywhere-on-the-internet kinda recipe.
And also, I figured it would be a beast to photograph. And it totally was.
But I decided to just do it. Publish it. Share it. Because I love this Lasagna béchamel sauce recipe too dang much to worry about whether the internet needs another lasagna recipe or not.
And most importantly, it is not just another lasagna recipe. It's one with the my beloved béchamel sauce, not the usual ricotta business. Something you do not see that often.
Which is unfortunate because I personally believe béchamel sauce takes a lasagna from good to great.
How to make it
Lasagna may seem like a daunting task to take on, but let me assure you it is not as difficult as it seems!
My goal is to break this recipe into a few key parts so you will find this more digestible (pun intended).
In all seriousness, follow along and you will see that you can totally make this delicious Lasagna Béchamel Sauce. And when you taste the fruits of your labor, you will know why I say this is totally worth it!
There are basically three key components when making Lasagna with Béchamel Sauce:
béchamel sauce
bolognese meat sauce
pasta
Béchamel Sauce (White Sauce) for Lasagna
So what is béchamel sauce?
It is basically a white cream sauce. Some makes it with cheese and some make it without. I actually prefer without but will be adding cheese to top off the lasagna.
It is a simple sauce made with: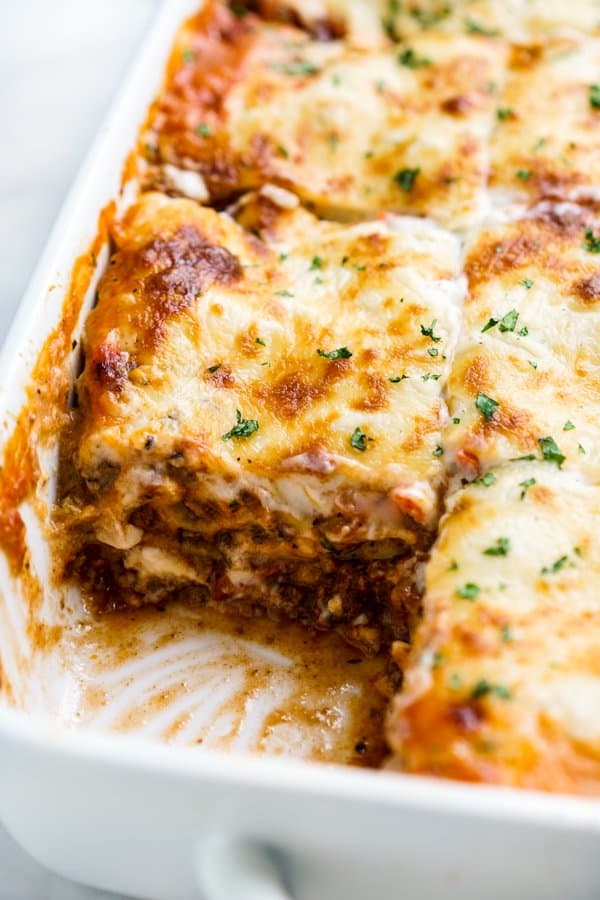 Béchamel sauce is cooked on the stovetop in a pot. When making it, it is important to whisk the sauce and keep stirring while it cooks.
Whisking will remove the clumps formed by the flour and continuous stirring will prevent Béchamel from burning and sticking to the bottom of the pot.
Even though this lasagna recipe is without ricotta, I promise you this béchamel sauce will make you forget about any ricotta lasagna you've ever had. 😉
Bolognese Meat Sauce
Ah bolognese sauce, a.k.a. red meat sauce. This also plays a super important part in our Béchamel Lasagna recipe. It helps balance out the creaminess in the Béchamel sauce.
This is a simple, thick red sauce filled with ground beef, and infused with herbs. It is made with:
Peeled tomatoes (canned)
tomato paste (canned)
basil
oregano
garlic
onions
carrot
celery
beef bouillon
salt and pepper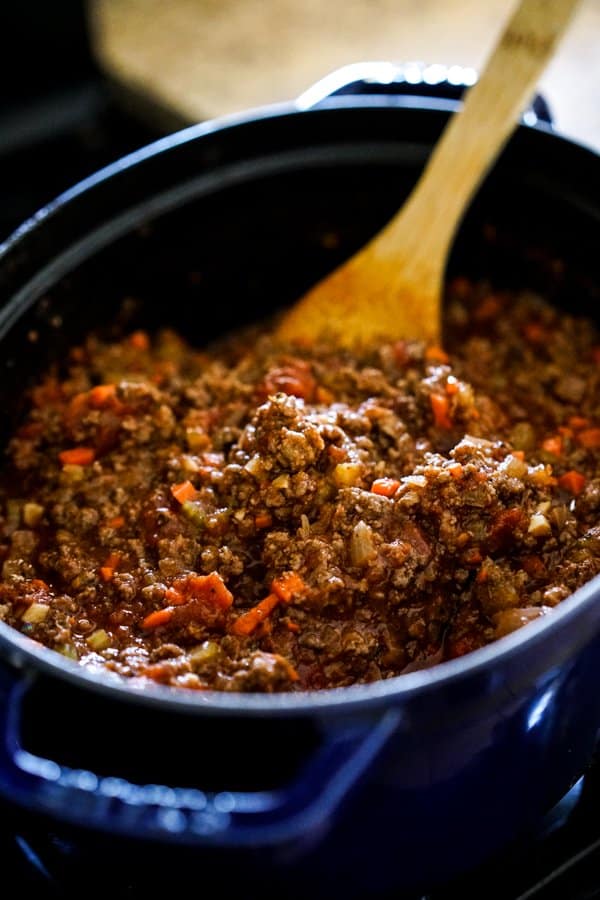 We are using tomato paste to give it an intense tomato flavor without creating too much liquid because you do not want your lasagna to sit in a pool of liquid when it bakes. So definitely use tomato paste and avoid substituting with something else.
Lasagna Pasta
And of course, we can't make Lasagna with Béchamel Sauce without the pasta…
There are typically two types of pasta:
Pre-boiled lasagna noodles – unless specify, most lasagna noodles will need to be boiled briefly before layering into the casserole. Be careful not to over-boil the lasagna noodles!
Oven-ready lasagna noodles – these noodles are still hard but can be layered into the casserole without pre-boiling or even soaking them. I love using these because they are so much easier! It is what I used in this Lasagna with Béchamel Sauce recipe. Make sure these noodles are well covered in sauce when layering them if not it will not be fully cooked in the oven.
I am using the oven-ready kind because it is much faster and there will be one less pot to wash! 😉
Assembling lasagna
Once the béchamel sauce, meat sauce and pasta are prepared, it's time to start assembling your Lasagna with Béchamel Sauce!
You will need a deep 9″ x 13″ casserole dish for this. If lasagna is filled up to the brim, place a cookie sheet underneath the casserole dish in the oven to catch drippings.
Start with a thin layer of red sauce to coat the bottom of the casserole dish.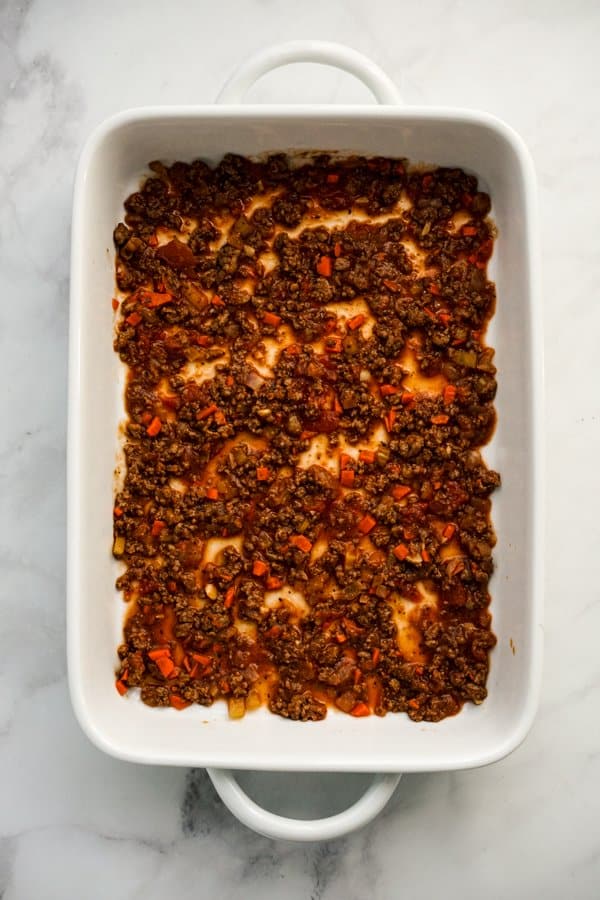 Then add on these layers (in this order):
Lasagna noodles (bottom)
Bolognese sauce
Béchamel sauce (top)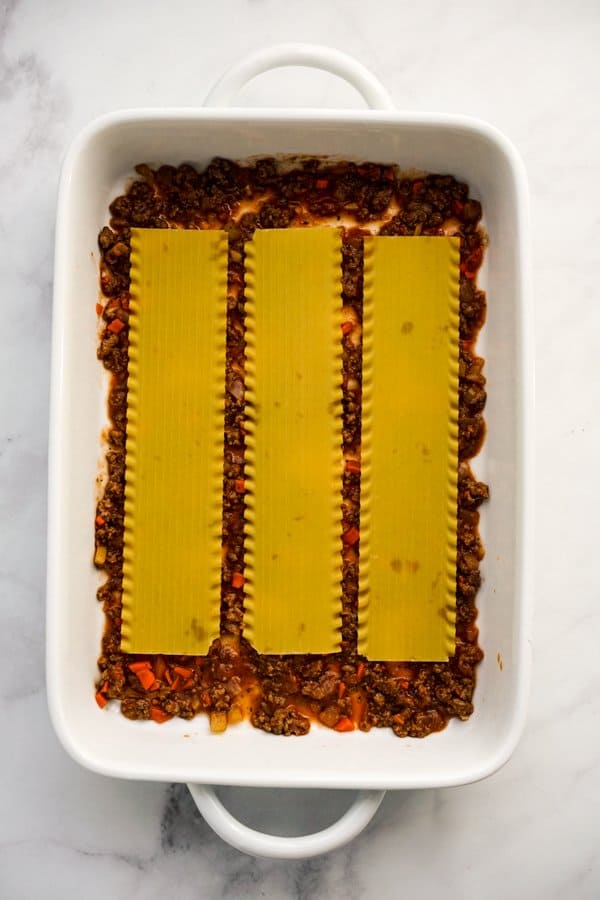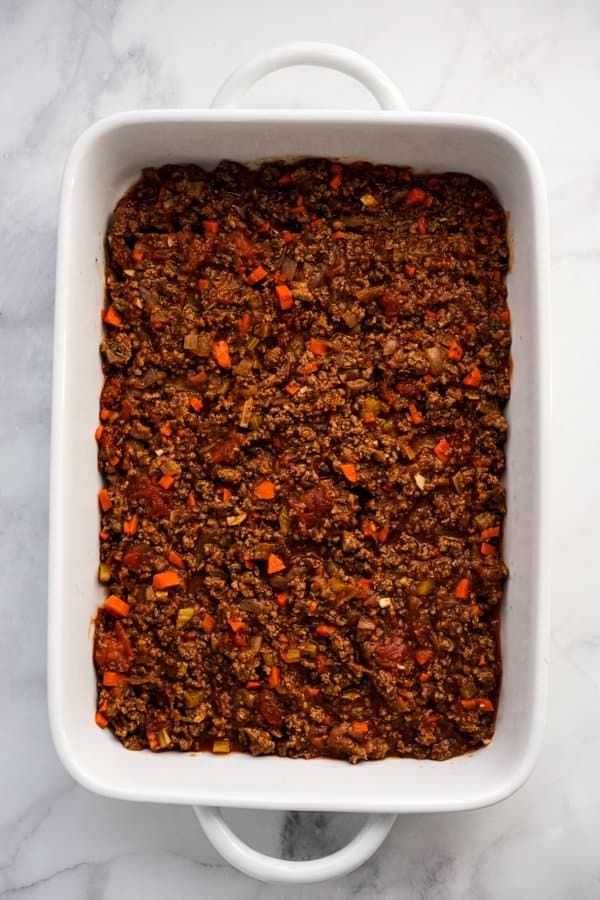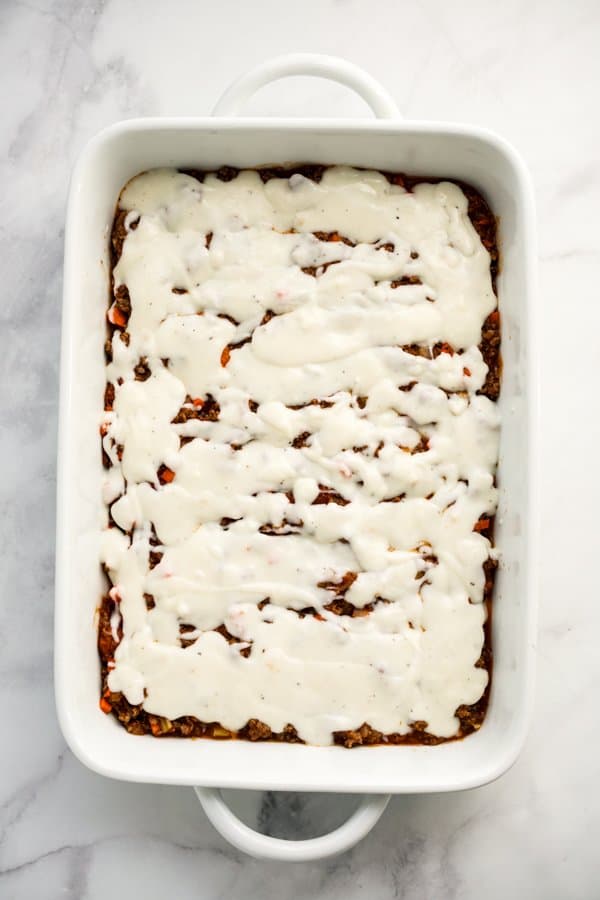 Then repeat the layers.
There should be a total of three sets of the noodle-bolognese-béchamel layers.
Once all the layers are completed, last but not least, sprinkle the top with shredded mozzarella cheese before sending it into the oven to bake.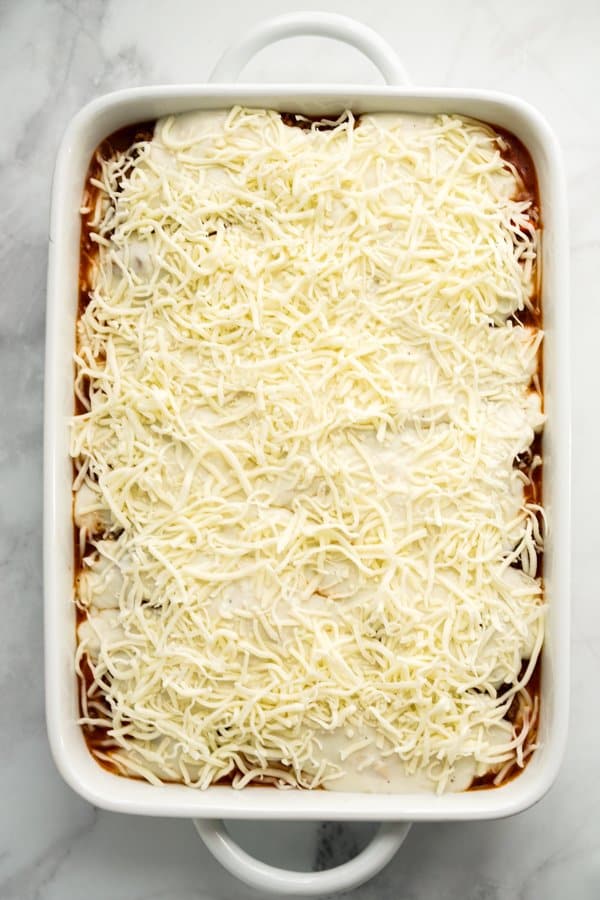 When it is done, Lasagna with Béchamel Sauce should be bubbly, gooey, slightly charred on the top. 😍
Let it sit for 20 minutes so that the layers would settle and the lasagna cools.
Takes a little patience to wait on this yummy Béchamel Lasagna, but it'll be easier to cut into it that way – trust me. 😉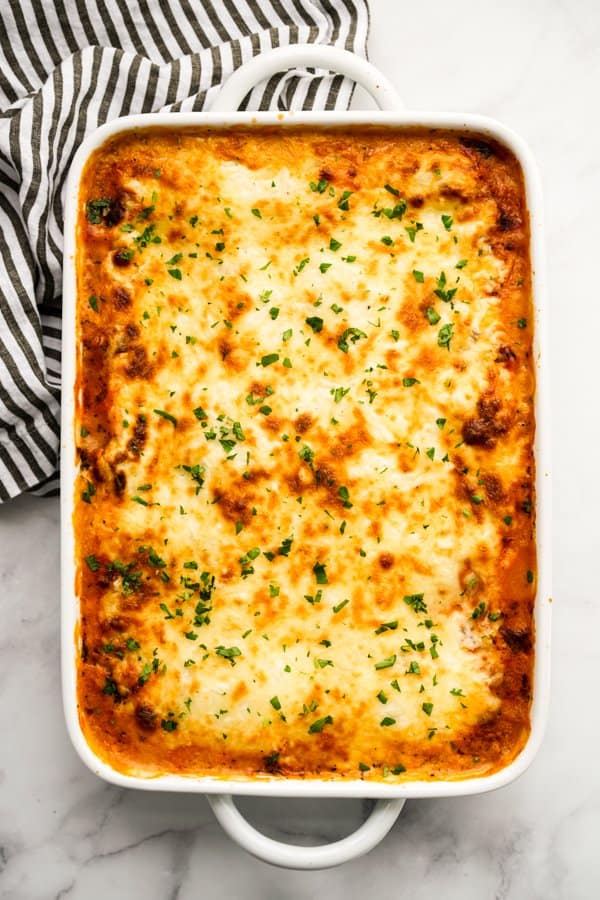 Common Questions
Can you make ahead Béchamel Lasagna?
Yes you can layer everything ahead of time and store it in the fridge for up to two days before cooking it in the oven. Let it sit in room temperature for an hour or two before baking. If it is still cold when you bring it to the oven you will need to extend the cook time.
You can also layer and freeze, but with how large the casserole is it will take a while to defrost completely, and you want to defrost completely before baking the lasagna.
How to reheat lasagna?
If you have leftovers, cut out slices you want to eat and reheat in the microwave. Good news is lasagna keeps and reheats in the microwave really well!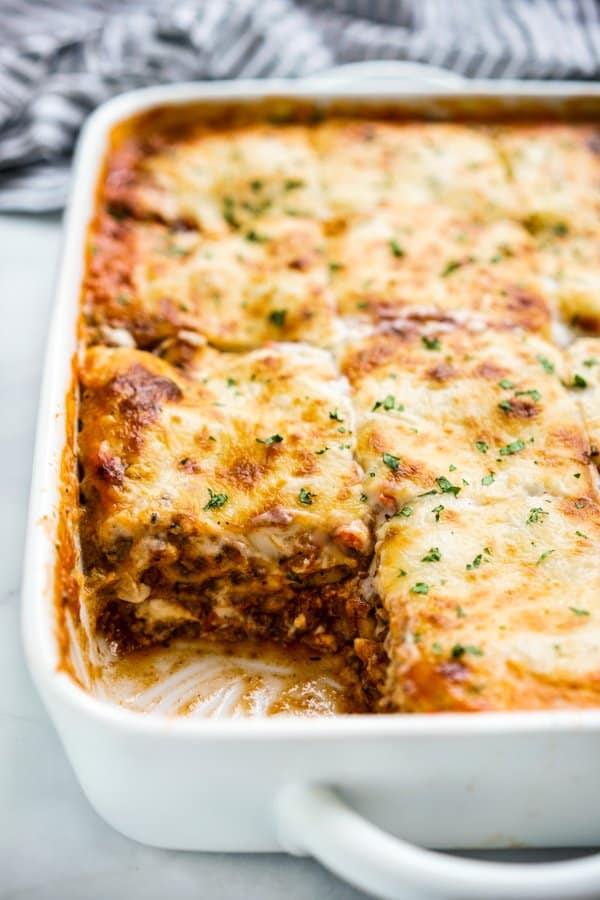 Pro Tips
A few things to note while you make this classic Béchamel Lasagna:
Bolognese sauce should be nice and thick so that lasagna will not turn out watery. A fattier ground beef can bring access liquid to the sauce. Cook bolognese sauce it longer if it is runny.
When making Béchamel sauce, whisk continuously using a whisk so that lumps are removed and sauce will be smooth. Whisking also prevents burning at the bottom of the pot. Once sauce thickens, remove from heat promptly to prevent it from thickening further.
When layering the lasagna, if using oven-ready lasagna sheets, make sure they are well covered in sauce if not they will not soften when baked
Lasagna with Béchamel Sauce. It's dreamy, cozy and life-changing.
Sink your teeth into this beauty and get ready to be amazed. ❤️
Other delicious Italian Recipes
If you like this lasagna recipe, you will probably enjoy these as well!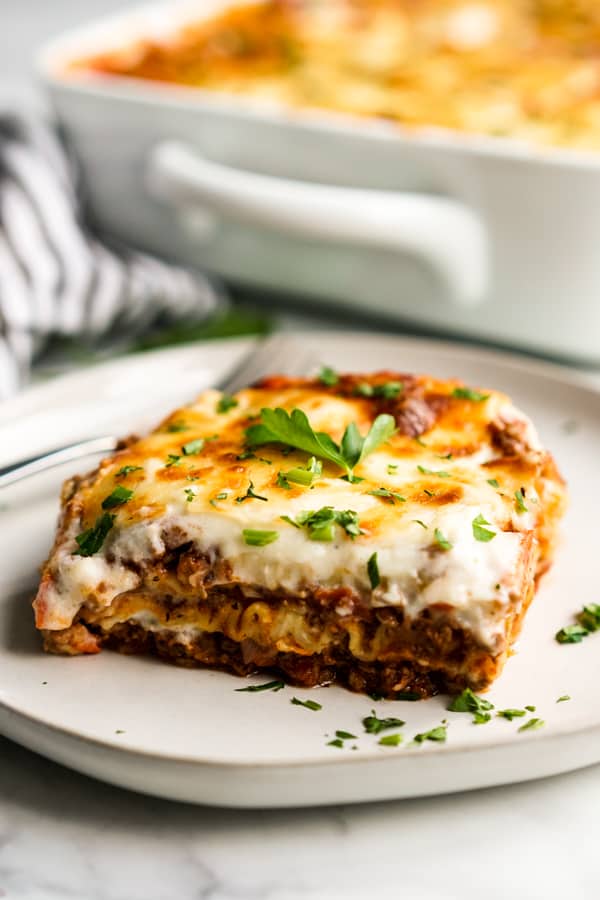 DID YOU ENJOY THIS RECIPE? Please comment below and give us a 5-star rating! This will help others find this recipe on Google and Pinterest. We very much appreciate your help! 🤍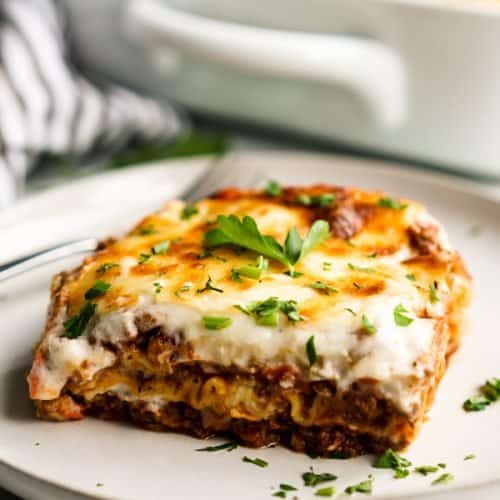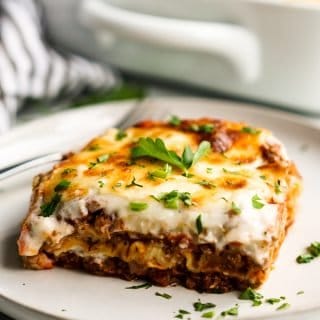 Lasagna with Béchamel Sauce (without ricotta)
A traditional Italian lasagna recipe layered with béchamel sauce, bolognese sauce, pasta and mozzarella cheese. A yummy and satisfying dish!
Print
Pin
Ingredients
Bolognese Sauce
1

tbsp

olive oil

5-8

cloves

garlic

1

medium white onion

2

lbs

lean ground beef

1

cup

carrot

finely minced

1

cup

celery

finely minced

28

oz

canned peeled whole tomatoes

6

oz

canned tomato paste

2

tsp

dried basil

2

tsp

dried oregano

1

tsp

beef bouillon

1

tsp

salt

1/2

tsp

black pepper
Béchamel Sauce
6

tbsp

unsalted butter

3/4

cup

all purpose flour

6

cups

2% milk

1

tsp

salt

1/2

tsp

black pepper
Other
9

lasagna sheets

boiled or oven ready

8

oz

mozzarella cheese

shredded

1

tbsp

parsley

chopped, garnish
Instructions
Bolognese Sauce
Heat a large pot under medium heat. Add olive oil, garlic and onions. Saute until fragrant, for a minute or two, avoid browning. Then add ground beef

Saute ground beef until it is no longer pink. Add carrot and celery, and saute for about one minute.

Add the liquids – peeled tomatoes and tomato paste. Stir to combine. Heat it on medium high heat and let it come to a boil.

Add the rest of the seasonings – basil, oregano, beef bouillon, salt and pepper. Stir to combine. Lower heat to medium heat and let it cook for another ~10 minutes, or until sauce thickens.

Remove from heat and set aside.
Béchamel Sauce
Add butter to a medium pot and heat under medium heat.

Once butter is melted (avoid browning butter), add flour to pot. Using a whisk, whisk to combine. Mixture will be slightly clumpy.

Immediately add milk into the pot and bring to medium high heat so that it comes to a boil. Whisk continuously until mixture is smooth and thickens.

Once mixture reaches desired thick consistency, add salt and pepper. Stir to combine, then remove from heat.
Assemble Lasagna
Bring a thin layer of bolognese sauce to the bottom of a deep 9" x 13" dish.

Start layering with three sheets of rectangular lasagna sheets (see Note 1), then add 1/3 of the bolognese sauce, and then 1/3 of the béchamel sauce.

Repeat Steo 2 two more times. There should be a total of three sets of lasagna sheets/bolognese sauce/béchamel sauce layers.

The top layer should be béchamel sauce. Sprinkle it with mozzarella cheese to top it off.

Bring casserole dish to oven and place a cookie sheet under the casserole dish to catch any potential drippings. Bake for 45 minutes, then (optional) broil for 2 minutes to brown the top.

Remove dish from oven and let it sit for 20 minutes before cutting into lasagna.

Garnish with parsley and serve! Enjoy!
Notes
Note 1: boil lasagna sheets according to package instructions if it is not oven ready.
Nutrition
Calories:
506
kcal
|
Carbohydrates:
43
g
|
Protein:
35
g
|
Fat:
21
g
|
Saturated Fat:
11
g
|
Polyunsaturated Fat:
1
g
|
Monounsaturated Fat:
7
g
|
Trans Fat:
1
g
|
Cholesterol:
104
mg
|
Sodium:
1004
mg
|
Potassium:
1024
mg
|
Fiber:
4
g
|
Sugar:
13
g
|
Vitamin A:
3087
IU
|
Vitamin C:
14
mg
|
Calcium:
358
mg
|
Iron:
5
mg