One Pan Baked Lemon Chicken and Rice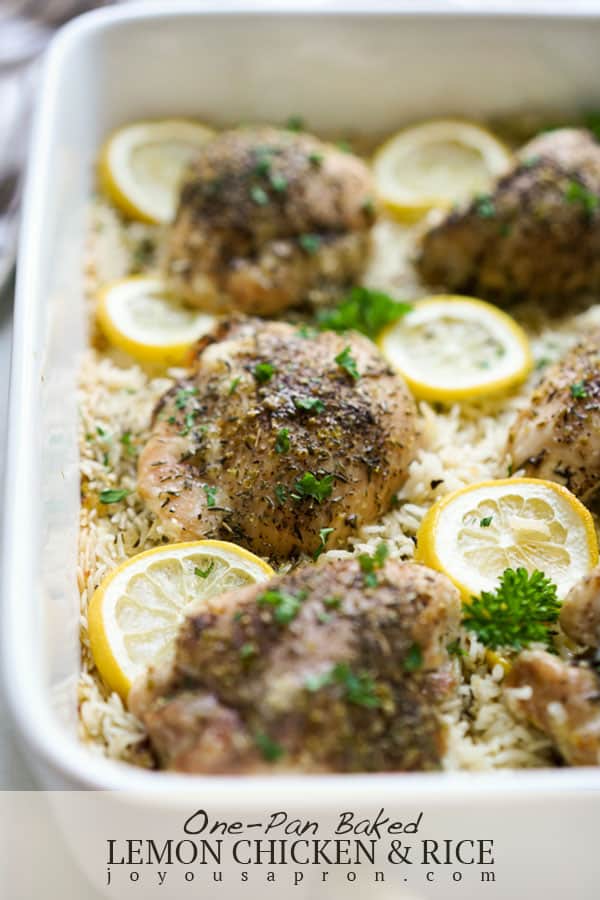 When life gets hectic, here's a one pan meal to the rescue! This Baked Lemon Chicken and Rice dish is as delicious as it is comforting. Fluffy and flavorful lemon infused rice topped with lemon and herb chicken…yum yum yum!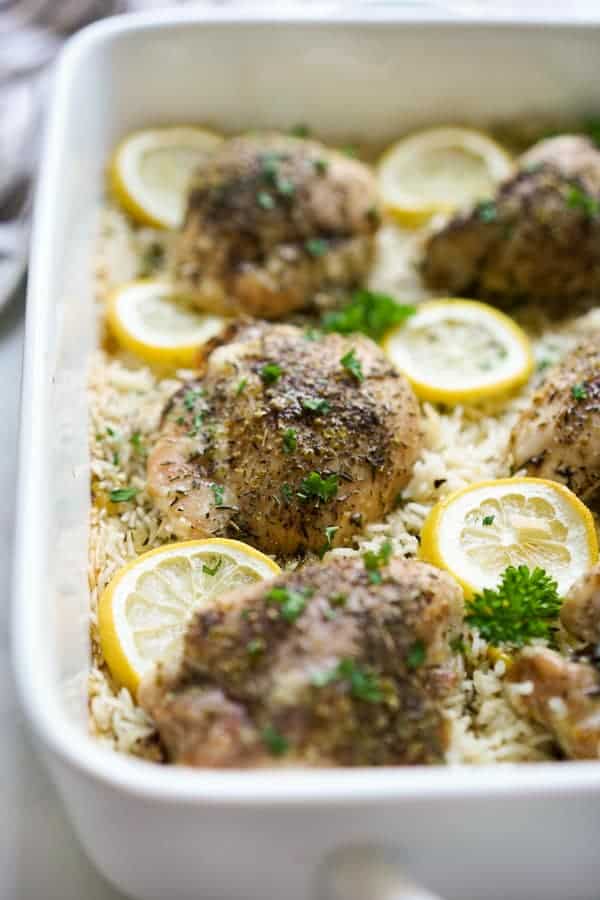 I ate a lot of rice growing up. A LOT.
We pair rice with all kinds of things, but there is something super comforting about the chicken and rice combination.
These days, when things are busy and I still want my chicken and rice meal, I started making it all in my pan. Throw everything in there, bake it in the oven, and viola, dinner is served.
But we are not just talking about slapping a plain ole chicken on plain ole rice.
We are infusing lots of amazing flavors into this delicious Baked Lemon Chicken and Rice dish.
Both the rice and the chicken are cooked in garlic, onions, lots of herbs and spices, lemon juice, lemon peel, chicken broth and white wine.
Yep, wine. Because it makes dishes like these taste a thousand times better.
Just like some of my favorite recipes that are cooked with wine (White Wine Tomato Skillet Chicken, Stovetop Beef Stew, The Best Spaghetti and Meat Sauce), adding wine brings about many layers of flavors to a simple every day meal.
All that to say. It's a good one. And here are all the reasons why you need this in your life 🙂
Super simple to make
Dinner in one pan!
Truly delicious and complex flavors (did my wine-talk convince you? 😉 )
Great as leftovers and for meal prep (it has been in my husband's lunch box for the past three weeks, and he is still not bored with it!)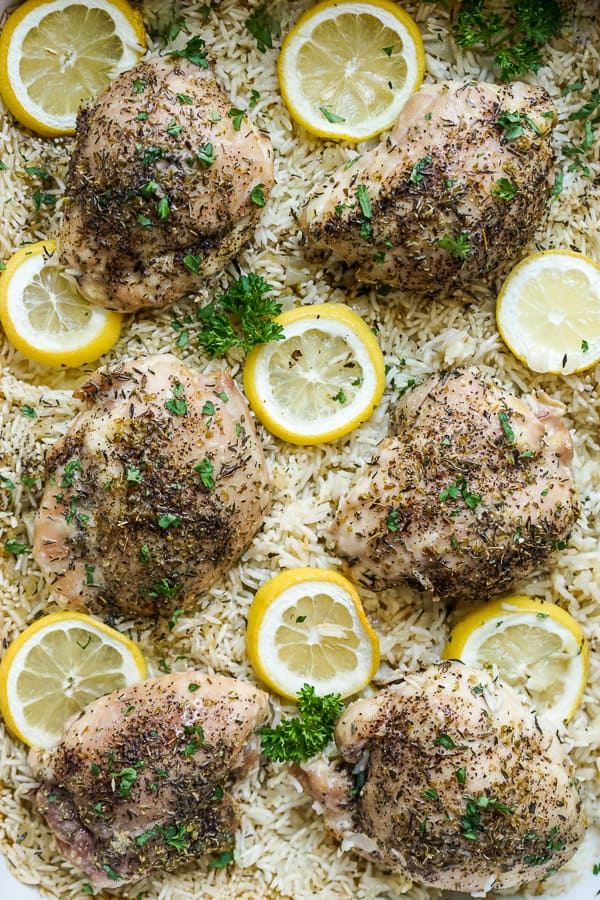 Let's make Baked Lemon Chicken and Rice!
Besides the ingredients required, you will need these before you get started:
a small pot
a 9″ x 13″ rectangular casserole dish
meat thermometer (optional, but preferred)
First, we are cooking the aromatics, chicken broth, lemon and white wine in a small pot. Although 'cooking' might be a loose term because what you want to do is to bring it all to a boil and then immediately remove from heat.
We are merely combining it all and infusing the flavors together.
Once that is ready, add the liquid from the pot onto a rectangular casserole dish that should already have rice in it.
Make sure to spread the rice out as evenly as possible to ensure they cook evenly.
Then add:
chicken thighs
olive oil + more herbs and spices on top of the chicken
lemons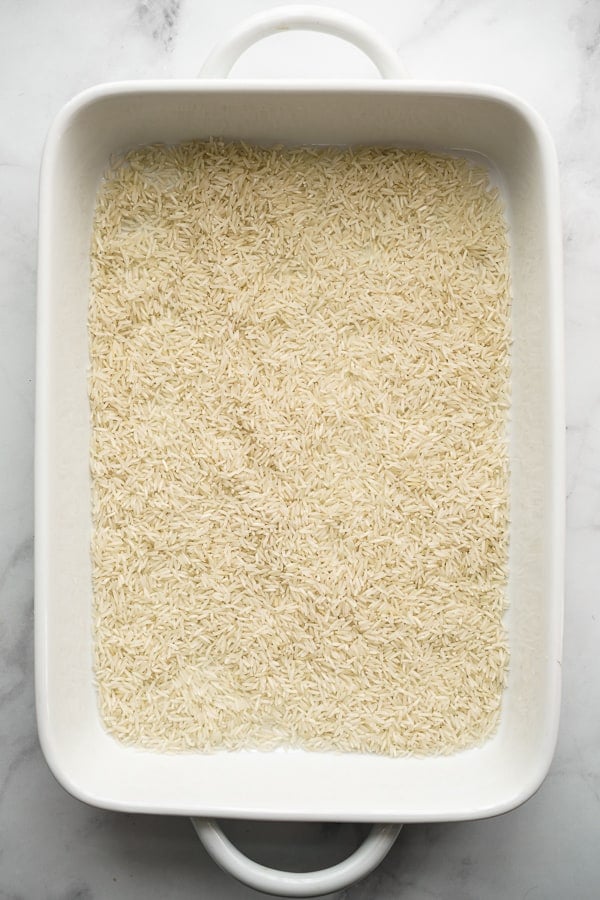 After that, cover casserole dish and send into the oven to bake.
And that's it! 🙂
Tips and Tricks
When heating up chicken stock and aromatics in the pot, do not over-boil to avoid drying out liquid. Remove from heat promptly after it starts boiling.
Spread the rice out in casserole after adding chicken broth mixture so that it cooks evenly.
Use basmati rice or any kind of long grain rice. Avoid using short grain rice.
Remember to cover casserole dish with aluminum foil when baking for the first 30 minutes. This is important as this will help cook the rice without drying it out!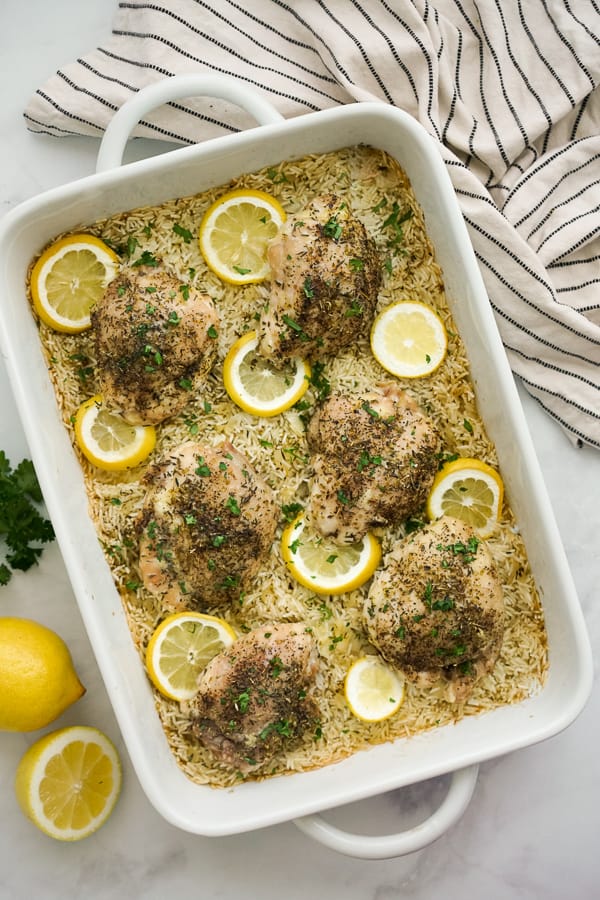 A simple meal that happens to be actually flavorful and delicious!
Not only is the rice filled with amazing flavors from the herbs, spices, white wine and lemons, the chicken is also cooked in the same liquid and is full of great flavors!
I especially love the burst of freshness and citrusy flavors that the lemons bring.
It is also a nice reminder that the warmer weather is coming back again very soon! 🙂
Simple, low touch, and a great as leftovers. I hope you give this a try, and enjoy it as much as we have!
Until next time…happy cooking!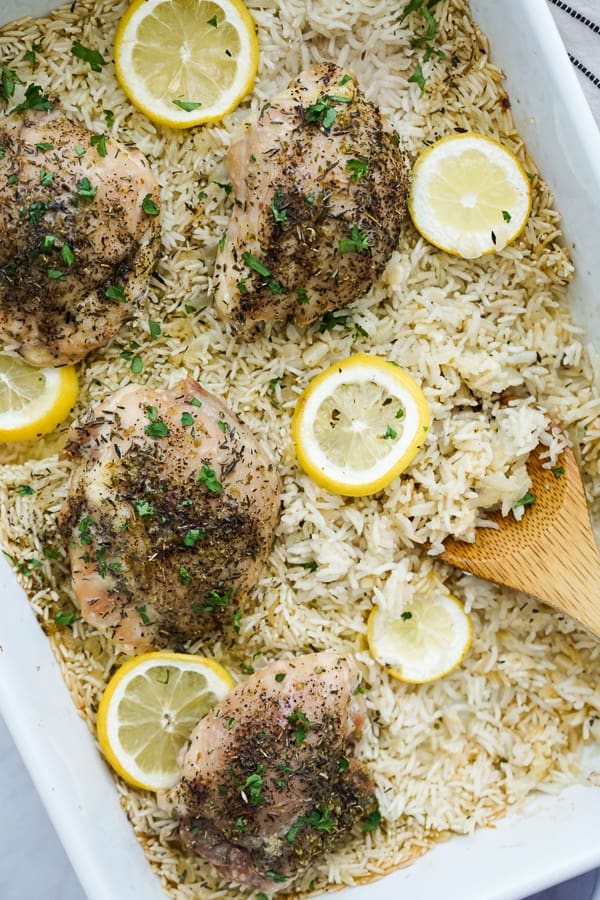 More Chicken Recipes:
DID YOU ENJOY THIS RECIPE? Please comment below and give us a 5-star rating! This will help others find this recipe on Google and Pinterest. We very much appreciate your help! 🤍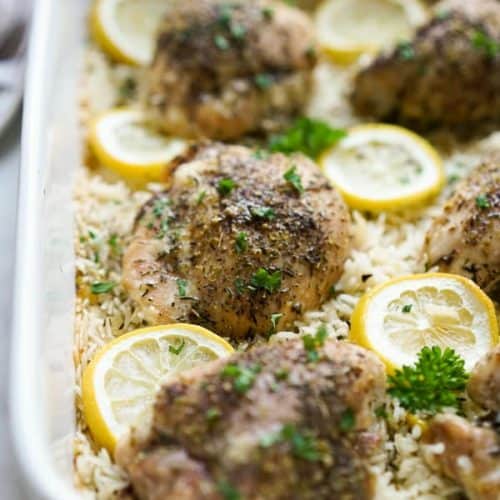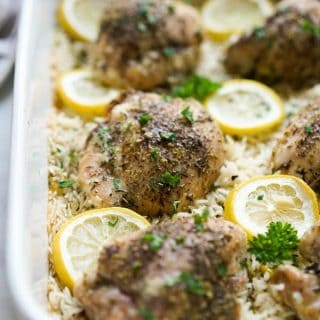 Baked Lemon Chicken and Rice
A delicious and easy one pan dish! Fluffy lemon flavored rice cooked in white wine and chicken broth, topped with roasted herb lemon chicken thighs, all baked in one casserole dish.
Print
Pin
Ingredients
Sauce
3

tbsp

olive oil

1/2

cup

diced white or yellow onion

5-6

clove

garlic

minced

2

cups

chicken broth

1/3

cup

white wine

3

tbsp

lemon juice

1

tsp

lemon zest

1

tsp

oregano

1/2

tsp

thyme

1

tsp

salt
Other
1 1/2

cup

basmati rice

6

pieces

chicken thighs

olive oil

1

tsp

salt

1/4

tsp

black pepper

1

tsp

oregano

1/2

tsp

thyme

1

lemon
Instructions
Bring 3 tbsp olive oil to a small pot and heat pot using medium heat. Add diced onion and minced garlic. Saute until fragrant, but do not brown or burn garlic and onions.

Turn off heat then add the rest of the ingredients under "Sauce" to pot. Bring to a boil and stir. Once it boils, turn off heat immediately. (Important: do not over boil.)

Pre-heat oven to 350 degrees F.

In a 9" x 13" casserole dish, add basmati rice, then add sauce/liquid from the pot to casserole dish. Using a spatula, spread rice out evenly so that it bakes evenly.

Place six chicken thighs on top of rice and sauce/liquid. Spread chicken thigh pieces out with some space between them.

Using a brush, brush olive oil onto the top of each chicken thigh. Then evenly distribute salt, pepper, oregano and thyme among the six chicken thighs.

Wrap casserole dish with aluminium foil, then bake for 30 minutes.

Remove aluminium foil and bake for another 15 minutes. Using the meat thermometer, check to make sure chicken is cooked (thickest part should be at least 165 degrees F). If chicken is not cooked, bring casserole back to the oven and bake for longer. Bake for longer if needed if rice is not properly cooked.

Remove from oven and let it stand for 10 minutes before serving.
Nutrition
Calories:
266
kcal
|
Carbohydrates:
43
g
|
Protein:
4
g
|
Fat:
8
g
|
Saturated Fat:
1
g
|
Cholesterol:
1
mg
|
Sodium:
1067
mg
|
Potassium:
187
mg
|
Fiber:
2
g
|
Sugar:
1
g
|
Vitamin C:
21
mg
|
Calcium:
41
mg
|
Iron:
1
mg