The Ultimate Homemade Burger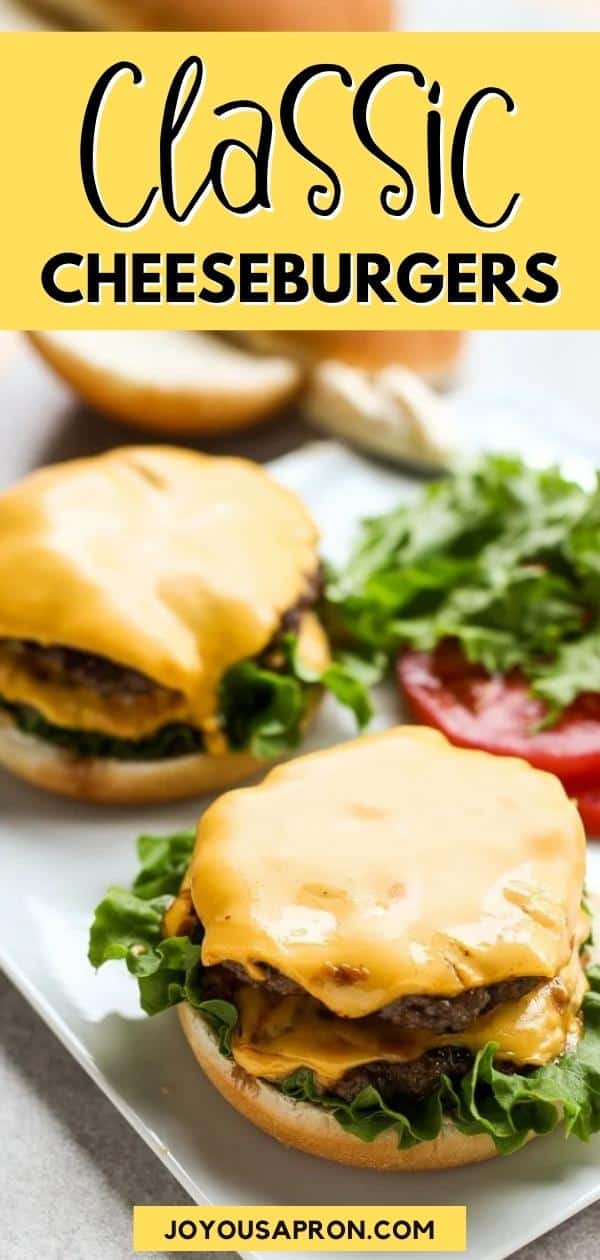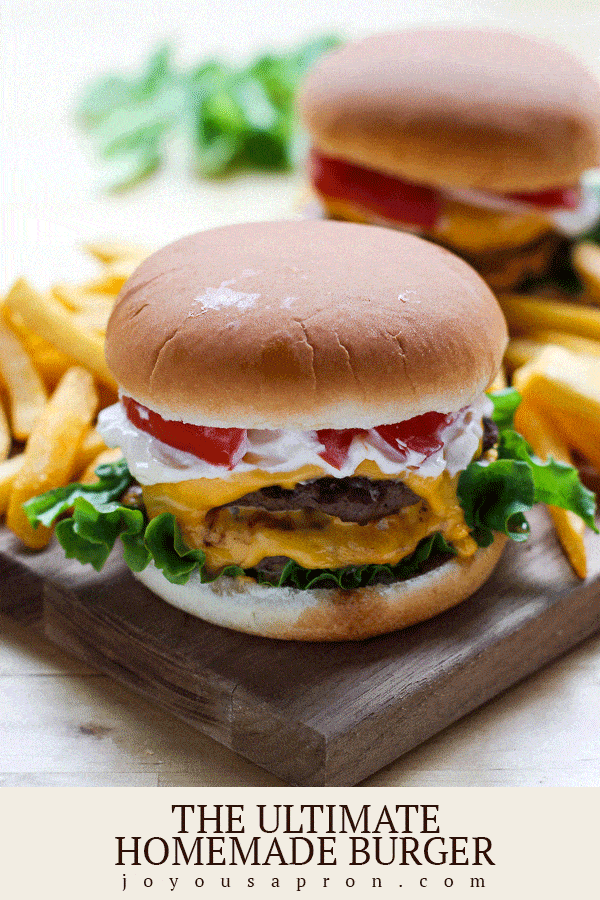 Hands down, my husband makes the BEST homemade burgers. Juicy, perfectly seasoned, good ole American beef BURGER. In fact, it is so good I'd rather have his homemade burger recipe than go out for burgers these days.
Over the last few years, we have tweaked and perfected the recipe, and so here it is…from our household to yours, I present to you The Ultimate Homemade Burger recipe.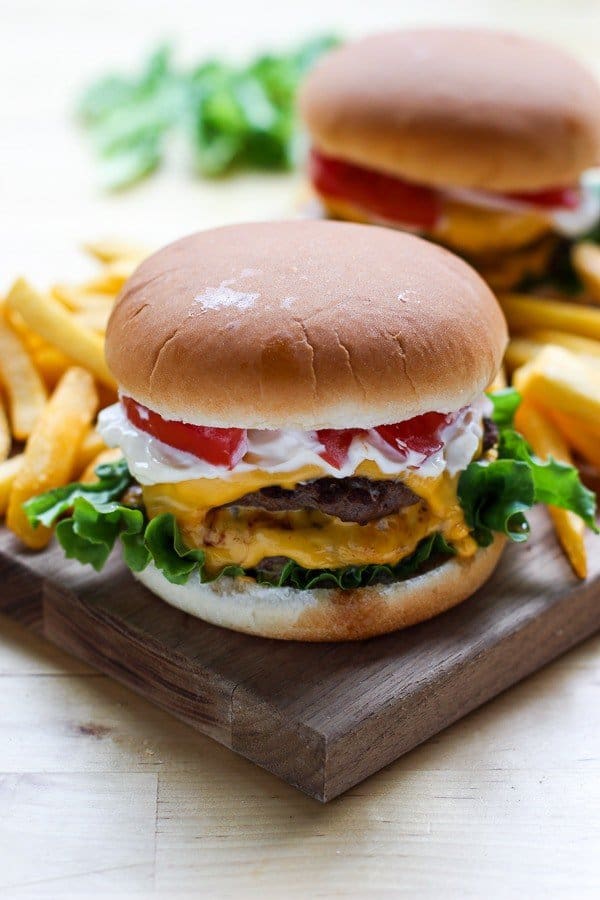 If you want to get fancier, check out this Cheese Stuffed Burger recipe! These are next level burgers where you stuffed cheese into the patties instead of adding a slice of cheese to the burger!
The Best Homemade Burger Recipe
As the weather warms up, and summer is finally showing its face (it is 90 degrees this week in Austin…in May), I start to dream about a solid charcoal-grilled burger.
I love it when my husband grills because I do not have to work very hard in the kitchen, and we get a delicious meal. I make some cheesy potato wedges, cut up some fruits, get myself some ice cold beer, and he does all the hard work outside…
You can make this homemade burger on a charcoal or electric grill. Or even on the stove top. We opt for charcoal because it gives it this charred flavored that, in my biased opinion, only wood can bring.
But our homemade burger is well-seasoned, and there's so much going for it there, it will taste fantastic even if you grill it on an electric grill or pan fry it on the stove.
I don't call this the ultimate homemade burger recipe for no reason. It is the best of the best. The only one you will ever need.❤️
How to make the Ultimate Homemade Burger recipe?
Let's make some homemade burgers! And discover how EASY it is to make it happen!
To get started, fire up your grill. Next, bring 2 lbs of defrosted ground beef into a large mixing bowl, and using your hands or a spatula, sightly loosen the ground beef.
For the burger seasoning, mix the dry ingredients together in a small ramekin, consisting of smoked paprika, garlic powder, black pepper, and salt.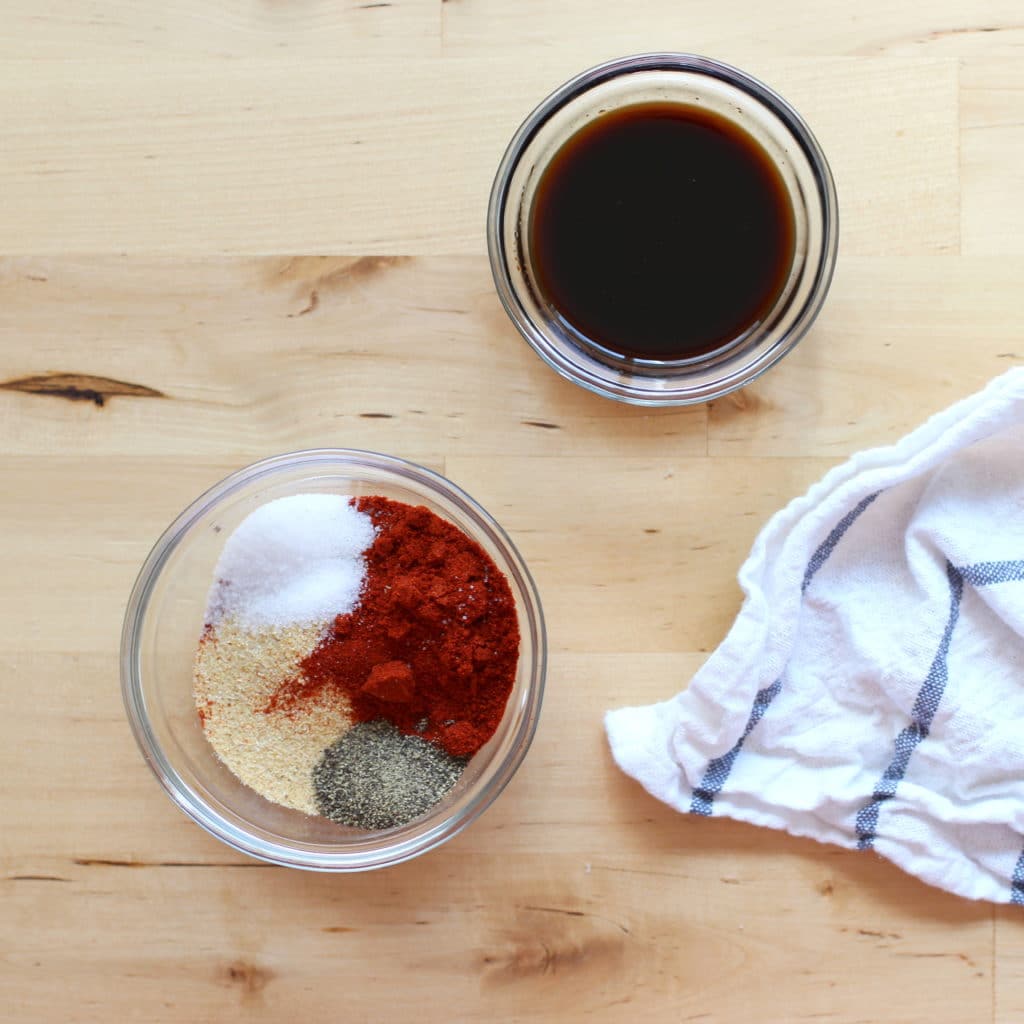 The goal is to enhance the taste of the ground beef with some spices, but not overpower it, because we want to be able to taste the meat. It is, after, a MEAT burger 😉
Pour half of the mixed dry ingredients into the ground beef, use your hand to mix it into the beef, then pour the other half in and do the same.
Next, pour about 2 1/2 tbsp of Worcestershire sauce into the ground beef. Use less Worcestershire if ground beef has a higher fat content.
We use 2 1/2 tbsp for 93% lean 7% fat ground beef. If you are using 80% lean 20% fat ground beef, decrease your Worcestershire content to 2 tbsp.
Use hand to mix everything up, making sure you mix thoroughly. Worcestershire binds the meat together.
Next make the burger patties by grabbing about a fistful of ground beef and flattening it into 4-inch wide diameter and 1-inch thick patties.
Round the sides and gently press down on the middle of the patty to form a slight indention in the middle, because when the burgers cook the middle of the circle tend to rise more than the sides.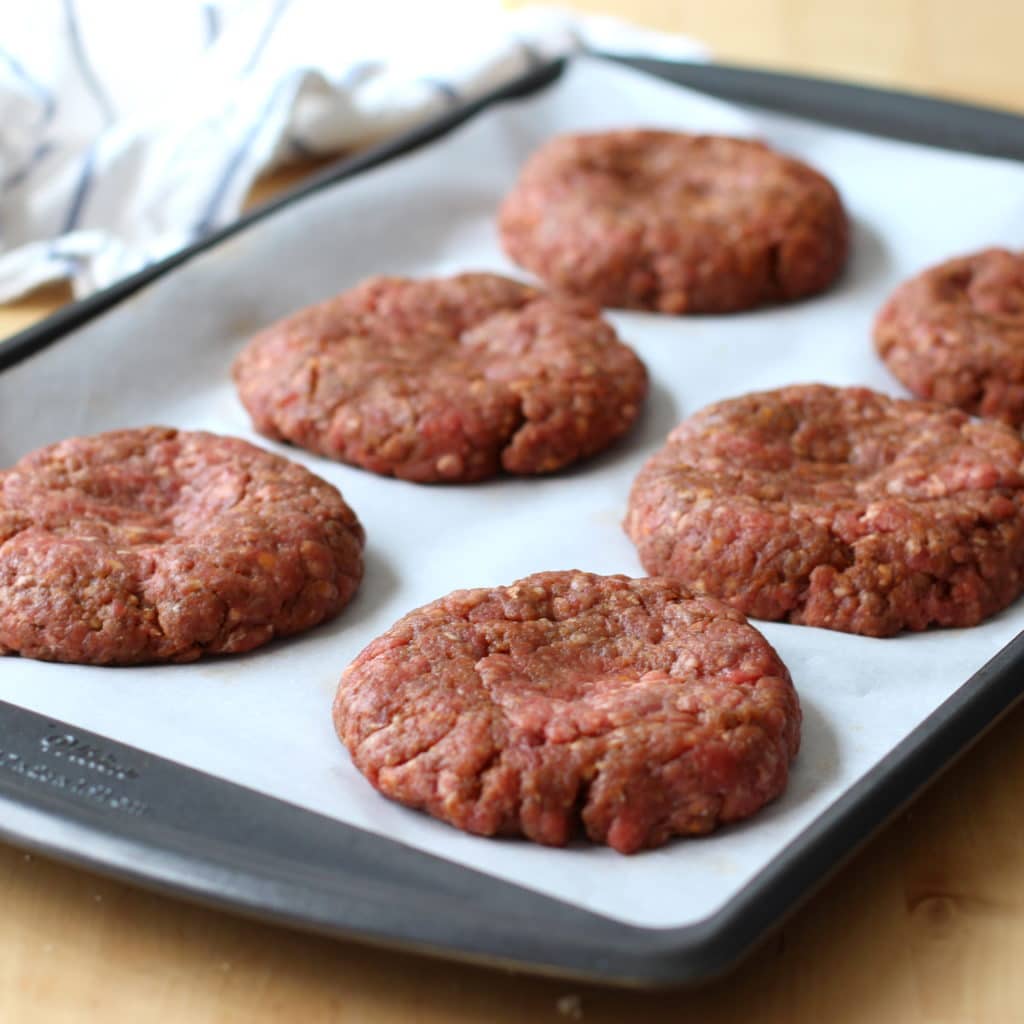 If you are using a skillet, grease skillet with oil and turn on the heat.
Place patties on grill/skillet, and cook on one side, then flip to cook the other side after a few minutes.
As a reference point, our grill was at 300℉ the whole time, and we cooked for 6 1/2 minutes on each side and got medium-well burgers.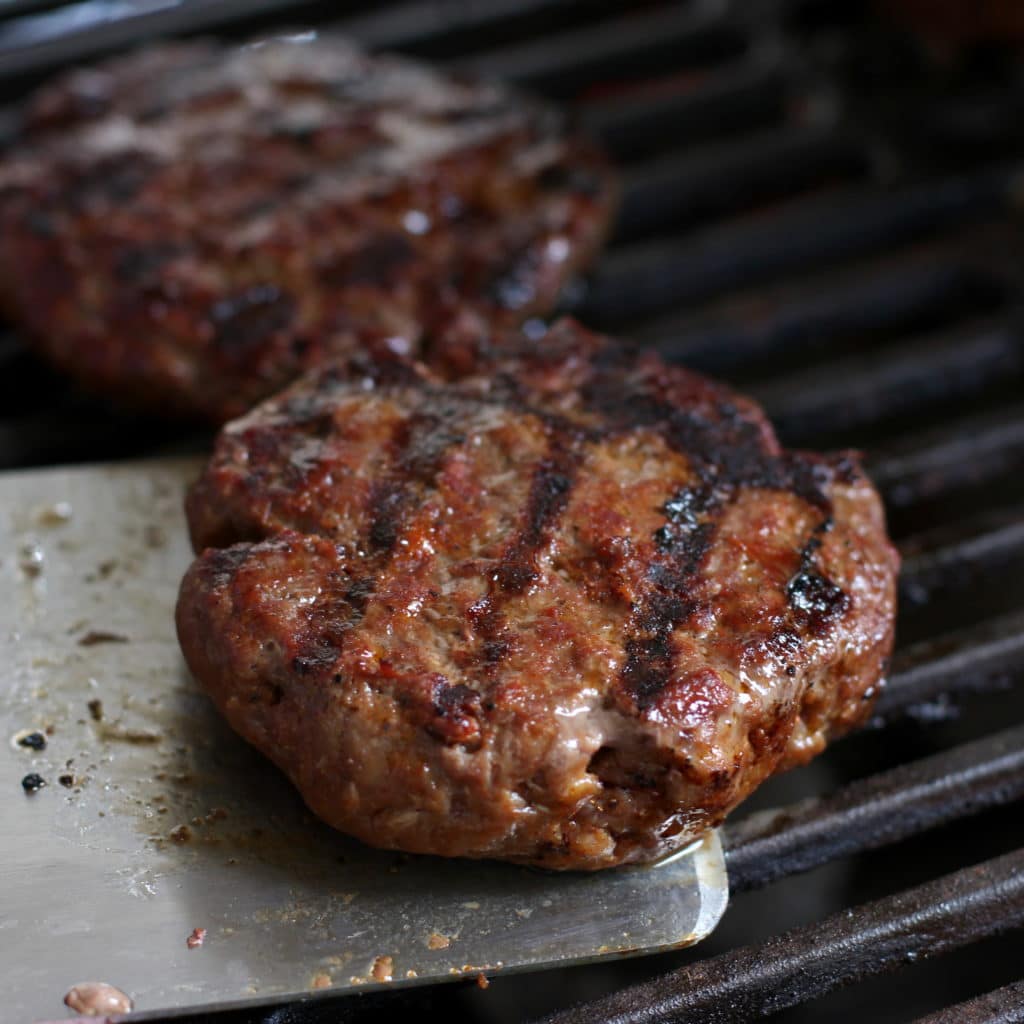 Juicy, tasty, perfectly charred ground beef patties. My tummy is hungry!
Place a slice of cheese on the patties the last 30 seconds or so before removing from heat.
What type of cheese to use on burgers?
We use good quality American because it melts super well and I do have a thing for melted cheese on burgers, but cheddar, swiss, provolone, gouda, pepper jack and so much more work great as well.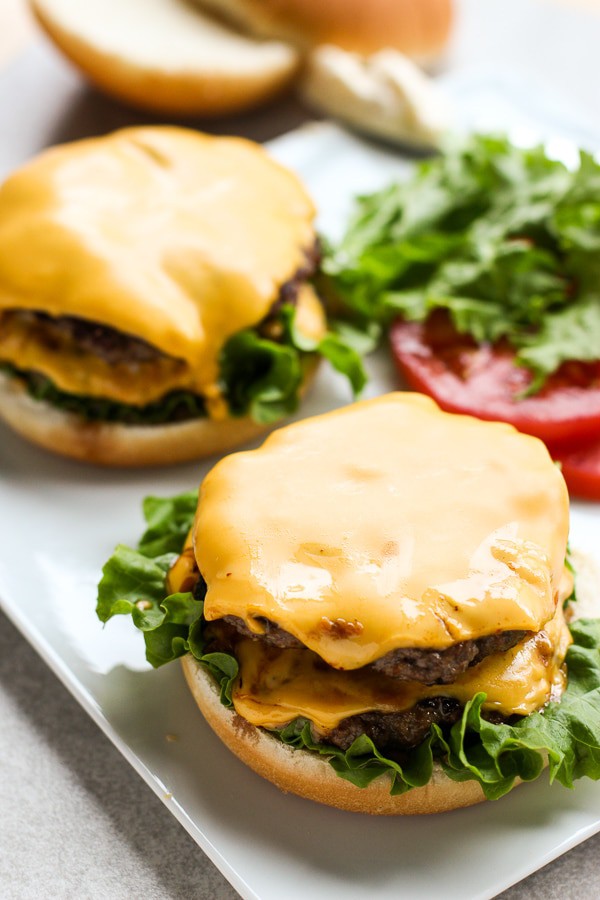 Toast the burger buns, assemble… beef and cheese + sliced tomato + lettuce + sauce (ketchup/mayo/mustard) and there you go…
Why make homemade burger?
Yes. Homemade burgers are the best. But why?
Here are all the reasons to make your own homemade burger recipe…
SO MUCH less grease – Burgers can be super greasy, but if you are health conscious, and still want a burger that is not meatless every now and then (yes, this girl needs her meat), this is the way to go. We use super lean meat for this recipe, and don't use excessive oil.
SO MUCH cheaper. I'm telling you, it's budget meal 101.
You have full control of what goes into it?

Want it less/more greasy? Reduce/add vegetable oil when cooking your patties
Prefer more of less of a certain seasoning? Adjust it based on your preference

Most importantly…it's delicious! Because it tastes fresh, the meat is actually flavorful on the inside (not just the surface of the patties).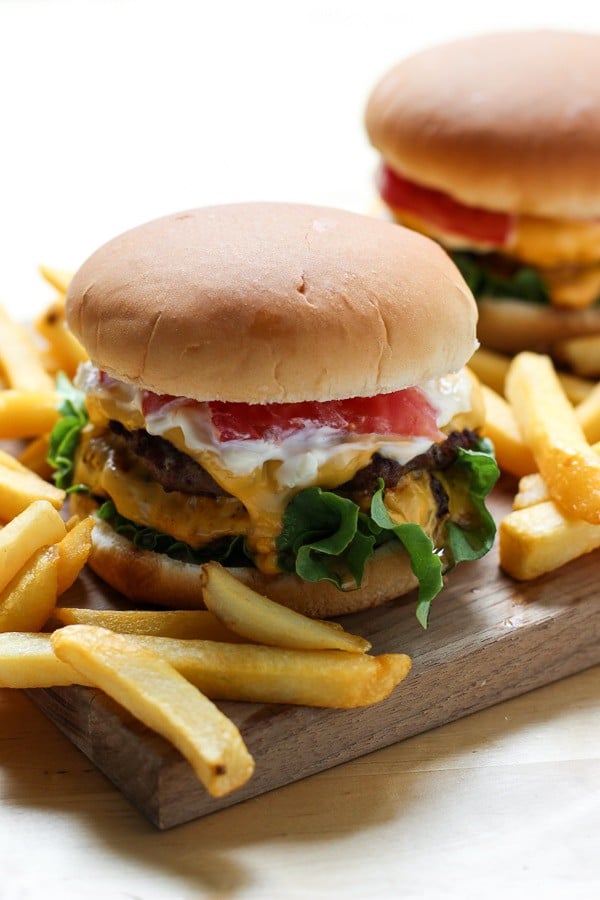 Other ingredients to add to your burger:
A solid patty is important to make the best homemade burger. But do you know what else is important? Condiments and ingredients in your burger.
I love to pile my homemade burgers with the basic lettuce, tomato, and cheese. But there are days where I like to fancy it up and add some of these to it as well!
Barbecue sauce instead of, or in addition to mayo/mustard/ketchup
Pickles
Grilled Onions
Grilled Mushrooms
Avocado
And a foodie favorite… fried egg 🙂
Lots of options…get creative and jazz up your homemade beef burger! Or just have a old ole tradition burger because some of us can be a bit of a traditionalist when it comes to a classic like this.
The ultimate Homemade Burger. You cannot go wrong. ENJOY!!!
DID YOU ENJOY THIS RECIPE? Please comment below and give us a 5-star rating! This will help others find this recipe on Google and Pinterest. We very much appreciate your help! 🤍
Sides to go with your beef burger!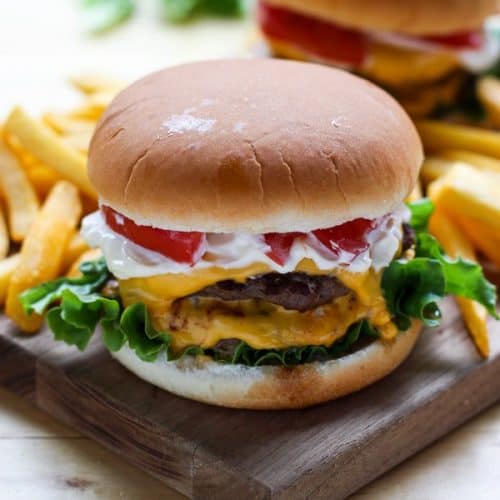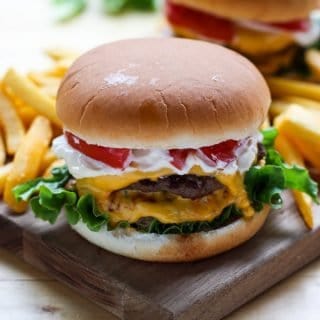 The Ultimate Homemade Burger
The ultimate homemade beef burger recipe! Perfectly seasoned juicy beef patties sandwich between two warm buns. Add whatever toppings you like, and omit whatever you don't want. The BEST basic burger recipe!
Print
Pin
Ingredients
2

lbs

ground beef

4-8

burger buns

8

slices

American cheese

lettuce (iceberg, romaine etc)

1-2

tomato

sliced

1 1/2

tbsp

garlic powder

1

tbsp

smoked paprika

1/2

tbsp

black pepper

1/2

tsp

salt

2 – 2 1/2

tbsp

Worcestershire sauce

mayo

mustard

ketchup

vegetable oil

if cooking on stove top
Instructions
If using grill, fire up the grill.

Loosen defrosted ground beef with hands or spatula.

In a small bowl, mix together dry ingredients for burger seasoning – smoked paprika, garlic powder, black pepper, and salt. Pour half of the dry seasoning into ground beef, use hand to mix it into the beef, then pour the other half and do the same.

Next, pour Worcestershire sauce (see Note 1) onto ground beef and mix everything thoroughly.

Grab a fistful of ground beef and form a round patty ~4 inch in diameter and ~1 inch in thickness. Round the edges and gently press on the middle to create a slight dent in the middle.

When grill is hot, place burger patties on the grill. Grill 5-7 minutes on each side, or until burger is cooked to your liking (Note 2).

If using stove top, heat up skillet with some vegetable oil, then place patties on the skillet. When one side is done, flip and cook the other side. Do not overlap and cook in batches if needed.

Place a slice of cheese on top of the burger during the last 30 seconds of cooking. Remove patties from grill/stovetop. (Note 3)

Lightly toast burger buns in toaster oven or on the grill if desire.

Assemble burgers. Place beef patties and cheese between burger buns, and add lettuce, sliced tomato, condiments of your choice (mayo, mustard, ketchup, others?). (See Note 4)
Notes
Note 1: Use more Worcestershire sauce if ground beef is leaner. For example, use 2 1/2 tbsp if ground beef is 93% lean 7% fat or higher, and use 2 tbsp if ground beef is 80% lean 20% fat.
Note 2: As a point of reference, our burger patties were cooked in a charcoal grill at 300 degrees F the whole time, 6 1/2 minutes on each side, and came out medium well. Time needed will depend on many factors, including thickness of patties, temperature of patties, temperature outside, etc, so adjust accordingly!
Note 3: American cheese melts easily. If using cheese that melts slowly, place cheese on the patties the last 20 seconds when the burgers are still on the grill.
Note 4: This will serve 4 if making burgers with single patties, and serve 8 if making burgers with double patties
Nutrition
Calories:
555
kcal
|
Carbohydrates:
29
g
|
Protein:
29
g
|
Fat:
36
g
|
Saturated Fat:
14
g
|
Cholesterol:
104
mg
|
Sodium:
980
mg
|
Potassium:
609
mg
|
Fiber:
2
g
|
Sugar:
6
g
|
Vitamin A:
956
IU
|
Vitamin C:
5
mg
|
Calcium:
337
mg
|
Iron:
5
mg