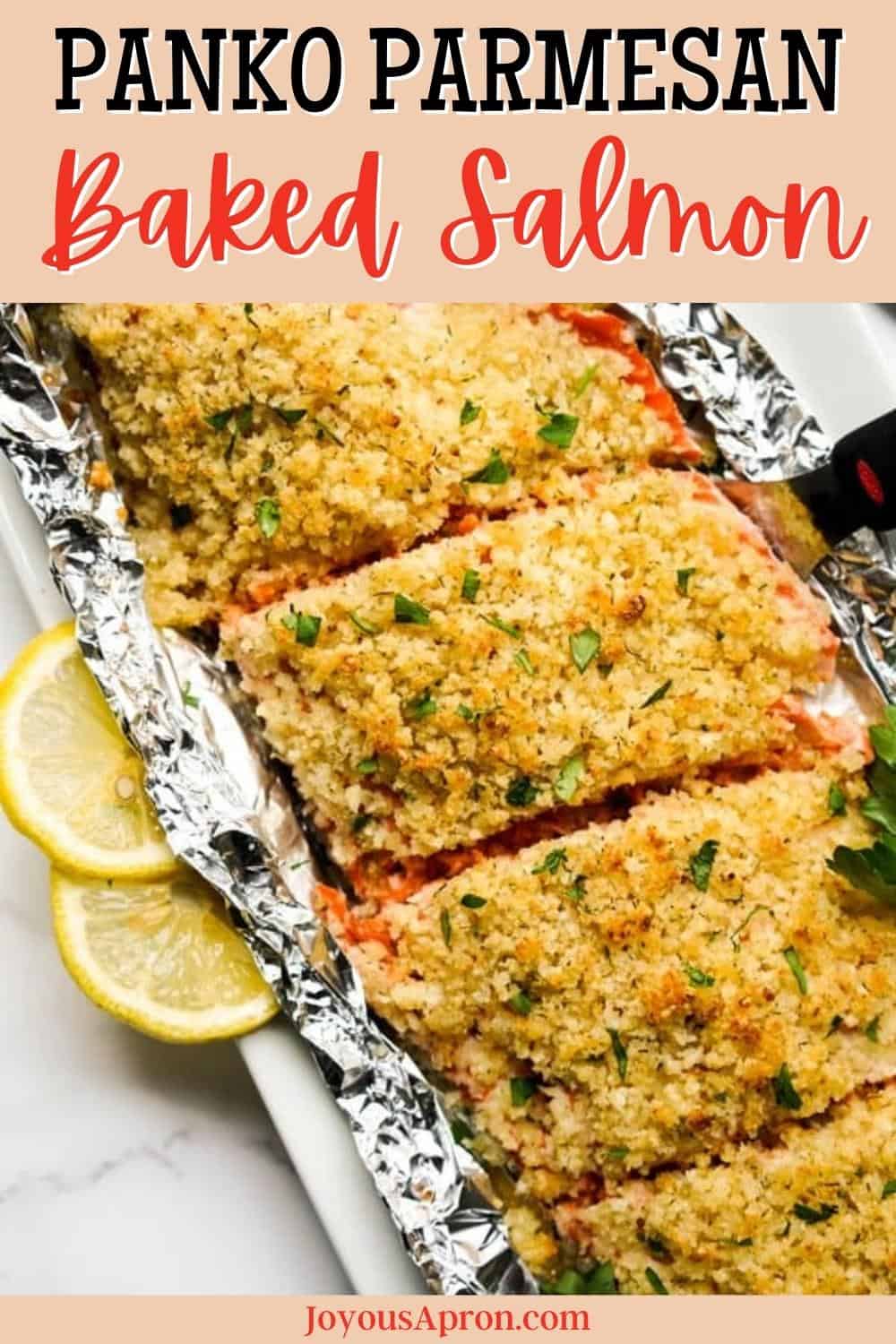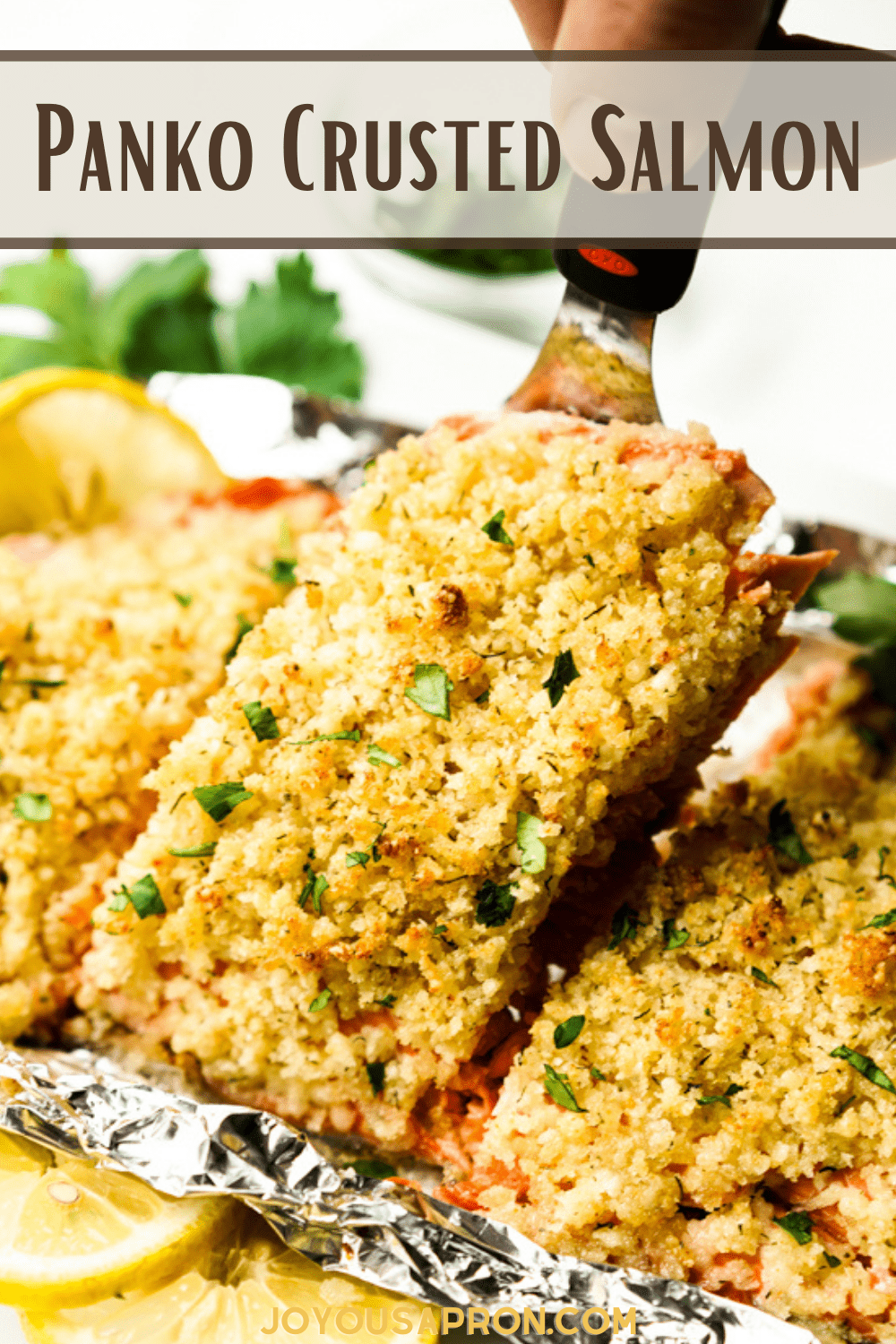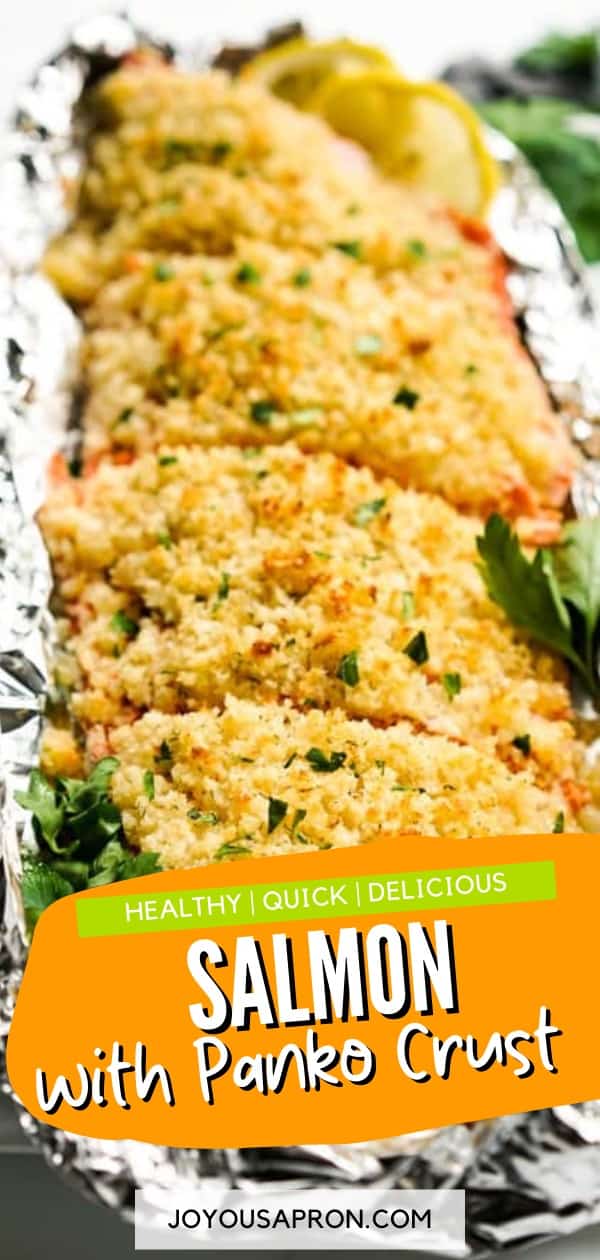 Panko Crusted Salmon is an easy and healthy salmon recipe ready under 20 minutes! Baked salmon topped with a crunchy, flavorful parmesan and panko crust….yum yum yum!
It's the kind of recipe you want to keep at hand for busy evenings. Because it's definitely faster than running out to grab takeout, or wait for a pizza delivery! And yes, it's way healthier too!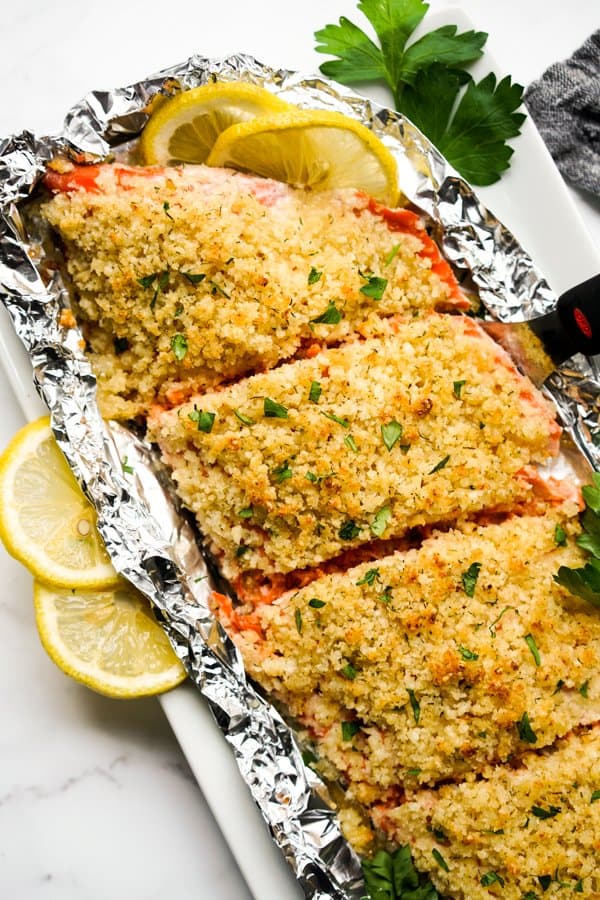 Happy New Year, friends!
I wanted to kick off New Year with a healthy yet super delicious dish that my husband and I make frequently and enjoy very much every single time we do.
It's one of our go-to meals when we want something quick and easy, can be made with almost everything we have at hand, yet still fairly healthy.
Oh heyyy, Panko Crusted Salmon!
If you like that meals that are healthy, easy and also delicious, check out Healthy Turkey Chili, Chicken Lo Mein, Asian Salmon Salad with Ginger Soy Dressing, Chili Lime Shrimp with Avocado Crema and Panko Baked Chicken. These are some of my other favorites from the blog! 🙂
This Salmon recipe is juicy, moist (not dry at all! And oh you betcha I will show you how to make that happen!) and flavorful, then topped with a nice crunchy layer of Panko and parmesan crust that is nice and garlicky.
There's nothing basic about this recipe, yet when you make it, it feels very basic. In other words, it is SUPER EASY. And quick. And with minimal ingredients.
It doesn't get better than this, really…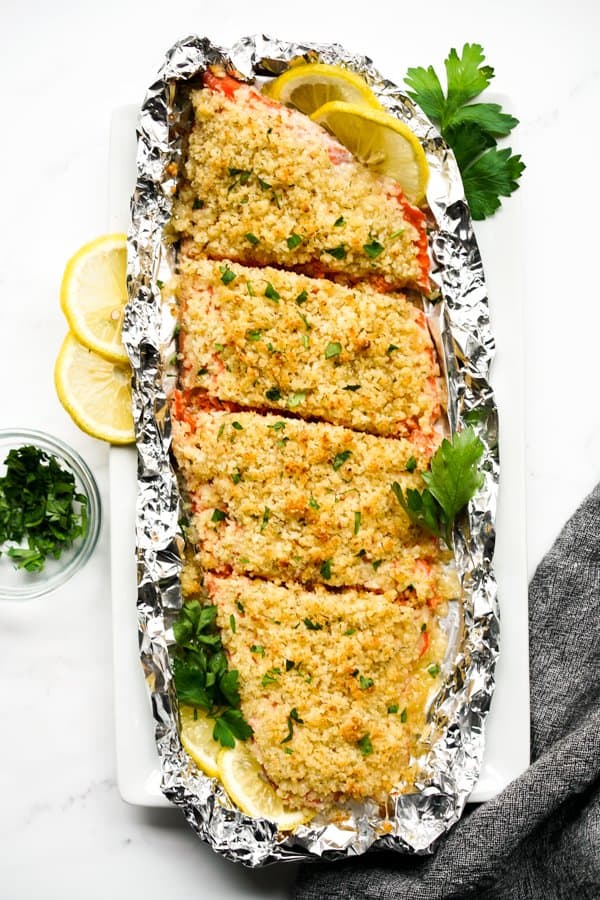 Ingredients
Made with pantry-friendly ingredients, here is what you need for this Panko Salmon recipe:
Salmon – it's the most important ingredient in this recipe and therefore getting a fresh, good quality piece of salmon will make or break this dish! I always try to avoid frozen salmon and get fresh. If your grocery store has a seafood counter, that is the best place to go for the freshest piece of salmon. Either farm raised or wild caught salmon will work for this – I have used both and they taste delicious either way. The salmon used in these particular photographs are wild caught salmon – they are usually brighter red in color.
Panko breadcrumbs – they are basically Japanese-styled breadcrumbs, used when frying tempura shrimp etc. They are easily available in any mainstream grocery store, almost always next to regular breadcrumbs.
Grated parmesan – use good quality parmesan cheese! It makes a big difference. Refrigerated parmesan is always better tasting than the non-refrigerated kind.
Dill – I use dried dill but if you have fresh those are even better! They usually carry even more flavor.
Garlic powder
Salted butter – I like to use salted instead of unsalted because the salt in this will open up and add to the flavor of the dish.
Salt – some of this will go on to the fish and some into the crust.
Black pepper
Olive oil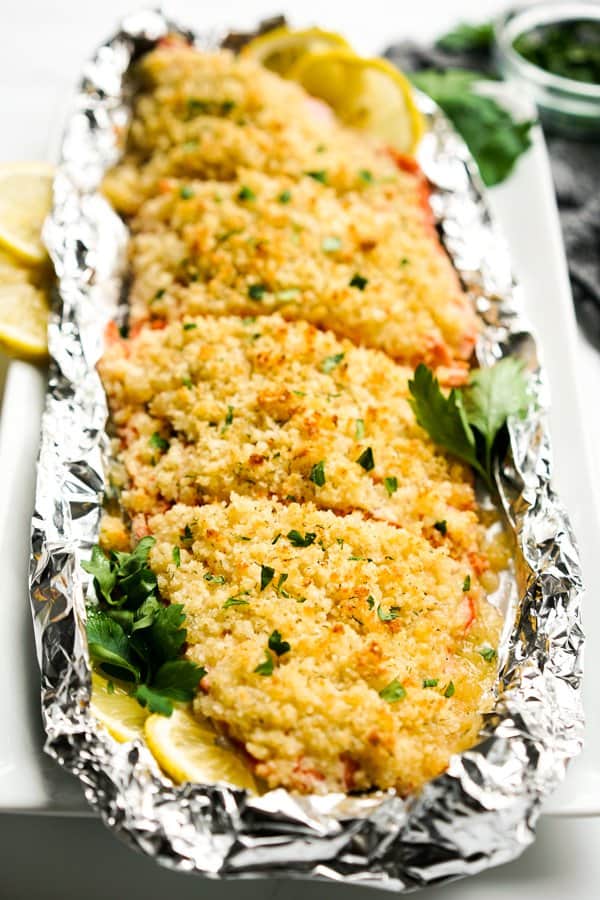 Let's Make Salmon with Panko
Start off with a large piece of salmon. You can cut it into smaller pieces but I personally find it the easiest to bake the whole salmon, and then cut it off into smaller pieces when serving.
Pssst: This also makes preparing it one step easier. 😉
Pat dry salmon and then place it on a large piece of greased aluminum foil, then scrunch up the aluminum foil around the salmon so that it traps the liquid forms during baking.
If using skin-on salmon, place it skin side down.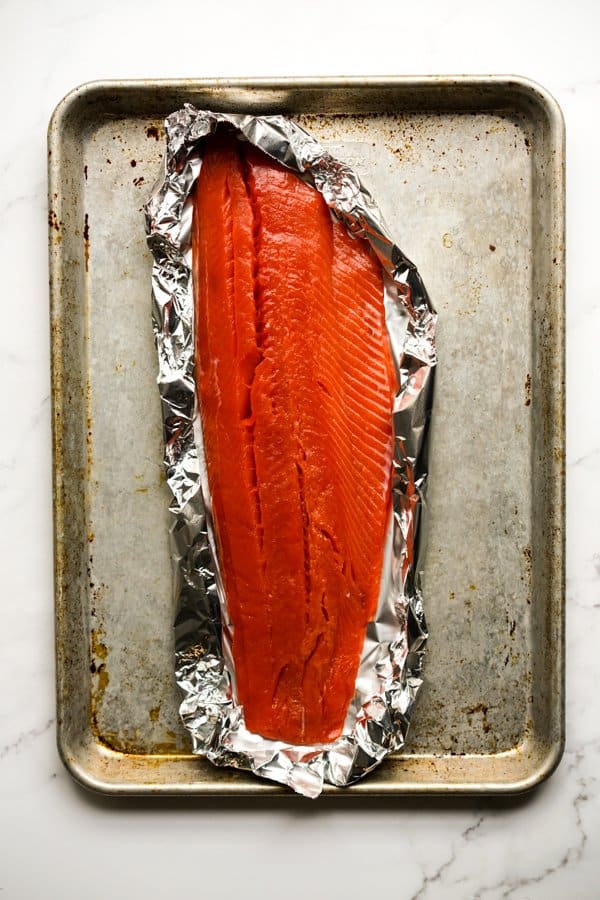 Sprinkle top of the salmon with salt and black pepper.
Then prepare the panko breadcrumb mixture.
The panko mixture is made with:
Panko breadcrumbs
Grated parmesan cheese
Garnish powder
Dill
A pinch of salt
Salted butter
Combine all the ingredients in a small bowl.
When combined, mixture will look crumbly and slightly stick together in little clumps.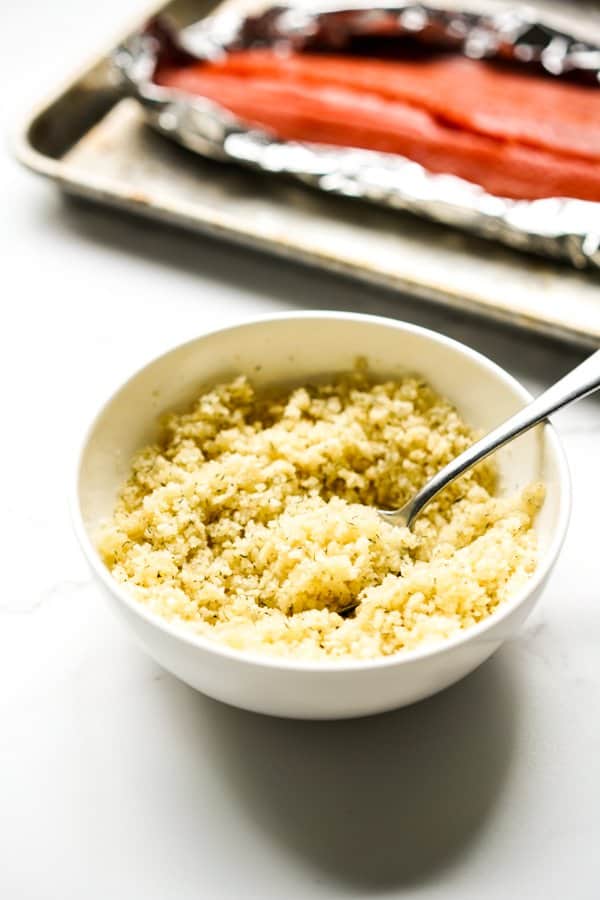 Sprinkle the crumbly mixture on top of the salmon.
I'm using about 1.25-1.5 lbs of salmon and the amount of panko was just right. If you are using a piece of salmon that is large than 2 lbs, or if you just prefer a thicker panko crust, I would suggest doubling the mixture.
Keep in mind, the flavor is in the mixture!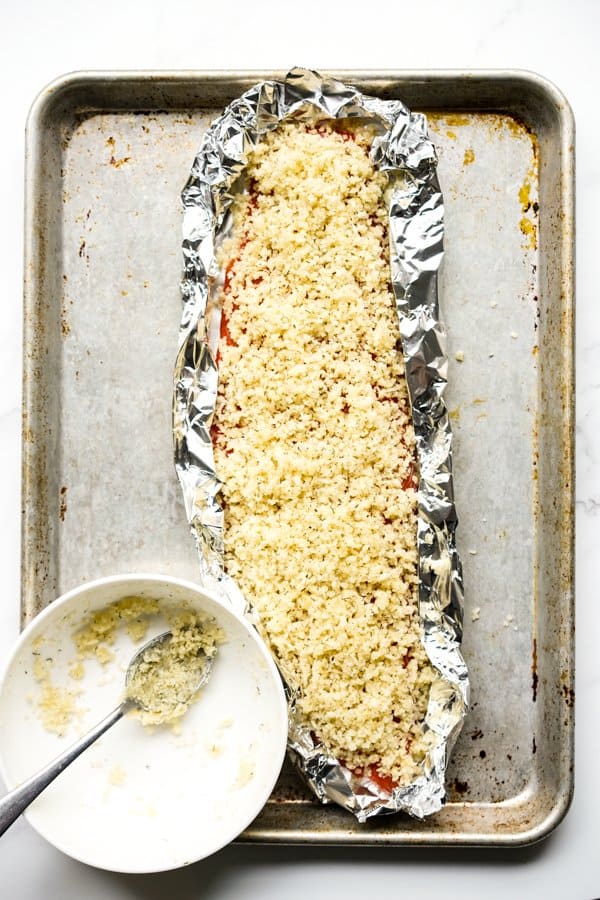 After topping the salmon with the panko parmesan mixture, send it into the oven to bake!
I suggest baking it at 425℉ and checking at the 12-minute mark, check salmon with a meat thermometer, and if the thickest point has reached 145℉, it is done and can be removed. If it isn't, send salmon into the oven to continue to cook.
Keep in mind that you want to pull the salmon out from the oven as close to the 145℉ mark as possible. Avoid letting it cook too long in the oven and rise far above the 145℉ mark, because salmon gets dryer the longer it cooks.
Our goal is a juicy, moist piece of salmon that is perfectly cooked, so you want to check the oven frequently once the internal temperature is getting close to 145℉ so that you can pull it out once it crosses 145℉.
Once salmon is done, garnish with some parsley if you'd like. If not, serve it as is!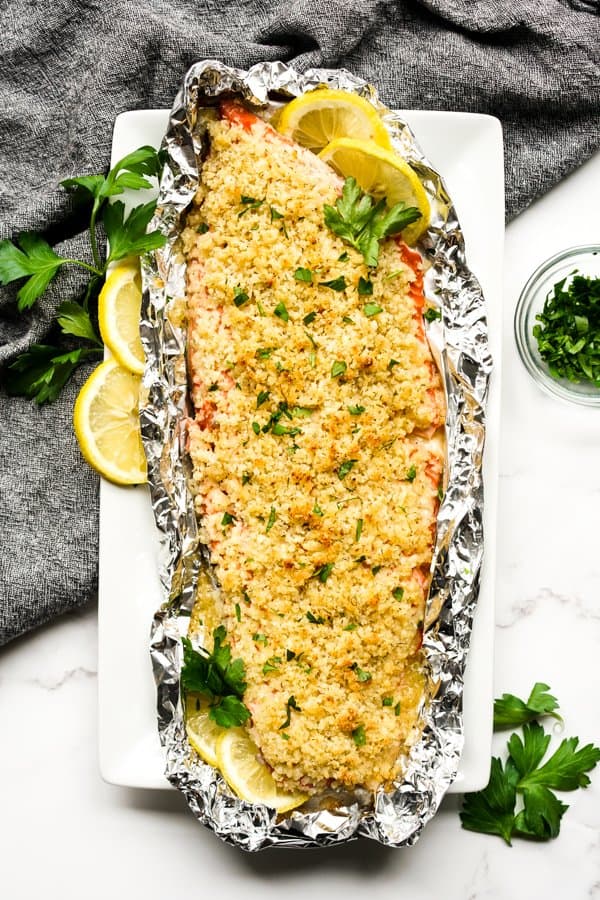 All this is ready before you know it…in just about 20 minutes!
Whenever we want a quick and simple meal, salmon is one of the proteins we turn to because it cooks really quickly. In fact, if you cook it too long, it's no longer tasty!
There's nothing more satisfying than a quick and easy meal that is also super yummy!
Tips and Tricks
Make sure salmon is completely defrosted and pat dry to remove moisture before preparing it.
A good quality and fresh piece of salmon will make a difference to the tastiness of this dish. (The same goes to any seafood dish by the way!) Use fresh salmon and avoid frozen.
Do not overbake salmon! Overbaked salmon is dry and not very yummy.
Add other herbs to the Panko mixture as desire – rosemary, oregano, thyme, parsley etc.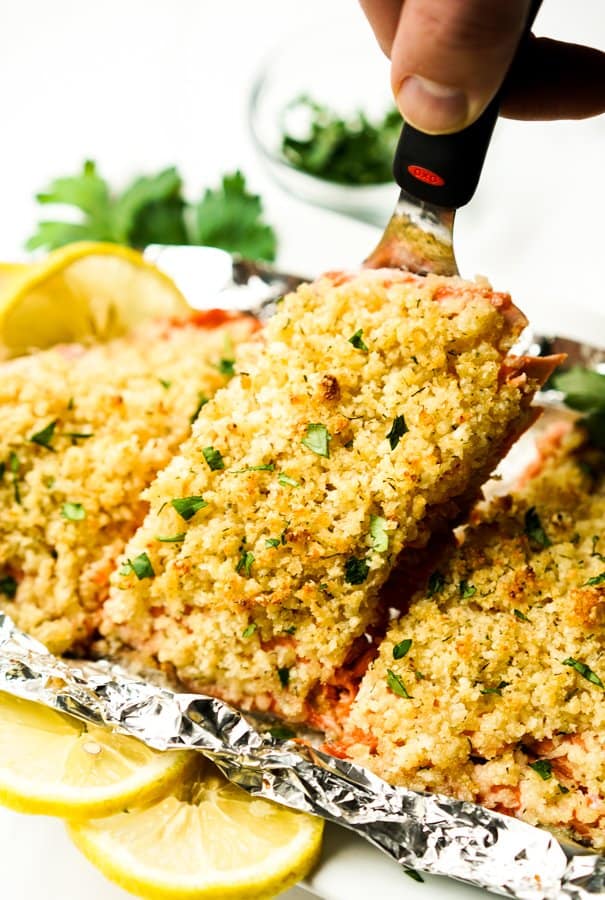 Frequently Asked Questions
How to cook salmon so that it is juicy and moist (and not dry)?
Make sure to not cook it for too long! Salmon is cooked once it hits 145℉, so the trick is you want to pull it out of the oven as soon as the thickest part of the fish hits 145℉. For this recipe, I recommend baking at 425℉ and checking at the 12-minute mark using a meat thermometer. Then cook it for longer and checking it every few minutes as needed. Always remember: you can always cook it for longer if it is raw, but once the fish turn dry, you cannot undo it.
Does this save well as leftovers?
Yes and no. I eat this as leftovers all the time, but it will never taste the same as when it was fresh out of the oven. Fish will get dryer once reheated (whether in the microwave or oven), and the Panko crust will no longer be as crispy after it is microwaved. All that being said, will I still eat it and do this as leftovers? Absolutely. 🙂
Can I substitute panko breadcrumbs with regular breadcrubs?
Yes! That would be fine.
Which one should I use – wild caught salmon or farm raise salmon?
I have used both and they work just fine!
I hope you enjoy this easy and delicious recipe as much as we do! Give it a try and let me know what you think!
Here's to an awesome (and yummy) 2022! ❤️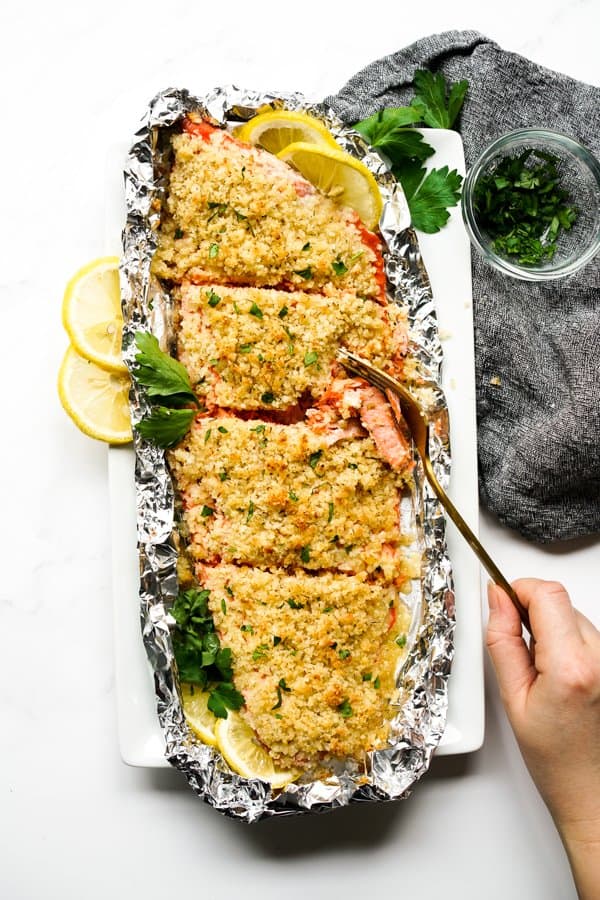 What to serve with Panko Crusted Salmon
DID YOU ENJOY THIS RECIPE? Please comment below and give us a 5-star rating! This will help others find this recipe on Google and Pinterest. We very much appreciate your help! 🤍
Other Salmon Recipes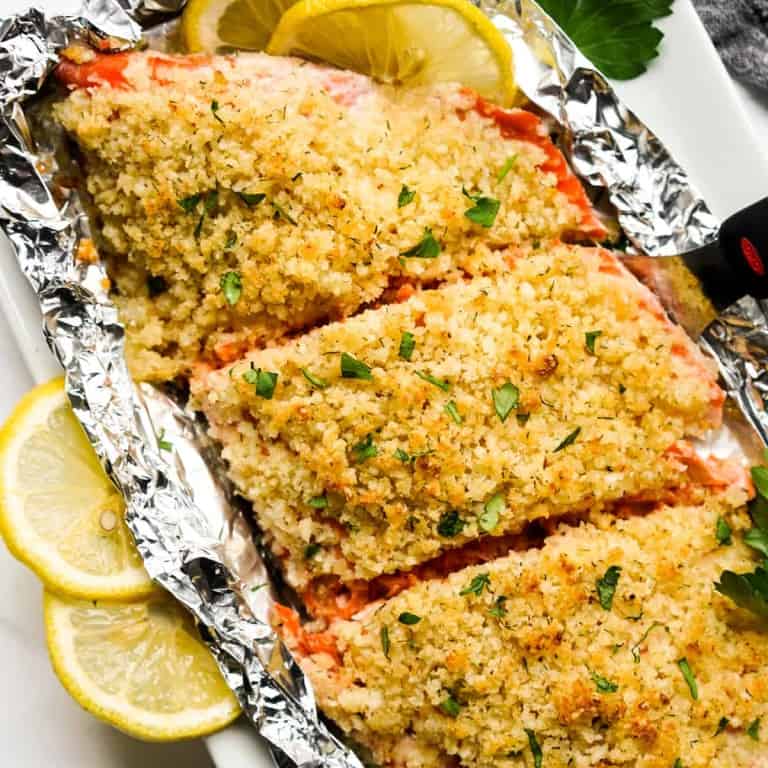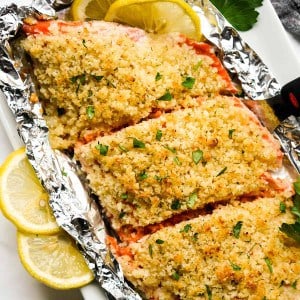 Panko Crusted Salmon
Juicy baked salmon topped with crispy Panko and parmesan crust. An easy salmon dinner recipe ready in 20 minutes!
Print
Pin
Ingredients
1.5

lbs

raw salmon

1/3

cup

Panko breadcrumbs

1/3

cup

parmesan cheese

grated

1/4

tsp

dill

1

tsp

garlic powder

2

tbsp

salted butter

melted

1/4

tsp

salt

for panko mixture, + more for sprinkling

black pepper

for sprinkling

parsley

chopped, optional
Instructions
Pat dry salmon, place on a baking dish lined with foil (foil should be greased slightly), sprinkle the top of salmon with salt and black pepper. If using skin-on salmon, place salmon skin side down.

Gather the sides of the foil and scrunch it up around the salmon to trap any liquid formed during baking.

In a bowl, bring together Panko breadcrumbs, parmesan cheese, dill, and garlic powder. Mix to combine. Add melted butter, and mix again to combine.

Cover the top of salmon with Panko mixture.

Bake salmon for 12 minutes. Check to see if it is done. If using a meat thermometer, the thickest part of the salmon should be 145℉. If salmon is not done, bake it for a few more minutes. Avoid overcooking salmon.

Garnish with parsley (optional). Serve and enjoy!
Notes
If using salmon that is larger than 2 lbs, you might want to double the amount of the panko mixture.
Nutrition
Calories:
347
kcal
|
Carbohydrates:
5
g
|
Protein:
38
g
|
Fat:
19
g
|
Saturated Fat:
7
g
|
Polyunsaturated Fat:
5
g
|
Monounsaturated Fat:
6
g
|
Trans Fat:
1
g
|
Cholesterol:
114
mg
|
Sodium:
877
mg
|
Potassium:
865
mg
|
Fiber:
1
g
|
Sugar:
1
g
|
Vitamin A:
310
IU
|
Vitamin C:
1
mg
|
Calcium:
132
mg
|
Iron:
2
mg