Marinated Flank Steak with Avocado Corn Topping
What we all need on these sunny summer days: flank steak marinated with a simple yet gorgeous soy based marinade, seared in a cast iron (or any skillet), and topped with creamy and crunchy avocado and corn topping.
Bright, fresh, flavorful. BRING IT ON.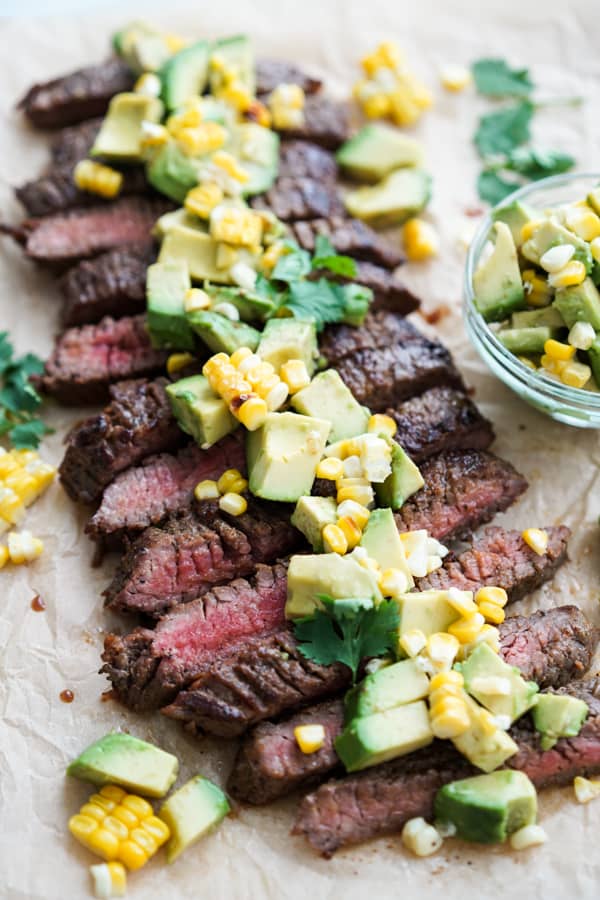 It takes about an hour to marinade the flank steak. About ten to fifteen minutes of searing/pan frying. And then you top the steak an avocado and corn concoction combined with fresh zesty lime juice.
You can do it in true summer fashion by using fresh corn kernel off the cob, but it's also okay to be lazy and grab some frozen or canned corn. Because sometimes we just need easy.
Juicy, filling, yet still not overly heavy, combined with fresh in-season produce. I mean I will happily spend my all my days eating sweet juicy in-season corn.
That's summer in a nutshell.
I typically cook this indoor on a cast iron skillet or regular skillet that retains heat well. But feel free to take this beauty to the grill if you prefer. In fact, grilling this flank steak on a charcoal grill will bring about an additional layer of smokiness that will add amazing flavors to this piece of meat.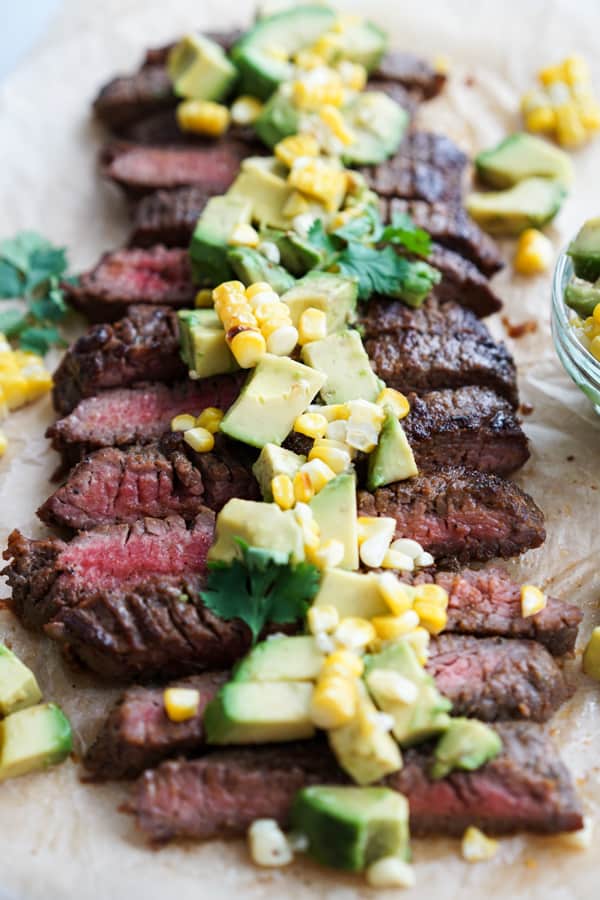 What is Flank Steak?
Flank steak is a cut of the beef that is from the abdominal muscles of a cow.
To put it food-friendly terms (a.k.a. how I typically think about steaks in my mind), it is not the toughest piece of meat but it is not exactly the most tender either. I think of it as somewhere in the middle of the road when it comes to the texture.
Another cut that is pretty similar to flank steak is skirt steak. Skirt steak is slightly tougher than flank steak, but can be used in this recipe as well.
While flank steak isn't as tender as say rib eye or filet mignon (check out Restaurant Style Steak for my favorite way to cook these cuts of beef), if cooked right, and marinated properly, it is exceptionally delicious and can be tender and super enjoyable.
What I love about flank steak is that it's not a crazy expensive cut of steak but with the right technique and marinade, you can enjoy a delicious steak dinner.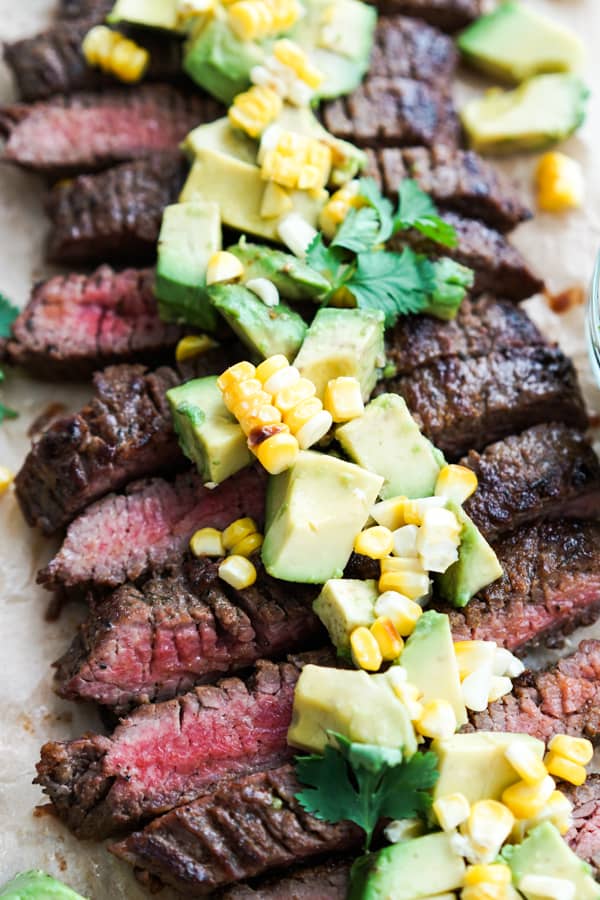 Marinade for Flank Steak
Hello, flavor!
Flavor = high on the list in my most used words when I describe food! The marinade for flank steak is incredible flavorful (see what I did there) and so easy to make.
Marinade flank steak for about an hour but not more than four hours.
Whisk together the ingredients below and BAM! You got yourself an extraordinary flank steak marinade!
Soy sauce
Olive oil
Garlic Powder
Onion Powder
Smoked Paprika
Dill
Salt & Pepper
Liquid smoke (optional, gives it that smoky flavor. Omit if using charcoal grill)
How to cook Flank Steak on Cast Iron?
If you have been hanging out here long enough, you know I love my cast iron skillet with my whole dang heart.
That simple appliance retains heat like nobody's business and cooks everything incredible evenly. Two characteristics that are important in searing and pan-frying.
Also two reasons why I use it over and over again in a lot of my cooking. (See Sweet Potato and Kielbasa Hash, Restaurant Style Steak, Honey Lemon Garlic Shrimp, Chicken and Brussels Sprouts Stir Fry )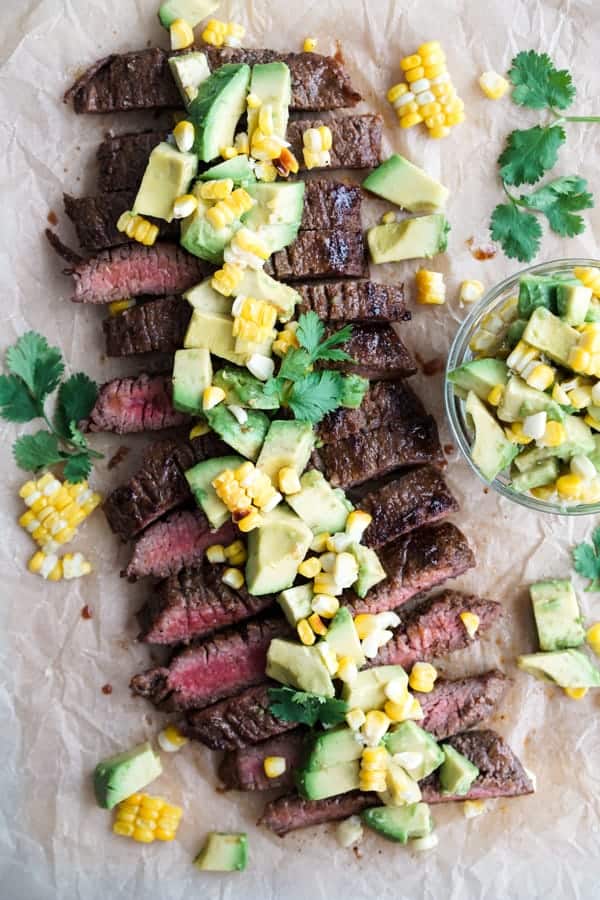 Before searing the steak, here are a few things to note to ensure success:
Cast iron is heated and lightly greased
Steak is dry (pat dry with paper towels) and completely defrost
Then bring flank steak to heated cast iron and sear under medium/medium low heat until you get a nice golden brown color, then flip. Be sure to turn down the heat if you find the outside is browning quickly but the inside is not completely cook. Covering the skillet will help speed up the cooking process as well.
We all like our steaks done differently. I am a medium rare to medium kinda girl. My husband likes his medium well. So cook time varies depending on how you like it.
In a large piece of flank steak, oftentimes different parts of the steak can cook at different pace. Which works out for us because the hubby gets the more done part.
I highly recommend getting a meat thermometer to get your steaks done perfectly to your liking.
rare – 125ºF
medium rare – 135ºF
medium – 145ºF
medium well – 150ºF
well done – 160ºF
Then let it rest for a few minutes after it reaches the desired temperature before serving!
Tips and Tricks
Do not over marinade!
When searing steak, lower heat or cover to cook the inside of the steak (without burning the outside)
Cut cross grain when slicing flank steak to serve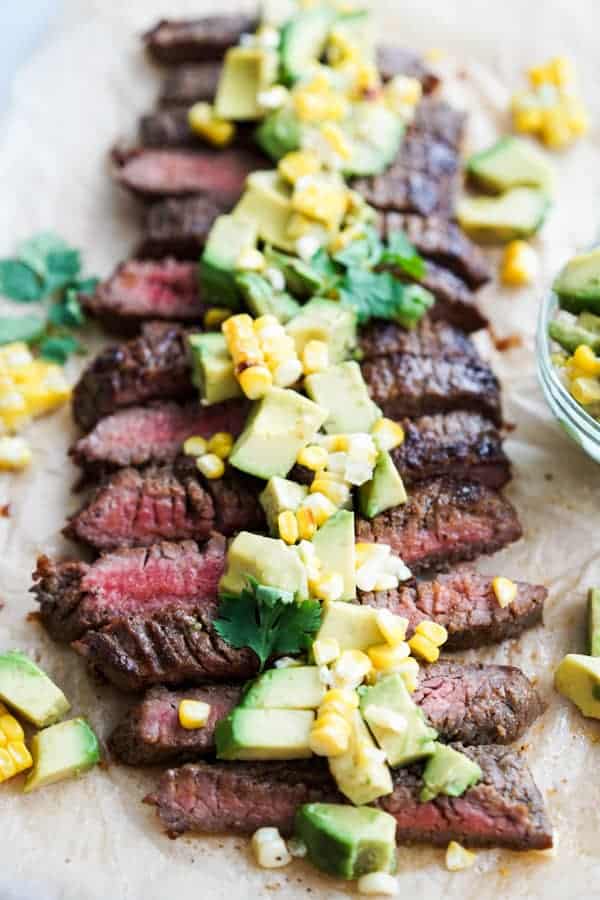 And so it's time. Time to embrace the warm summer heat and feast on juicy strips of marinated flank steak with a crusty outside and fresh and bright produce. And maybe with a glass of White Peach Sangria on the side? 😉
You won't regret it, friends.
Who else is ready to BRING ON SUMMER?
DID YOU ENJOY THIS RECIPE? Please comment below and give us a 5-star rating! This will help others find this recipe on Google and Pinterest. We very much appreciate your help! 🤍
More Beef and Steak Recipes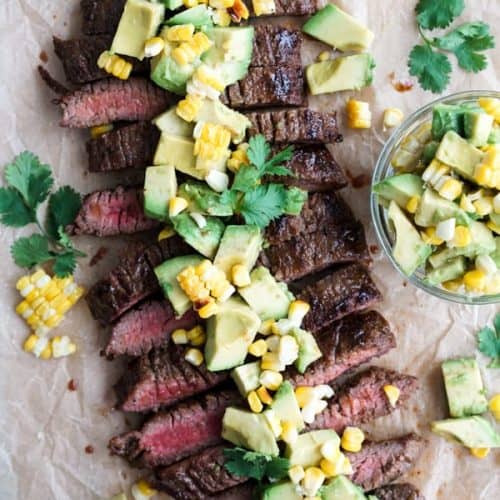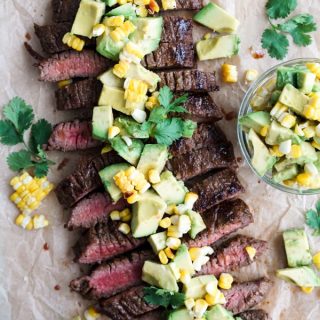 Marinated Flank Steak with Avocado Corn Topping
Juicy marinated flank steak packed with amazing flavors topped with fresh and bright avocado corn topping. Pan-seared or grilled for a delicious dinner!
Print
Pin
Ingredients
Marinated Flank Steak
1 – 1.5

lbs

flank steak

1/4

cup

olive oil

1/8

cup

soy sauce

1/2

tsp

liquid smoke

optional, omit if grilling

3

tsp

garlic powder

1

tsp

onion powder

1/2

tsp

smoked paprika

1/2

tsp

dill

1/2

tsp

salt

1/2

tsp

black pepper
Avocado Corn Topping
1

large avocado

or two small avocados

1

cup

corn

frozen, canned, or fresh

1

lime

juice

salt

to taste
Instructions
Add all the ingredients under "Marinated Flank Steak" except for flank steak into a large galloon zip lock bag. Use a whisk or fork to combine ingredients.

Add flank steak to zip lock bag. Seal zip lock bag and ensure marinade covers both sides of steak evenly. Marinade for at least an hour but not more than 4 hours.

Heat cast iron skillet or skillet on medium heat.

Bring steak to cast iron and cook until the bottom side is browned. Then flip steak over and cook the other side. Lower heat and cover if the insides of steak is not cooked but the outside is starting to brown or even burn. Remove from heat once steak reaches desired doneness (see note below). Let steak sit for a few minutes.

In the meantime, mix together avocado, cooked corn, lime juice and salt to taste in a small bowl.

Slice steak and top with avocado corn topping. Serve and enjoy!
Notes
Internal Temperature for different Steak Doneness:
rare – 125ºF
medium rare – 135ºF
medium – 145ºF
medium well – 150ºF
well done – 160ºF
Nutrition
Calories:
645
kcal
|
Carbohydrates:
17
g
|
Protein:
64
g
|
Fat:
36
g
|
Saturated Fat:
9
g
|
Cholesterol:
170
mg
|
Sodium:
998
mg
|
Potassium:
1355
mg
|
Fiber:
5
g
|
Sugar:
3
g
|
Vitamin A:
298
IU
|
Vitamin C:
12
mg
|
Calcium:
71
mg
|
Iron:
5
mg