Slow Cooker BBQ Chicken Thighs
I am in love with these Slow Cooker BBQ Chicken Thighs! I mean, what is not to love about sticky BBQ Chicken Thighs coated in tangy sweet BBQ sauce. Especially when the chicken is tender, flavorful, and takes minimal effort to put together (thank you, crockpot!).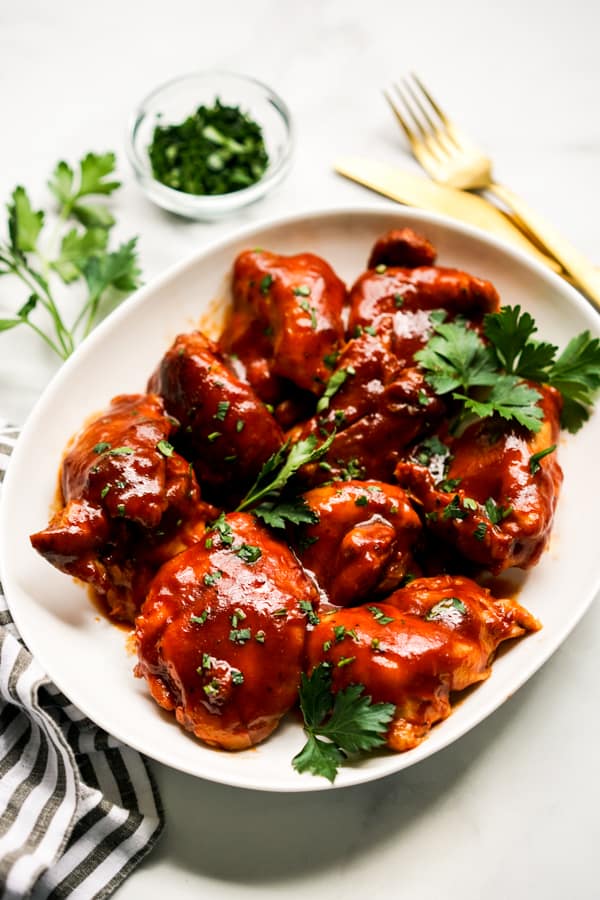 I don't know if it's my years living in the South and Texas or what, but I love my BBQ sauces.
Something about that tangy, sweet, savory combo makes everything taste so darn good. Before this Slow Cooker BBQ Chicken Thighs stole my heart, there were these BBQ Chicken Tacos and BBQ Baked Chicken Wings as well.
I love BBQ sauces; I love my slow cooker; I love my fall apart chicken meat.
I know that is a lot of love going around, but the fact that this Crockpot BBQ Chicken Thighs recipe covers all three of these loves makes this dish so very appealing for me.
You basically throw everything into the crockpot – BBQ sauce, chicken thighs and all, and it will slowly cook the meat until it is fall-apart tender, and let that incredible sauce soak into the chicken.
It is a beautiful thing.
And on the practical side: this is such a convenient, flavorful dish that we make often, especially during busy weeknights.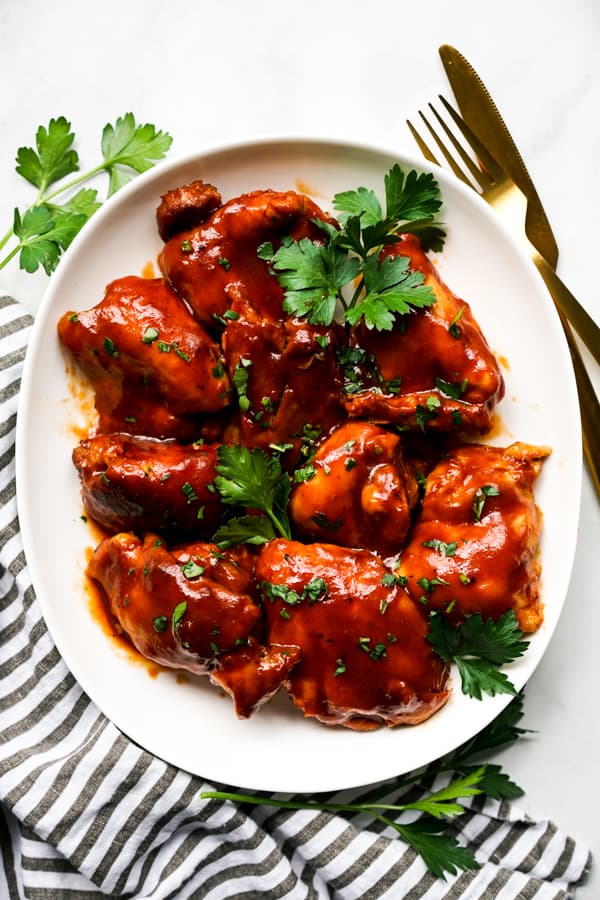 I like to use chicken thighs because it is a more flavorful and juicy piece of meat compared to chicken breast, but feel free to use chicken breast in place of thighs if you prefer.
Why Slow Cooker
Technically you can cook this any other way – on the stove top, in the oven, or even in the Instant Pot.
I've done my BBQ chicken thighs using all these methods but always come back to the slow cooker, and here is why: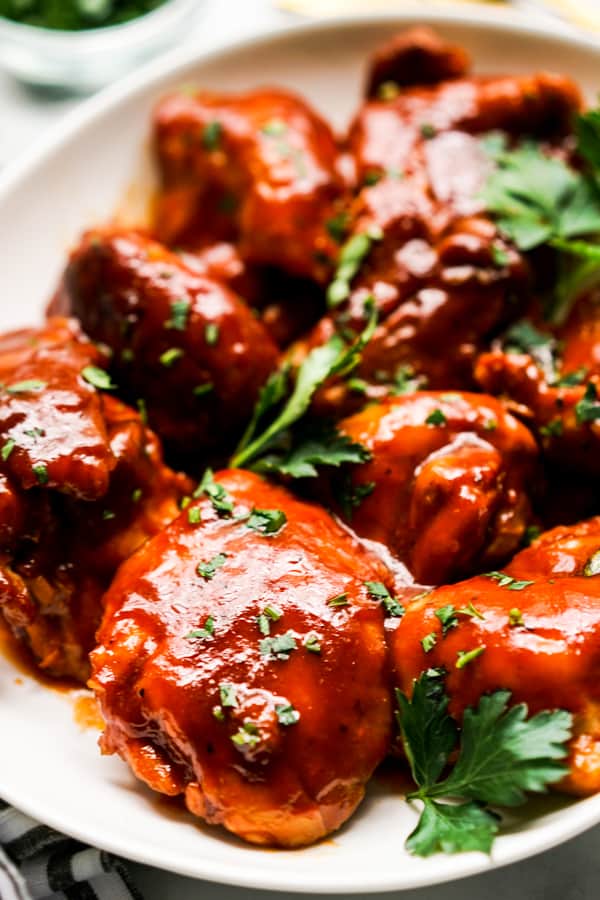 It's so easy!
This recipe uses pantry-friendly ingredients. Simply bring these ingredients into the crockpot:
The sauce in this recipe is very similar to my BBQ Chicken Baked Potato recipe, but with a less intense amount of sweetness and tanginess. That is because when BBQ chicken is topped on baked potato, it needs a more intense flavor to offset the blander, milder taste of potatoes.
Another difference is that the baked potato recipe calls for shredding the chicken when it is cooked, but we are keeping these chicken in large pieces in this recipe.
Throw everything into the crockpot, make sure that each piece of chicken is well-coated in the sauce, and let it cook on high for 3.5 hours.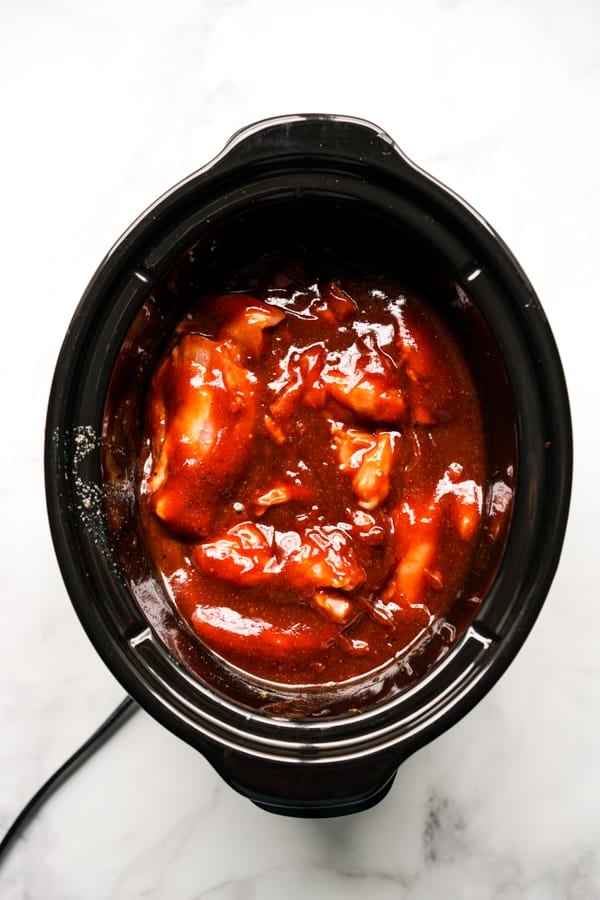 When complete, place chicken on a baking sheet line with foil, brush generously with bbq sauce from the slow cooker.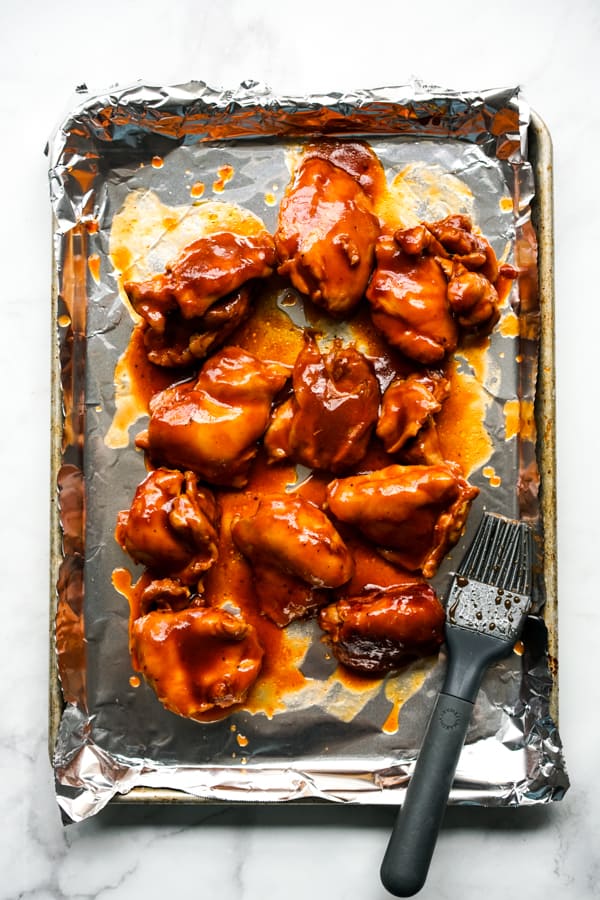 Broil chicken for 3-4 minutes.
This really is a simple chicken dinner that you can make with just a few minutes of active time.
Serving Suggestions
This recipe is most commonly served as a chicken main dish with all kinds of sides.
The sky's really the limit here, but here are some of my favorite sides to serve it with:
In addition, these BBQ Chicken Thighs can be served in sandwiches, as tacos, added to salads etc.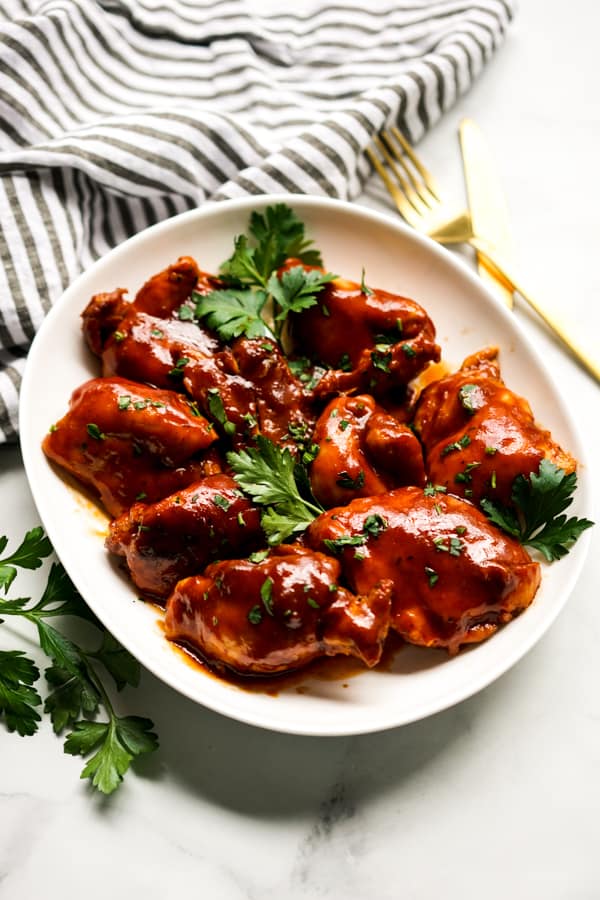 One bite into this sticky, juicy, tender, tangy chicken thighs and that's it. Bam. Game over. No other dish can compare to that perfect combination of deliciousness and ease. 🙌🏼
DID YOU ENJOY THIS RECIPE? Please comment below and give us a 5-star rating! This will help others find this recipe on Google and Pinterest. We very much appreciate your help! 🤍
Other Slow Cooker Recipes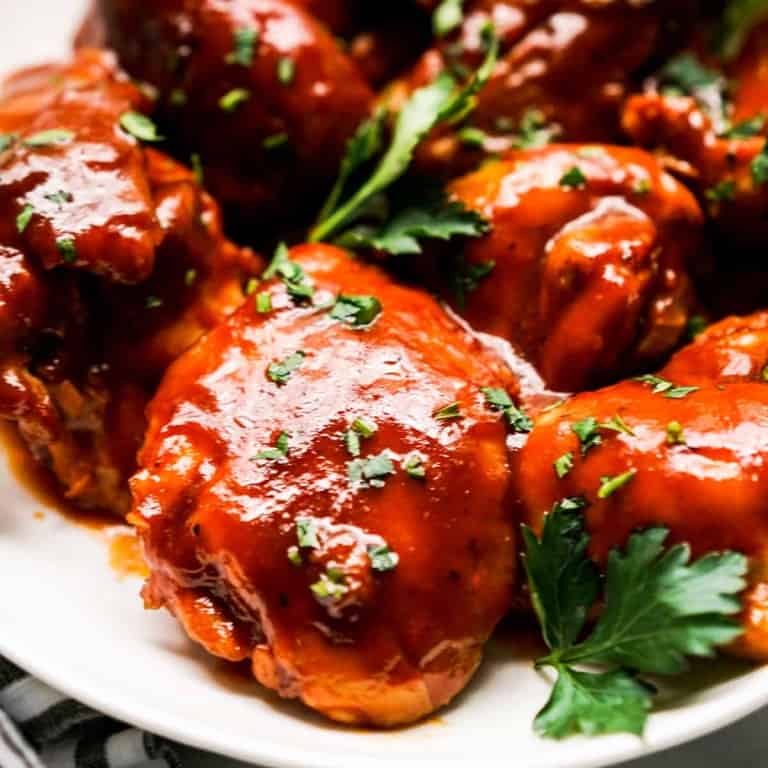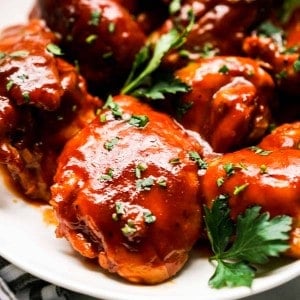 Slow Cooker BBQ Chicken Thighs
Tender and juicy bbq chicken thighs recipe made simple using the slow cooker. Easy and yummy crockpot chicken recipe with only 10 minutes of active prep time!
Print
Pin
Ingredients
3

lbs

chicken thighs

skinless, boneless

2 1/2

cups

bbq sauce

2

tbsp

brown sugar

2

tbsp

apple cider vinegar

1

tsp

liquid smoke

2

tsp

garlic powder

parsley

chopped, optional
Instructions
Bring bbq sauce, brown sugar, apple cider vinegar, garlic powder and liquid smoke to crockpot. Stir to combine.

Add chicken thighs to slow cooker. Coat each piece with sauce.

Cook on high for 3 1/2 hours.

Remove chicken thighs from slow cooker and place on a baking sheet lined with aluminum foil. Brush bbq sauce mixture from slow cooker generously onto chicken.

Broil in oven for 3-4 minutes.

Remove and serve. Optional: garnish with parsley.
Nutrition
Calories:
681
kcal
|
Carbohydrates:
38
g
|
Protein:
42
g
|
Fat:
38
g
|
Saturated Fat:
10
g
|
Trans Fat:
1
g
|
Cholesterol:
222
mg
|
Sodium:
2040
mg
|
Potassium:
541
mg
|
Fiber:
1
g
|
Sugar:
31
g
|
Vitamin A:
178
IU
|
Vitamin C:
1
mg
|
Calcium:
23
mg
|
Iron:
2
mg