Chocolate Marshmallow Cookies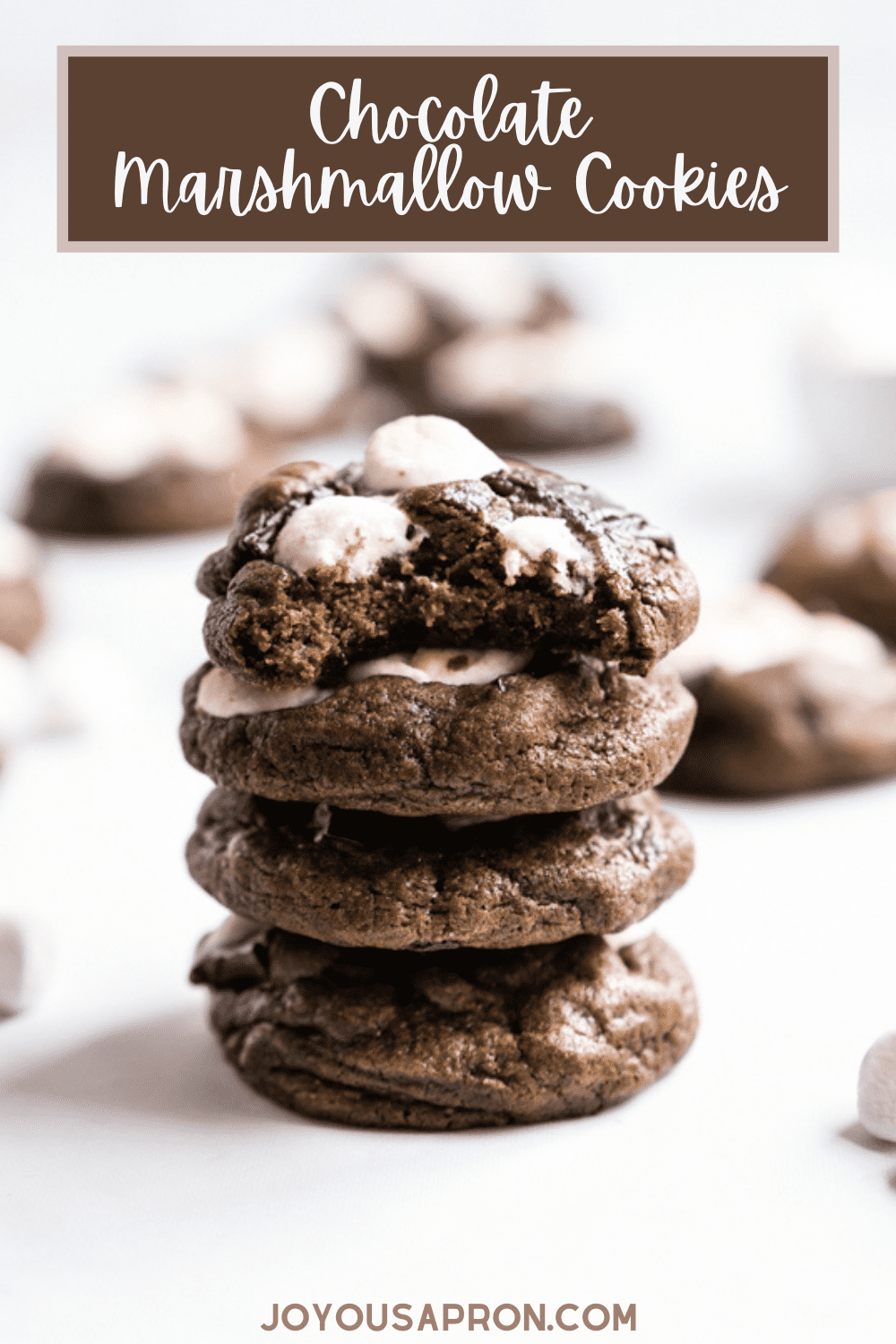 Chocolate Marshmallow Cookies are the best soft and thick chocolate cookies filled with melted chocolate chunks and gooey marshmallows. They are kinda like hot chocolate cookies with marshmallows on top.
These Chocolate and Marshmallow Cookies are rich, decadent, dreamy, heart-warming, soul-soothing, and has the ability to make a bad day slightly better…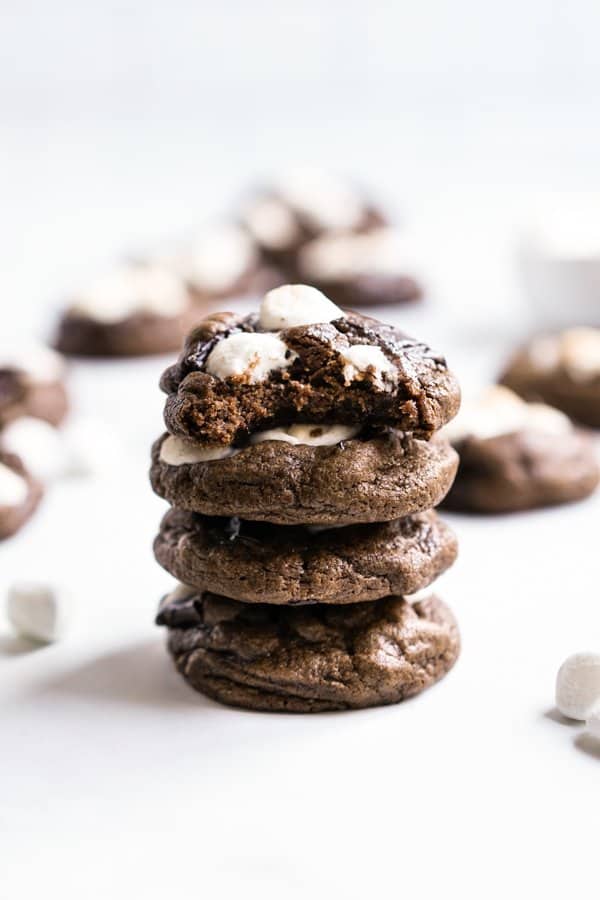 Looking for more yummy sweets and treats? Give Chocolate Peanut Butter Fudge, S'mores Bars and Apple Cinnamon Galette a try as well! They are some of my favorites 🙂
Chocolate and Marshmallow Cookies
Once you dive into this delicious Chocolate Marshmallow Cookie goodness, there is no turning back.
Cookies will never taste the same again. Your standard for all cookies would be raised higher. You will be a cookie snob.
You have been officially warned.
Now that I have laid out the cookie precautions, let me tell you a few other things you must know about these Chocolate Marshmallow Cookies:
These chocolate cookies have a thick and soft texture and are generously filled with gooey chocolate chunks and marshmallows. It is rich, decadent, and please promise me you will eat them warm and fresh off the oven. It's kinda like hot chocolate in cookie form.
It takes less than 25 minutes to make from start to finish, and uses only ONE BOWL. Minimal cleanup and minimal time in the kitchen! MY KINDA COOKIES.
It's December and I plan to make this ALL MONTH LONG. Holiday baking, here I come! Starting with round 5 of these Chocolate Marshmallow Cookies…
Make an ice cream sandwich out of these Chocolate Marshmallow Cookies because they are crazy yummy and your mind will be blown. Vanilla ice cream sandwiched between two of these cookies = all your dreams come true and more.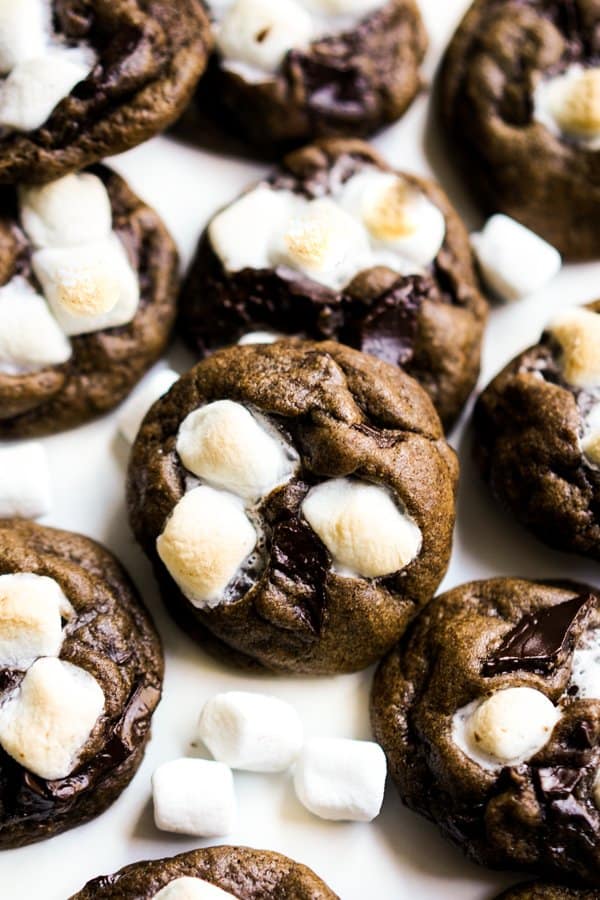 My husband and I have been giddy excited about these gooey and delicious Chocolate Marshmallow Cookies. We typically give leftover recipe testing foods to friends, but I have to admit we kept all of these to ourselves.
YES, IT IS THAT GOOD.
Ingredients
Chocolate Marshmallow Cookies may not be your average cookie recipe, but the good news is, it calls for pantry friendly ingredients and is super easy to make!
The trick is how you bake it, and the perfect amount of the ingredients, that takes these Chocolate Marshmallow Cookies from good to great.
More on that later as you read along, but here are the ingredients you will need:
Unsalted butter – avoid using salted so there isn't more salt than what is called for in the batter. In a pinch, salted butter is fine, but I always try to use unsalted when baking if I can.
Granulated sugar
Egg
Vanilla extract – pure vanilla extract is the best and produces the best flavors
All purpose flour
Cocoa powder – good quality cocoa powder makes a big difference
Baking soda – used as the rising agent to make the cookies thick and fluffy
Salt
Chocolate chunks – good quality chocolate chunks makes a difference. Avoid substituting with chocolate chips. Chocolate chips have a coating and melt less so cookies made with chocolate chips will be less gooey and soft. Ideally, use chocolate chunks.
Mini marshmallows – if using larger marshmallows, cut them into small pieces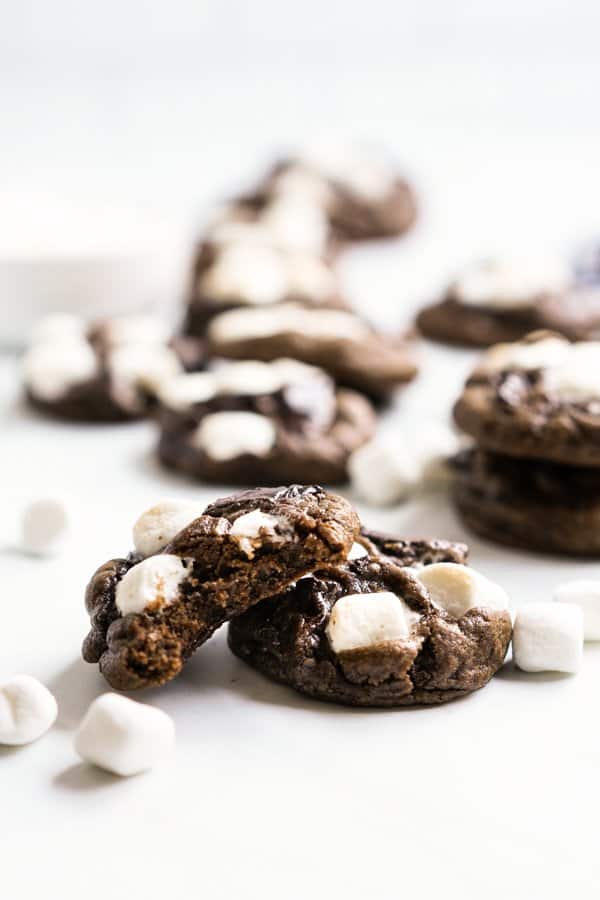 How to Make Chocolate Marshmallow Cookies
We are talking about actually soft and thick Chocolate Marshmallow Cookies here, and I've got all the tips for you to make it happen!
You will only need one large mixing bowl for this recipe. Or you can use a stand mixer and dump everything into the stand mixer bowl.
If you don't have a stand mixer, a hand held electric mixer can be super helpful as well.
To make Chocolate Marshmallow Cookies, start by combining the wet ingredients in a large mixing bowl. Cream together butter and sugar, combine with egg and vanilla extract.
Then add the dry ingredients into the bowl: Flour cocoa powder, baking soda and salt.
Once everything is combined, fold in chocolate chunks.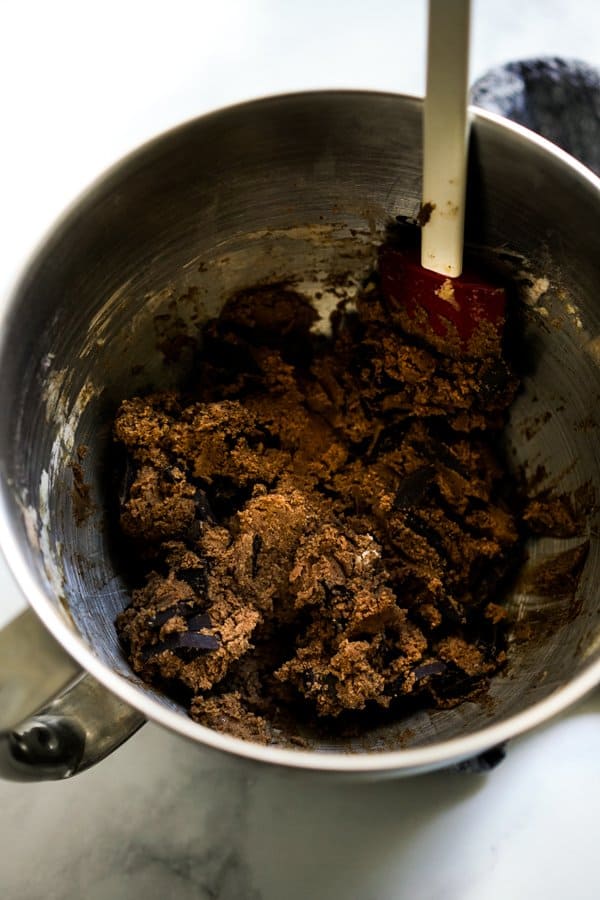 If you want to, you can also fold in the marshmallows into the cookie dough.
Another option is to wait until you've rolled cookie dough into balls and then press in a few marshmallows to the top of the cookie dough (what I did below).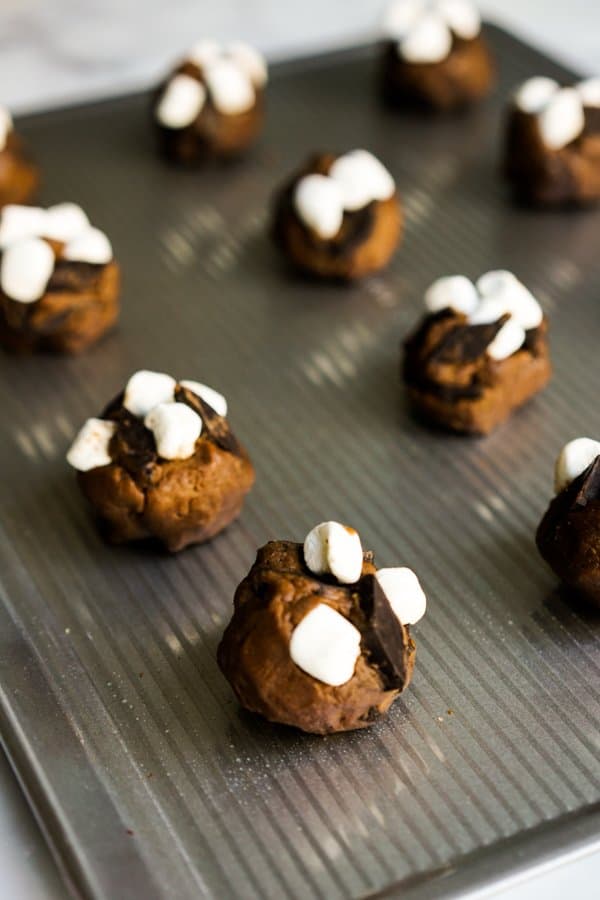 And then those Chocolate Marshmallow Cookies into the oven to bake!
That's all, folks. Plain and simple.
But make no mistake. It does not taste plain at all…
Behold the end product that is Chocolate Marshmallow Cookies… (cue around of applause, thank you very much)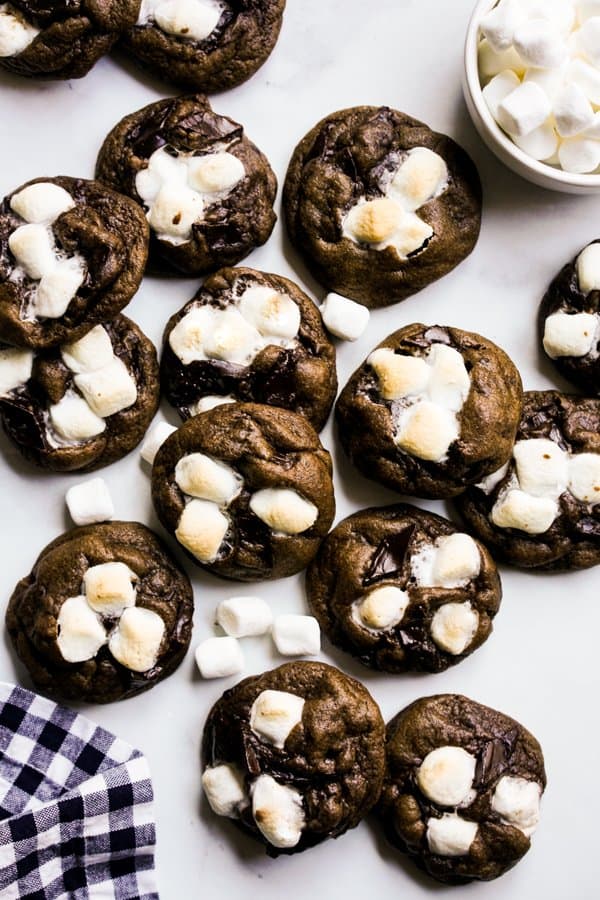 The cookies are soft and gooey on the insides, with fudge-y chocolate and gooey marshmallows. They melt in your mouth, are rich and decadent, and are so addictive it's hard to just eat one (consider yourself warned).
SO delicious! And I really believe half of the battle is cooking it just right so they are soft and gooey.
Here's how you get super soft, gooey Chocolate Marshmallow Cookies:
Bake cookies in the oven for 9 minutes, 10 minutes at the most.
Remove from oven. At this point, cookies will be a bit hard to remove because they will be super soft, so let cookies sit on the cookie sheet for 2-3 minutes, but not more than that. Cookies continue to cook on the hot cookie sheet surface so if you let it sit on there for a long time, it will turn crispy and hard.
Place cooking on a cooling rack for 10 minutes.
It is super important to follow the steps above post-baking to get that soft, thick cookie filled with chocolate and marshmallows.
A few other things to note:
More tips and tricks to help you make the BEST Chocolate Marshmallow Cookies:
Use softened butter, not melted and warm butter. Melted/warm butter will yield flat cookies. The best way to soften butter is to leave it in room temperature for a few hours before baking.
To make cleanup easier, place Chocolate Marshmallow Cookies on a cookie sheet lined with baking mat or parchment paper.
Do not over-bake cookies!
Do not leave cookies on the cookie sheet after it is baked for longer than 3 minutes. Move it to the cooling rack promptly so it does not continue cooking on the cookie sheet.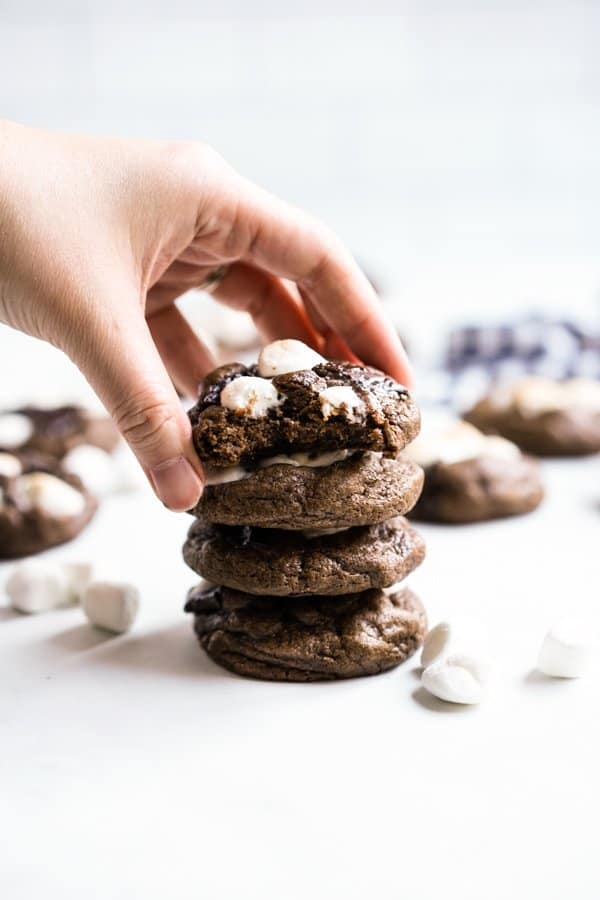 Frequently Asked Questions
Can I freeze cookie dough?
Yes! Store and freeze cookie dough in an airtight container or bag. Let frozen cookie dough defrost 24 hours in refrigerator before baking.
How to store baked cookies?
Store cookies in an airtight container in room temperature for up to 3 days.
Can I use chocolate chips instead of chocolate chunks?
You can but the texture will be slightly different. Chocolate chunks melts more easily and will make the cookies softer and more moist. If using chocolate chips, cookies will be slightly harder. I highly recommend using chocolate chunks to get that fudgy, gooey texture.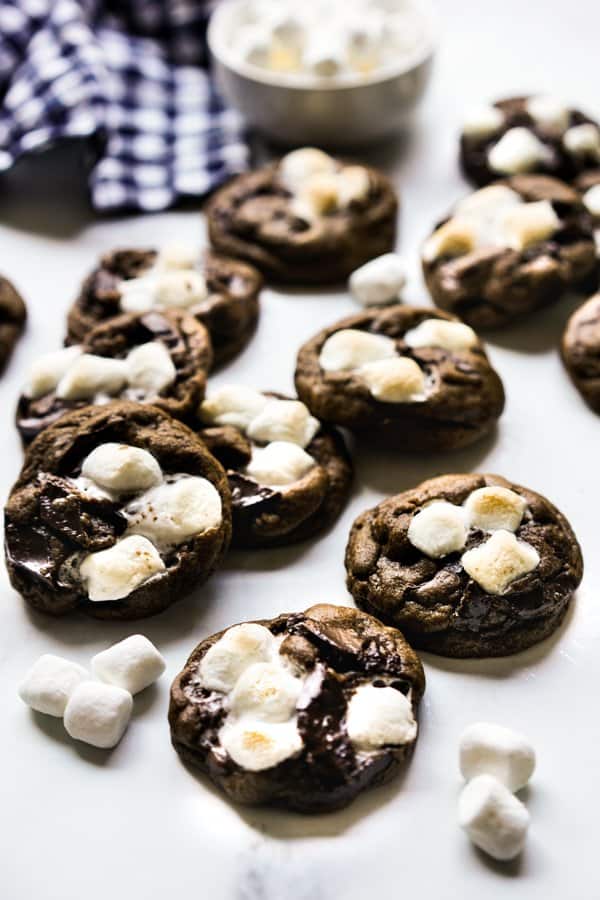 More Cookie Recipes
DID YOU ENJOY THIS RECIPE? Please comment below and give us a 5-star rating! This will help others find this recipe on Google and Pinterest. We very much appreciate your help! 🤍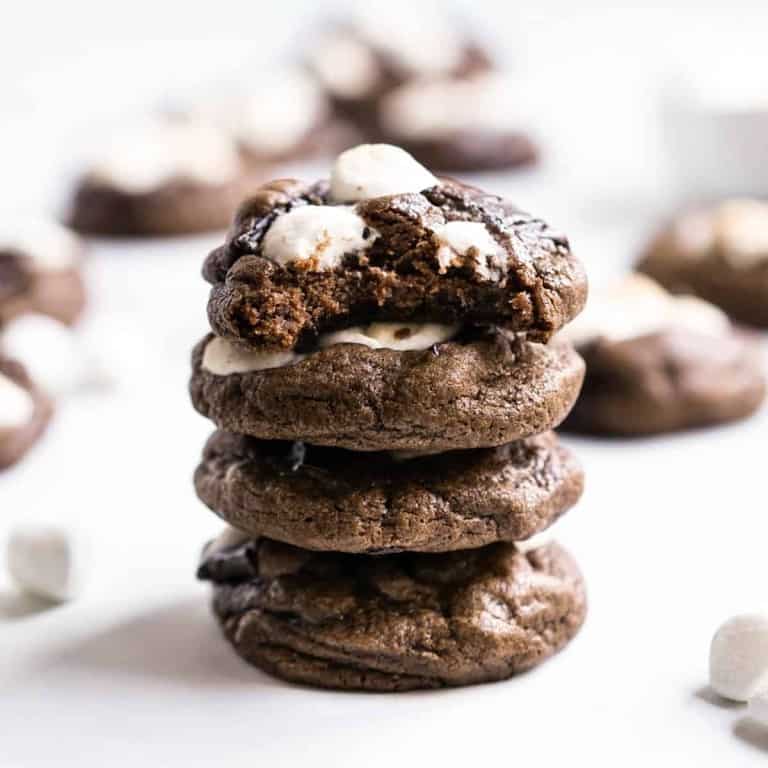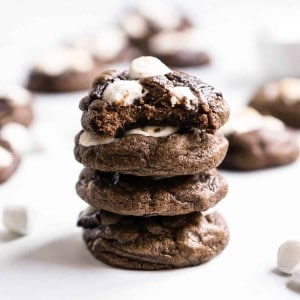 Chocolate Marshmallow Cookies
Gooey, soft and thick chocolate cookies filled with melted chocolate chunks and mini marshmallows. Perfect sweet treat for the holiday season…or anytime of the year!
Print
Pin
Ingredients
1/2

cup

unsalted butter

softened

3/4

cup

granulated sugar

1

large egg

1

tsp

vanilla extract

1 1/2

cup

all purpose flour

1/3

cup

cocoa powder

3/4

tsp

baking soda

1/2

tsp

salt

1

cup

chocolate chunks

1/2

cup

mini marshmallows
Instructions
In a large bowl, cream butter and sugar together, then add egg and vanilla extract. Mix to combine.

Add flour, baking soda, cocoa powder and salt. Mix well to combine.

Fold in chocolate chunks.

Roll dough into 14-16 1.5-inch balls, press 3-4 marshmallows onto the top of each of them, then place them on cookie sheet. Make sure to secure the marshmallow well if not it would fall out during baking.

Bake for 9-10 minutes. Check at the 9-minute mark. Once it is done (it will still be slightly soft), let cookies sit on baking sheet for 2-3 minutes before carefully removing them and placing them onto a baking rack to cool for 10 minutes. (See Note 1)
Notes
Note 1: Avoid over-baking cookies and also remove them from hot cookie sheet after 2-3 minutes once they are out of the oven so they do not continue cooking. This is to ensure cookies stay soft and moist!
Nutrition
Calories:
205
kcal
|
Carbohydrates:
26
g
|
Protein:
3
g
|
Fat:
10
g
|
Saturated Fat:
6
g
|
Polyunsaturated Fat:
1
g
|
Monounsaturated Fat:
3
g
|
Trans Fat:
1
g
|
Cholesterol:
26
mg
|
Sodium:
132
mg
|
Potassium:
106
mg
|
Fiber:
2
g
|
Sugar:
14
g
|
Vitamin A:
197
IU
|
Calcium:
14
mg
|
Iron:
2
mg