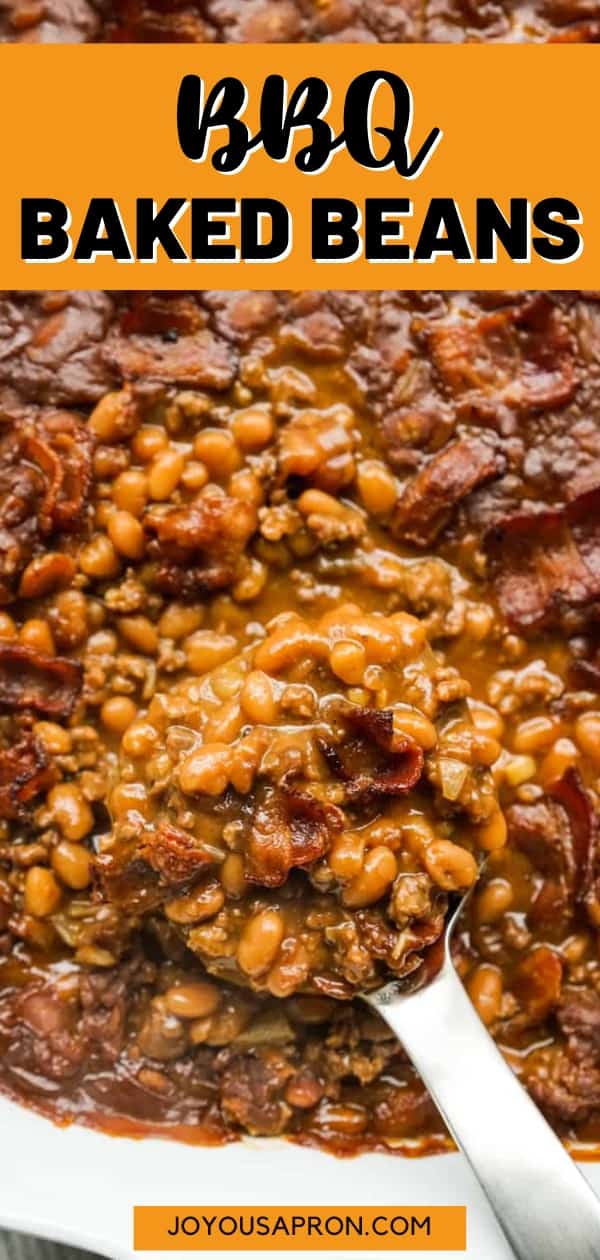 Drenched in with sweet and tangy bbq flavors, this BBQ Baked Beans recipe is loaded with ground beef, bacon, and onions, baked low and slow in the oven until every bean is soaked in the delicious juices of the meats and flavors from the bbq sauce and seasonings.
BBQ Baked Beans with ground beef is a delicious and simple barbecue and cookout side dish to accompany your burgers, hot dogs and bbq meats. It's seriously the most flavorful beans ever!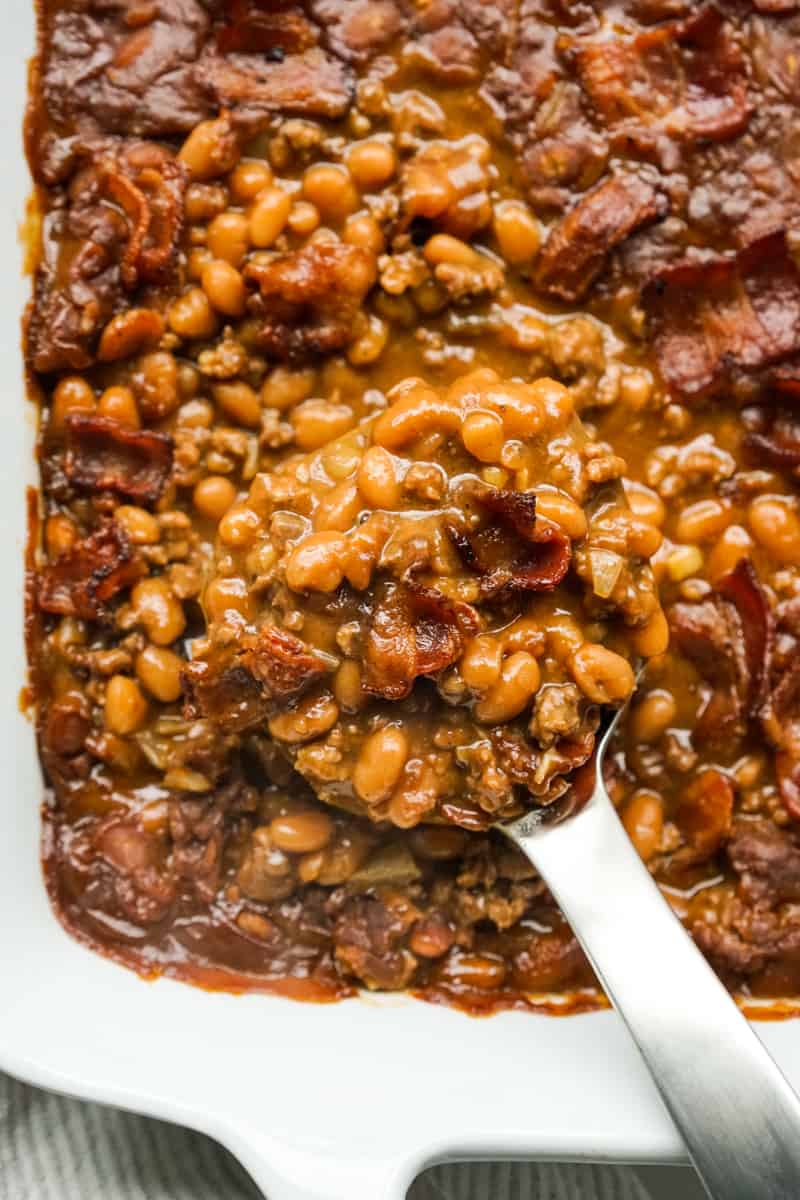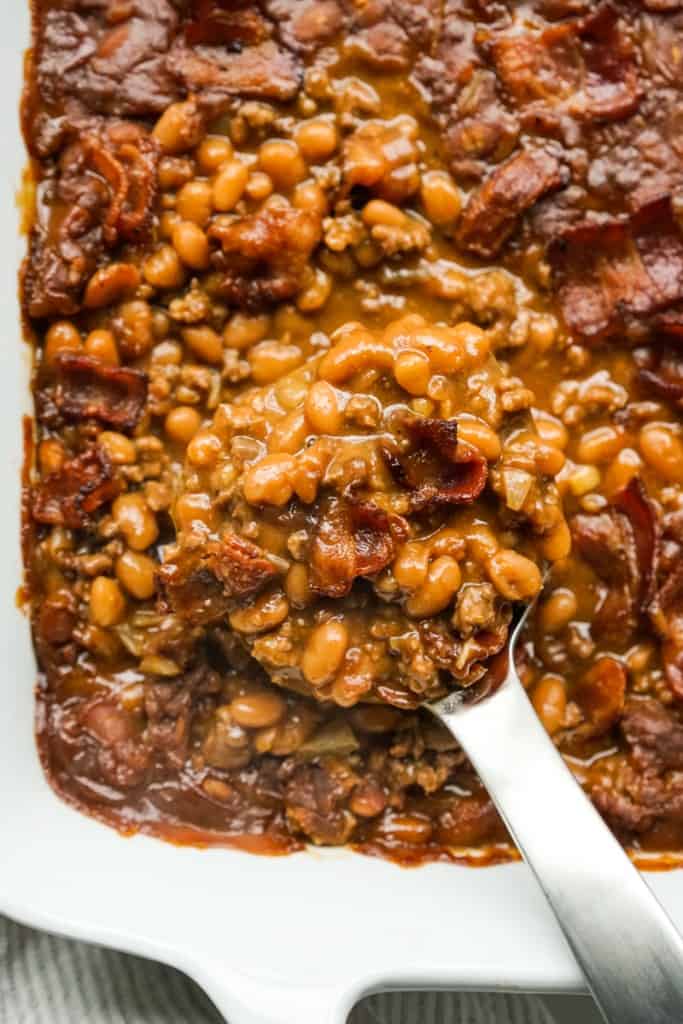 Looking for more summer cookout side dishes? Check out my Light Raisin Coleslaw, Fruit Salad with Honey Lime Dressing, Italian Bow Tie Pasta Salad, Bruschetta Pasta Salad, and Grilled Fingerling Potatoes.
Baked Beans with Ground Beef and Bacon
BBQ Baked Beans are a staple side dish in cookouts, pairing beautifully with hamburgers, hot dogs, grilled chicken, ribs, brisket, or just about anything cooked on the grill!
What I love about my Bbq baked beans recipe is that the beans are soaked in amazing flavors of bbq sauce, and juices from ground beef and bacon.
I really like making baked beans with ground beef because it adds a meatier, heartier dimension to side dish, bringing some yummy textures in every bite.
Flavors from the ground beef will also be absorbed into the sauce and the bbq baked beans, making the beans even yummier.
And of course, we can't forget about the bacon. Bacon (and bacon grease) definitely brings a lot of great flavors to the beans as well. We also top our bbq baked beans with the crispy bacon to give the dish a nice crunch.
Bbq baked beans with ground beef is prepared on a large 9′ x 13′ rectangular casserole dish, and serve about 12-15 people. So it's perfect for large gatherings and cookouts over the summer.
It takes about 50-60 minutes to make, but most of the time bbq baked beans are in the oven cooking slowly so that the flavors come through. In other words, a lot of hands-off time.
Ingredients
I mentioned how much I love my bbq baked beans with ground beef. But that's not all there is to it.
Now let's talk about ALL the ingredients that go into our bbq baked beans recipe. They are easy-to-find, pantry-friendly ingredients: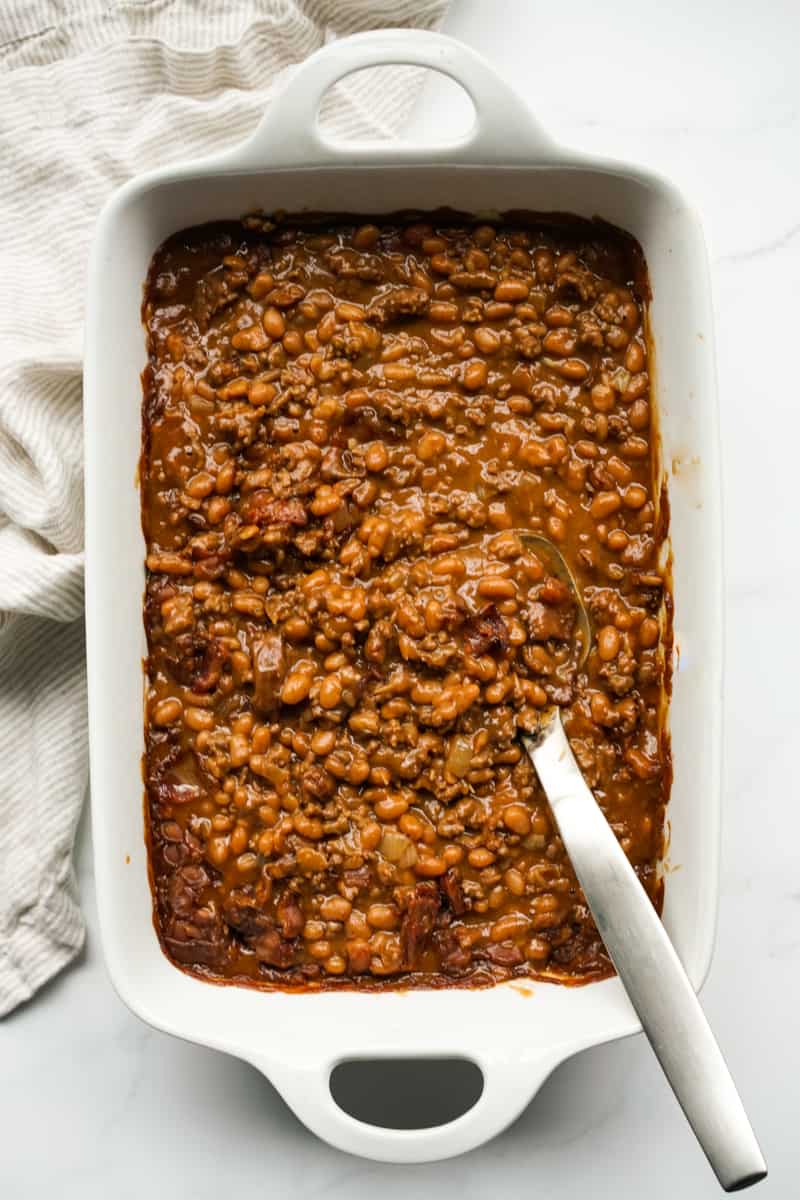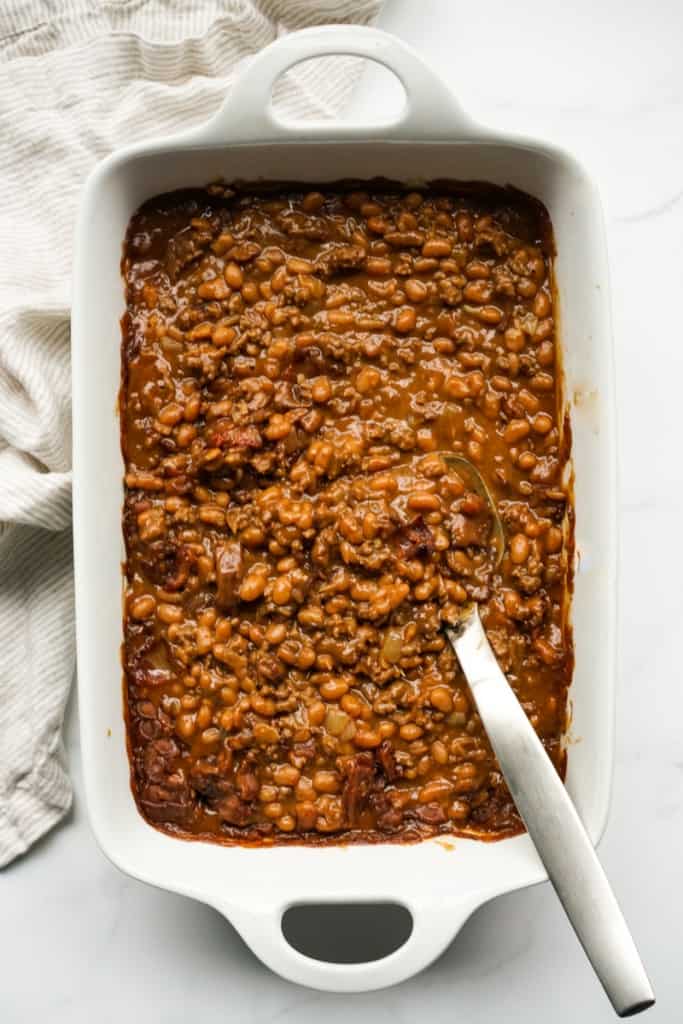 original baked beans – this comes in a can and I typically get Bush's Original Baked Beans
lean ground beef – I prefer the at least 90% lean ground beef so that you won't have a lot of grease in your bbq baked beans
bacon – cut into smaller pieces, bacon is pan fried and 1 tbsp of the bacon grease is used to cook the bbq baked beans, bringing some very yummy flavors to the beans.
bbq sauce – use your favorite! I used a sweet bbq sauce for this. If using a less sweet bbq sauce, considering upping the brown sugar to make baked beans sweeter if desire.
garlic cloves – minced. Garlic powder can be used as well
small white onion – diced. Other types of onions work just as well. If using a large onion, just use half instead of whole.
ketchup
brown sugar
dijon mustard – yellow mustard can be used as well
How to make it
And now, let me show you how I make my bbq baked beans with ground beef!
Bbq baked beans is first made on a large skillet or saucepan the stovetop, and then transferred to a 9′ x 13′ rectangular casserole dish to be baked in the oven.
Skillet on stovetop
Make sure you are using an extra large skillet that will fit all of the beans, ground beef and bacon. A large saucepan works too.
First, bacon is sliced into smaller pieces, and then we are going to fry up the bacon.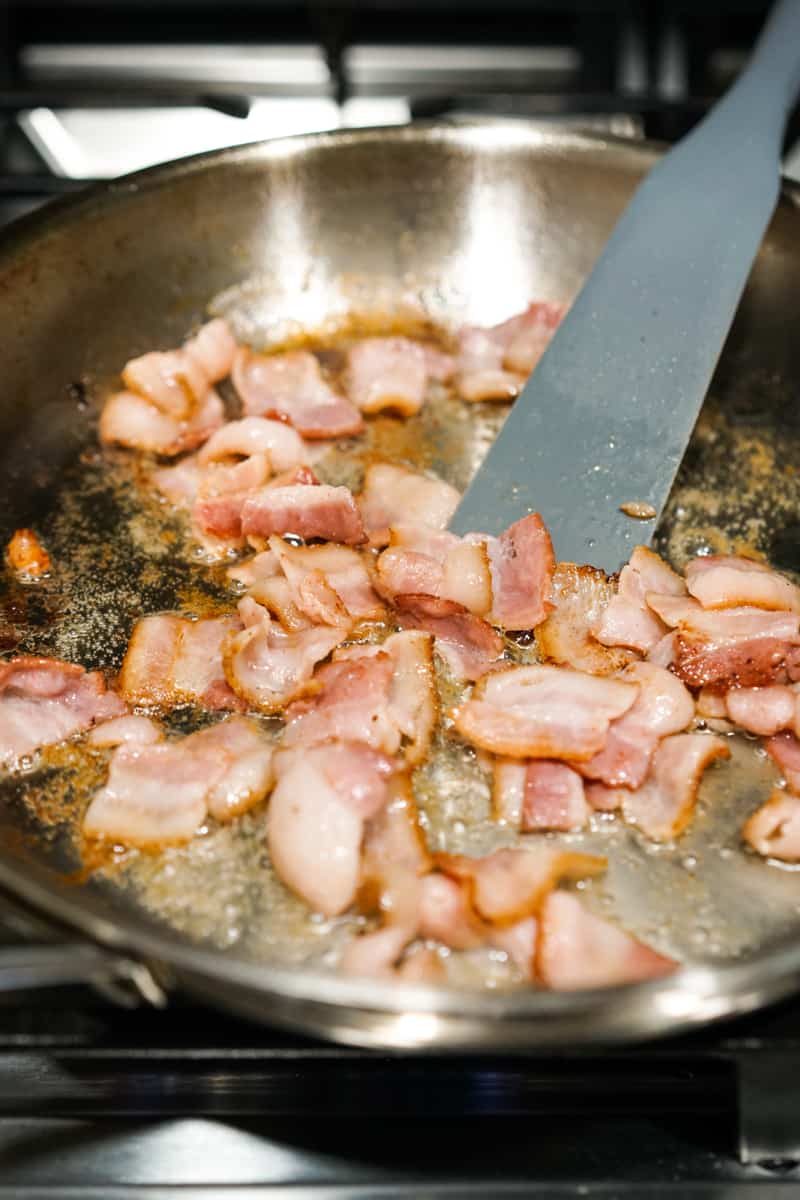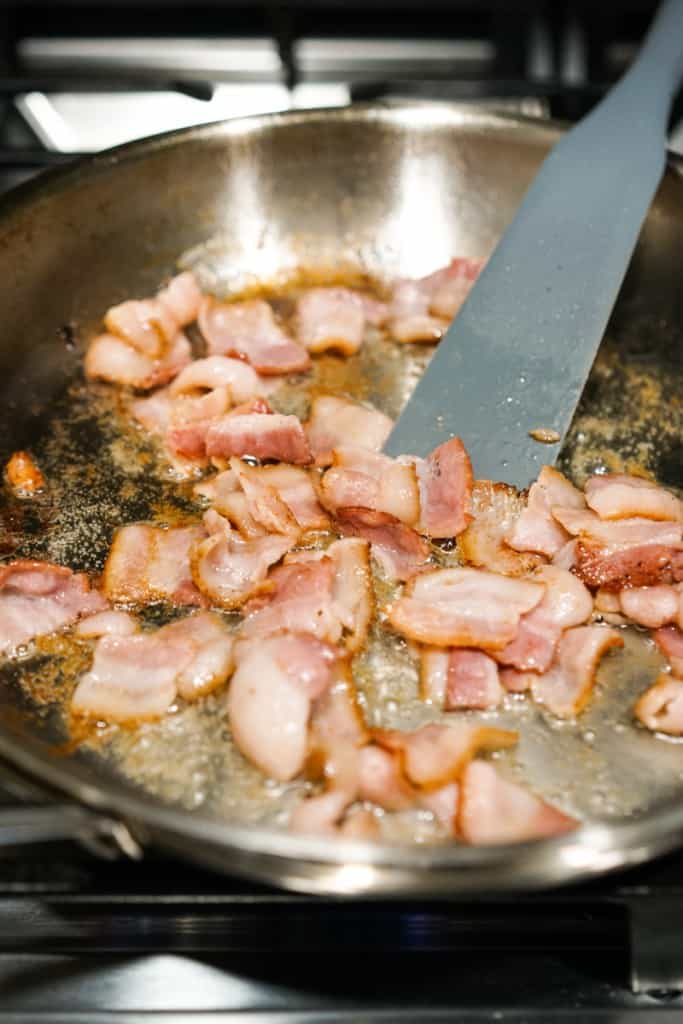 When bacon is done, remove bacon and all the bacon grease from the skillet except for 1 tablespoon. Set aside bacon, and discard the rest of the grease.
Add onions and garlic to skillet. Saute until onions are translucent, but do not brown the onions.
Add the ground beef and break them into small pieces.
Once ground beef is no longer pink in color, add the sauces – bbq sauce, ketchup, brown sugar, and dijon mustard.
Give it a good stir until everything is combined.
Doing this will ensure all that the delicious sauces will be soaked up by the ground beef bringing the ground beef lots of amazing flavors.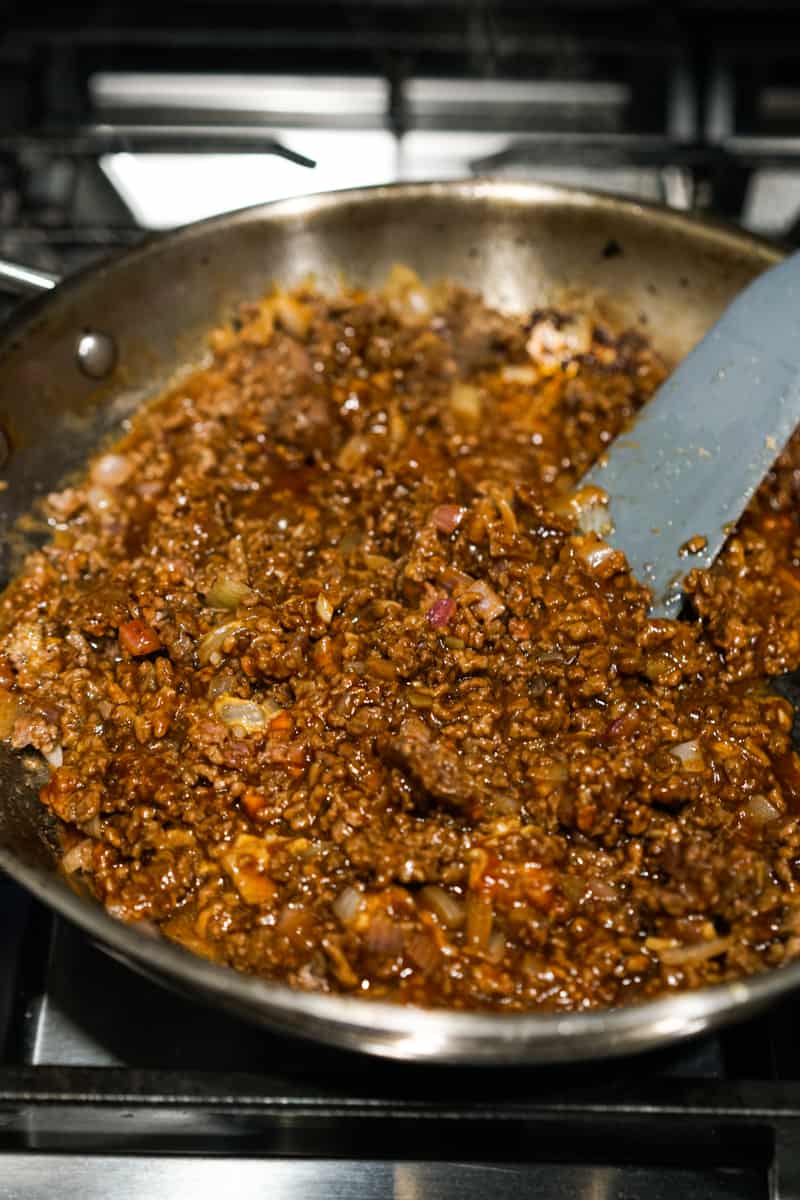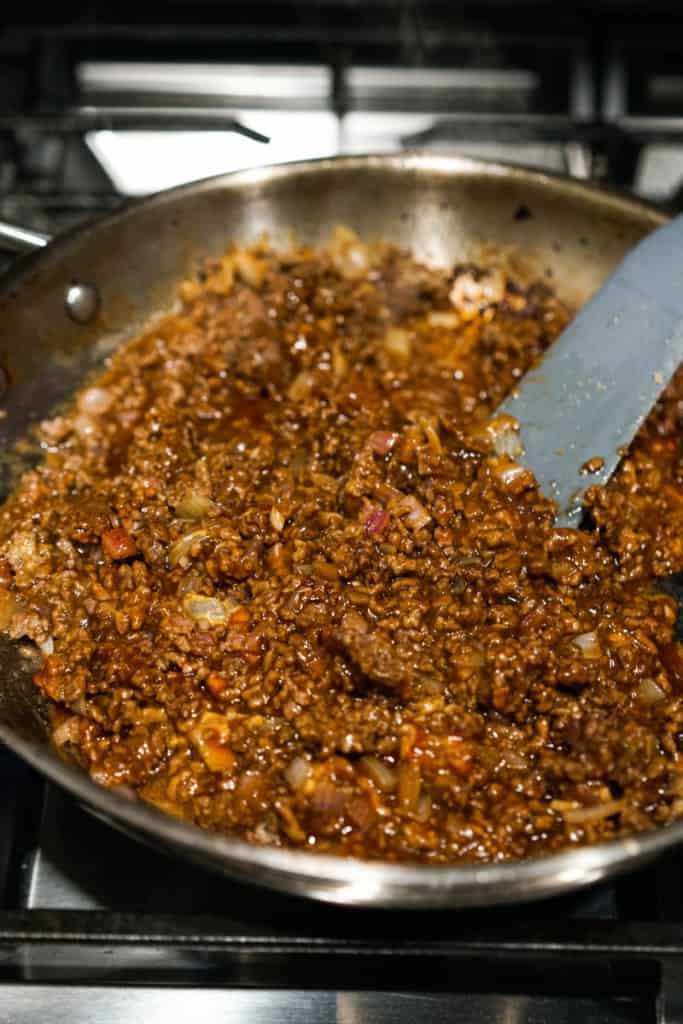 Add the baked beans into the skillet.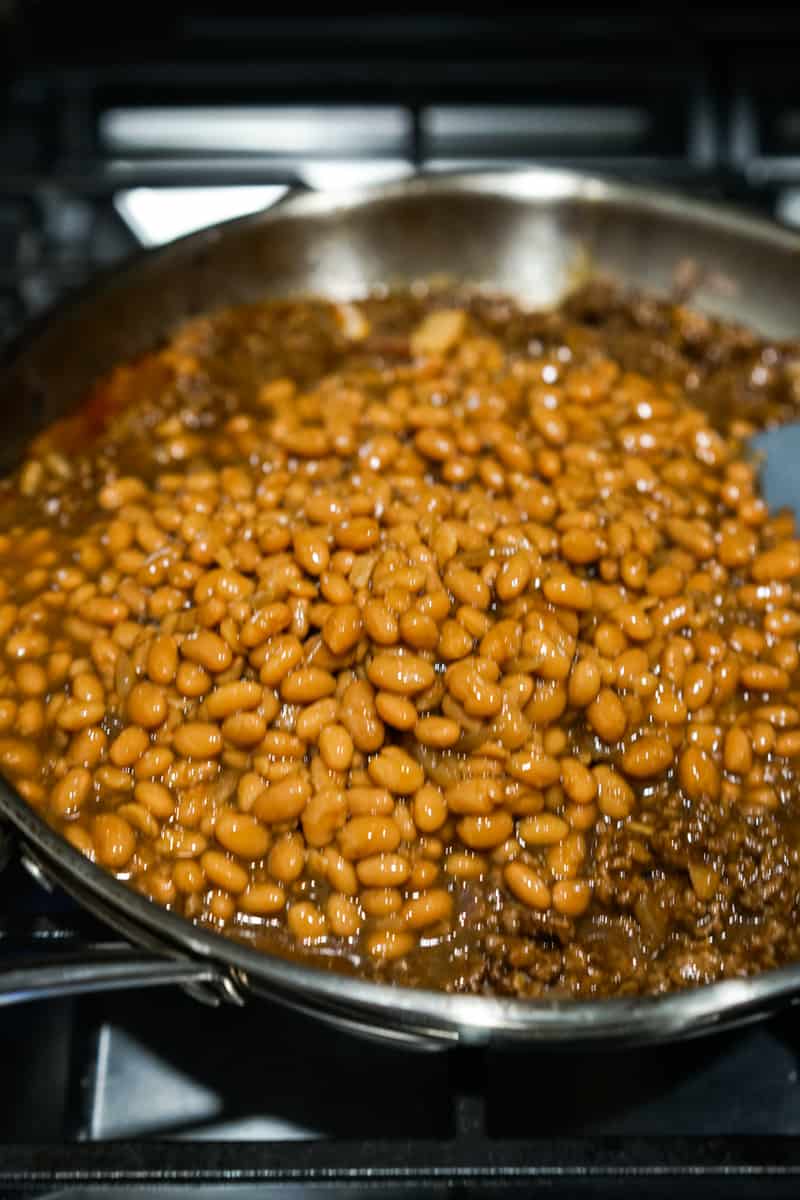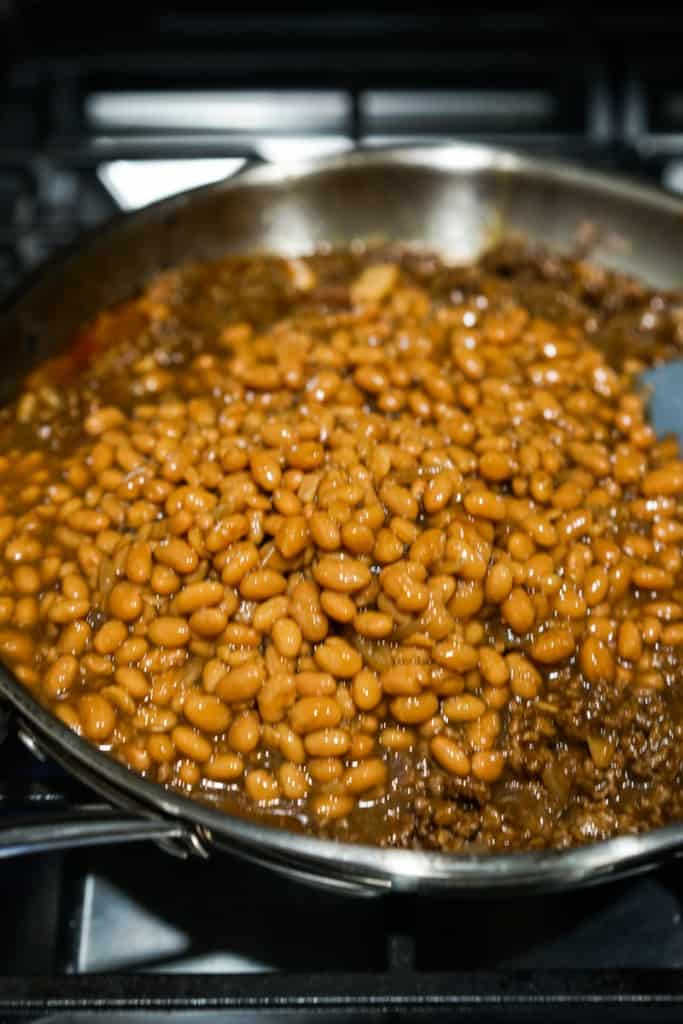 Stir to bring everything together, and then bring bbq baked beans to a boil.
Once it comes to a boil, lower heat and let it simmer for 5 minutes. Stirring occasionally to avoid burning the bottom of the skillet.
Baking in Casserole
Transfer all baked beans with ground beef into a 9′ x 13′ rectangular casserole dish that is at least 2 inch deep.
Then top with the bacon pieces that was set aside earlier.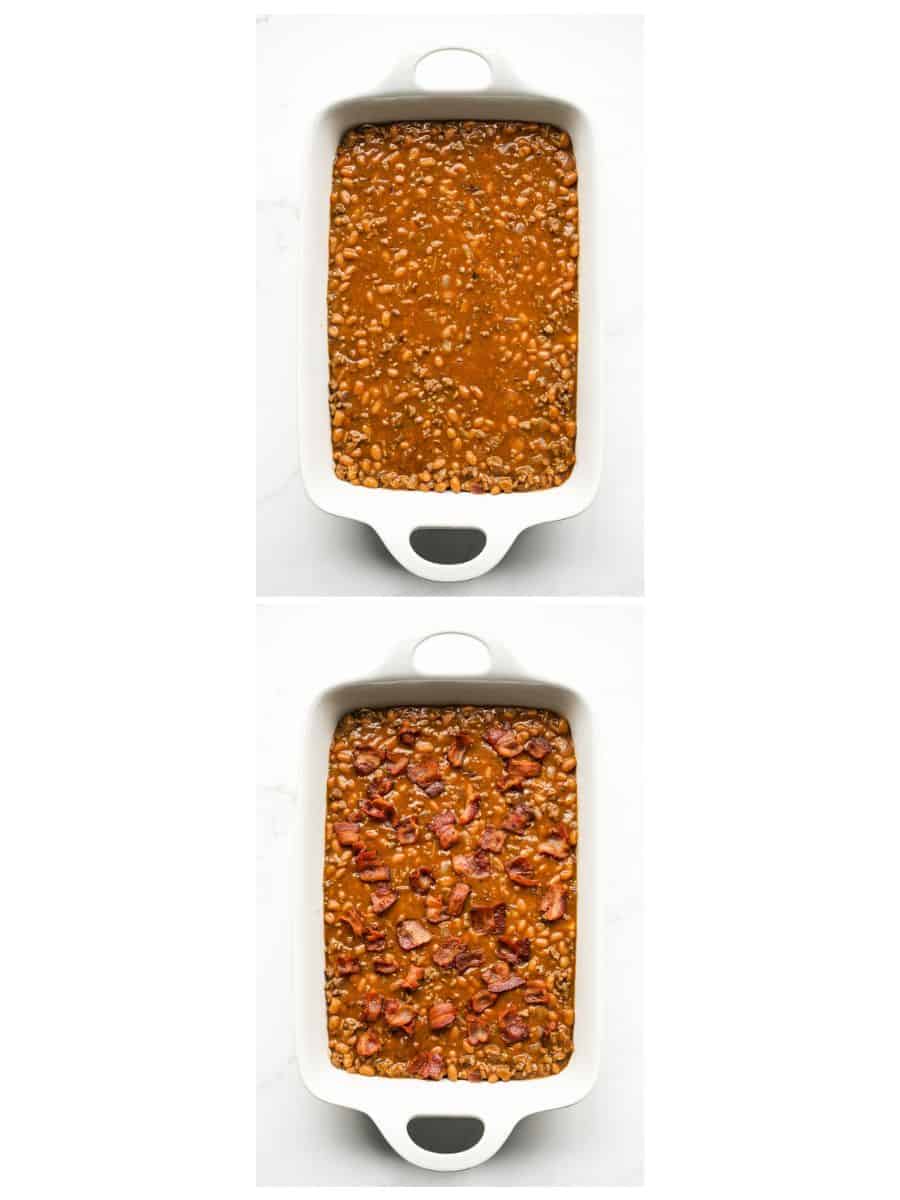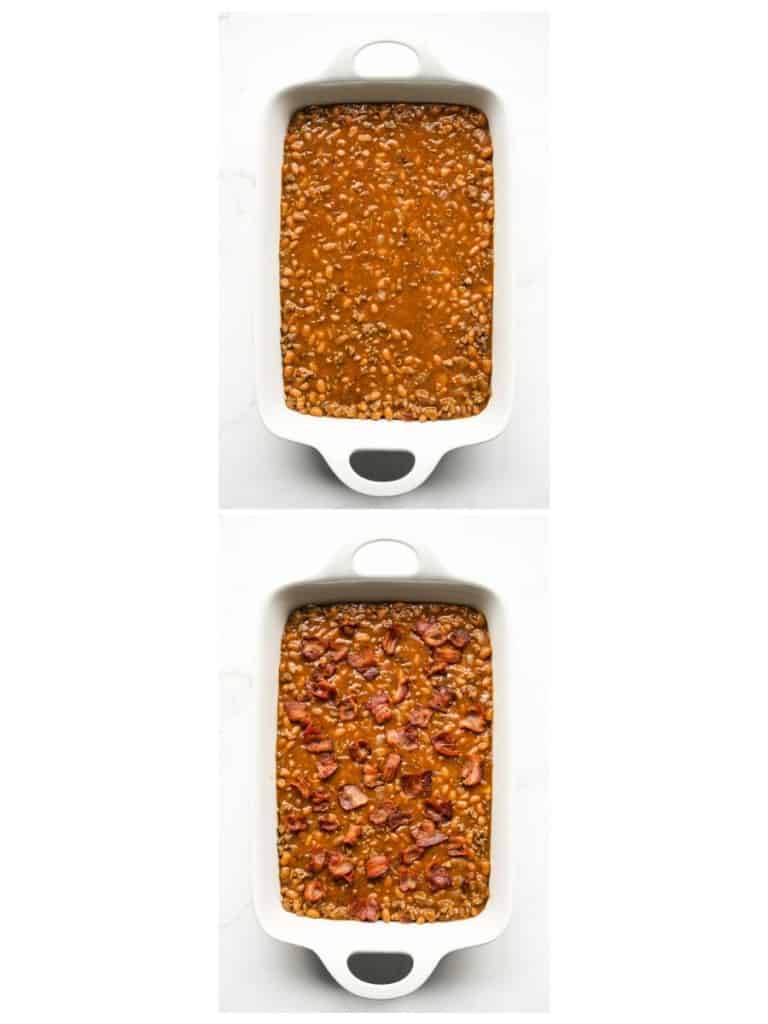 We are going to bake the bbq baked beans for 30 minutes in the oven at 350℉ to bring the flavors together.
Cooking it low and slow like this will enable the baked beans to fully absorb all the flavors as well.
When it is done let your bbq baked beans with ground beef rest for a few minutes so that it cools and set before digging in and enjoying them!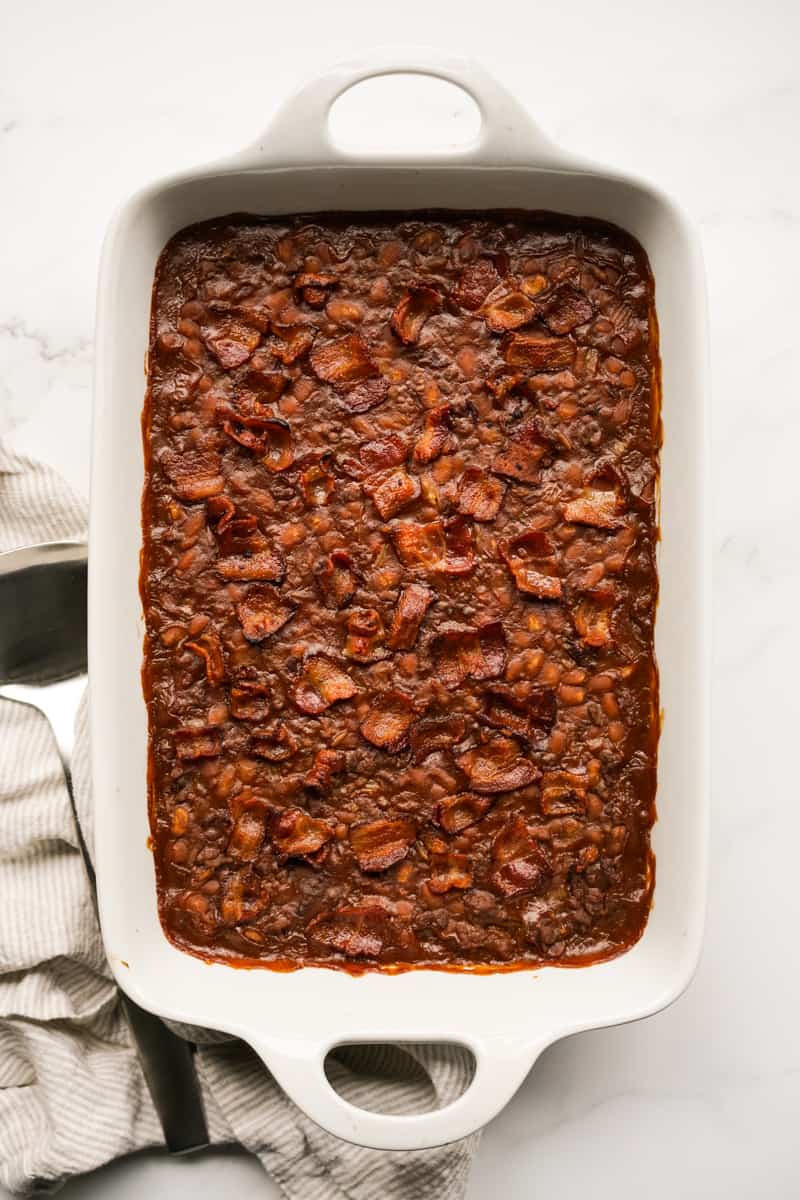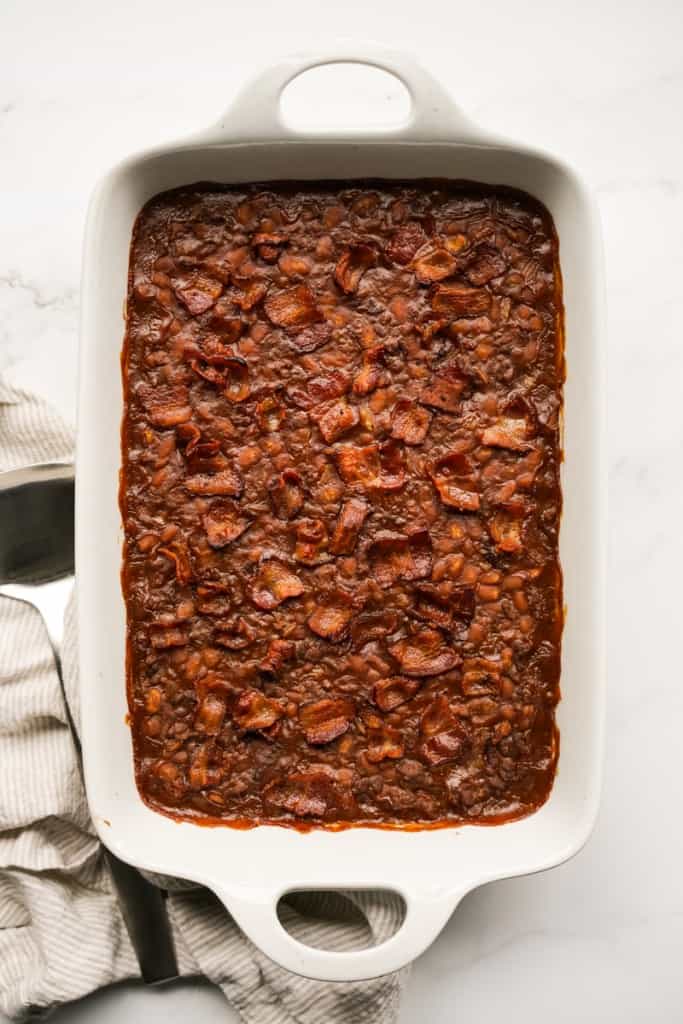 How to serve bbq baked beans
Bbq baked beans is the ultimate cookout side dish, and there's nothing I love more than a full blown cookout food spread!
Here are some main dish and side dish ideas that will go perfectly with these baked beans when cooking out or grilling.
Main dishes:
Other cookout sides:
Frequently Asked Questions
Instead of cooking bbq baked beans in the oven, can I cook it in a crockpot?
Yes! Cook it on low for 4 hours in a crockpot. When it is done, sprinkle the top with bacon pieces.
What kind of bbq sauce do you use?
Any bbq sauce works, it really just depends on your liking and preferences. I typically like the sweeter bbq sauces. This recipe uses a sweet bbq sauce, and will be slightly on the sweeter side. If you prefer your bbq baked beans less sweet, use a smoky or spicy bbq sauce and reduce the amount of brown sugar added.
Can I make ahead? How do I do that?
When making ahead, I will cook the bacon, beans and ground beef on the skillet ahead of time and store it in a rectangular casserole dish covered with saran wrap. When ready to serve, I'll top with bacon pieces and send the casserole dish into the oven to bake for 30-45 minutes at 350℉ until beans are bubbly in the oven.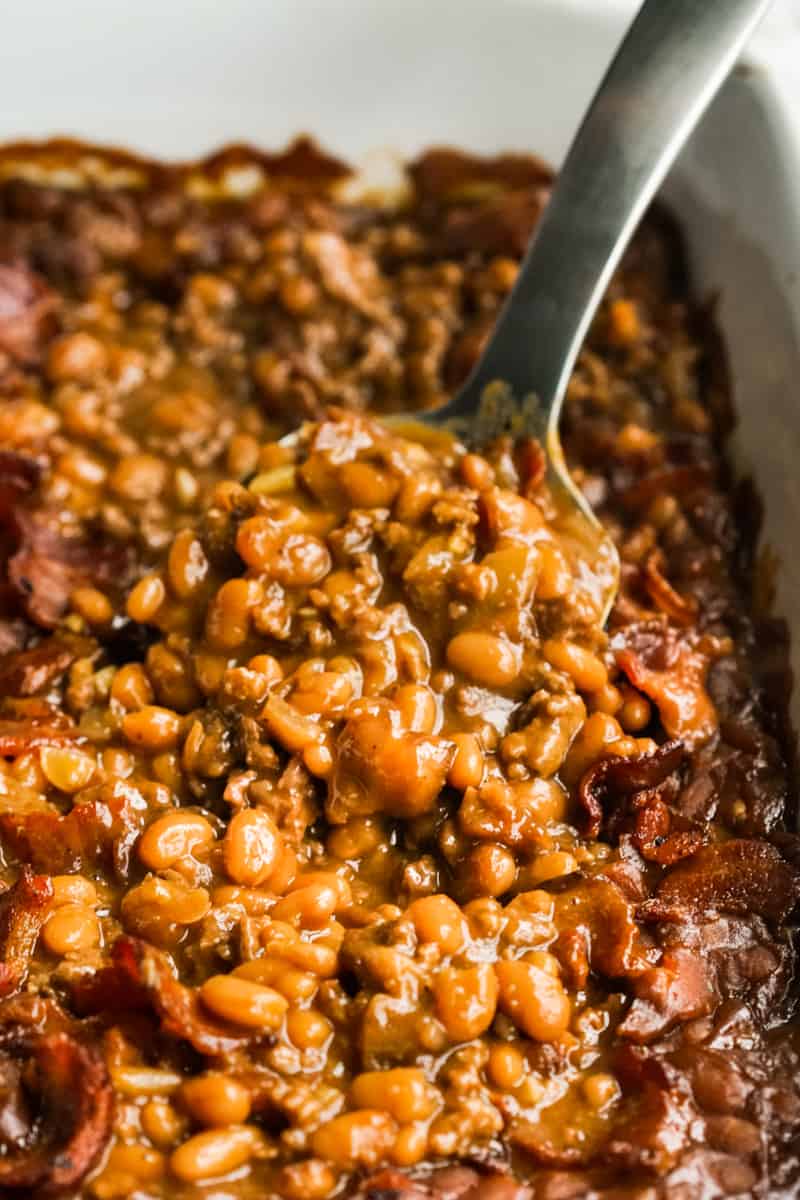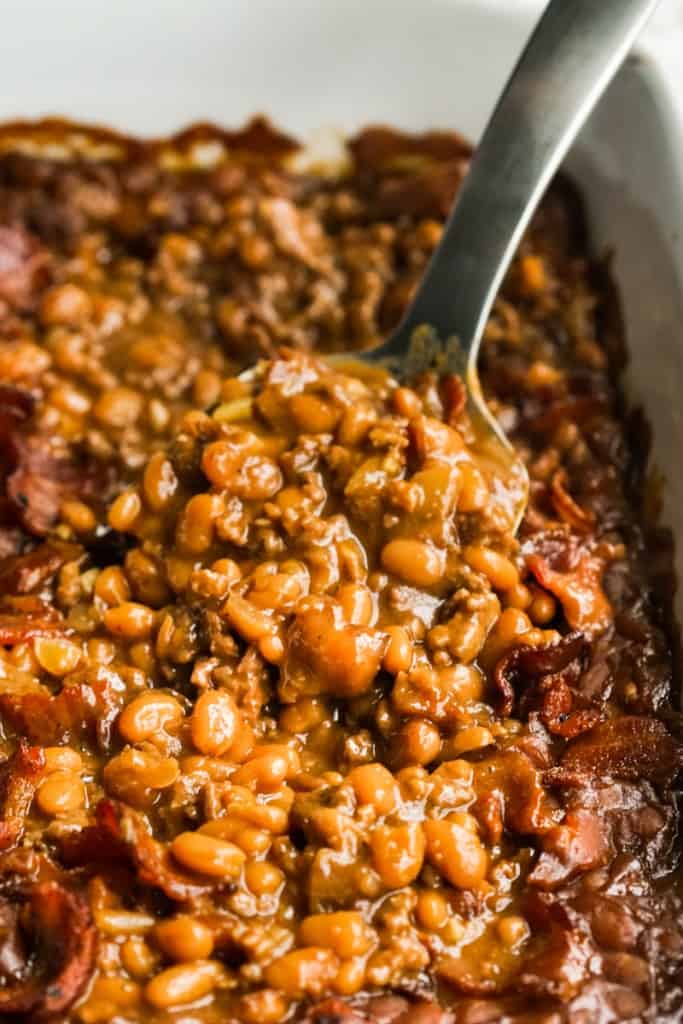 DID YOU ENJOY THIS RECIPE? Please comment below and give us a 5-star rating! This will help others find this recipe on Google and Pinterest. We very much appreciate your help! 🤍
More Delicious Side Dish Recipes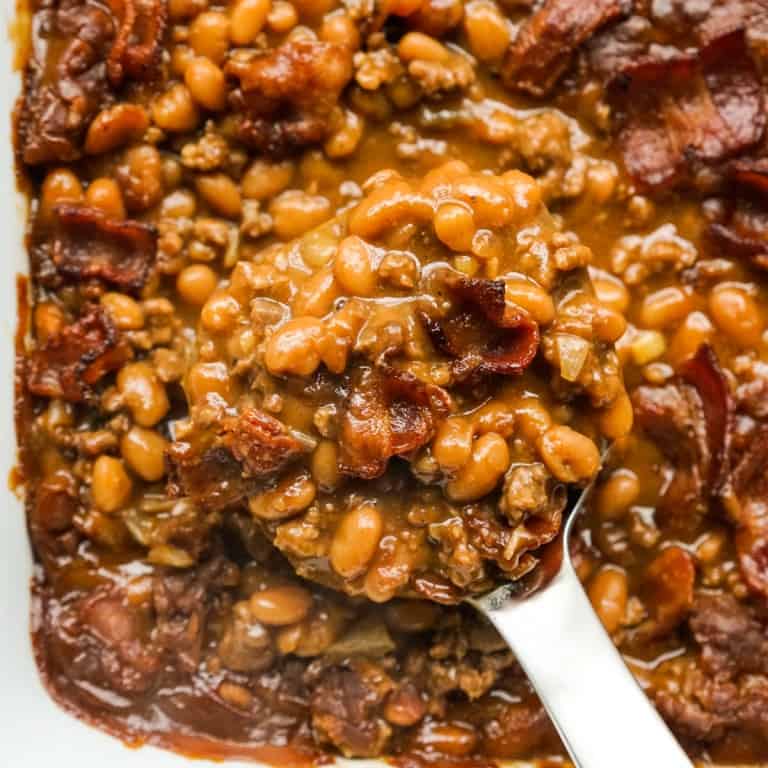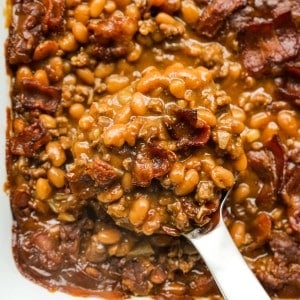 BBQ Baked Beans
These delicious bbq baked beans with ground beef and bacon are super flavorful and yummy. Cooked first on the stovetop and then baked low and slow in the oven. A classic cookout and bbq side dish for summer grilling.
Print
Pin
Ingredients
6

strips

bacon

sliced

1

white onion

small/medium, diced

3

cloves

garlic

minced

30

oz

canned original baked beans

1

lbs

lean ground beef

1/2

cup

bbq sauce

2

tbsp

ketchup

2

tbsp

brown sugar

1

tbsp

dijon mustard
Instructions
Slice bacon into 1 1/2-inch pieces. In a large skillet or saucepan, pan fry bacon until fully cooked.

Remove bacon pieces and set aside. Reserve 1 tbsp of bacon grease in skillet and discard the rest of the bacon grease.

Using the same skillet/saucepan, add onions and garlic. Pan fry until onions are translucent and garlic is fragrant, avoid browning/burning them.

Add ground beef to skillet. Break into small pieces. Pan fry until beef is no longer pink-ish in color.

Add bbq sauce, ketchup, brown sugar and dijon mustard to ground beef. Stir to combine.

Add baked beans. Stir to combine and bring to a boil.

Lower heat and simmer for 5 minutes.

Remove beans from heat and transfer to a 9' x 13' rectangular baking dish. Top baked beans with bacon pieces that was set aside earlier.

Remove from oven. Serve and enjoy!
Notes
Crockpot Instructions: Instead of baking bbq baked beans in the oven, transfer them to a crockpot and cook on high for 4 hours. When it is done, transfer to a serving bowl, top it with bacon pieces and serve.
Nutrition
Calories:
205
kcal
|
Carbohydrates:
21
g
|
Protein:
14
g
|
Fat:
7
g
|
Saturated Fat:
3
g
|
Polyunsaturated Fat:
1
g
|
Monounsaturated Fat:
3
g
|
Trans Fat:
0.1
g
|
Cholesterol:
36
mg
|
Sodium:
615
mg
|
Potassium:
405
mg
|
Fiber:
4
g
|
Sugar:
6
g
|
Vitamin A:
18
IU
|
Vitamin C:
2
mg
|
Calcium:
48
mg
|
Iron:
2
mg