The only skillet corn recipe you will ever need! Tossed with crispy bacon bits, this yummy pan fried corn recipe is savory, sweet and loaded with amazing flavors. No heavy cream needed!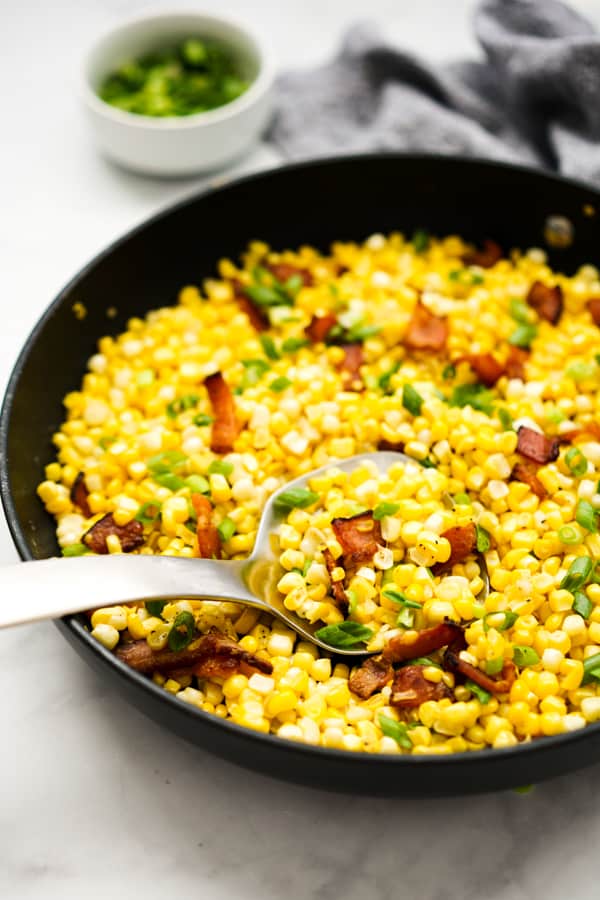 Love corn? You need to check out these other yummy corn recipes on the blog! Chipotle Corn Salsa, Oven Roasted Corn on the Cob and Avocado Corn and Black Bean Salsa.
Skillet Corn Recipe
There are so many reasons this skillet corn recipe rocks:
Quick and easy – 15 minutes from start to finish!
Requires minimal ingredients – 4 main ingredients only! Pus salt and black pepper.
Perfect side for a quick dinner, or make this the no-cream skillet corn side dish for your Thanksgiving and Christmas holidays
So versatile – use fresh corn, canned corn, or frozen corn. Whatever you have at hand!
Great flavors and textures
Did we mention there's BACON in it?
Corn is one of those ingredients that brings so much flavor to a dish. Skillet Corn is quick and simple to make because not much is needed to make corn taste amazing.
So we're going easy on these sweet and delicious corn. By simply adding some butter, bacon grease, and bacon pieces. Oh yes, all the 'healthy' ingredients.
And then if you want to, sprinkle some green onions on top. But not required because even without it, this Skillet Corn recipe would taste amazing.
Fresh corn is always going to be the best for this dish, but my love for corn runs all year long and even when there is no fresh corn available, I'll get myself some canned or frozen and I think this skillet corn recipe still taste pretty amazing.
Can't stay away from that corn for that long to make to to the next corn season…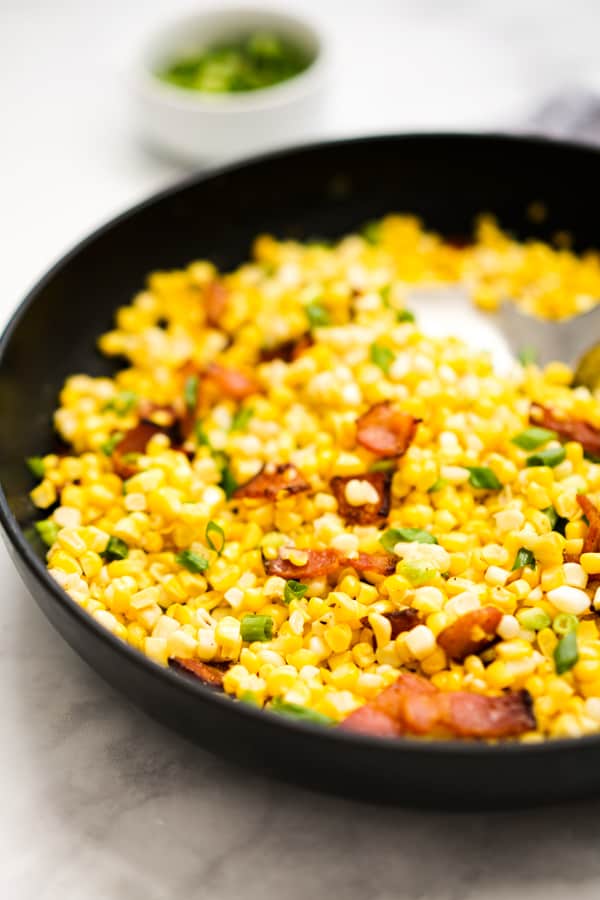 This is a great substitute to creamier, heavier corn dishes. I personally prefer making skillet corn this way because it brings all the flavor without the heaviness.
Skillet corn is especially nice during the Thanksgiving and Christmas holidays where most dishes are in fact creamy.
Side note: not knocking creamy holiday dishes as at because I sure love me some cheesy potatoes, gravy and casseroles.
But really, it is nice to have little variety. Something with a little crunch, a little less cheesy and creamy, but just as yummy, on the holiday table.
Let's pan fry some corn!
Another reason why skillet corn is a nice dish for the holidays – it doesn't require the oven!
The oven is always the most sought after kitchen appliance whenever I make a holiday meal.
When it comes to this skillet corn, we simply need 15 quick minutes and the stove top and that is pretty much it.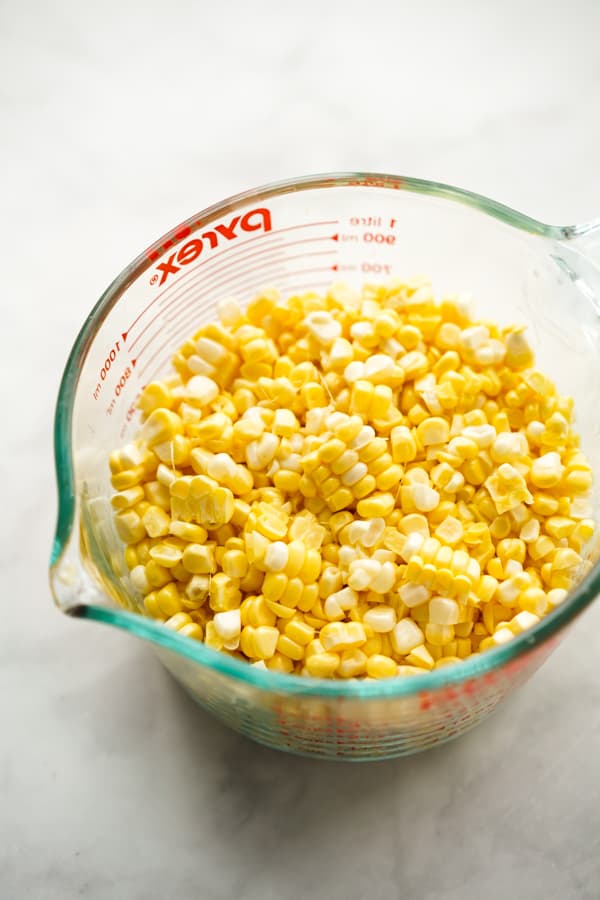 Here are the ingredients you'll need to make this pan fried skillet corn:
Corn kernels – fresh, canned or frozen.
Diced white or sweet onions
Bacon – both the bacon pieces and the grease from cooking the bacon is what gives this dish incredible flavor. We are only using 3 strips of bacon for this recipe, but you won't believe how much flavor it will bring.
Salted butter – I like to use salted instead of unsalted because having the extra salt makes it super tasty.
Salt & black pepper – this will further open up the flavors of the dish
Green onions – completely optional!
Basically, everything eventually goes into the frying pan/ skillet.
Pan fry it all, remove, and feast.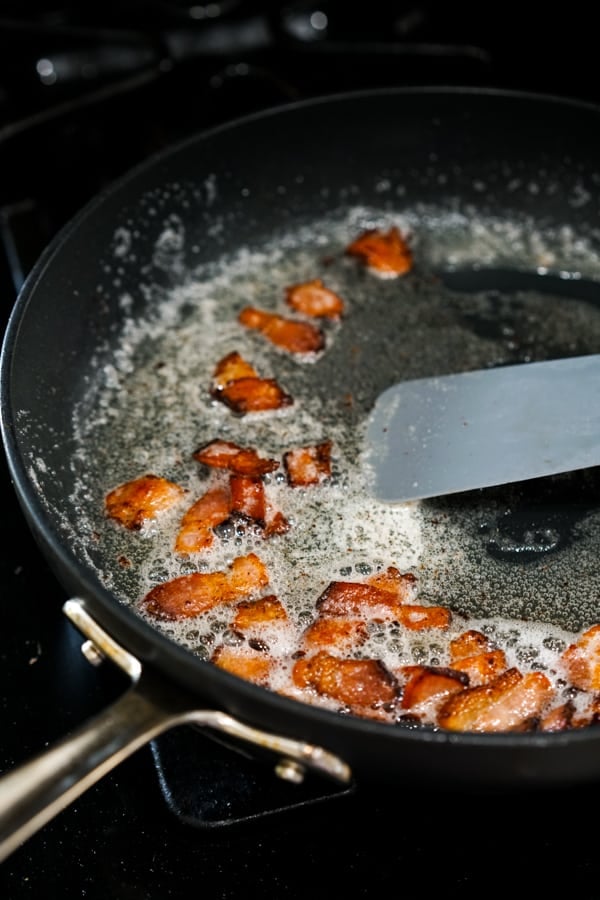 Short and simple. And delicious.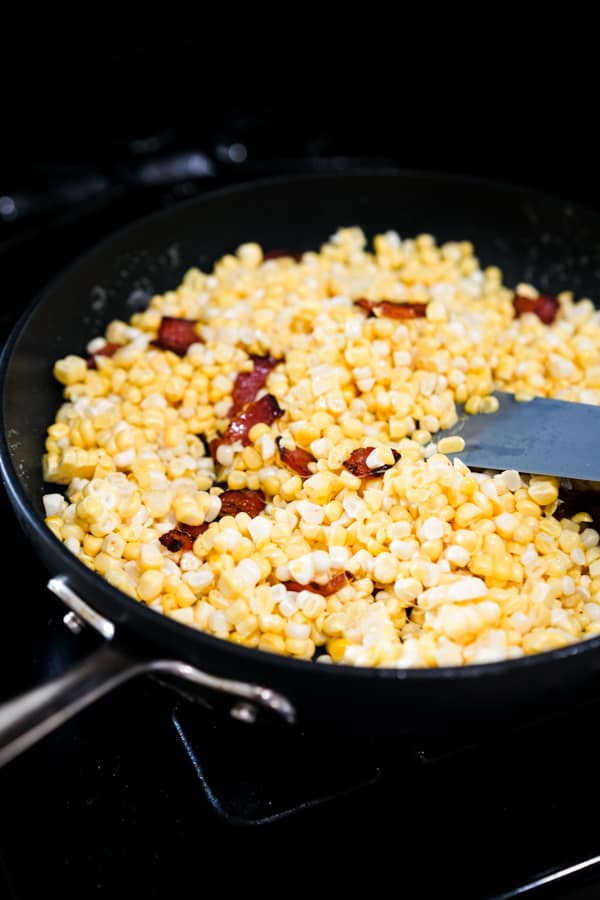 I keep calling skillet corn a good holiday side (excuse me but it's October and my mind is already ready for Thanksgiving, Christmas and all the holidays things), but this is also one of those dishes that you put together when you want a quick and easy side dish for an everyday dinner.
Fresh corn kernels, especially if you are removing it from the cob yourself, will take the longest to extricate.
If you are in a hurry, try frozen corn or canned corn. This dish will be ready in no time.
I kept going back and forth on what I want to call this: Pan Fried Corn with Bacon? Skillet Corn with Bacon? Corn Salad?
Here's the truth: it's a dish that I whip together when I want to eat some corn kernels that is not off the cob, and then realize I like it more than Creamed Corn and absolutely love how light, tasty and easy it is.
In other words, it's something I've enjoyed and I want to share. From me to you.
Skillet corn is a vegetable side dish that is simple and tasty that everyone should have at their hip pockets.
Another side note: if you like bacon, here are other bacon recipes that I think you will love if you think this looks amazing (yes our love for bacon runs deep around here): Bacon Deviled Eggs, Honey Roasted Brussels Sprouts with Bacon, Bacon Wrapped Dates with Pineapple, Creamy Potato Bacon Soup.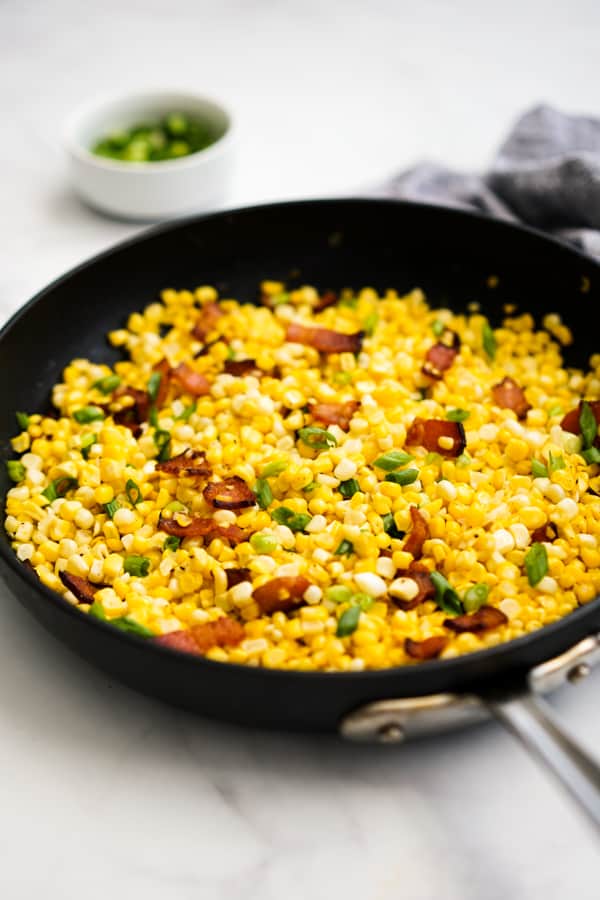 Pan fried skillet corn, ladies and gents. It's truly the perfect side dish to any dinner.
Or be like me and eat it by the spoonfuls. It is quite delightful, I assure you. 💛
Tips and Tricks
A few things to keep in mind when making skillet corn:
Corn should still be crunchy at the end so do not overcook corn. It doesn't take long to fully cook the corn kernels. Once it turns a brighter yellow color it should be close to done.
I used a 10-inch non-stick skillet to pan fry the corn.
Frequently Asked Questions
How do I make this vegetarian?
Omit the bacon and add one or two more tablespoons of butter.
Can I make this ahead?
Absolutely! This dish keeps well in the refrigerator for up to 5 days. Bacon will be less crispy if it is not served fresh. Everything else should taste pretty much the same.
Can I double the recipe?
Absolutely! Use a larger skillet if you have it, but if not, just double the recipe and pan fry the corn longer until all the corn kernels are cooked.
DID YOU ENJOY THIS RECIPE? Please comment below and give us a 5-star rating! This will help others find this recipe on Google and Pinterest. We very much appreciate your help! 🤍
More Corn Side Dish Recipes
More Vegetable Side Dish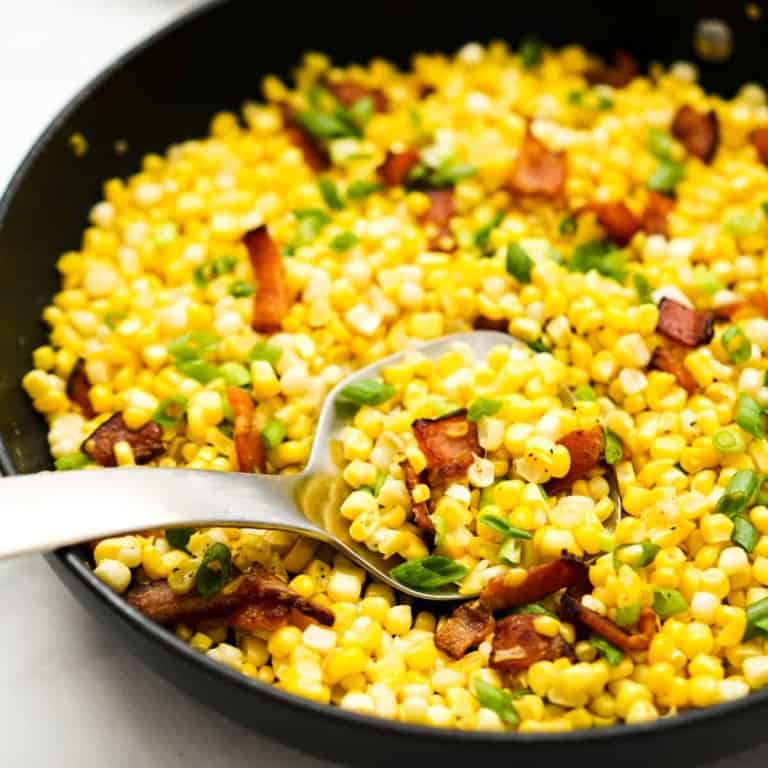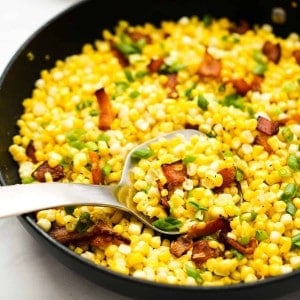 Skillet Corn
Easy and delicious pan fried skillet corn recipe! Combined with bacon pieces and bacon grease for amazing flavors. A yummy vegetable side dish ready under 15 minutes!
Print
Pin
Ingredients
3 1/2

cups

corn kernels

~6 ears of corn

1/4

cup

white onion

diced

3

strips

bacon

1

tbsp

salted butter

salt and black pepper

to taste

1

tbsp

green onions

chopped, optional
Instructions
Cut bacon into small pieces. Heat skillet under medium heat and pan fry bacon.

Once bacon pieces are crispy, add butter and diced white onions. Stir to cook for 1 minute or until onions are soft, then add corn kernels. Stir continuously until corn kernels are completely cooked (avoid overcooking).

Add salt and pepper to taste. Stir, then remove from heat. Optional: garnish with green onions
Notes
Feel free to use fresh, canned or frozen corn!
Nutrition
Calories:
106
kcal
|
Carbohydrates:
13
g
|
Protein:
3
g
|
Fat:
5
g
|
Saturated Fat:
2
g
|
Polyunsaturated Fat:
1
g
|
Monounsaturated Fat:
2
g
|
Trans Fat:
1
g
|
Cholesterol:
9
mg
|
Sodium:
201
mg
|
Potassium:
125
mg
|
Fiber:
1
g
|
Sugar:
2
g
|
Vitamin A:
87
IU
|
Vitamin C:
2
mg
|
Calcium:
5
mg
|
Iron:
1
mg