Grilled Fingerling Potatoes with Bacon Vinaigrette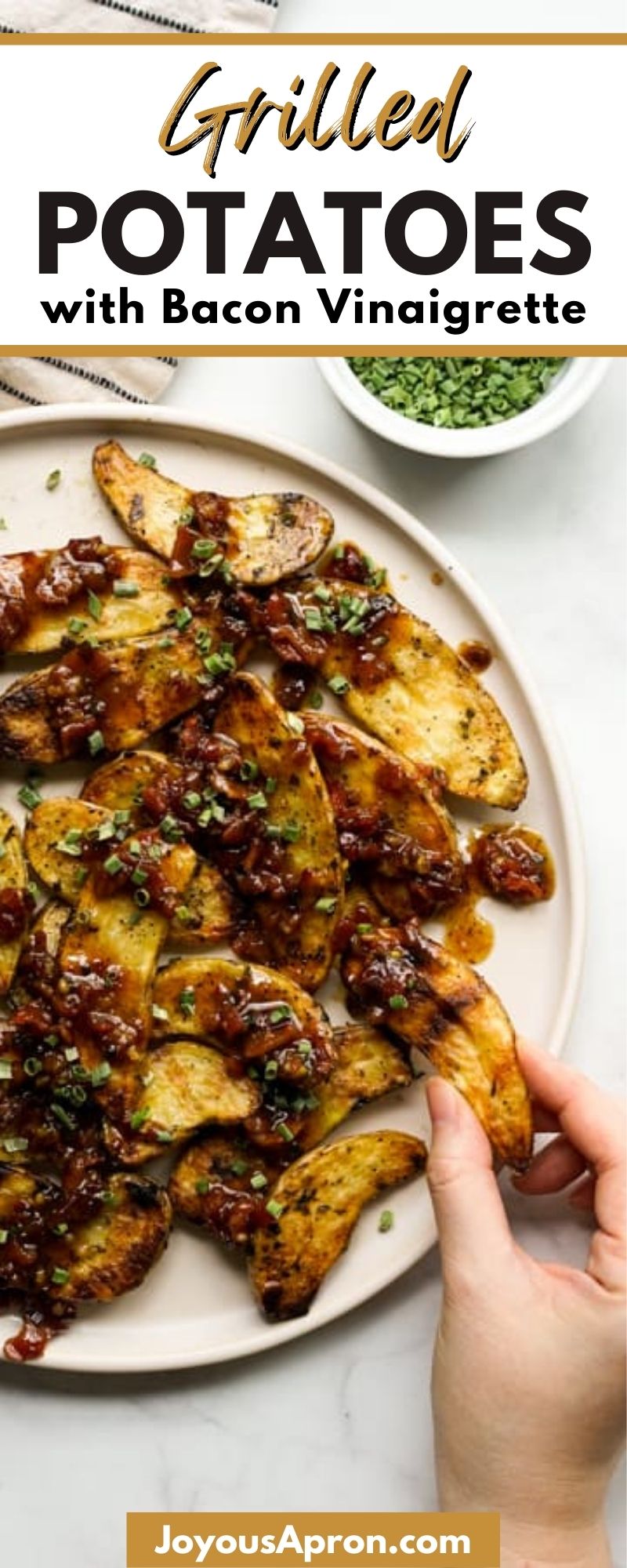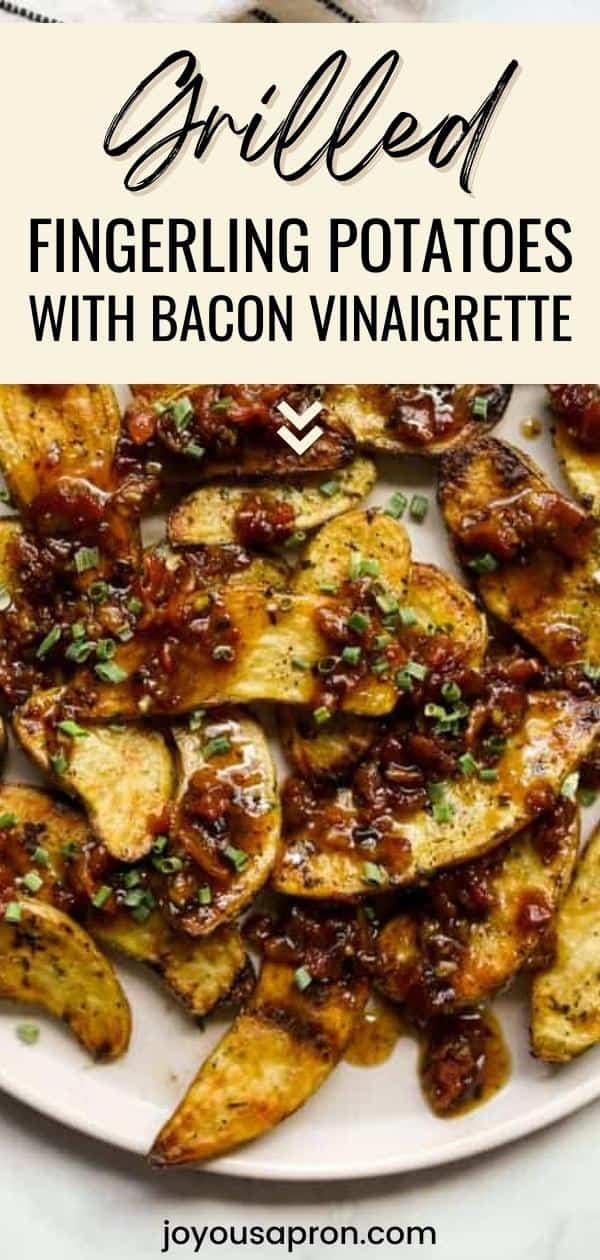 These Grilled Fingerling Potatoes are seriously delicious and the perfect cookout side dish. They are seasoned lightly with herbs, grilled, then drizzled with the most delicious tangy, sweet and savory Bacon Vinaigrette.
It's the time of the year where it is totally acceptable to cook everything on the grill! And trust me when I say, grilled fingerling potatoes on the grill is pretty amazing!
This is a sponsored post written by me on behalf of Idaho® Potato Commission and Litehouse® Foods. All opinions and texts are mine.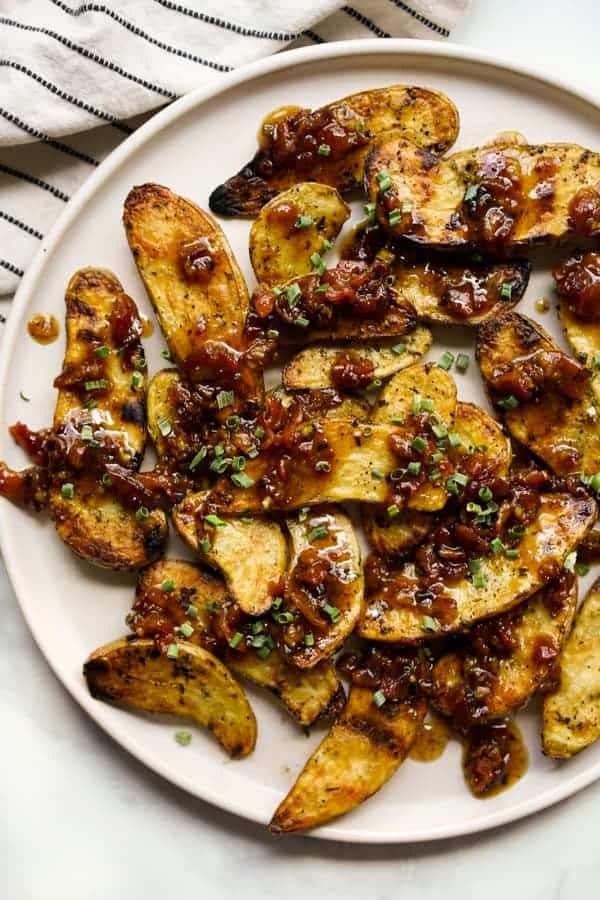 And if you don't have a grill, don't run off just yet! Oven baking instructions are available as well! 🙂
Most Yummy Grilled Fingerling Potatoes Recipe
While I love all potatoes (Potato and Ham Au Gratin, Cheesy Bacon Potato Casserole, Mascarpone Mashed Potatoes are some of my favorite!), grilled fingerling potatoes is quickly becoming my new favorite potato dish.
Soft on the inside, crispy and charred on the outside, these grilled fingerling potatoes are also very flavorful because they are seasoned with Litehouse® freeze-dried chives and parsley.
We are seriously loving these freeze-dried herbs. They are fresh, made with the finest quality, and packed with amazing flavors.
They cannot be more perfect on these Idaho® fingerling potatoes.
No marinating required. Just toss potatoes in herbs, olive oil, salt and black pepper, and voila! Best tasting potatoes ever!
So easy. So tasty. So perfect.
And because we like to be extra…and have an affinity for complex flavors, we then top grilled fingerling potatoes with the most tasty sauce that is zesty, sweet, savory and yes, with a ton of bacon pieces in it.
Because we love bacon and they take this dish up five notches…and also has the superpower to make this world a better place.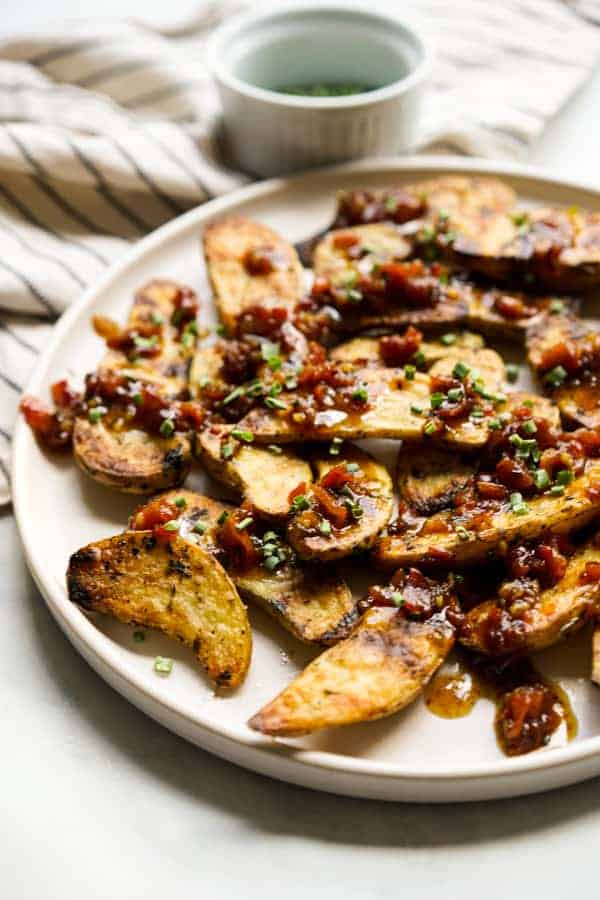 How to grill fingerling potatoes
Shaped like a finger (thus "fingerling"), I always thought fingerling potatoes are just cute cute cute.
Besides being cute, they are also really easy to make and super tasty. I love tossing them on the grill during the summer. If you choose to bake them, it works really well too.
To make grilled fingerling potatoes, first cut your fingerling potatoes into halves lengthwise so that you get a large surface area which enables potato to cook faster.
And the best part? No need to peel off the skin. Just scrub and wash them to remove dirt that might be stuck on them.
Toss fingerling potatoes in in olive oil, Litehouse® freeze-dried chives, Litehouse® freeze-dried parsley, salt and pepper.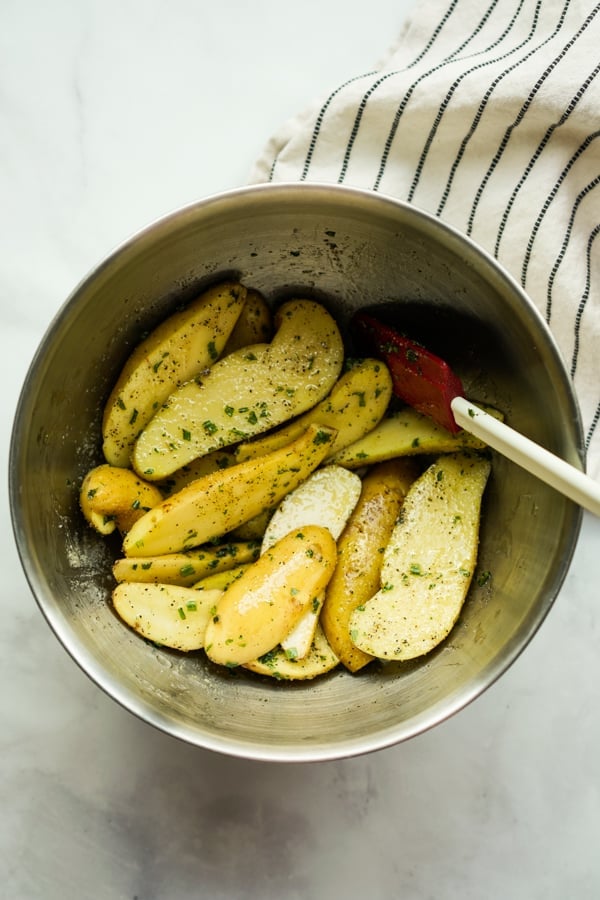 Then grill them for about 8-12 minutes on each sides (really depends on how hot your grill is), until they are soft and slightly charred on the outside.
Start grilling fingerling potatoes skin side up and then flip halfway so that they other side is cooked as well. Avoid overlapping potatoes when placing them on the grill.
When they are done, grilled fingerling potatoes should be smoky, flavorful with lots of wonderful herb flavors, and so ready to be drenched in the amazing bacon vinaigrette….
Don't want to grill your fingerling potatoes? No problem. Bake them in the oven instead at 425°F for 20-25 minutes, turning halfway through so both sides are nice and charred.
Bacon Vinaigrette
Ah bacon vinaigrette! My latest obsession.
This dressing/sauce is so good you will find me pouring it on more than just these grilled fingerling potatoes.
Here are the ingredients that make it the bomb that it is:
bacon
olive oil
apple cider vinegar
Dijon mustard
maple syrup (I used 100% pure but other types work as well)
fresh garlic – fresh garlic will bring bolder, bigger flavors than garlic powder. In a pinch, garlic powder works.
more Litehouse® freeze-dried chives (because it is too good!)
Whip this up, double or triple the portion if you must, store in the refrigerator, drizzle it onto your grilled fingerling potatoes for some amazing flavors.
If there's extra, drizzle them onto whatever (salad, other grilled or roasted meats and veggies etc)…they seriously go well on anything and you will be thanking me later. 😉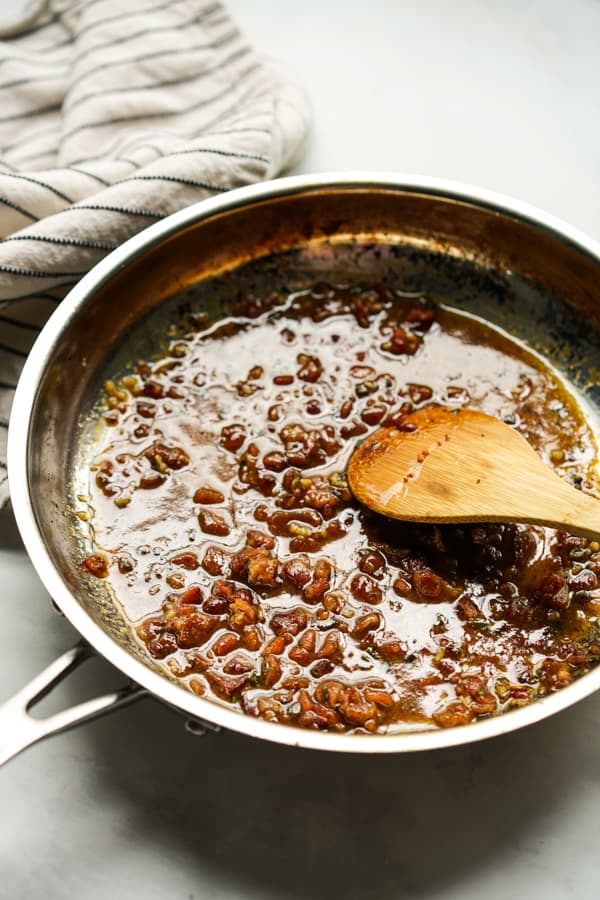 This grilled fingerling potatoes recipe is fun and delicious spin if you need a break this summer from regular potato salads or roasted potato dishes.
When you are grilling your burgers or meats outdoor, just throw some fingerling potatoes on there too since you are already firing up the grill!
Plus, my husband is the griller in our household and this is also how I pass on the cooking duties (both the meats and the sides!) to him during the summer. 😉
Frequently Asked Questions
How do I bake the potatoes?
Bake at 425°F for 20-25 minutes, flipping halfway through.
Can I use crumbled bacon that is already cooked?
Yes you can, and it will make the process much faster! You will be missing the bacon grease from cooking the bacon but it's no big deal in the big scheme of things.
What's the best way to store and reheat leftovers?
Store fingerling potatoes and bacon vinaigrette separately. You can microwave the potatoes and drizzle vinaigrette (doesn't gave to be microwaved) when ready to serve.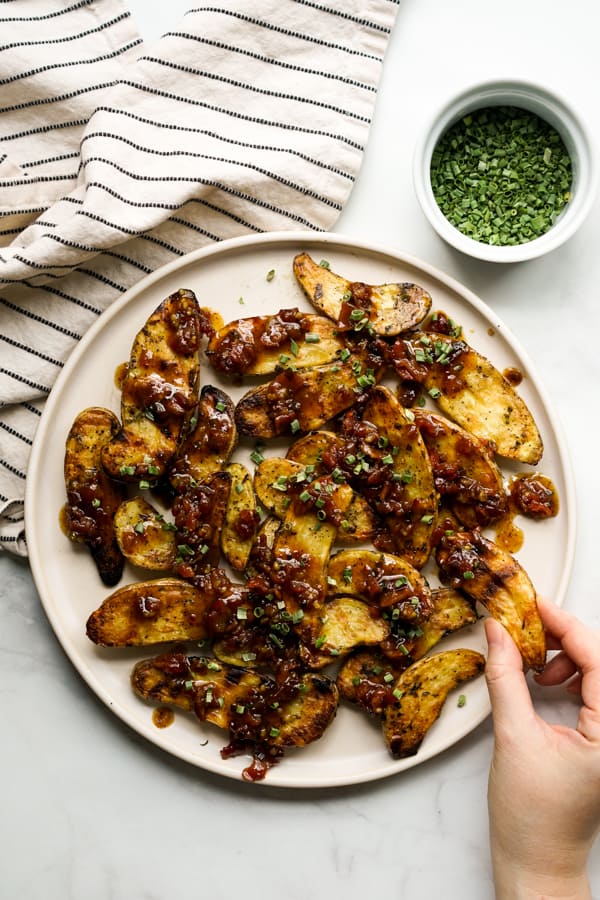 DID YOU ENJOY THIS RECIPE? Please comment below and give us a 5-star rating! This will help others find this recipe on Google and Pinterest. We very much appreciate your help! 🤍
More Potato Recipes!
Oh yes, we love potatoes a whole lot! Here are more yummy recipes!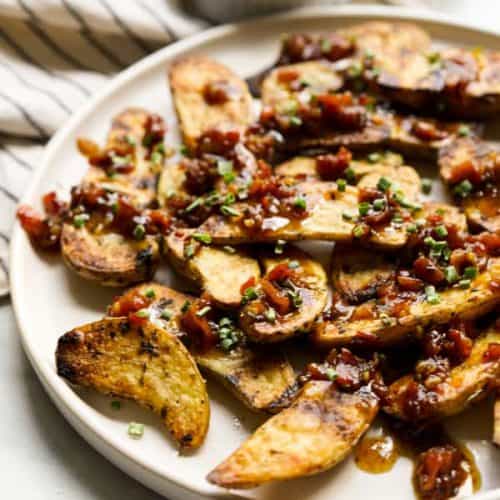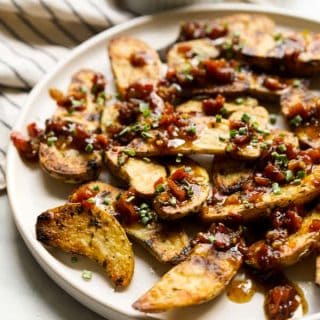 Grilled Fingerling Potatoes with Bacon Vinaigrette
A delicious potato side dish! Fingerling Idaho® potatoes are seasoned and grilled to perfection, then drizzled with tangy, savory and sweet homemade Bacon Vinaigrette.
Print
Pin
Ingredients
1

lbs

fingerling Idaho® potatoes

sliced in halves lengthwise

2

tbsp

olive oil

1

tsp

Litehouse® freeze-dried parsley

1

tsp

Litehouse® freeze-dried chives

1

tsp

salt

1/2

tsp

black pepper
Bacon Vinaigrette
4

strips

bacon

2

tbsp

olive oil

2

tbsp

apple cider vinegar

1

tbsp

Dijon mustard

3

tbsp

maple syrup

2

cloves

garlic

minced

1

tsp

Litehouse® freeze-dried chives
Garnish
1

tsp

Litehouse® freeze-dried chives
Instructions
Bring fingerling Idaho® potatoes to a large bowl, then add olive oil, Litehouse® freeze-dried parsley, Litehouse®freeze-dried chives, salt and black pepper. Toss to coat evenly.

Fire up grill to medium high heat.

Place potatoes flat side down on the grill, close grill lid, and grill for ~8 minutes. Then flip to grill the other side for 10-12minutes, or until potatoes are soft.

Remove potatoes from grill. Set aside.

In a skillet, pan fry bacon.

Remove bacon from skillet and slice into small pieces.

Drain bacon grease from skillet and remove burnt bacon pieces. Place skillet back to stovetop. No need to clean skillet with water or soap. There will still be some remnant of the bacon grease on skillet and that is ok, we want a little bit of it to make the vinaigrette.

Add chopped bacon back into the skillet, then add olive oil, apple cider vinegar, Dijon mustard, maple syrup, garlic, and Litehouse® freeze-dried chives.

Bring to a boil then lower to medium low heat. Cook for a few minutes or until bacon vinaigrette thickens. Remove from heat.

Drizzle bacon vinaigrette over potatoes. Garnish with more Litehouse® freeze-dried chives.
Notes
Instructions for baking potatoes in the oven: bake them at 425°F for 20-25 minutes, flipping halfway through.
Nutrition
Calories:
362
kcal
|
Carbohydrates:
34
g
|
Protein:
6
g
|
Fat:
23
g
|
Saturated Fat:
5
g
|
Cholesterol:
15
mg
|
Sodium:
781
mg
|
Potassium:
664
mg
|
Fiber:
4
g
|
Sugar:
10
g
|
Vitamin A:
2525
IU
|
Vitamin C:
47
mg
|
Calcium:
63
mg
|
Iron:
2
mg