Avocado Corn and Black Bean Salsa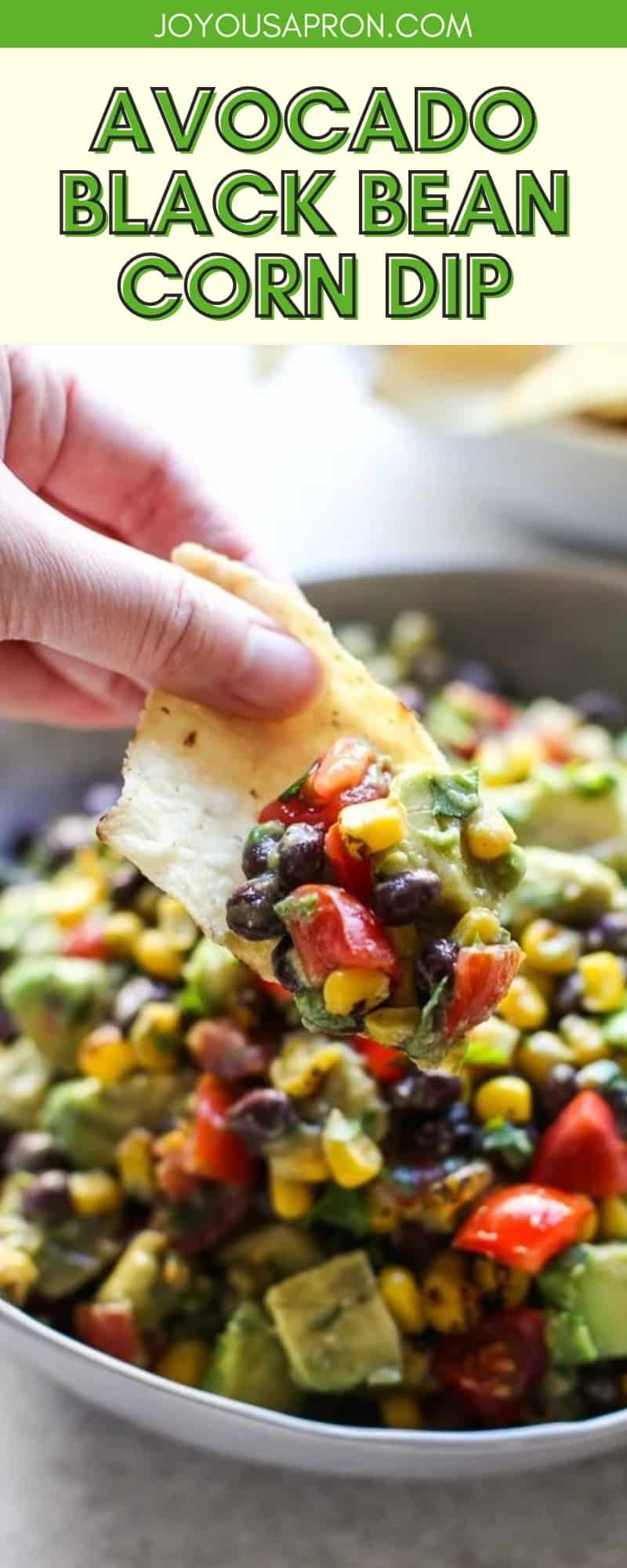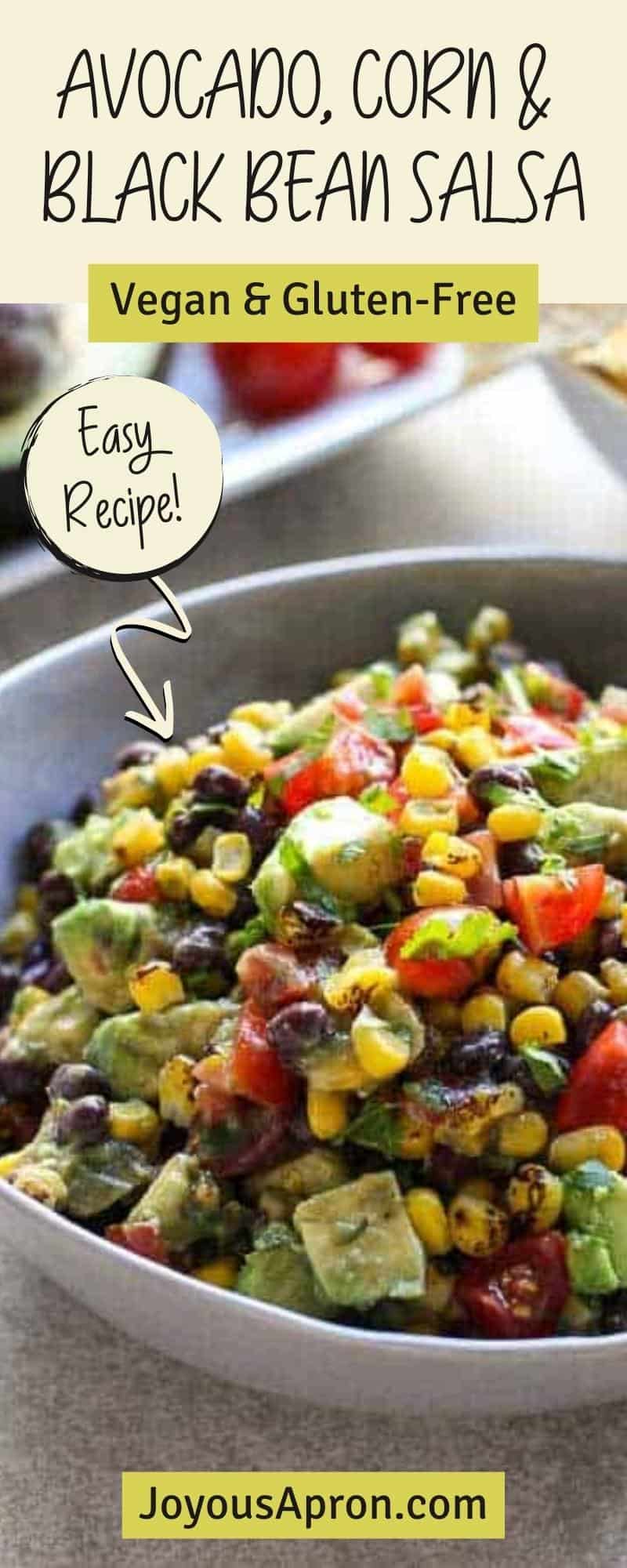 Avocado Corn and Black Bean Salsa is a easy dip recipe that will keep you dipping! It is fresh, tangy, delicious, and filled with amazing flavors and textures. It's one of my favorite dishes to make for parties, showers, picnics, game day, and it happens to be a fantastic side dish as well!
Serve this delicious avocado corn black bean dip with some crispy tortilla chips and let me tell you…you are in for a treat!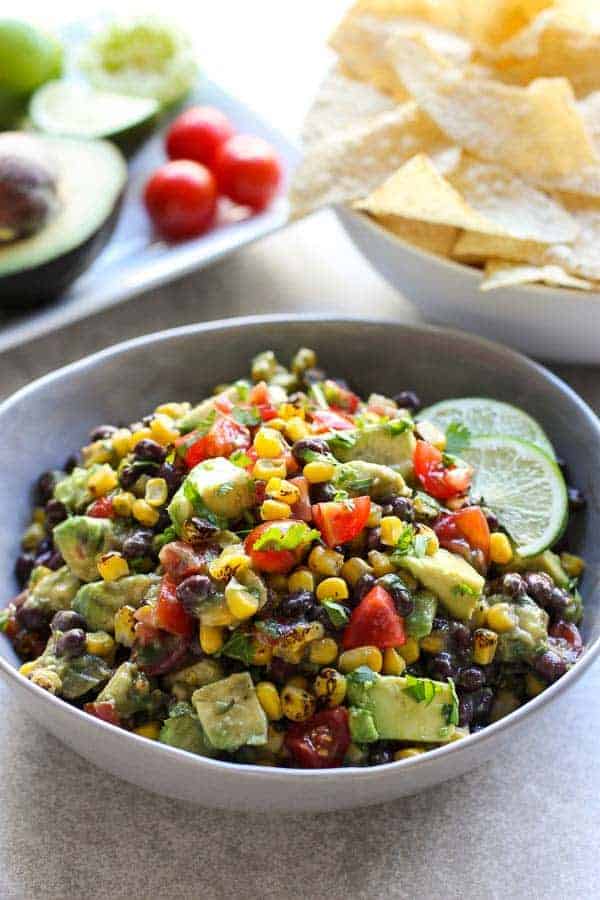 Corn Black Bean Avocado Salsa
Everything about this Avocado Corn and Black Bean Sals screams warm weather food to me. It combines great flavors and textures, has a savory and subtly sweet (thank you, sweet corn) flavors.
Furthermore, it brings about a burst of freshness and lightness that my heart has been longing for since the long, gloomy winter days.
Here's why avocado black bean corn salsa is a dip and side dish that you need in your hip pockets:
Easy to make – 7 simple ingredients, no cooking required, ready under 15 minutes!
Healthy – it's made primarily with vegetables so there's little fat and lots of good stuff!
Served cold or room temperature – avocado corn black bean salsa can be left out for hours and it still taste fresh and delicious. Sometimes I serve it cold from the fridge, sometimes I let it sit for a few hours in room temperature.
We love this avocado corn black bean salsa around here. We make it often because it's easy, delicious and it's not too bad for you either! Just watch the chips 😉
Ingredients
Here are the seven ingredients you will need to make corn avocado black bean salsa:
Corn kernels – can be canned, frozen or fresh. If using canned corn, make sure to drain excess liquid.
Avocado
Black beans – I use canned black beans because it's the fastest. Make sure to drain excess liquid as well
Lime juice – freshly squeezed from fresh limes are the best
Tomatoes – or cherry tomatoes, diced into small pieces
Cilantro
Salt – important ingredient to open up the gorgeous flavors of avocado, black beans, and corn.
How to make Avocado Corn and Black Bean Salsa?
Avocado corn and black bean salsa is seriously one of the easiest recipes you'll make from my website…or ever!
It also tastes so good it's hard to believe how easy it comes together!
Simply bring together the key ingredients – avocado, corn kernels, black beans, tomatoes, and chopped cilantro.
Mix everything together and then squeeze some fresh lime juice all over it.
Last but not least, add salt to taste so that the flavors of the avocados, corn, black bean and tomatoes will brought out. Give it a good stir before serving.
Pro tip: always taste test your food (this avocado corn black bean salsa is no different) so that you can adjust the taste accordingly. Add more salt if you need to, or even more lime juice if you prefer a more citrusy flavor.
And when avocado black bean corn salsa is done, grab a tortilla chip, dunk it into this bowl of yumminess, and dip away like you mean business.
How to serve it
Avocado corn black bean salsa is truly a versatile recipe, and can be served in so many ways:
side dish – this can easily be the low carb, no-cook side dish that goes great with your favorite meats and seafood. It's a great substitute to a vegetable side dish.
dip – goes perfectly with corn tortilla chips.
top on top of protein – this will also go great with your favorite grilled chicken breast, salmon, steak, pork chops and much more. There's something about that unique crunch and flavor that takes a simple protein main course to the next level.
on salad – when you want an extra something on your salad, scoop a heaping cup of Avocado Corn and Black Bean Salsa onto it. It's OMG YUM and I promise you your veggie-loving heart will thank yourself for it.
I have also been known to clean up a bowl full of this with a spoon, on my kitchen counter, for lunch. I didn't even make it to my dining table. 😉
Storage
Avocados don't keep for a long time, so you should store avocado corn black bean salsa for just up to 12 hours in the fridge. Outside that timeframe, avocados will most likely brown.
However, if you omit the avocados the rest would store just fine for many days.
Make Ahead Instructions
I highly recommend making avocado corn black bean salsa fresh before you serve it, because avocados just taste better fresh and most likely not brown. And besides, it's a quick dish and takes not more than 15 minutes to make.
If you desperately want to make this ahead of time, combine everything together and store in the fridge for up to 1-2 days, except for the avocados. When you are ready to serve, cut up the avocados and combine with the rest of the ingredients.
How to prevent avocados from browning?
It's actually impossible to prevent the avocados from browning, but you can slow the process down by storing avocados (even if they are already cut up and combined with other ingredients) along with the seed in an air tight container.
Remember not to throw the seeds away when you are cutting up the avocados if you know you are going to have leftovers!
Other light and healthy side dishes
With Spring upon us, and summer soon to show us its pretty face, these dishes are perfect for the season!
Avocado Corn and Black Bean Salsa
Fresh, easy, no-cook, and healthy! Made out of avocado, corn, black beans, tomatoes, cilantro, lime juice, this is the perfect appetizer, dip or side dish! Vegan and Gluten free friendly.
Print
Pin
Ingredients
~2

cups

diced avocado

~2 small/medium avocado

1

cup

frozen roasted corn

or frozen corn

1

cup

canned black beans

drained

1

cup

diced cherry tomatoes

~2

tbsp

chopped cilantro

2-3

tbsp

fresh lime juice

1-2 limes

salt

to taste
Instructions
Prep the ingredients: Dice avocados and cherry tomatoes, chop cilantro, juice lime(s), drain black beans.

If needed, microwave frozen roasted corn for 10-20 seconds.

Combine diced avocados, roasted corn, black beans, cherry tomatoes, cilantro in a large bowl. Mix well.

Add lime juice and salt to taste.

Serve (with chips if you prefer!) and enjoy!
Nutrition
Calories:
139
kcal
|
Carbohydrates:
17
g
|
Protein:
4
g
|
Fat:
8
g
|
Saturated Fat:
1
g
|
Polyunsaturated Fat:
1
g
|
Monounsaturated Fat:
5
g
|
Sodium:
124
mg
|
Potassium:
472
mg
|
Fiber:
6
g
|
Sugar:
1
g
|
Vitamin A:
208
IU
|
Vitamin C:
15
mg
|
Calcium:
21
mg
|
Iron:
1
mg