Italian Bow Tie Pasta Salad
This delicious Bow Tie Pasta Salad is an Italian inspired pasta salad loaded with cherry tomatoes, olives, bell peppers, red onions, salami, parmesan cheese and fresh basil. Everything is tossed in a tangy and delicious homemade Italian vinaigrette.
Flavorful and filled with amazing textures, bow tie pasta salad is a healthy and bright side dish perfect for summer cookouts and dinners. It is one of my favorite pasta salads to date!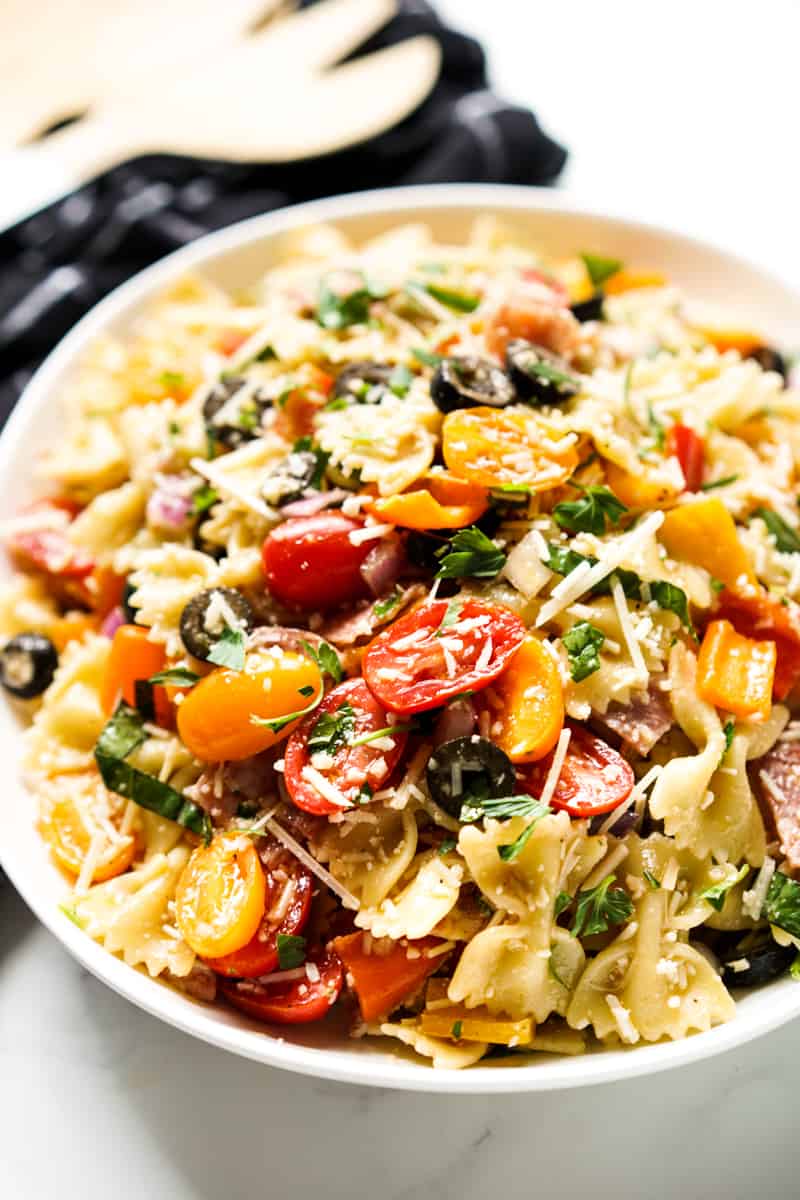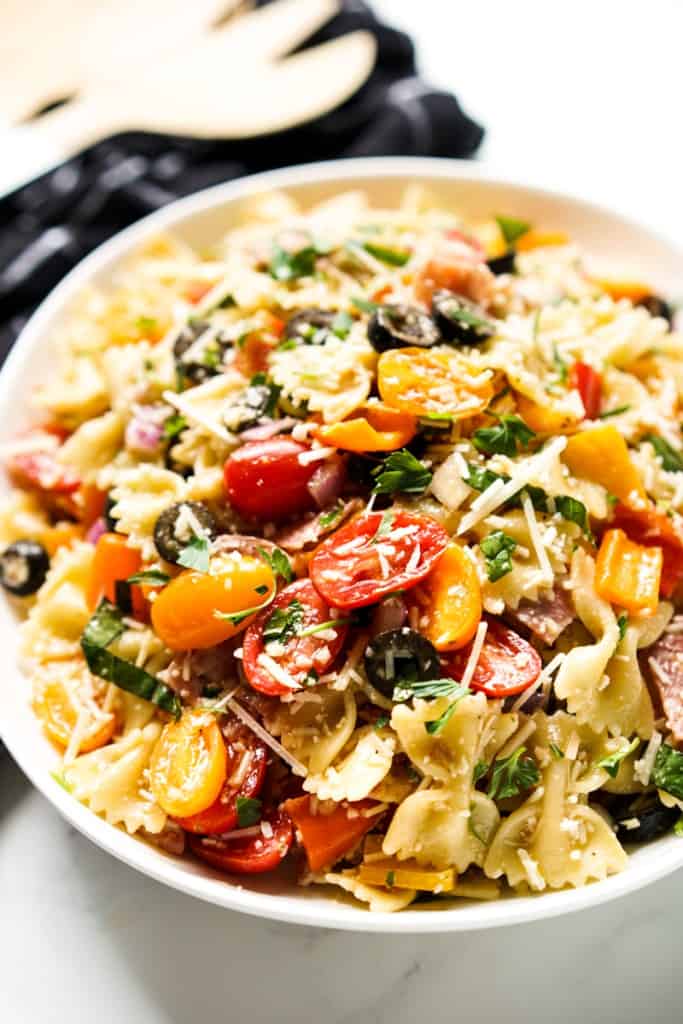 Looking for more summer side dishes? Don't forget to also check out some of our other cookout favorites such as BBQ Baked Beans, Caesar Pasta Salad, Potato Mac Salad, and Muffuletta Pasta Salad.
A Bow Tie Pasta Salad Recipe
If you have a bunch of bow tie pasta lying around, I highly recommend whipping together this scrumptious bow tie pasta salad.
It's loaded with all my personal favorite ingredients inspired by ingredients in Italian cuisine such as salami, cherry tomatoes, fresh basil and fresh parmesan.
I created a delicious and simple vinaigrette dressing that is tangy, savory and sweet for our bow tie pasta salad, but any store-bought Italian dressing or vinaigrette dressing will work great for this as well if you are looking for something even quicker.
The results is a fresh burst of veggies and chewy pasta coated in tangy dressing as well as sharp and delicious parmesan cheese.
Here are a few other things you need to know about this bow tie pasta salad:
ready under 30 minutes
can be enjoyed warm, cold or in room temperature – in other words, it makes a great party dish!
save well as leftovers
super versatile – substitute with the veggies and meat you already have in your fridge. It's a great way to use up leftover produce!
calls for pantry-friendly ingredients and can be made even easier by using a store bought dressing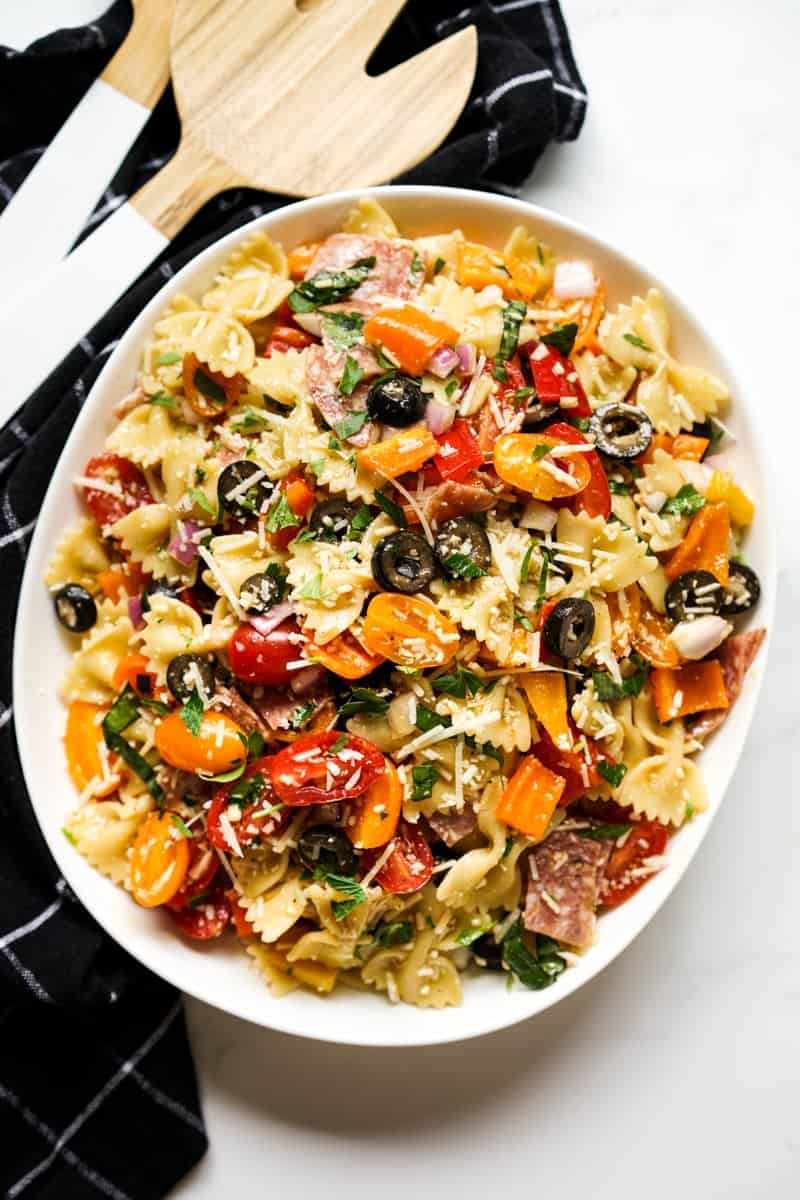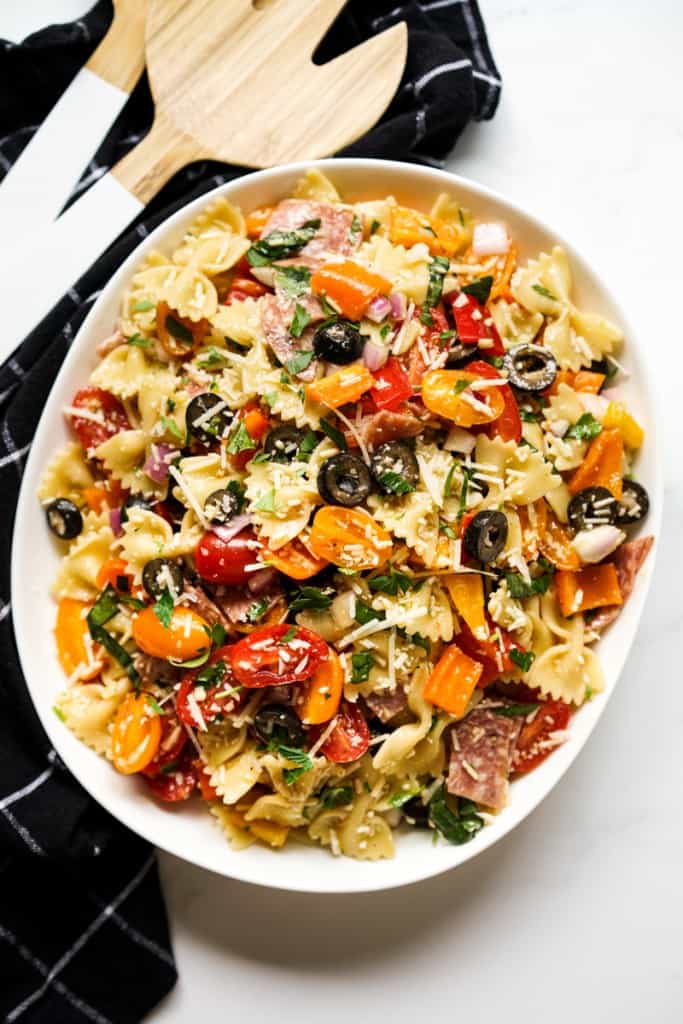 Ingredients
For this Italian inspired bow tie pasta salad, we are using a combination of these vegetables, meat and cheese:
bow tie pasta – cook your bow tie pasta al dente and it brings the perfect chewiness to this Italian pasta salad.
cherry tomatoes – grape tomatoes work great as well. You can use larger sized tomatoes like Roma tomatoes, but I prefer the smaller ones for this as their flavors are more concentrated and the produce less moisture when tossed in dressing.
black olives – any type of olives work just fine!
bell peppers – red, orange or green…use your favorite!
red onions – red onions have a sharper, more pungent flavor than white or yellow onions, so I prefer using red onions in this salad. However, other onions work as well if in a pinch.
salami – pepperoni, procuitto, ham, or other cold cut meats work great as well
fresh basil – fresh is key! Avoid substituting with dried basil as the flavors are just not as good in this Italian bow tie pasta salad.
parmesan cheese – use good quality parmesan cheese! Makes a huge difference to your bow tie pasta salad. Avoid getting the non-refrigerated kind as there are usually additives in it.
As for that scrumptious Italian dressing that goes into the bow tie pasta salad, here are the ingredients needed:
red wine vinegar – in a pinch, white vinegar can be used as well
olive oil – avocado oil can be used as well
garlic – use fresh garlic! Avoid substituting with garlic powder
granulated sugar – this will give the dressing a touch of sweetness to balance out the sour
salt
black pepper
How to make it
To make this delicious Italian bow tie pasta salad, all you need is 30 minutes and a little bit of patience chopping up the veggies. Or get pre-chopped veggies! 🙂 (total lifesaver on a busy day)
Italian dressing
Start by bringing together all the ingredients for the Italian dressing. I like to do this first because I want to let the dressing sit for a while so the flavors come together.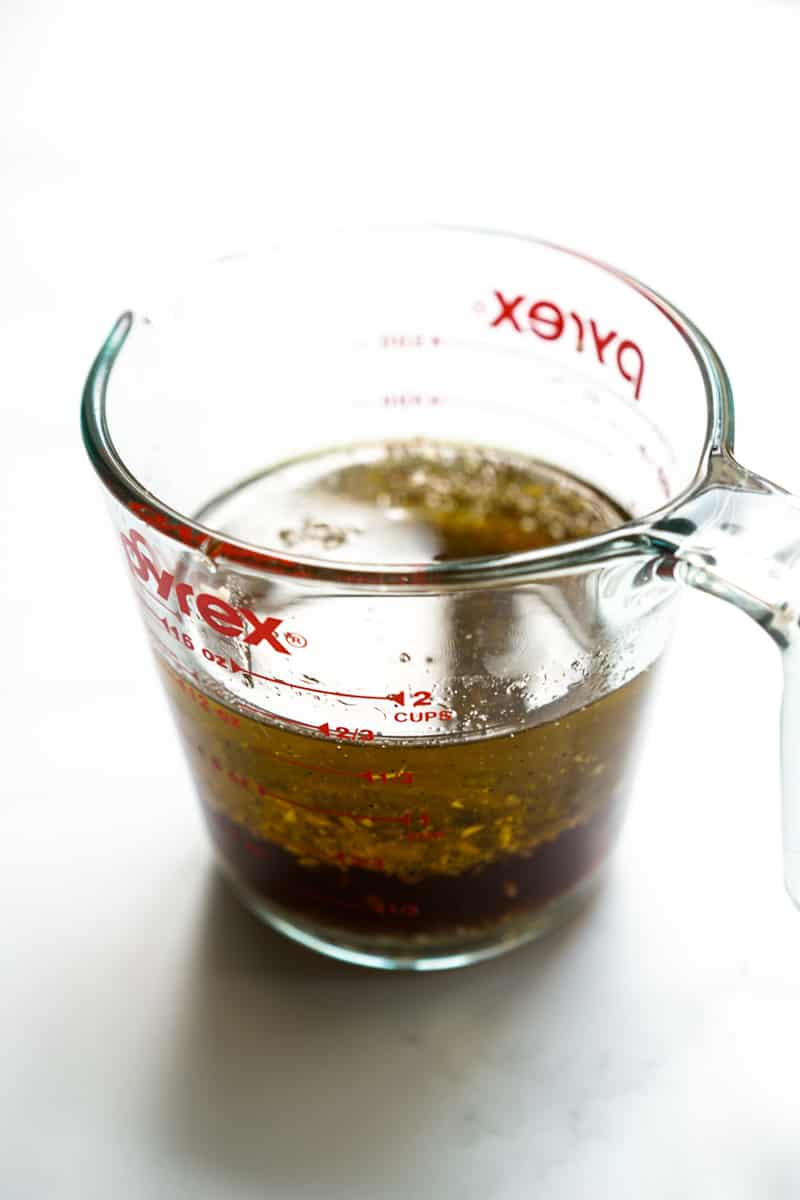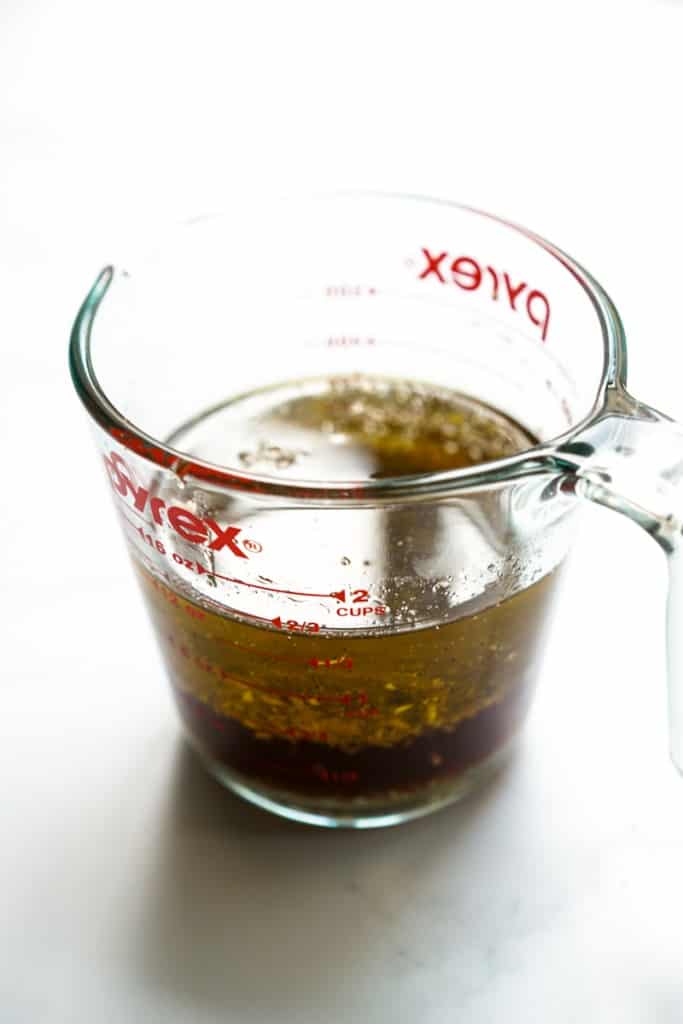 Simple whisk together red wine vinegar, olive oil, minced garlic, sugar, salt and black pepper. You can add herbs such as oregano or thyme if you'd like, but I find that not necessary since there's already so much amazing flavors going on in our bow tie pasta salad.
Italian Pasta Salad
Next, I chop up all the veggies and meat and get them into bite-size pieces, and boil pasta until al dente and chewy.
Once that is done, bring bow tie pasta, red bell peppers, olives, cherry tomatoes, red onions and salami into a large mixing bowl.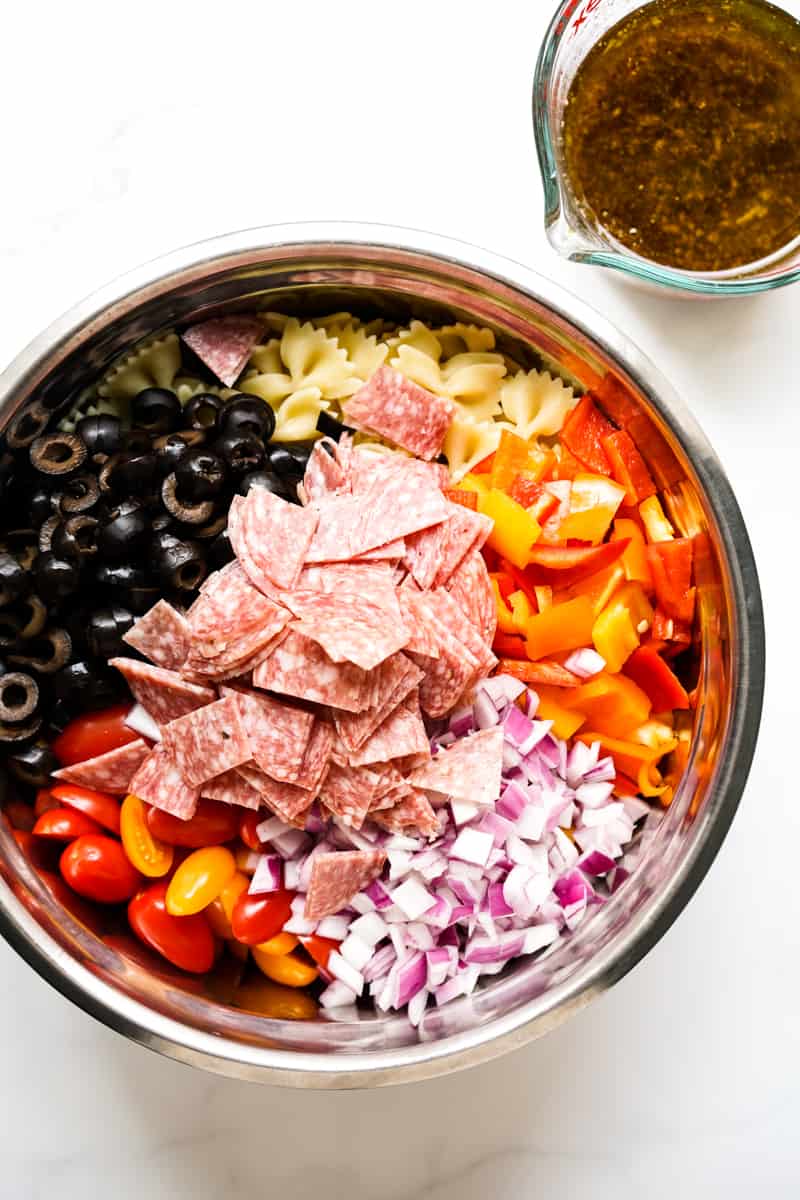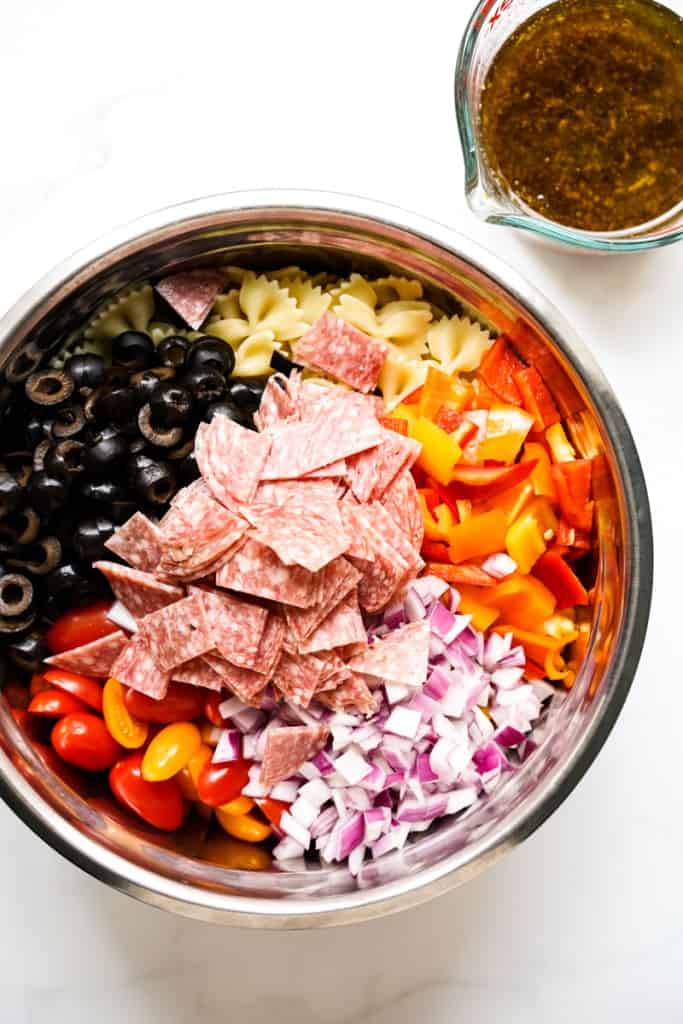 Give it a toss and then add shredded parmesan and chopped fresh basil.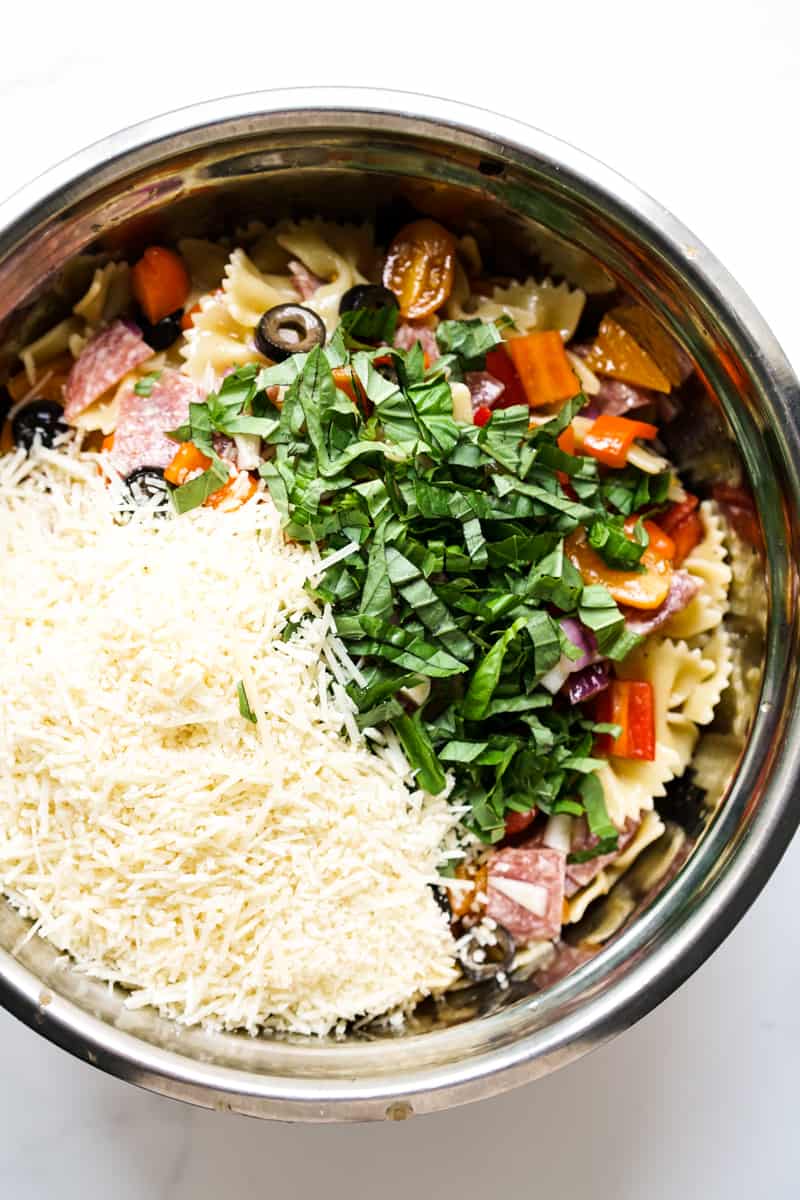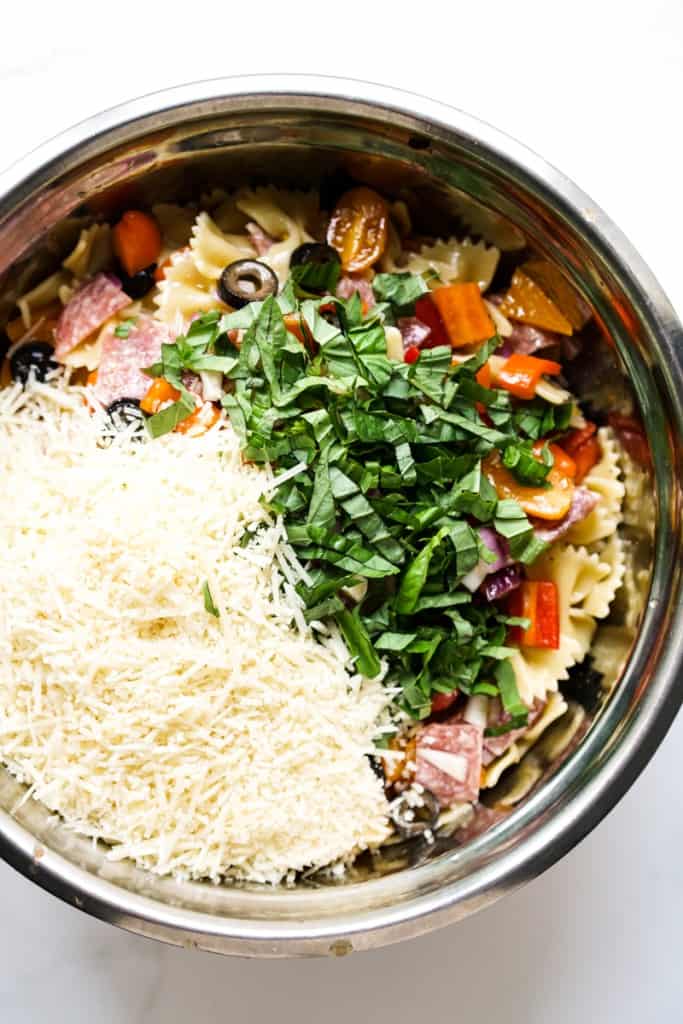 Toss it up until everything is combined.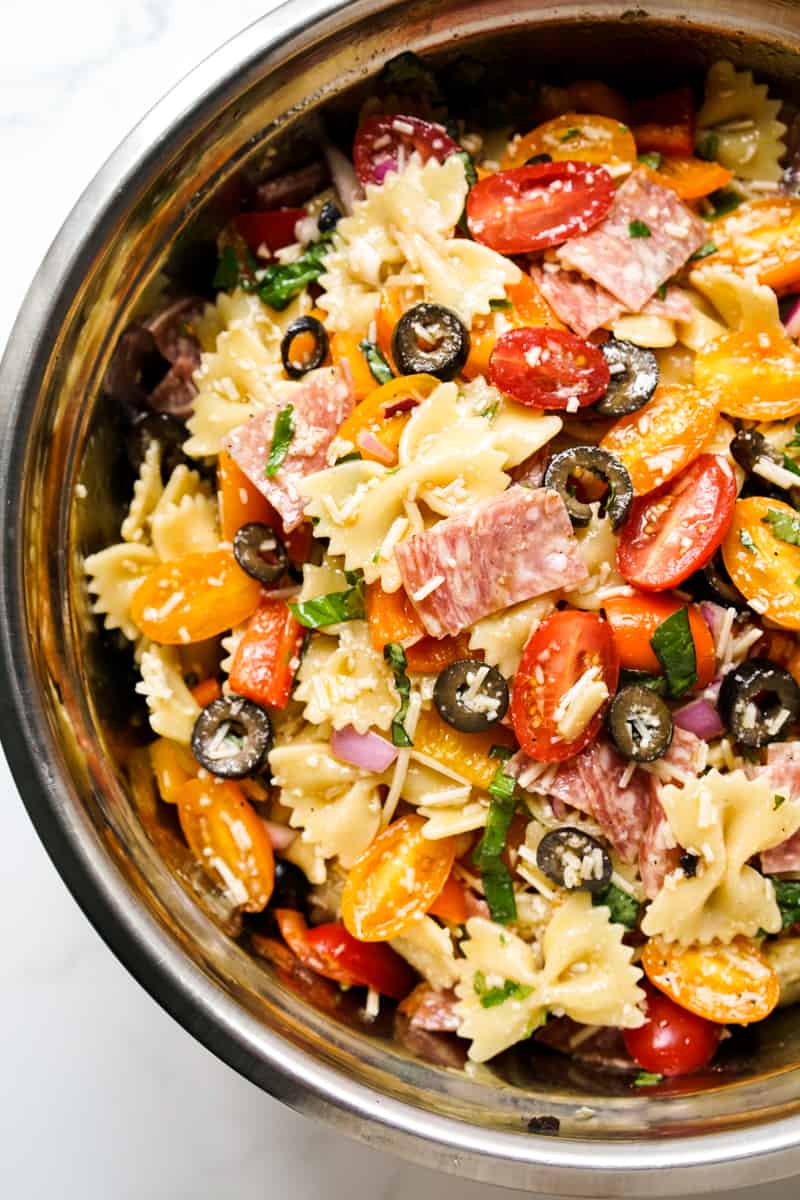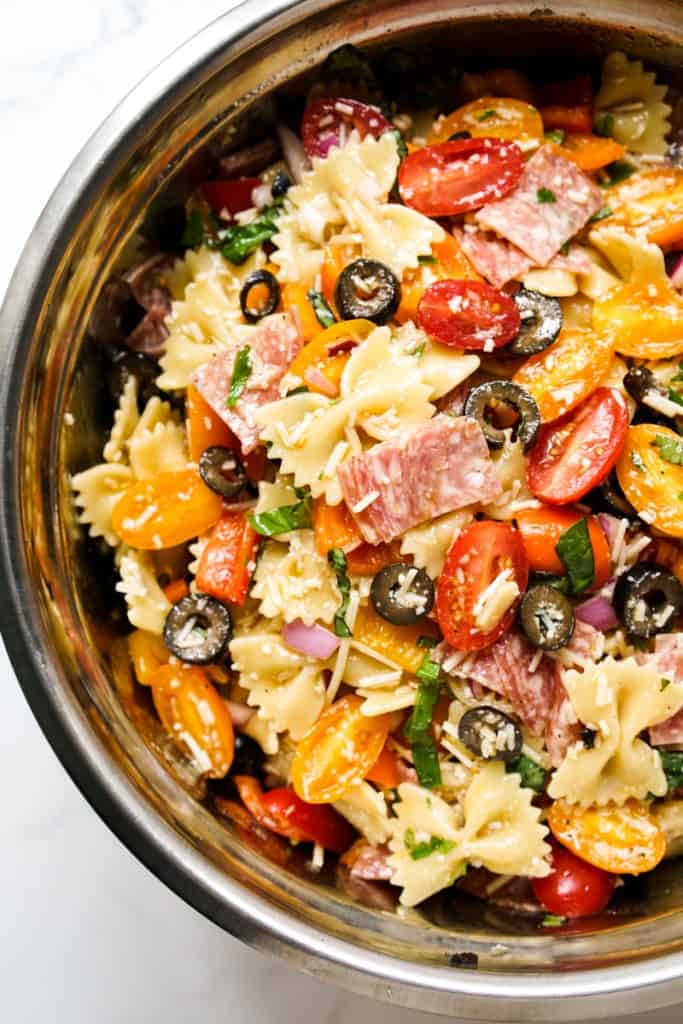 The product is the most delicious Italian bow tie pasta salad that is juicy, chewy, tangy and perfect.
I love the combination of flavors and textures…the juicy tomatoes, the tanginess of the olives, the freshness of basil and sharp bite of parmesan.
As the weather warms up, this bow tie pasta salad is absolutely perfect for cookouts, bbqs, picnics and dinners. I love having leftovers as a light lunch the next day as well!
Substitution and Variation
This Italian bow tie pasta salad recipe is extremely versatile, and can be made using a variety of different ingredients. Here are some ideas:
vegetables: add or substitute with cucumbers, lettuce, other types of olives.
meats: add or substitute with pepperoni, ham, procuitto, or other cold cut meats.
cheese: fresh mozzarella balls (add when cool so they don't melt) and/or feta taste great in this as well
dressing: add dried herbs such as Italian seasoning, oregano, basil or thyme.
Storage, Making Ahead and Reheating
To store Italian bow tie pasta salad, simply store in air tight container in the refrigerator for up to 5 days.
If making ahead, store parmesan, fresh basil and dressing separately and only add to pasta salad when ready to serve. This will prevent the pasta salad from getting soggy.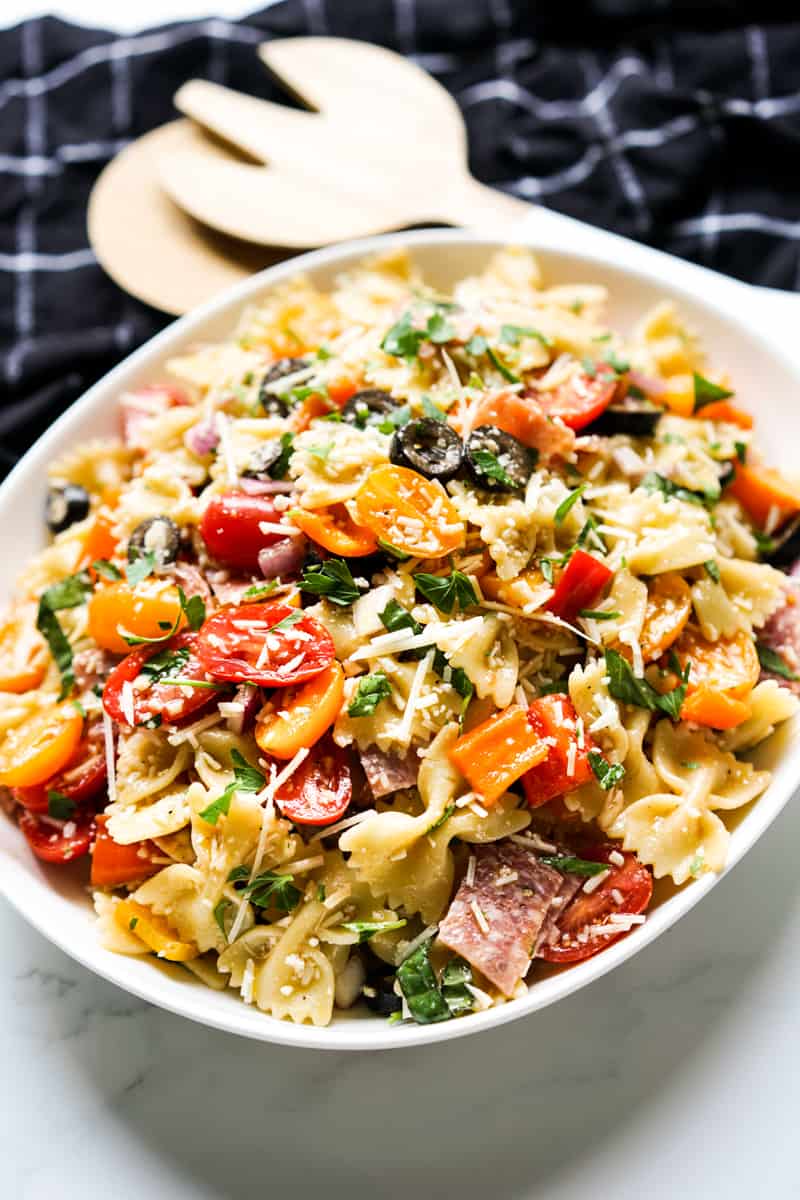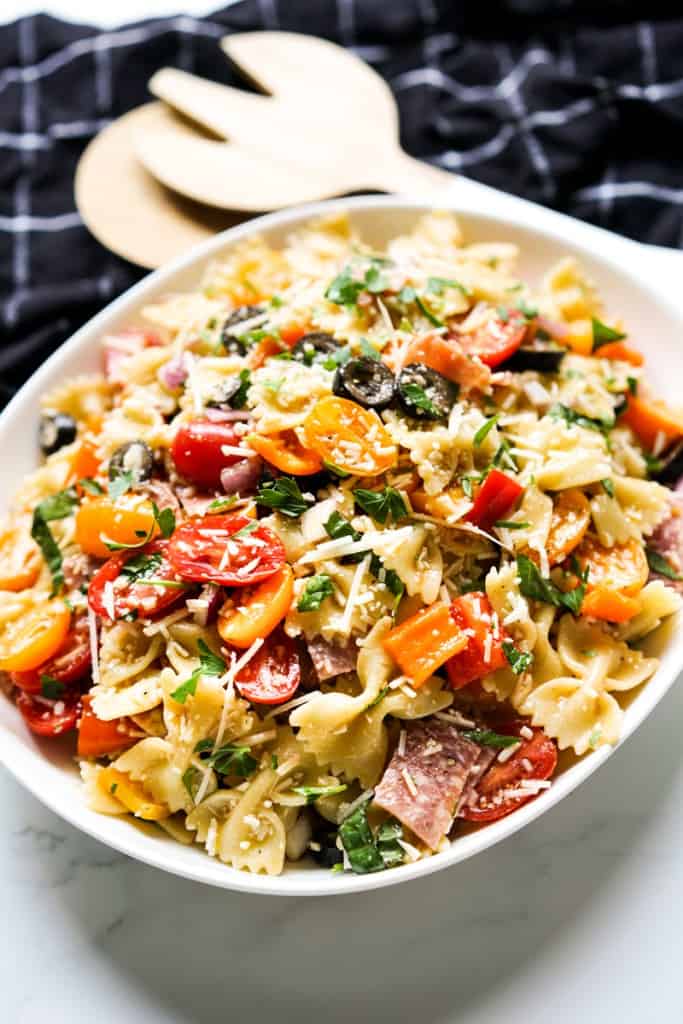 When it comes to serving, bow tie pasta salad can be served cold or in room temperature, so you can find me eating leftovers with a spoon straight from the container/bowl standing by the countertop. 🙂
You don't have to microwave to heat it but if you want to, do it for a short amount of time so it doesn't overcook the vegetables.
Frequently Asked Questions
Should I rinse cooked pasta with cold water?
No, rinsing cooked pasta will take away the starch from pasta and the starch is necessary for the sauces to stick to and coat the pasta. To prevent warm pasta from sticking to each other, instead of rinsing with cold water, toss pasta in olive oil.
What type of dressing should I use if I don't want to make my own?
Any Italian dressing works great in this bow tie pasta salad, or you can also use any sort of vinaigrette dressing.
Can I freeze this?
I would not recommend it because the veggies will not taste the same after freezing.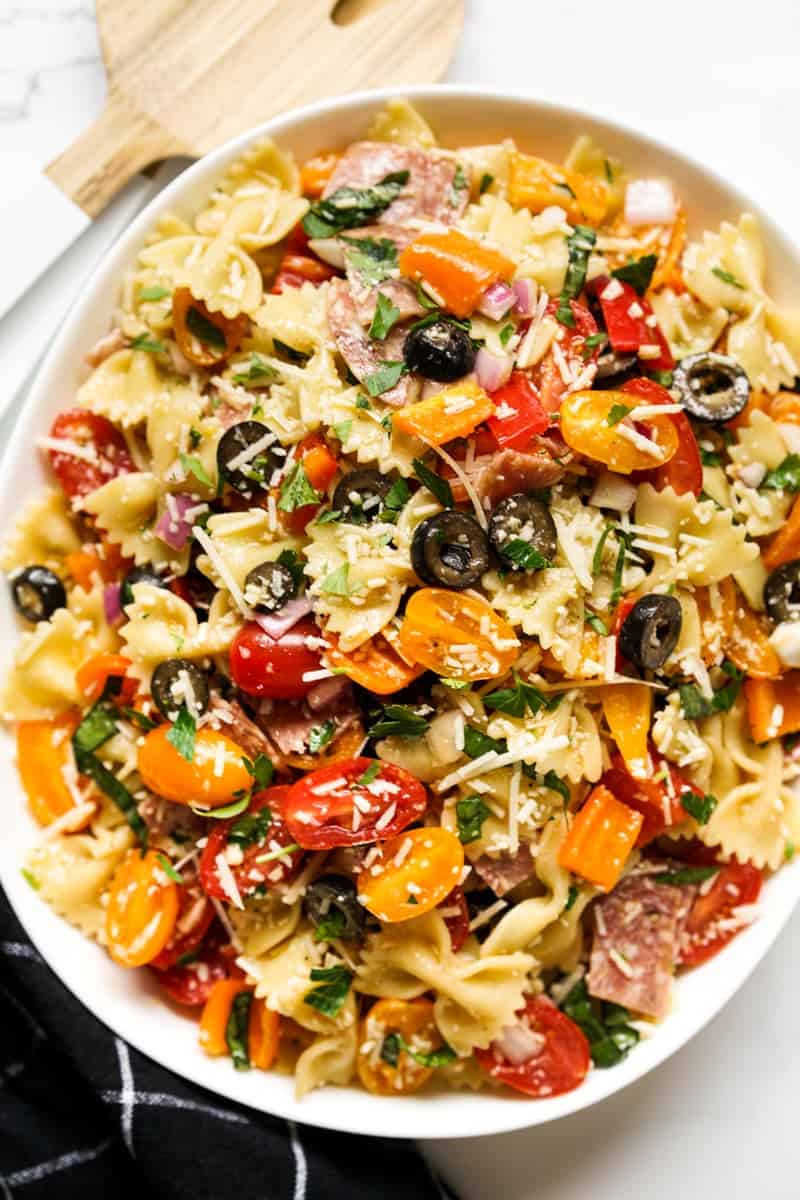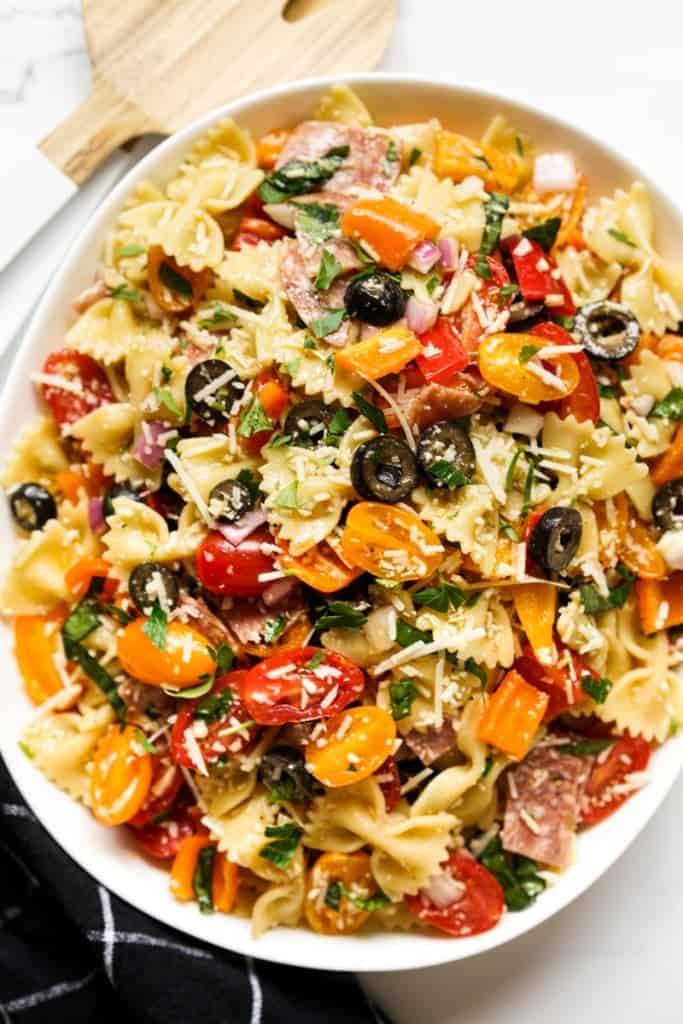 DID YOU ENJOY THIS RECIPE? Please comment below and give us a 5-star rating! This will help others find this recipe on Google and Pinterest. We very much appreciate your help! 🤍
More Salad Recipes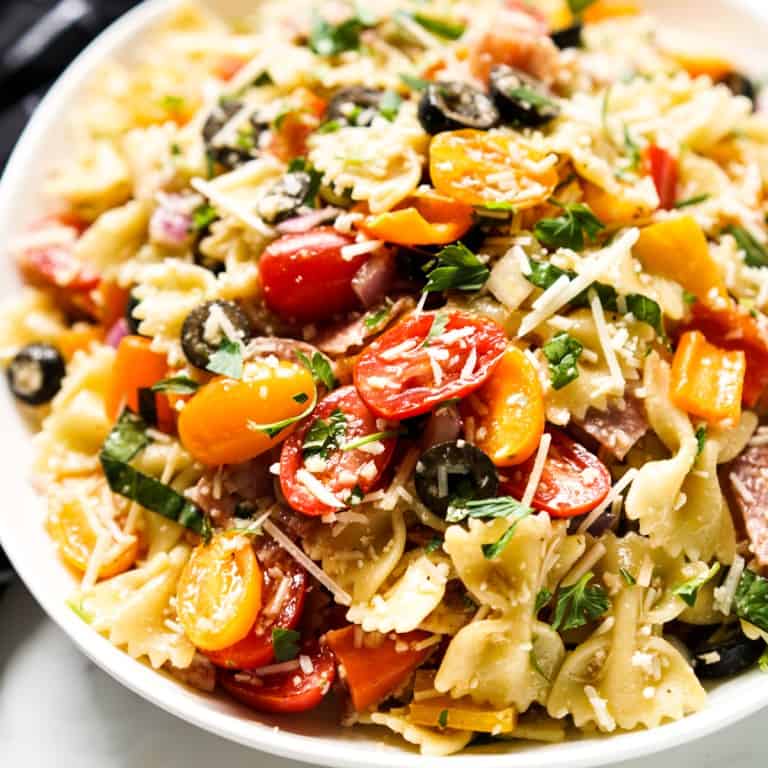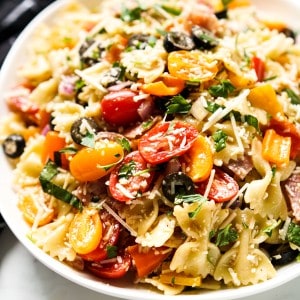 Italian Bow Tie Pasta Salad
Delicious Italian inspired bow tie pasta salad recipe combining cherry tomatoes, black olives, red onion, bell peppers, fresh basil, and parmesan cheese. Tossed in a tangy homemade Italian dressing.
Print
Pin
Ingredients
1

lbs

bow tie pasta

4

cups

cherry tomatoes

halved

1

cup

black olives

halved

2

cups

bell peppers

sliced

1

cup

red onions

diced

8

oz

salami

1

cup

fresh basil

julienned

1

cup

parmesan cheese

shredded
Dressing
1/2

cup

red wine vinegar

1

cup

olive oil

4-6

cloves

garlic

minced

2

tsp

granulated sugar

1

tsp

salt

1/2

tsp

black pepper
Instructions
Bring together all the 'dressing' ingredients. Whisk to combine. Set dressing aside.

In a large pot, bring water to boil on stove top. Cook bow tie pasta according to package instructions.

Drain water from pasta when done. Add pasta to a large mixing bowl.

Add cherry tomatoes, black olives, bell peppers, red onions and salami to the bowl of pasta. Add dressing. Toss to combine.

Add fresh basil and parmesan cheese. Toss again to combine.
Nutrition
Calories:
453
kcal
|
Carbohydrates:
35
g
|
Protein:
13
g
|
Fat:
29
g
|
Saturated Fat:
6
g
|
Polyunsaturated Fat:
3
g
|
Monounsaturated Fat:
18
g
|
Cholesterol:
21
mg
|
Sodium:
941
mg
|
Potassium:
363
mg
|
Fiber:
3
g
|
Sugar:
5
g
|
Vitamin A:
1236
IU
|
Vitamin C:
45
mg
|
Calcium:
132
mg
|
Iron:
2
mg