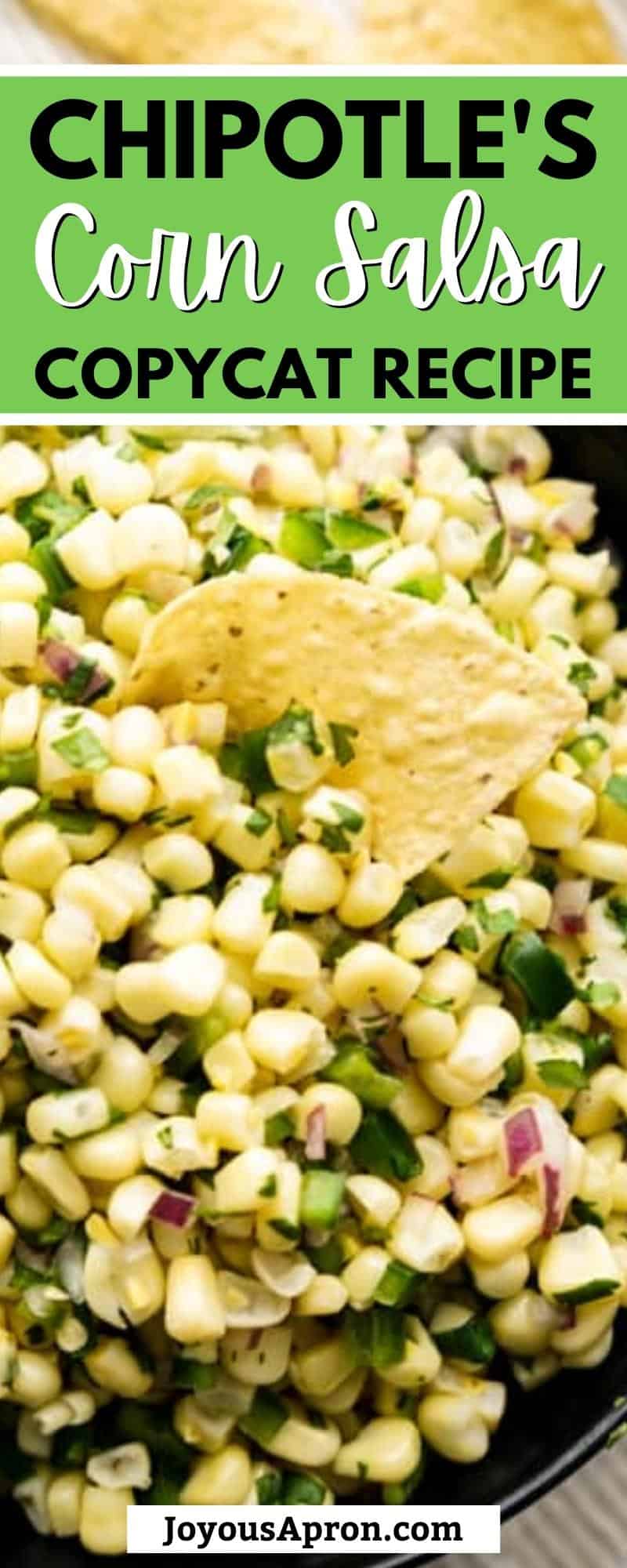 This is a copycat Chipotle Corn Salsa recipe…and it's as fabulous as the ones you get from Chipotle Mexican Grill! This fresh and delicious corn jalapeños salsa is sweet and tangy, and slightly zesty from bits of jalapeños in there.
Serve as a side dish to your favorite Mexican dishes, or with tortilla chips as a dip!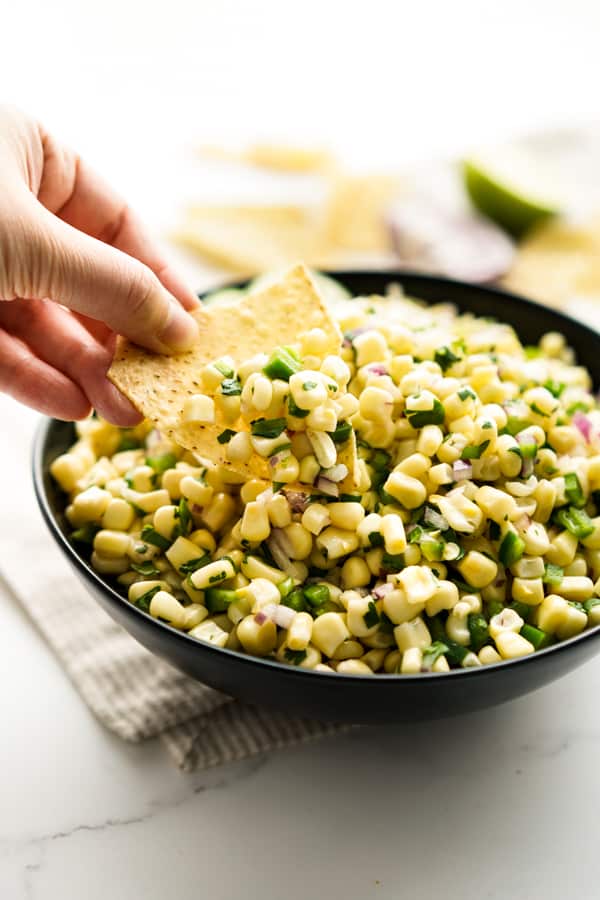 If you like recipes like this corn jalapeño salsa, be sure to also check out my Easy Queso and Chunky Guacamole!
I used to eat a Chipotle twice a week when I was working in the corporate world and Chipotle was right down the street from me. I always get their Chicken Burrito Bowl and asked for double portion of their roasted chili corn salsa.
Because one portion of Chipotle Corn Salsa is just not enough!
These days I make my own, keep a big tub of it in my fridge, and snack on it like candy throughout the day.
I was very excited the day I realize how easy it is to make a copycat Chipotle Corn Salsa at home.
It calls for simple, pantry-friendly ingredients, and literally takes 10 minutes to cut up the vegetables and toss together all the ingredients.
Before you know it, you'll be munching off tubs of Chipotle Corn Salsa from your fridge like I do!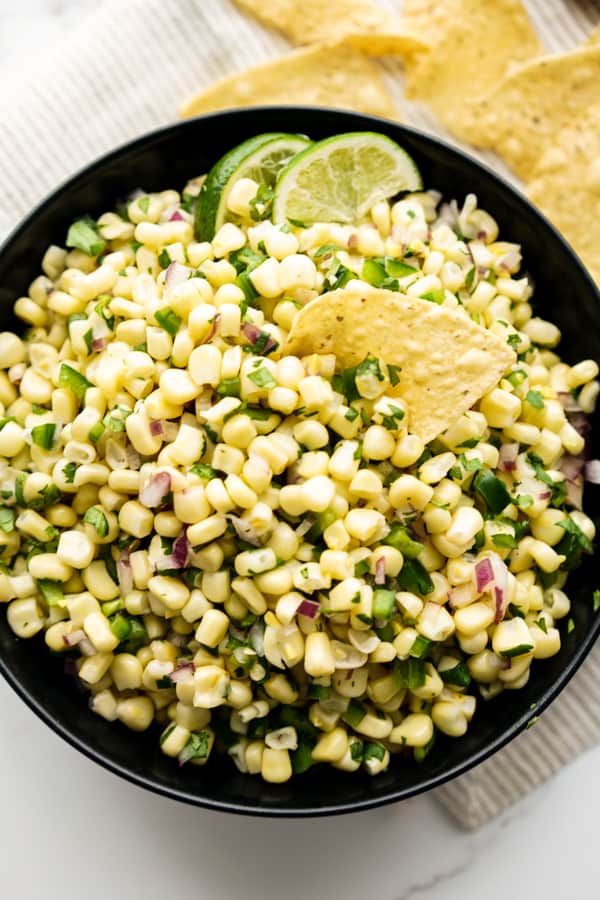 What is Chipotle Corn Salsa Made Of?
Ingredients
This recipes calls for only the 8 pantry/fridge-friendly, easy to find ingredients. Because of that, every single ingredient plays an important role in bringing flavors and textures to this dish. Avoid skipping any ingredient if possible!
frozen corn – you can also use canned corn (drain it well!), or corn kernels from fresh corn on the cob, or roasted corn.
jalapeño pepper – this gives the corn salsa a bit of a kick. If you like your corn salsa less spicy, use less jalapeño, and if you like it more spicy, use more jalapeño. I know Chipotle called their salsa 'roasted chili corn salsa'. You can definitely roast the jalapeño if you want to, but I find that it is not necessary. It tastes similar and just as good without roasting, it's not worth the extra step. In fact, if you really want the roasted flavors, grab a bag of roasted corn instead and it'll tastes very similar (without all the work on your part!)
red onion – finely diced. This will also bring a slight kick to the dish, although not as much as jalapeño would. Reduce the amount used if you like your corn salsa very mild.
cilantro – finely chopped
lime juice – freshly squeezed lime juice brings the best flavors to this
lemon juice – similarly, freshly squeezed lemon juice works the best as well
salt – used to open up all the delicious flavors, and also to add some slight saltiness to the dish. Adjust accordingly and add more if needed.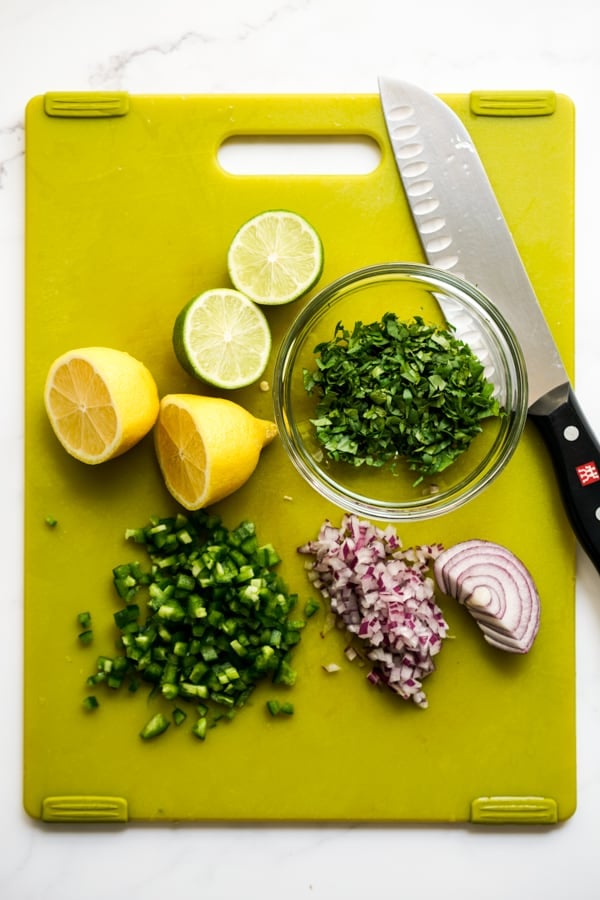 How to make Chipotle Corn Salsa
Step 1 | Prepare ingredients
I typically use frozen corn or frozen roasted corn for this, and any frozen corn will have some moisture on it as it defrost.
I like to bring the frozen corn out from the freezer and let it defrost for 1-2 hours, and then pat it dry with a paper towel. Or you can place corn in a colander and run it with water, then pat dry it to remove the moisture, for a quicker defrosting method.
Defrosting is not a necessary step, but if you skip it there will be some additional moisture in your corn jalapeño salsa. If you don't mind that, then don't worry about defrosting the corn way and patting it dry.
You can also use canned corn (make sure to drain it), corn kernels fresh off the cob (raw or cooked), or (my favorite) use frozen roasted corn.
Frozen roasted corn are not available everywhere. I typically get mine from Trader Joe's, and while Chipotle doesn't use roasted corn in their recipe, roasted corn do give a nice, extra level of flavor to Corn Jalapeño Salsa.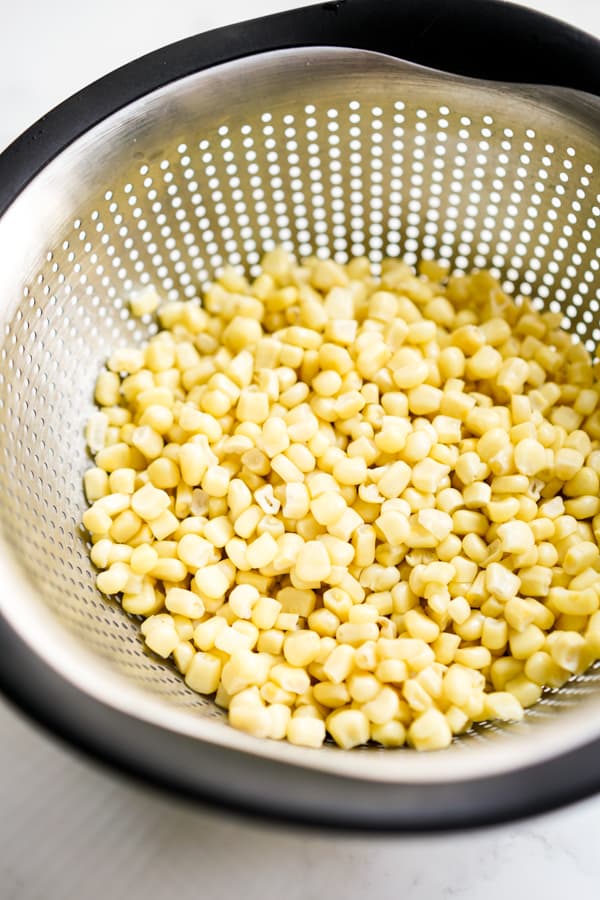 As for prep for the other ingredients…
chop red onions, jalapeño, and cilantro finely
squeeze lime and lemon juice from fresh lime and lemon respectively
Step 2 | Mix to combine
Combine all the ingredients together in a large mixing bowl.
Use a spatula to mix everything to combine, avoid squishing corn kernels while doing so.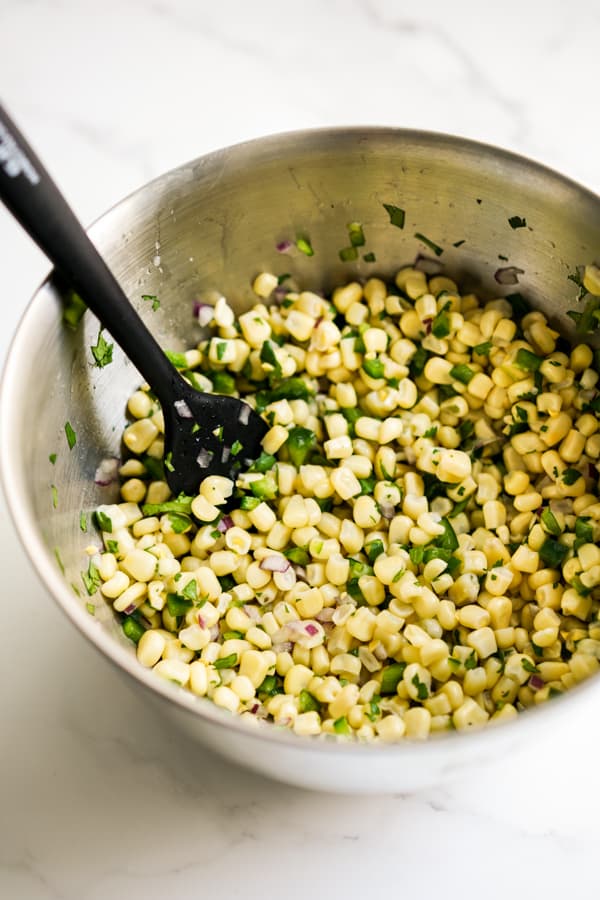 Step 3 | Serve with tortilla chips
When everything is combined, bring Chipotle Corn Salsa to a bowl, and serve with lots of tortilla chips.
If you didn't defrost the frozen corn, let your Corn Jalapeño Salsa rest for a little while so that you are not biting into frozen corn.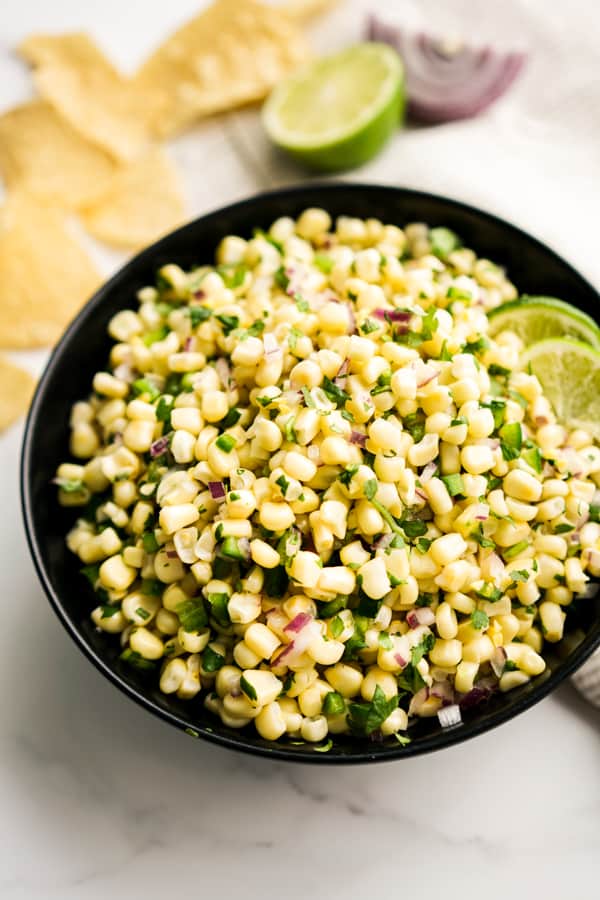 Other ways to serve it
Besides serving with chips as a dip and appetizer, here are other ways to serve Chipotle Corn Salsa:
Make Ahead and Storage Instructions
One of the many things I love about this Chipotle Corn Salsa is that you can totally make this ahead hours or even a day or two before you are serving it.
Make sure to store in a sealed container in the refrigerator. It can be stored for up to five days.
The longer it is stored, the more liquid will accumulate at the bottom, so drain access liquid before eating or serving if it has been stored for a few days.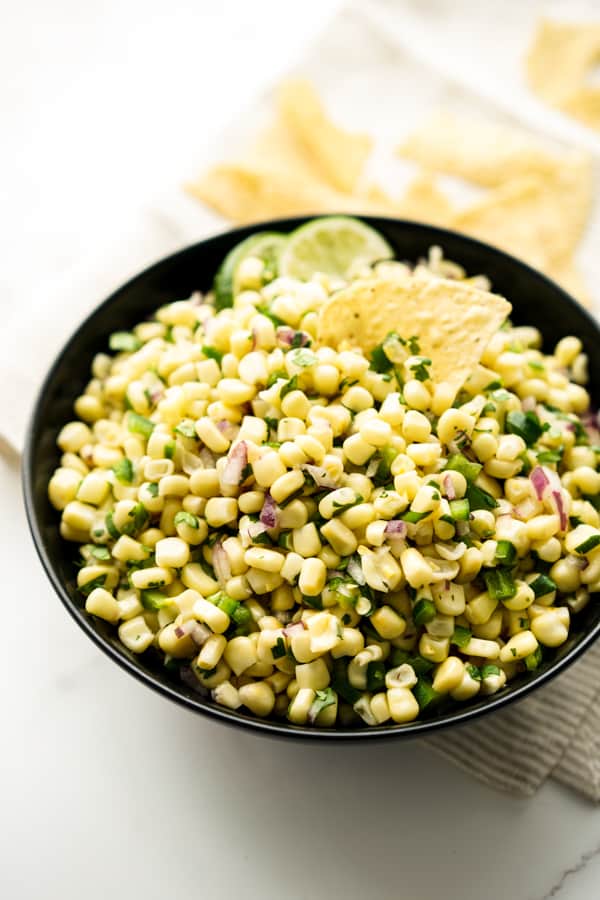 Frequently Asked Questions
How do I make this milder or spicer?
To make it milder, use less jalapeño and red onions; to make it spicer, use more.
What other types of corn can I use besides frozen corn?
Fresh corn kernels off the cob, canned corn, or roasted frozen corn work just as well!
How long will corn salsa stay in the fridge?
Store it in a sealed container in the fridge for up to 5 days!
More Side Dishes/ Dips
Other dips and sides that I think you will love!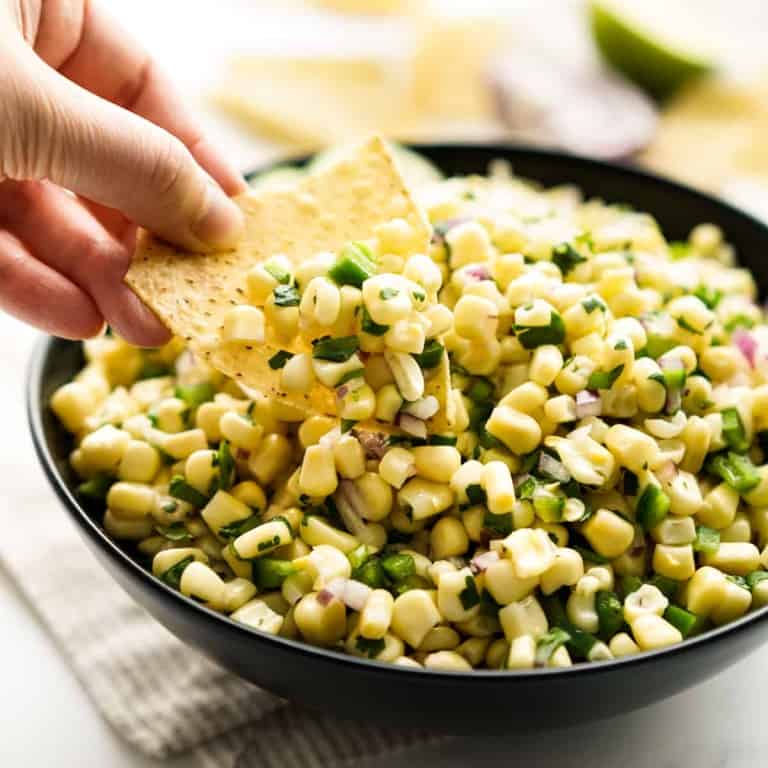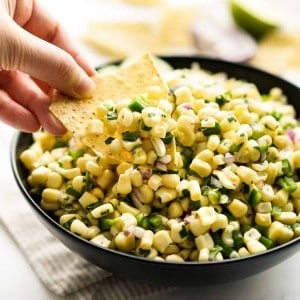 Chipotle Corn Salsa
Fresh and bright corn salsa tossed with jalapeños, red onions, cilantro and citrus juice. This Chipotle copycat dip and side is super easy to make and so delicious!
Print
Pin
Ingredients
1

lbs

frozen corn

1

jalepeño pepper

or adjust accordingly

1/4

cup

red onion

finely diced

1/3

cup

cilantro

finely chopped

1

tbsp

lime juice

1

tbsp

lemon juice

1

tsp

salt

or to taste
Instructions
Thaw frozen corn by placing in colander and running it under running water, or setting it out a couple of hours prior. Then pat dry corn.

Prepare the rest of the ingredients.

In a large mixing bowl, combine corn, diced red onions, diced jalapeño pepper, cilantro, lime juice, and lemon juice. Mix to combine. Add salt to taste.

Serve with tortilla chips, and enjoy!
Notes
Note 1: Besides frozen corn, you can also use canned corn, corn kernels off fresh corn, or frozen roasted corn. Frozen roasted corn actually brings an additional layer of flavor to the dish. Even though Chipotle doesn't use roasted corn for this, I personally love the flavors roasted corn brings to this dish.
Note 2: If corn isn't thawed before mixing it with the rest of the ingredients, let corn salsa sit out for an hour before serving to thaw out the corn. Liquid will form at the bottom of the bowl, feel free to drain it if you prefer.
Note 3: Use more jalapeño and red onions if you like it spicier, and use less if you prefer your corn salsa mild.
Nutrition
Calories:
79
kcal
|
Carbohydrates:
19
g
|
Protein:
3
g
|
Fat:
1
g
|
Saturated Fat:
0.1
g
|
Polyunsaturated Fat:
0.3
g
|
Monounsaturated Fat:
0.2
g
|
Sodium:
392
mg
|
Potassium:
248
mg
|
Fiber:
2
g
|
Sugar:
0.5
g
|
Vitamin A:
90
IU
|
Vitamin C:
11
mg
|
Calcium:
6
mg
|
Iron:
1
mg