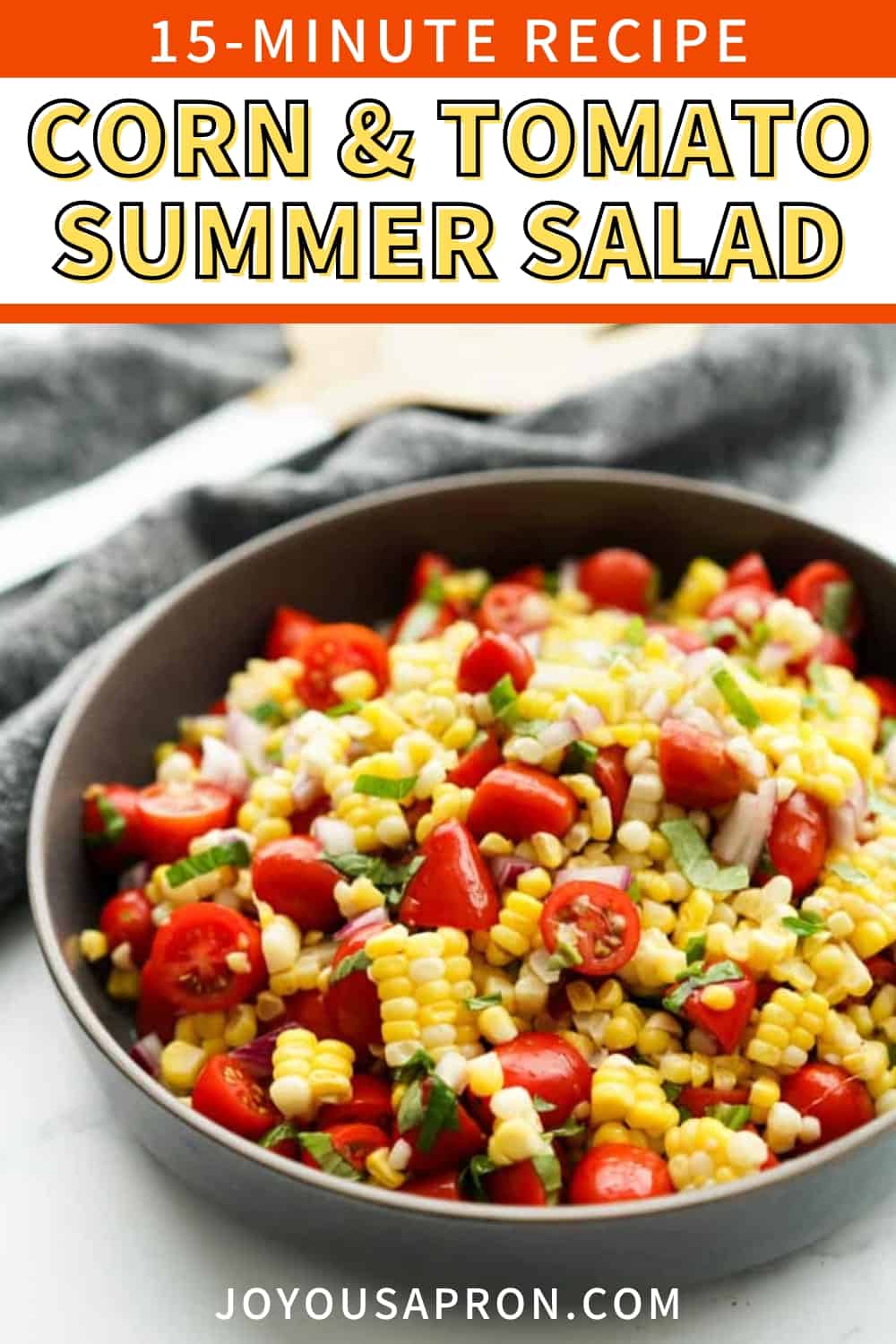 This lovely Corn and Tomato Salad is a light and refreshing side dish for summer cookouts and dinners. We bring together sweet corn kernels, cherry tomatoes, red onions, and fresh basil, then toss them in a simple red wine vinegar dressing.
The product is delicious and fresh, with flavors of sweet and tangy, along with crunchy and juicy textures in each bite. Ready under 15 minutes, corn and tomato salad a quick and delicious recipe that goes perfectly with your favorite grilled meats and protein.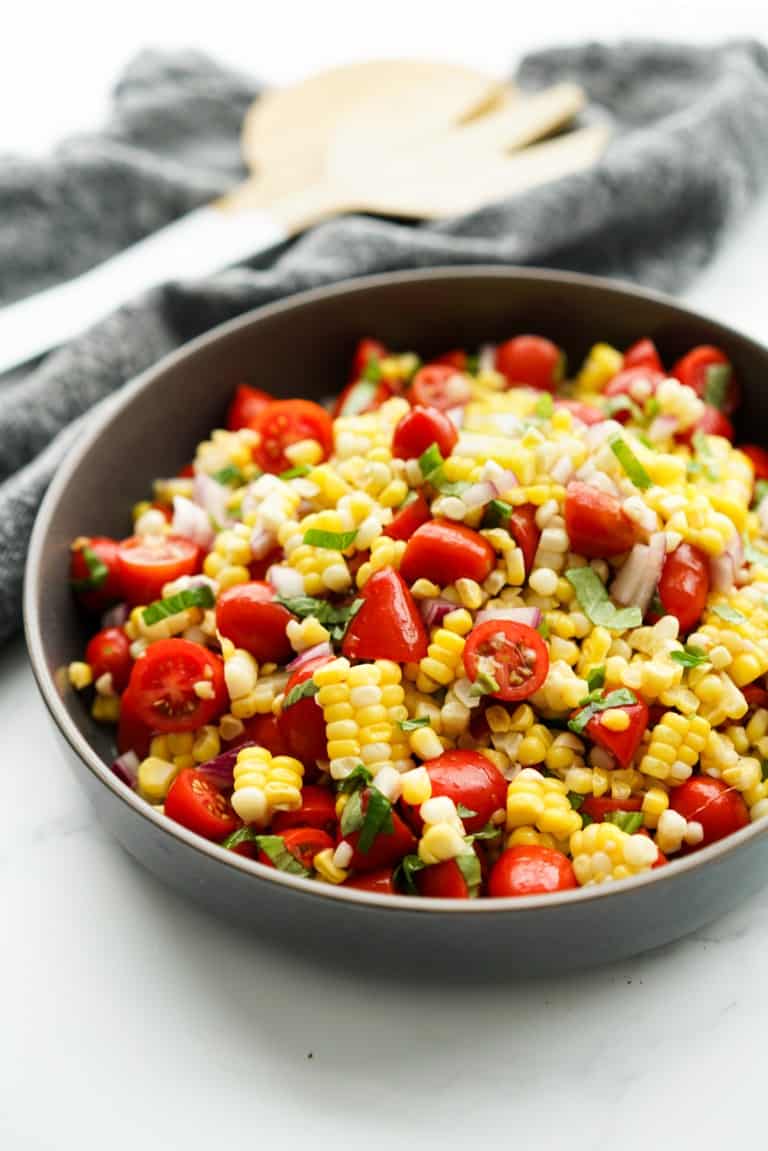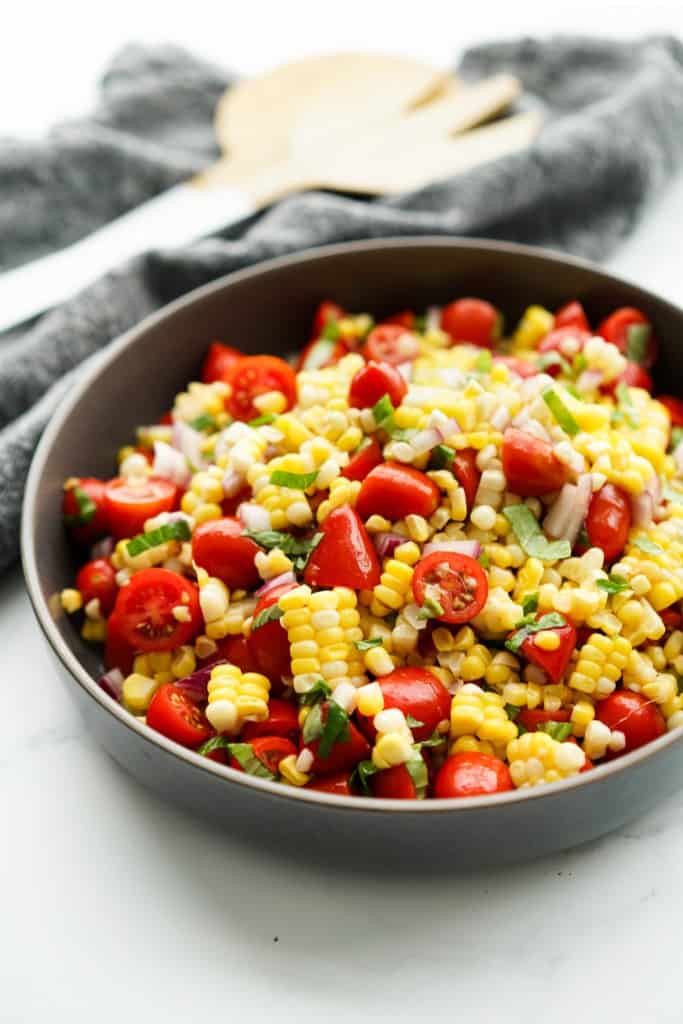 Looking for more summer sides that are easy and light? Check out some of my other favorites such as Avocado Corn and Black Bean Salsa, Oven Roasted Corn on the Cob, Potato Mac Salad, and Grape Walnut Salad.
Fresh Corn Tomato Salad
If you love summer produce such as fresh corn on the cob and juicy cherry tomatoes, you are going to be delighted with this Corn and Tomato Salad recipe!
Besides two of my favorite summer produce – tomatoes and corn, we are also bringing together red onions, fresh basil and red wine vinegar…marrying flavors of sweet, tangy, and savory to create a vibrant and refreshing salad.
Whenever summer rolls around, I crave fresh and light veggie recipes that takes minimal time and effort to prepare. Nothing too complicated, doesn't taste overly heavy or creamy, but yet full of incredible flavors and textures.
This corn and tomato salad makes the best side dish for bbq's and cookouts. It can be served warm, cold or in room temperature.
You can leave your Tomato Corn Salad out at a party for a couple of hours and it will taste just as good as when you served it fresh.
Not only that, if you have leftovers, simply cover Corn and Tomato Salad in a saran wrap, refrigerate it, and enjoy it the next day. It keeps so well in the refrigerator for days.
Ingredients
Here are the ingredients you will need to make Tomato and Corn Salad: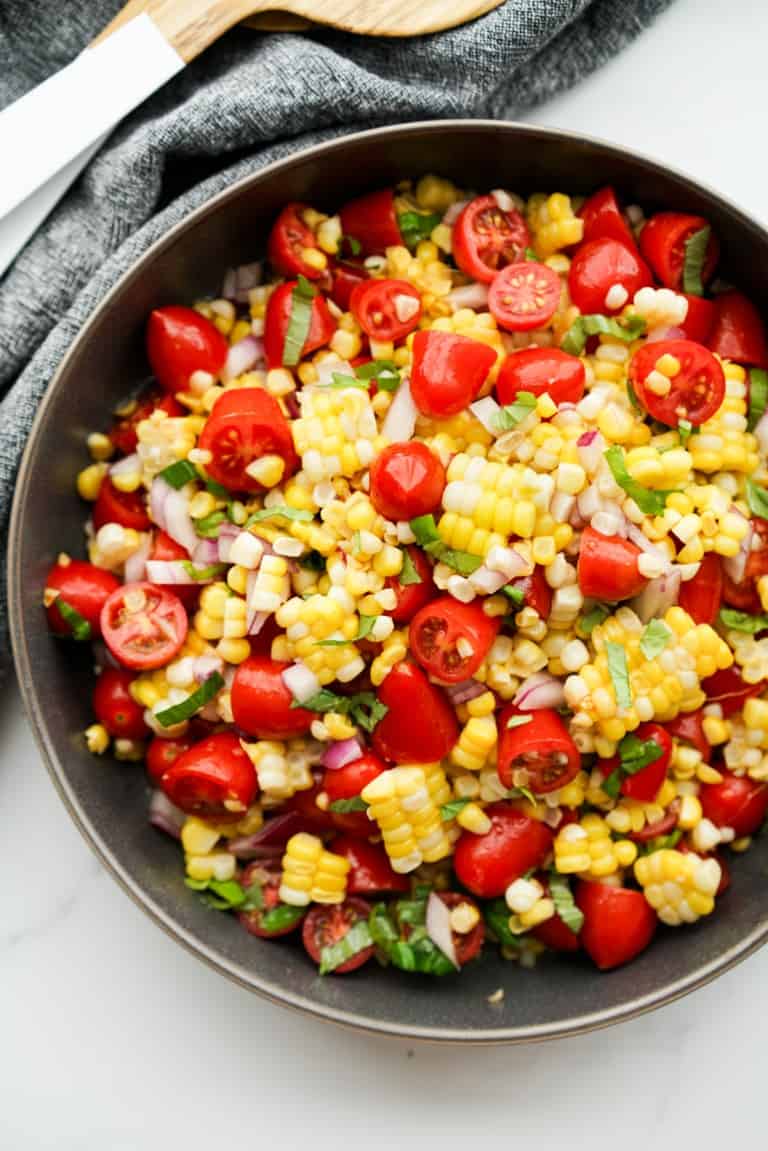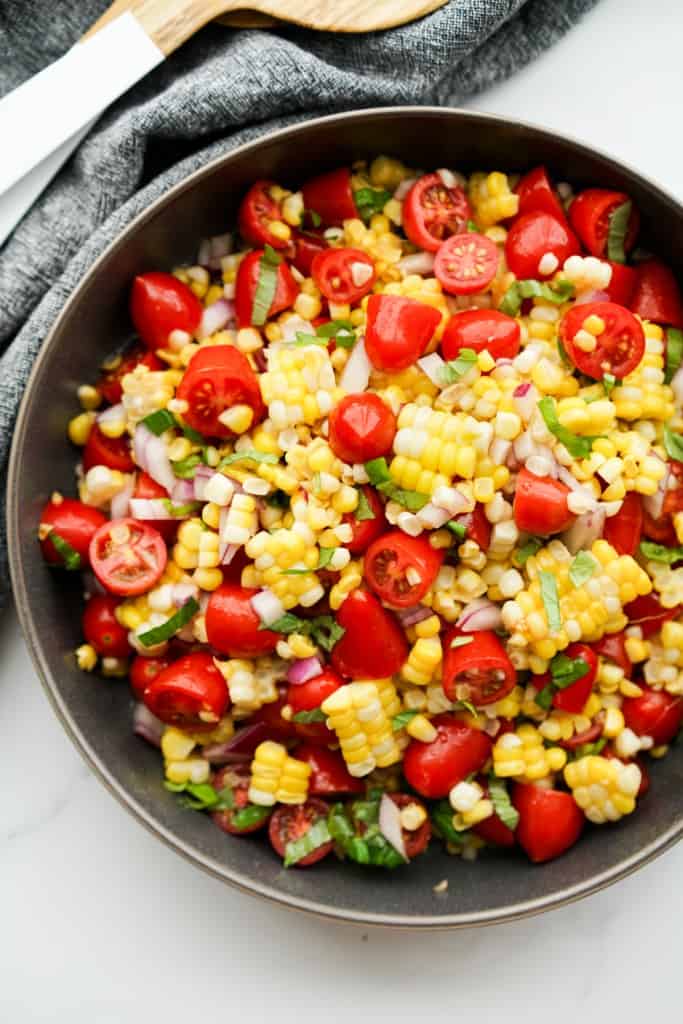 corn kernels – for best taste, use corn kernels from fresh corn on the cob (see my quick and easy way to remove them below). For a quicker method, use frozen corn (defrosted and pat dry) or canned corn (drained).
cherry tomatoes – grape tomatoes work as well. Roma tomatoes or larger tomatoes can be used – they do have more moisture which will make salad more soggy so it's less ideal, and if using, I recommend dicing them into small bite size pieces.
red onions – I like to use red onions (not white or sweet) for a sharper flavor that contrasts the sweetness in tomatoes and corn well.
fresh basil – they have bright and intense flavors so for best taste, avoid substituting with dried basil.
extra virgin olive oil – used for the dressing
red wine vinegar – in a pinch, white vinegar or apple cider vinegar can be used as well
salt – always an important ingredient to open up flavors!
How to Make It
Here are step-by-step instructions on how to make Tomato and Corn Salad, including a kitchen tip on how to quickly remove corn kernels from corn on the cob (Psst…it's super easy and you'll never look back after this!).
Step 1: Cook corn and remove kernels
If you are comfortable eating raw corn of the cob, you can totally do that. Personally I prefer to cook my corn on the cob briefly whether it is on the grill, boiled in hot water or in the oven.
The most common way I cook my corn for this corn and tomato salad recipe is boiling it quickly in hot water. This is the fastest method to quickly get the corn ready.
However here are instructions for baking corn in the oven and grilling it on the grill if you choose to cook corn in those ways.
Once corn is cooked, remove the kernels.
Here's a quick way to do it: Place corn on the cob on an inverted small ramekin or small bowl in a large mixing bowl. Then use a knife to slice downward to remove the kernels. When you do this, voila, the kernels will drop into the mixing bowl!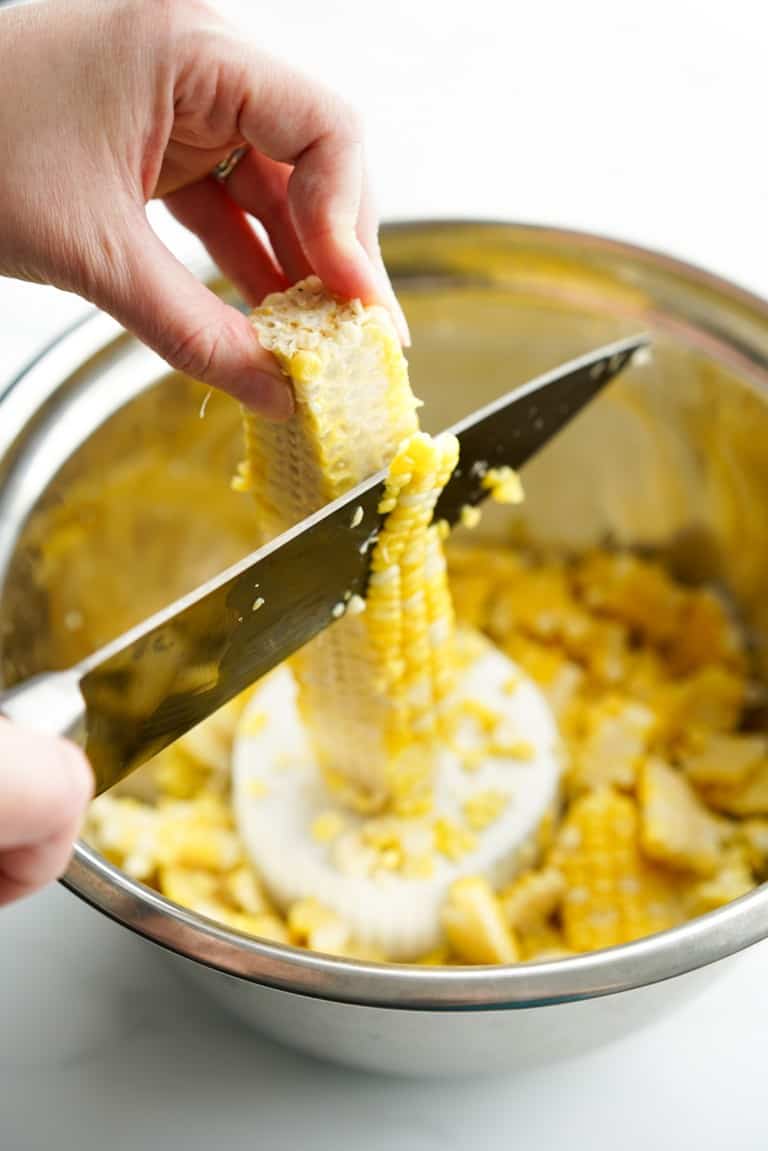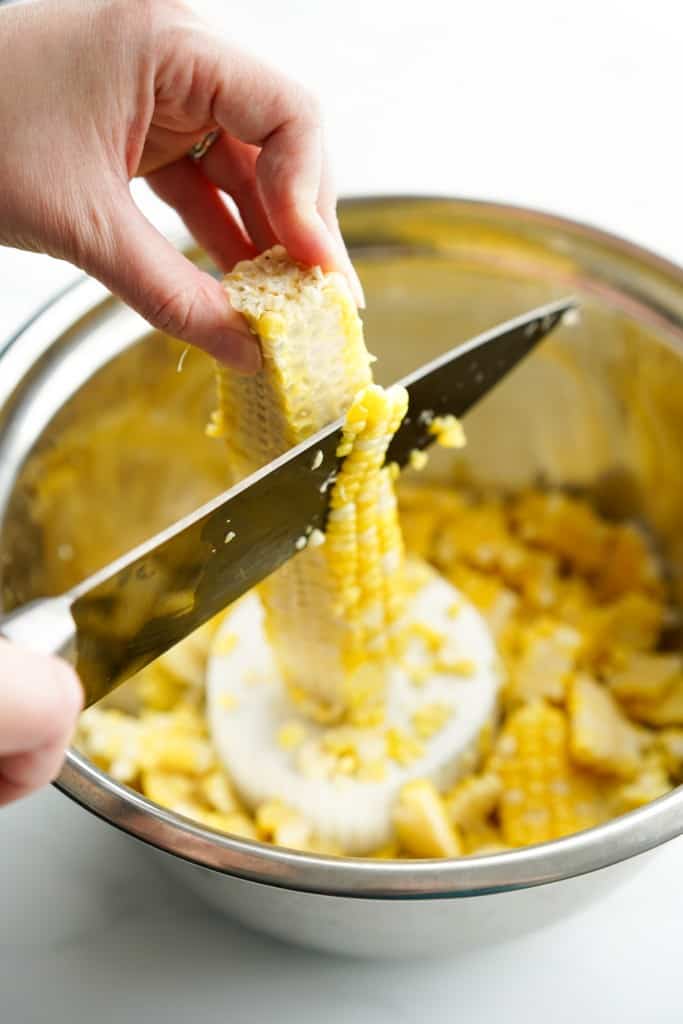 Step 2: Prepare tomatoes and other salad ingredients
Next (or do this while corn on the cob is cooking), slice cherry tomatoes in halves, dice red onions, and slice fresh basil leaves into small pieces.
Bring everything into the mixing bowl where the corn kernels were sliced into.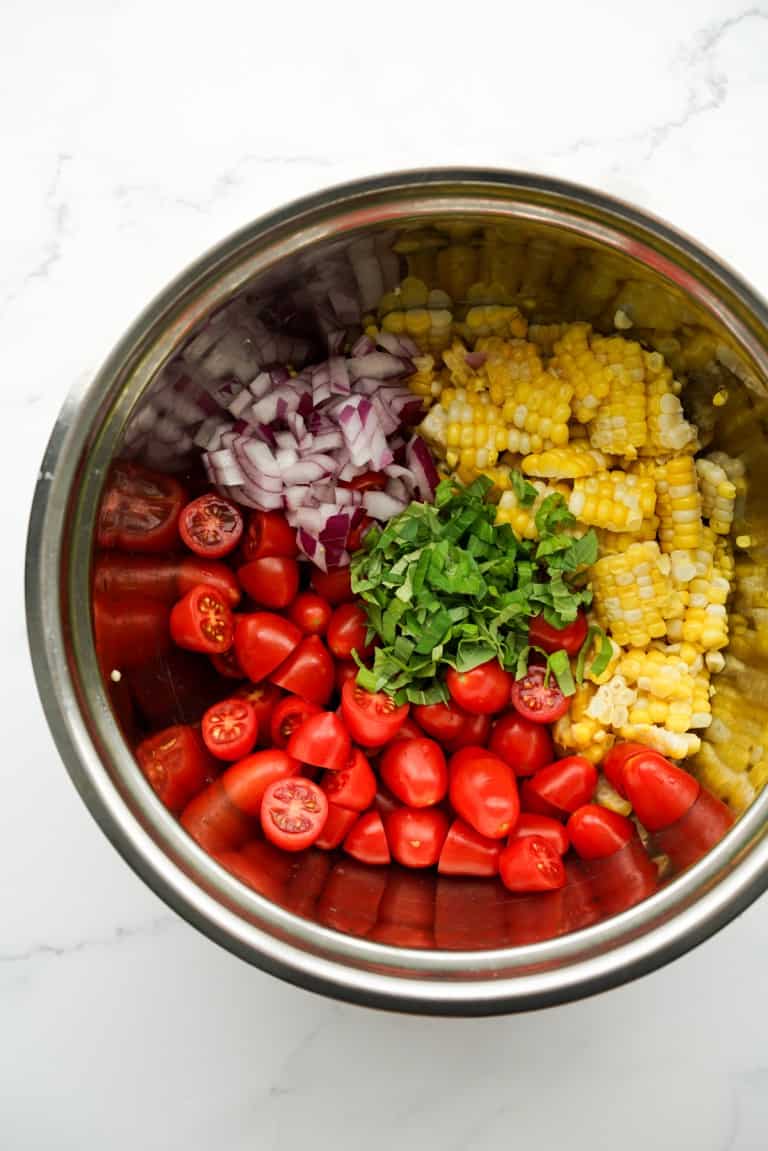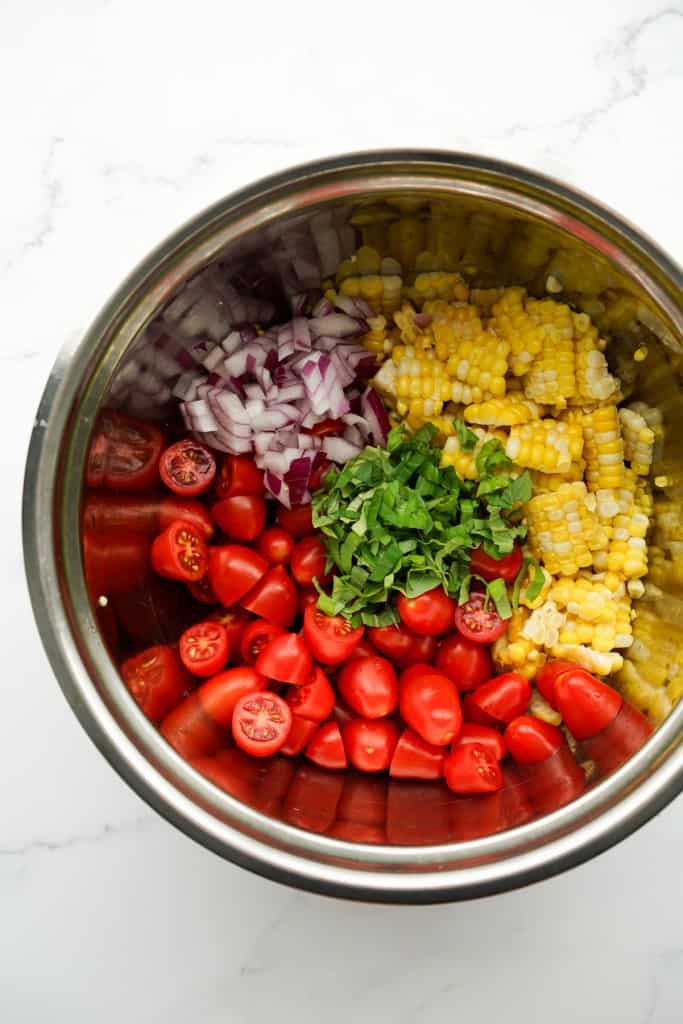 Step 3: Make dressing and toss!
Lastly, bring together the simple three ingredients to make the delicious dressing – extra virgin olive oil, red wine vinegar, and salt.
Whisk to combine, then pour dressing all over the Corn and Tomato Salad.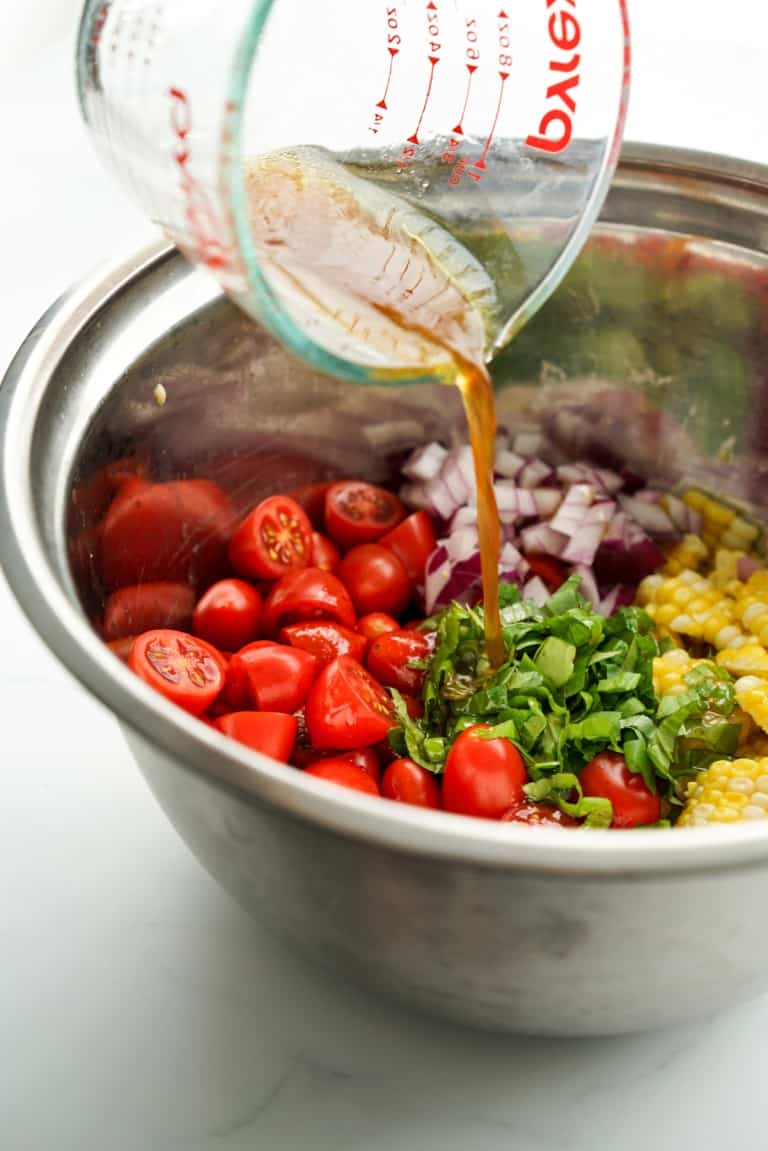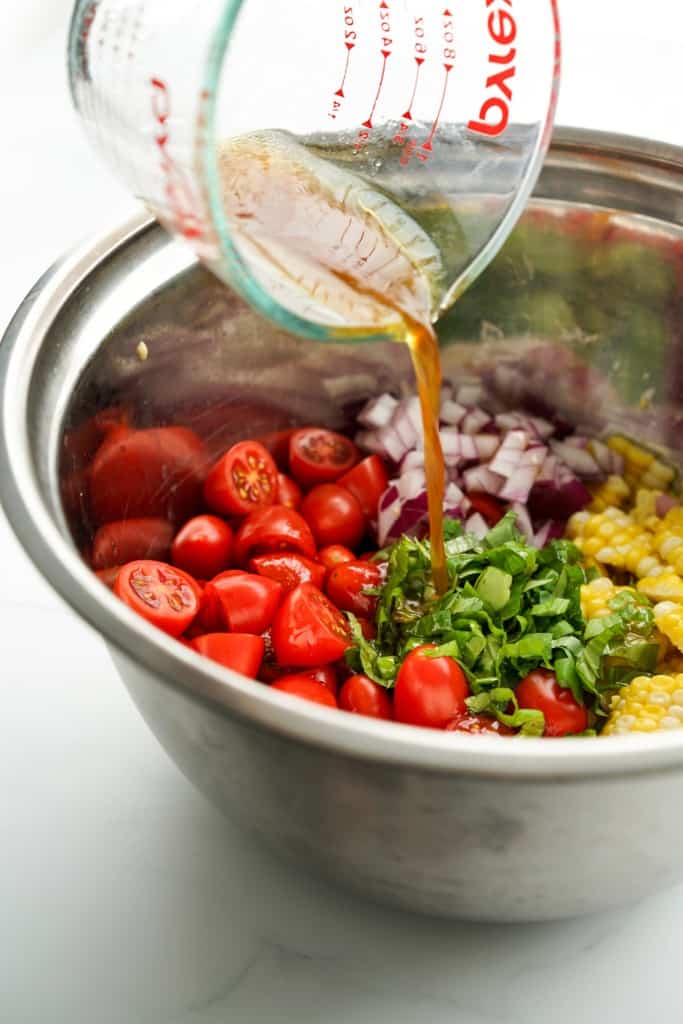 Toss to combine and serve Corn and Tomato Salad immediately!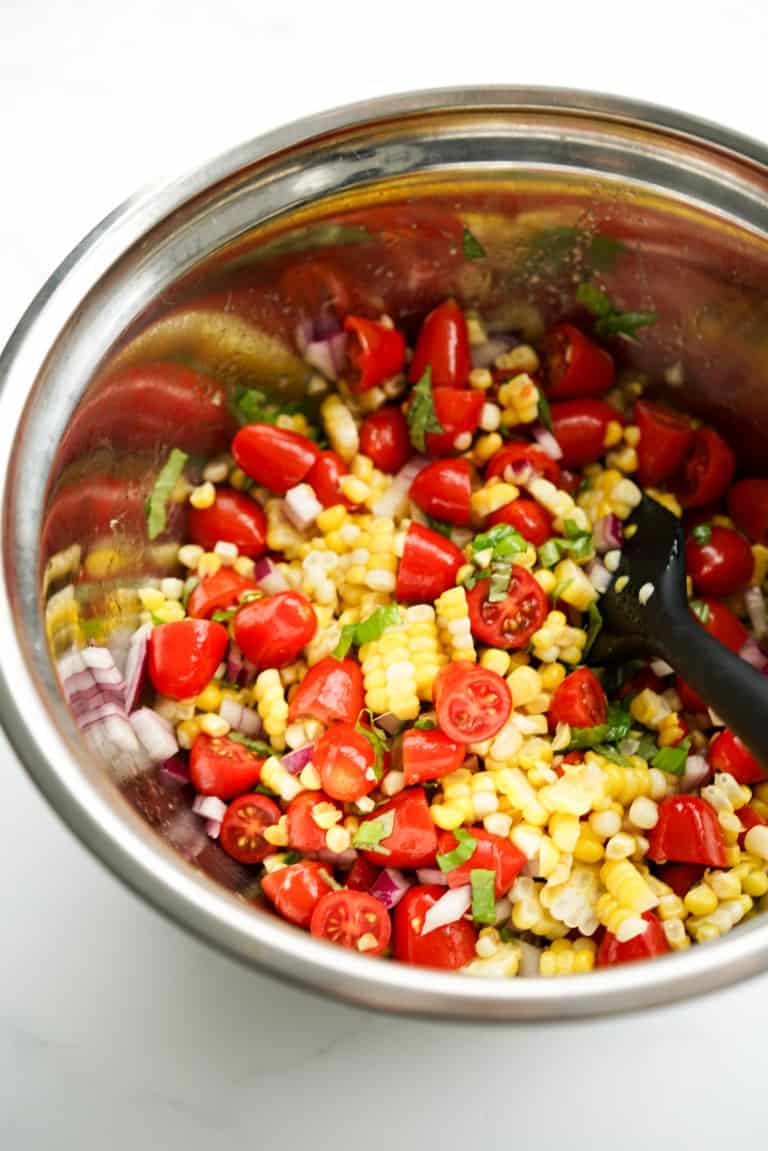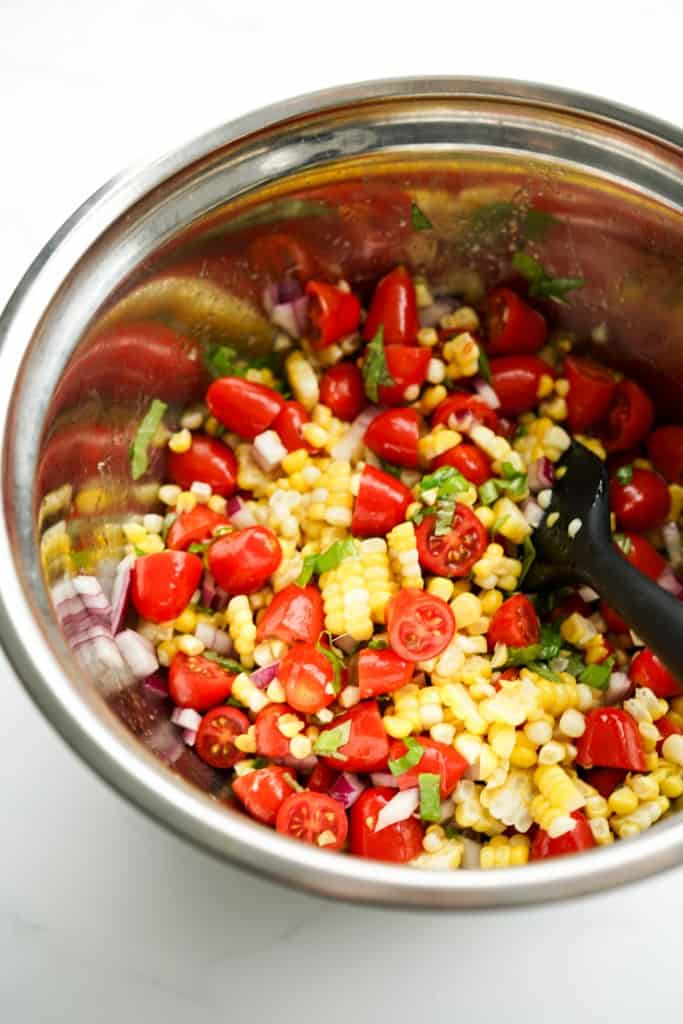 It's so light, so refreshing, yet so dang flavorful! YUM YUM YUM!
They make the most perfect side dish for dinners on a hot day, cookouts, and bbq's. If you are going to a summer potluck I highly recommend this easy and delicious recipe!
Make Ahead and Storage
If you are looking to make ahead Corn and Tomato Salad, you can prep and bring together all the veggies (corn, tomatoes, red onions and fresh basil), but only toss them in dressing when ready to serve.
Fresh corn tomato salad stays fresh longer when it is not soaked in dressing for an extended period of time.
Leftovers can be stored in an airtight container in the refrigerator for up to 2 days. Consume quickly for best freshness and taste.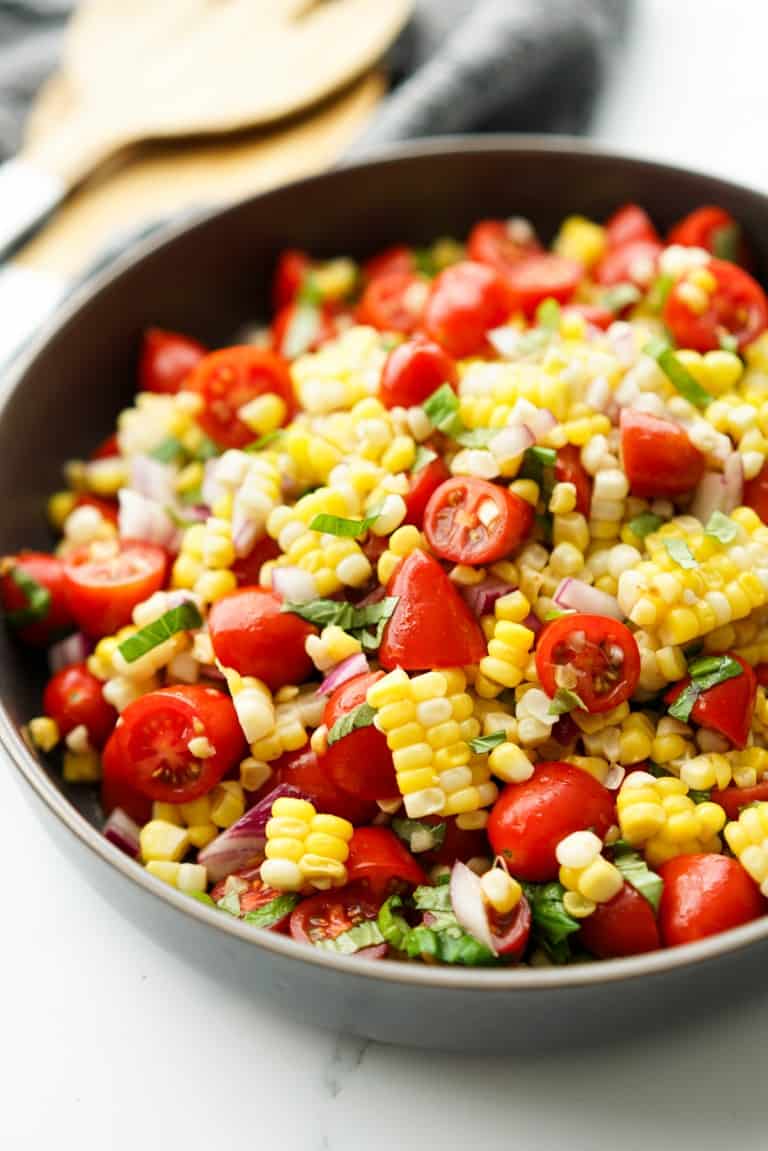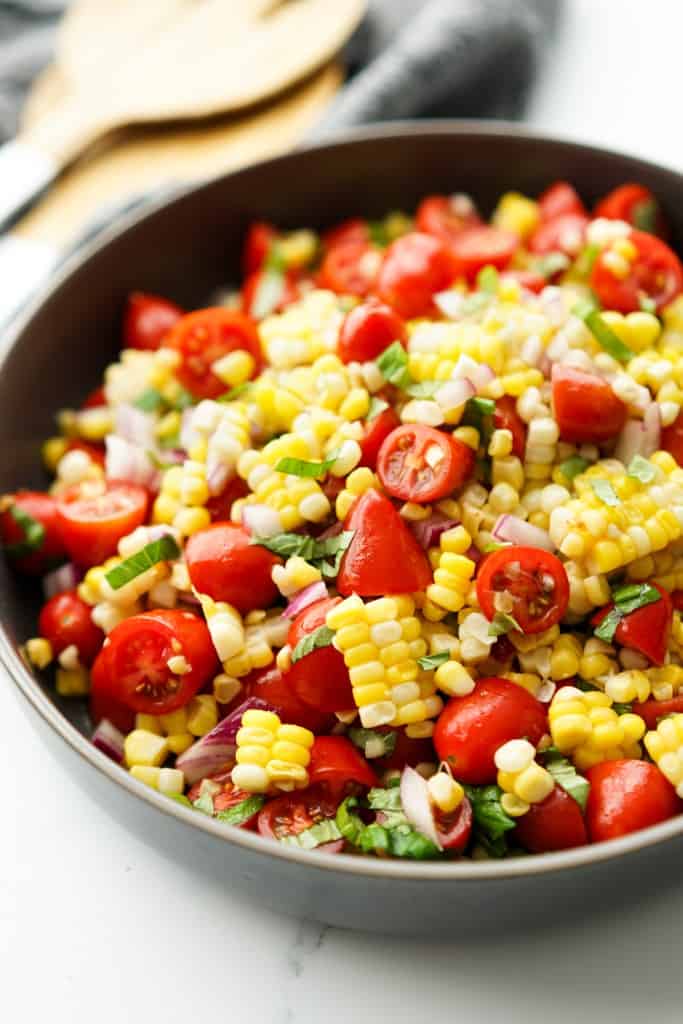 What to serve with this
This corn and tomato salad goes well with any of your favorite summer grilled meats or protein. Or you can even enjoy on its own as a light vegetarian meal!
Here are some of my favorite recipes to pair with this salad:
Frequently Asked Questions
What other ingredients would you add to this salad?
I love adding fresh mozzarella balls or avocados if I want to make it more filling and add some protein to the salad. Other veggies that go great with it are bell peppers, cucumbers and jalapeños (if you like it spicy). Other herbs to add in addition or in place of fresh basil: fresh cilantro or mint.
Can I use canned corn or frozen corn instead of fresh corn?
Yes! Make sure to drain canned corn, and bring frozen corn to a complete defrost and pat dry. Fresh corn is always the best tasting (and most of the time, the sweetness and most crunchy), but it's faster and easier to prepare this using canned or frozen corn.
Can I make this ahead?
Yes! I would prepare everything ahead of time, but only toss salad in dressing when ready to serve.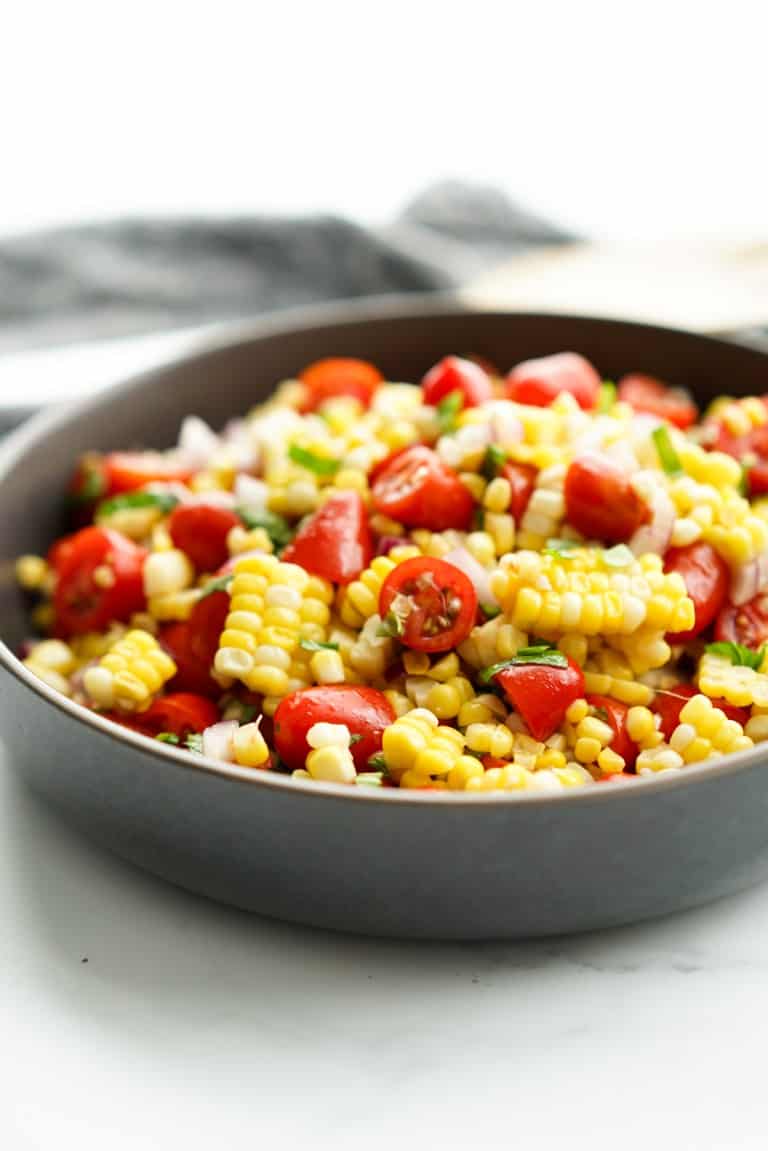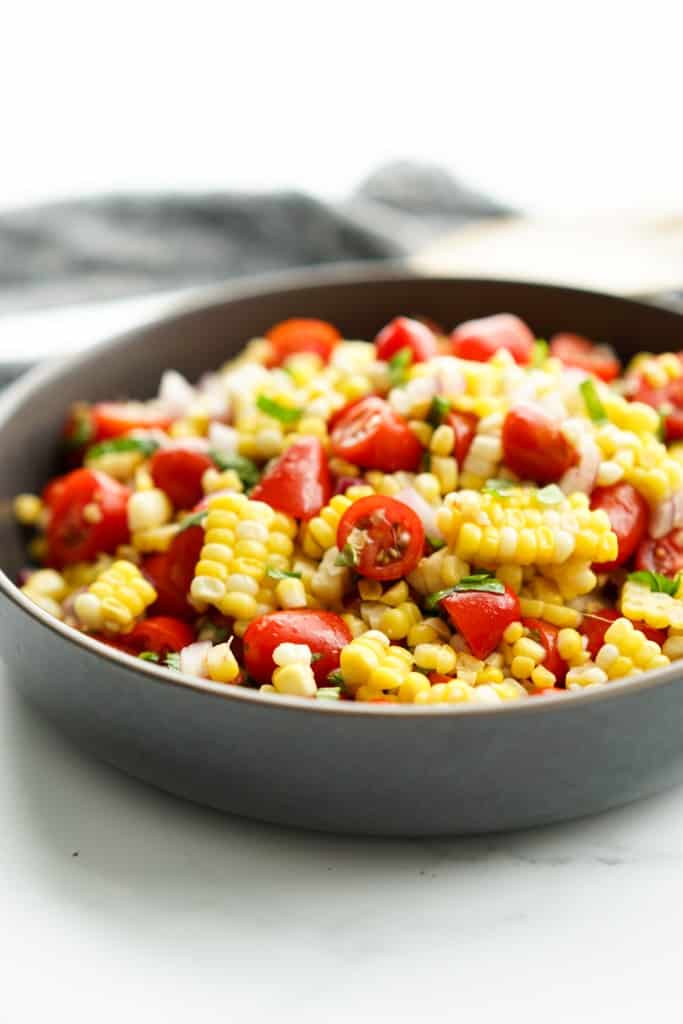 DID YOU ENJOY THIS RECIPE? Please comment below and give us a 5-star rating! This will help others find this recipe on Google and Pinterest. We very much appreciate your help! 🤍
More Summer Sides
Here are some of our other favorite side dishes to make during the summer!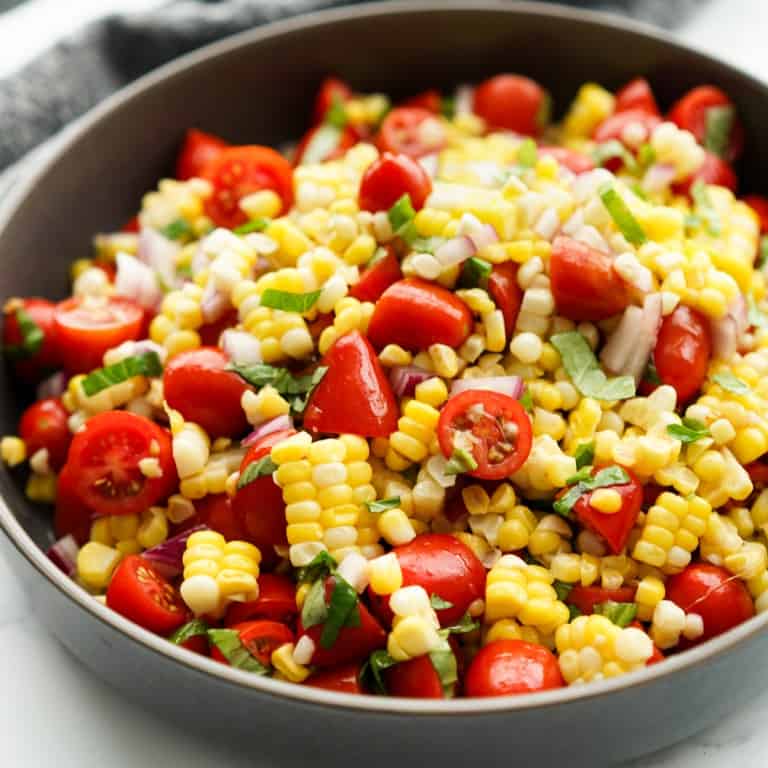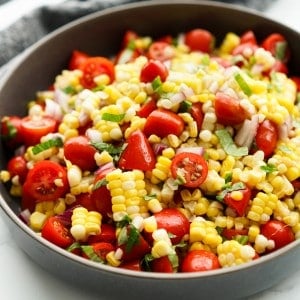 Corn and Tomato Salad
Fresh corn and cherry tomatoes, two summer favorites, are combined with red onions and fresh basil, and tossed in a tangy red wine vinegar dressing. This easy and delicious side dish pairs perfectly with your favorite grilled meats and proteins for summer dinners and cookouts.
Print
Pin
Ingredients
4

ears

corn on the cob

husked

2

cups

cherry tomatoes

halved

1/2

cup

red onions

diced

1/2

cup

fresh basil

chopped

2

tbsp

red wine vinegar

3

tbsp

extra virgin olive oil

1/2

tsp

salt
Instructions
Cook corn on the cob. In a large pot, bring water to boil. Once water comes to a boil, add husked corn to water. Submerge them completely. Cook for 3 minutes. Remove promptly.

To remove corn kernels. Invert a small ramekin or bowl and place inside and at the bottom of a large mixing bowl. Stand corn on the cob on the inverted ramekin. Using a knife, slice off corn kernels by moving knife from top to bottom of the cob, and let kernels drop into the bowl. Remove all kernels from all cobs.

Bring halved cherry tomatoes, diced red onions and chopped fresh basil into the large mixing bowl with corn kernels.

Make dressing. Whisk to combine red wine vinegar, olive oil and salt.

Pour dressing into mixing bowl. Toss corn and tomato mixture in dressing to combine.
Notes
Instead of corn on the cob, 2 cups of drained corn from a can, or 10 oz of frozen corn can be used. Frozen corn needs to be defrosted completely and pat dry before use.
Nutrition
Calories:
97
kcal
|
Carbohydrates:
11
g
|
Protein:
2
g
|
Fat:
6
g
|
Saturated Fat:
1
g
|
Polyunsaturated Fat:
1
g
|
Monounsaturated Fat:
4
g
|
Trans Fat:
0.004
g
|
Sodium:
157
mg
|
Potassium:
223
mg
|
Fiber:
1
g
|
Sugar:
4
g
|
Vitamin A:
346
IU
|
Vitamin C:
13
mg
|
Calcium:
10
mg
|
Iron:
1
mg