Honey Soy Tofu, Green Beans and Pork Stir Fry
Tofu is one of those foods where you either love it, hate it, or don't know what to do with it. I've had many people ask me how to make tofu. Years ago, a random stranger stopped me at a grocery store while I was picking out tofu and asked me that exact question. No, I was/am not famous. Nor was I food blogging. She just really wanted to know how to make tofu.
Let's face it, I am a tofu-lover, tofu-believer, and tofu-advocate. I converted my tofu-doubter husband with this dish. Yes, I did. I made other tofu dishes and he eats it because it was what was on the table. He now eats it because he actually loves this tofu dish. So to tofu-doubters/tofu-avoiders out there: Stick with me for a minute.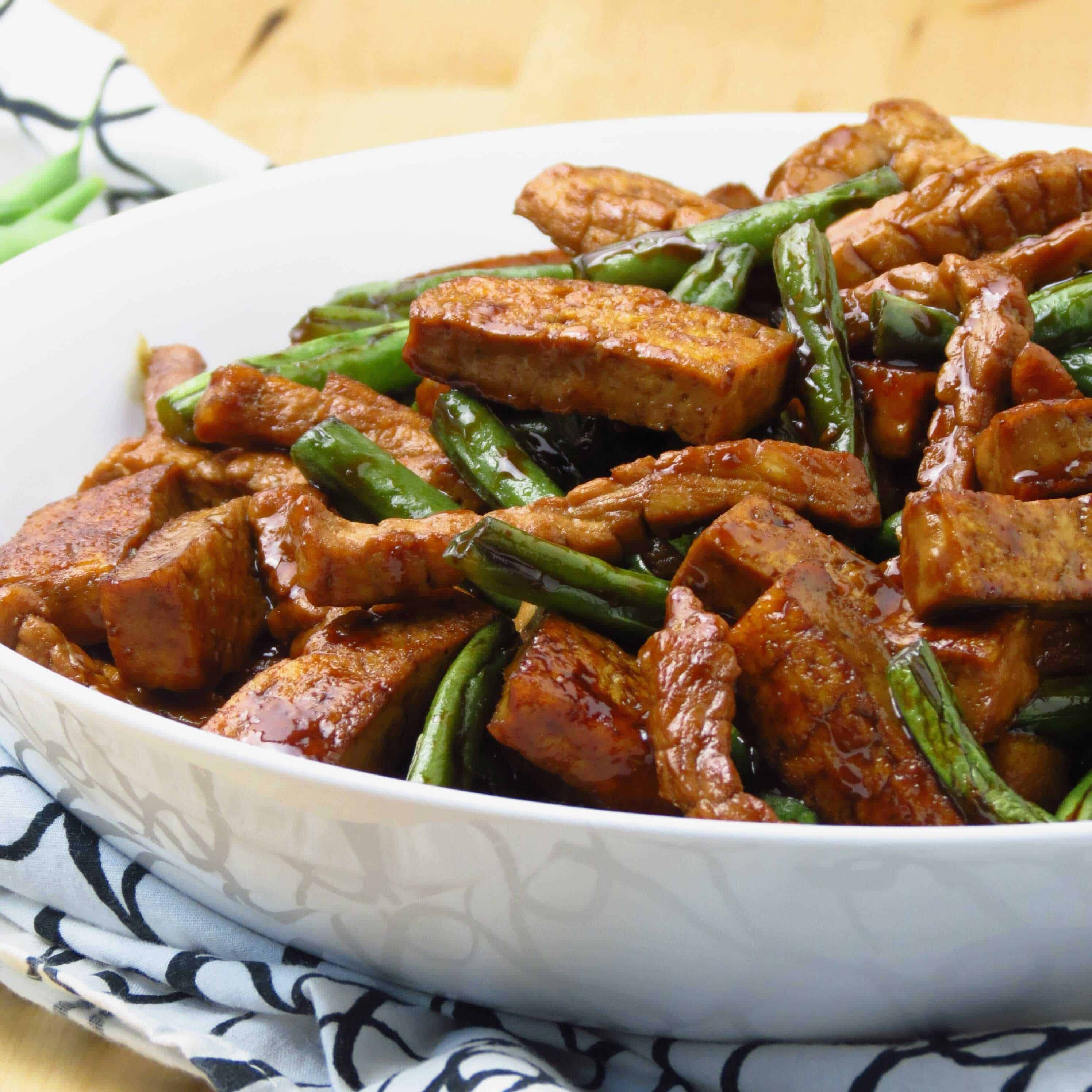 Tofu has a lot of health benefits and is a good source of protein and calcium. That might motivate some people, but let's be real, knowing that does not get me up in the morning craving to have tofu.
But just like Brussel Sprouts, tofu is a severely misunderstood food, and quite frankly has been the subject of some pretty terrible cooking. It can be delicious if cooked in the right way. But before we get started, I need to share with you my tofu rules 🙂
Never ever eat them plain. No no no no no…. Just No. If you eat them plain and hate it, give that poor tofu another chance. There might be one out of many that eat and love it plain because it's healthy (and that's great), but chances are most of you do not.
Add flavor. When I say flavor, I mean sauce. Cook it with sauce, dip it into sauce. Sauce that baby up!
Add texture to the tofu. This is more optional than the other two points. For those who did not grow up eating tofu, the texture of tofu is probably the most difficult thing to overcome, so we will work to make the texture a bit more 'familiar'.
When Diane, former-roommate, extraordinaire of a human being, and the funnest of friends, suggested doing a tofu recipe for the blog, I thought about going the vegetarian route – make a tofu dish with fresh veggies and an amazing sauce.
However, the internet is filled with vegetarian tofu dishes. They are wonderful. But I do want to introduce the concept of cooking tofu with both meat and vegetables, which is the way I grew up eating most of my tofu.
So here we are. Three key ingredients in this dish – green beans, sliced pork and of course, tofu.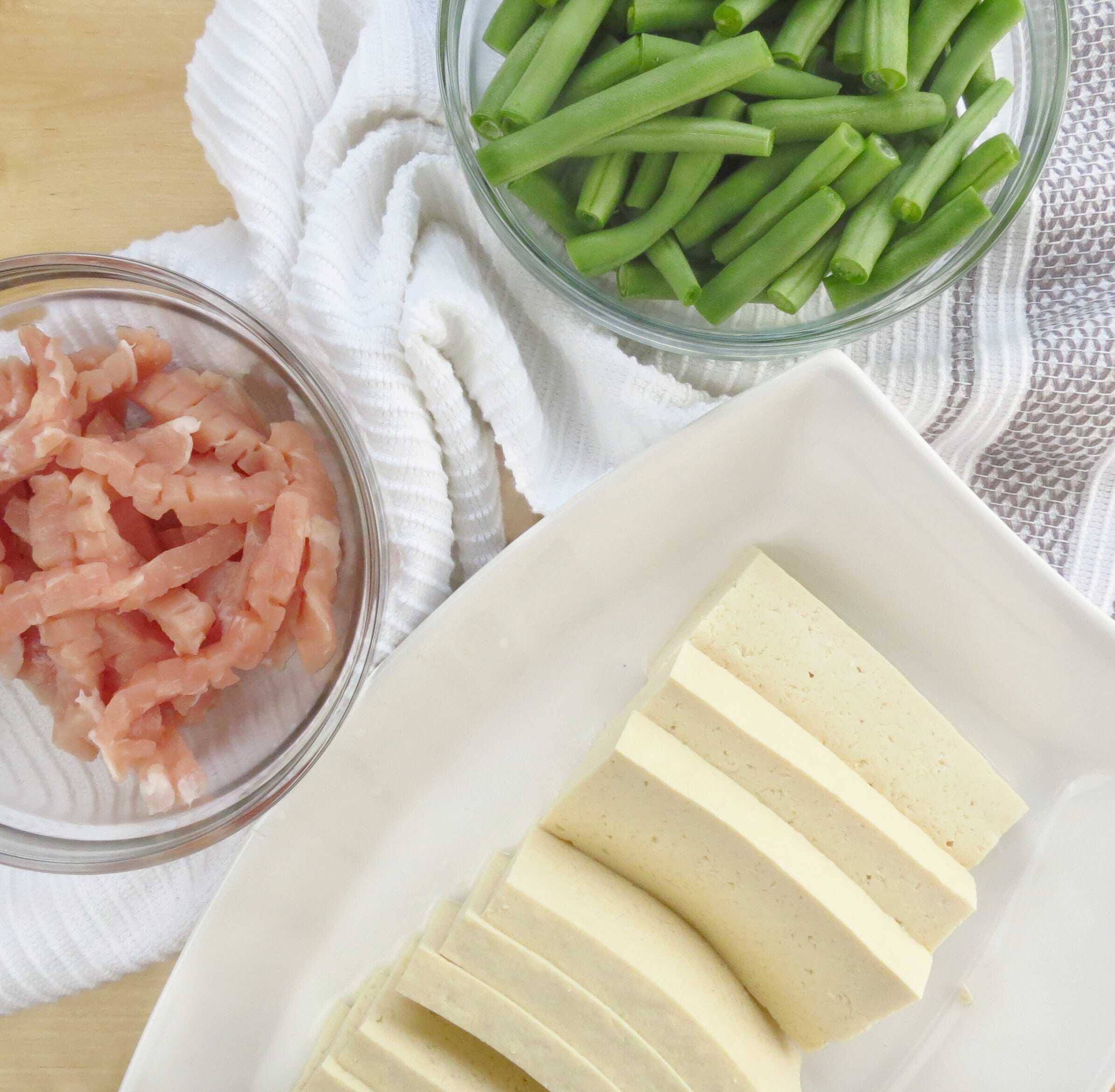 And an out-of-this-world, transform-your-tofu sauce.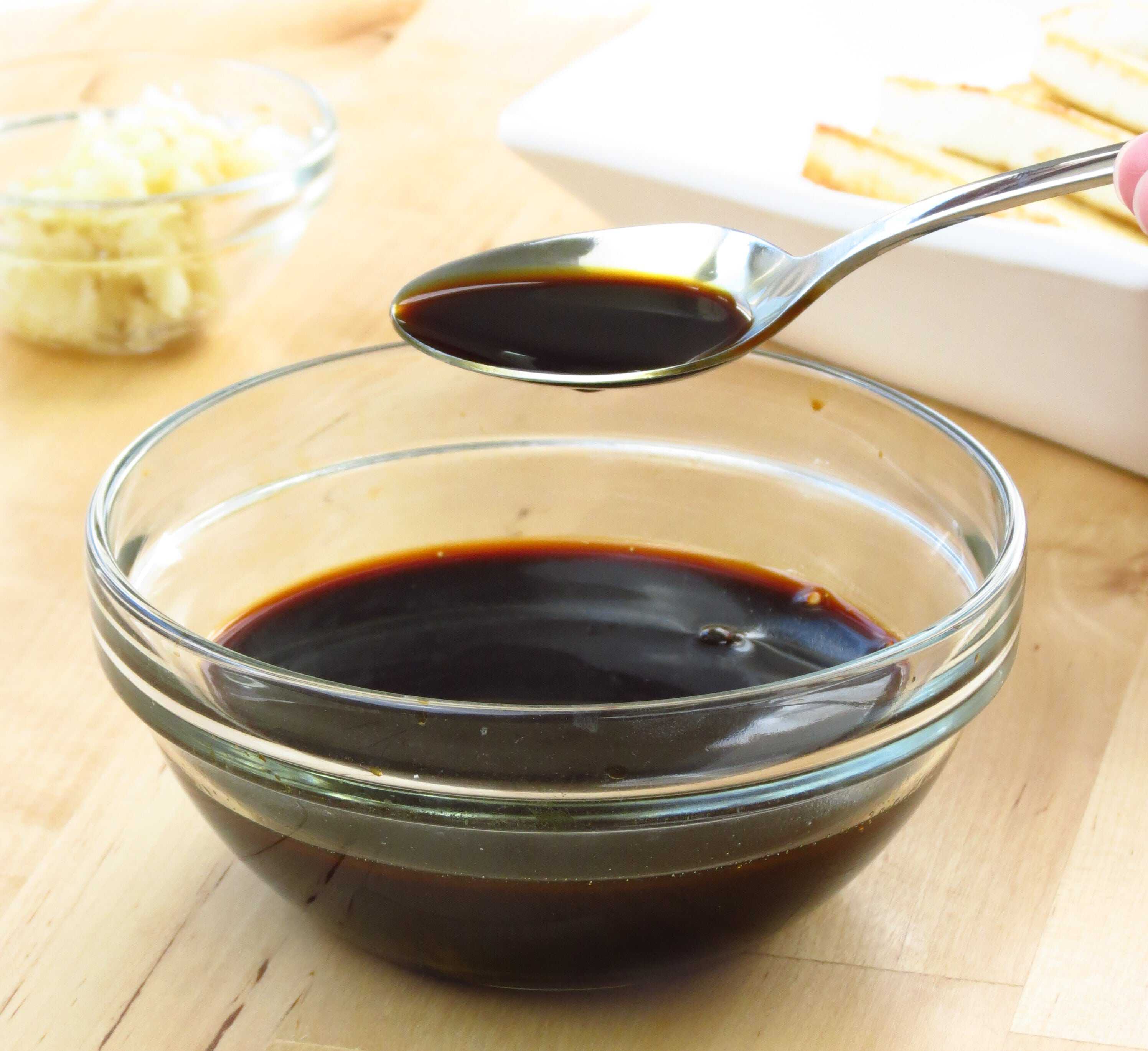 The sauce is a combination of honey, soy sauce, dark soy sauce, cornstarch and H2O. Corn starch doesn't add flavor to the sauce but serves as a thickening agent. You want a slightly thick sauce, not tofu floating in honey soy soup. 🙂 Dark soy sauce is a slightly thicker, slightly sweeter, less salty, more complex flavored soy sauce. It gives the dish a darker brown color.
Growing up in Malaysia, tofu is eaten everywhere. I don't remember the first time I had tofu. It has always been just there. Therefore texture has never been the issue for me – that was a normal texture in my diet.
If you are new to tofu, while we cannot completely get rid of the texture, we can make it friendlier to the tastebuds by frying it. Yep, give it some crunch. Crunchy tofu is my kind of tofu.
In the mainstream US grocery stores, tofu typically comes in those rectangular blocks. Buy firm tofu because tofu any softer than the 'firm' ones will break apart when you fry it. Cut up the block of tofu in thin 1/2 inch slices, then pat dry using a paper towel. Fry both sides, for about 4-5 minutes on each side, or until golden brown.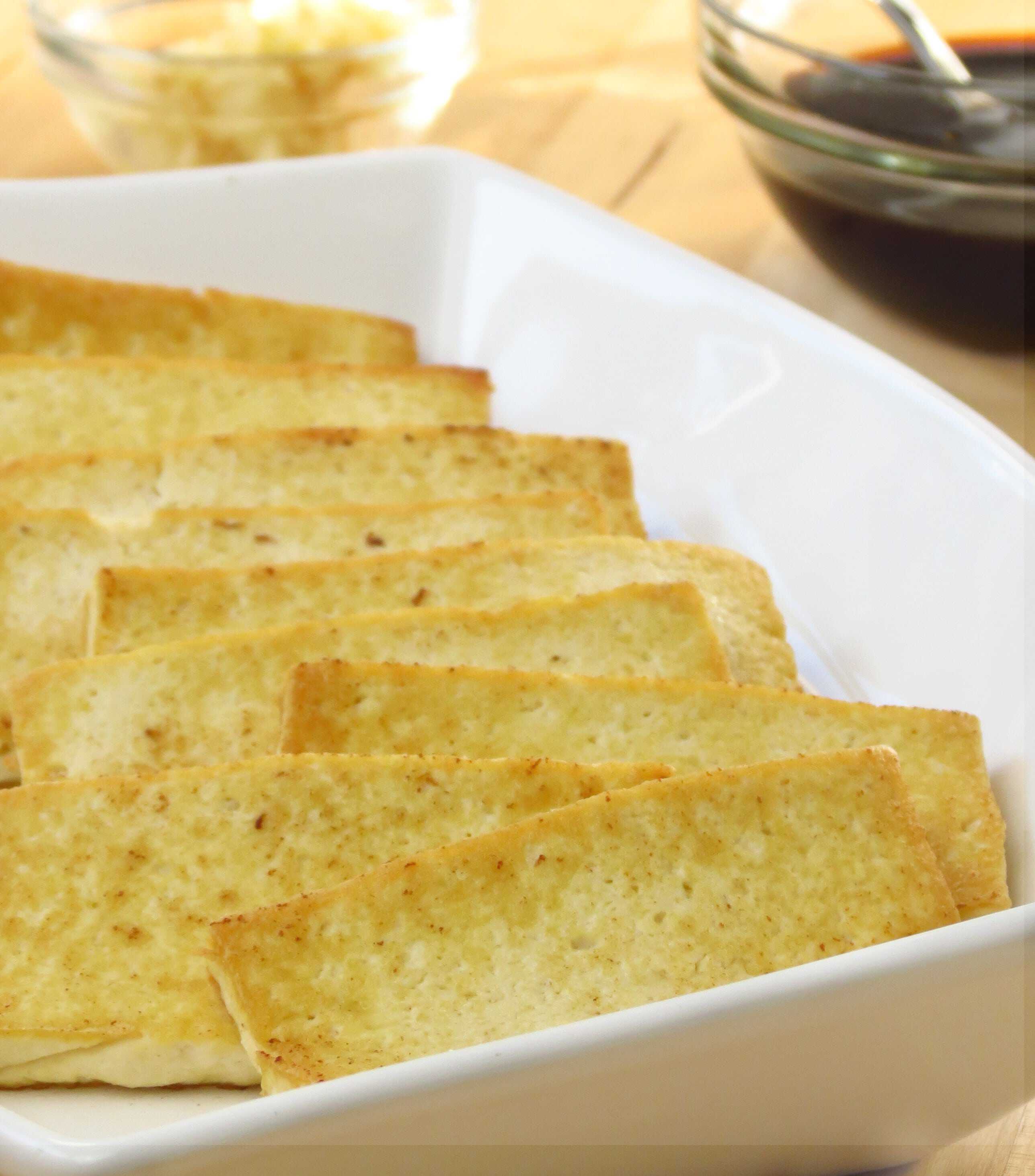 After frying, cut each tofu into thin 1/2 strips. Then set aside – we've got some green beans and pork to work on.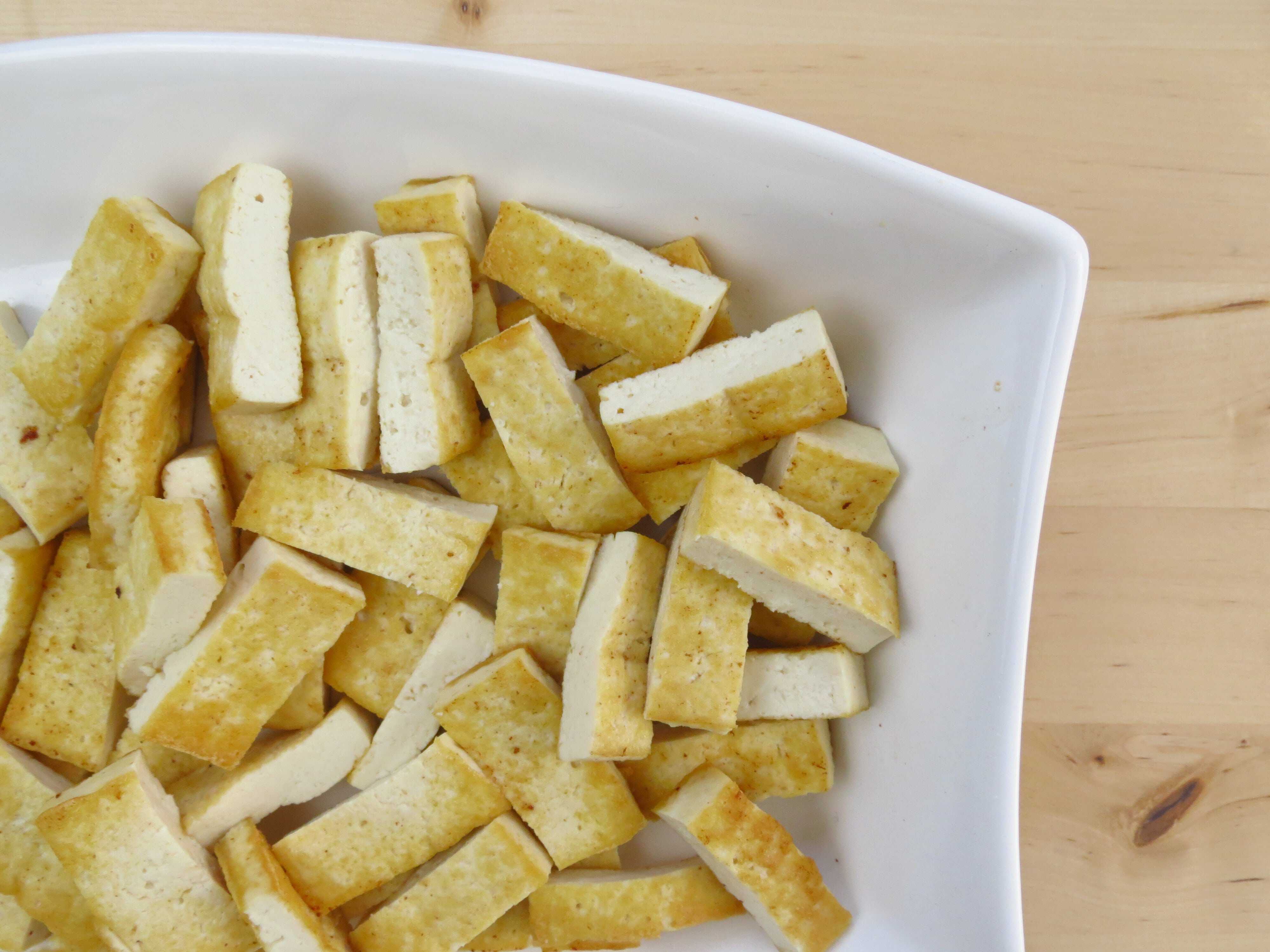 Cut green beans about 2 inches long and remove the stems. Heat up a wok or large skillet on medium high heat, add vegetable oil, and stir fry for 5-6 minutes. Green beans should be slightly tender, and turned a dark green color when completed. It doesn't have to be completely 'done', as we will be cooking it further later. Remove green bean from heat and set aside.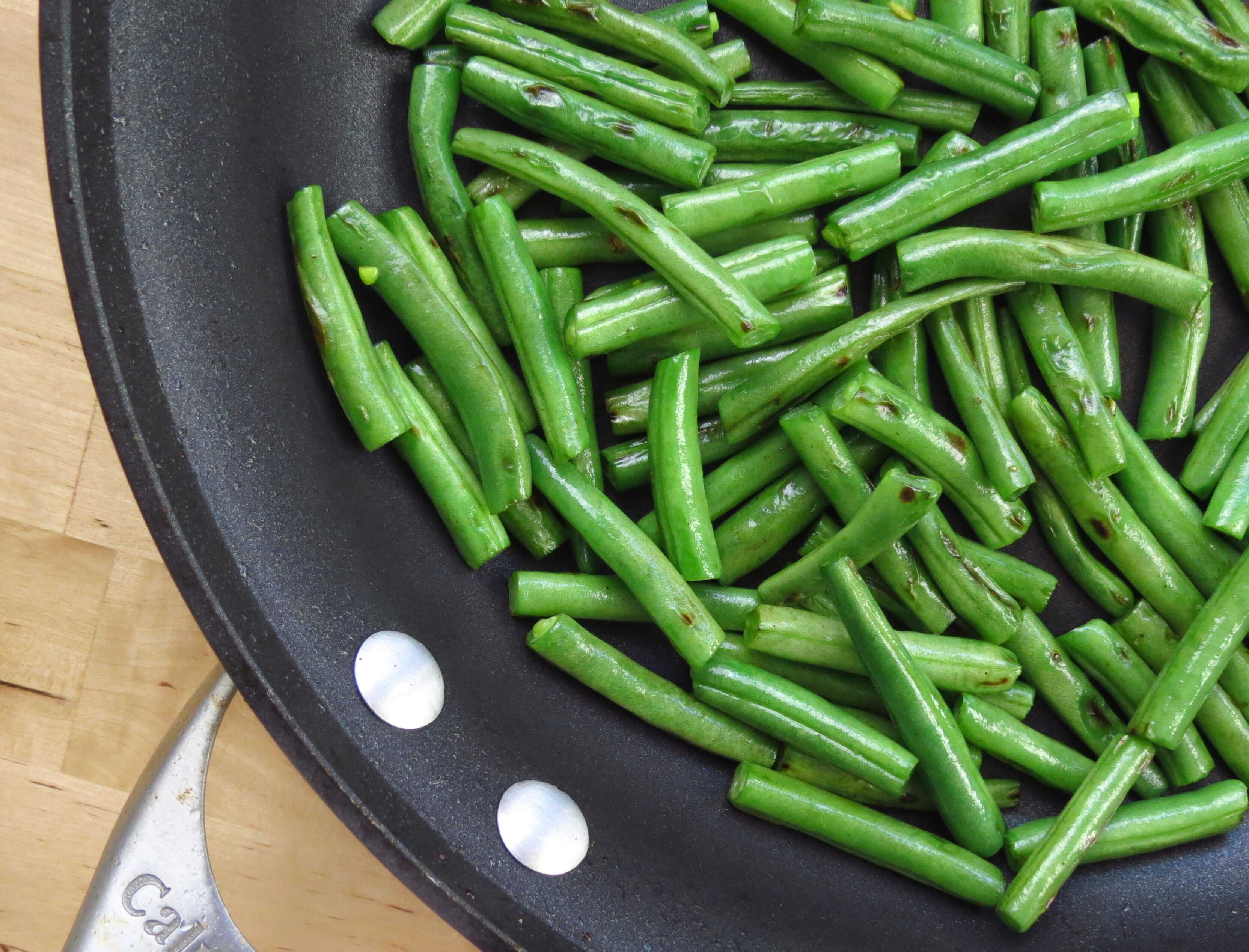 With stir fry, a lot of times, you need to cook each ingredient separately. Different ingredients cook at different paces.
If you throw everything in in one go, you will either overcook some things and/or undercook others. That is why we are cooking the tofu, setting it aside, cooking the green beans, setting it aside… then at some point we will bring it back together. You get the picture 🙂
Next, add some vegetable oil to the skillet again and add in the sliced pork into thin strips. I used pork center loin chops that has been blade tenderized by the grocery store (thank you, HEB). Remember to slice the meat cross grain.
Cook pork for 1-2 minutes, then add minced garlic, green beans, fried tofu, and our out-of-this-world sauce into the skillet. The combining has begun.
Combine ingredients and stir every 30 second or so. Remember to keep the heat on medium high. Sauce should slowly thicken. Cook for 2-4 minutes, depending on how done you like your green beans and how thick you like your sauce.
Voila!!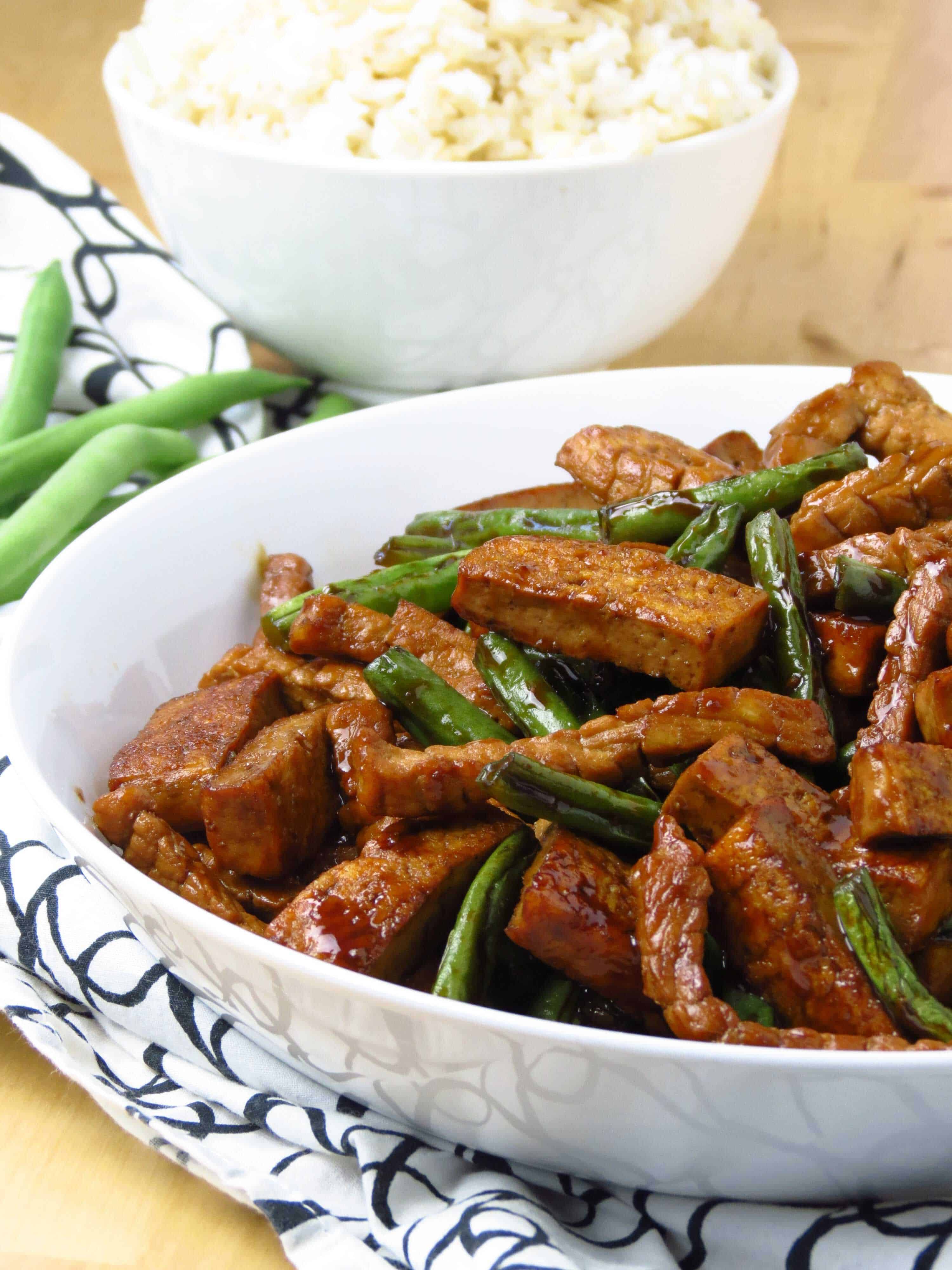 Serve with white rice or brown rice. Or, in my case, white-brown rice. Yep, mix them!
The sauce clings on to the green beans, the tofu, and the pork, bringing this sweet and salty soy blend to your ingredients.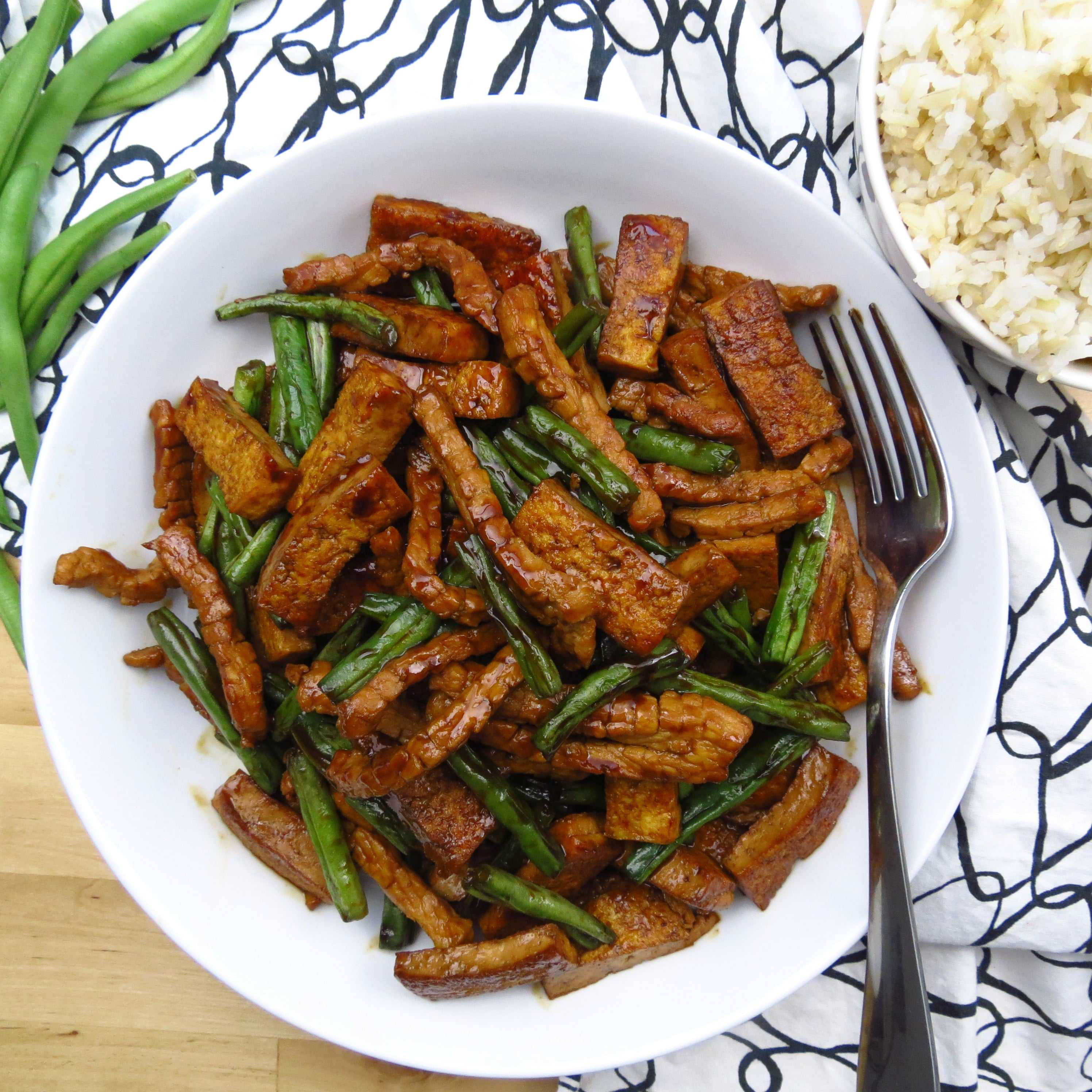 To turn this into a vegetarian dish, simply omit the pork and double the amount of green beans used. It will be just as delicious.
There you have it – Honey Soy Tofu, Green Beans and Pork Stir Fry. It is a delight. Give tofu a chance. Not only is it healthy, now you can enjoy it as well. If you enjoy your healthy food, trust me, you will want to eat more of it. 🙂
Want to learn more about ALL the tips and tricks to making a GREAT stir fry? Check out my post 8 Tips to a Great Stir Fry! Learn everything you need to know about making stir fry right at your home!
More Asian Recipes
DID YOU ENJOY THIS RECIPE? Please comment below and give us a 5-star rating! This will help others find this recipe on Google and Pinterest. We very much appreciate your help! 🤍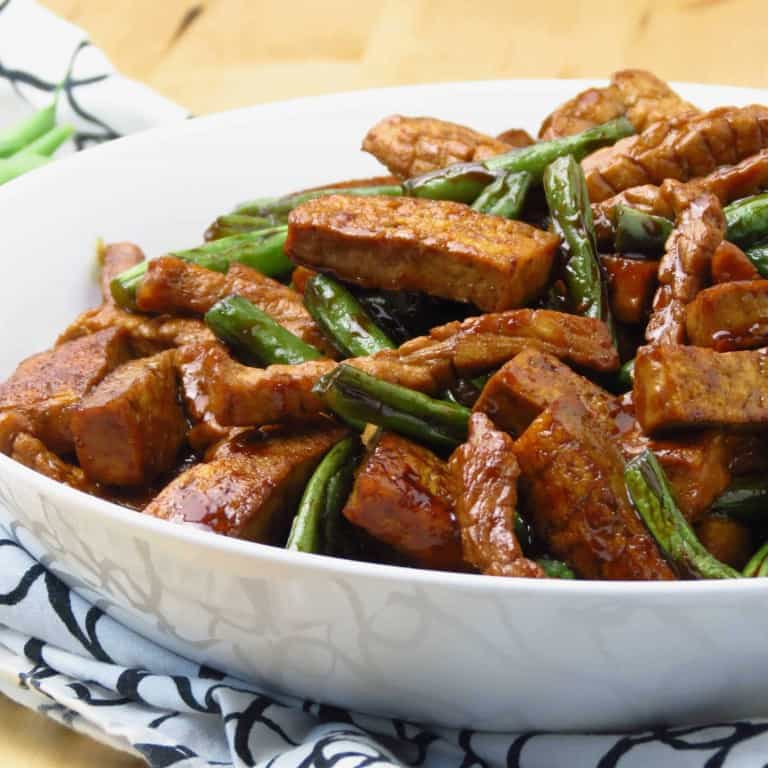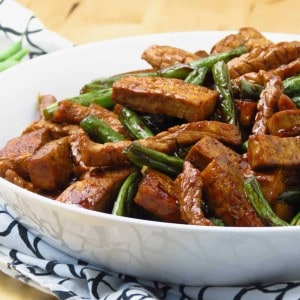 Honey Soy Tofu, Green Beans and Pork Stir Fry
Stir fried crispy tofu, green beans and thinly sliced pork with a sweet, garlicky soy based sauce. Serve with warm steamed rice. Delicious!
Print
Pin
Ingredients
14

oz

firm tofu

4

oz

green beans

1/3-1/2

lbs

pork center loin chops

1 – 1 1/2

tbsp

soy sauce

1

tbsp

dark soy sauce

2

tbsp

honey

1/4

cup

water

1

tsp

cornstarch

vegetable/canola oil

5-7

cloves

garlic
Instructions
Prepare all ingredients. Slice 14 oz rectangular block tofu into 1/2 inch slices, then pat dry with paper towel to remove all excess water. Slice pork chops into thin strips. Remove the ends of green beans and cut green beans into 2 inch pieces. Mince garlic.

Prepare sauce. Mix soy sauce, dark soy sauce, honey, water and cornstarch into small bowl. Mix well and remove all clumps.

Add 1 tbsp vegetable oil to large skillet. Heat skillet under medium heat. Once oil is slightly bubbly, add tofu to skillet. Fry for 4-5 minutes, flip tofu over, and fry for another 4-5 minutes on the other side or until golden brown. Remove tofu and set aside

Add vegetable oil only if there is no remaining oil in the skillet. Add green beans, stirring every 30-60 seconds, under medium high heat for 5-6 minutes, or until green beans are softer and have turned darker green. Remove green beans and set aside

Add vegetable oil if there is no remaining oil in the skillet. Add sliced pork and stir fry for 1-2 minutes. Then add minced garlic, tofu, green beans and sauce. Combine and stir every 30 seconds. Cook for 2-4 minutes.

Remove from heat, serve and enjoy!