Chocolate Dipped Shortbread Cookies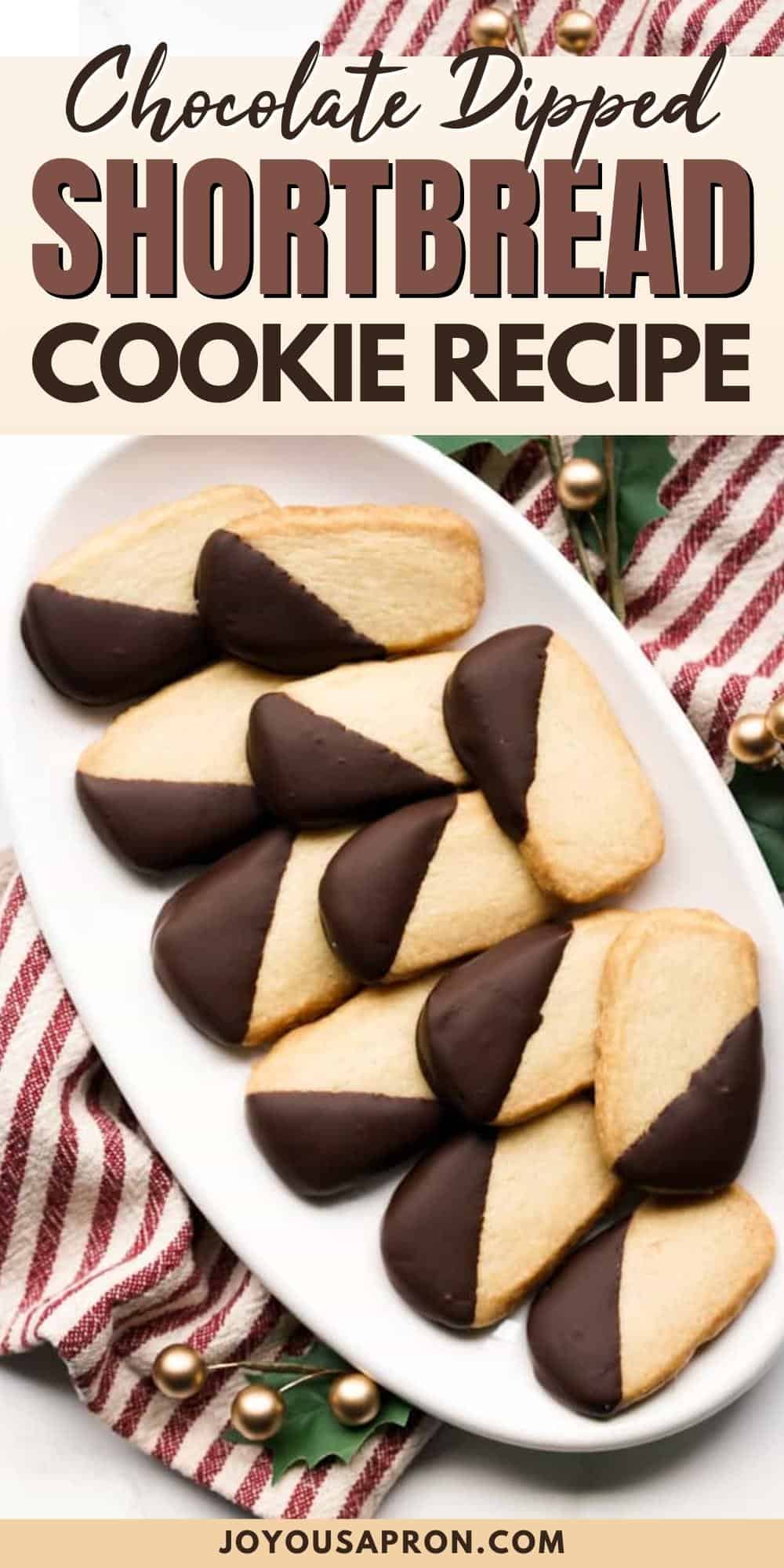 These crumbly, buttery Chocolate Dipped Shortbread Cookies are so delicious and such a fun bake! These European style shortbread cookies are dipped in melted chocolate, and they are slightly crispy but still moist and buttery.
I love how they are so elegant and lovely, yet so simple to make!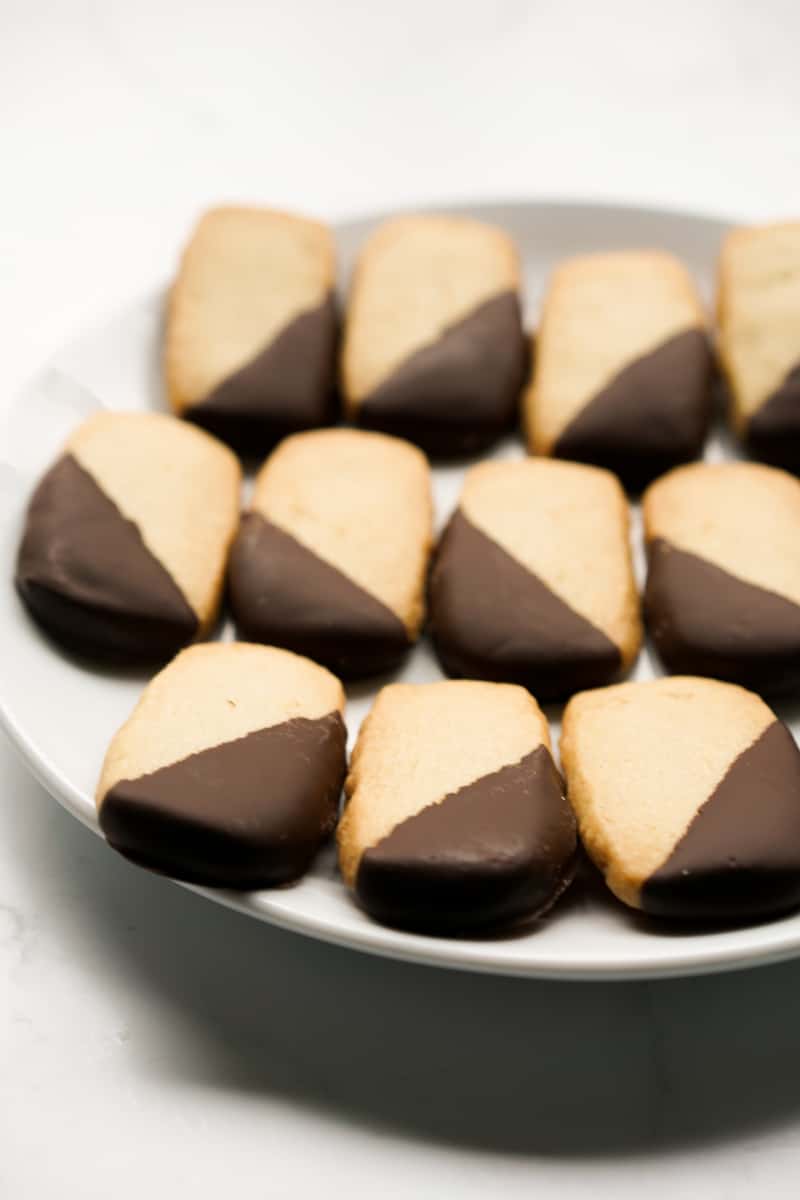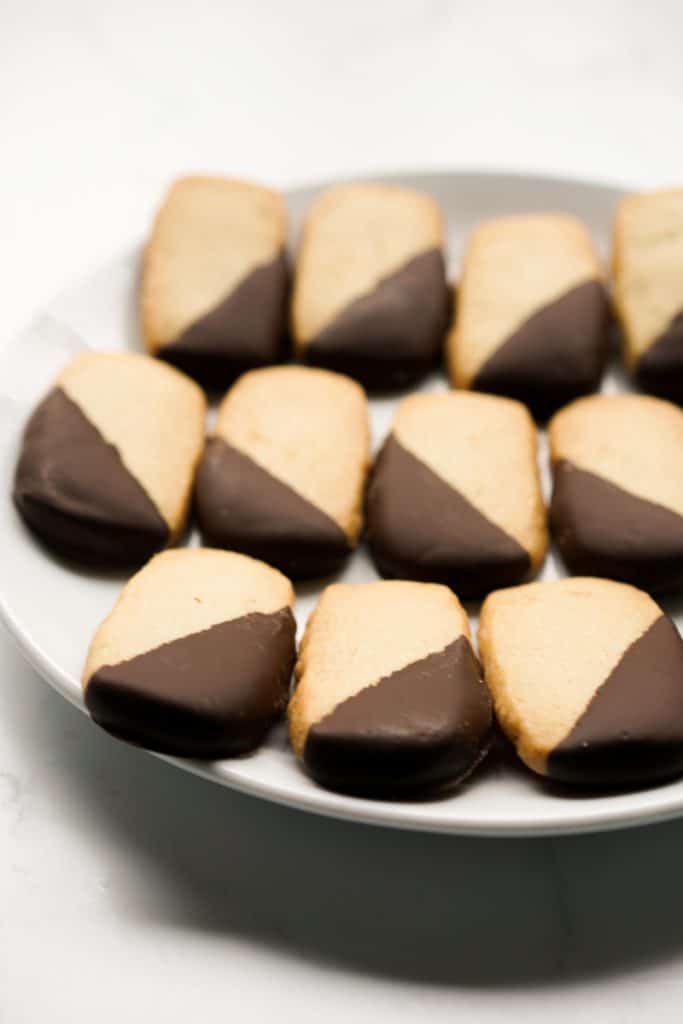 Shortbread Cookies Dipped in Chocolate
You all enjoyed my Strawberry Thumbprint Shortbread Cookies so much I decided we will keep going on this shortbread train.
These Chocolate Dipped Shortbread Cookies uses a similar cookies dough that is buttery and crumbly, but instead of strawberry preserves, we are dousing it in rich and creamy melted chocolate. Err, yum!
Whether you are serving this with a cup of hot tea or coffee, for the holidays along with other delicious holiday bakes, or simply snacking it by itself, you will love these lovely little treats.
Why you should make these chocolate dipped shortbread cookies:
6 ingredients – it calls for minimal ingredients but make no mistake, it tastes AMAZING
minimal active time – it takes only 30 minutes to prepare and bake these cookies. You'll want to set aside about 1 hour to refrigerate the dough for best results! Also set aside some time for cooling the cookies and letting it sit.
simple and straightforward – don't let it's fancy look fool you, they are easy to make!
perfect for holiday baking – I love making chocolate dipped shortbread cookies during the holidays as they make the best treats for cookie exchange, desserts and snacks.
perfect for gifting – they also makes the best gift to neighbors and friends, especially during the Christmas season.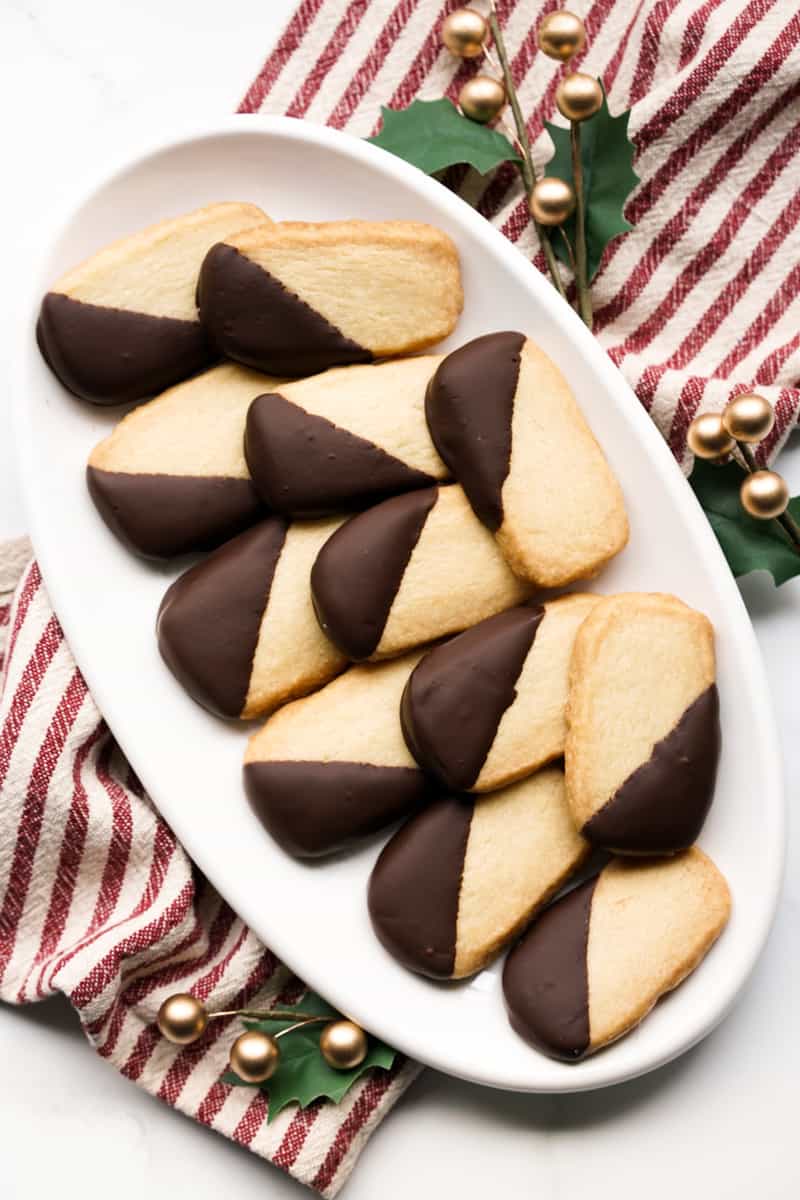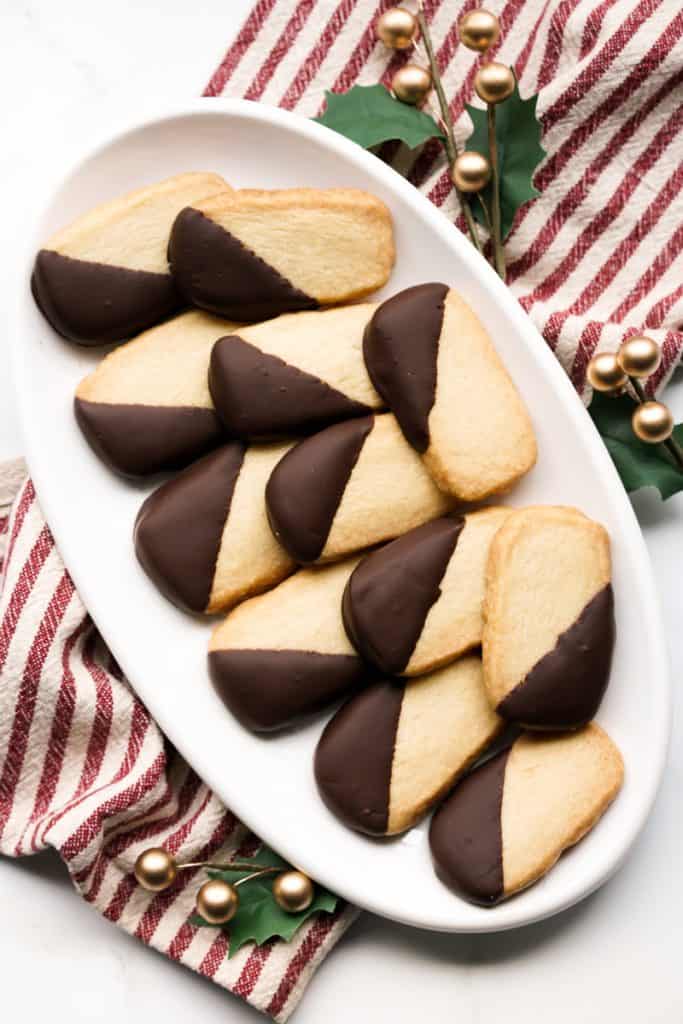 Ingredients
As I promised, our chocolate dipped shortbread cookies call for a short list of ingredients. In addition, they are also pantry-friendly, easy-to-find ingredients:
unsalted butter – if possible, bake with unsalted butter, not salted.
granulated sugar
vanilla extract – pure vanilla extract will give your shortbread cookies the best flavor
all-purpose flour
salt – just a pinch
chocolate – use baking chocolate or pieces of chocolate. Either milk chocolate or dark chocolate works – whatever works better. Avoid using not chocolate chips. Chocolate chips don't melt well and come out thicker, making it harder to coat the shortbread cookies. Chop chocolate into small pieces so they melt easily.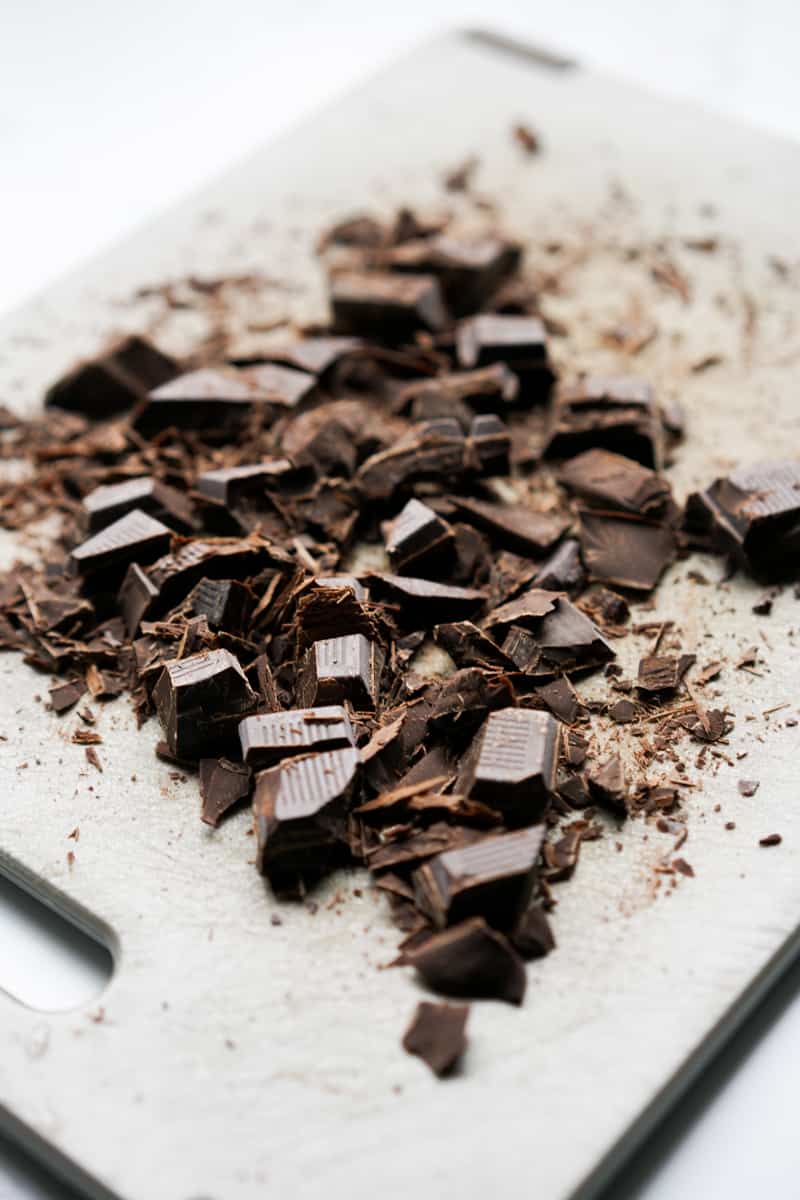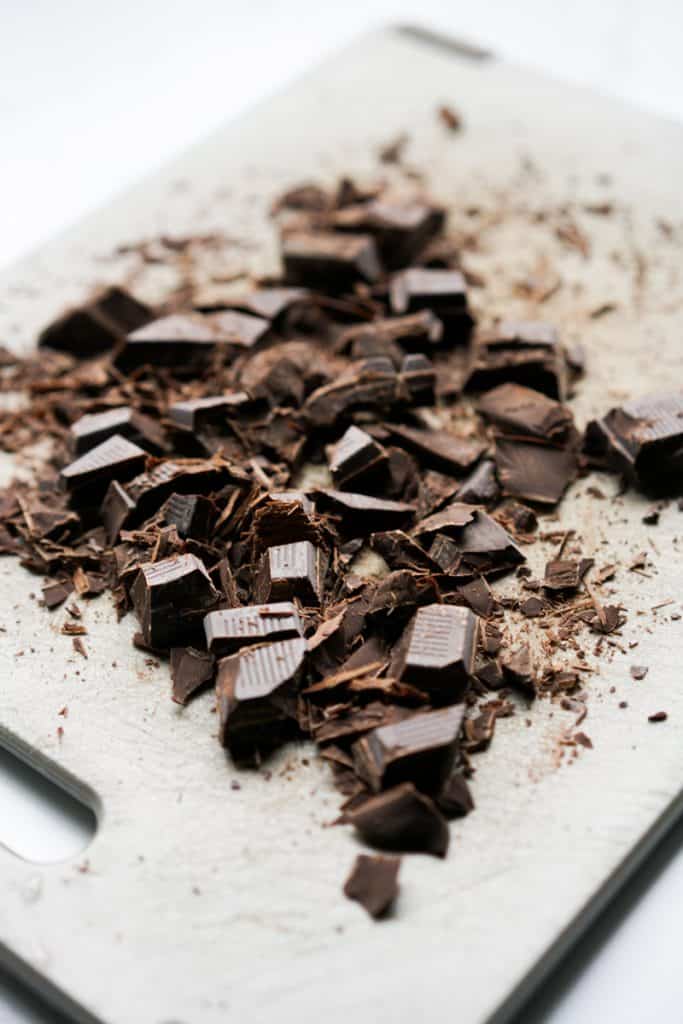 How to make it
When making chocolate dipped shortbread cookies, make sure to leave room for some time to refrigerate the dough.
Other than that, it is a simple, straight-forward, fairly standard cookie-making process!
Step 1: Make and chill dough
I use my stand mixer to bring all the ingredients together to make my shortbread cookie dough. If you do not have a stand mixer, an electric hand mixer or even an old-fashion spatula and arm strength combo would be sufficient.
Start by creaming sugar with butter, and then add vanilla extract to it.
Once all that is combine, add flour and salt, and mix well.
Dough should be fairly crumbly at this point. It shouldn't be wet. Use your hands to press dough together to form a ball, then refrigerate dough for at least 1 hour.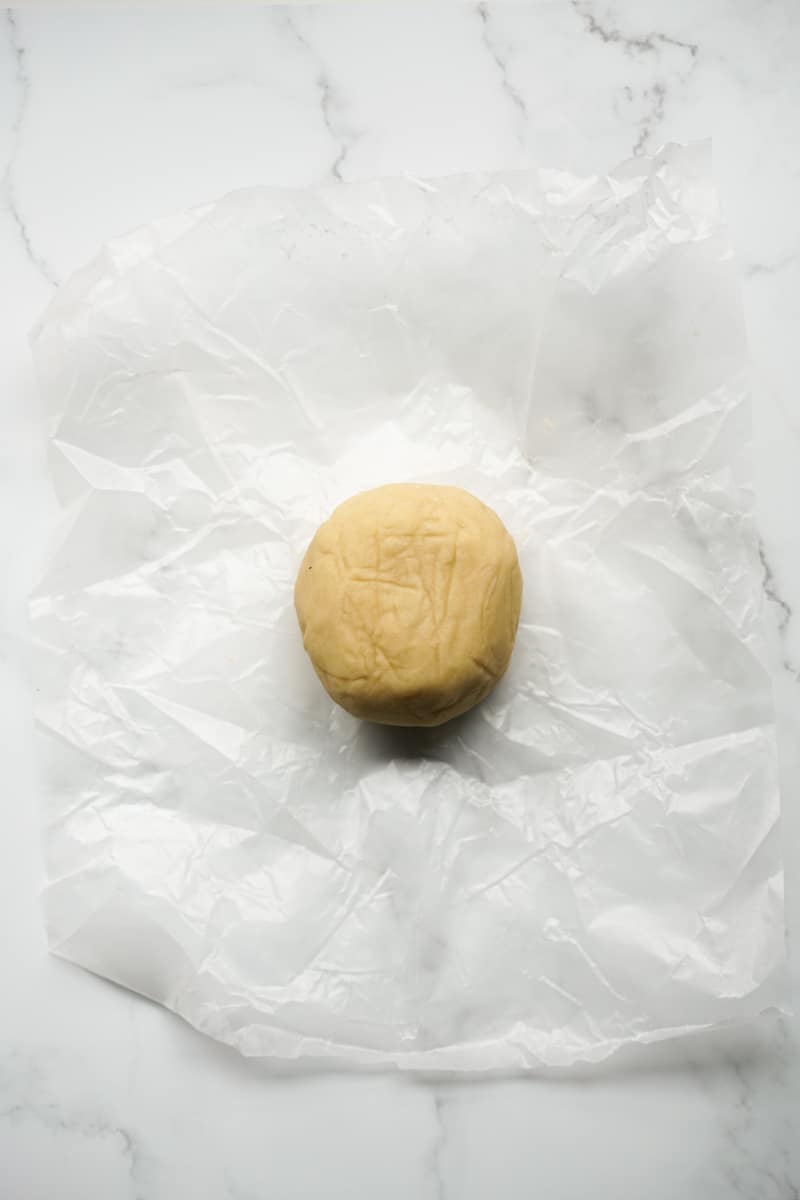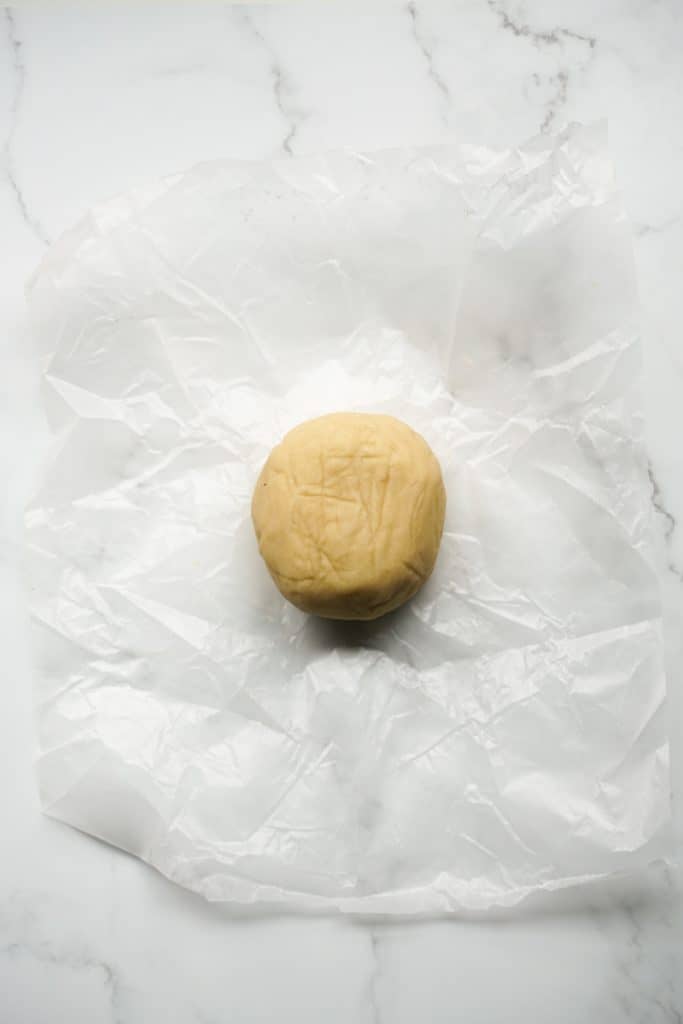 Step 2: Prepare and bake shortbread cookies
Remove dough from refrigerator and shape it into a rectangle. If you refrigerated the dough for a few hours, it may be rock hard and difficult to shape.
You can continue to warm it with your hands, or let it stand on the counter in room temperature for 30-45 minutes or so before shaping it.
Avoid letting the butter soften so much that it defeats the purpose of refrigerating.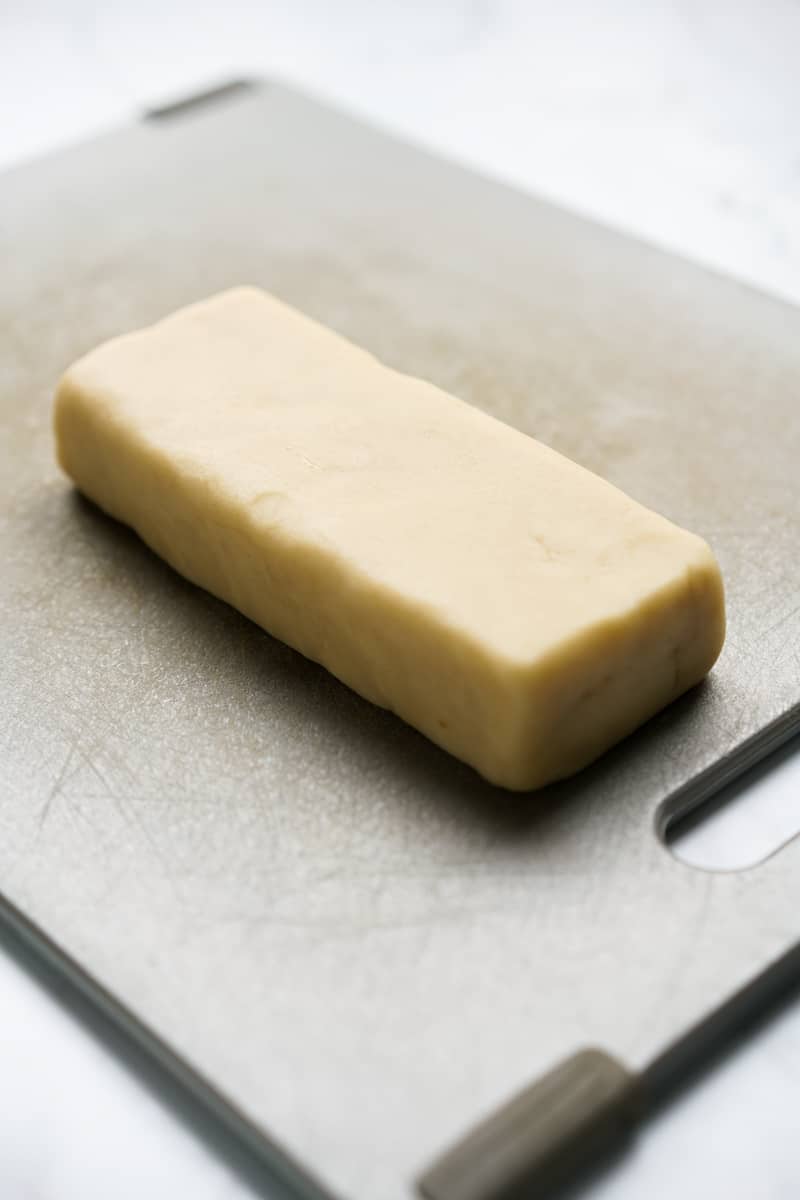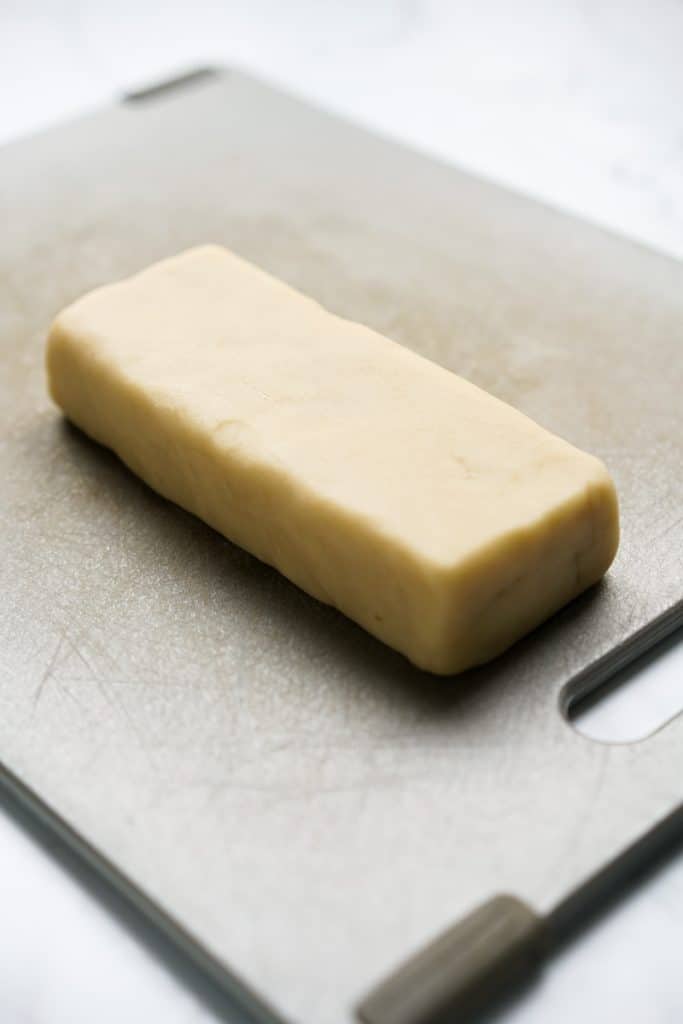 Using a pastry cutter, slice into small 1/2-inch pieces of rectangular shortbread cookies.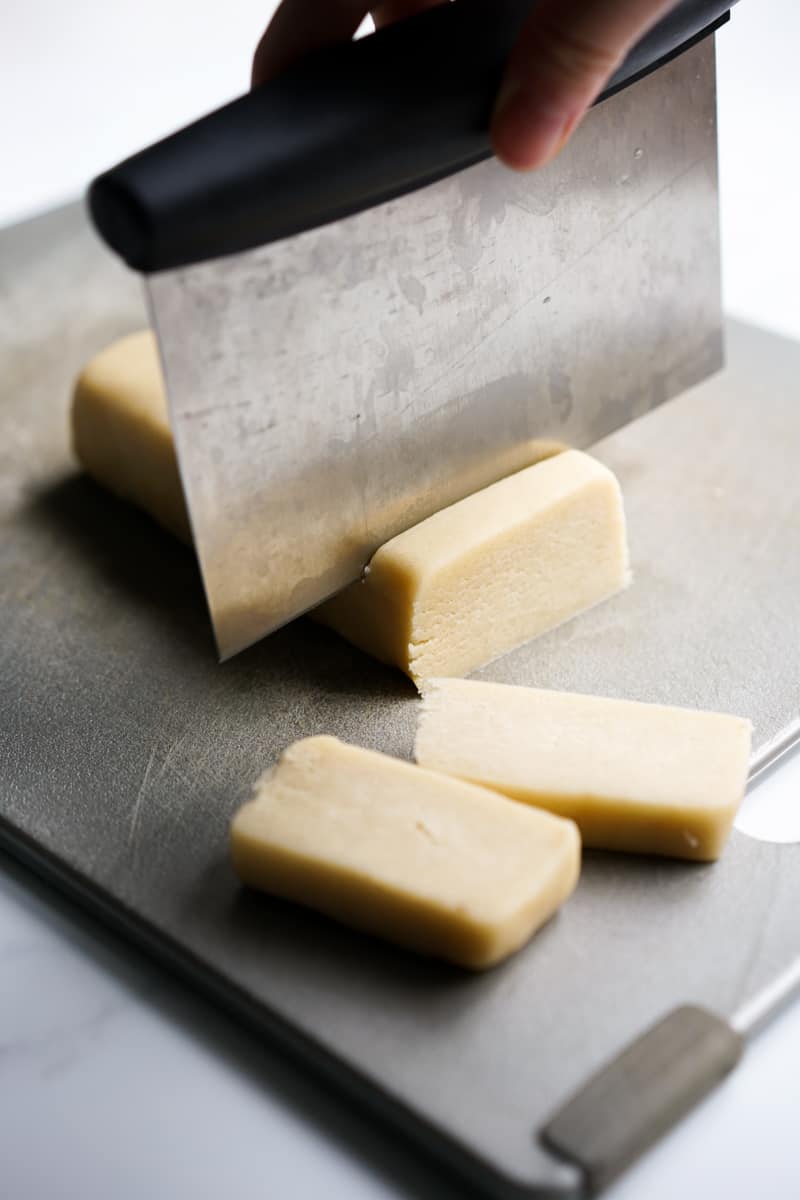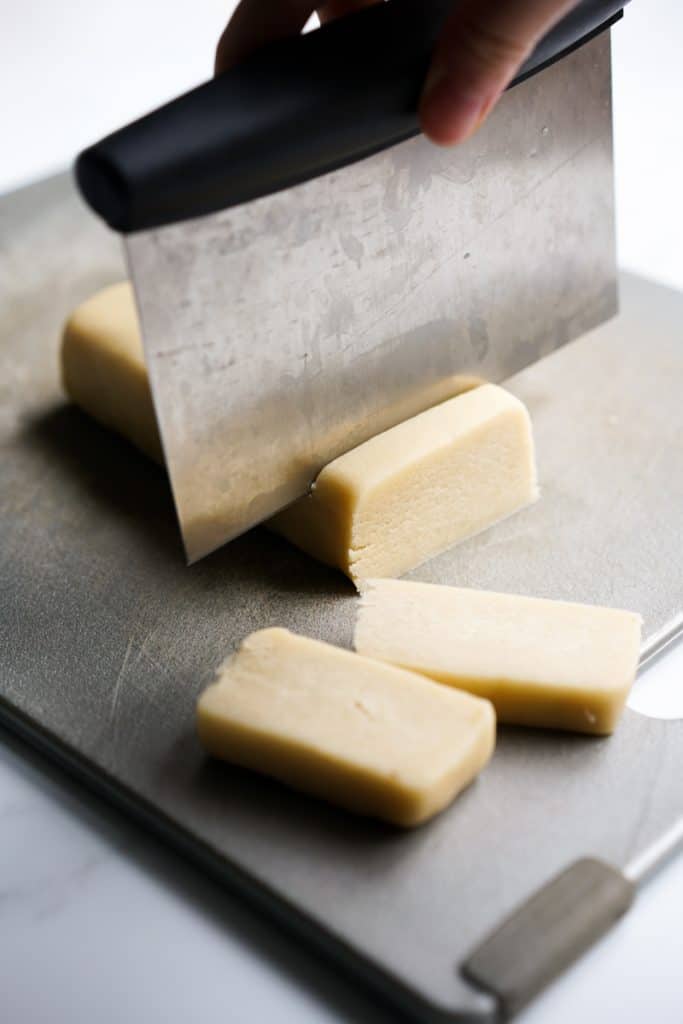 I usually get about 12-14 pieces of cookies.
Place shortbread cookies at least two inches apart from each other on baking sheet.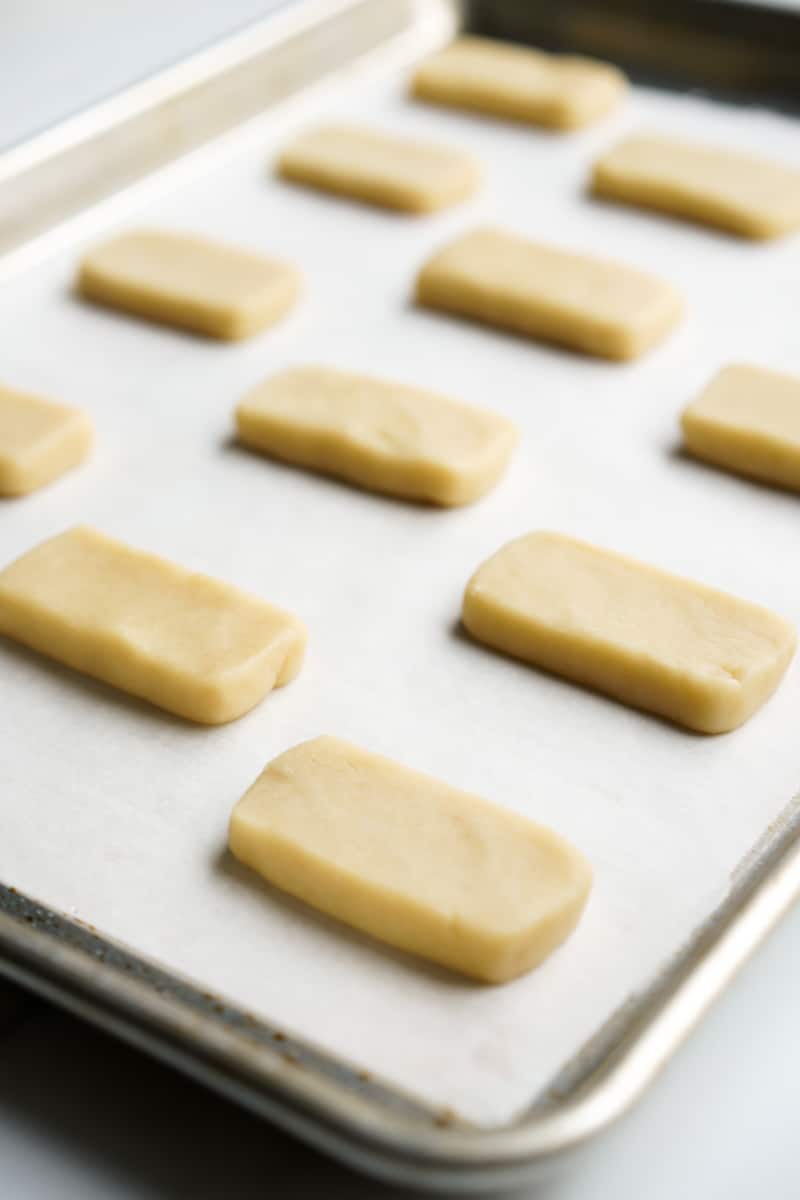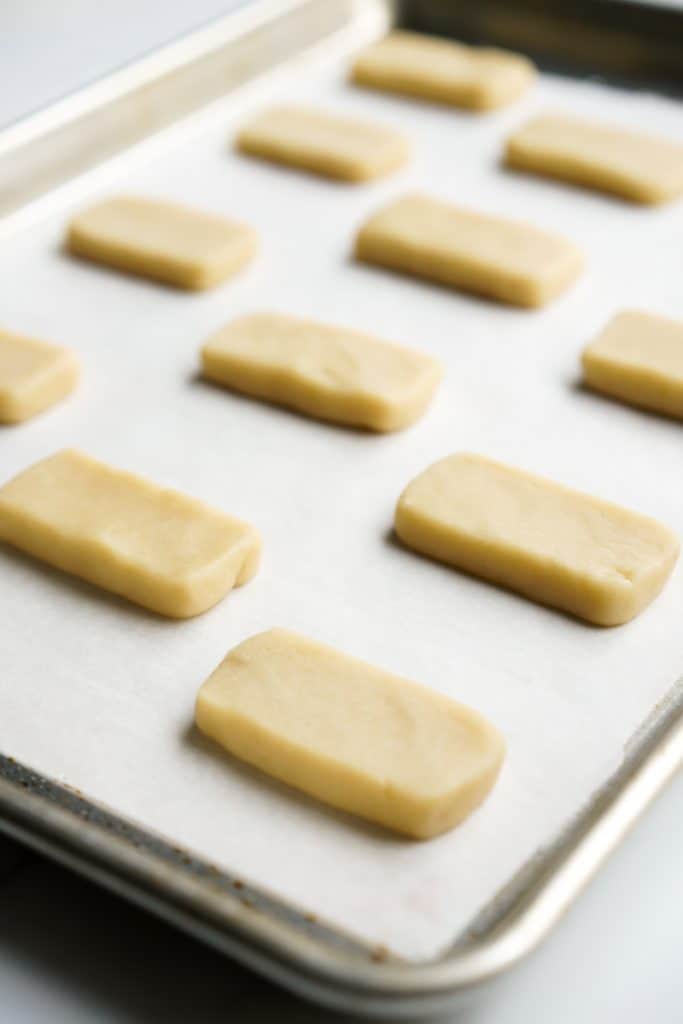 Bake in the oven for 20 minutes until they are crispy and golden brown on the edges.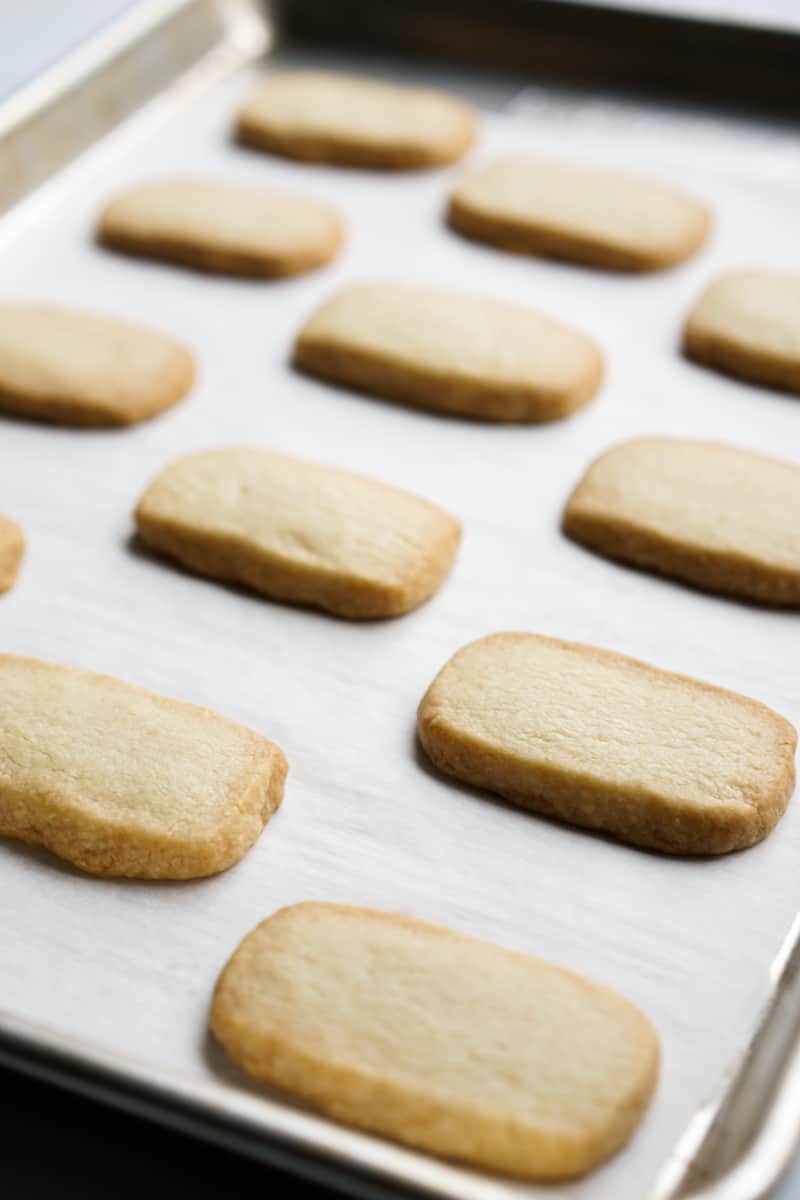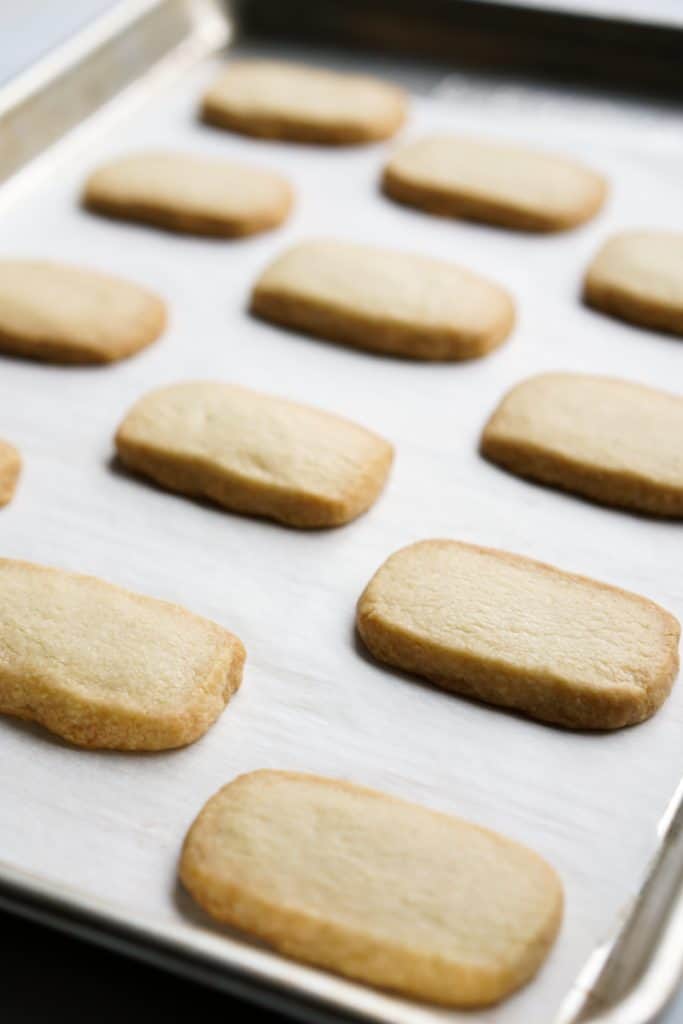 Place baked shortbread cookies on baking rack to cool for 20-30 minutes.
Step 3: Prepare Chocolate
To make the chocolate part of the chocolate dipped shortbread cookie, chop chocolate into small pieces and melt them in a skillet under low heat.
Make sure to stir continuously as chocolate melts so that they bottom of the skillet doesn't burn.
It should only take a few minutes for chocolate to melt. Once they are melted complete, pour chocolate into a small ramekin.
Dip cooled shortbread cookies into chocolate, and there you have it: chocolate dipped shortbread cookies!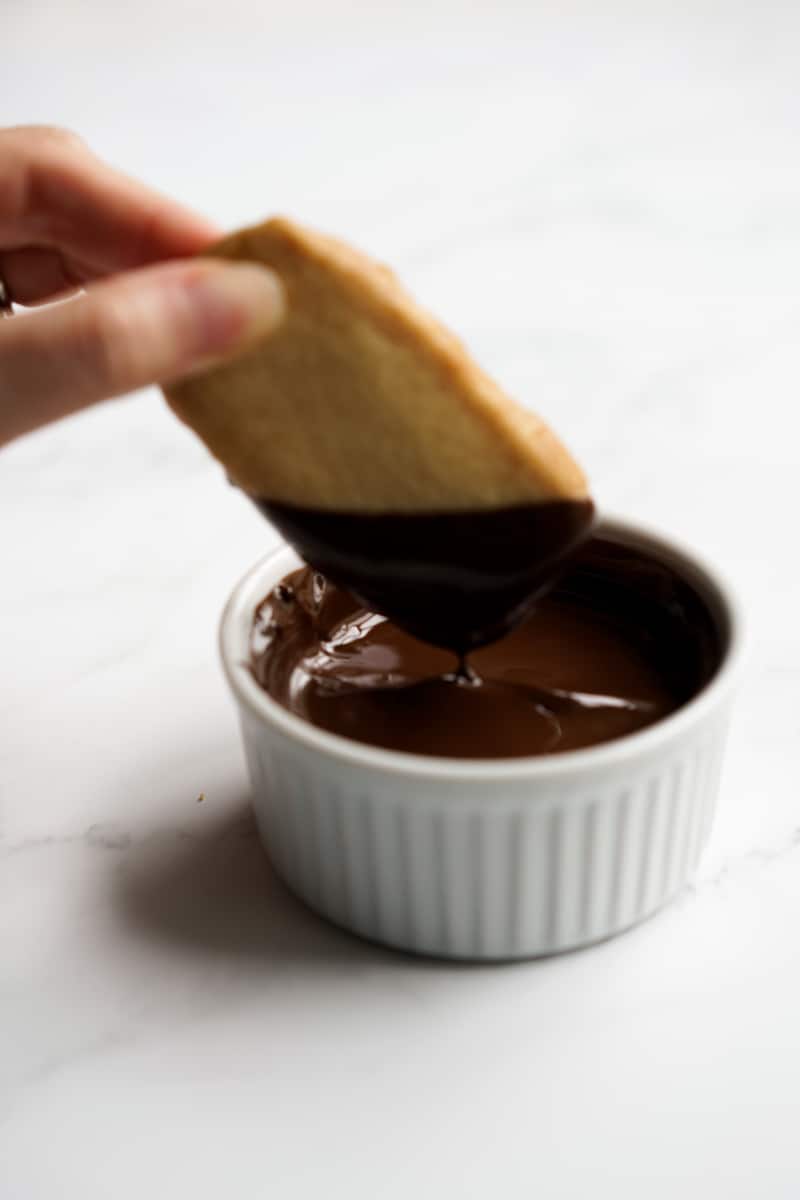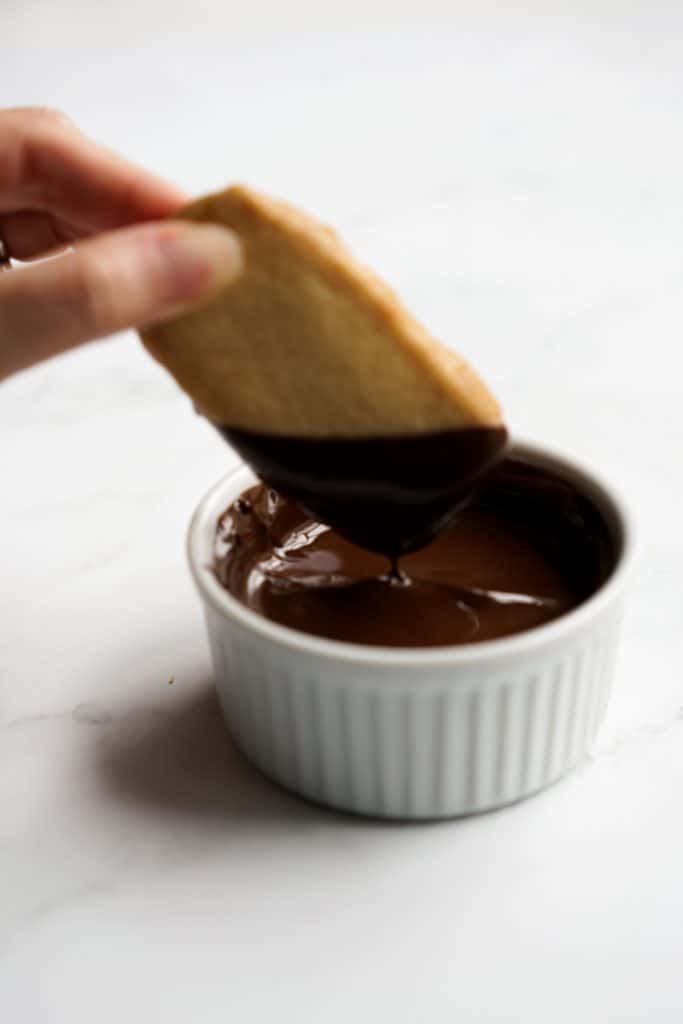 After dipping, place shortbread cooking on a plate lined with wax paper, then let it sit for about 30 minutes as the chocolate hardens. To speed up the process to harden the chocolate, place it in the refrigerator and remove from fridge in 20 minutes.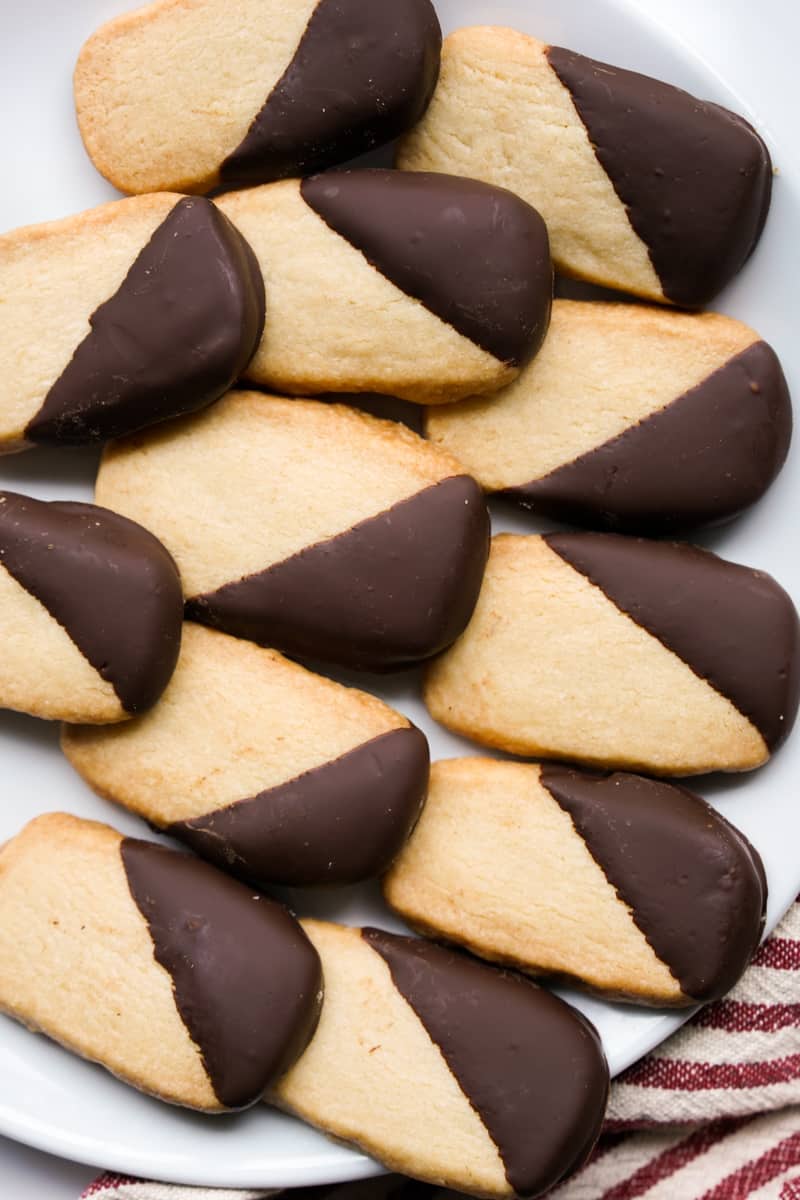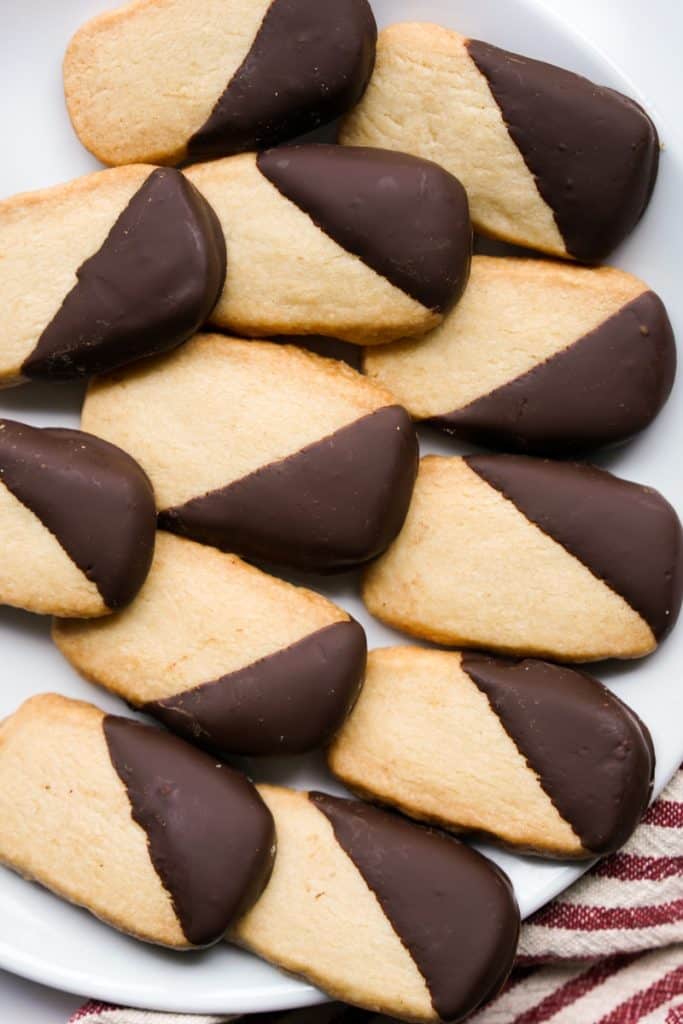 Tips and Tricks
A few notes when making chocolate dipped shortbread cookies:
When melting chocolate, cut it into small pieces so that it melts quicker. Melt chocolate on low heat and stir continuously to prevent burning at the bottom of the skillet.
Refrigerate dough before baking for best results
Refrigerate shortbread cookies briefly after dipping in chocolate so that it hardens quicker.
Storage
The best way to store chocolate dipped shortbread cookies is in airtight container under room temperature for 2-3 days.
Frequently Asked Questions
Can I melt chocolate chips instead of chocolate?
Chocolate chips don't melt as well – there is an extra coating on them. They tend to be thicker and doesn't come out as smooth when cookies are dipped into them.
Can I skip the step where you refrigerate the dough?
Ideally, you should refrigerate the dough. If you don't cookies will be flatter.
What is the best way to store cookies?
Please see the section on 'storage' above for more infomration.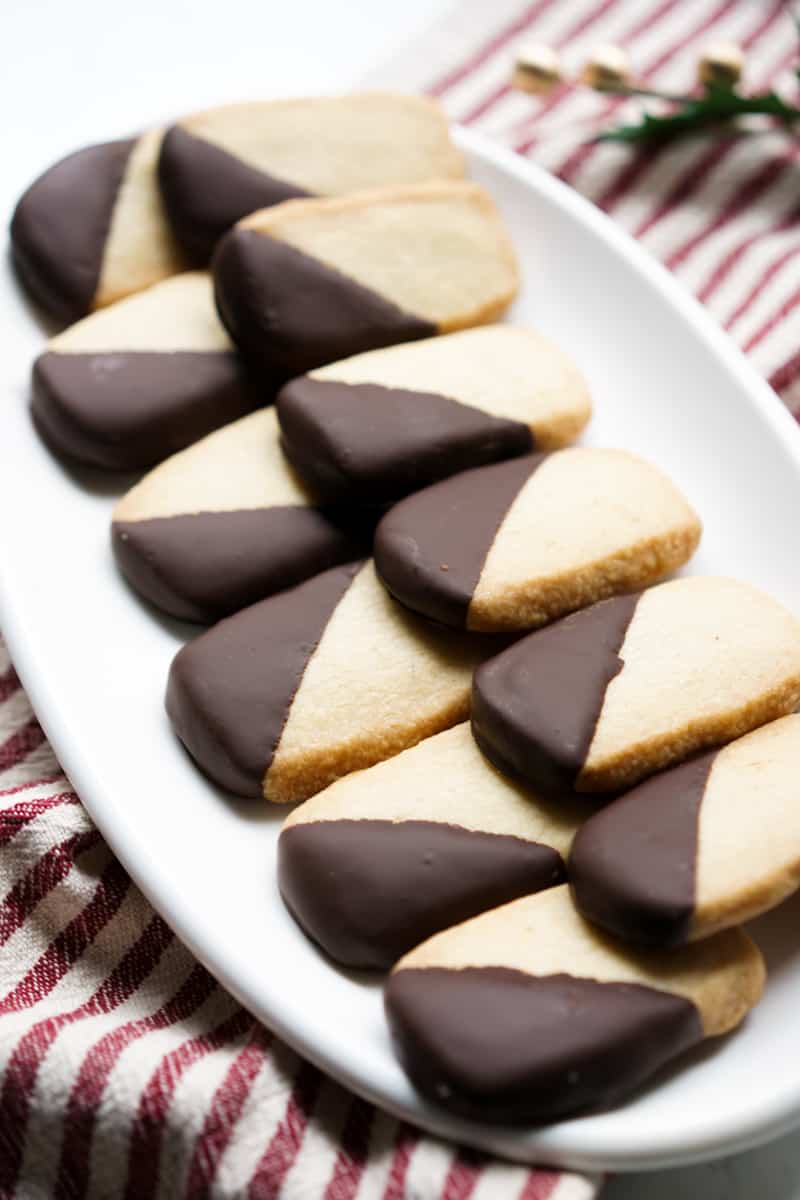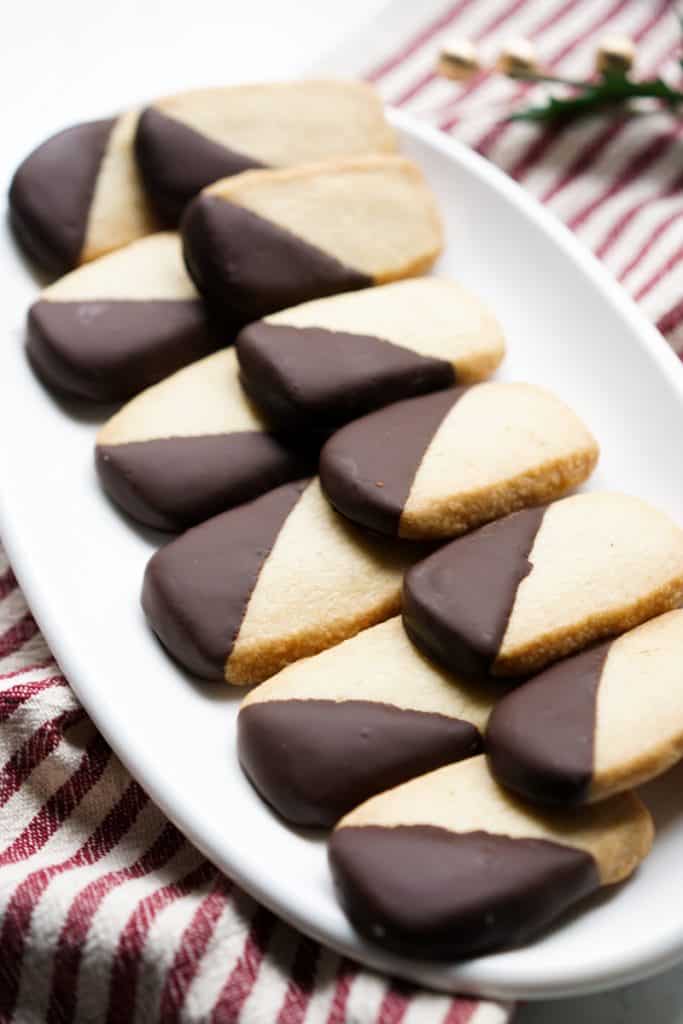 Note: This recipe is part of The Sweetest Season, a virtual cookie swap. This year, we are raising money for Cookies 4 Kids Cancer, a non-profit organization dedicated to funding research for new treatments for childhood cancer.
If you are able and willing, please consider donating through this fundraising page for this amazing cause. OXO will match every dollar raised through the end of 2022 up to $100K. This means that whatever money we raised will be automatically doubled!
Thank you advance for your generosity, participation and support! ❤️
More Sweets and Treats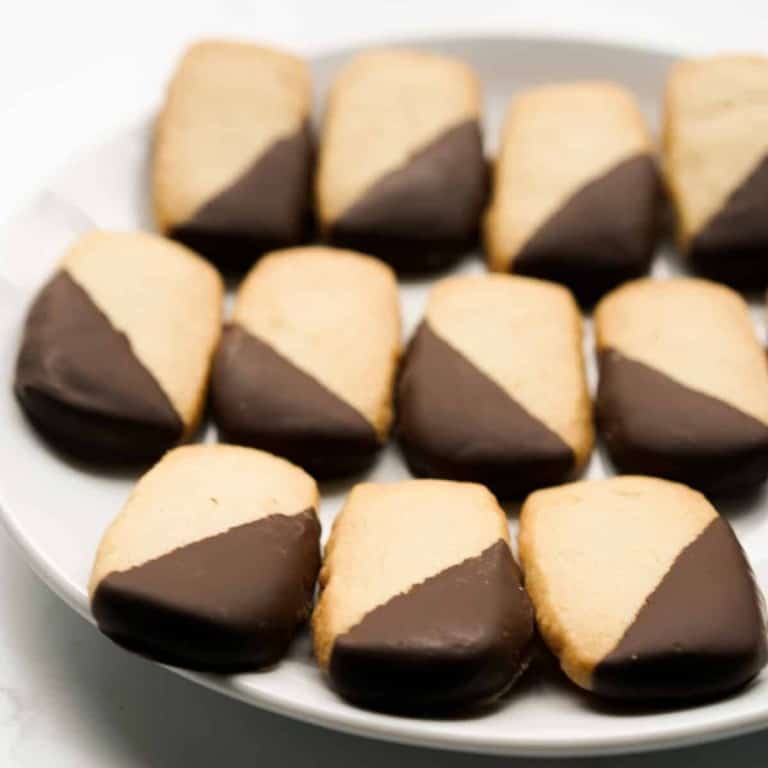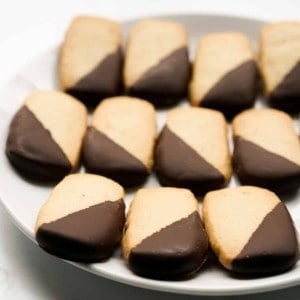 Chocolate Dipped Shortbread Cookies
These European style shortbread cookies are dipped in melted chocolate. They are buttery, crumbly and so delicious!
Print
Pin
Ingredients
1/2

cup

unsalted butter

softened

1/4 cup + 2 tbsp

granulated sugar

1/2

tsp

vanilla extract

1 1/4

cup

all purpose flour

1/2

tsp

salt

6

oz

chocolate
Instructions
In a large mixing bowl, cream sugar and butter, then add vanilla extract. Mix to combine.

Add flour and salt. Mix to combine.

Mixture should be crumbly. Use hands to press everything together into a ball. Wrap in parchment or wax paper. Refrigerate for 1 hour.

Remove dough from fridge and shape in rectangular shape.

Using a pastry cutter, slice into 1/2-inch thick rectangular cookies

Place cookies 2-inch apart on baking sheet lined with parchment paper.

Remove cookies from oven and let it cool on a baking rack for 15-20 minutes.

Chop chocolate into small pieces, and heat under low heat in a sauce pan. Stir continuously until chocolate melts. Remove from heat and transfer to a deep ramekin.

Dip cookies into melted chocolate. Place on a plate lined with wax paper. Refrigerate for 20 minutes so that chocolate hardens. (See Note 1)
Notes
Note 1: Cookies can be left in room temperature while chocolate hardens as well, it will just take longer (depending on temperature in the house etc).
Nutrition
Calories:
188
kcal
|
Carbohydrates:
22
g
|
Protein:
2
g
|
Fat:
11
g
|
Saturated Fat:
7
g
|
Polyunsaturated Fat:
0.4
g
|
Monounsaturated Fat:
3
g
|
Trans Fat:
0.3
g
|
Cholesterol:
20
mg
|
Sodium:
100
mg
|
Potassium:
44
mg
|
Fiber:
1
g
|
Sugar:
11
g
|
Vitamin A:
236
IU
|
Calcium:
7
mg
|
Iron:
1
mg