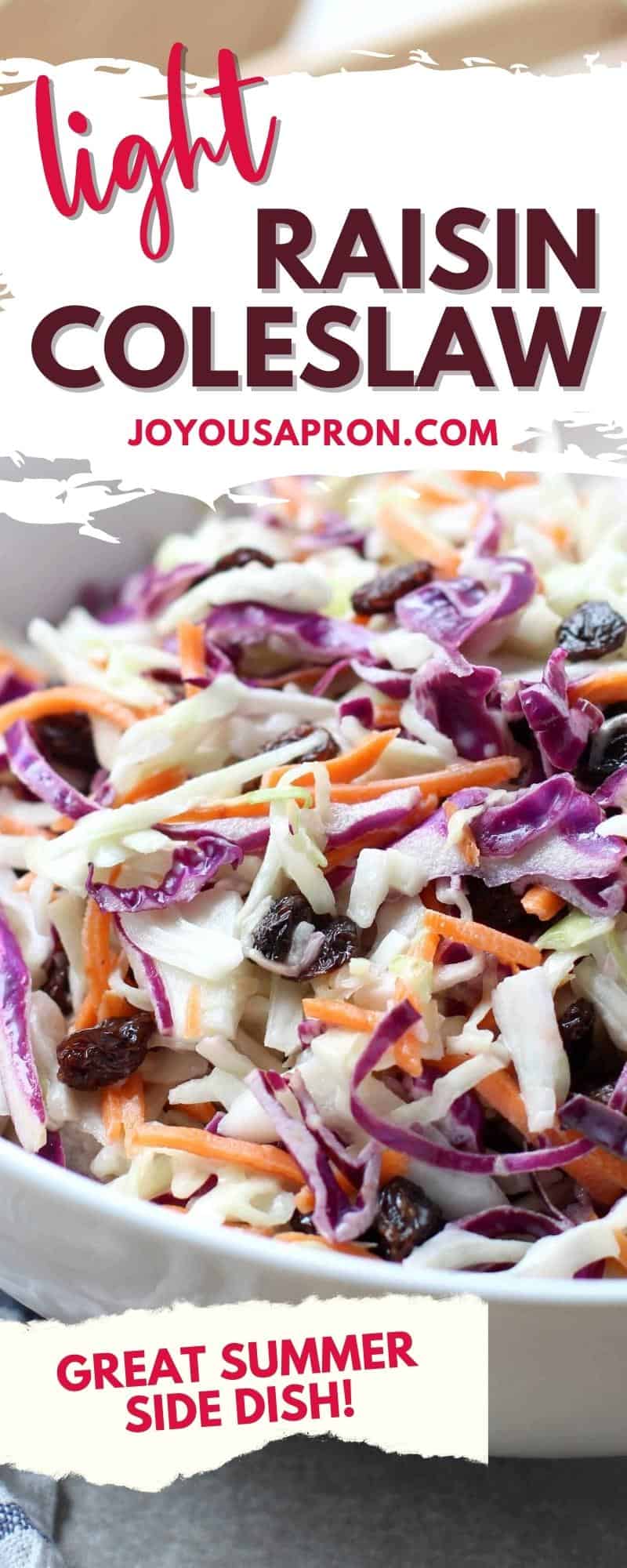 Here's my deal about coleslaw. I love coleslaw. Always have. At the same time, I really don't care for it.
I realize I just made a very confusing statement. Let me explain myself.
Coleslaws are great because it's a tangy, creamy, sweet, savory (lots of flavors!) concoction of cabbages and carrots. It is also one of the ways I truly enjoy eating cabbages . However, whenever I have coleslaws at diners, restaurants, fast food places, from grocery stores, anywhere really, it is often, OFTEN too heavy. It is drenched in mayo, and I find myself picking out the cabbages, shaking off most of the dressing, trying to detach those veggies from the heaviness of the cream.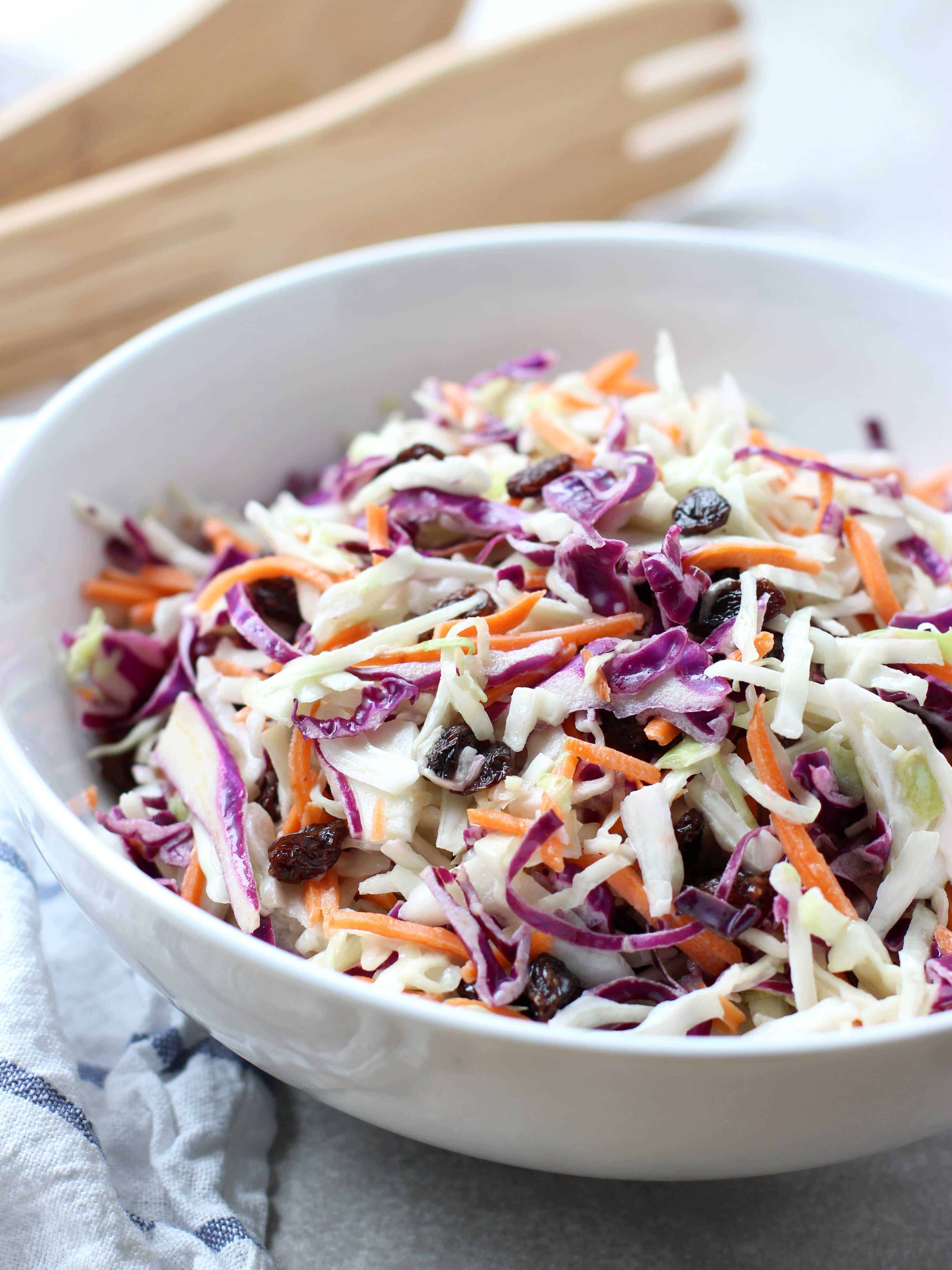 So I was a girl on a mission. I was going to make my own lighter version of coleslaw, without sacrificing taste. I incorporated a lot of tanginess and sweetness, and went easier on the cream (a.k.a. mayo). The product is a gorgeously flavored, and not overly heavy, coleslaw.
Oh, I added raisin too. Because I love me some raisin. These tiny little dried fruits add sweetness and texture to the already delicious cabbage and carrot slaw.
SWEET!!! (No pun intended)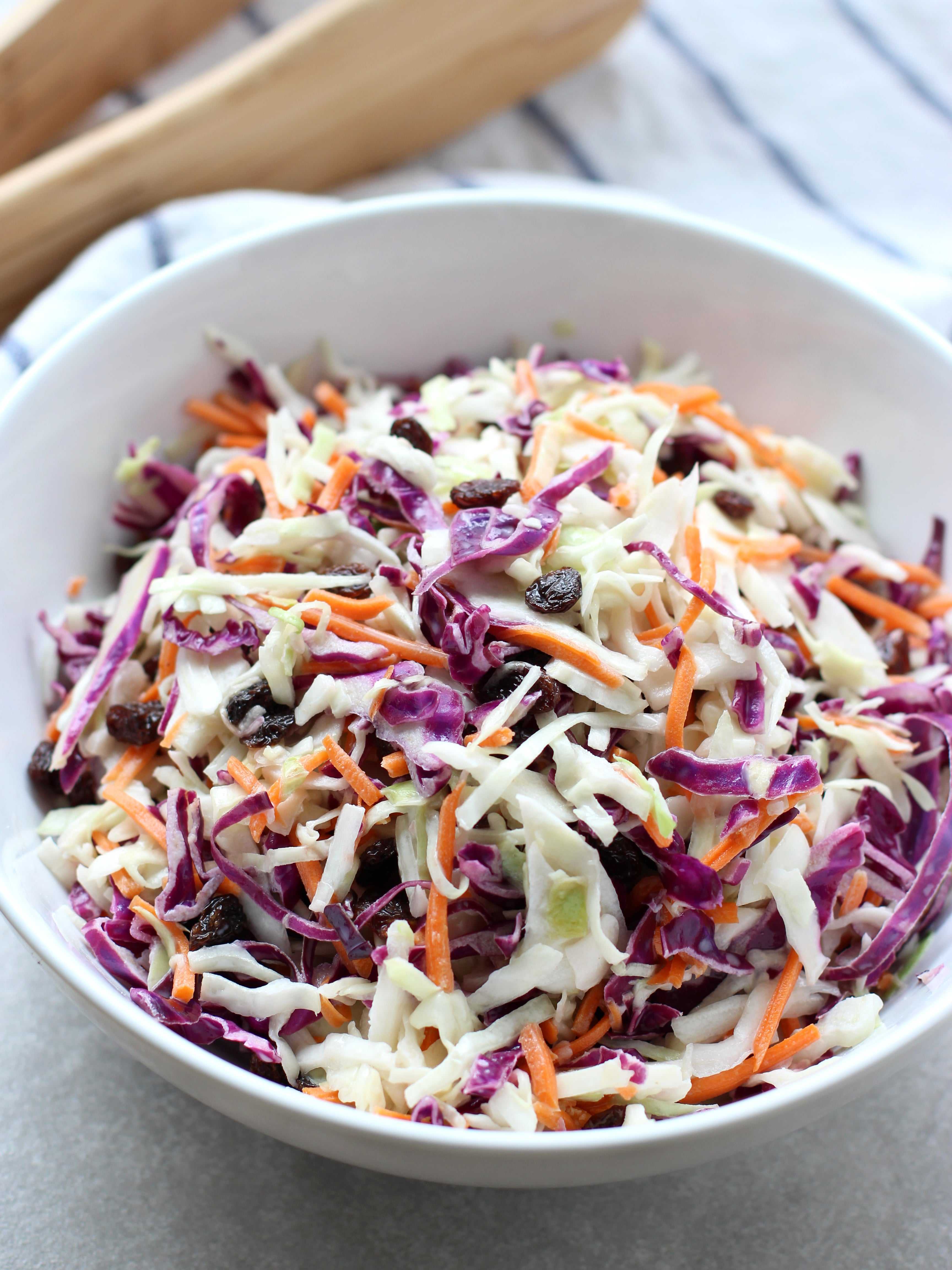 It definitely does not take a rocket scientist to put this delicious side together. No-cook. 10 minutes. It is SO EASY. Skip the store-bought version and take 10 minutes to put this together.
YES…10 MINUTES!!! It is not a typo!
Cut up the vegetables. Or if you are lazy like I am, buy store-bought shredded cabbage and carrots 🙂 . Throw them into a large bowl. Toss those plum raisins into the bowl along with the veggies.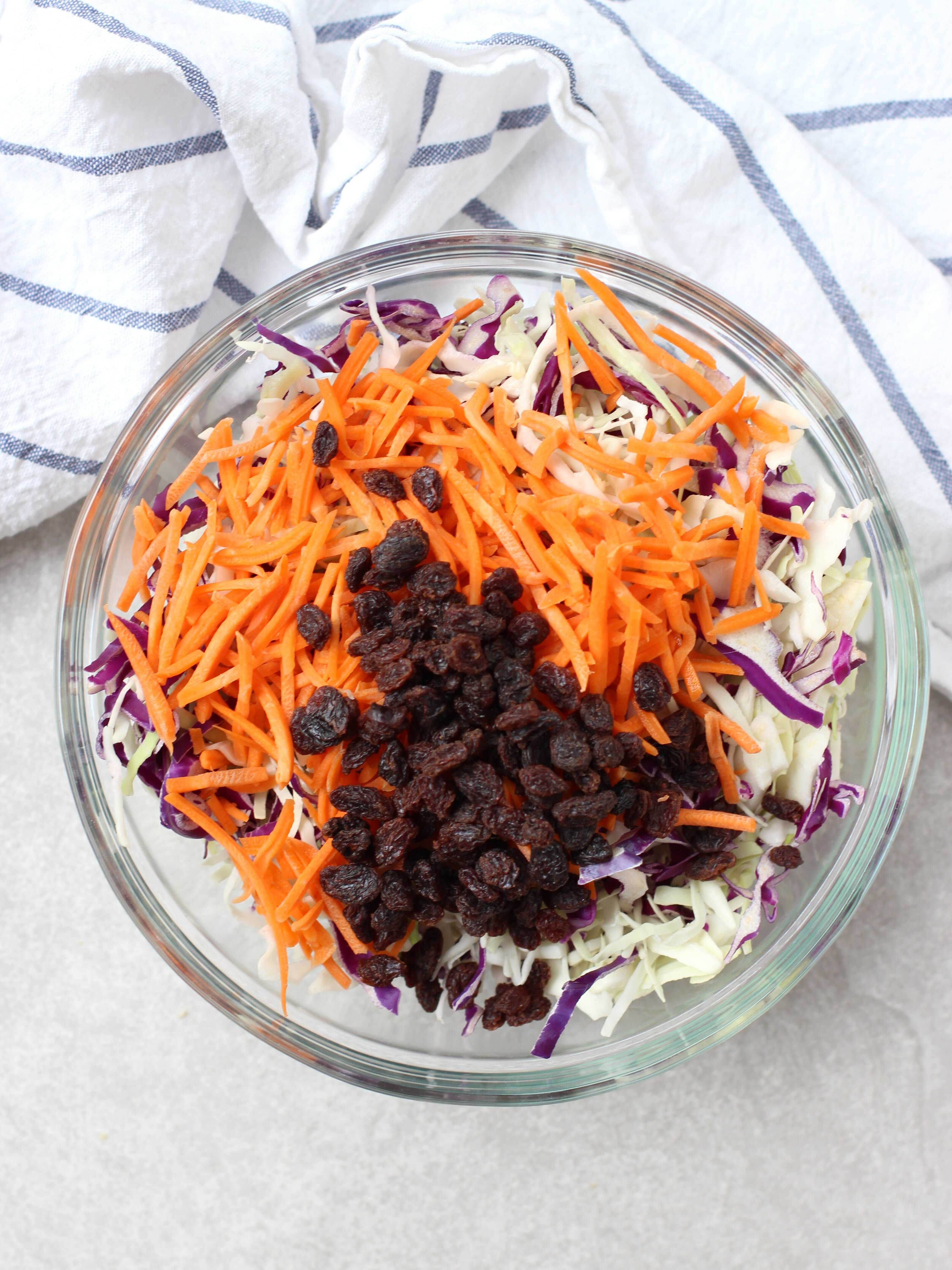 The dressing is made out of mayonnaise, apple cider vinegar (white vinegar would work too), sugar and a tiny pinch of salt. Mix everything together, then pour into the bowl of cabbage and carrots.
Using a pair of tongs, give it a nice toss.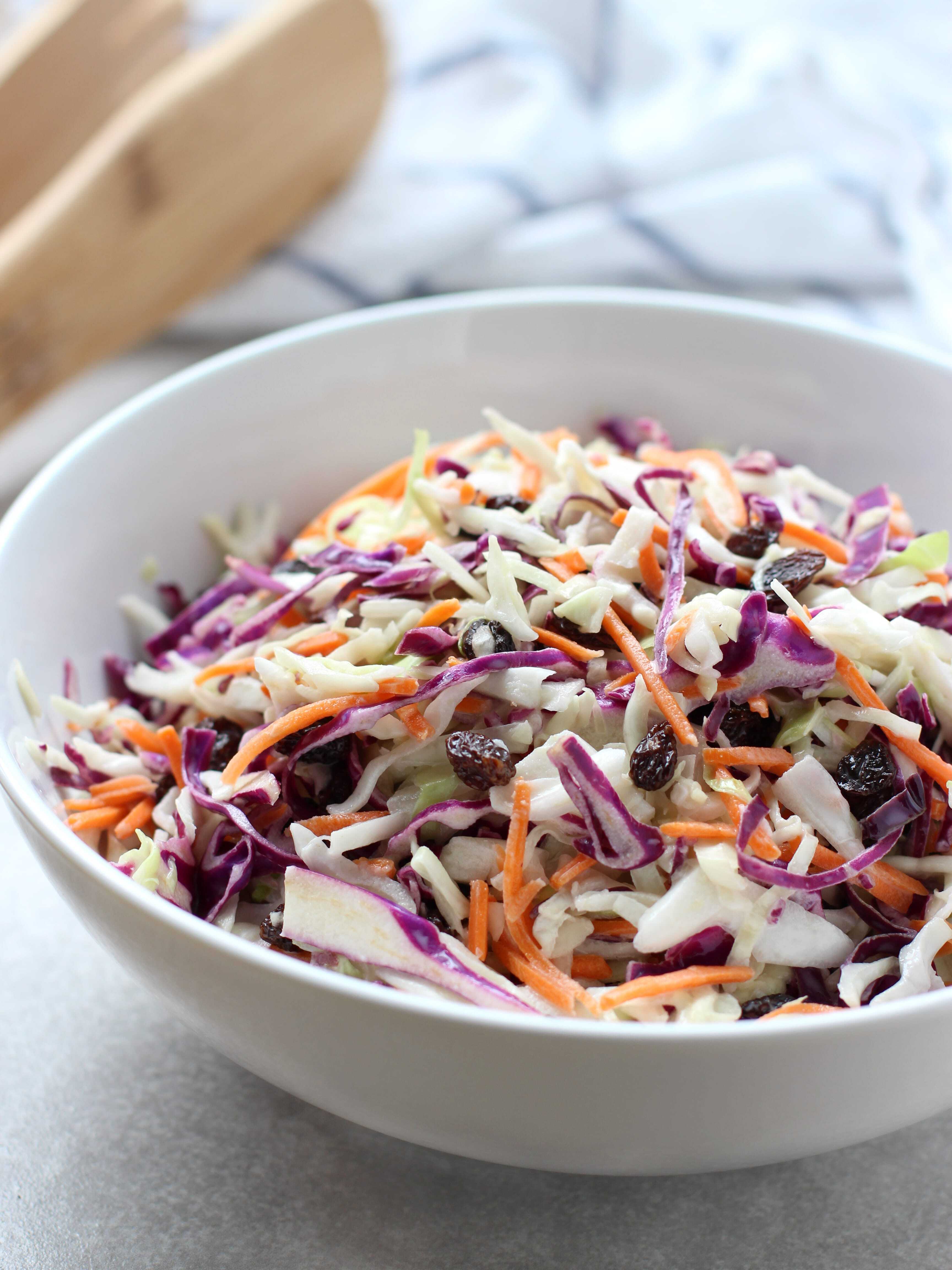 THAT. IS. IT
Chop the veggies, make the dressing, pour the dressing, toss the coselaw.
You know it is the real deal when you can write the recipe in ONE SENTENCE, and have the dish turn out so SCRUMPTIOUSLY GOOD you cannot stop eating it. Some call this coincidentally easy, I would like to call it the BEST KIND OF FOOD.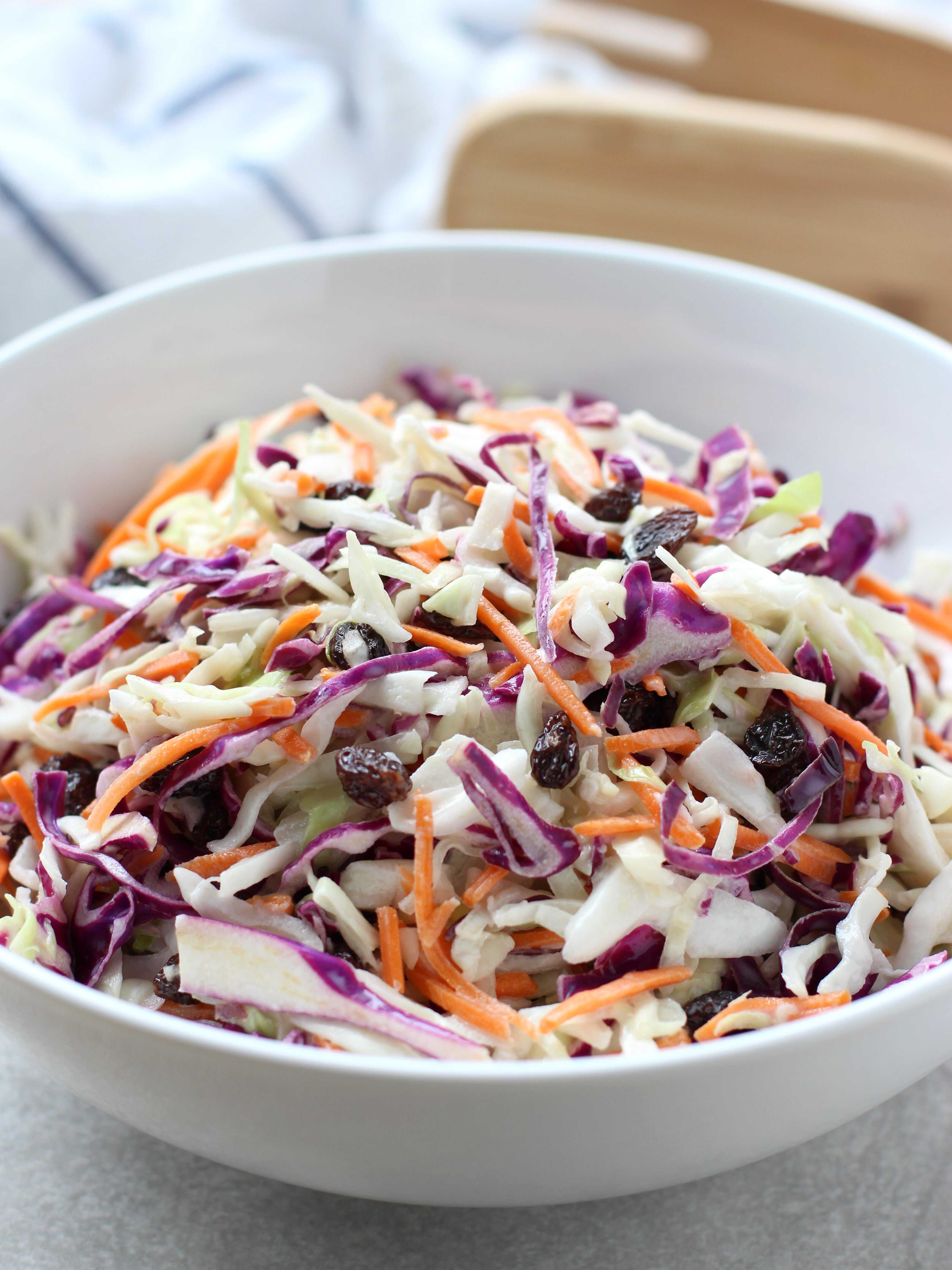 So ladies and gents, I hope you are as excited as I am right now, because my excitement is quite high. I am a sucker for easy recipes that taste like a million bucks. This happens to be one of them.
Whip this together (10 minutes!!) for your next meal! It saves well for a couple of days in the refrigerator, and tastes great as leftovers.
If you are generous and want to share the love, double (or triple) the recipe, and bring this fantastic party dish to your next cookout or picnic or party…your friends and family will thank you for it!
DID YOU ENJOY THIS RECIPE? Please comment below and give us a 5-star rating! This will help others find this recipe on Google and Pinterest. We very much appreciate your help! 🤍
More Delicious Summer Sides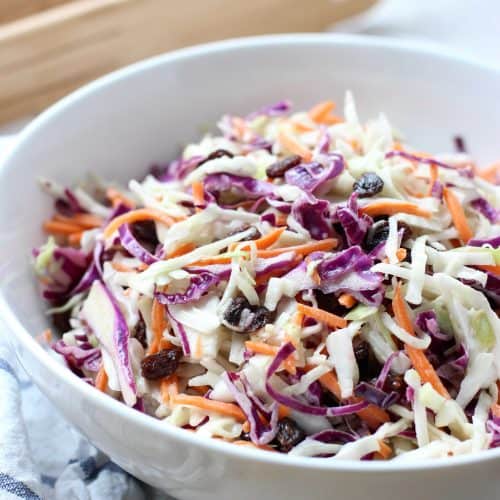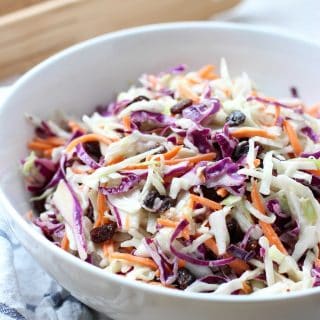 Light Raisin Coleslaw
A lighter and healthier version of coleslaw! Full of flavor and crunch – this is the perfect no-cook side for any meal. Takes only 10 minutes to make!
Print
Pin
Ingredients
8

oz

cabbage

shredded

1/2

cup

carrots

shredded

1/4

cup

raisin

1/4

cup

mayonaise

3

tbsp

sugar

1 1/2

tbsp

apple cider vinegar

1/2

tsp

salt
Instructions
Finely chop up cabbage and carrot (if necessary) and add them, along with raisins, into a large bowl.

In a small bowl, mix well mayo, sugar, apple cider vinegar and salt to create dressing.

Add dressing to large bowl with shredded cabbages and carrots, and toss to combine.
Nutrition
Calories:
119
kcal
|
Carbohydrates:
14
g
|
Protein:
1
g
|
Fat:
7
g
|
Saturated Fat:
1
g
|
Polyunsaturated Fat:
4
g
|
Monounsaturated Fat:
2
g
|
Trans Fat:
1
g
|
Cholesterol:
4
mg
|
Sodium:
269
mg
|
Potassium:
153
mg
|
Fiber:
2
g
|
Sugar:
8
g
|
Vitamin A:
1825
IU
|
Vitamin C:
15
mg
|
Calcium:
22
mg
|
Iron:
1
mg