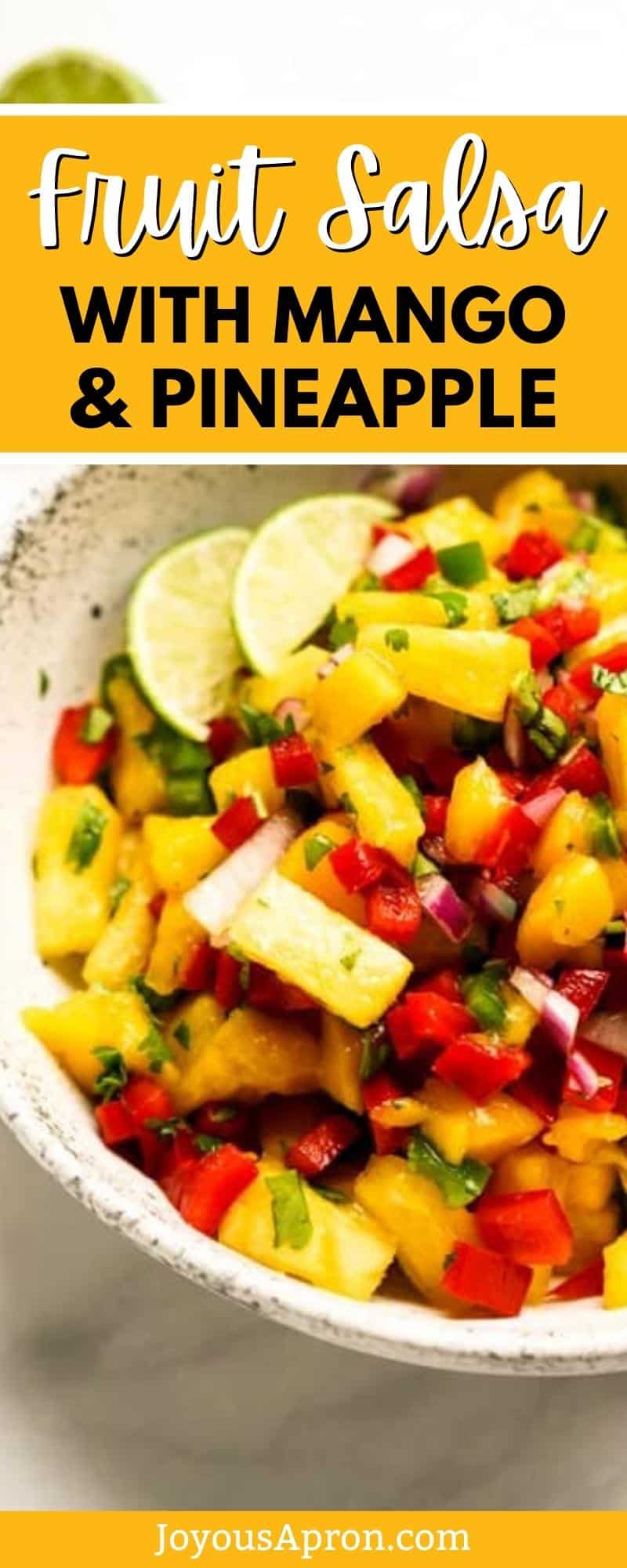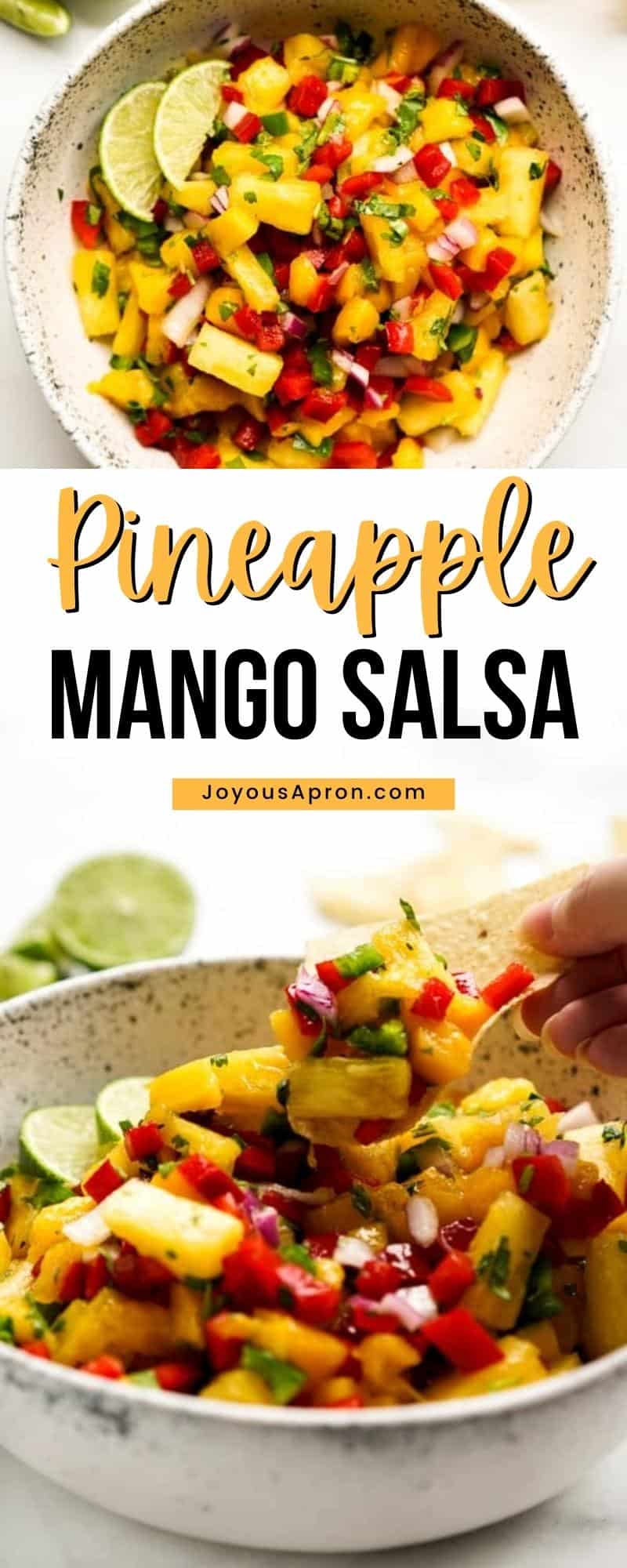 Fresh, flavor-bursting Pineapple Mango Salsa. So versatile, so delicious.
It's my new favorite spring and summer side dish, topping, dip, snack…ALL THE THINGS!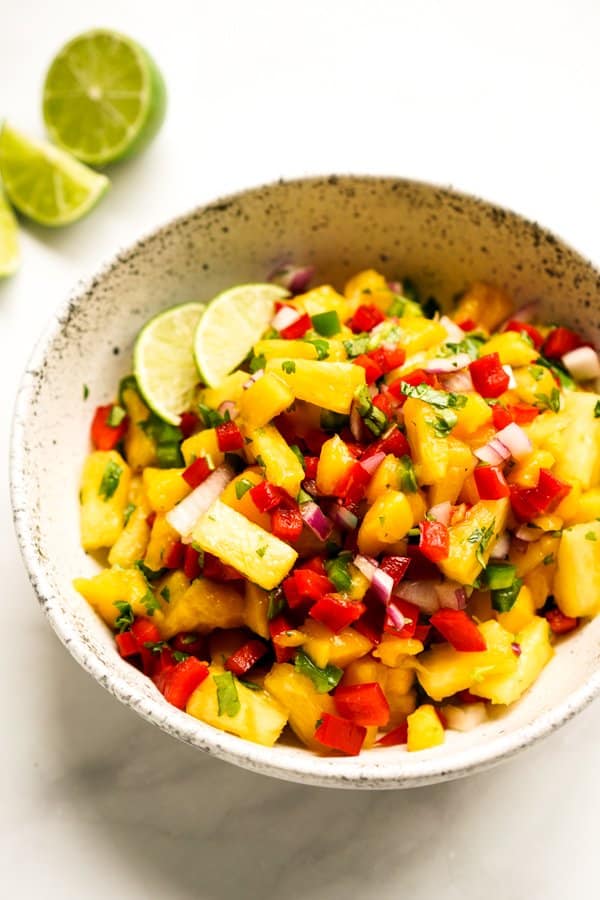 The flavors – savory, sweet, sour, a little kick, and slightly tangy.
The vibrant colors.
The gorgeous textures.
And it takes only a handful of ingredients, no cooking, 15 minutes of your time, and lots of fresh tropical summer fruits and herbs to make this Pineapple Mango Salsa come alive!
The month of May rolls around and I am busting out my favorite spring and summer recipes.
This is definitely not my first fruit-salsa rodeo. Almost every summer I come up with another type of fruit salsa. Yes, just call me a salsa junkie.
If you like this Pineapple Mango Salsa, don't forget to check out some of my other favorites including Fish Taco with Mango Peach Salsa, Marinated Flank Steak with Avocado Salsa, Chipotle Corn Salsa, and Avocado Corn and Black Bean Salsa. I have this feeling you'll love them as well.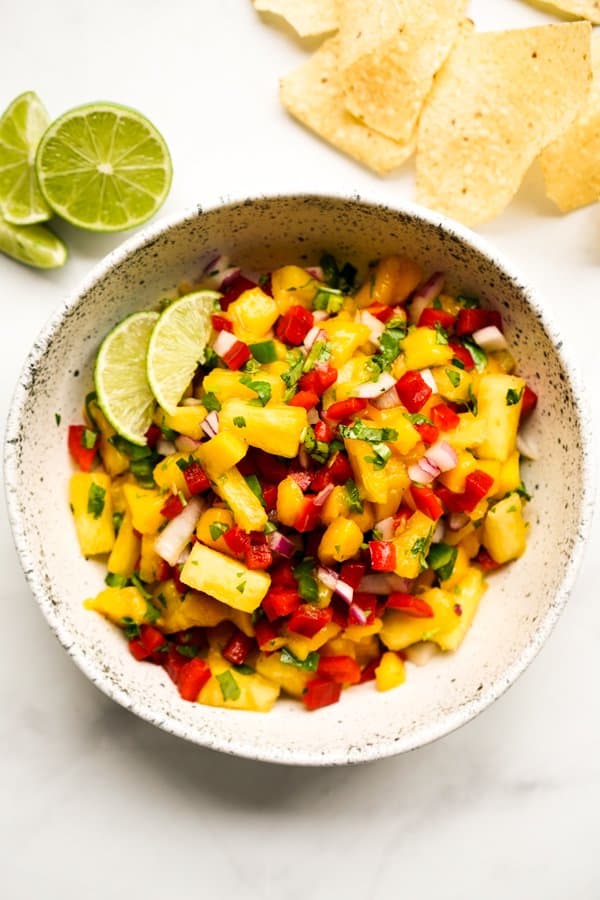 I know it's good when I find myself standing at the counter eating it off Mango Pineapple Salsa from the serving bowl after photographing it.
So here's a fair warning: when you get started it's hard to stop…
The good news is it's made with fresh fruits and vegetables, and no refine sugar. So it's actually pretty healthy.
But regardless…proceed with caution!
Salsa Ingredients
What I absolutely adore about this recipe is that it uses fresh, light and flavorful ingredients.
It's healthy while being so dang delicious. That's what I call win-win!
Here are the ingredients that goes into Pineapple Mango Salsa: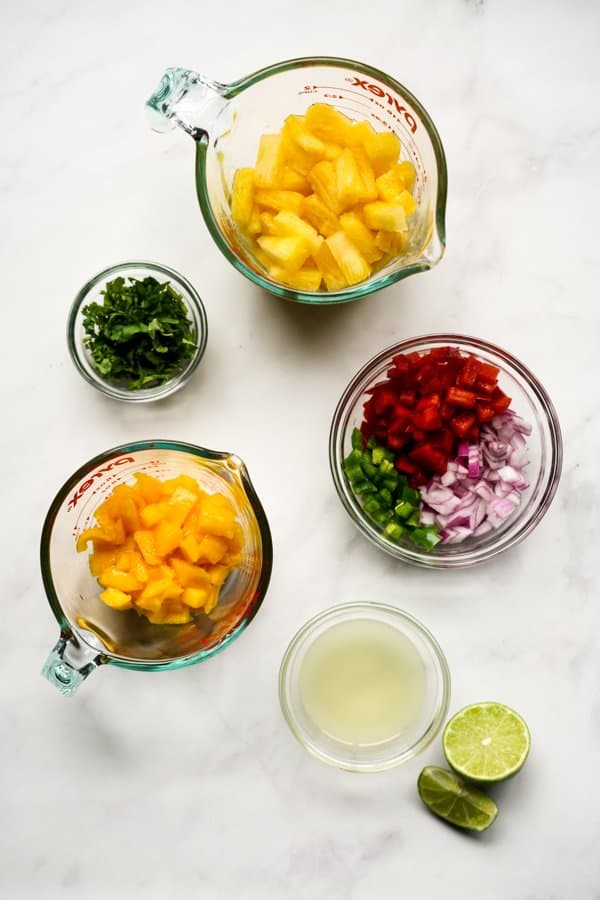 Pineapple – use fully ripen, sweet pineapples
Mangoes – use fully ripen, sweet mangoes as well
Cilantro – brings so much flavor and a burst of freshness in every bite.
Red bell pepper – brings about another dimension of flavor.
Jalapeño – something about jalapeño complements this dish and combines with mangoes and pineapples incredibly well. Honest talk: jalapeño is not my favorite ingredient but it is a must for this! It also brings about a slight kick. Add more if you want it spicer.
Red onions – bring about a nice kick as well.
Lime juice – I think of this as the ingredient that brings everything together
Salt – necessary to open up the flavors of each ingredient.
Every single ingredient serves a distinct purpose and brings its own unique flavor and texture to the dish. So avoid skipping any of them unless you really have no choice!
How to Make It
There are really just two parts to this:
Chop/prep fruits and vegetables
Bring it together and combine!
EASY PEASY!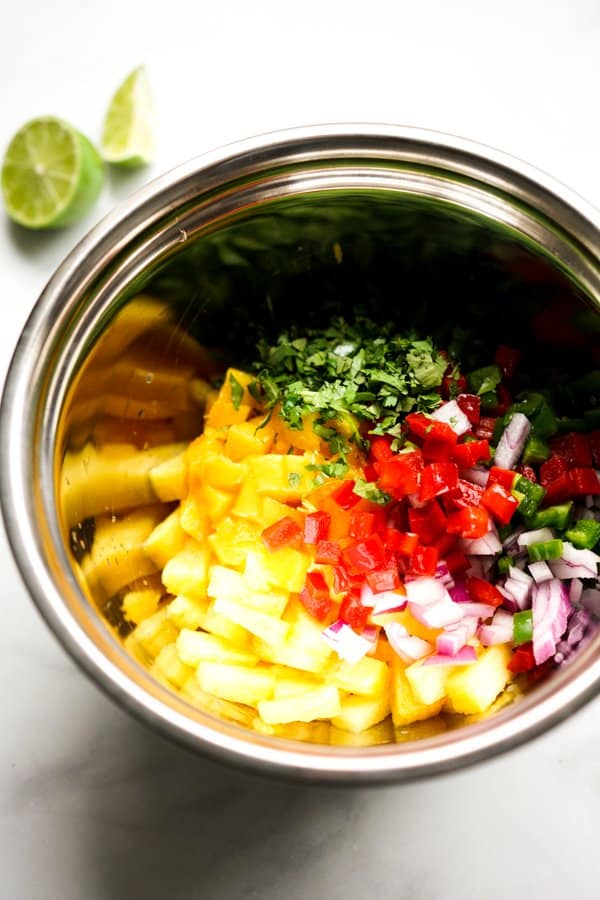 The chopping and prepping part takes the most time, and then you combine everything together and voila, it is done!
See how easy it is!!
Tips and Tricks
A few additional notes:
Use ripe and sweet mango and pineapples! The more sugary sweet the fruits taste, the better the Pineapple Mango Salsa would be. That is why in-season pineapples and mangoes are the best for this recipe. A ripe mango will turn orange/yellow/red (not green) and a ripe pineapple will be yellow (not green). Sniff the uncut fruits and it should have a fragrant sweet smell if it is ripen.
Add more jalapeño and red onions if you like it spicier. It is currently a pretty mild salsa.
Just a big mixing bowl when tossing everything together so it will be combined evenly.
Salt is use to open up the flavors so add more if your Pineapple Mango Salsa is on the blander side. This can also help sweeten the dish slightly if your pineapples and mangoes are not very ripe or super sweet.
All the ways to serve it
One of my absolute favorite things about this dish: its versatility.
If you are like me and you get tired of the one way of making something, here's something you can create many, many different dishes from it.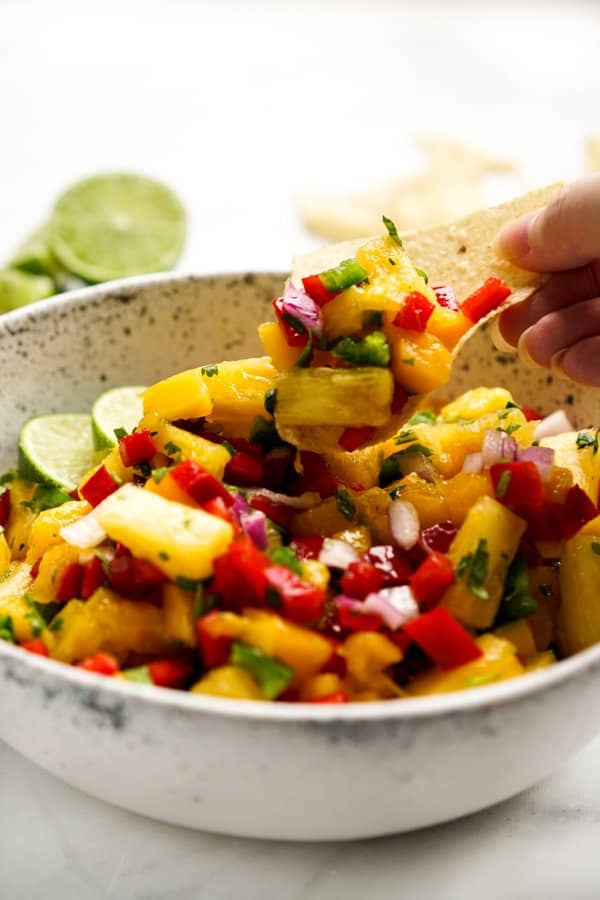 Serve as a side dish at summer bbq, cookouts or dinner any day!
Serve as a topping to your favorite meats and proteins: salmon, tilapia, steak, chicken, shrimp, and much more.
It's the perfect dip! And plain tortilla chips makes the perfect dipper for this!
Hungry in the middle of the day? It's a great snack especially if you are craving something sweet and are trying to avoid chocolates or candies (my lifetime weakness).
By itself! I can't tell you how many times I've done this. It is that good. Grab a spoon and dig in!
Make ahead and storage
As for making ahead, this Fresh Pineapple Mango Salsa definitely tastes the best fresh, but it can be store in an air tight container for up to 2 days in the refrigerator.
If you can, I highly recommend making it the day of. Leftovers are be stored in the fridge but the mango and pineapple pieces will product some moisture and will not be as plump and fresh. Herbs like cilantro will not have as fresh of a bite and flavor as well. It is however, totally edible and still pretty good!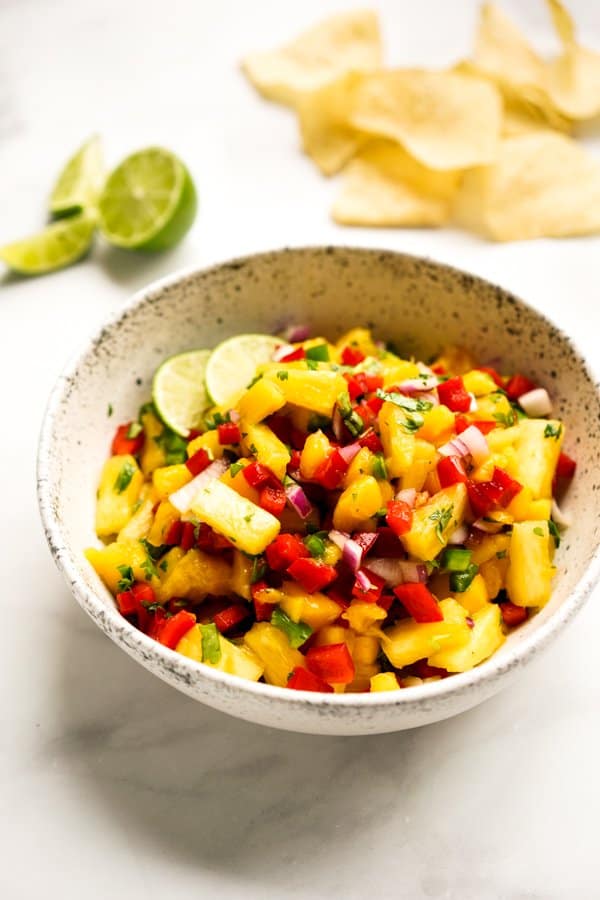 More Spring and Summer Side Dishes
DID YOU ENJOY THIS RECIPE? Please comment below and give us a 5-star rating! This will help others find this recipe on Google and Pinterest. We very much appreciate your help! 🤍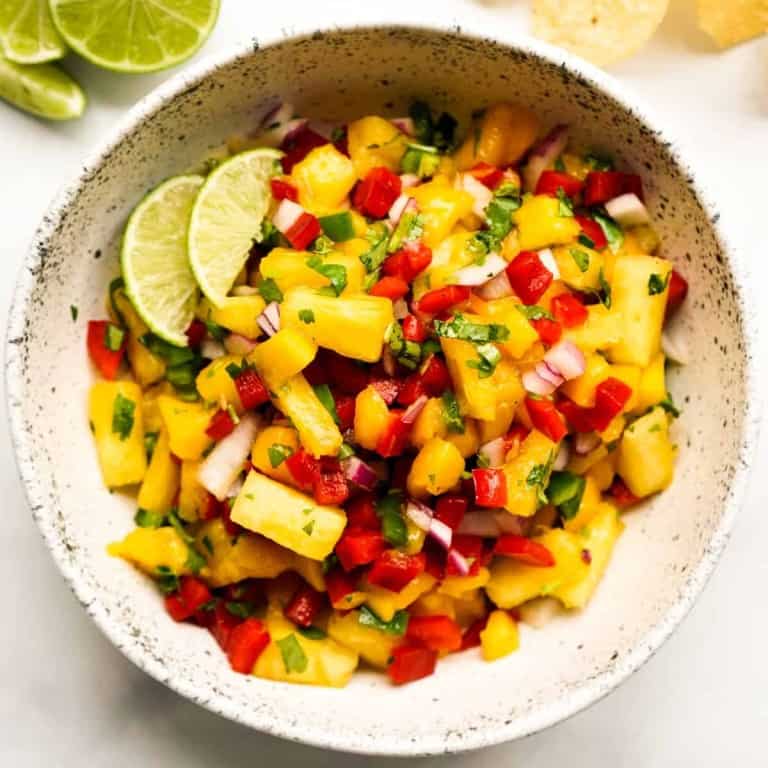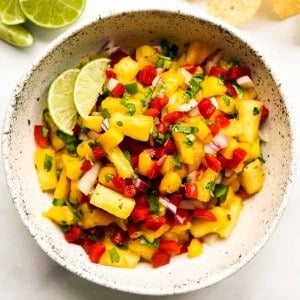 Pineapple Mango Salsa
Fresh, light and healthy Pineapple Mango Salsa with fresh pineapples, mangoes, bell peppers, red onions, cilantro and lime juice. The perfect spring and summer side dish
Print
Pin
Ingredients
2

cups

pineapple

cubed

1

cup

mango

cubed

1/2

cup

red onions

diced

1/2

cup

red bell peppers

diced

1

tbsp

jalapeño

diced

1

tbsp

lime juice

1/4

cup

cilantro

salt

to taste
Instructions
Slice and prep fruits, vegetables and herb.

In a big bowl, combine everything except salt. Mix well, add salt to taste.
Nutrition
Calories:
55
kcal
|
Carbohydrates:
14
g
|
Protein:
1
g
|
Fat:
1
g
|
Saturated Fat:
1
g
|
Sodium:
99
mg
|
Potassium:
164
mg
|
Fiber:
2
g
|
Sugar:
10
g
|
Vitamin A:
792
IU
|
Vitamin C:
57
mg
|
Calcium:
15
mg
|
Iron:
1
mg