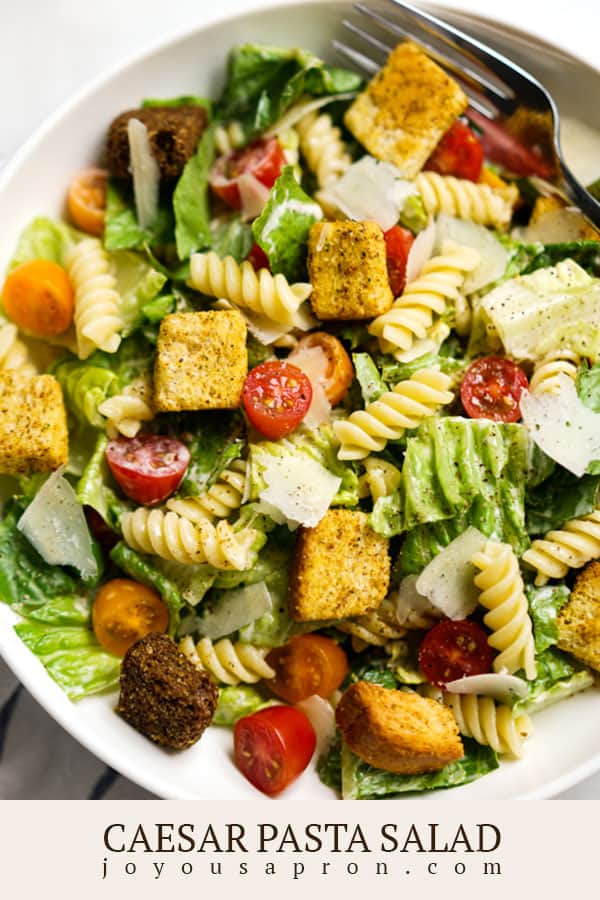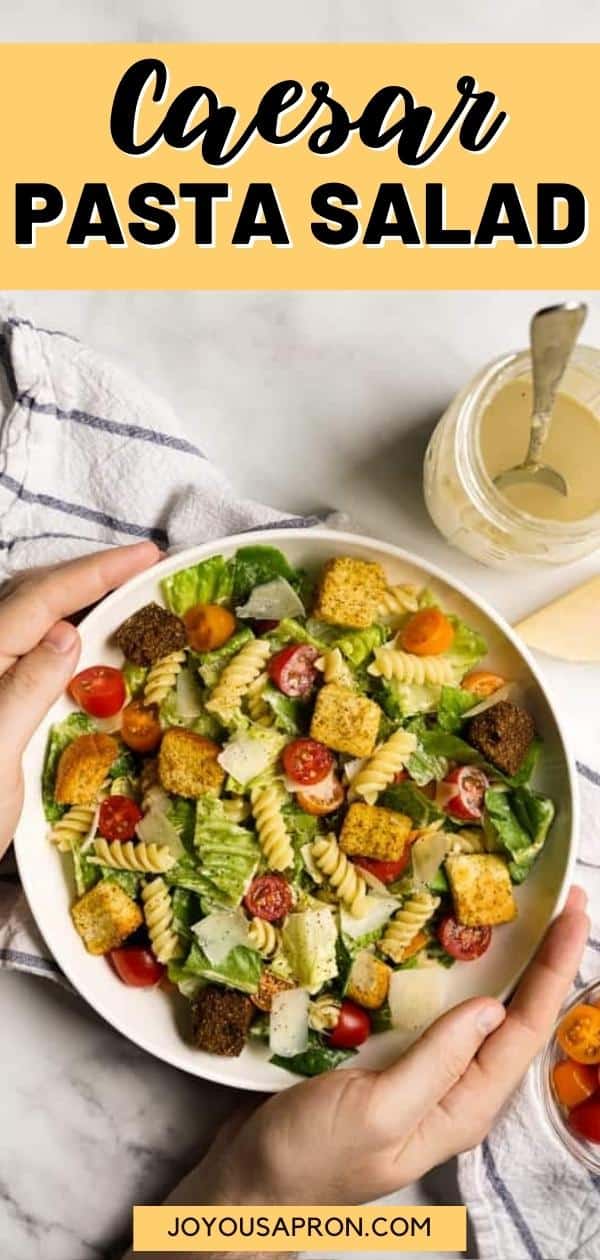 This Caesar Pasta Salad is giving me all the happy summer vibes!
Romain lettuce combined with cherry tomatoes, croutons, parmesan cheese and chewy rotini pasta, tossed in a simple and delightful homemade Caesar dressing. Fresh, zesty, crunchy, tangy, creamy, crispy. Every bite is bound to make your tastebuds dance!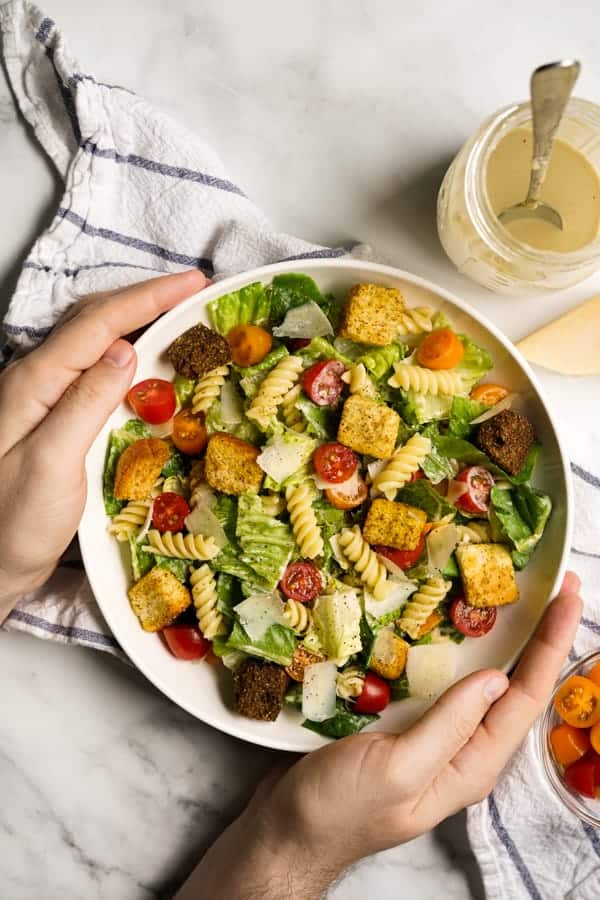 During the warm summer months, I can never get enough of delicious fresh, bright salads.
Just like my Greek Cucumber Salad, Light Raisin Coseslaw, Caprese Salad with Avocados, and Avocado Quinoa Salad, this easy and yummy Caesar Pasta Salad is the perfect light lunch, cookout side dish, and pairs well with your favorite summer meals.
Not only do I love how it tastes. I love how it makes me feel.
You know how you finish eating a meal and you just feel good? I had this for lunch a couple of times a week for the last few weeks and I just love how it fills me up without making me feel heavy and bloated.
I feel good and healthy and light after eating it. And I also happen to enjoy every single bite of it and love the actual taste of it.
Feels good, tastes good, pretty good for you…
I mean, seriously…it doesn't get better than that!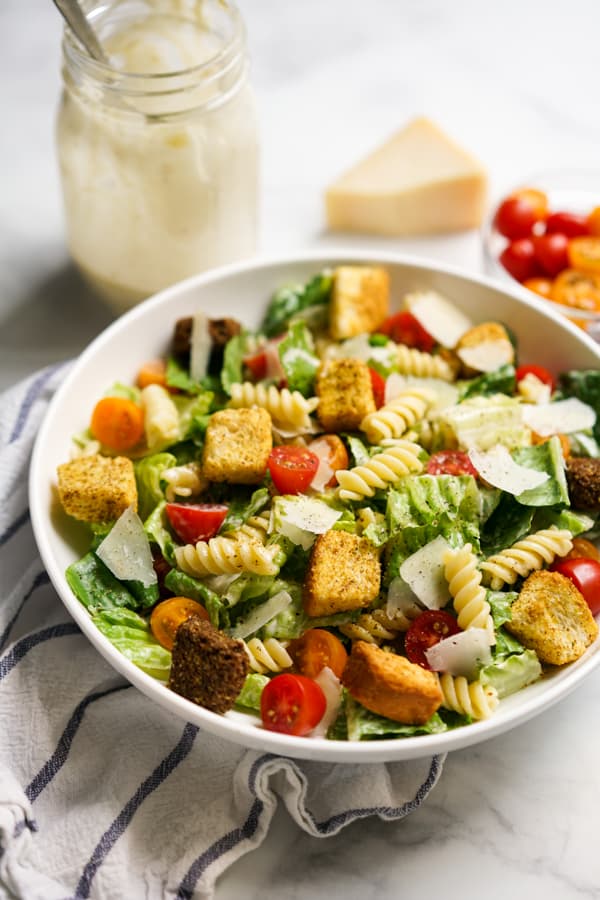 Let's Make Caesar Pasta Salad!
Homemade Caesar Dressing
Ahh – a good Caesar dressing is crucial in the makings of a good caesar salad. This gorgeous dressing is creamy and flavorful, yet still fairly light and tangy.
Traditional Caesar dressings typically contain raw egg yolk. I will admit I am not the biggest fan of consuming eggs raw. Every now and then on special occasions at fancy Italian restaurants, sure. Whip up that raw-egg-yolk Caesar Salad and I will indulge with my whole heart.
But I really do not want to deal with messing with raw egg yolks for a Caesar Pasta Salad that I will be bringing to a summer cookout or storing in my fridge for my weekday lunches.
So all that to say, I forgo the raw egg yolks and substitute with mayo instead to get a similar flavor profile and creamy texture. I tested and tried many different combinations to get that perfect depth of flavor that we all know and love in a good Caesar dressing.
After many trial and error attempts, I am proud to say my raw-egg-yoke-less Caesar dressing is truly the bomb dot com.
Just combine the ingredients below and get ready to be wowed:
Mayonaise
Lemon juice
Dijon mustard
Worcestershire sauce
Fresh Garlic – do not sub with garlic powder, use the fresh kind!
Anchovy Paste – also forgo the real anchovy thing because that's just too much work. This will get very similar results.
Salt and Black Pepper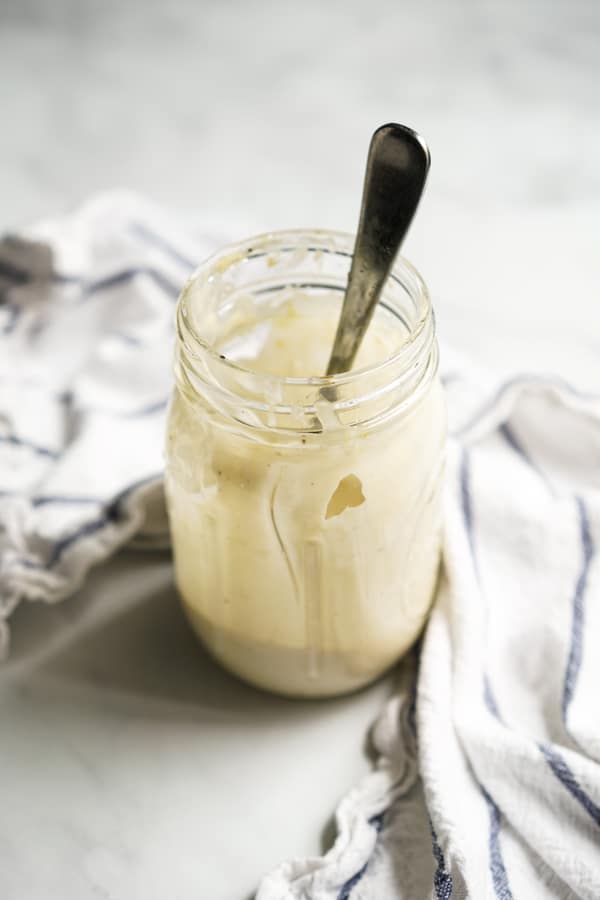 Creamy, yet still fairly light. Flavorful, tangy and so much depth in flavor (thank you anchovy paste). Don't shy away from the anchovy paste. It really gives an incredible flavor that is distinct to Caesar salads without any fishy taste at all. The paste version also make it very user-friendly.
It is also important to note that even though parmesan cheese isn't added into the dressing, it will be sprinkled onto the salad and is an important ingredient that will add to the flavor of the dressing and complete the dish.
Pro tip: use good parmesan cheese! Buy the block parmesan and shred it yourself for the best-tasting parmesan. And avoid those non-refrigerated grated parmesan cheese…there's usually other stuff added to it and it's not just parmesan cheese! 😉
Other Caesar Pasta Salad ingredients
We want to incorporate different textures to the salad so here are a few simple ingredients that make this Caesar Pasta Salad the fabulous salad that it is:
Romaine Lettuce
Cherry Tomatoes
Rotini Pasta – you can also use penne, rigatoni or ziti
Croutons – I typically use store bought, but if you have the time, make these Homemade Croutons and take this to the next level (it is more work but oh so good!)
Parmesan cheese – as I mentioned above, buy the block parmesan cheese and shave or shred it yourself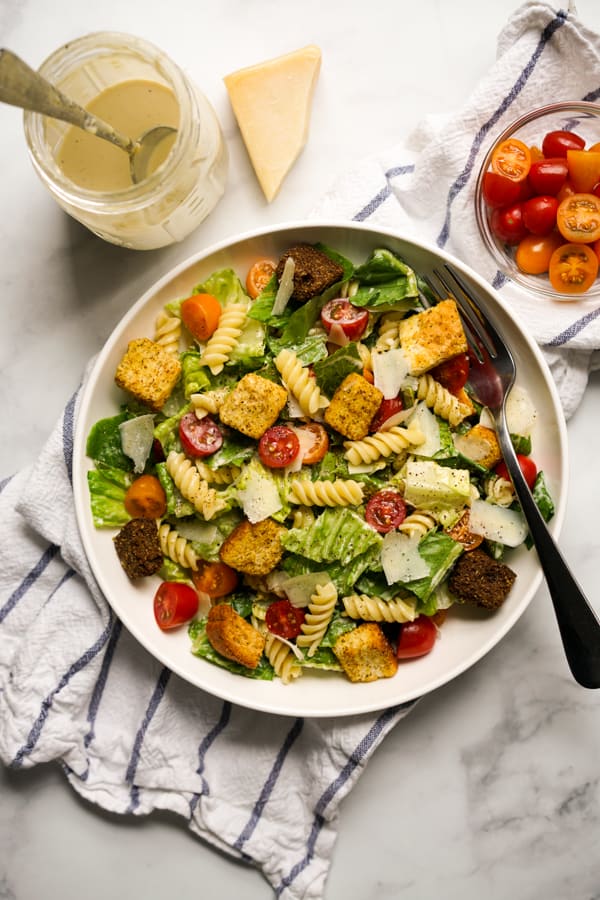 The combination of the crunchy lettuce, juicy sweet summer tomatoes, chewy pasta, crispy flavorful croutons, parmesan shavings and the creamy zesty dressing is a beautiful concoction of flavors and textures.
I could eat this every day and never get tired of it!
Tips and Tricks
True story: I use to dislike salads. I dislike it until I learned how to make a good salad. Then I grew to love salads. Like a lot. But I still only love the good kind. 😉
These tips and tricks are subtle but make a big difference when it comes to taking a salad from just okay to great!
Use fresh and good ingredients. Fresh lettuce, fresh cherry tomatoes (do not refrigerate), good parmesan etc. I always preach fresh ingredients and it's especially crucial in a salad.
Pat dry lettuce after washing them. Use a salad spinner to dry lettuce, maintain its crispness, and prevent it from getting soggy.
Toss salad in dressing well. I like to toss it using a pair of tongs in a separate bowl to evenly coat everything in the dressing. It's an additional step but so worth it!
Only toss salad in dressing when you are ready to eat! If it will be sitting out for a while, or if you are storing it as leftovers, store the dressing separately, so that the lettuce will not become soggy.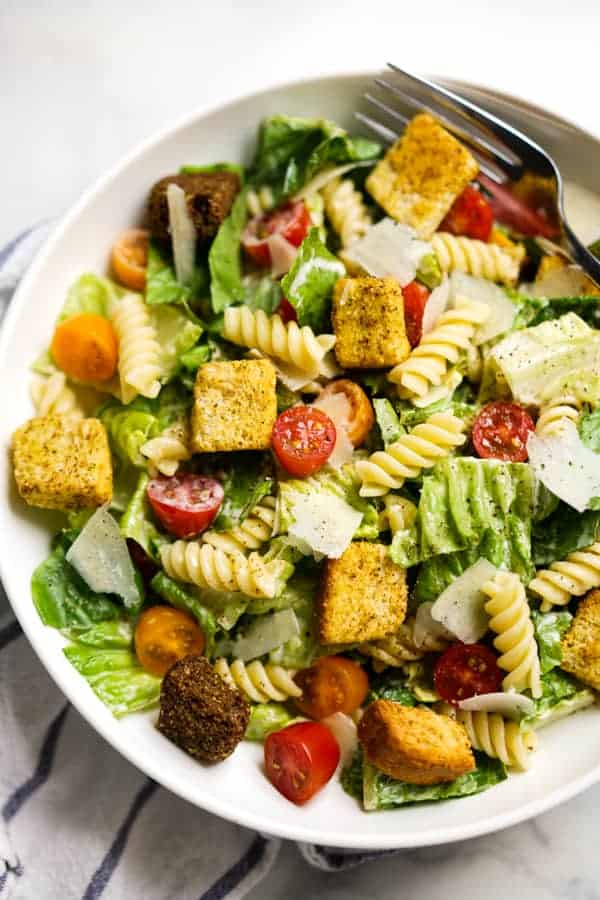 So there it is. Caesar Pasta Salad in all its glory.
Not just Caesar Salad. Because pasta makes everything better (and fills you up…because we are super practical around here too).
Caesar Pasta Salad, ladies and gentlemen. Prepare to fall in love!
P/S: 10/10 recommend this and a glass of White Peach Sangria for a relaxing weekend lunch. You gotta trust me here. 😉
DID YOU ENJOY THIS RECIPE? Please comment below and give us a 5-star rating! This will help others find this recipe on Google and Pinterest. We very much appreciate your help! 🤍
Other Salad Recipes!
Other yummy salad recipes that I think you will enjoy!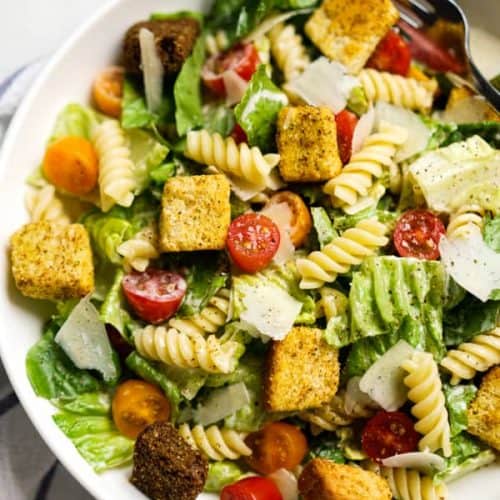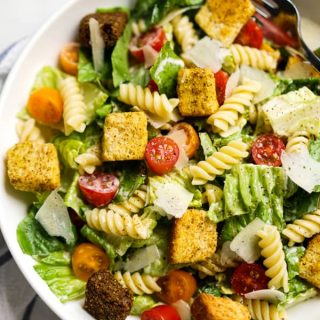 Caesar Pasta Salad
Romaine lettuce, cherry tomatoes, croutons, rotini pasta and parmesan cheese tossed in a tangy creamy homemade Caesar Dressing. A quick and delicious side dish or light lunch!
Print
Pin
Ingredients
4

oz

rotini pasta

1

head

romain lettuce

1

cup

cherry tomatoes

halved

1/3

cup

parmesan cheese

shaved

1

cup

croutons
Homemade Caesar Dressing
1/4

cup

mayonaise

2

tbsp

lemon juice

2 1/2

tsp

dijon mustard

1/2

tsp

Worcestershire sauce

1/2

tsp

anchovy paste

3

cloves

garlic

minced

1/4

tsp

salt

or to taste

a

dash

black pepper

or to taste
Instructions
In a medium pot, bring water to boil. Cook rotini pasta based on package instruction. When done, drain water from pasta.

In a mason jar or container, combine all the Caesar Dressing ingredients. Stir/shake to mix well.

In a large bowl, combine all the salad ingredients. Add dressing, toss using tongs to combine. Add more black pepper to taste if desire.
Notes
Serving size is based on serving Caesar Pasta Salad as a side dish. If serving as a main dish, this recipe will serve 2 people.
Serve dressing on the side if salad will not be consumed immediately.
When storing leftovers, store dressing separately in the refrigerator.
Adjust the amount of dressing accordingly. There should be enough dressing for a medium-heavy dressing Caesar Pasta Salad. Use less dressing if you like a lighter, less creamy salad.
Nutrition
Calories:
204
kcal
|
Carbohydrates:
24
g
|
Protein:
7
g
|
Fat:
10
g
|
Saturated Fat:
2
g
|
Cholesterol:
8
mg
|
Sodium:
339
mg
|
Potassium:
366
mg
|
Fiber:
3
g
|
Sugar:
3
g
|
Vitamin A:
9252
IU
|
Vitamin C:
12
mg
|
Calcium:
113
mg
|
Iron:
2
mg