Garlic Butter Dill Salmon
If you have 20 minutes you can make this recipe.
That's right. 20 minutes of your life is all you need to make all your Garlic Butter Dill Salmon dreams come true.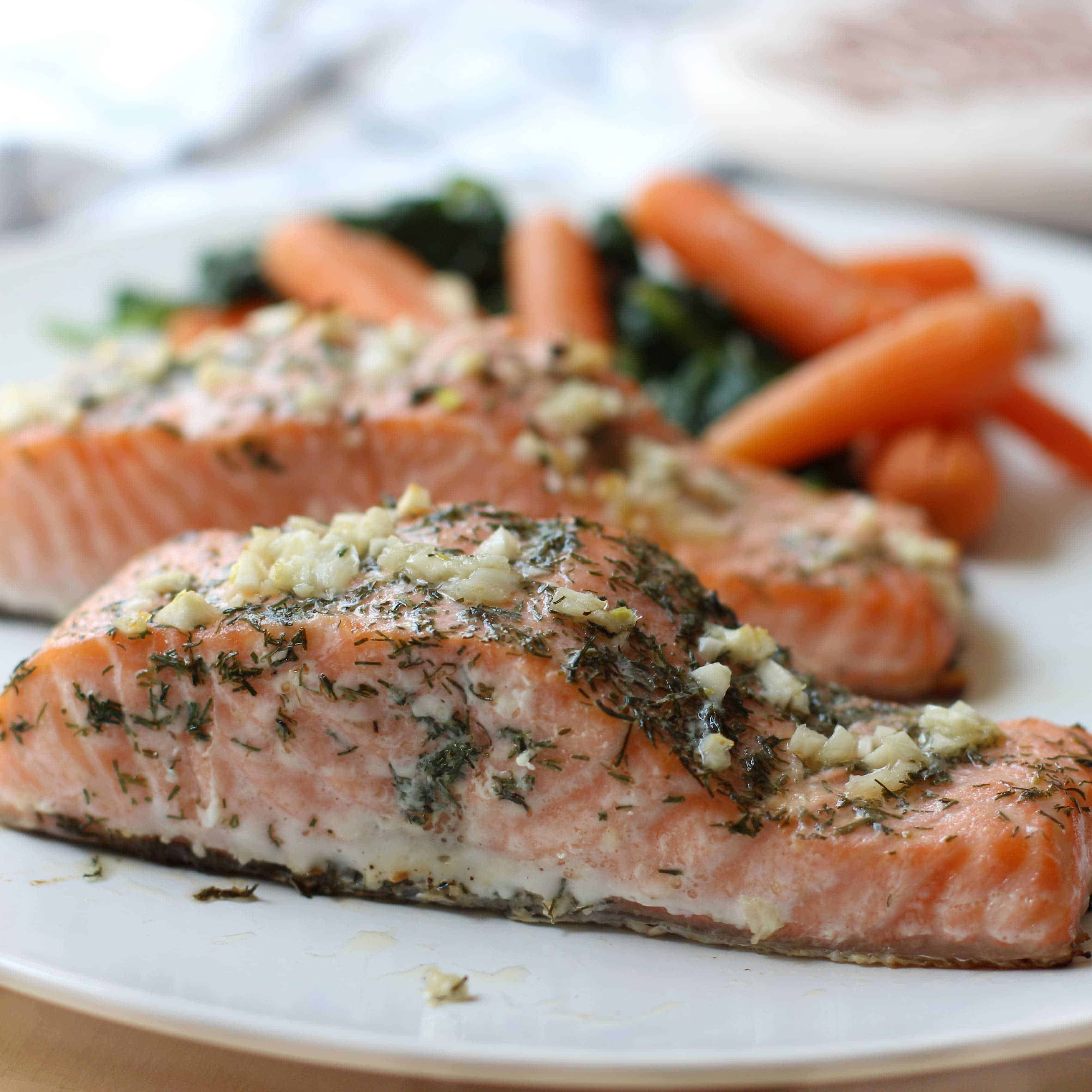 Garlic because it is probably the most overused (but deservedly so) spice on my blog; butter because I cannot live without butter (no judgement, please…); dill because dill and salmon together makes even more dreams come true.
Salmon is fairly easy to cook because it has so much depth in flavor that you don't have to do much with it, and it comes out tasting like a million bucks.
What type of Salmon to use
That being said, since the salmon sings the melody of this song, having a fresh piece of salmon is important.
I try to buy salmon fresh whenever I can. I would go up to the seafood counter to get my salmon or buy the pre-package fresh ones, as I find that they are so much better than any of the frozen ones I have tasted.
In my experience, Costco does carry a fairly decent frozen salmon most of the time, but if you can get fresh, I say go that route.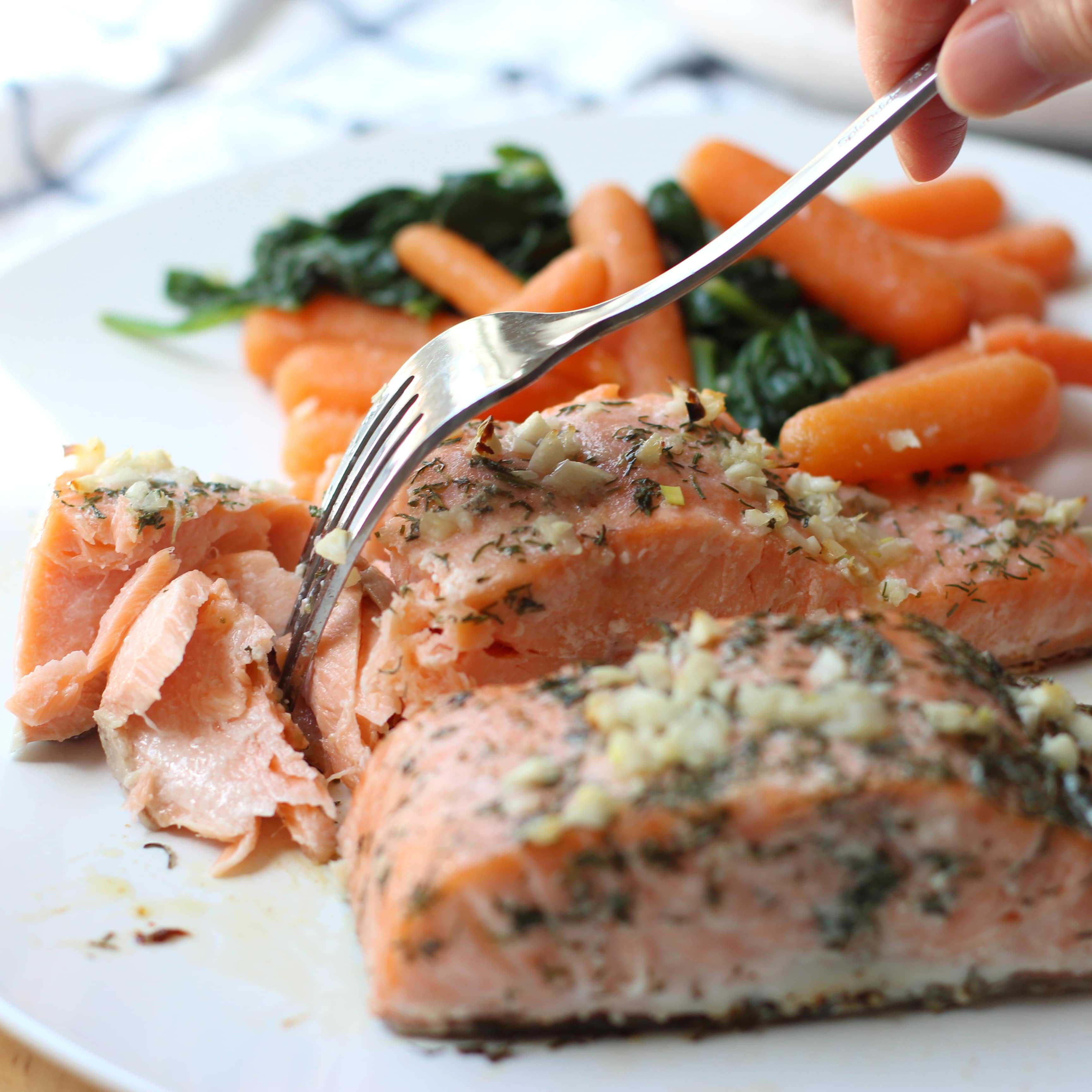 Easy Garlic Dill Salmon Recipe
With all that being said…Let's get cooking, shall we?
Start with a defrosted slice of salmon. Cut it into 2-inches wide fillets, rub olive oil all over fillets, and place salmon skin side down (if you are using skin-on salmon) on a baking sheet.
I like to line the baking sheet with parchment paper for easy cleanup. These days, parchment paper is my new best friend in the kitchen because it has made my baking and cooking life so much easier.
Next, sprinkle salmon fillets with lemon juice, salt, dill, and minced garlic.
Then, the important part – top each fillet with a few small chunks (~1/4 tsp each) of soften salted butter.
Butter will melt after baking, creating a gorgeous silky texture, and you can taste the layer of buttery goodness when you bite into the salmon.
Butter is my weakness.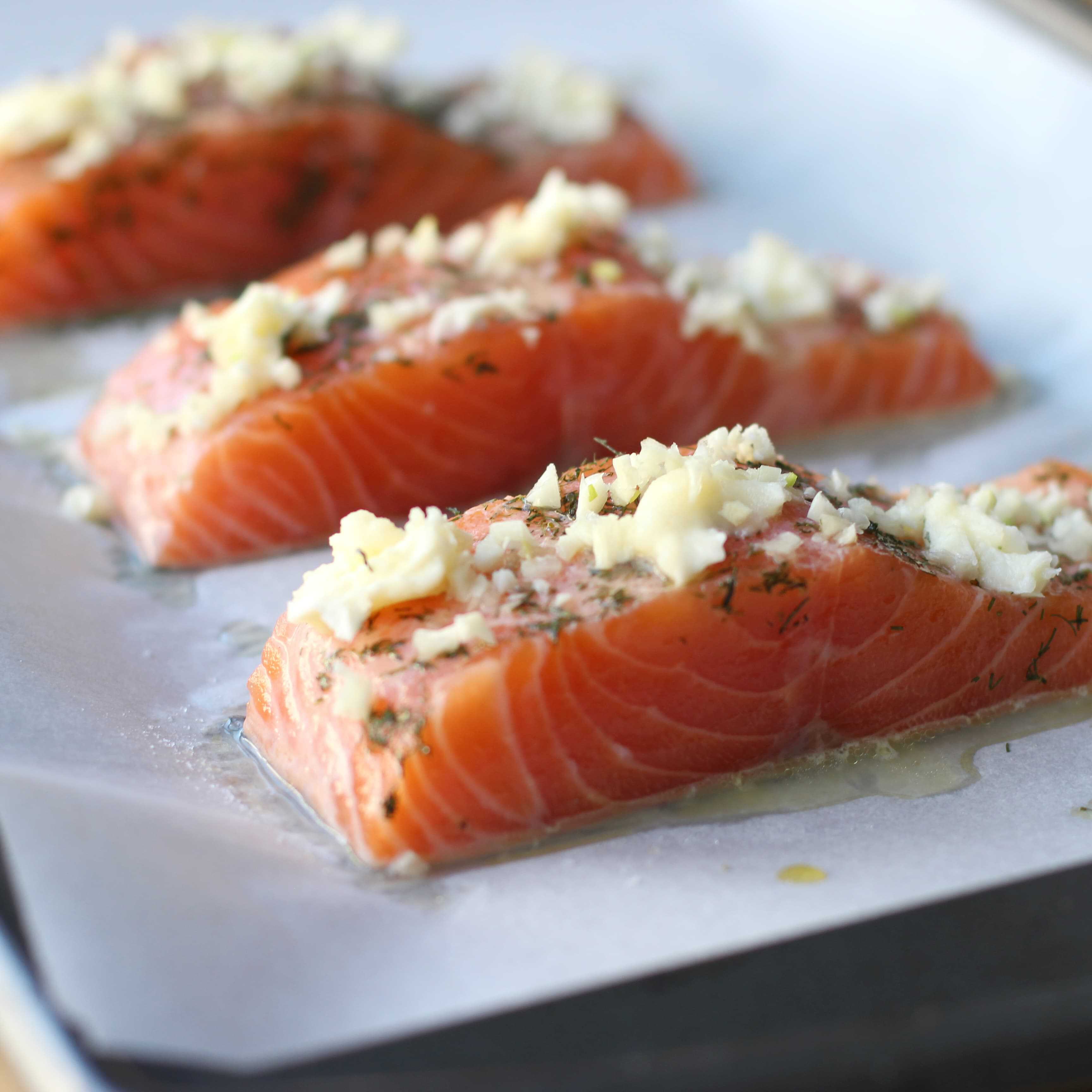 Bake salmon in the oven at 425 degrees F for 8-11 minutes.
Cook time varies as it will depend on the thickness of each salmon, and the temperature of the salmon (room temperature, right out of the fridge, etc) when you put it into the oven.
The salmon photographed took 10 whole minutes to cook. It is fairly thick and was a bit on the colder side when I put it into the oven.
Let the salmon bake in the oven and before you know it (a whole 8-11 minutes of it) – ta-da! Salmon is done.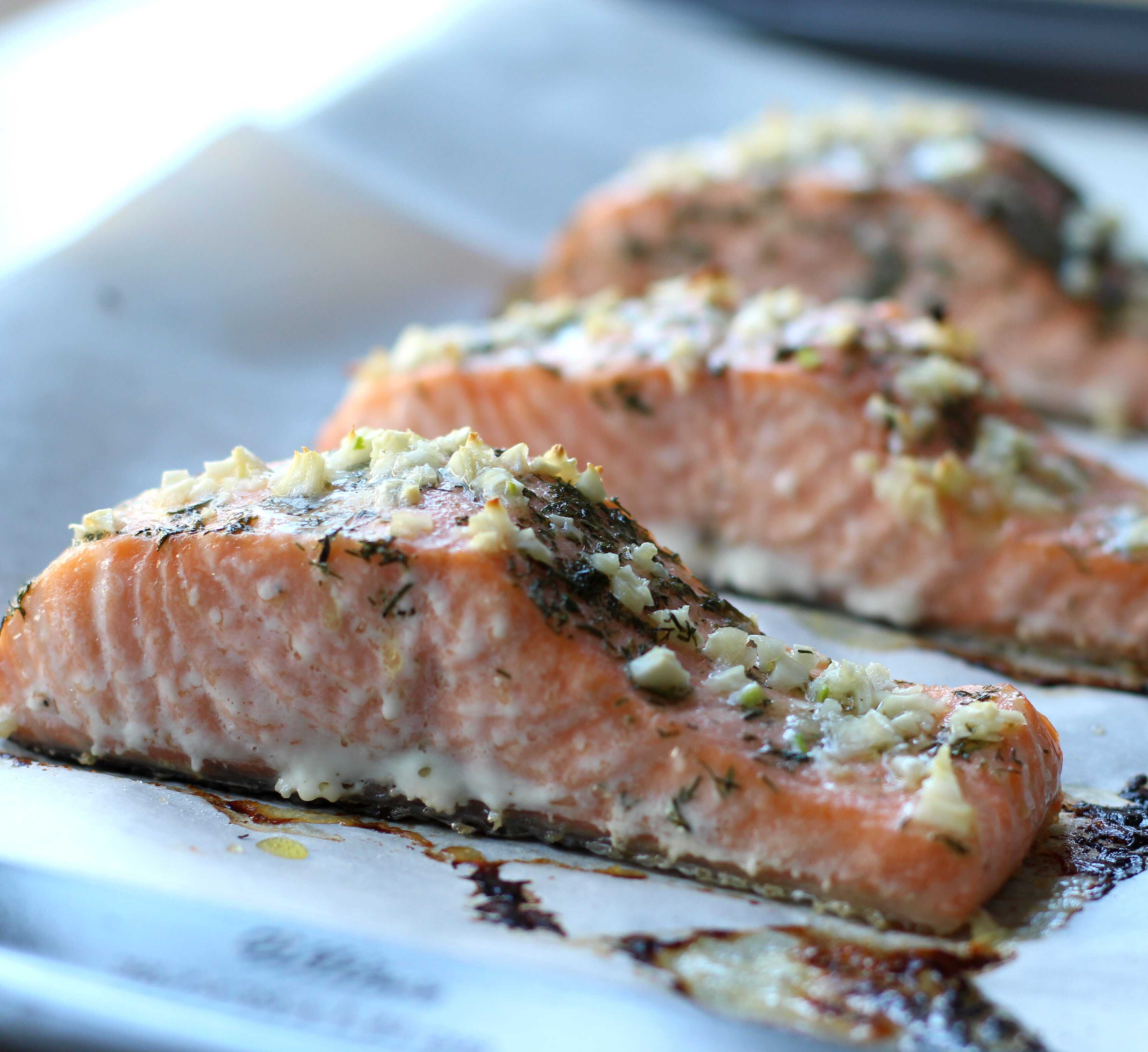 Do you see the butter melting on the sides??
Oh my oh my.
When you bite into it, you will taste the combination of glorious melted butter (be still, my butter-loving heart) mixed with fresh garlic and a fresh burst of dill.
You will also taste a soft hint of citrus from the lemon juice. Most importantly, there's that gorgeous deep flavor of the salmon.
The herbs and spices enhance and bring out the flavor of the salmon, without overpowering it.
And the salmon is cooked perfectly. Not overcook, not undercook. Just perfect.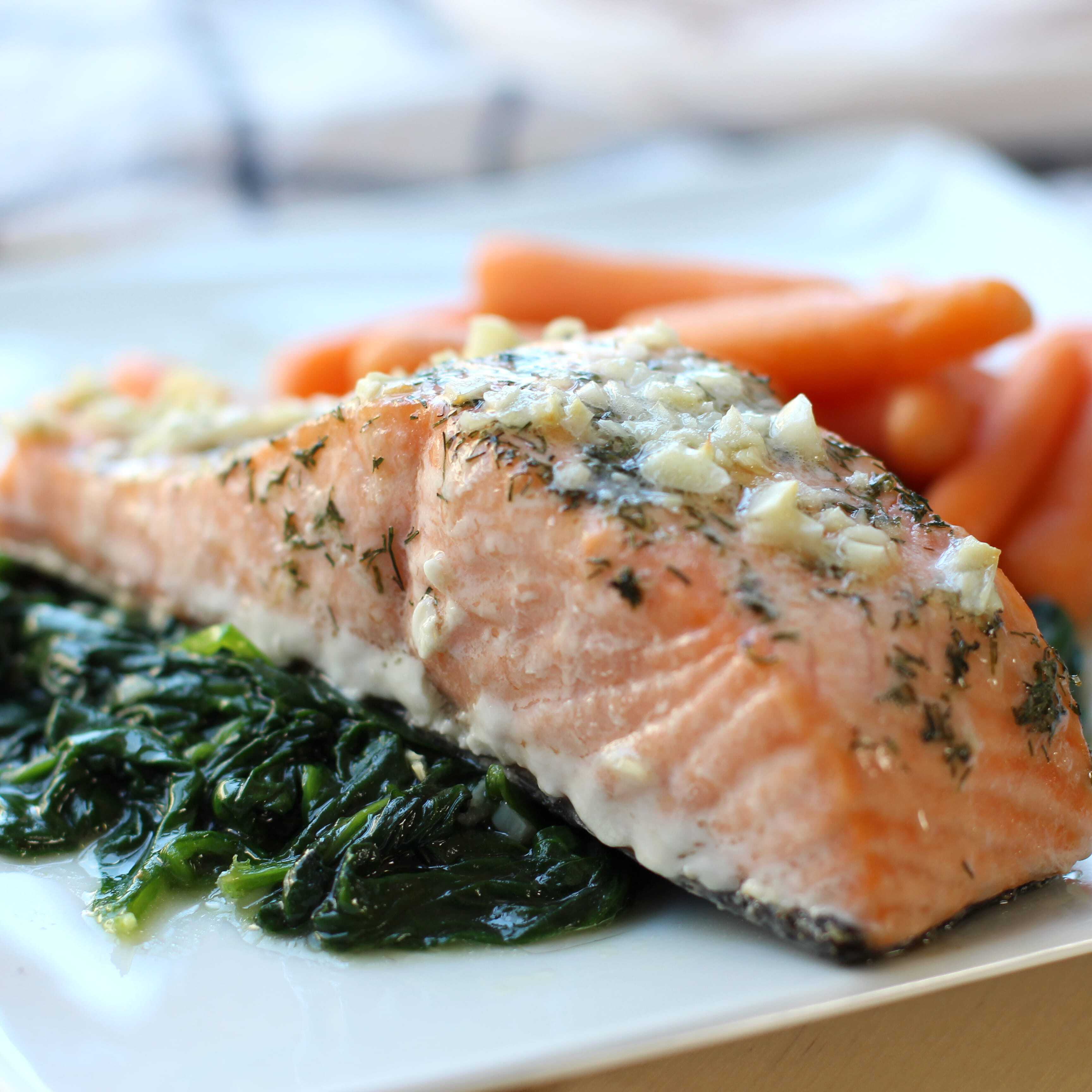 A quick weeknight dinner that is delicious, healthy and easy to make!
You can also turn this into a fancy dinner at home! Serve salmon with Creamy Mashed Potatoes, Adult Macaroni and Cheese or Smoked Gouda Mac and Cheese, Garlic Parmesan Asparagus and a glass of white wine.
If you are feeling super fancy pants, perhaps a Bruschetta appetizer to kick it all off?
Now all that sounds pretty dreamy to me.
OTHER FISH RECIPES
DID YOU ENJOY THIS RECIPE? Please comment below and give us a 5-star rating! This will help others find this recipe on Google and Pinterest. We very much appreciate your help! 🤍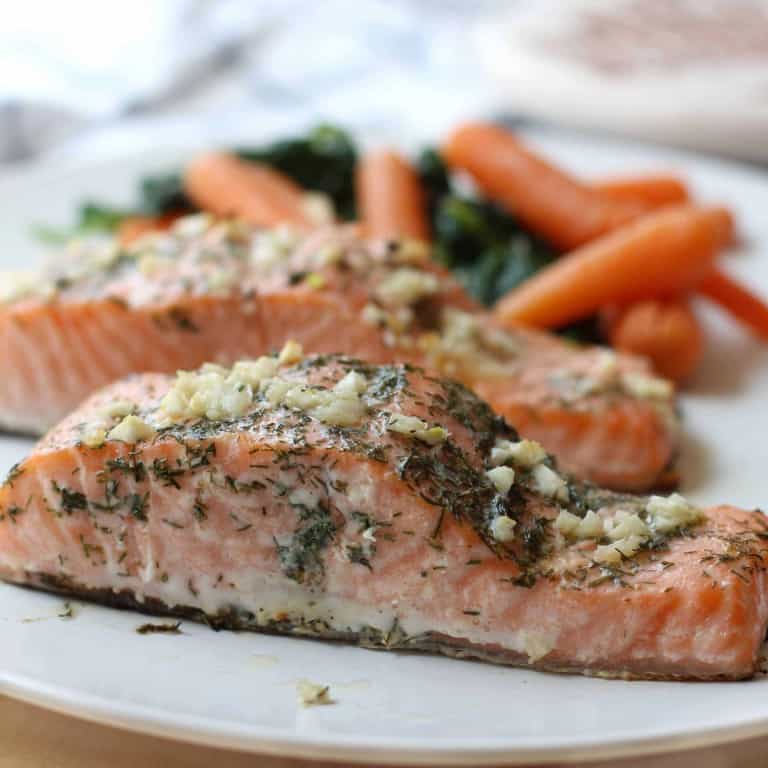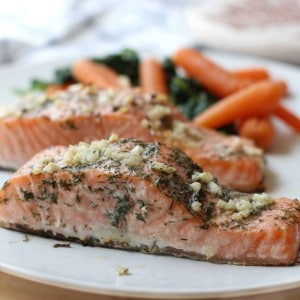 Garlic Butter Dill Salmon
Baked salmon smothered with fresh minced garlic, butter, dill and a hint of lemon juice. Quick and delicious dinner for any day!
Print
Pin
Ingredients
1

lbs

fresh salmon

1

tbsp

extra virgin olive oil

3

cloves

garlic

minced

1-2

tbsp

salted butter

2

tsp

dried dill

1

tsp

salt

1

tbsp

lemon juice
Instructions
Cut defrosted salmon into ~2-inch wide fillets (See picture below and Note 1). Rub salmon fillets with olive oil (including skin side)

Place salmon skin-side down onto baking sheet lined with aluminum foil or parchment paper. Sprinkle each salmon fillet with lemon juice, salt, dill, and minced garlic. (See Note 2)

Then add a few chunks (each chunk is ~1/4 tsp) of soften salted butter to the salmon (see picture)

Bake in oven for 8-11 minutes. (See Note 3).
Notes
Note 1: I got 4 pieces of salmon fillets from my 1 lbs salmon
Note 2: Measurements for seasoning/herbs are estimates. Use them according to taste.
Note 3: Cook time depends on thickness and temperature of salmon. Cook for longer if needed
Nutrition
Calories:
297
kcal
|
Carbohydrates:
2
g
|
Protein:
30
g
|
Fat:
18
g
|
Saturated Fat:
5
g
|
Polyunsaturated Fat:
4
g
|
Monounsaturated Fat:
8
g
|
Trans Fat:
1
g
|
Cholesterol:
93
mg
|
Sodium:
877
mg
|
Potassium:
781
mg
|
Fiber:
1
g
|
Sugar:
1
g
|
Vitamin A:
217
IU
|
Vitamin C:
3
mg
|
Calcium:
37
mg
|
Iron:
2
mg