This post may contain Amazon or other affiliate links. As an Amazon Associate I earn from qualifying purchases at no additional cost to you.
Asian Salmon Salad is the proof to this world that low-carb meals ARE NOT BORING. Sticky honey soy glazed salmon on a bed of lettuce tossed in our homemade Asian-inspired salad dressing. So much freshness, flavor, texture in every. single. bite. SO MUCH YUM.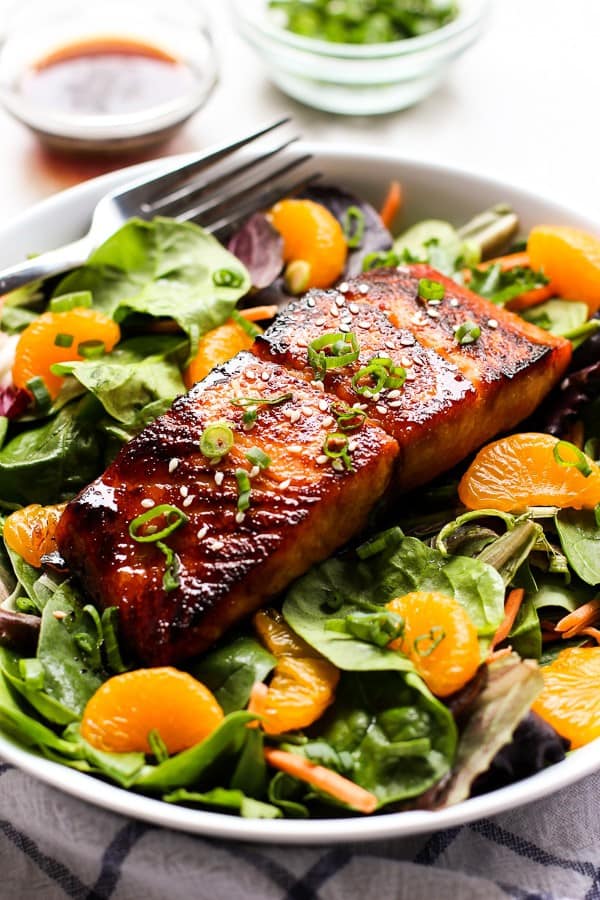 All the love for Asian Salmon Salad
The love runs deep I tell you.
I don't remember exactly where I had Asian Salmon Salad for the first time. I have a feeling I was traveling, because if I lived near the place I had it I totally would have gone back…like 200 times.
The ingredients inside of the salad was also a bit hard to recall, except that I remember the dressing being light, and possibly soy and vinegar based. Side note if you didn't already notice: I don't have the best memory. Of anything.
But I do remember this. I remember taking a bite and thinking it was JUST AH-MA-ZING. The salmon was perfectly marinated in some glorious sticky sweet and savory sauce. It was crusty on the outside, perfectly cooked and juicy on the inside. The lovely piece of salmon laid on a bed of lettuce that had just the right amount of dressing. When I bit into the salmon, it MELTED into my mouth.
I was ready to have it again. I squeezed out every ounce of details I can from my vague memory of that Asian Salmon Salad, and created this recipe.
And DANG. I am beaming with pride. Because it tasted just as good as I remember, and gave me ALL THE FEELS I remember having.
I have been quite obsessed with it since. And I have this feeling that you will be too.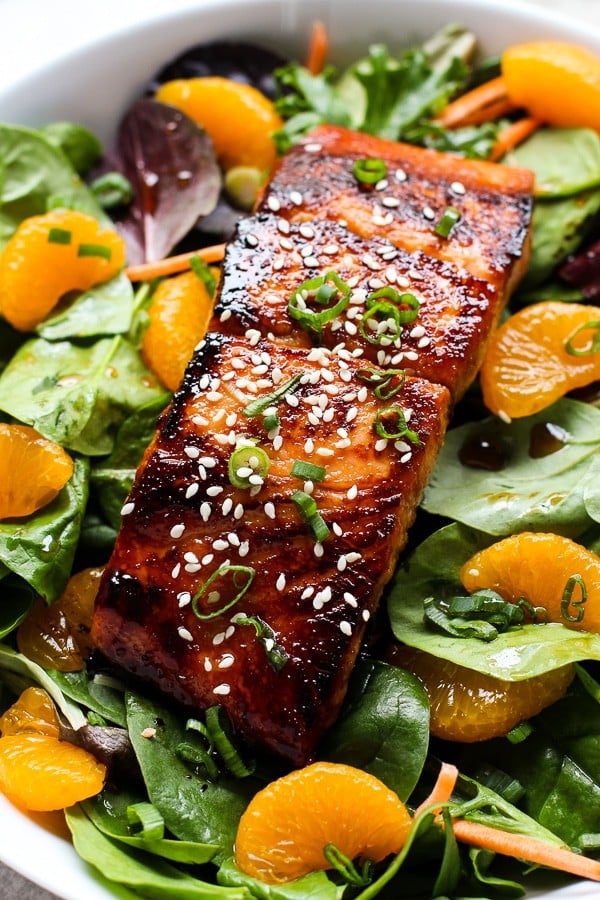 Tips for making Asian Salmon Salad
This recipe is simple to put together. There are two parts to it: 1) Salmon 2) Salad and dressing.
The recipe card at the end of the post have lots of instructions but here are some additional tips to get you on the way to the BEST Asian Salmon Salad ever.
Buy fresh salmon! There are good quality frozen salmon out there, but in my experience fresh (not-frozen) fish will always taste the best.
For the best results, marinate the salmon for 30-60 minutes. We want to try to get the flavor into the salmon as much as possible. Try not to skip this step!
Do not overcook salmon. Overcooked salmon will be dry and no longer juicy. Most seafood have a small window to be cooked perfectly. It's hard to say exactly how long to cook it because it can be different depending on appliances used or thickness of the salmon. Don't be afraid of the trial and error, and also don't shy away from cutting into it while salmon is still cooking to see if it is ready.
How to pan fry salmon?
Pay-frying salmon is super easy and also very quick! That's one of the nice thing about salmon – it cooks quickly!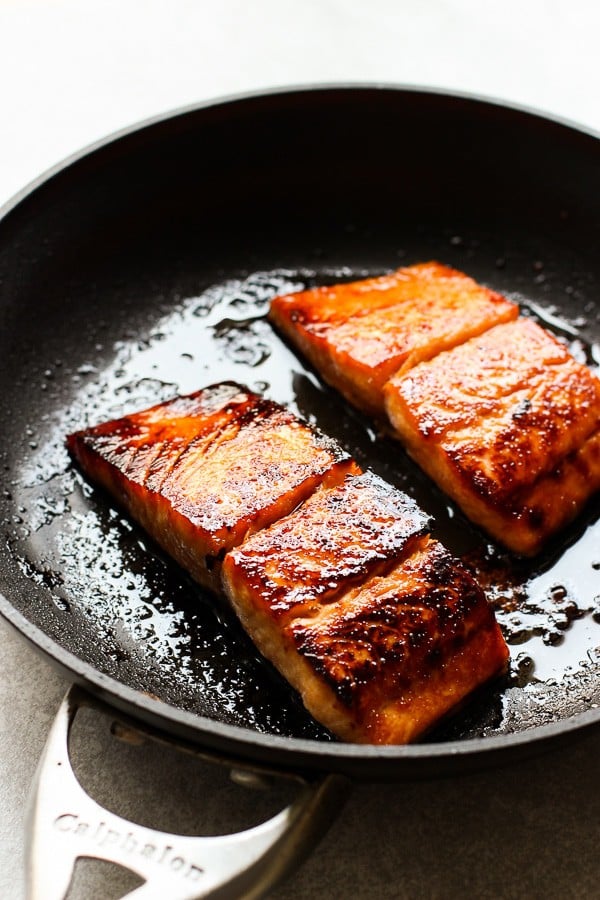 Always, always heat up the skillet with vegetable oil or olive oil before pan frying the salmon. I like to pan fry it skin side up first, let it sear and create a nice crusty top, then flip salmon over.
I do this using a non-stick skillet (makes it easier for cleanup) under medium heat, and then adjust the heat up and down as needed.
Ginger Soy salad dressing
The salmon is awesome. But what takes it to the next level is a beautiful salad and dressing.
Oh there are so many reasons why I love this Ginger Soy salad dressing.
No food processor needed. No chopping of anything. No frills. BUT ALL THE YUM.
Just combine the following ingredients and mix it up – soy sauce, sesame oil, rice vinegar, sugar, ground ginger, and olive oil.
Drizzle as generously if you are a dressing heavy kinda person…just lightly if you are not. We created enough dressing for all you team dressing heavy out there. 🙂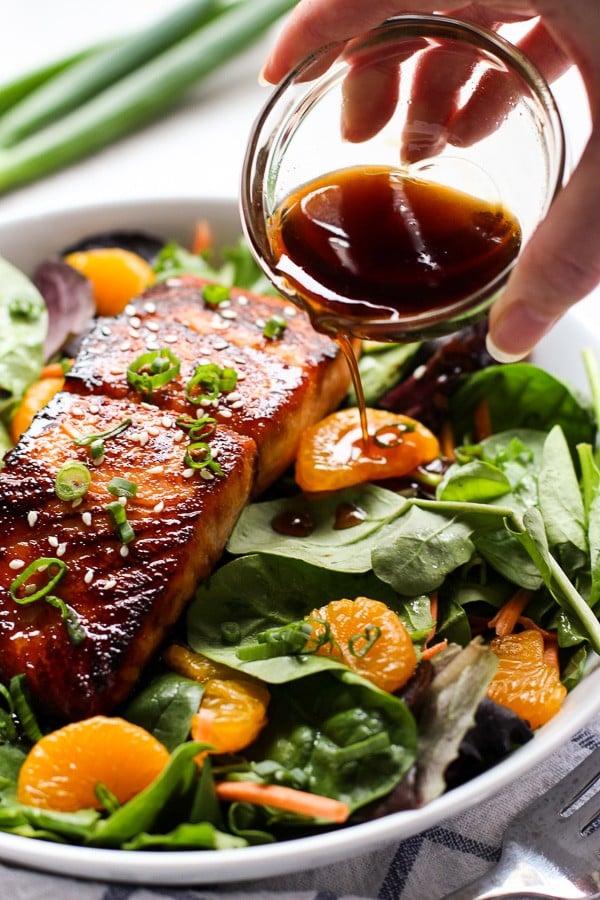 Flavor. Check. Texture. Check. Healthy. Check. Simple. Check.
Delicious. CHECK CHECK.
I'm ready to make this all over again.
Other Salmon recipes!