Broccoli Kale Apple and Cranberry Slaw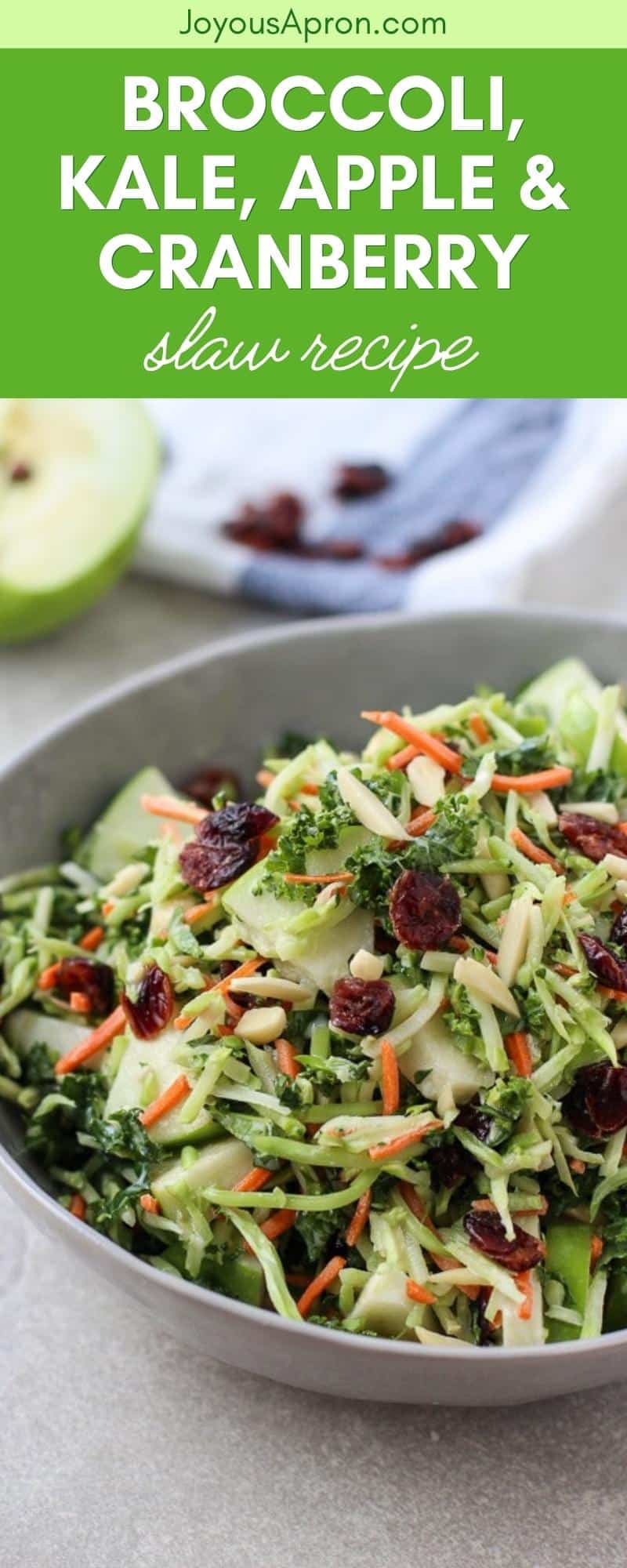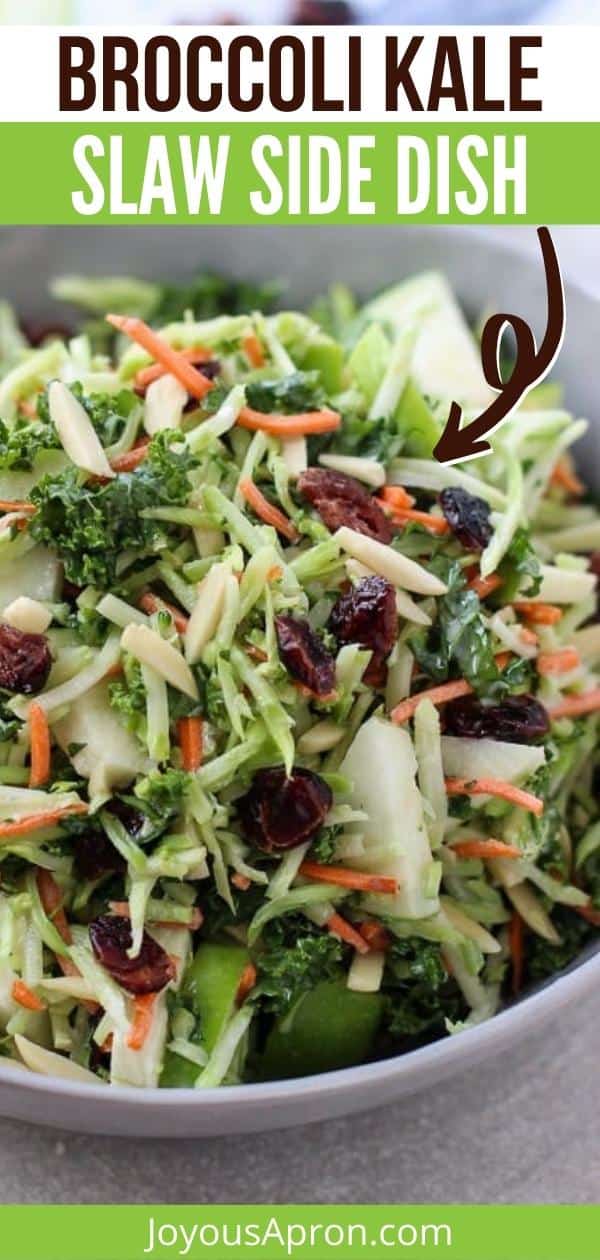 Broccoli Kale Apple and Cranberry Slaw will make veggie-eating so fun you will want to do it over and over again. And it will not just be for the health benefits.
What I love about this broccoli kale slaw is that it also a little festive (hello, apples and cranberries!), does not require any cooking, and is, of course, healthy and good for you (I mean, broccoli and kale, duh)!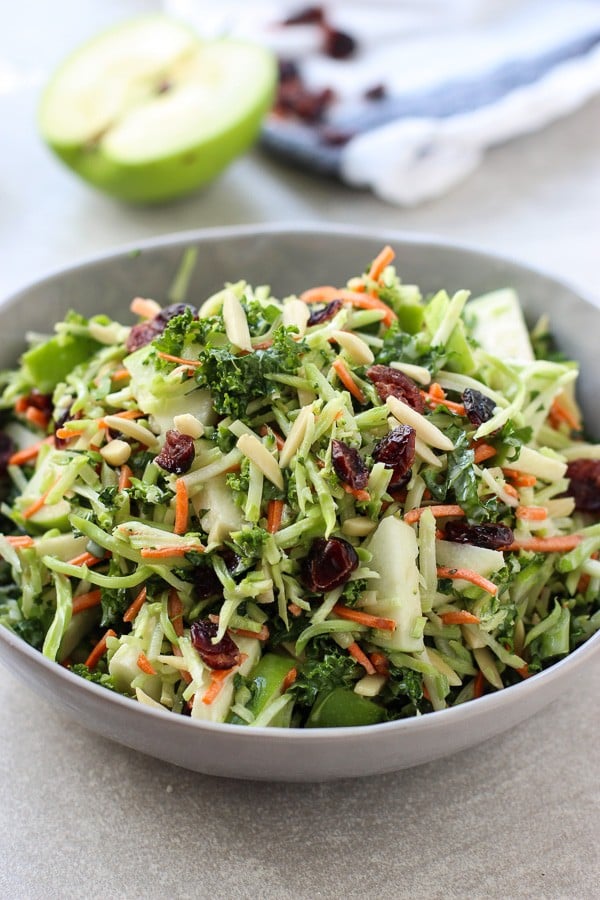 We are combining broccoli, kale, apple, dried cranberries and almonds, tossing them in a sweet and tangy yet fairly light cream dressing. This broccoli kale slaw is such a beautiful combination of flavors and textures.
It is the perfect side to your main dinner courses. In addition, it is a holiday side that you can make ahead of time and put it in the refrigerator while you make everything else.
The lightness of this is PERFECT to offset those yummy but heavy casseroles and pies – makes you leave Thanksgiving or Christmas dinner feeling like you ate at least one thing light and healthy.
Enjoy a solid veggie side dish? Don't forget to also check out Broccoli au Gratin, Roasted Zucchini with Garlic Parmesan, and Garlic Honey Roasted Carrots!
Broccoli Kale Slaw Inspiration
The inspiration for this Broccoli Kale Slaw dish is none other than Trader Joe's Broccoli and Kale Slaw. It is one of my favorite sides to get from the store.
If you've had that before, think of this as Trader Joe's Broccoli and Kale Slaw's fall/winter cousin.
Okay. That doesn't make much sense, but just hang with me for a second 😉 .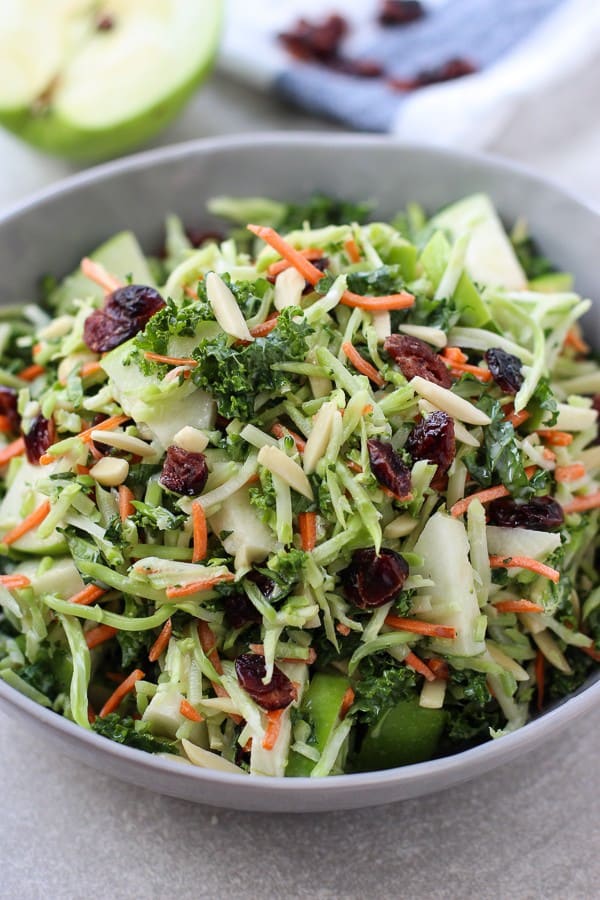 It has a very similar dressing, broccoli and kale are the main ingredients, along with slivered almonds. The crunchy apples and dried cranberries brings a pop of sweet, and makes it Fall-is, winter-ish, and a bit festive.
Lots of crunch, lots of textures. And that dressing. OMG so good.
Ingredients
Here's what you need to make this fabulous broccoli kale slaw:
broccoli slaw – I get a bag of broccoli slaw where the broccoli is already shredded, and it usually also comes with some shredded carrots in it. Alternatively, you can use shredded broccoli as well (only the stems are shredded).
kale – I typically prefer to get a bag of kale that is already massaged so it is not as tough in texture. Alternatively, here's how you can massage kale.
apples – slice them into thinly sliced pieces
dried cranberries – this can usually be found in the dried fruit section of a grocery store
almond – I have used slivered almonds, sliced almonds…any thinly cut almonds works great on this! If you do not need a lot of almonds and don't want to buy a whole box of it, get it from the bulk section at your grocery store. The beauty of this is you can decide how much (or little) you want. This makes buying ingredients that you don't use often very affordable!
As for the tangy creamy dressing, here are the ingredients you will need:
mayonaise
apple cider vinegar – can substitute with white vinegar
lemon juice
granulated sugar
salt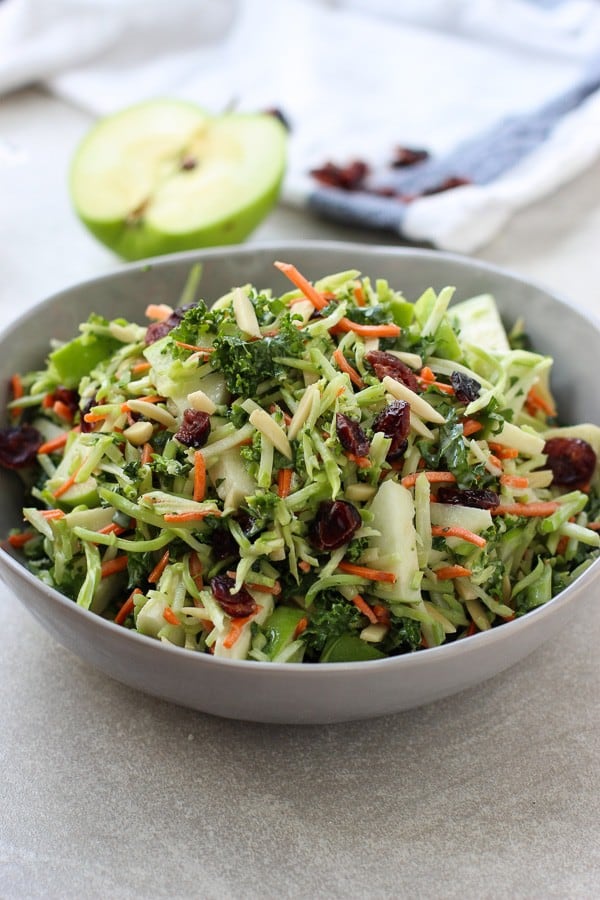 How to make broccoli and kale slaw
What I love about broccoli kale slaw is how EASY it is to put together.
Chop up a bunch of vegetables, whisk together the dressing and voila! Your very own broccoli kale slaw is done.
So similar to the Trader Joe's Broccoli and Kale Slaw that you will be making your own before you know it!
For the shredded broccoli, I typically get a bag of broccoli slaw from Trader Joe's, which is shredded broccoli stems with little bits of shredded carrots in them.
If you cannot find it, slice up the stalk portion of your broccoli. This is also a way cheaper option. You can shred carrots to it, or omit the carrots if it is too much work.
As for the kale, give it a good chop. Kale is a super nutritional vegetable but can sometimes get a bad rep because some people do not like it. I don't love all the ways kale is prepared, but I do love a good, solid vinegar-based sauce or dressing on kale.
If you didn't buy kale that is already massaged, you will want to massage your kale to break down the fibers which will make is less tough in texture.
Bring together all the broccoli kale slaw ingredients into a large bowl – broccoli slaw or shredded broccoli, massaged kale, dried cranberries, sliced apples and slivered almonds.
Dressing
I created a light dressing that is very similar to my Light Raisin Coleslaw dressing. It is mayo (use good mayo!) and vinegar based, with a hint of lemon juice.
It is tangy, sweet, lightly creamed, a hint of savory, and blends well with the earthy flavors of the broccoli and kale. So perfect for our Broccoli Kale Slaw.
Use a whisk to mix the ingredients for the dressing together until it is nice and smooth before pouring them all over the veggies!
Then toss broccoli kale slaw in the dressing using a pair of tongs. And that's it!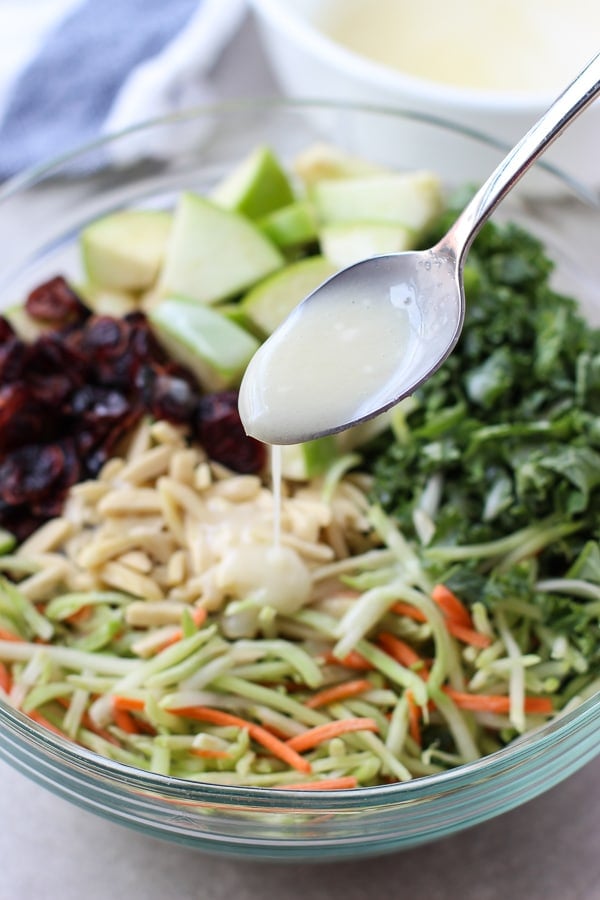 When I think of making vegetables in the Fall or winter, I think of vegetables steamed, cooked in a casserole, thrown into soups… They can taste pretty good that way, but sometimes I still want something fresh, crunchy and full of flavor.
Enter this light and fresh Broccoli Kale Slaw. It's the best guys. So easy as well!
How to serve and store
If you are making Broccoli Kale Slaw ahead of time, especially for a holiday meal, separate the dressing from the vegetables and mix them together whenever you are ready to serve.
For storing purposes, dressing and veggies are best stored separately in an airtight container in the refrigerator. If they are already combined, store in refrigerator and consume within 24 hours to prevent it from getting too soggy.
Frequently Asked Questions
What type of apples should I use for this?
Use your favorite! If you like a touch of sweetness from the apples avoid using green apples as those tend to be sour.
How long can I store leftovers?
If the slaw and dressing are combined, consumed it as soon as you can or up to 24 hours. It will get soggy the longer it sits in the dressing. The best way to store leftovers is to separate the veggies and the dressing.
What other ingredients would go well into the slaw?
I also like adding raisins, other dried fruits, pears, pomegranate, other nuts, shredded brussels sprouts, or other leafy greens.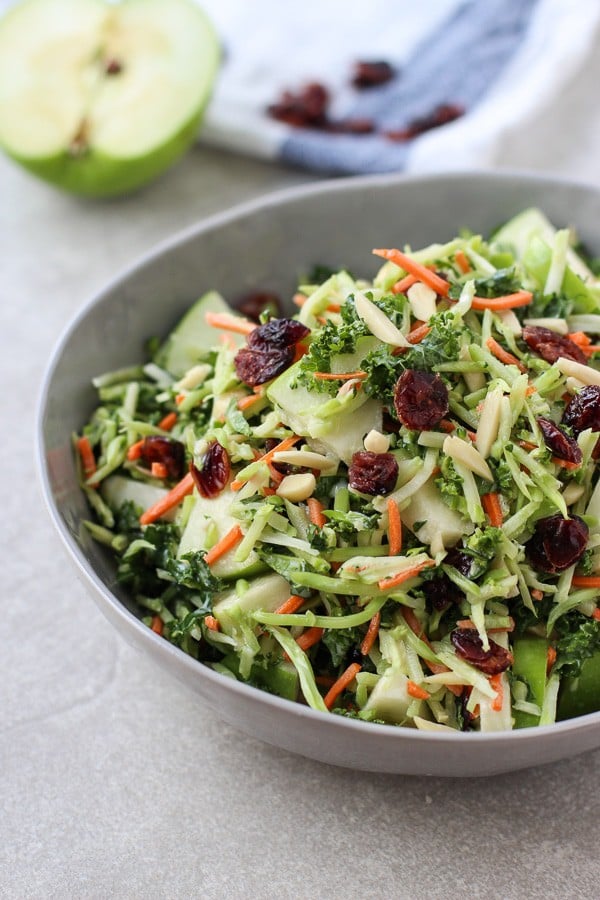 DID YOU ENJOY THIS RECIPE? Please comment below and give us a 5-star rating! This will help others find this recipe on Google and Pinterest. We very much appreciate your help! 🤍
Other yummy slaw and salad recipes
If this looks yummy to you, don't forget to also check these out!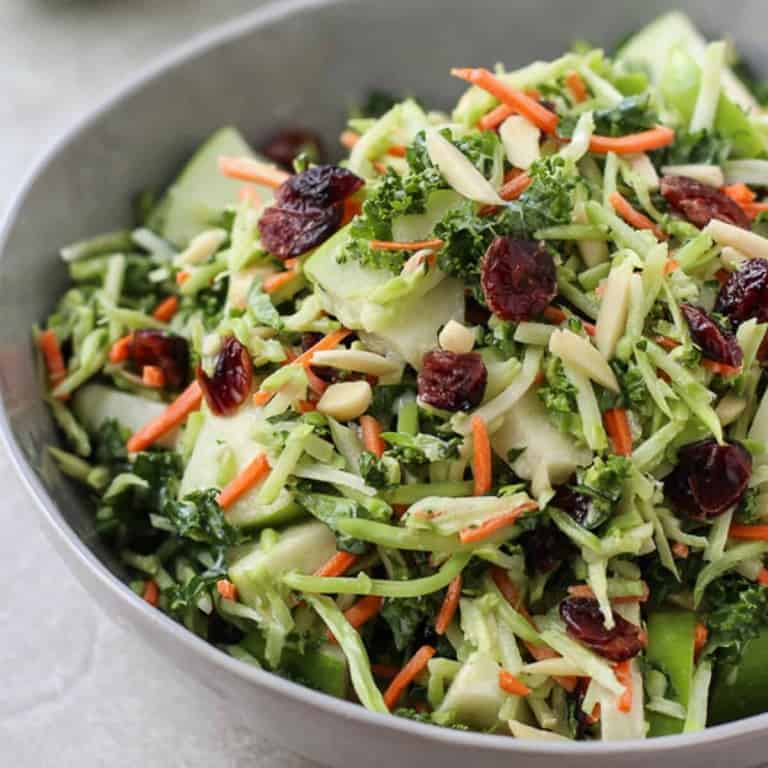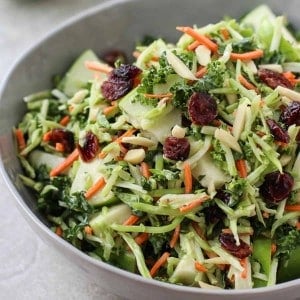 Broccoli Kale Slaw
The perfect light and healthy veggie side combines broccoli, kale, apples, and dried cranberry with a creamy and tangy vinaigrette. No cook and super easy, this slaw has a festive twist and is full of great flavors and textures!
Print
Pin
Ingredients
6

oz

broccoli slaw

1 1/2

cup

kale (packed)

chopped

1/2

cup

sliced apples

packed

1/4

cup

dried cranberries

1/4

cup

slivered almonds
Dressing
1/4

cup

mayonaise

1 1/2

tbsp

apple cider vinegar

3

tbsp

sugar

1/2

tsp

lemon juice

1/4

tsp

salt
Instructions
In a large bowl, combine broccoli slaw, chopped kale, sliced apples, dried cranberries and slivered almonds.

In a small bowl, combine ingredients for slaw dressing. Whisk or use a hand-held electric mixer to mix well and make sure everything is dissolved.

Pour dressing onto large bowl. Using a pair of tongs, tossed to mix well.
Nutrition
Calories:
152
kcal
|
Carbohydrates:
16
g
|
Protein:
3
g
|
Fat:
10
g
|
Saturated Fat:
1
g
|
Polyunsaturated Fat:
5
g
|
Monounsaturated Fat:
3
g
|
Trans Fat:
1
g
|
Cholesterol:
4
mg
|
Sodium:
172
mg
|
Potassium:
222
mg
|
Fiber:
2
g
|
Sugar:
11
g
|
Vitamin A:
1862
IU
|
Vitamin C:
46
mg
|
Calcium:
53
mg
|
Iron:
1
mg