Tilapia with Avocado and Corn Salsa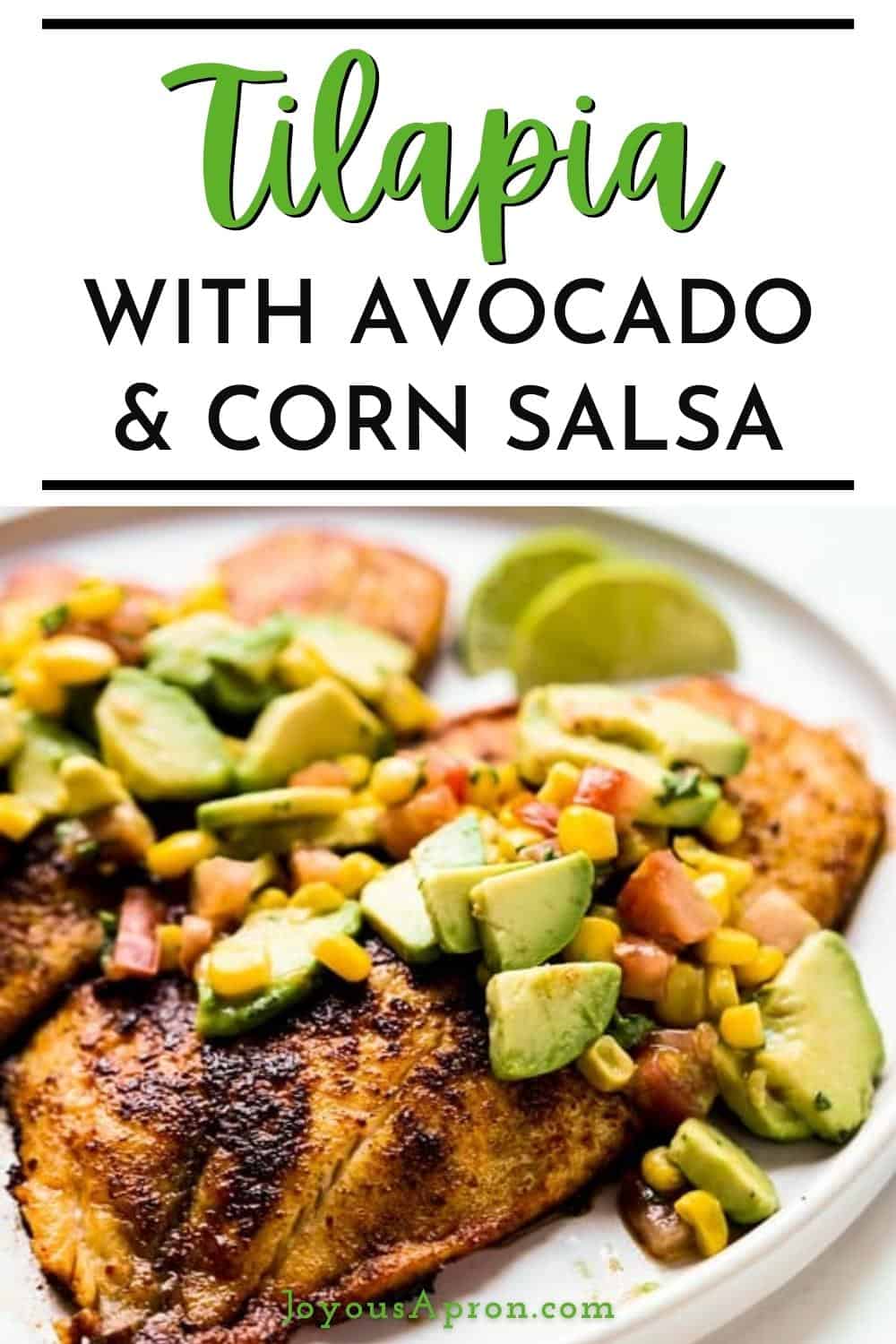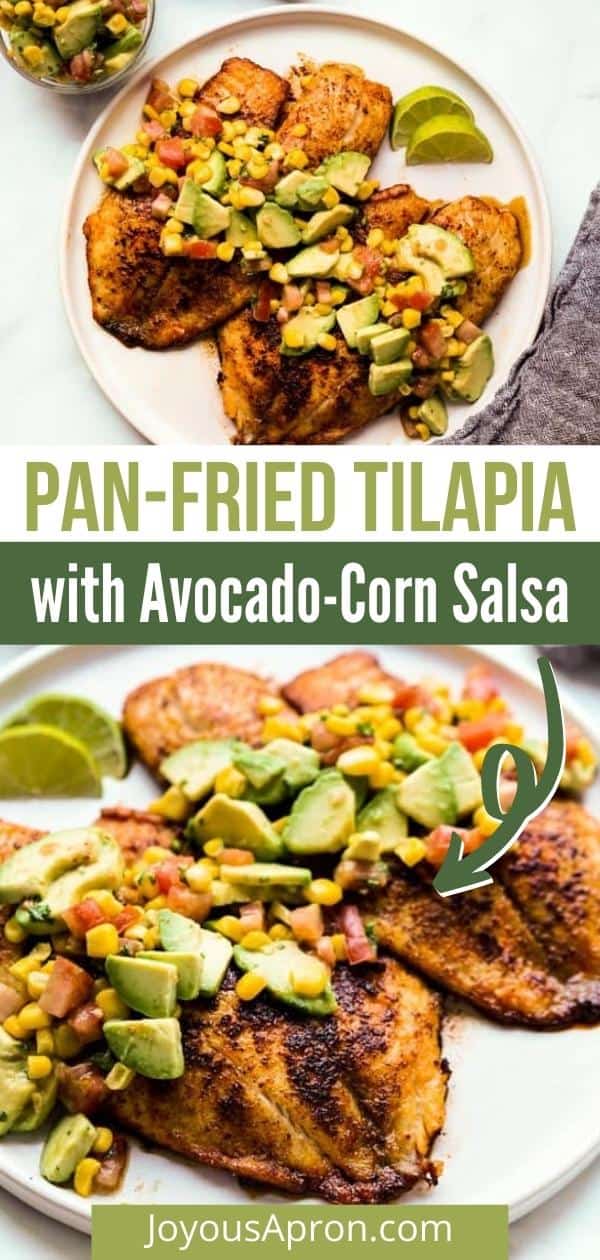 Well hello, Tilapia with Avocado and Corn Salsa! A flavorful fish dish with a tangy, crunchy, creamy topping. Light and healthy dinner that is truly delicious!
We are in LOVE with this dish!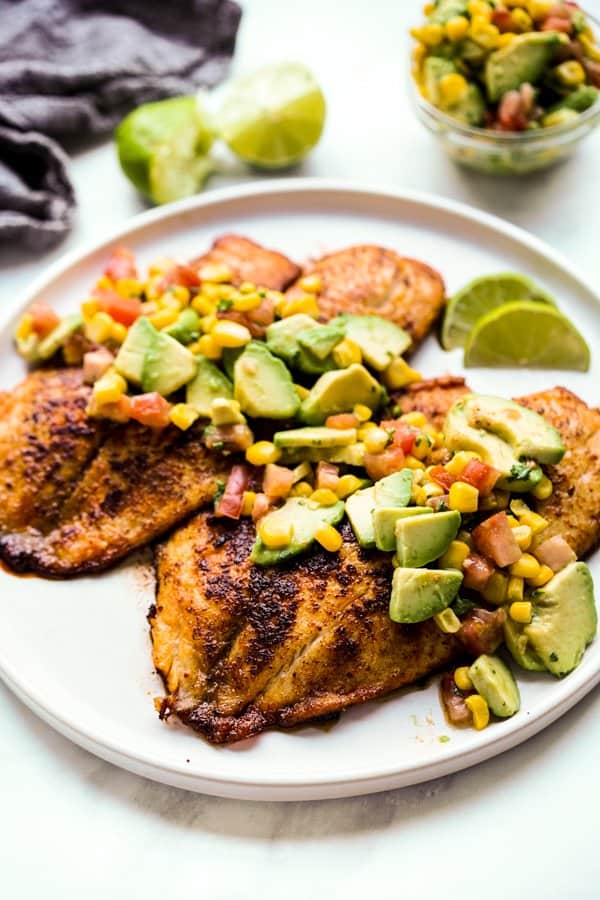 Spring forward had me feeling like a zombie this morning. My almost thirty-three year old body is going 'the new time is throwing me off". And then I go, it's only an hour change – how can this be so hard??
Speaking of spring, I feel like spring has finally come to Austin.
I apologize in advance for shoving it in your face for those of you still covered in sub-zero temperatures and freezing your butt off.
We are new to the area, are still learning the temperature changes, and have been pretty pumped with the quick arrival of spring. Ask me again how I feel about the weather come August.
Something else about spring. I start craving for lighter meals.
Meals with fruits become my best friend. I garnish everything with citrus and cilantro, to a fault. If I can toss things together without putting them on heat I would.
I migrate from red meat to seafood. I turn into a part-time vegetarian.
I eat way too much corn.
I love a good spring/summer meal, and here's one that takes under 30 minutes to put together, requires minimal stove time, and (most importantly) is absolutely delicious. A spring time favorite/must have for sure.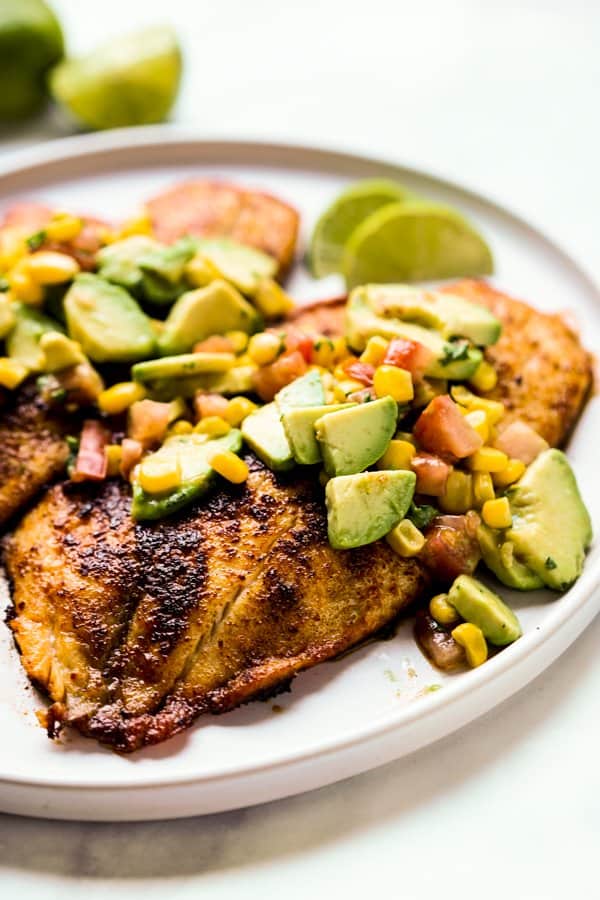 Tilapia with Avocado and Corn Salsa.
Yum. Just yum.
How to make it
Tilapia is one of my favorite fish because it is mild, flaky and goes well with a lot of different spices and ingredients. The avocado corn salsa will give some crunch, some sweetness, and some citrus flavor.
All you need to do is pan fry that tilapia and mix the salsa together and you've got yourself a delicious dinner.
It really is that simple!
Tilapia
Here are the ingredients you need for the tilapia:
Tilapia fillets – fresh is almost always better than frozen but either works. Make sure to defrost them completely and pat dry before coating with spices and cooking.
Smoked paprika – this gives it a nice smoky flavor. Regular paprika would be fine too if that's what you have at hand
Garlic powder
Salt
Vegetable oil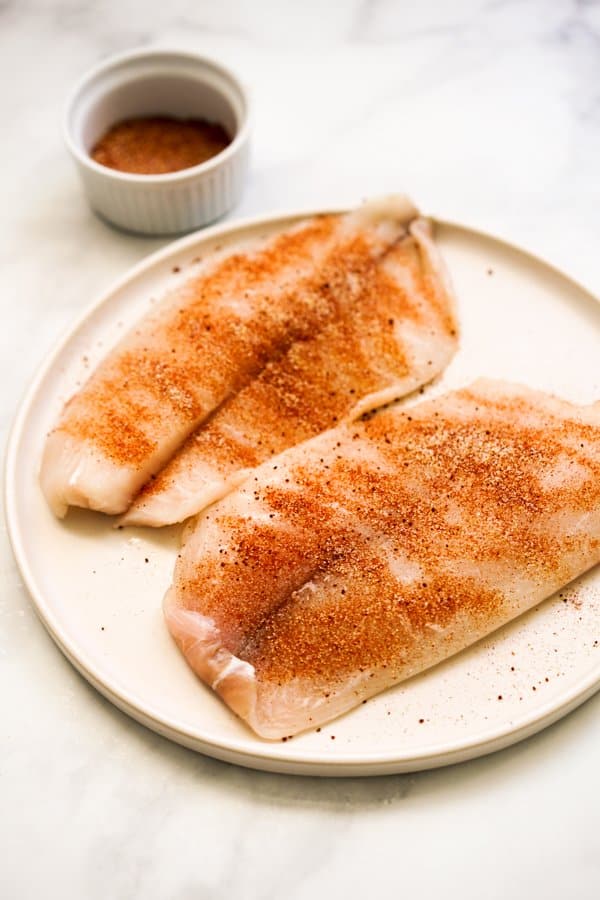 Start with putting together the spice mix for the fish. Combine paprika, garlic powder and salt in a small bowl and rub spice mix all over each fillet. It is simple, but also gives the mild tilapia plenty of flavors.
I work on the fish first because I like to let the fillet sit in the spice mix while I put together the salsa. You don't necessary need to marinate the fish but if I have time, I let it sit for a few minutes before pan frying the fillets.
Then grab your favorite skillet and pan fry the fish for about 3 minutes on each side, or until tilapia is no longer translucent and breaks apart easily.
Avocado Corn Salsa
As for the salsa. You guys, avocados. Creamy and delicious as all perfectly ripe avocados always are. To top that, the combination of avocados, corn, lime juice, tomatoes and cilantro is just OUT OF THIS WORLD.
The best part is – it is super simple. Just combine everything and you are good to go!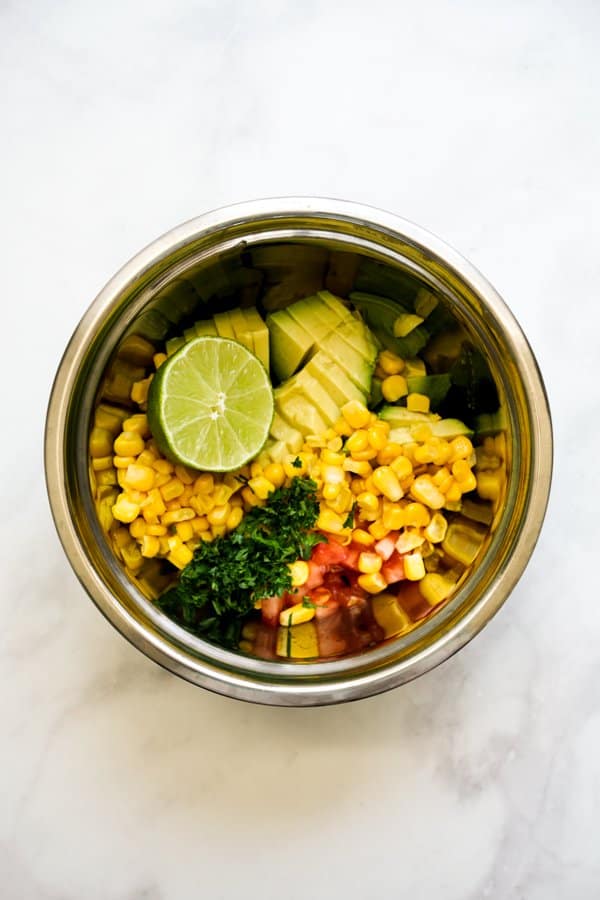 Here are the list of all the 'things' that goes into it:
Avocados
Tomatoes
Corn
Lime juice
Cilantro
Salt to taste
I wrote the recipe with the salsa proportion that I believe is "typical" for the amount of fillets used. However, if you love the ingredients in the salsa, make more salsa than what is called for.
Double it. Triple it if you must.
I sometimes grab some chips and use the salsa as a dip in addition to topping them on the tilapia.
Because I LOVE IT SO MUCHO.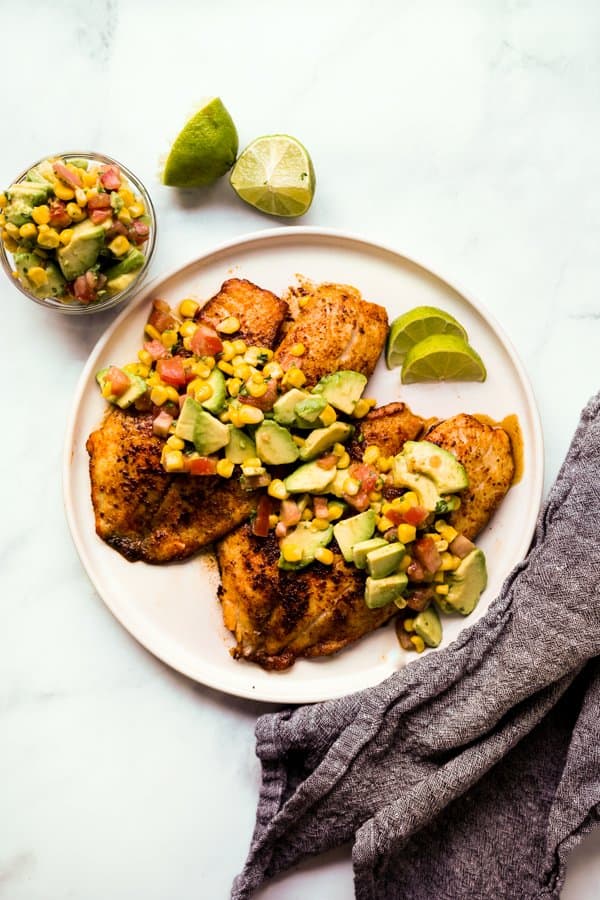 Lastly, top that baby (a.k.a seared tilapia) up with the avocado and corn salsa!
The tilapia fillets will be slightly crispy on the outside and seasoned with garlicky, smoky goodness.
Combined with the sweetness from the corn, the creamy avocados, the burst of freshness from the cilantro, and the citrus flavor of the fresh lime juice, the dish has amazing flavors and textures.
Also…it's healthy, light and low carb!
The seasoning for the fish is very similar to my Fish Tacos with Mango Peach Salsa, one of my first few posts on the blog. Very similar fish seasoning, a different salsa and equally delicious.
Whether you are anticipating spring, in the midst of spring, or live in a part of the world where spring/summer happens all the time, give this gorgeous, light, healthy dish a try.
Makes for a simple, yet thoroughly satisfying meal!
Other Seafood Recipes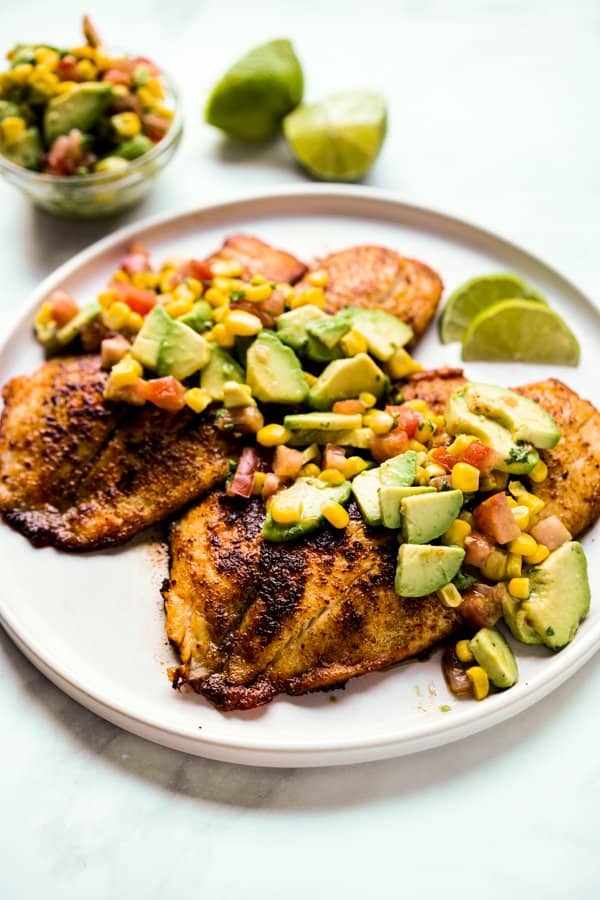 DID YOU ENJOY THIS RECIPE? Please comment below and give us a 5-star rating! This will help others find this recipe on Google and Pinterest. We very much appreciate your help! 🤍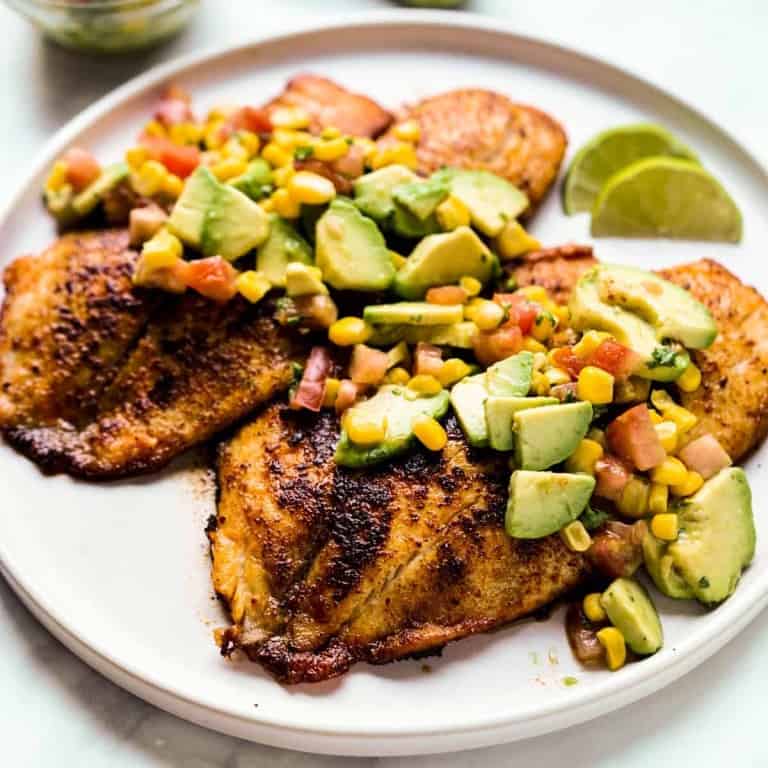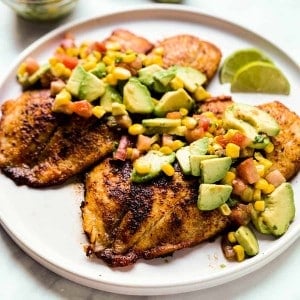 Tilapia with Avocado and Corn Salsa
Pan-fried tilapia with lots of smoky, garlicky flavor, topped with an avocado corn salsa that is sweet, crunchy, and citrusy. Great flavors and textures. Perfect light and healthy meal!
Print
Pin
Ingredients
Tilapia
1.5

lbs

tilapia fillets

2

tsp

smoked paprika

1

tsp

garlic powder

1/2

tsp

salt

vegetable oil
Corn & Avocado Salsa
5

oz

canned corn

drained

1

small tomato

cubed

1

avocado

cubed

1

tbsp

cilantro

chopped

1/2

lime

juice

salt

to taste
Instructions
Mix together smoked paprika, garlic powder, and salt. Then sprinkle spice mixture on both sides of the fillet.

In a large bowl, combine corn, tomatoes, avocados, chopped cilantro, lime juice, and salt to taste to make Avocado Corn Salsa.

On a frying pan, add vegetable oil and fry tilapia fillets for ~3 minutes on each side, or until fish is no longer translucent and breaks apart with a fork. Remove from heat.

Top tilapia with avocado and corn salsa. Serve and enjoy!
Nutrition
Calories:
288
kcal
|
Carbohydrates:
14
g
|
Protein:
37
g
|
Fat:
11
g
|
Saturated Fat:
2
g
|
Cholesterol:
85
mg
|
Sodium:
1025
mg
|
Potassium:
920
mg
|
Fiber:
5
g
|
Sugar:
2
g
|
Vitamin A:
822
IU
|
Vitamin C:
17
mg
|
Calcium:
34
mg
|
Iron:
2
mg