This Thai noodle bowl recipe is inspired by Thai ingredients and spices. Rice noodles are tossed with cabbage, carrots, cilantro, green onions, and peanuts, along with yum town Asian inspired savory sweet sauce, toss with lots of fresh veggies and peanuts.
It is an easy 30-minute Thai noodle recipe that is flavorful, filled with great textures, and so simple to make.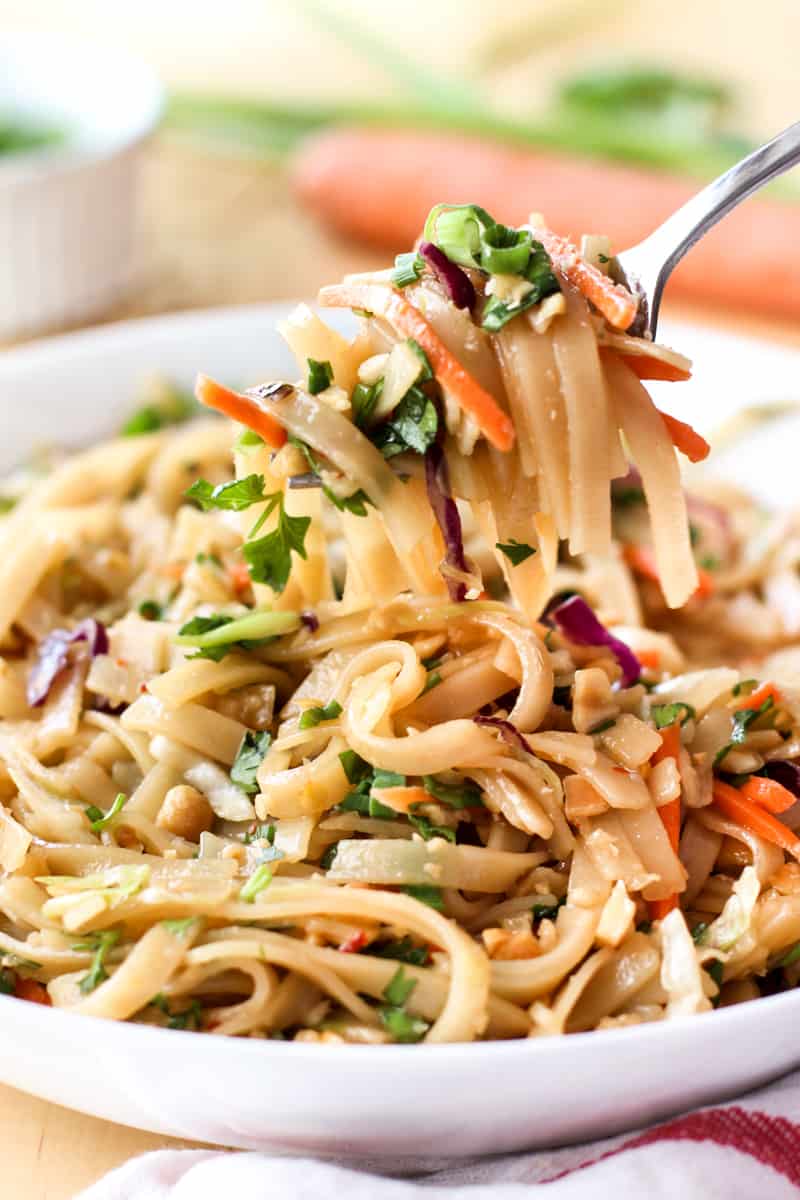 A Thai Noodle Recipe
Mondays are the hardest. I wake up feeling like I have a hangover from the weekend, with zero drip of alcohol in my body.
But when I know I have leftover Thai noodle bowls in the refrigerator, looking scrumptious and screaming eat-me-now, it makes my Monday so much easier. And that's me on this lucky Monday. 🙂
My Thai noodle recipe is not your typical noodle recipe that you can find at Thai restaurants or Thailand. It is simply a quick and tasty rice noodle dish that I put together using simple, easy-to-find pantry friendly Asian and Thai inspired spices.
While these Thai noodle bowls are not exactly authentic, I can promise you, they are mind-blowingly DELICIOUS. And it takes less than 30 minutes to make!
Pssst: If you want more authentic Thai noodle recipes, check out my Pad Thai and Pad See Ew recipes – two popular classic Thai noodle dishes.
As for this current Thai noodle recipe, I have made it for over a decade, and it has been perfected and crafted over time until it became the version you see here today. That's how tried and true this recipe is.
And it gets better. Easy Thai noodle bowl is one of those dishes that taste just as good or even better as leftovers. The sauce has soaked its way into the noodles to give it a fuller, more robust flavor.
Thai noodles can be consumed cold, warm or at room temperature. I usually don't even bother to microwave leftover Thai noodles because I love to eat it cold or under room temprature like a noodle salad.
Ingredients
Here are all the ingredients you will need to make this delicious Thai noodle recipe: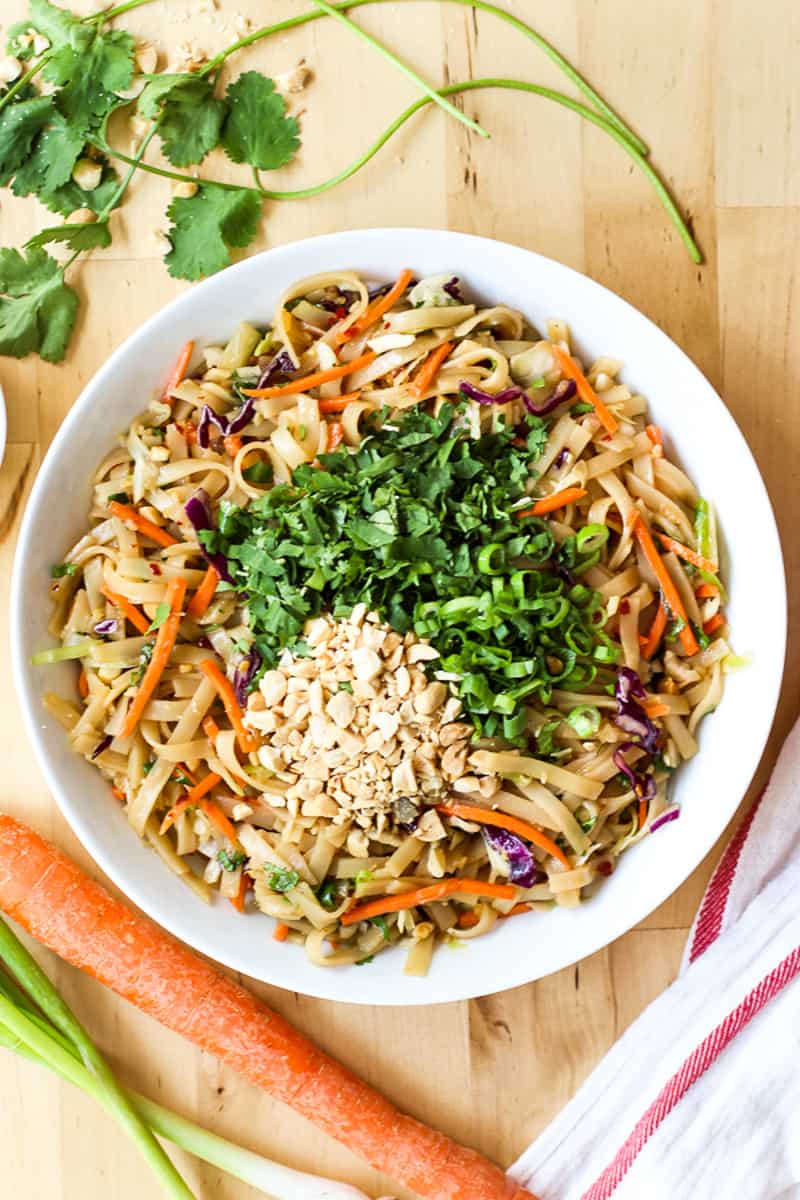 rice stick noodles – these noodles come in dried package form, and can be found in most mainstream grocery stores. They are hard and look like sticks. You'll have to soften it by soaking them in water. Besides dry noodles, you can also get fresh rice noodles that are already softened in the refrigerated section in the Asian stores, although most mainstream stores in the U.S. do not carry refrigerated rice noodles.
vegetables – I use shredded cabbage and carrots in my Thai noodle bowl. I sometimes buy pre-shredded coleslaw mix to make the process easier and faster. You can use any vegetables.
cilantro – chopped. Brings about incredible fresh flavors.
green onions – also bring about yummy fresh flavors to the Thai noodles.
unsalted peanuts – chopped into small pieces for a nutty flavor and texture.
chicken – rotisserie chicken, grilled chicken (refrigerated or frozen that you get pre-made from the stores), or you can use any leftover chicken
The amazing flavors for this Thai noodle recipe comes from a simple concoction of Asian and Thai seasonings and sauces. Here are the ingredients that go into the sauce:
soy sauce – this is the regular soy sauce used in Asian cuisine.
sesame oil – a nutty flavored oil that is commonly used in Asian cooking
red pepper flakes – this gives Thai noodle bowl a slight kick and is fairly mild because we are only using a little. Simply omit if you prefer.
honey – this gives the sauce a hint of sweetness
fresh garlic – avoid substituting with garlic powder – it's just not the same!
How to make this easy Thai Noodle Bowl
Let's make our yummy Thai Noodle Bowl!
To make this Thai noodle recipe, the first thing to do is to soak the thin rice stick noodles in warm water. These are thin rice noodles typically used in Pad Thai or Pho (Vietnamese noodle soup).
I soak rice noodles for about 30 minutes (check the package instruction for soak time as they do differ between brands).
After soaking, boil the rice noodles for 2 minutes or until soft. Be careful not to over-boil or noodles will become mushy.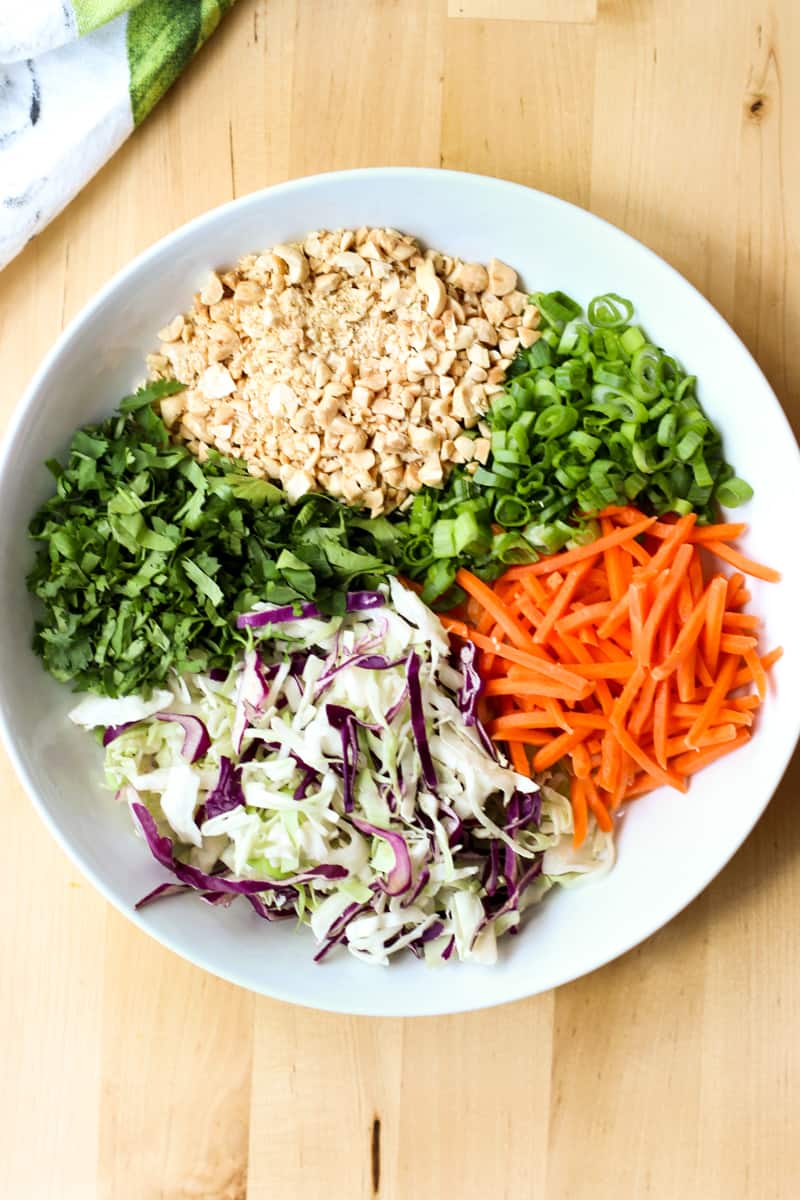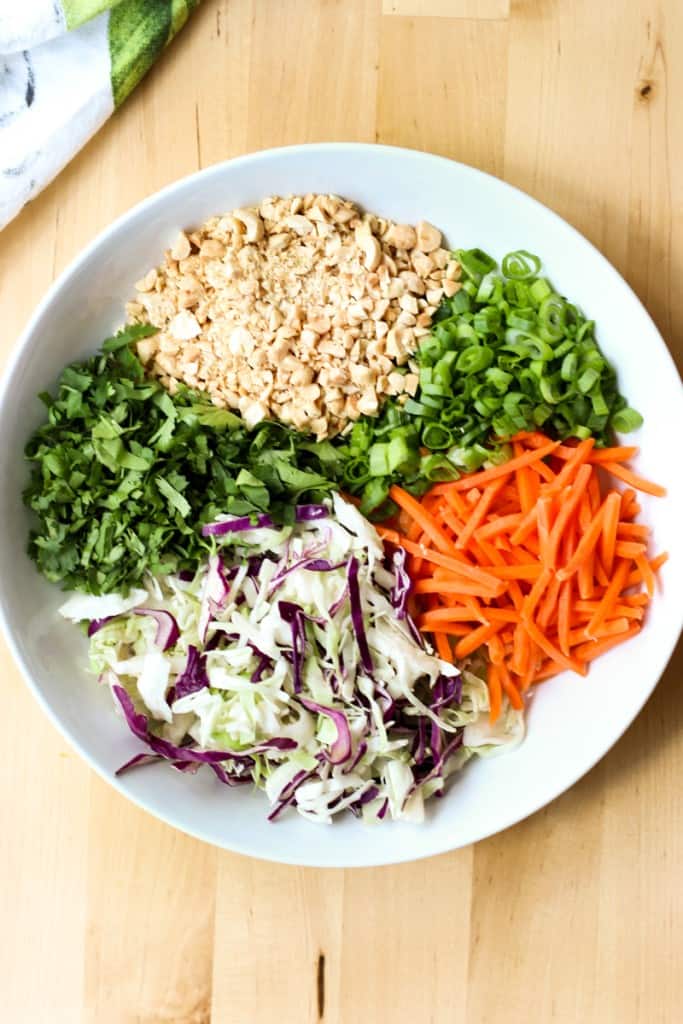 The two reasons why I love eating Thai noodle bowl during the warmer months is how little cooking is involved (a few minutes of noodle-boiling!), and the fresh veggies incorporated.
I love chopping up the cilantro and green onions while inhaling the aroma of these vegetables.
The crunch of the shredded cabbage, shredded carrots and peanuts gives the noodles that crunchy texture that makes the dish totally legit.
After chopping up the veggies and other ingredients, mix the sauce together by combining soy sauce, honey, sesame oil, minced garlic, red pepper flakes (decrease amount for less spicy).
The sauce for this Thai noodle recipe is simple yet complex. It is a combination of sweet, savory and slightly nutty, consisting of totally opposing flavors that comes together so well.
Pour the sauce over cooked and drained noodles, and mix well.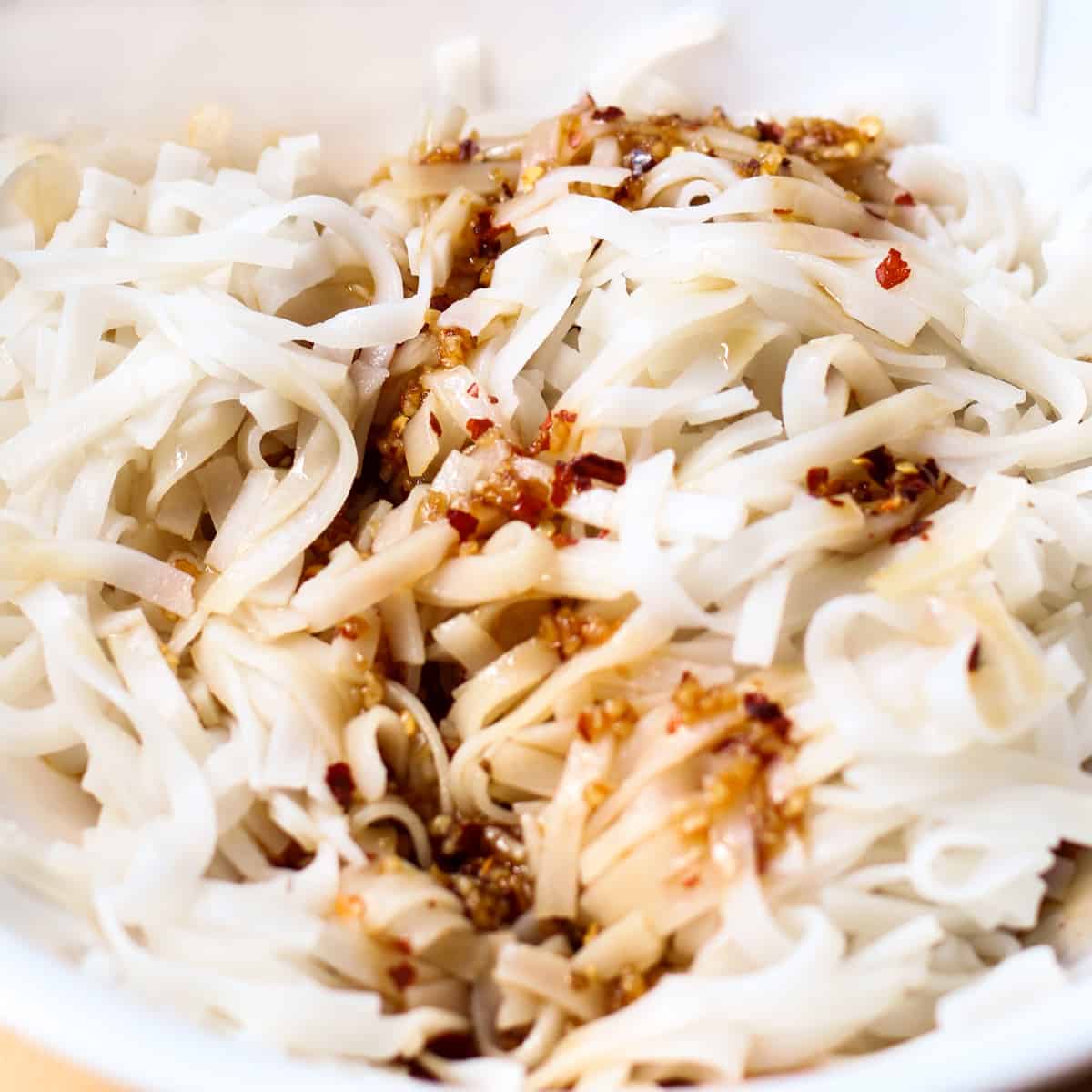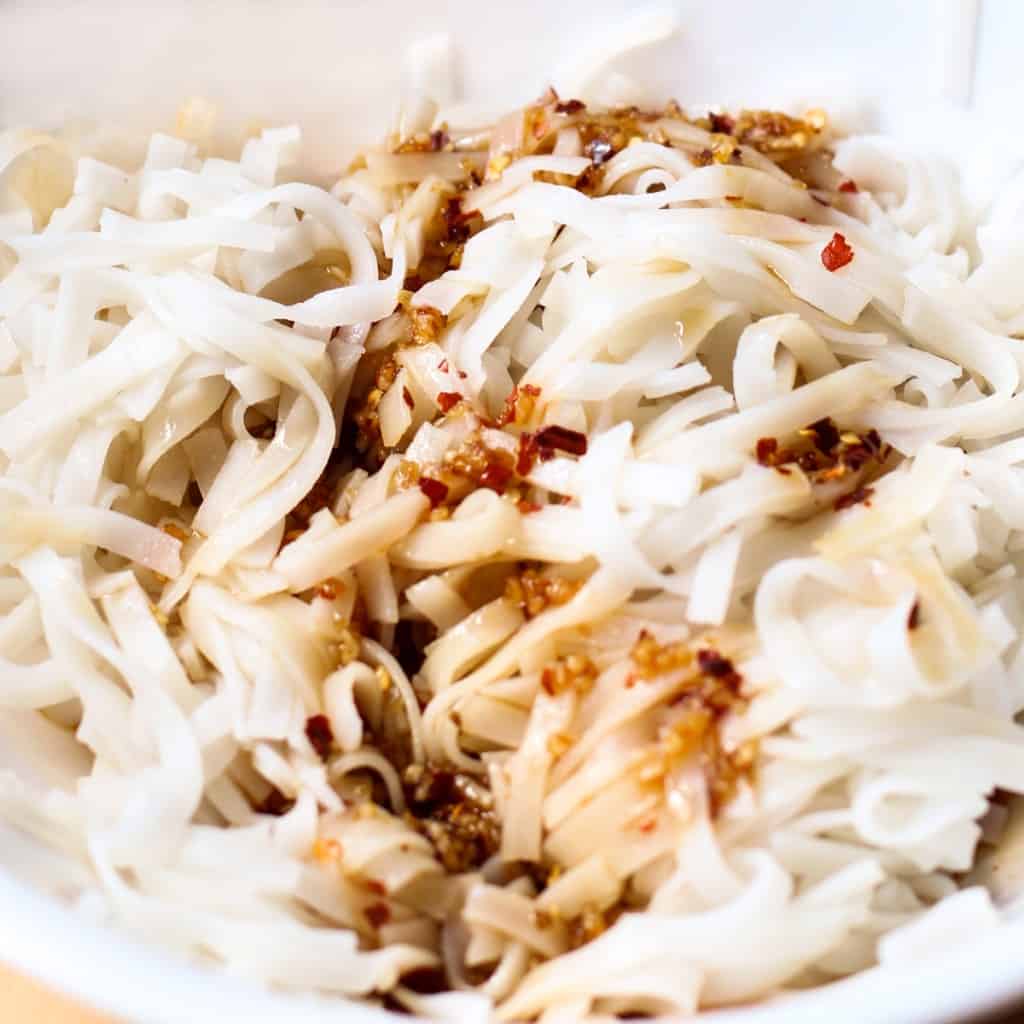 Then throw the veggies into the noodle mixture, and keep on mixing…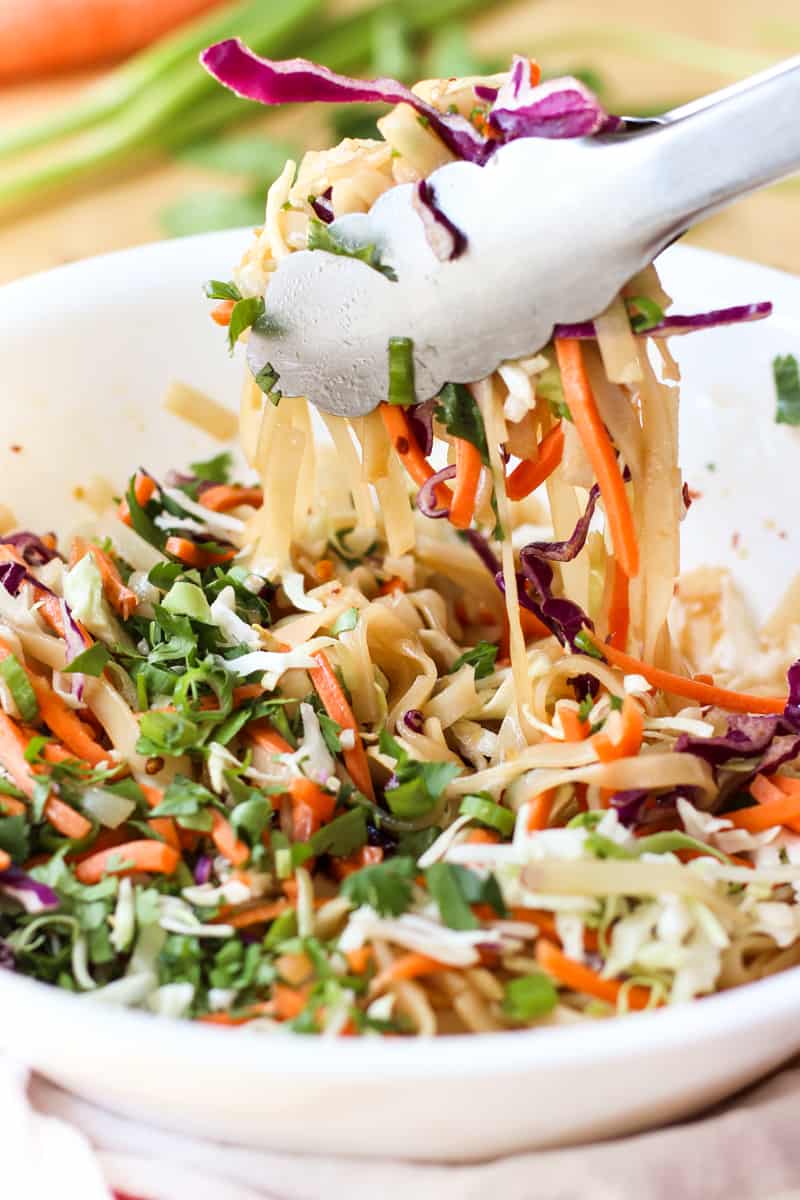 I do put aside half of the chopped green onions, cilantro and peanuts prepared and use them as garnish.
This is also a good idea if you are saving some of the noodles as leftovers.
This way you can use the set aside chopped green onions, cilantro and peanuts as garnish when you are ready to eat Thai noodles again the next day.
After tossing, garnish garnish garnish. Garnishing is a must for our beloved Thai noodles..
Every now and then, I love adding chicken to get some extra protein in my Thai Noodle Bowls. It makes it a more balance meal, and whenever I add chicken, I just stay fully longer after eating these Thai noodles.
Anyone else as hungry as I am just looking at this??
The fresh factor in this dish is out of control. I could eat it all day long.
Ahhh Thai noodle bowl. The perfect summer noodle dish.
Great as a party dish
This Thai noodle recipe makes an awesome party dish, because
You can set it out and let it sit for a few hours, and it still maintain its texture and flavor, and tastes good.
can be served warm, lukewarm, cool, or cold.
Really, it just TASTES GOOD under all circumstances. End of story.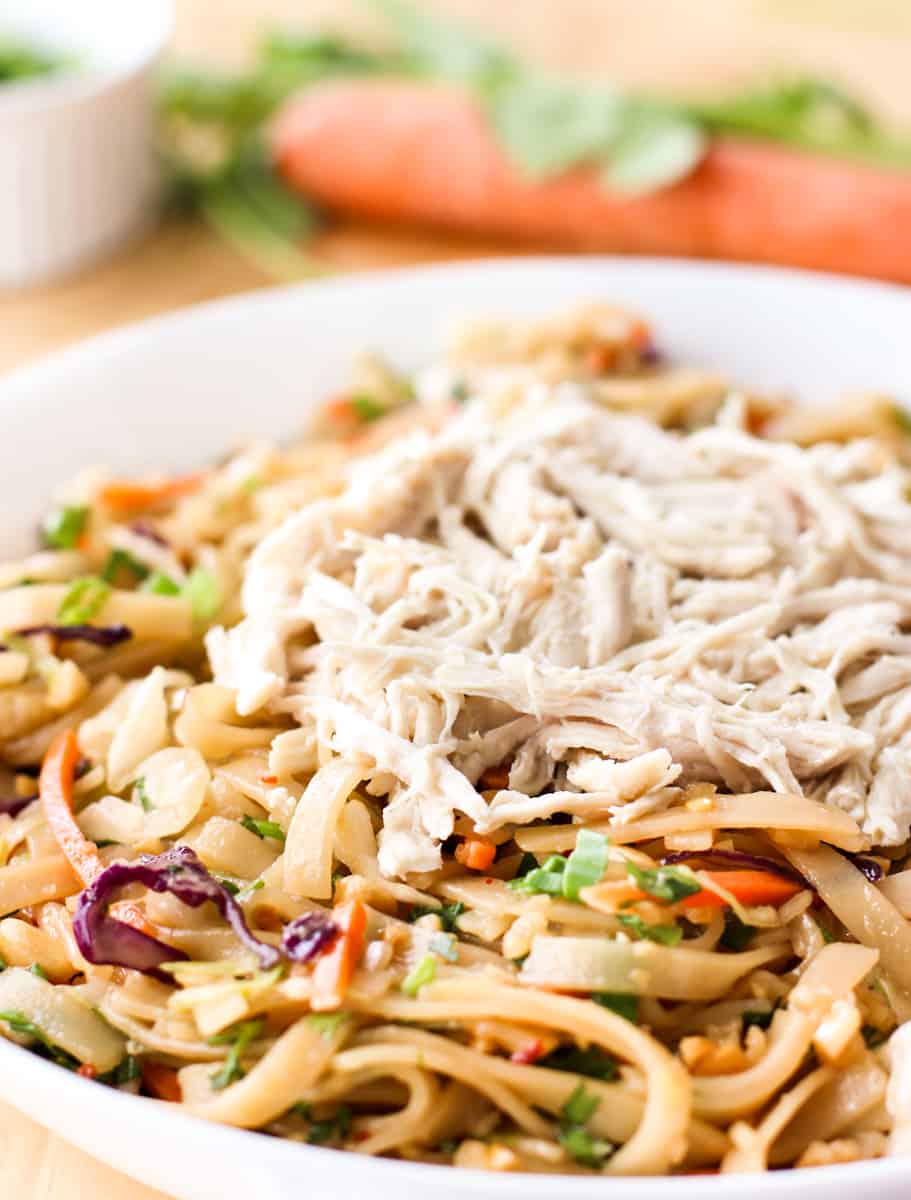 While this Thai noodle recipe is not a traditional Thai noodle dish, it has the flavors and ingredients that is Thai-inspired, and more impressively, the ability to BLOW YOUR MIND.
Thai noodle bowl is also an easy, simple noodle dish that tasty fabulous that you can whip together on a busy evening, and satisfy your Thai noodle cravings without breaking the bank and eating out all the time.
Noodle fan or not, give this one a try! You'll thank me for it later!! 😉
Tips and Tricks
A few things to keep in mind when making this easy Thai noodle recipe!
Do not overcook rice noodles! They become mushy when overcooked.
Substitute chicken for another protein: shrimp, tofu, beef…whatever you have at hand would be fine!
This is a super versatile dish so use different raw veggies if you'd like!
Rice noodles can be substitute for yellow noodles, udon noodles, or even spaghetti noodles.
Frequently Asked Questions
What type of chicken can I use?
Shredded rotisserie chicken, grilled chicken that comes ready-made frozen or refrigerated, or whatever leftover chicken you have on hand! Here is a delicious lemon balsamic chicken recipe that works great with our Thai Noodle Bowl as well.
Can I add other veggies? What types of veggies should I add?
Yes you can add whatever veggies you like to this! I would keep to veggies that you don't mind eating raw, this way you don't have to cook the veggies and can toss them into the noodles when you are mixing everything in the sauce.
What's the best way to reheat rice noodles?
When reheating rice noodles, always sprinkle some water onto noodles before reheating in the microwave to prevent noodles from drying
DID YOU ENJOY THIS RECIPE? Please comment below and give us a 5-star rating! This will help others find this recipe on Google and Pinterest. We very much appreciate your help! 🤍
Other Asian Inspired Recipes
More Noodle Recipes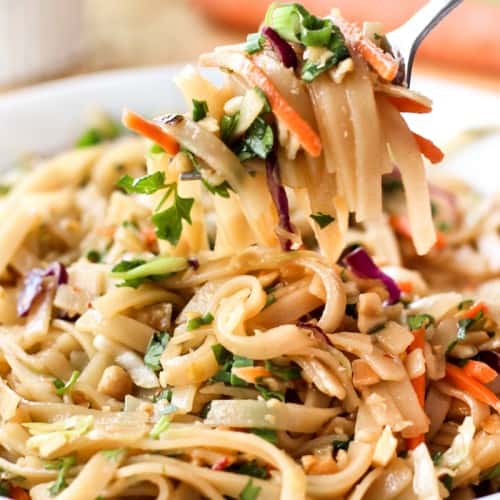 Simple Thai Noodle Bowl
A Thai inspired noodle recipe! Soft rice noodles tossed in soy-based sweet and savory sauce, combined with crunchy veggies and peanuts, garnish with lots of cilantro and green onions. This Asian noodle dish is easy to put together and filled with bold flavors that will leave you wanting more!
Print
Pin
Ingredients
5

oz

rice stick noodles (dry)

1

cup

shredded cabbage

1/2

cup

shredded carrots

1/2

cup

chopped cilantro

1/2

cup

chopped green onions

1/3

cup

chopped unsalted peanuts

1

cup

shredded rotisserie chicken

optional
Sauce
1/4

cup

soy sauce

1/8

cup

honey

1/8

cup

sesame oil

5-7

cloves

minced garlic

1/2 – 1

tsp

red pepper flakes
Instructions
Soak rice noodles by completely submerging noodles in warm water for 30 minutes, or according to package instructions. Drain noodles.

Bring water to boil in a pot. Once water is boil, add drained noodles and cook for 2 minutes. Remove from heat and drain promptly to prevent noodles from getting mushy.

In a small bowl, mix together all "sauce" ingredients.

Pour sauce onto drained noodles and mix well.

Add shredded cabbage, shredded carrots and shredded cilantro to noodle mixture. Also add half of the chopped cilantro, chopped green onions and chopped peanuts. Reserve the other half for garnish. Optional: add shredded rotisserie chicken to noodles (see Note 1). Mix well the noodle mixture.

Garnish with the rest of the chopped cilantro chopped green onions and chopped peanuts when ready to serve. Enjoy!
Notes
Note 1: Want to make your own chicken? Using a crockpot, cook 2-3 pieces of chicken tenderloins, submerged in chicken broth, under high setting, for 3-4 hours. Shred chicken and drain broth.
Nutrition
Calories:
645
kcal
|
Carbohydrates:
92
g
|
Protein:
14
g
|
Fat:
27
g
|
Saturated Fat:
4
g
|
Sodium:
1815
mg
|
Potassium:
575
mg
|
Fiber:
7
g
|
Sugar:
21
g
|
Vitamin A:
6344
IU
|
Vitamin C:
23
mg
|
Calcium:
100
mg
|
Iron:
3
mg