Slow Cooker Chicken in Tomato and Herb Sauce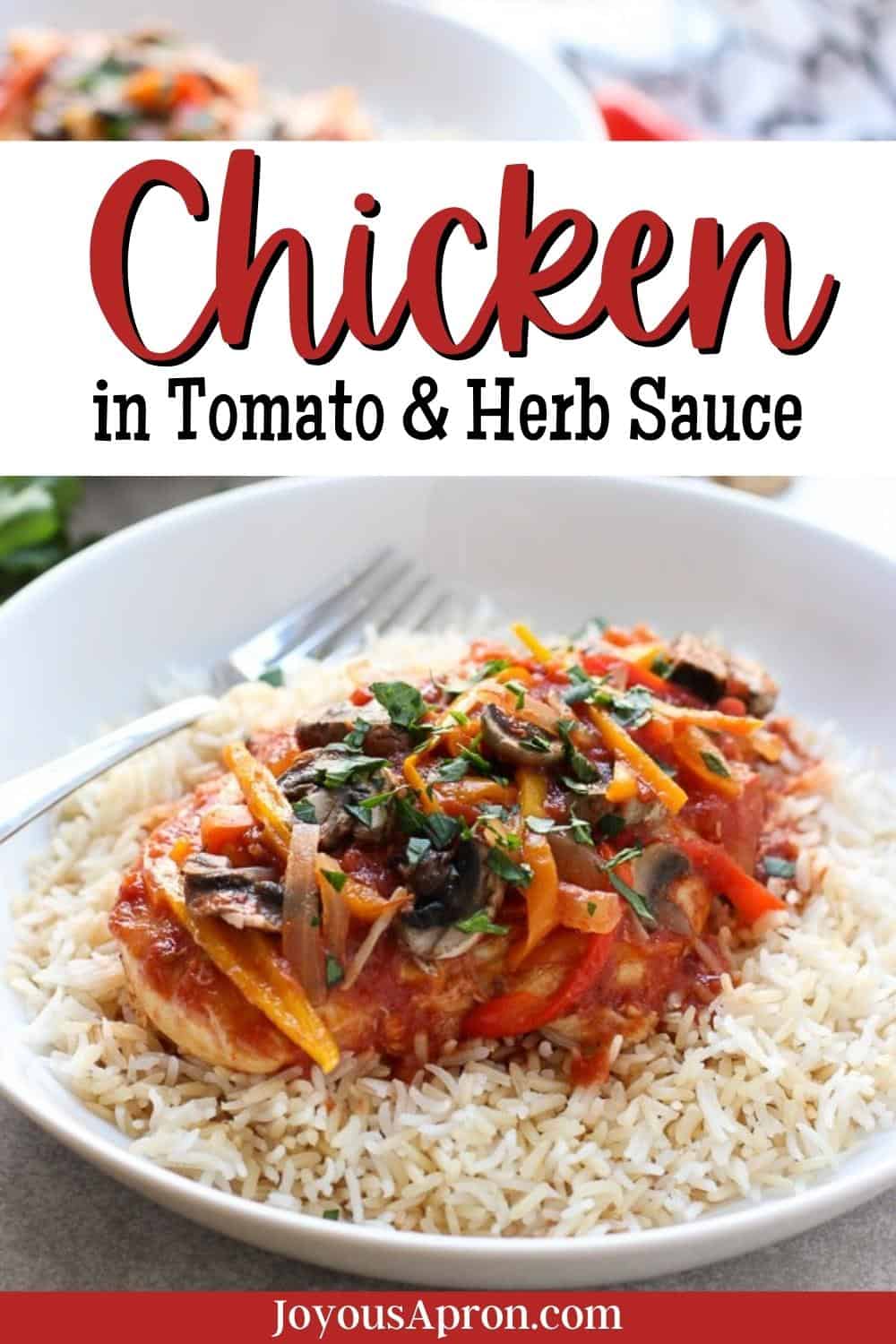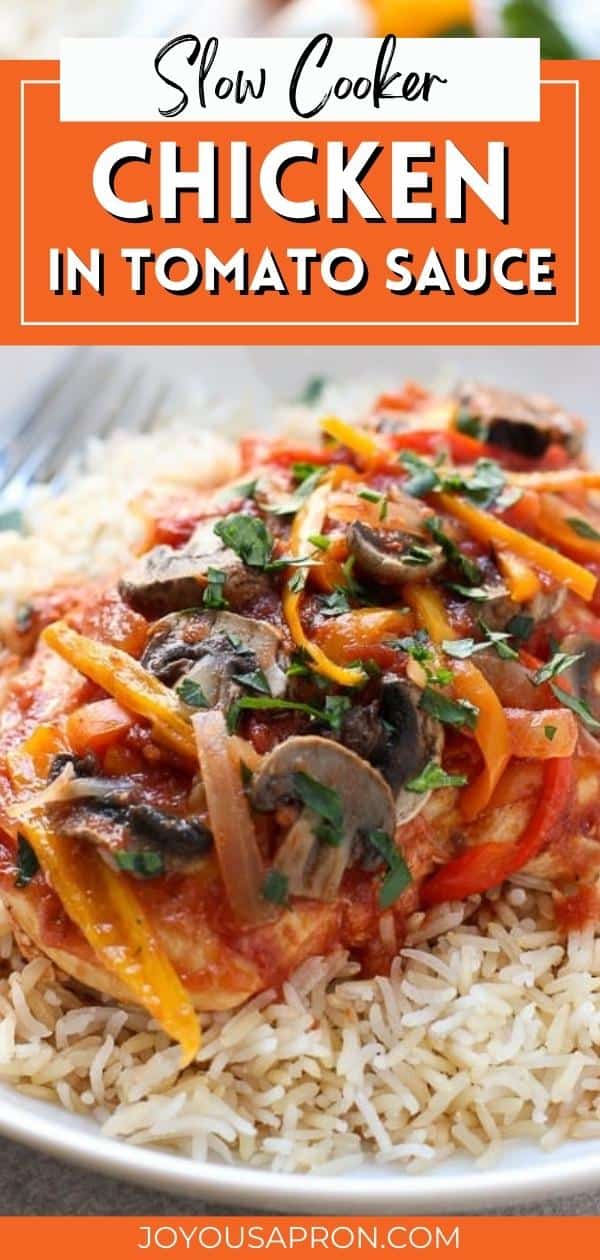 Meet my new favorite meal for busy evenings. Slow Cooker Chicken in Tomato Sauce, infused with the flavors of white wine, garlic, thyme and bay leaf, cooked with onions, bell peppers, and mushrooms. Your part in this? Wash/prep/chop ingredients, and throw everything in the slow cooker. THAT IS ALL.
Oh, and that eating part. Never forget that eating part.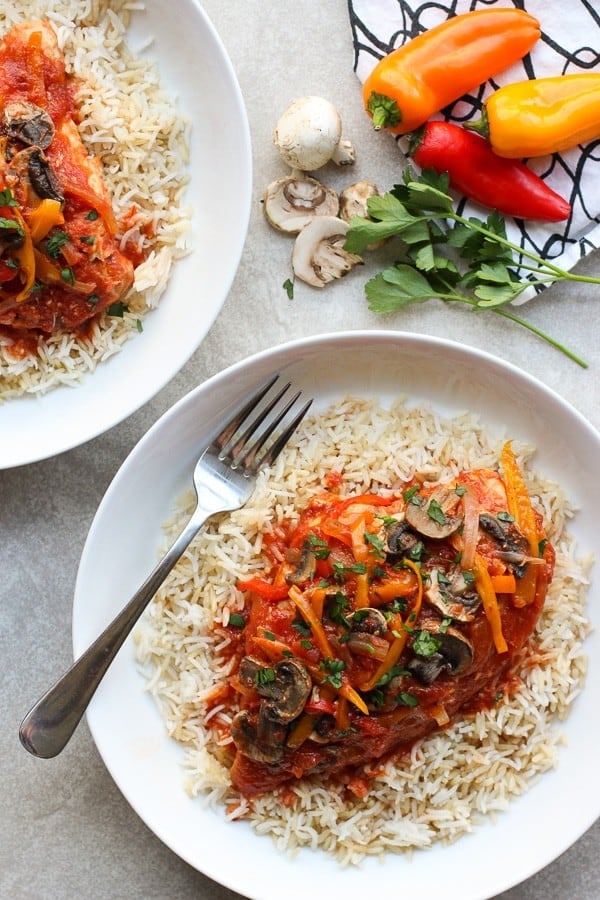 The slow cooker is awesome because you can take a nap while it does all the hard work. Although I doubt most of us nap while the slow cooker makes our meal. 😉 I know I will be running around trying to get OTHER things done.
Even so, it is dreamy to to think about napping in the afternoon while delicious foods is cooked, and waking up to the smell of thyme and bay leaves and tomatoes.
I thought winter was over, then below-freezing weather grace us with its presence a couple of days ago. A week ago, we had weather that was a high of 70s – we were running outside and it was hard to remember that winter existed.
That being said, the colder weather inspired me to break out my slow cooker again. I was also inspired by my fellow internet friends presenting dreamy bowls of soups, stews and all the things they make with instant pots and slow cookers.
Two other reasons how this Slow Cooker Chicken in Tomato and Herb Sauce happened:
There lies in me deep affections for anything tomatoes and tomato sauce. Evidence of all the tomato-ness: this, this and this. And this.
I have been wanting to make a solid chicken dish with lots of saucy goodness in the slow cooker for the longest time.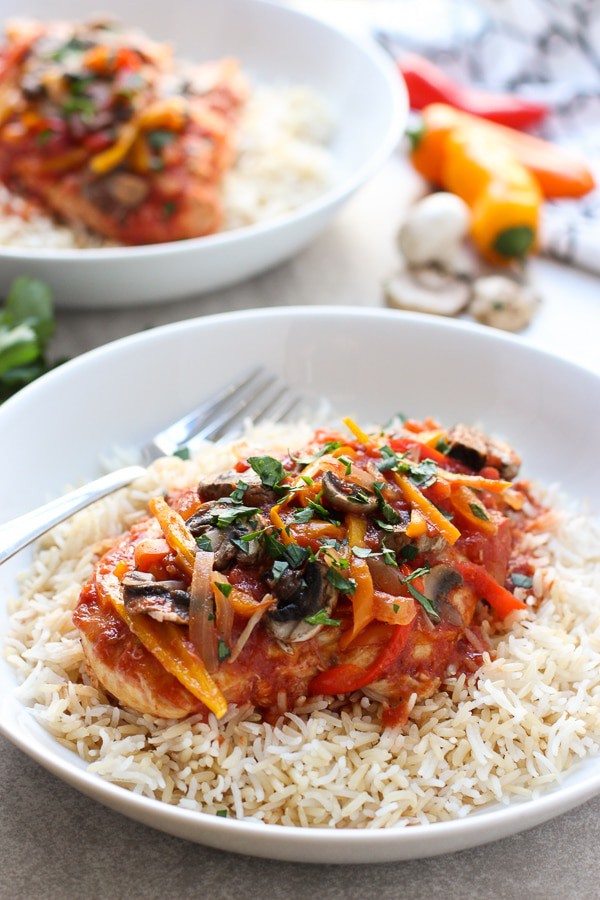 You know that saucy goodness. It's not really a soup or a stew, and it's not really chicken with a few drops of juice on it either. It's somewhere in the middle.
It's the kind that you can serve on a plate or a flat bowl with rice or pasta, and you get to drizzle as much sauce on it as you want, and the rice and pasta get to soak up all that saucy goodness.
But you know what else I want above everything else? I want crazy good flavors. I want to dispel the notion that slow cooker is just for easy dinners.
Easy and yummy can co-exist quite happily together. I want flavors that will make your tastebuds dance.
After much trial and error, I learned the ticket to crazy good flavors for this dish is this – combining good quality white wine, garlic, onions, fresh (makes a big difference!) thyme, bay leaf, bell peppers and mushrooms, and infusing them into that tomato sauce.
Now that will make your tastebuds DANCE.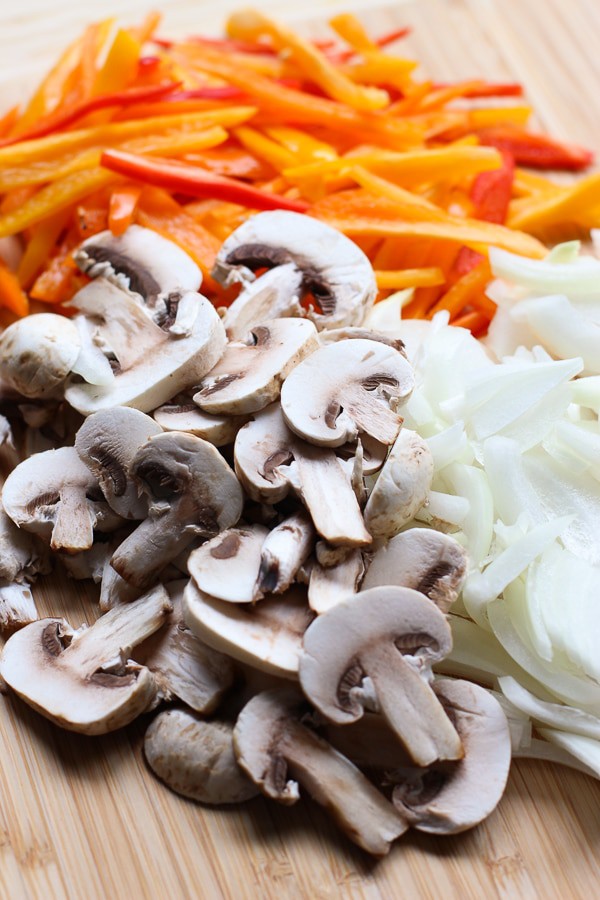 What type of chicken to use?
You may be wondering – what type of chicken should I use for this recipe? Am I limited to just white meat chicken? Because let's be real, sometimes dark meat chicken rocks.
I typically use chicken breast, but feel free to use dark meat or even bone-in chicken. The amount of cook time needed should be similar. However, if you are using large pieces of chicken, then you should cook it for longer.
Also note that when using chicken breast, make sure to completely defrost the chicken before adding it to the slow cooker. If chicken is not defrosted, you may need a longer cook time.
I also like to slice chicken breast into thinner slices, or get the thinly sliced chicken breast from the store for this recipe. It's a picky detail, but I like larger sauce to protein ratio in every bite. 😉
How to Cook Chicken in a Slow Cooker
Making chicken, or anything really, in a slow cooker is super simple. I typically like to add the liquid and spices first, and then add the chicken, bell peppers and mushrooms. And then the fresh herbs.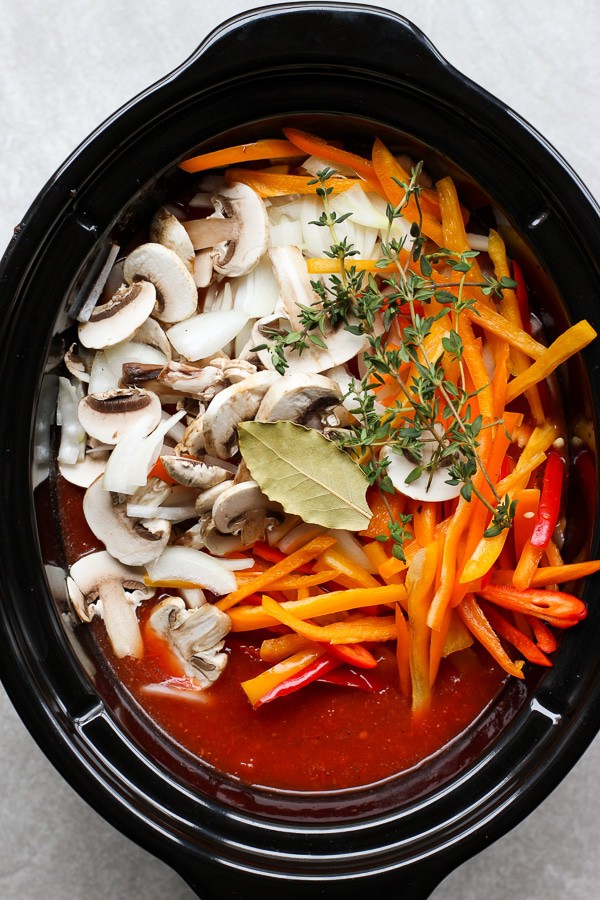 Submerge the ingredients by pressing the ingredients into the liquid. Try to submerge everything as much as possible, but it does not have to be fully submerged.
After many hours of cooking under slow heat, chicken will be tender and juicy. And that, my friends, is the beauty of slow cooking.
What white wine to use for cooking?
It is best to use white wine with high acidity, or in other words, "crisp' white wine. Examples are Sauvignon Blanc, Pinot Grigio, and Pinot Gris. I have used other white wines and frankly, it works just as well. Just avoid the overly sweet dessert wines.
When picking out wines, note that you don't need to get an expensive wine, but I won't get the cheapest wine either. My rule for cooking with wine is this: cook with wine that you would not mind drinking, because cooking does not take away the quality in old or bad wine. Cooking it does slowly take out the alcoholic content.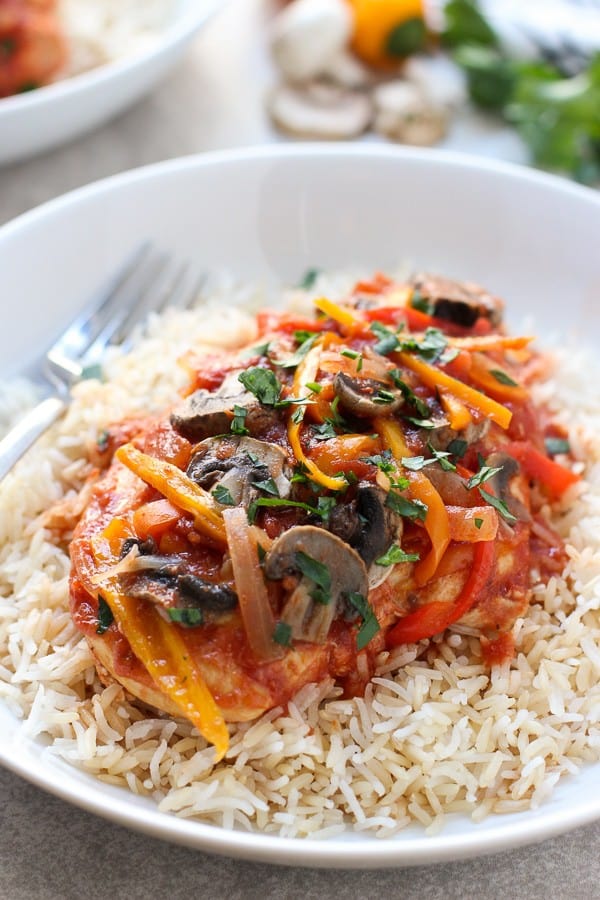 Other Tips and Tricks
The recipe does call for salt in the ingredients. However, once chicken is completely cooked, taste the sauce and add more salt if needed.
Salt plays a role in adding saltiness to a dish, but salt also plays as much of a role in opening up the other flavors in a dish. It bumps the flavors profile up many notches and transforms a dish from good to amazing. So don't forget to taste and add additional salt at the end if needed.
My favorite way to serve this dish is over a bed of rice. And I personally also like to drown the chicken in the sauce. You will find that you will have lots of sauce in the crockpot. Don't let them go to waste! Make it a super saucy chicken dish – that is the best way to eat this yum thing. You might be even tempted to kick off the plate because the sauce is just amazing…just sayin'.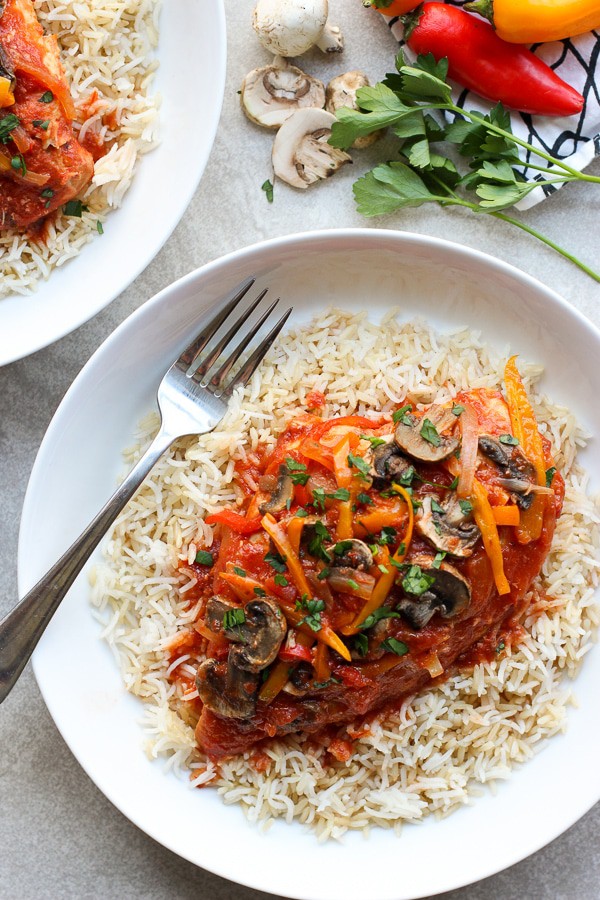 This meal takes only 15 minutes of active time – it's hard to believe how much flavor it has given how easy it is to put this together.
I hope you give it a try! And if you do, don't forget to let me know how it went in the comment boxes below!
Other Yummy Chicken Recipes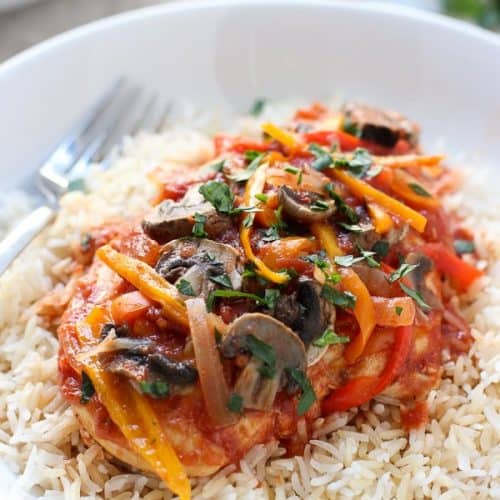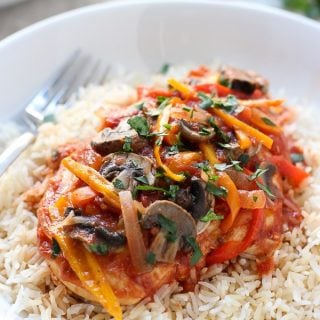 Slow Cooker Chicken in Tomato and Herb Sauce
A healthy, simple and yummy meal! Using a slow cooker, chicken is cooked in an herb and white wine infused tomato sauce, combined with bell peppers, onions and mushrooms. Serve over a bed of rice. It's the perfect easy dinner for busy days! Great for meal prep and keeps well as leftovers.
Print
Pin
Ingredients
3-3.5

lbs

chicken breast

1/2

white onion

1 1/2

cups

white mushrooms

sliced

1 1/2

cups

orange or red bell peppers

sliced

30

oz

canned crushed tomatoes

1/2

cup

chicken broth

1/2

cup

white wine

5-6

cloves

garlic

2

tbsp

sugar

1/2

tbsp

salt

more if needed

1/4

tsp

pepper

2-3

springs

thyme

1

bay leaf
Instructions
Slice onions, bell peppers, and mushrooms. Slice chicken breasts into thinner slices if they are super thick.

Add crushed tomatoes, chicken broth, white wine, garlic, sugar, salt and pepper to slow cooker. Mix to combine.

Add slices of chicken breast to slow cooker. Then add onions, bell pepper, mushrooms, thyme and bay leaf. Use a spoon to submerge the ingredients into the sauce as much as possible (okay if not fully submerged).

Cook on high for 3.5-4 hours.

Taste and add more salt if needed. Salt will open up the flavors of the sauce.

Remove bay leaf, thyme and garlic pieces. Serve chicken with (lots of) sauce over a bed of rice. Enjoy!
Nutrition
Calories:
362
kcal
|
Carbohydrates:
20
g
|
Protein:
52
g
|
Fat:
7
g
|
Saturated Fat:
1
g
|
Polyunsaturated Fat:
1
g
|
Monounsaturated Fat:
2
g
|
Trans Fat:
1
g
|
Cholesterol:
145
mg
|
Sodium:
1108
mg
|
Potassium:
1466
mg
|
Fiber:
4
g
|
Sugar:
13
g
|
Vitamin A:
1557
IU
|
Vitamin C:
67
mg
|
Calcium:
75
mg
|
Iron:
3
mg