This post may contain Amazon or other affiliate links. As an Amazon Associate I earn from qualifying purchases at no additional cost to you.
You guys. This Kung Pao Chicken. THIS Kung Pao Chicken. I AM IN LURVE.
The flavors, the textures, the way the ingredients and spices come together… it is a mind-blowing adventure for your tastebuds.
And the best part? This classic Chinese dish so doable in your very own kitchen. I kid you not, it tastes better than takeout, and not to mention, WAY healthier!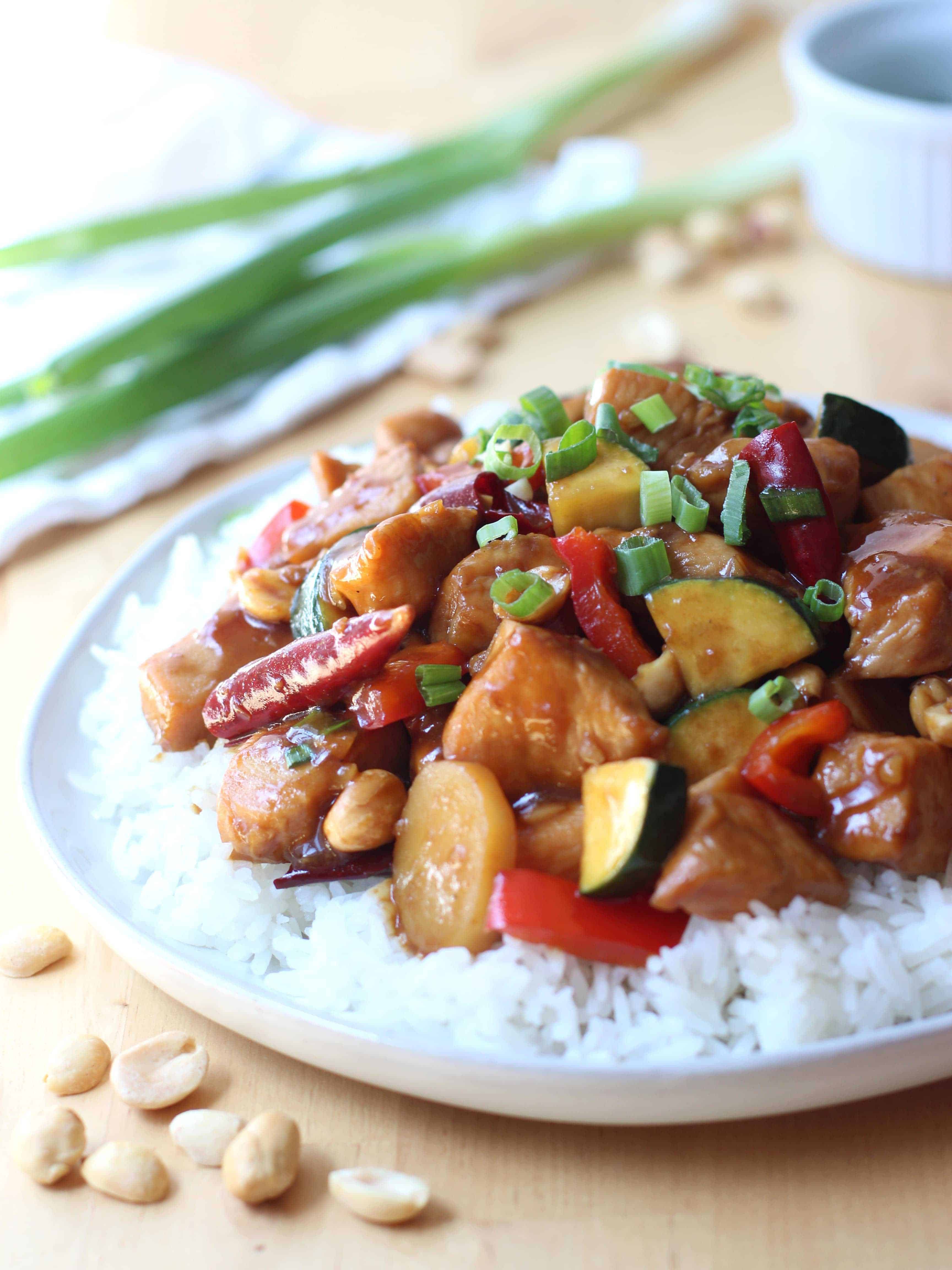 I love many things about this dish, but if I have to pick two, here it is:
The SAUCE. Your truly is Ms. Sauce Queen (my husband actually gave me that nickname) . I love my sauces, and let me tell you, this sauce is way up there in my sauce-ranking-meter.
It has so much going on – savory, sweet, slightly sour, and a teeny-tiny spicy kick (which you can eliminate easily if needed). A sauce with complex flavors has my heart!
The Textures. I should probably call myself "Ms. Texture Queen" too because I am all about textures in my food. You get the crunch from the peanuts, zucchinis, and bell peppers that goes perfectly with the juicy chicken, all smothered with that sticky, sticky sauce.
Also, let's be real here – it's great to be able to incorporate veggies that are good for you AND makes the dish tastes amazing.
Always trying to kill two birds with one stone. ALWAYS.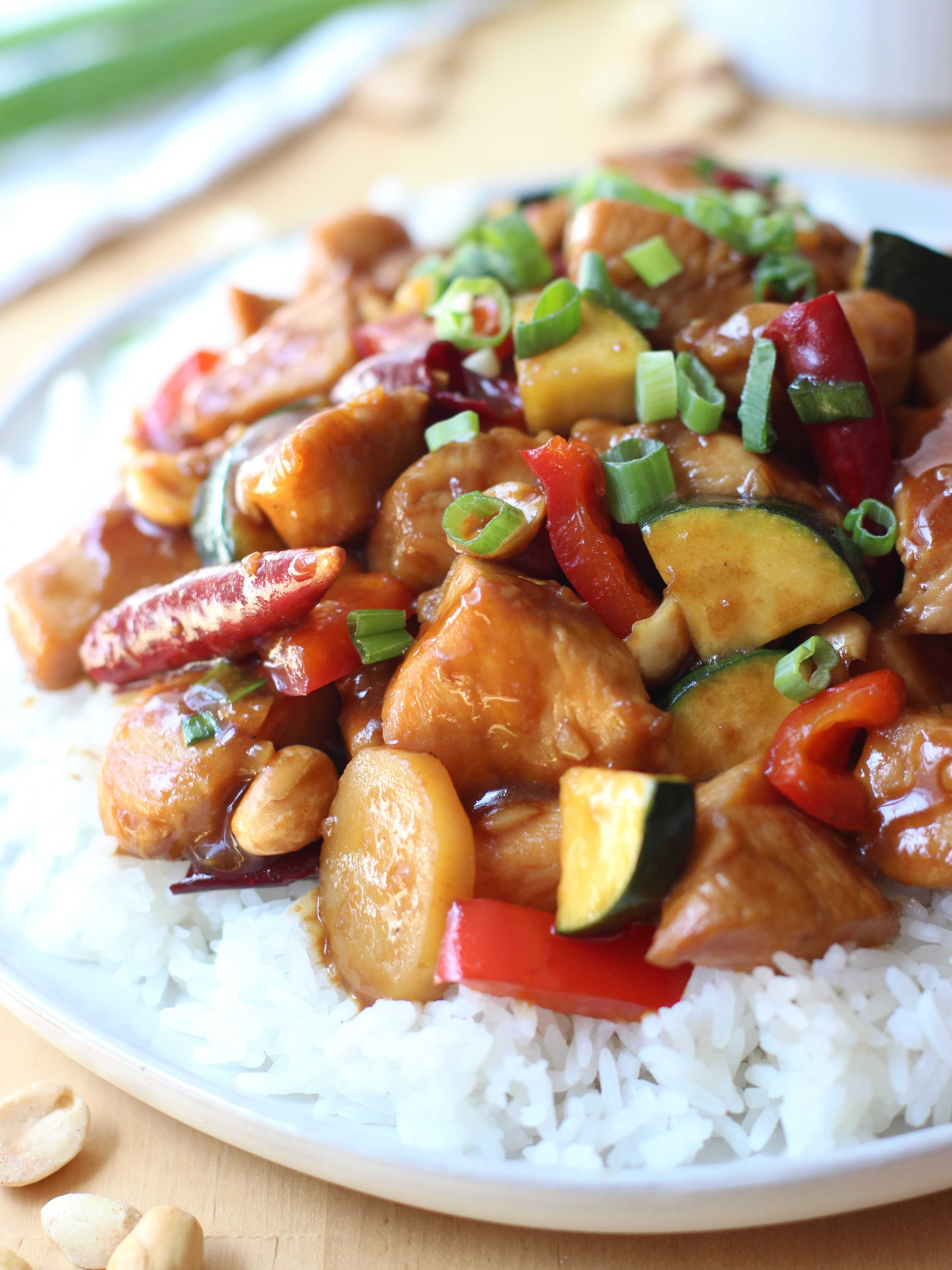 The version of Kung Pao Chicken I am sharing today is the American-Chinese Kung Pao Chicken. If you live in the United States, this is the version you would have encountered the most. It is widely served and thoroughly enjoyed access most Chinese restaurants in the country. It's simply lovely.
Long before it is served all over the world, Kung Pao Chicken was birthed in the Sichuan province of China. The authentic Sichuan version is typically less sweet, a lot spicier (due to the Sichuan peppercorns used), the sauce is thinner, and it doesn't have as much veggies added to it.
The truth is, I thoroughly enjoy both versions. They taste slightly different and have their own uniqueness, and somedays I crave for one more than the other.
Maybe one day I will share the authentic Sichuan version, but today, we are cooking up the American-Chinese version that I think you will LOVE!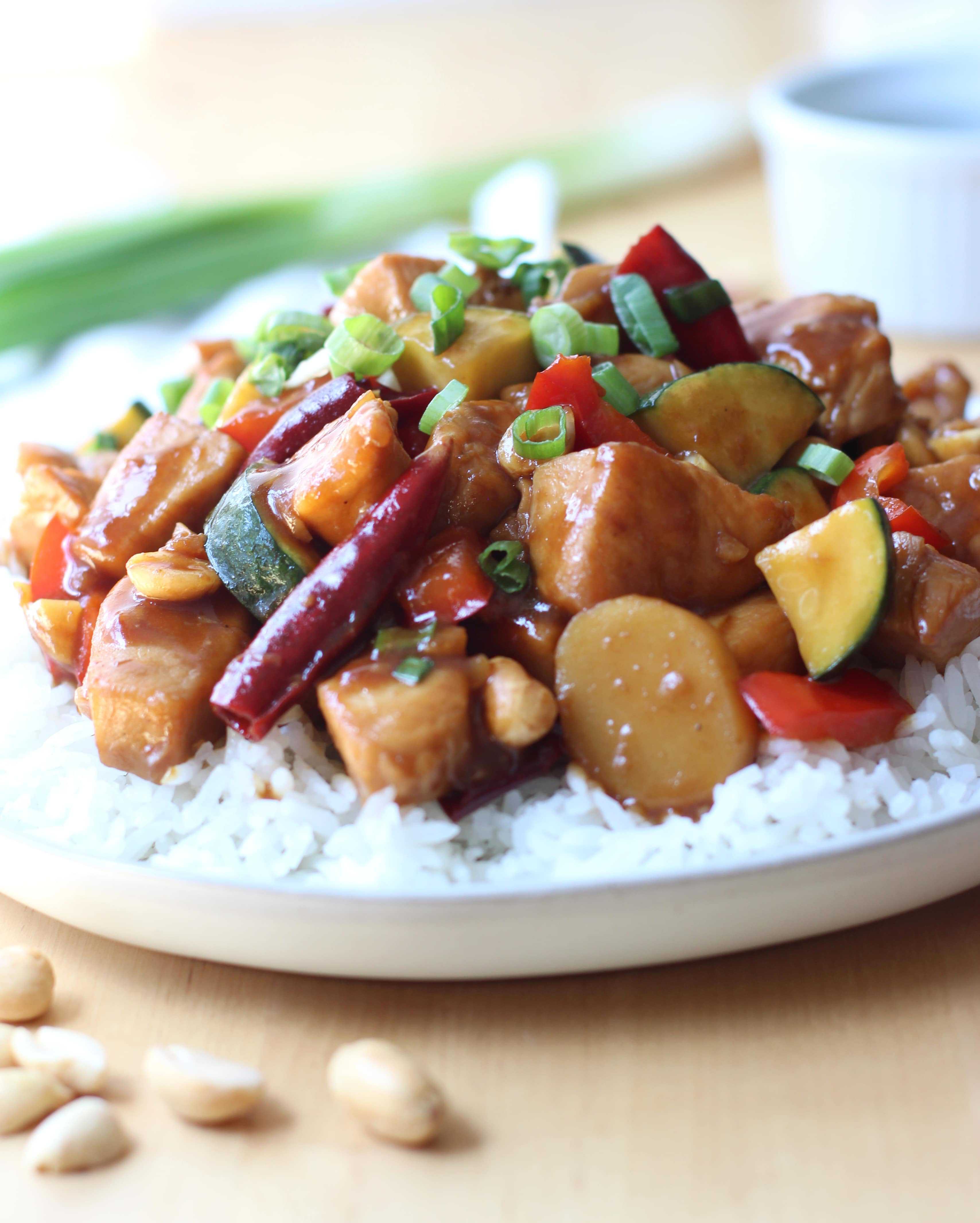 How to make Kung Pao Chicken
To begin, cut chicken breast into cubes. I like to keep the cubes 1 – 1 1/2 inches long per sides, but more importantly, keep the chicken pieces around the same size so they cook evenly.
Marinate the chicken with light soy sauce/soy sauce (this is basically your regular soy sauce, just that some brands call it "light soy sauce"),  rice wine, sesame oil and corn starch for ~15 minutes.
While waiting on the marinate, create the stir fry sauce by mixing light soy sauce/soy sauce, dark soy sauce, rice vinegar, sugar, water, and corn starch. I attached affiliate links so you can see the brands I use.
As I mentioned earlier, I love adding veggies and other ingredients to this dish, incorporating zucchinis, bell peppers, peanuts, water chestnuts (I use canned), and green onions. Along for the ride, and equally important, are minced garlic, sliced ginger, dried red chillies (remove seeds) and peanuts.
Chop/prep these ingredients and set them next to the stove within arm's reach when stir frying as that process goes fast.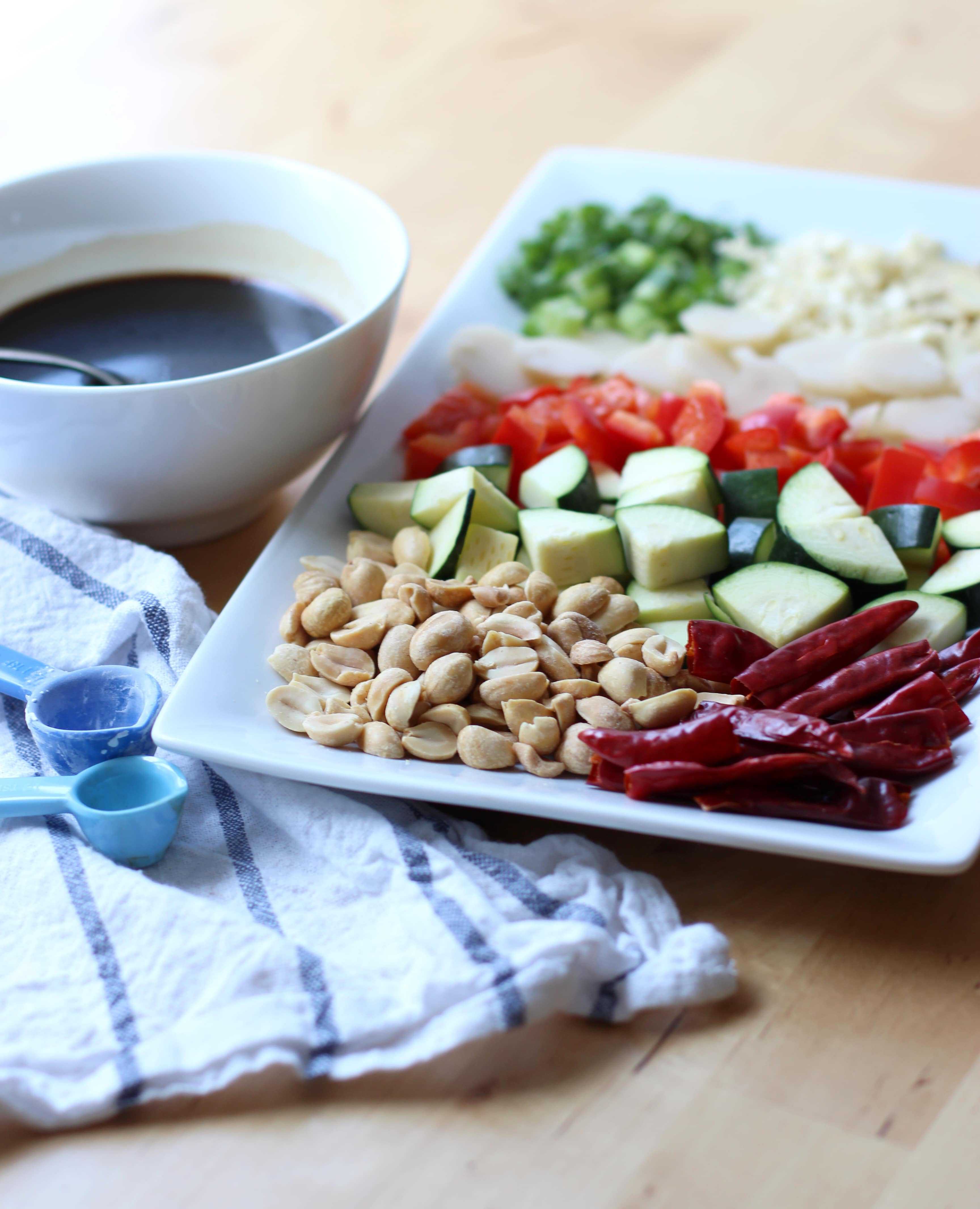 Heat up vegetable oil in wok/skillet under high heat. Once wok/skillet is heated up, add chicken pieces and cook until almost done. Next add minced garlic, sliced ginger, dried rep chilis and stir fry sauce. Let it simmer for a minute as we are trying to get the heat from the red chilies to infused into the sauce.
The dried red chilies sound super spicy but it really just gives the dish a slight kick in the sauce. However, don't bite into it as it will be truly spicy then. If you don't want any spice at all, then you can remove the dried red chilies completely. If you want the sauce super spicy, add red pepper flakes.
Next, throw in the zucchinis, and bell peppers, cook for a minute to soften the veggies (avoid overcooking), then add water chestnut, peanuts and green onions. Stir fry for another 30 seconds, then remove promptly.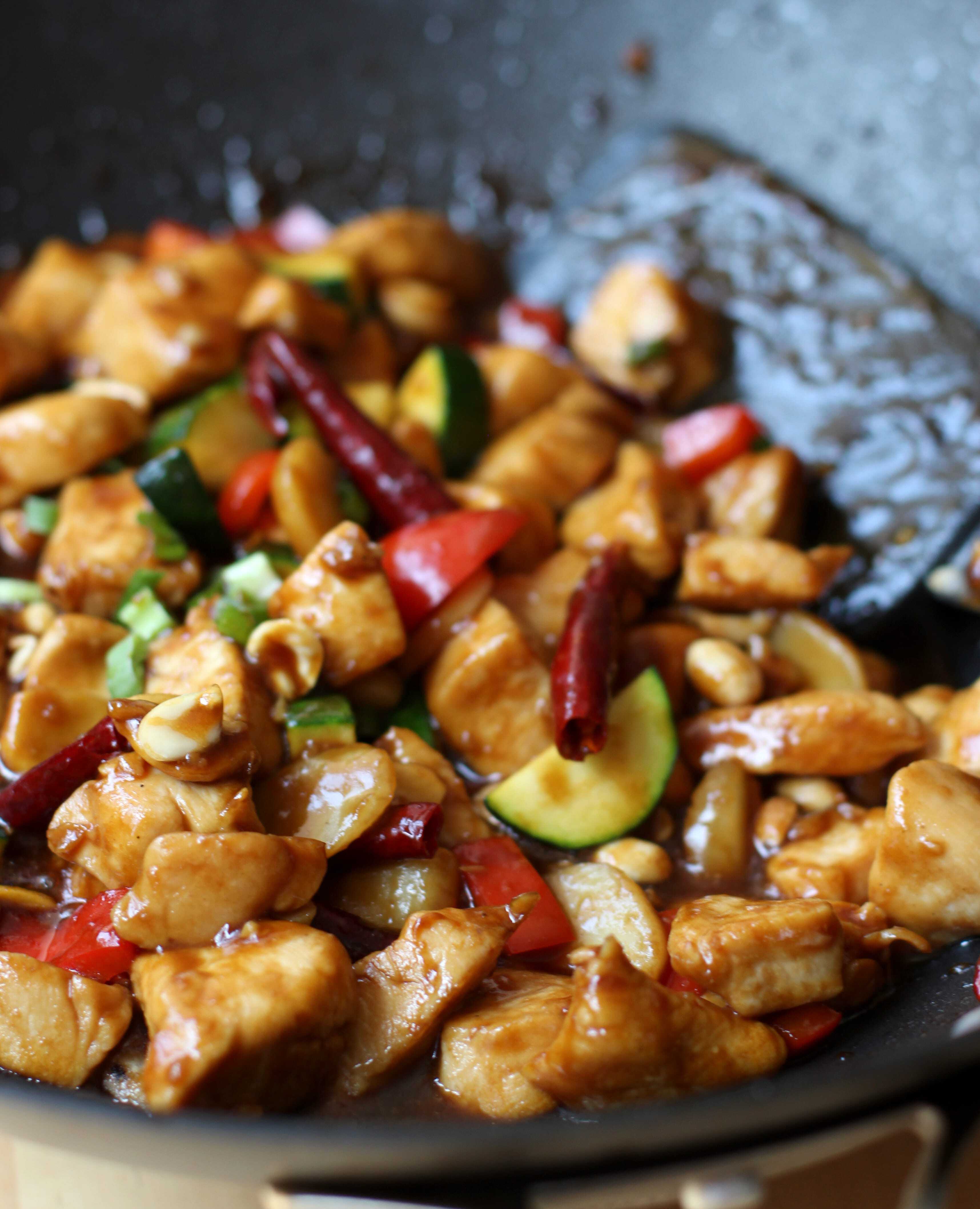 Garnish with additional green onions if desire. Serve it over white or brown rice.
I'll tell you this. One bite into this thing, and I was hooked. I was amazed by how good it tasted, and how much BETTER it tasted than Chinese takeout. Then I told my husband I will be making this in the future instead of getting take out.
Unless I really want to be served and not cook. You know that feeling? You are tired and just want SOMEBODY to serve you food…
But for the actual taste of the food itself, oh friends, THIS IS SO MUCH BETTER!!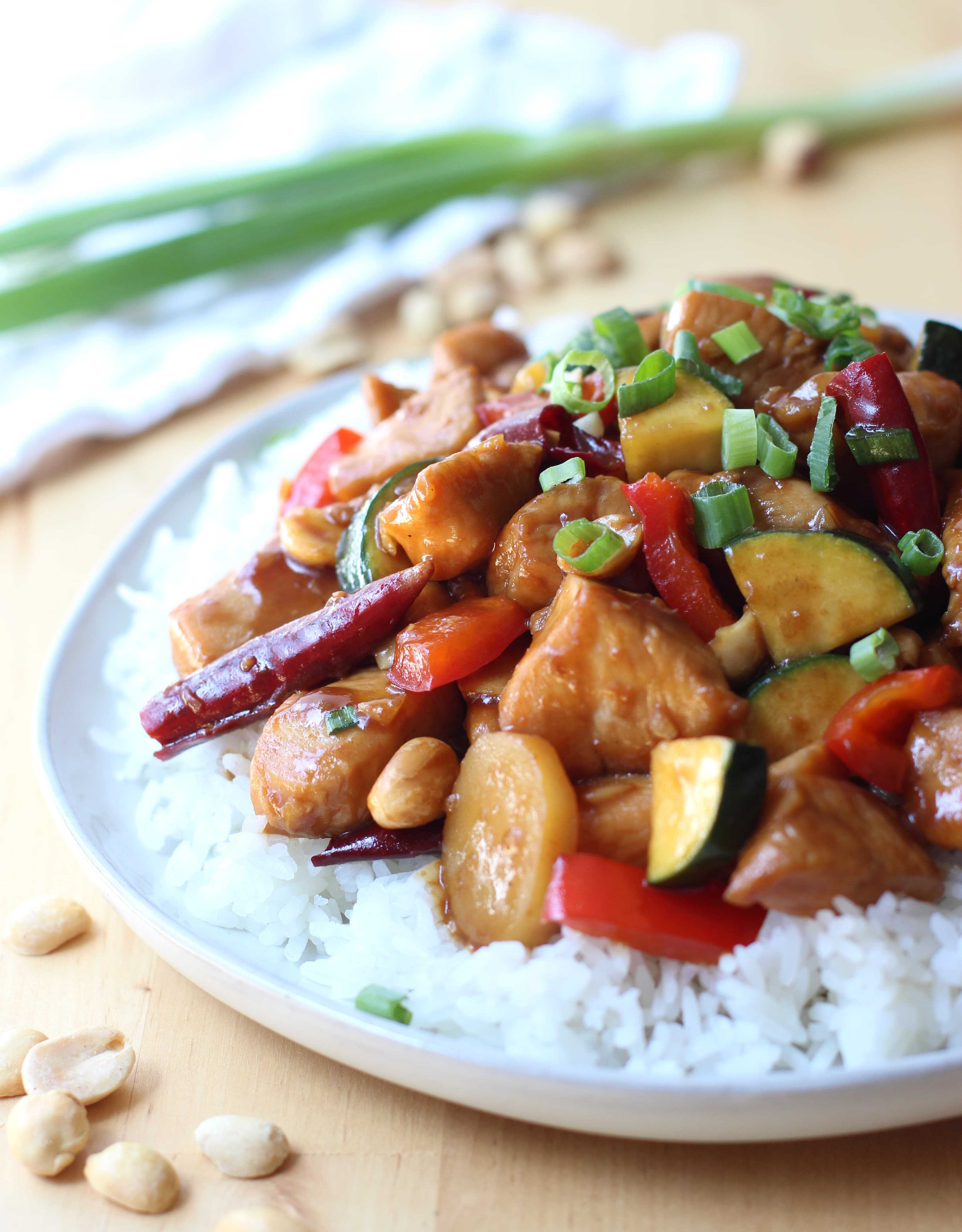 Sticky, sticky goodness, so much flavor, so much crunch, so addictive!
I made multiple batches (the process of perfecting a recipe) and had so much leftovers, we had it for days, for multiple meals in a day, and I swallowed each plate like a hungry woman every…single…time. Something about it just kept me going back for more!
All this stir fry business
We do a lot of stir fry around here. In fact, we do so much stir fry I wrote a whole article about it! Everything you need to know about making an awesome stir fry right in your home is here -> 8 Tips to a Great Stir Fry
Also check out our other delicious Asian stir fry recipes on the blog!
If you make this recipe, comment below and let me know what you think! Also, don't forget to take a picture and tag me on Instagram, because I WANNA SEE!!