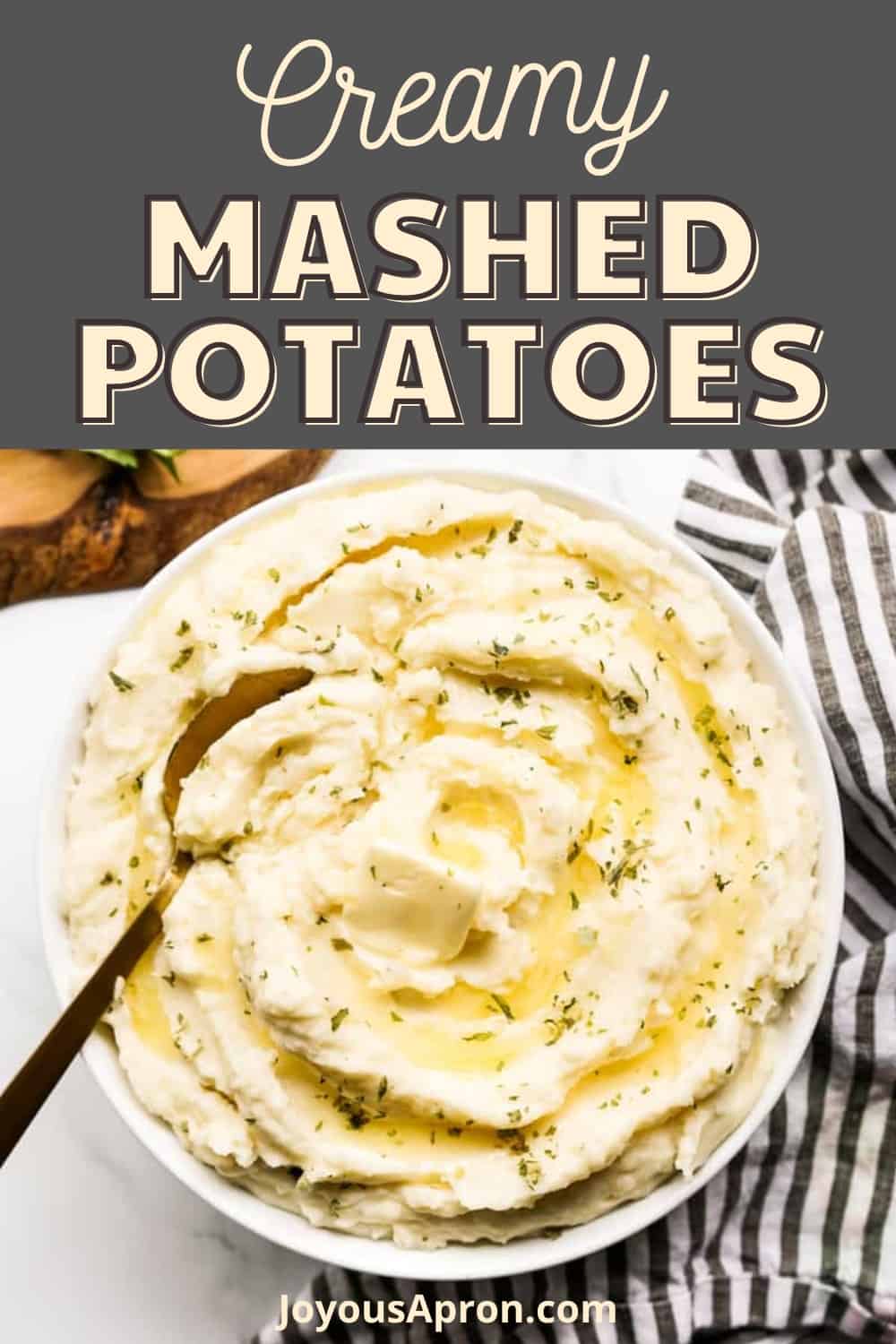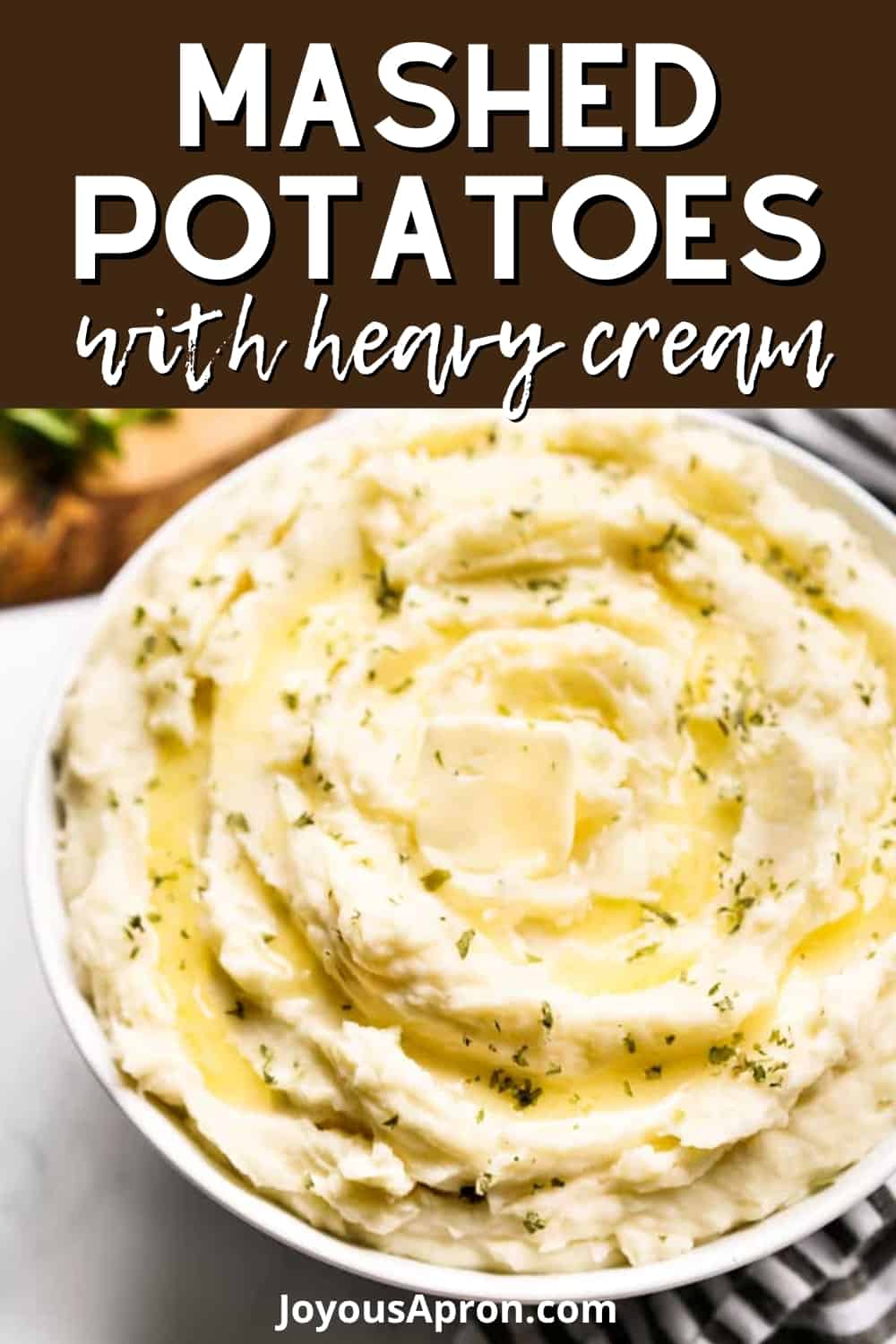 Check out this ultra creamy and silky mashed potato: mashed potatoes with heavy cream. Besides heavy cream, mashed potatoes are also seasoned with seasoned salt and butter for amazing flavors, making this an indulgent and luxurious mashed potatoes perfect for holiday dinners.
There's truly no other ingredient like heavy whipping cream if you want to make a silky, rich and ultra creamy mashed potatoes.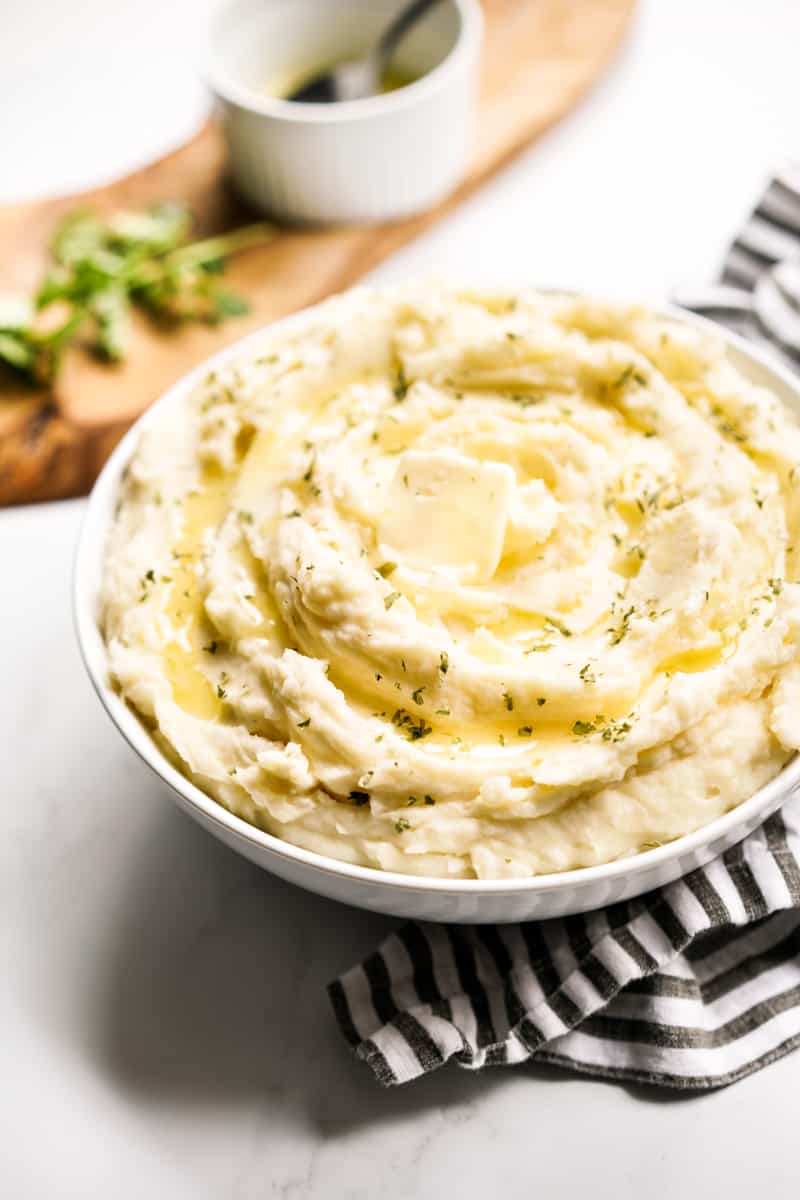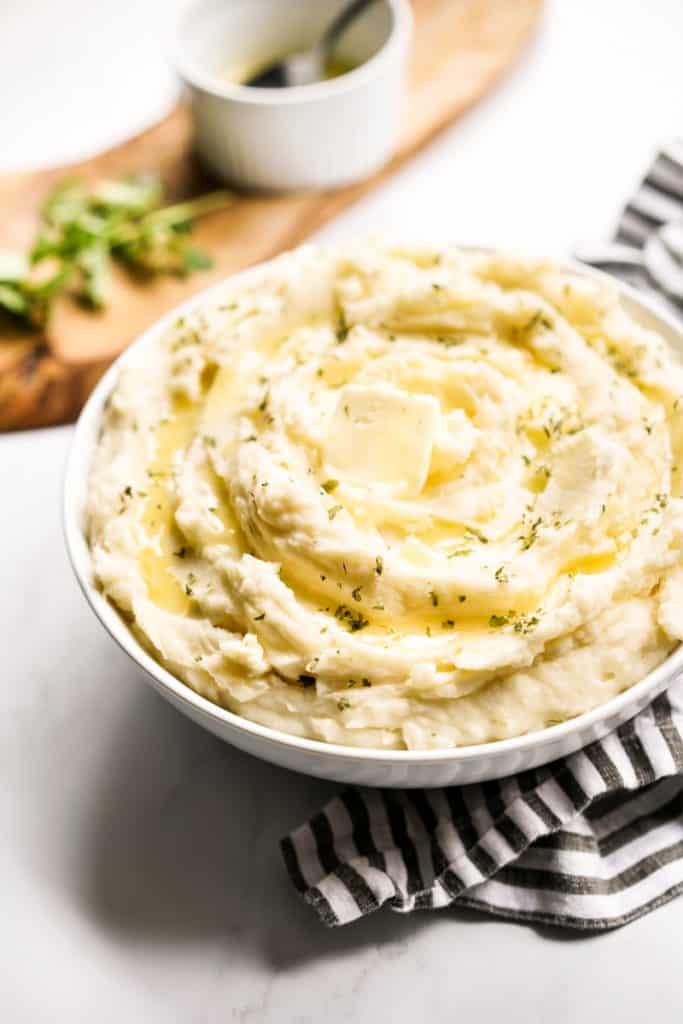 Making Thanksgiving or Christmas dinner? Try these holiday favorites out to round out your menu: Dutch Oven Herb Butter Turkey Breast, Sweet Potato Casserole with Pecans, Roasted Whole Carrots and Best Easy Pumpkin Pie.
Mashed Potatoes with Heavy Cream
I've experimented with many mashed potatoes recipes and many ingredients, and have come to this conclusion: if you want to make the creamiest and smoothest mashed potatoes, make your mashed potatoes with heavy cream.
I've tried milk, half and half, and other ingredients, but they just don't work as well.
You need heavy whipping cream to get that rich and creamy texture, making your mashed potatoes incredibly luxurious and indulgent.
Whenever I want to make a truly delicious, satisfying mashed potatoes, I make my mashed potatoes with heavy cream. There's really no other way to go about this.
It's the holidays, enjoy and indulge! ❤️
Heavy cream are sometimes called heavy whipping cream, and they are basically cream with a lot of fat, containing about 36 to 40 percent of fat in them. They are heavier and cremier than half and half, whipping cream, evaporated milk, or any type of milk.
If you use these other products instead of heavy cream, your mashed potatoes will not be as thick, rich and creamy as it would if you make mashed potatoes with heavy cream.
In addition, I also season my potatoes with butter and season salt, giving this mashed potatoes with heavy cream another dimension of flavor, and I think that truly makes this the BEST mashed potatoes ever.
P/S: Besides mashed potatoes, make your mac and cheese with heavy cream as well for the creamiest macaroni and cheese you'll ever taste!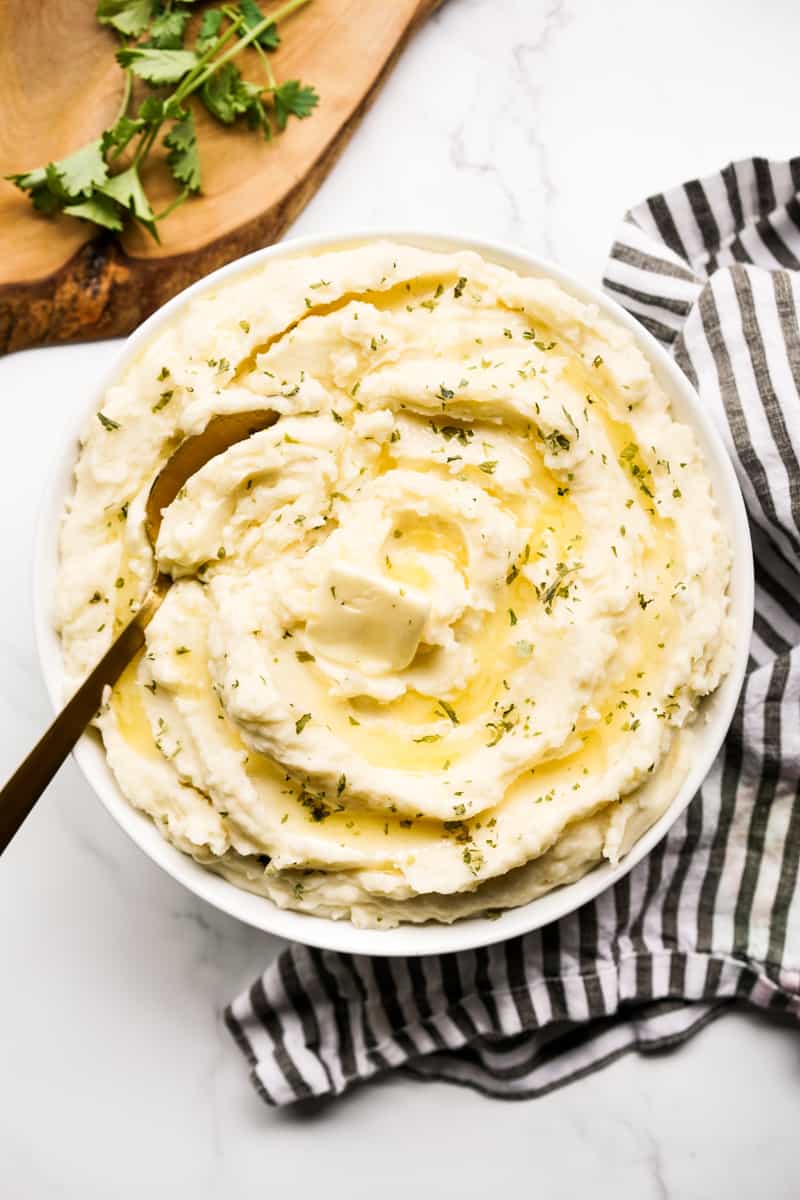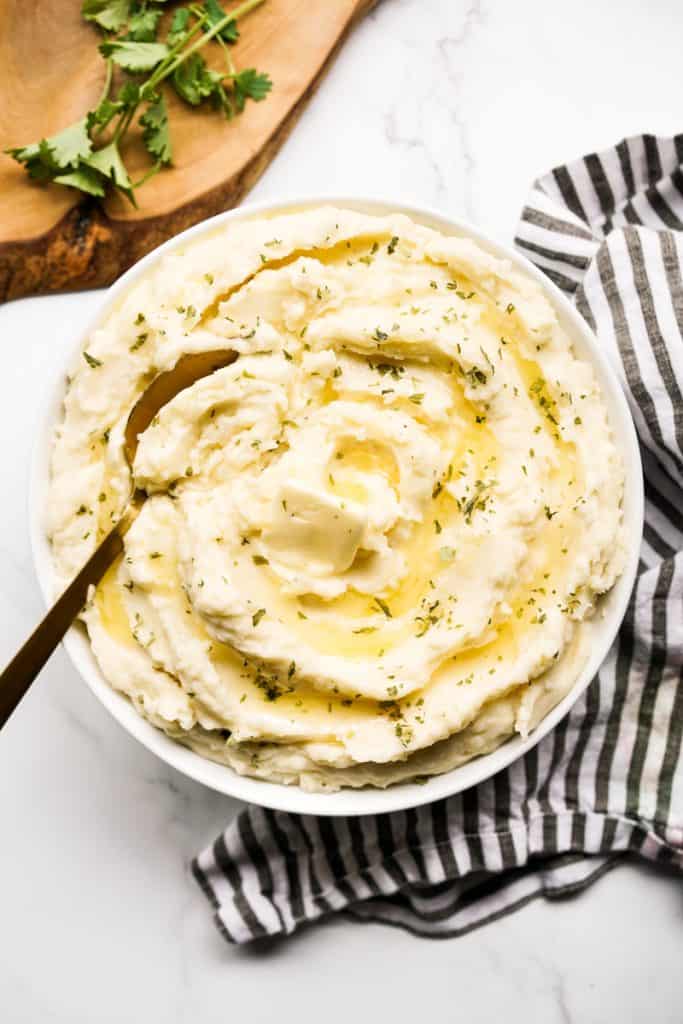 Ingredients
Heavy cream is a very important ingredient in the making of this mashed potato recipe, but it is definitely not the only important ingredient.
The good news is though, this mashed potatoes with heavy cream recipe has a fairly short list of ingredients. To make it, you will only need FOUR simple, pantry-friendly ingredients:
potatoes – best potatoes for mashed potatoes are russet and Yukon gold potatoes, however I've used red potatoes and they work as well.
heavy cream – sometimes called heavy whipping cream, it contains about 36-40% of fat. Avoid substituting for half and half or any types of milk – your mashed potatoes will not turned out as creamy if using those.
salted butter – avoid unsalted, as salted butter will bring more flavor to your mashed potatoes. Butter is also used to make the mashed potatoes creamy
seasoned salt – different from salt, seasoned salt has additional dimension of flavors. My favorite is Lawry's Seasoned Salt.
How to make creamy mashed potatoes
Hopefully at this point, I have successfully convinced you that mashed potatoes with heavy cream is the only way to do mashed potatoes right. 😉
My next goal: show you how simply it is to make mashed potatoes from scratch!
Before you know it, you will be snubbing your nose at store-bought mashed potatoes because mashed potatoes with heavy cream is truly SO much better, and not hard to make at all!
Prepare potatoes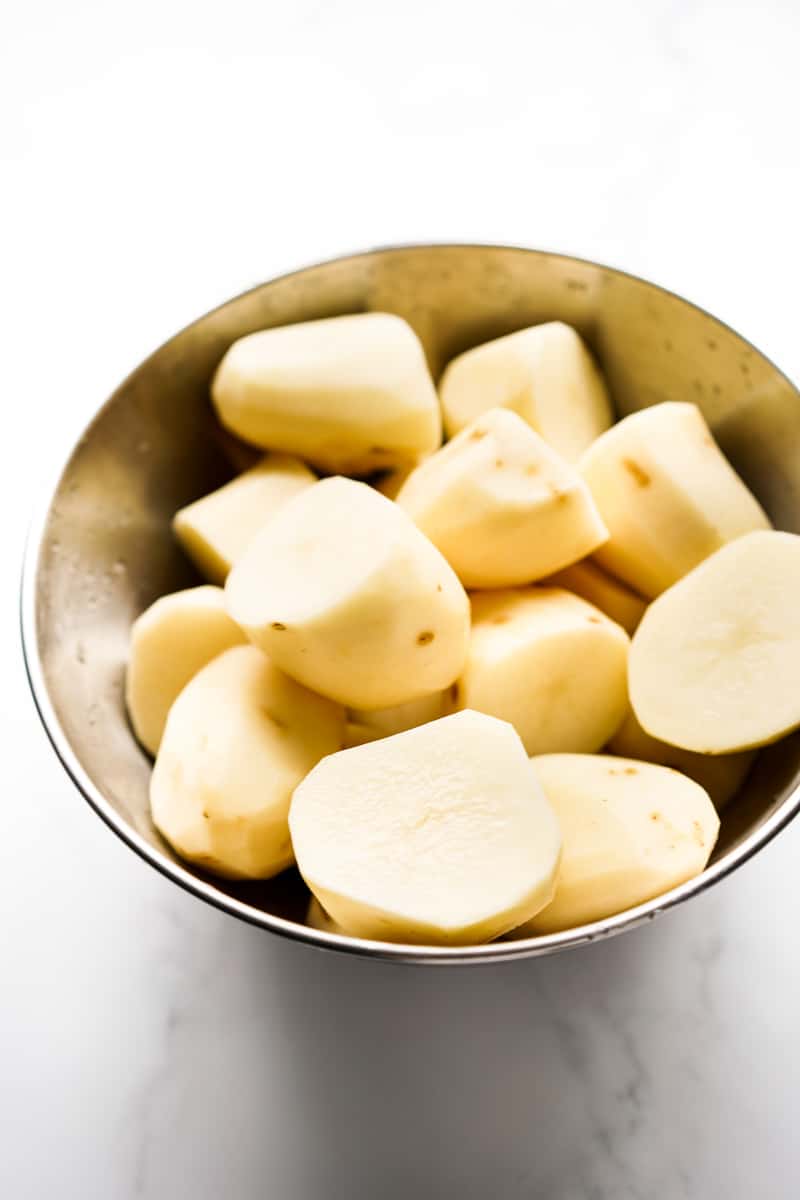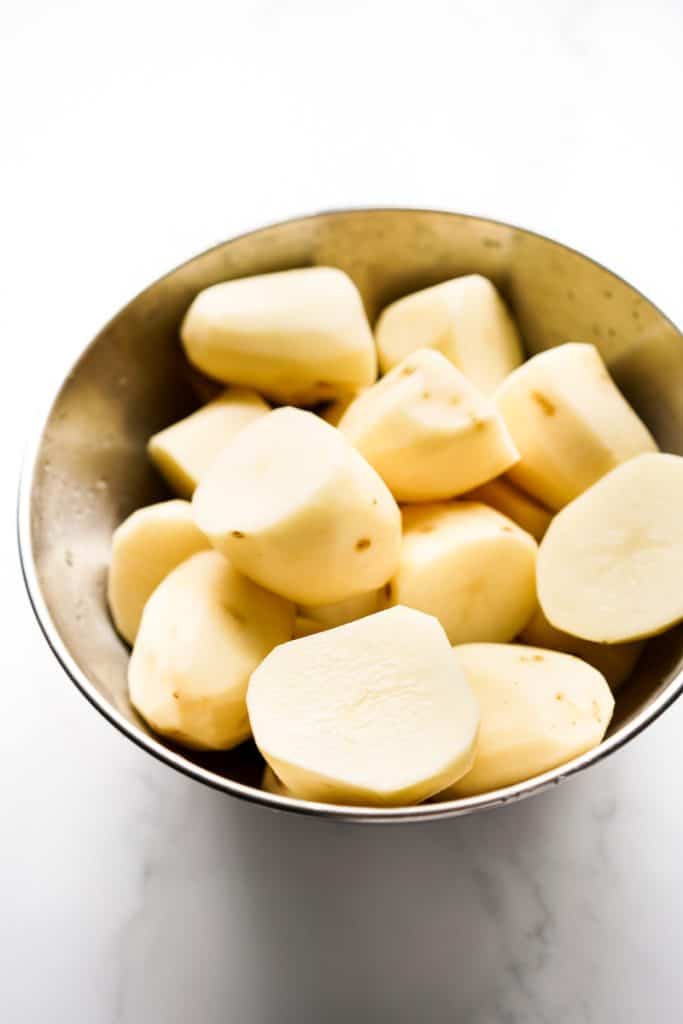 When preparing your potatoes, make sure to scrub it under running water to remove the dirt on the potato skin, and then peel the potatoes.
You can choose not to peel the potatoes if you prefer, or only peel half of the potatoes.
I like to slice the potatoes into large chunks so that it is easier and quicker to softened.
Boil a pot of water and then add your chunks of potatoes to it. Cook until they soften.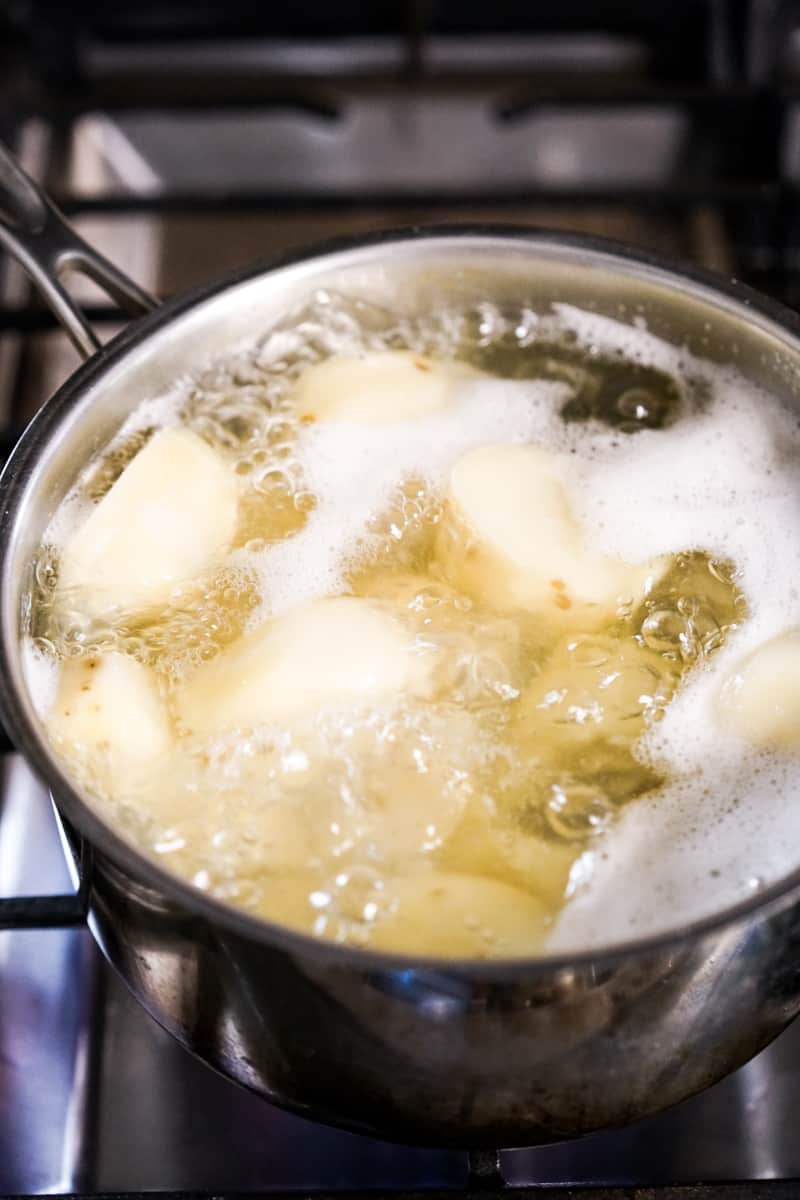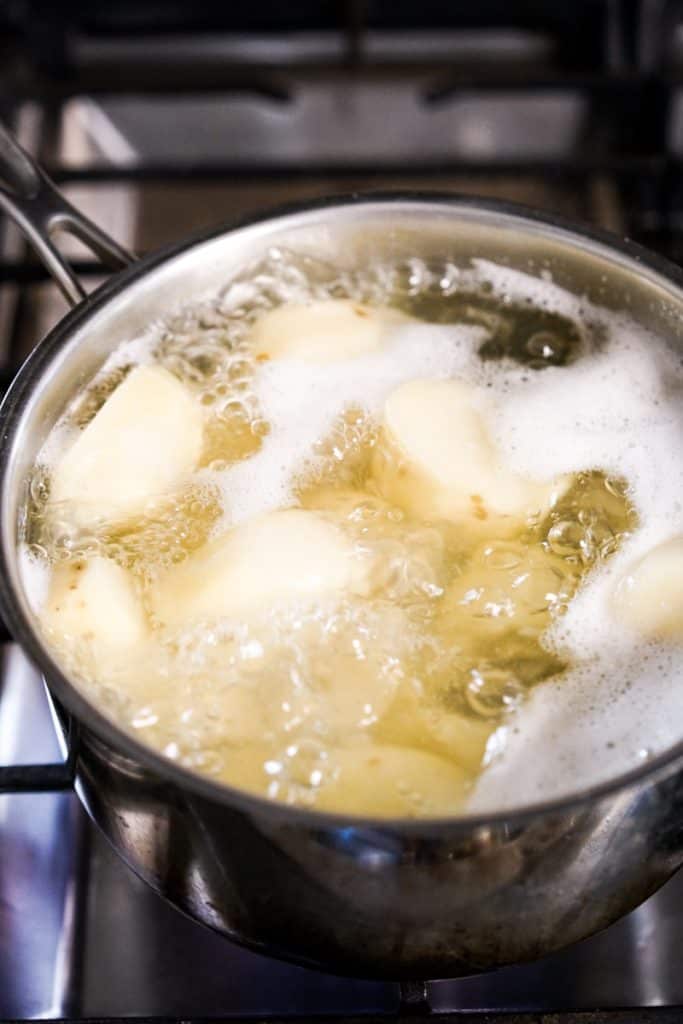 When potatoes are soft, drain all the boiling water immediately from the pot, and then use a potato masher or electric hand mixer to mash the potatoes.
Make sure you mash the potatoes when potatoes are thoroughly cooked through and soft. Also do it while it is still steaming hot so that it is easier to mash those potatoes and make them ultra smooth.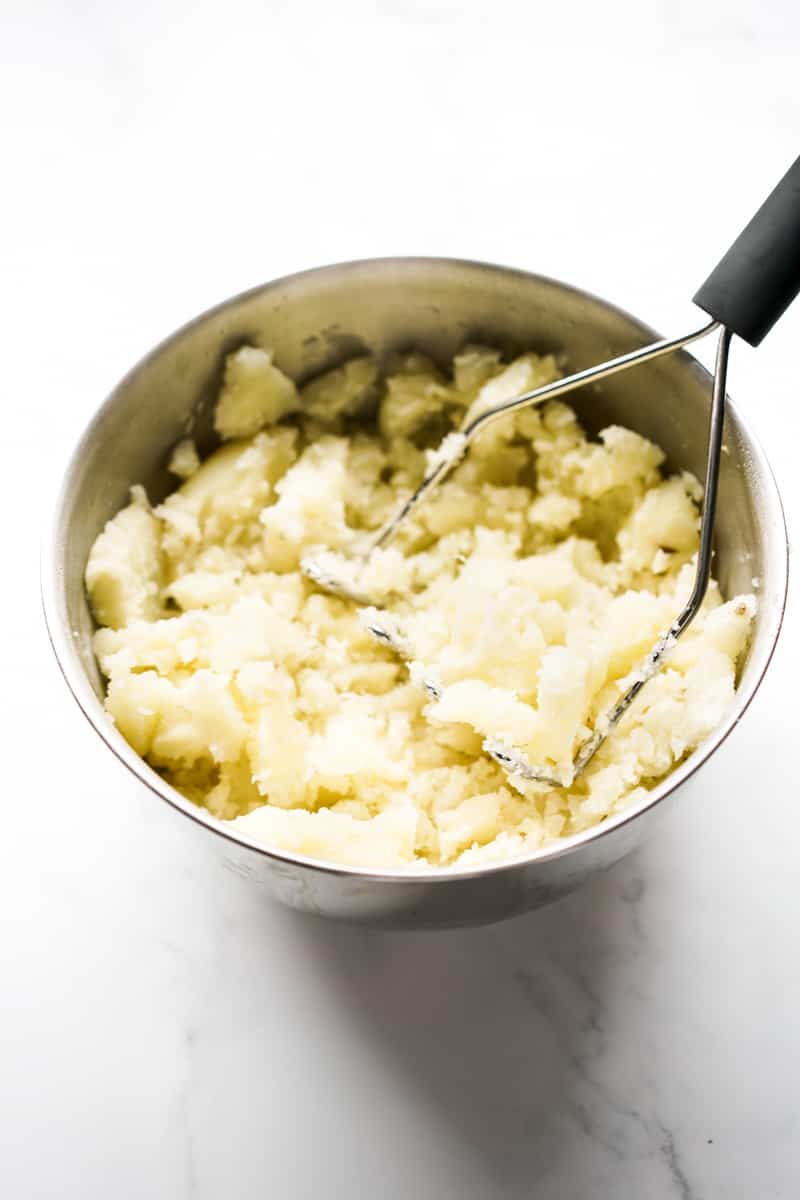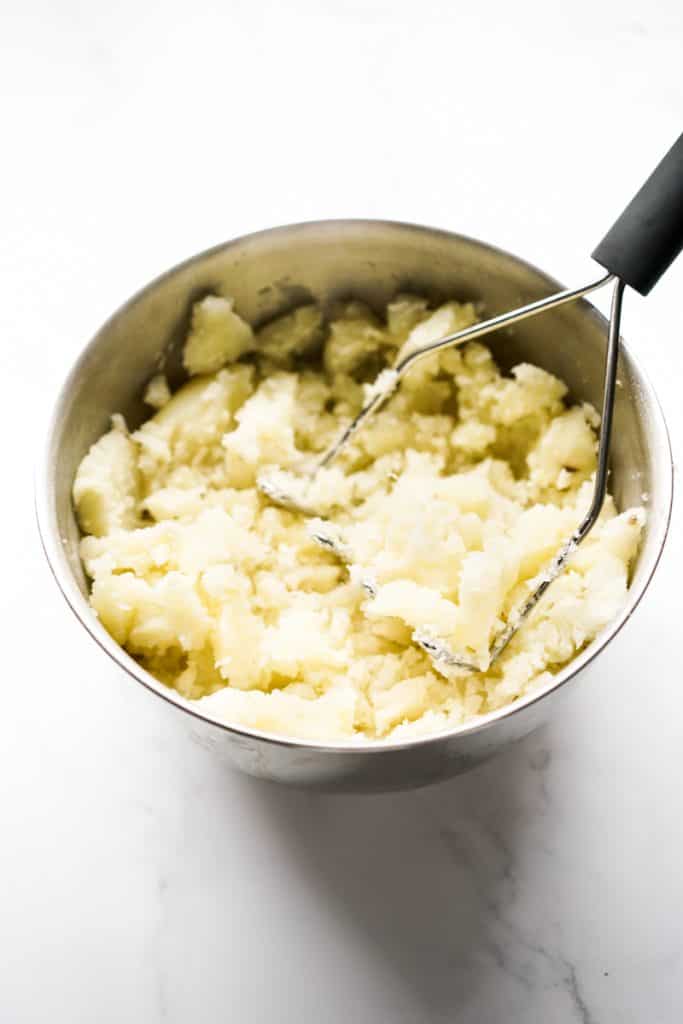 It does take a few minutes to truly break down and smooth out those potatoes.
If you are looking to make your mashed potatoes ultra creamy, it is super important to work those arm muscles and keep mashing until there are no more potato chunks and potatoes become a smooth paste.
Season and dress mashed potatoes
Ok here comes the fun part, and the part that makes your mashed potatoes truly flavorful, creamy and delicious!
When potatoes are completely mashed up, they should be smooth, fluffy and soft in texture.
Next, we add our short list of ingredients to make it the dreamy mashed potatoes that it is: heavy cream (duh of course!), butter and seasoned salt.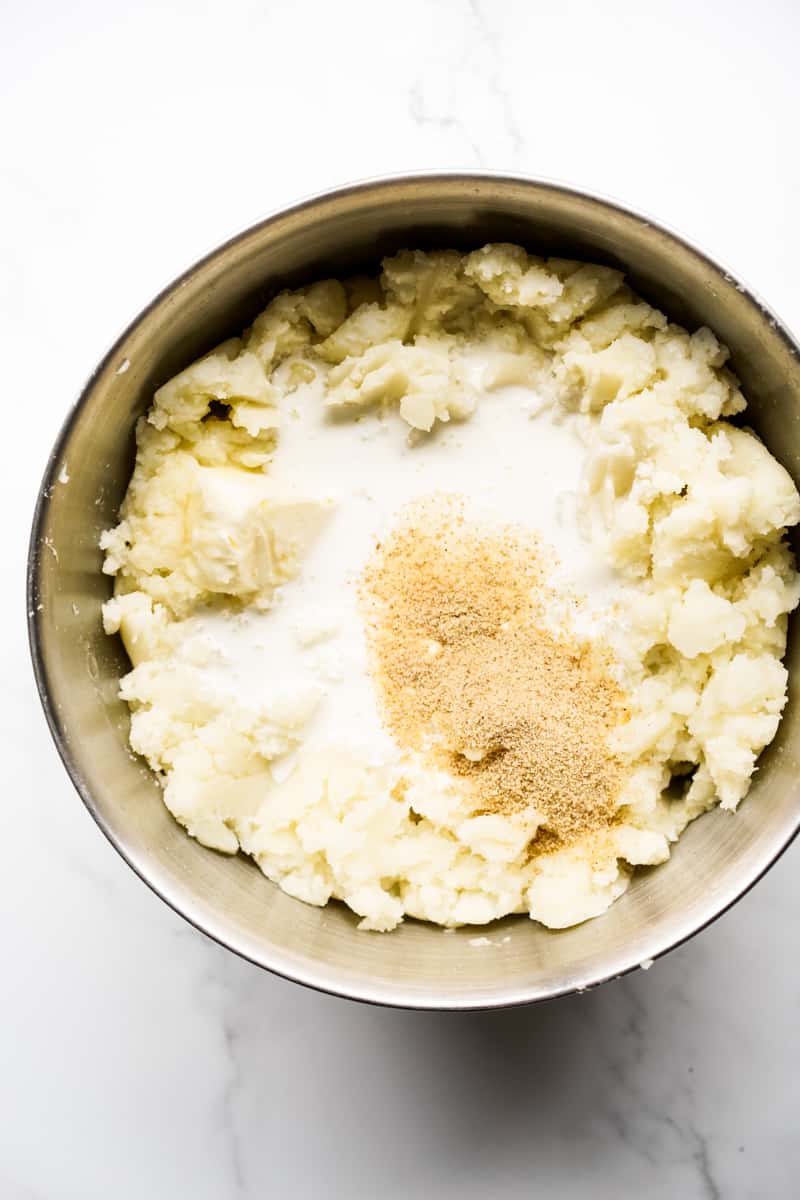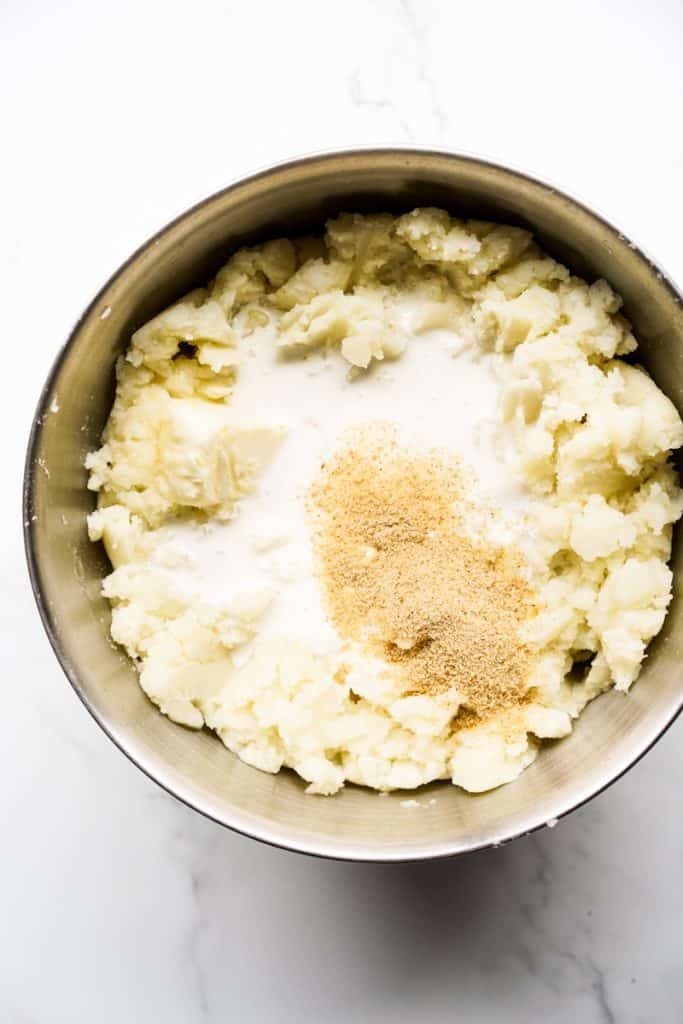 And then mixed it up and watch your mashed potatoes become silky smooth and ultra creamy. YUM!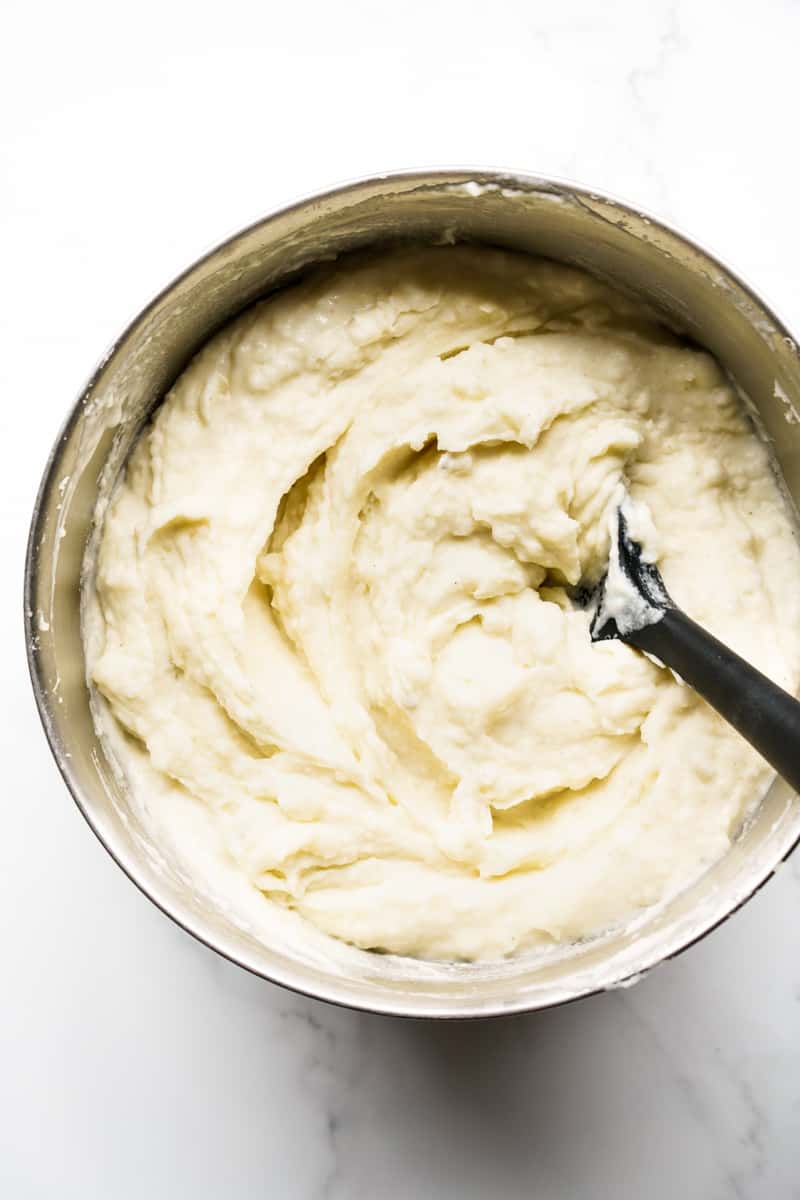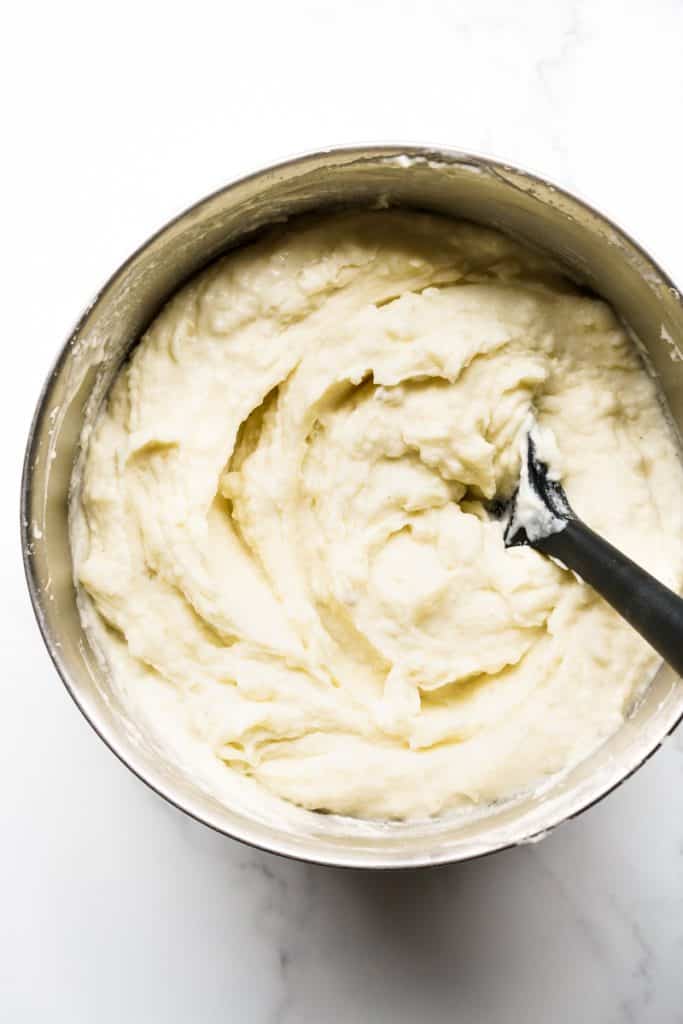 By adding seasoned salt we also just added a ton of amazing flavors and it has a lot of depth to it, so potatoes are truly tasty.
At this point, I can never stop licking the potatoes off my spatula because it is so, so good!
Serve your mashed potatoes in a large bowl, and then if you want, drizzle with more butter because why not?!
Butter truly makes everything better. Both in life and in mashed potatoes.❤️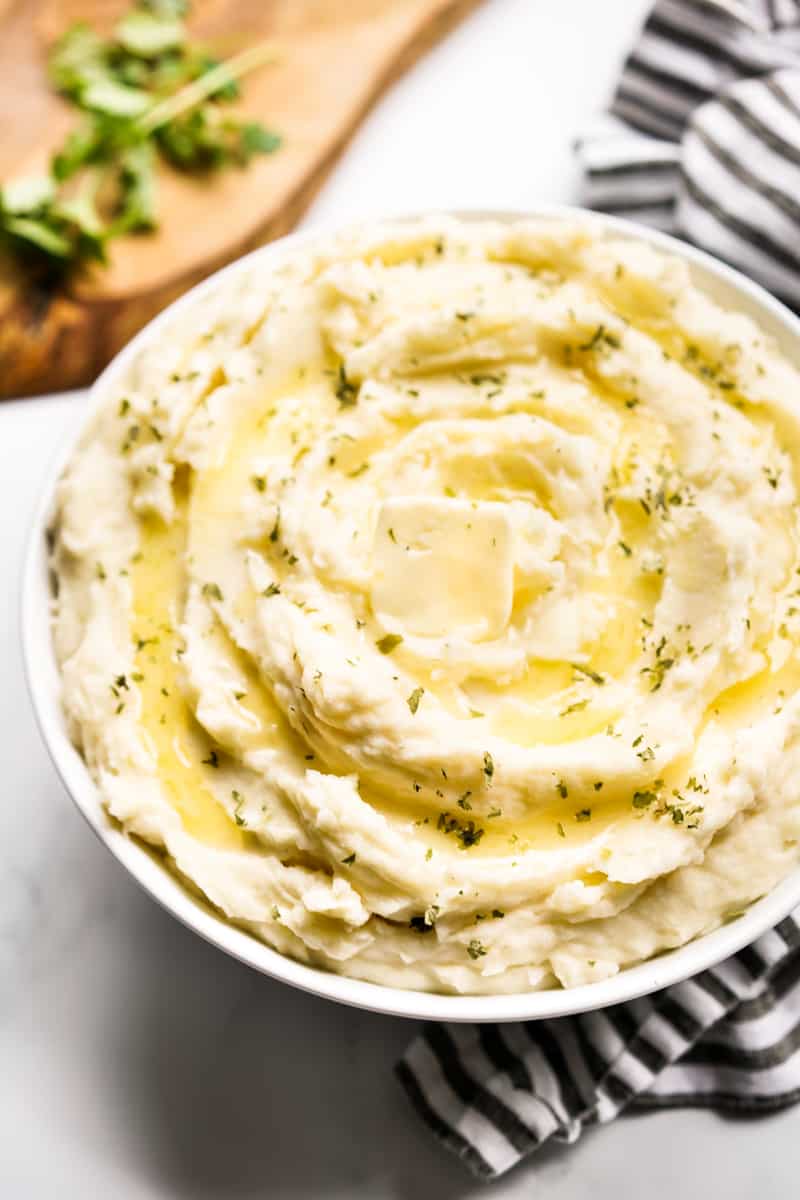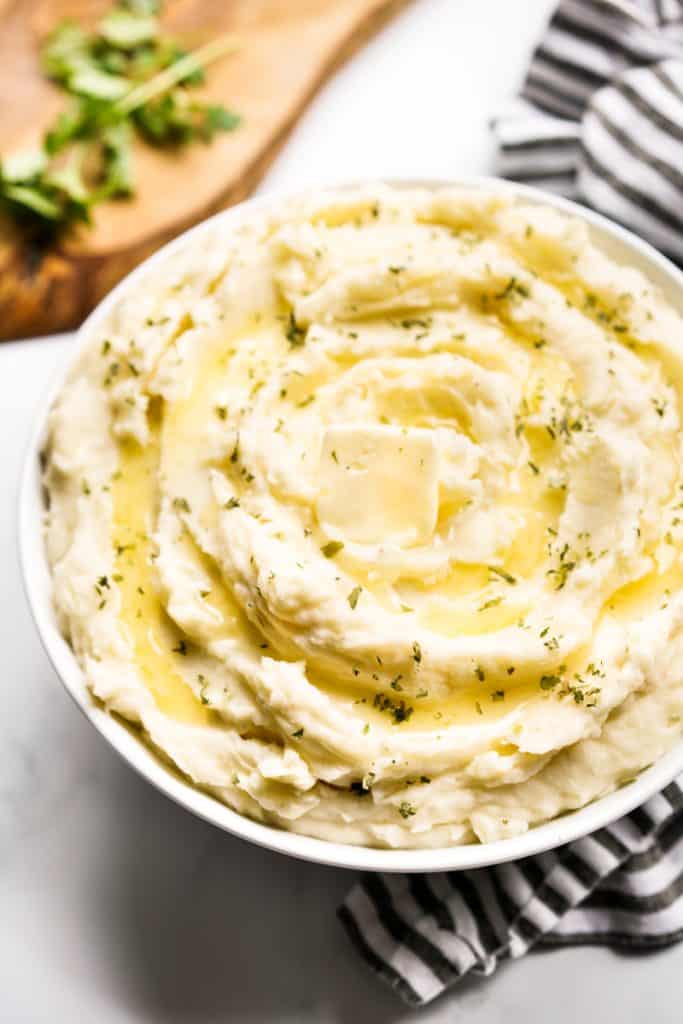 Check out that creamy mashed potatoes with heavy cream, butter and seasoned salt.
Three simply ingredients that will transform your mashed potatoes into something crazy flavorful, insanely creamy, and simply magical.
Trust me – you won't want to do mashed potatoes any other way after this!
What to serve with mashed potatoes
Making Ahead and Storage
You can definitely make ahead and storage your mashed potatoes in an airtight container for up to 2 months in the freezer and up to 4 days in the refrigerator.
To reheat, make sure it is completely defrost first, and then you can:
Drizzle some milk onto mashed potatoes and reheat in microwave. You may have remove from microwave and stir a few times to make sure potatoes are heated evenly. Add more milk to mashed potatoes anytime it looks like potatoes are drying out.
Spread mashed potatoes in a casserole dish, top with a few dollops of butter. Cover loosely with aluminum foil and heat in oven at 350℉ for 25-30 minutes, or until potatoes are warm and reaches an internal temperature of 165℉.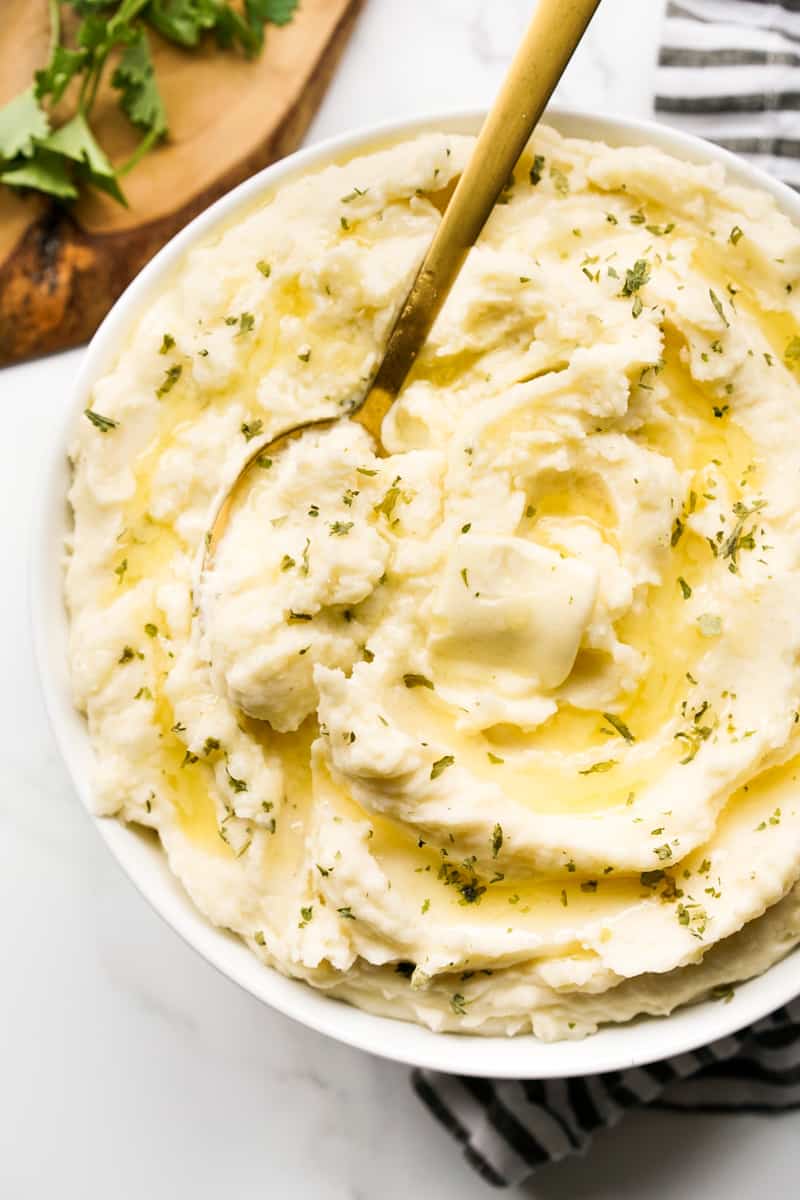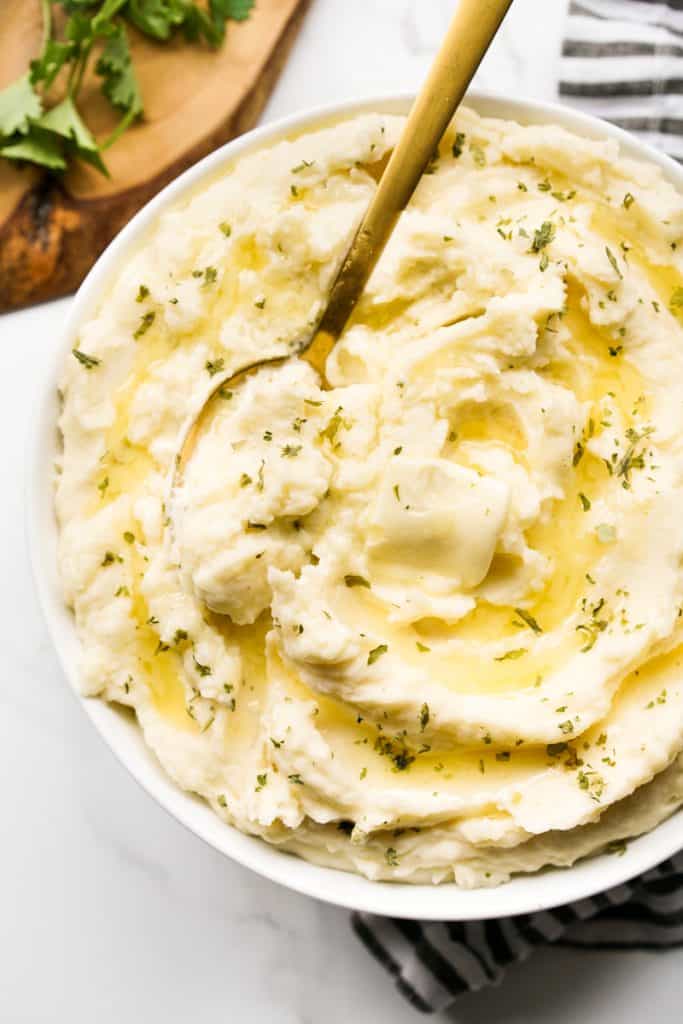 Frequent Asked Questions
What are the best potatoes to use for mashed potatoes?
Russet and Yukon gold potatoes are my favorite for mashed potatoes
Can I not peel the potatoes?
Yes! Make sure to clean it thoroughly if you are not peeling the potatoes. The texture of your mashed potatoes will be less smooth since there is skin in it. Another option is to peel only half of the potatoes and leave the other half unpeeled, this way you get some texture from the skin.
Can I substitute heavy cream with milk or half and half?
You can but it won't be as creamy or tasty, in my opinion. There's nothing quite like making mashed potatoes with heavy cream!
Can I substitute seasoned salt with regular salt?
There are additional flavors in seasoned salt. You can substitute with salt, and mashed potatoes would still be tasty, but it wouldn't taste the same as using seasoned salt.
DID YOU ENJOY THIS RECIPE? Please comment below and give us a 5-star rating! This will help others find this recipe on Google and Pinterest. We very much appreciate your help! 🤍
More Holiday Side Dishes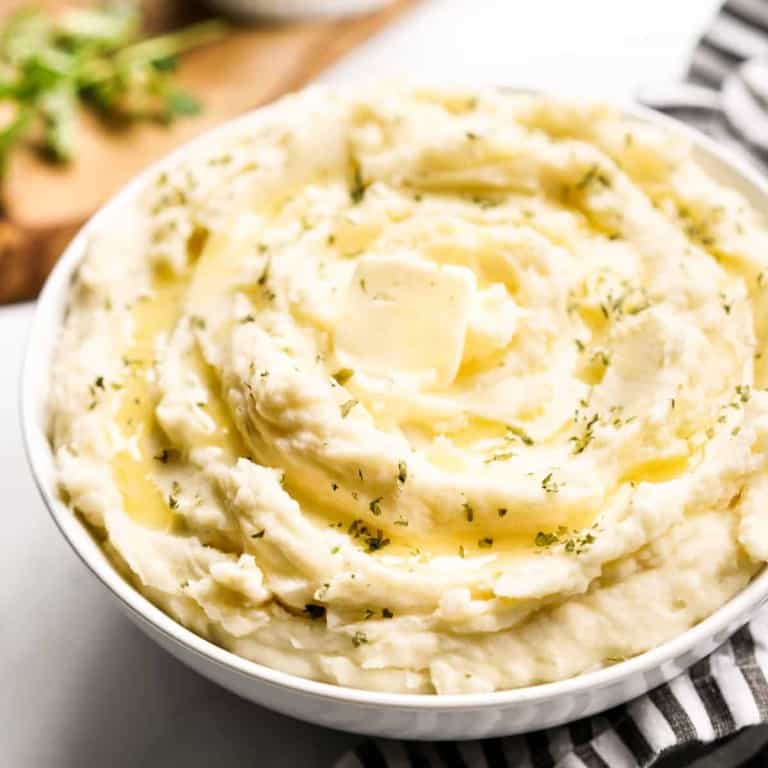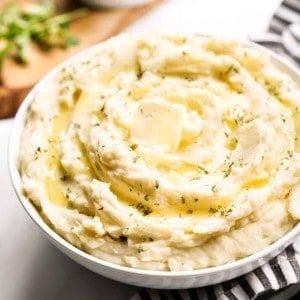 Creamy Mashed Potatoes with Heavy Cream
The creamiest and silkiest potatoes made with heavy cream, seasoned salt and butter. This luxurious mashed potatoes is incredibly flavorful and just melts in your mouth. The perfect side dish for Thanksgiving, Christmas and Easter holidays as well.
Print
Pin
Ingredients
3

lbs

russet potatoes

or Yukon gold

1 1/2

cup

heavy cream

4

tbsp

salted butter

plus more for topping

1

tbsp

seasoned salt
Instructions
Scrub potatoes under running water. Peel and slice into large pieces.

In a large pot, bring water to boil. Add potatoes. Boil for 20 minutes.

Drain water and transfer potatoes to a large mixing bowl. Use a potato masher to mash potatoes until they are smooth and there are no clumps.

Add heavy cream, seasoned salt and butter to mashed potatoes. Stir to mix them into the potatoes.

Optional: melt more butter (1-2 tbsp) and drizzle over the top of the potatoes when serving.
Nutrition
Calories:
269
kcal
|
Carbohydrates:
26
g
|
Protein:
4
g
|
Fat:
18
g
|
Saturated Fat:
11
g
|
Polyunsaturated Fat:
1
g
|
Monounsaturated Fat:
4
g
|
Trans Fat:
0.2
g
|
Cholesterol:
52
mg
|
Sodium:
750
mg
|
Potassium:
603
mg
|
Fiber:
2
g
|
Sugar:
2
g
|
Vitamin A:
666
IU
|
Vitamin C:
8
mg
|
Calcium:
43
mg
|
Iron:
1
mg