Do yourself a favor and STOP RIGHT THERE and taste a bite of this Asian Peanut Chicken Salad! Crunchy cabbage, carrots, edamame, mandarin oranges, honey roasted cashews, shredded rotisserie chicken tossed in the delectable homemade peanut dressing that will make you lick your bowl clean.
A healthy, easy (20 minutes total, no cook!) and yummy side or main dish that will make you love your salads like you have never loved a salad before.
My favorite part of this dish? Oh there are too many. That crunch. That flavor-bursting sauce. The fresh ingredients. How it keeps me full but don't make me feel yucky in my tummy. The way a truly legit salad makes me feel after I eat it, a.k.a complete satisfaction.
Also, let's pause for a second because do you realize what this also means? No cooking is required in this recipe. For real right?!? No need to turn on the hot burner or oven. Just blend that yum sauce, cut up (or be like me and buy pre-shredded…because laziness happens) veggies, shred some store-bought rotisserie chicken, toss in the other ingredients, and viola, dinner is serve.
This recipe also screams meal prep magic and leftover dreams come true. Just be sure to store the sauce on the side and only toss it into the salad when you are ready to eat them to avoid the veggies turning mushy.
How to make Peanut Dressing
My favorite peanut dressing ever. I seriously can just drink this thing.
In fact, I like it so much that in addition to this salad, I use it as a dipping sauce, and sometimes drizzle it on rice noodles…oh the places you'll go if you let your imagination run wild with this peanut dressing.
What's even better is, it is a combination of easy-to-find ingredients: peanut butter (preferably salt and sugar free), soy sauce, sesame oil, rice vinegar, cilantro, honey, sugar, water, and a pinch of salt. You should be able to find all of these ingredients in most regular grocery stores, if not, check out the affiliate links attached.
Blend the ingredient together and feel free to add a little more (or less) water to adjust the consistency to your liking. So easy, right?!? The only thing complex is the gorgeous flavor it yields.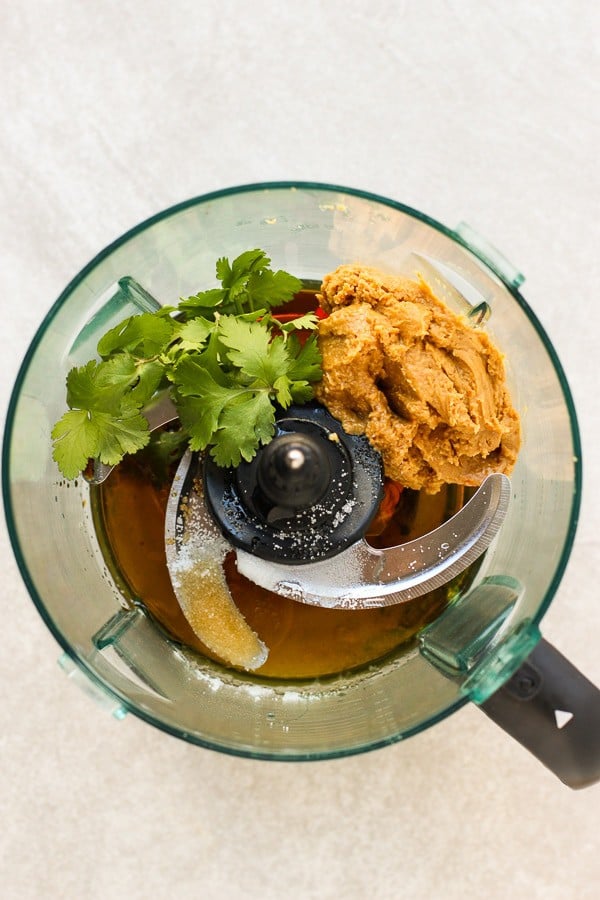 Here comes the fun part: drizzle the gorgeous sauce all over the veggies like you mean business.
The peanut dressing is a mixture of salty, sweet, nutty and tangy. The veggies and peanuts gives it a nice crunch while the mandarin oranges produces the subtle sweetness that rounds up the dish perfectly.
I added chicken in there for the protein, but I omit it if I want a lighter, vegetarian version of this dish.
As for the cashews, I like to grab the honey roasted kind for this dish, because that hint of sweetness goes well with the flavors. Regular cashews will do the job as well, if that is what you have, or you prefer less sweetness.
Grab a fork and dig into this delicious Asian Peanut Chicken Salad!!!
Other Asian-Inspired Meals on the blog!
Asian Peanut Chicken Salad
A light, healthy and easy no-cook side or main dish! Crunchy cabbage, carrots, edamame, mandarin oranges, honey roasted cashews, shredded rotisserie chicken tossed in homemade peanut dressing.
Ingredients
~6

oz

shredded cabbage

1 1/2

cups

shredded carrots

1

cup

shelled edamame

1-2

cups

canned mandarin oranges

drained

1

cup

honey roasted cashews

1

cup

rotisserie chicken

or more
Peanut Dressing
1/2

cup

peanut butter (salt and sugar free)

2

tbsp

rice vinegar

2

tbsp

honey

2

tbsp

sesame oil

2

tbsp

sugar

~2

tbsp

cilantro

packed

1

tbsp

soy sauce

~2

tbsp

water

adjust accordingly

a

pinch of

salt

adjust accordingly
Instructions
In a blender or food processor, combine all the ingredients under "Peanut Dressing". Add more water if needed to achieve desired consistency. Set aside.

In a large bowl, combine shredded cabbage, shredded carrots, shelled edamame (microwave for 10-20 seconds if it is frozen), mandarin oranges honey roasted cashews, and rotisserie chicken.

Highly recommend serving with dressing on the side. Only add dressing when ready to eat! Enjoy!