This post may contain Amazon or other affiliate links. As an Amazon Associate I earn from qualifying purchases at no additional cost to you.
I couldn't keep these Tom Yum Fried Noodles to myself any longer. In fact, I'm salivating just looking at these pictures…
Chewy ramen noodles tossed in tom yum sauce mixture, combined with crunchy veggies and juicy chicken pieces.
Savory, sweet, sour, spicy, chewy, crunchy. If you like complex flavors and textures, this one is for you. 🧡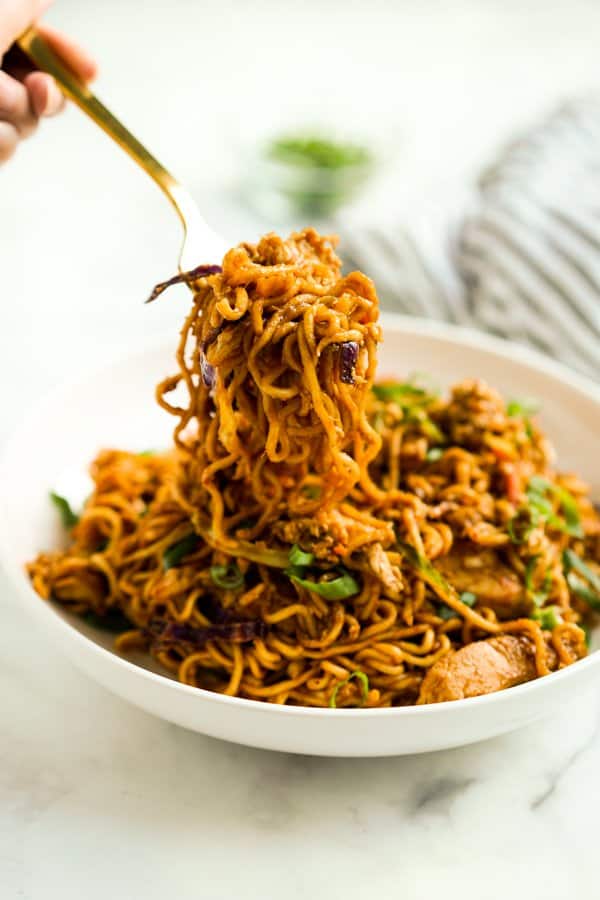 Tom yum is a popular Thai seasoning with big and bold flavors. You will not most likely not forget if you've had it before. It is most commonly used to make Tom Yum Soup which you can find in many Thai restaurants all over the country.
It is not as commonly used in stir fry…but boy, the world is missing out. It is so dang delicious in stir fry.
I wish I was that brilliant person who thought about this tom yum in stir fry business. The concept of this dish was introduced to me back in my high school days in Penang, Malaysia where my favorite dish to get at the school cafeteria (which we called canteen) is this plate of hot, steamy Tom Yum Fried Noodles.
I remember slurping those sticky spicy noodles on a hot day with no air conditioning in the canteen…feeling absolutely, completely satisfied.
Side note: when I told my husband, who went to school in the U.S., that I was craving for my school cafeteria Tom Yum Fried Noodles, he was so confused. For him, school cafeteria food is supposed to be yucky.
The school canteen food where I grew up, however, was actually not bad, and this particular noodle dish is exceptional.
And that is how this Tom Yum fried Noodles came about.
I missed it. I decided I want to recreate it. I channeled my memory of those sticky Tom Yum Noodles I slurp for years in that hot, nonw-air-conditioned canteen.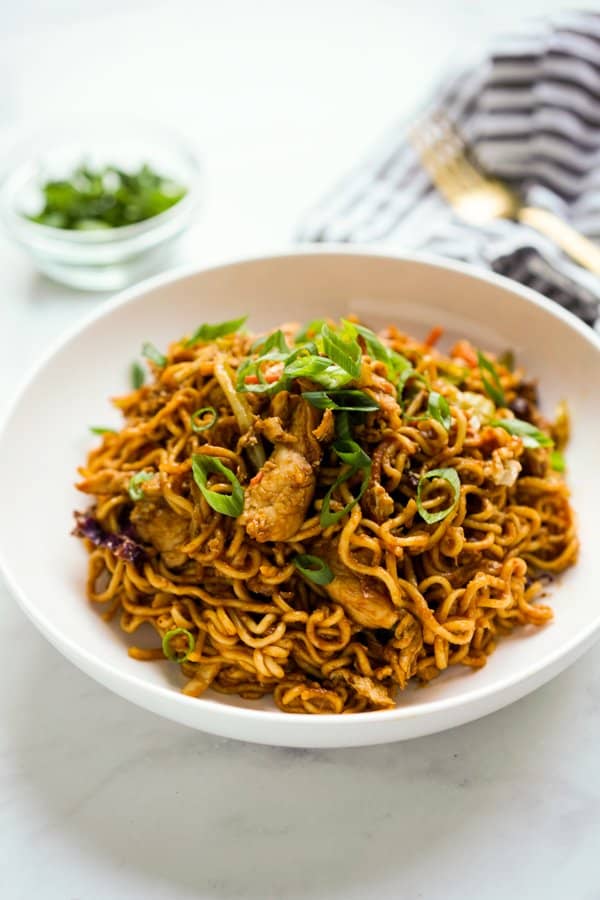 I think I got it pretty close, and it definitely hit the spot.
This wasn't a recipe I originally planned for the blog. I made it because I was craving a dish I could no longer purchase. Then I shared a picture of it on Instagram and I was surprised that many of you were intrigued by it, asked for the recipe, and said you wanted to try it.
Let's Make It!
This is an easy stir fry dish that is ready in 30 minutes!
The first thing I do is soak the hard ramen noodles in boiled hot water for 10-15 minutes, or until noodles are soft. Some noodles will soften faster than others, so check every 5 minutes and stir.
Noodles should be soft and can break apart easily, but it shouldn't be mushy because it will still be cooked in the skillet.
Then it's time to make the sauce! Here is what you need:
Tom yum paste – complex flavors and brings a lot to the sauce. There are so many different types out there and the one I use is in paste form. Tom yum pastes also vary in spiciness, sourness and taste, so adjust accordingly. This is my favorite Tom Yum paste for this noodle dish. The brand is "Three Deer Brand".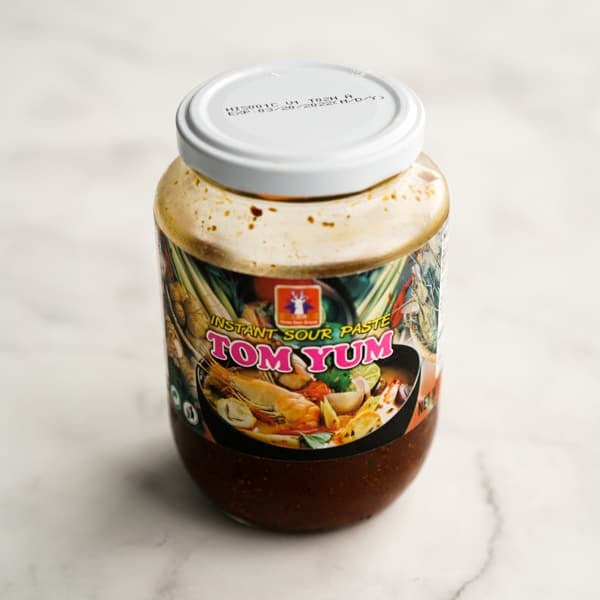 Sweet soy sauce – also known. as kicap manis, this is different from regular soy sauce and should be thick in consistency and sweet in taste
Soy sauce
Sugar
Water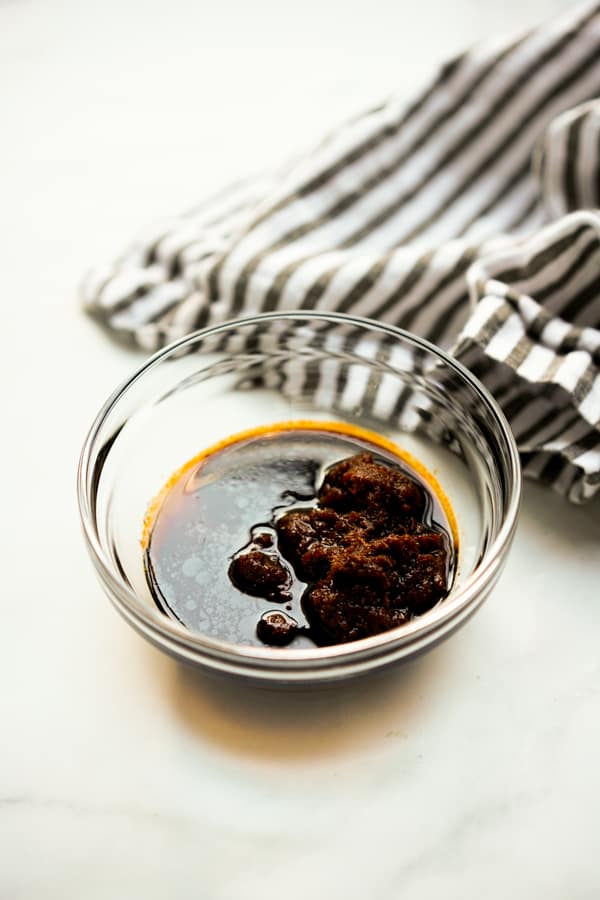 Mix the sauce mixture together and then gather these ingredients:
Ramen noodles
Shredded cabbage (or use a coleslaw mix that has shredded carrots in it as well)
Sliced chicken tenderloins
Eggs
Green onions
Minced garlic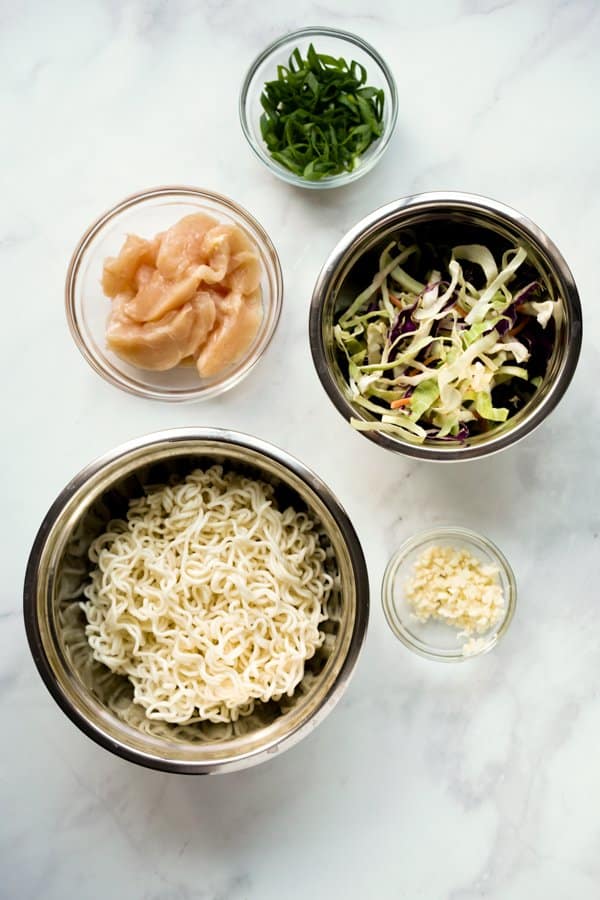 Now, may the stir frying begins!
You will want to use a wok or a large skillet for this, and cook the garlic and chicken first with some vegetable oil on high heat. Then you will add the sauce, noodles, and subsequently the eggs.
Keep stirring as you cook it and once everything is done, remove noodles from heat immediately and serve with some chopped green onions.
Tips and Tricks
The stir fry process goes fast, so prep the ingredients and set all of them next to the stove top before you start the stir frying process.
Use a skillet or wok that can retain high heat and cook on high heat if possible.
Gas stove always works better than electric stove for stir fry (it gets the pan hotter) but if you don't have a gas stove, it is still totally doable!
Frequently Asked Questions
Can I use a different type of noodles?
Yes! You can use any other noodles for this, even spaghetti! Make sure noodles are soft and almost cooked when added to the wok/skillet. Boil or soak in hot water prior to that.
Can I cook this with another meat or veggies?
Absolutely! This dish is super versatile, feel free to use beef, pork, shrimp, tofu in place of chicken. As for veggies, beans sprouts, bak choy, shredded carrots, other leafy greens will work well too.
What if I want to double this recipe?
You can absolutely do that. I would recommend cooking it in two batches to avoid overcrowding the wok or skillet. When wok or skillet is overcrowded, food will not be cooked evenly.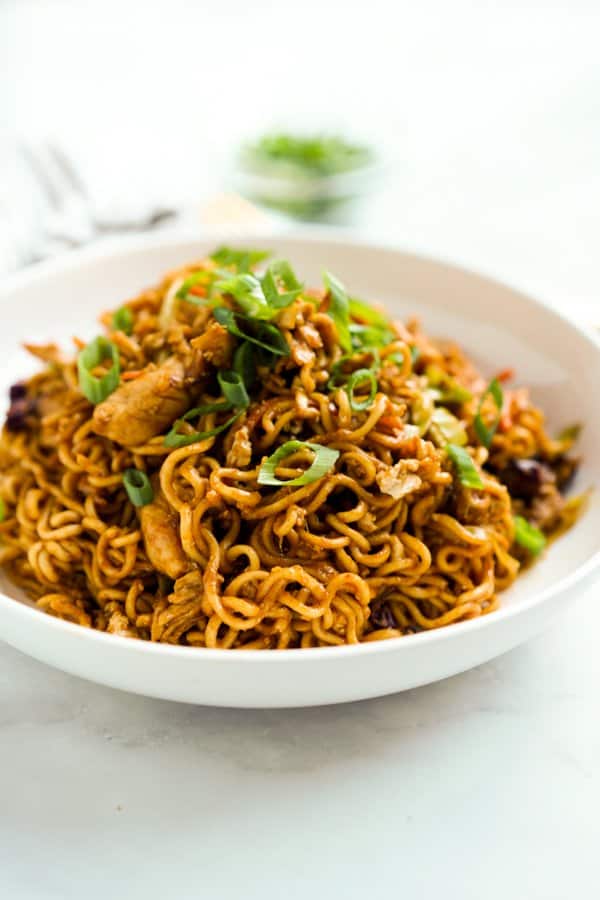 Thank you for joining me as I pay tribute to this crazy delicious, nostalgic noodle dish. 🧡
It is indeed near and dear to my heart (and stomach). 😉
More Noodle Recipes
More yummy noodle recipes…because we love noodles!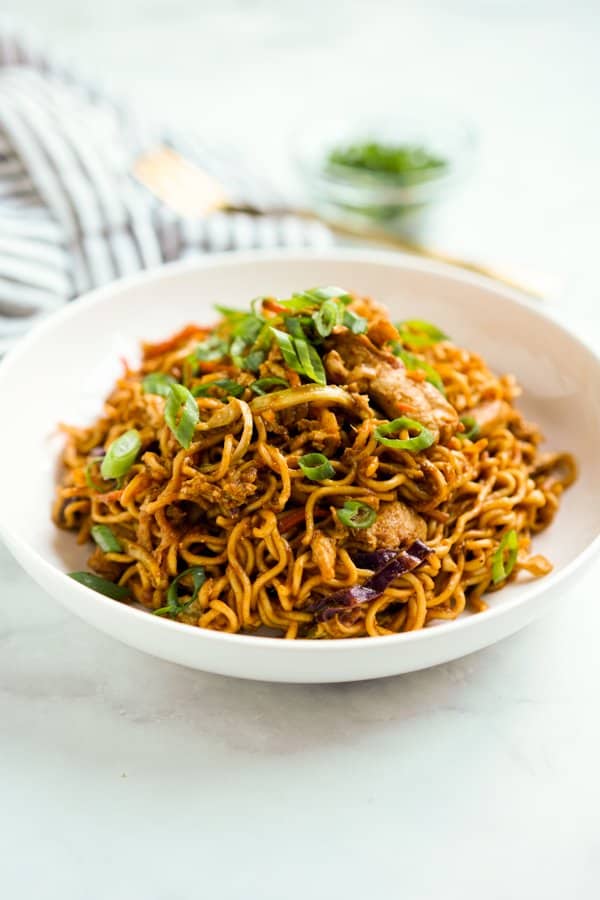 If you make this recipe, comment below and let me know what you think! Also, don't forget to take a picture and tag me on Instagram, because I WANNA SEE!!