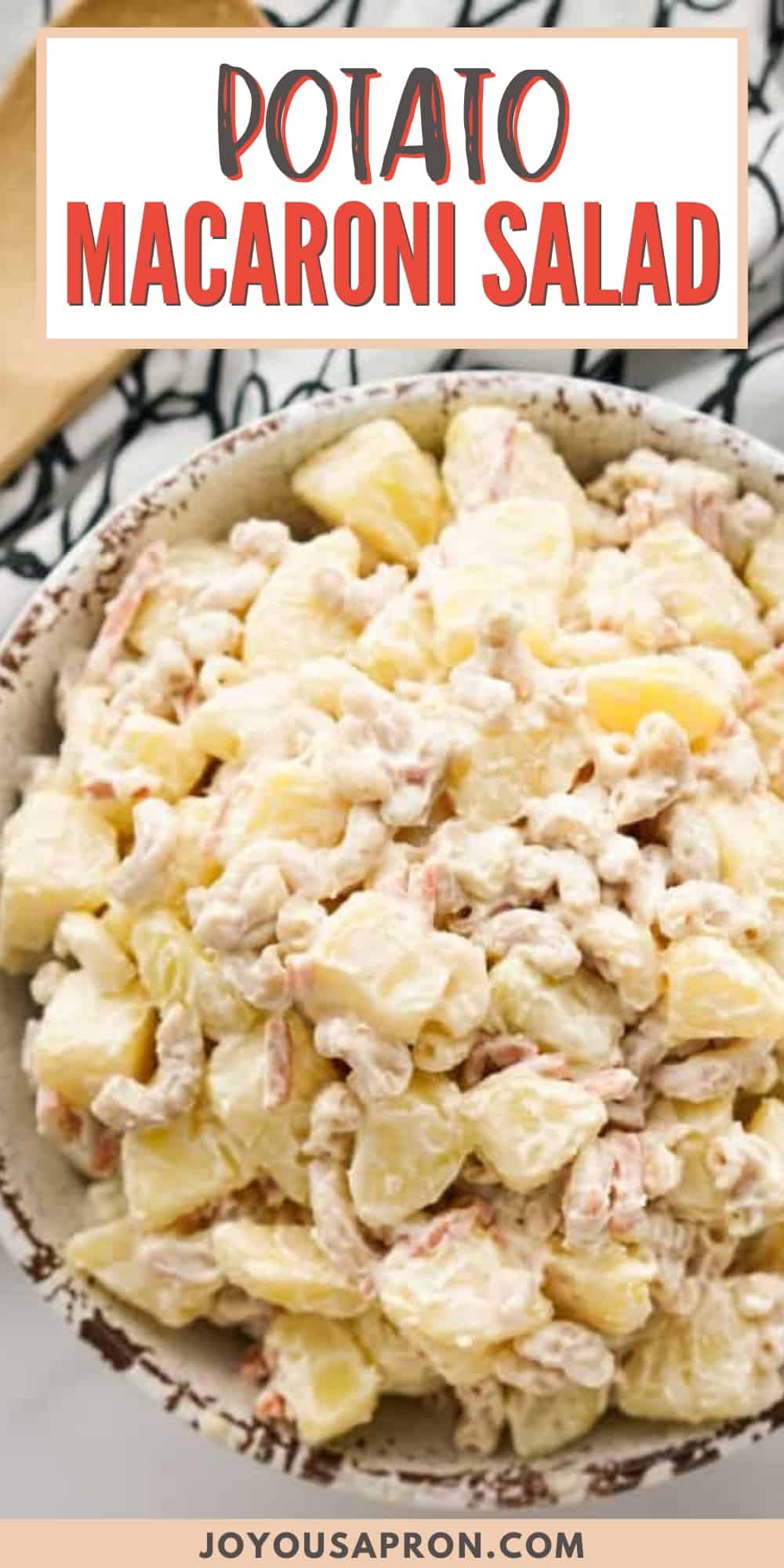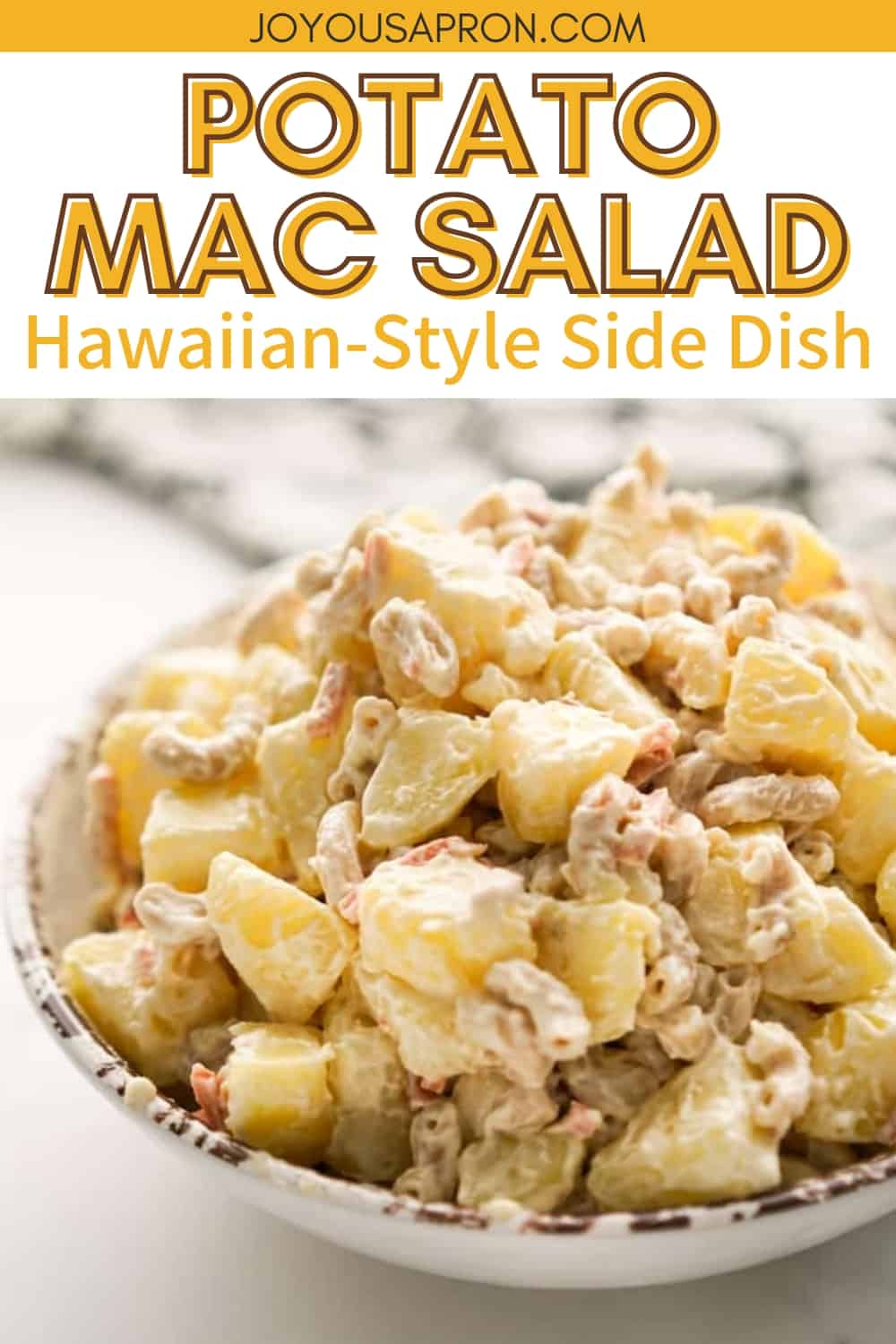 Hawaiian style potato macaroni salad, or simply called potato mac salad, is cold salad side dish that combines potatoes, macaroni pasta, sweet onions and chopped carrots in a creamy dressing with a slight hint of tanginess and sweetness.
This is a popular side dish in Hawaiian cuisine, often time served with grilled meats or other Hawaiian main dishes. It is so delicious and also happens to be super easy to make!
If you love potato salads don't forget to also check out Loaded Baked Potato Salad and German Potato Salad recipes!
Hawaiian Style Potato Macaroni Salad
I fell in love with potato mac salad when I first had Hawaiian food and it came as a side dish. I love how it is creamy yet slightly tangy, and has a slightly sweetness to it as well.
Some potato mac salad are creamier but I try to keep mine with a good balance of creamy and tangy…just how I like it!
If you've had Hawaiian food, you would have come across this popular salad. It is often served cold, but you can also enjoy it in room temperature.
I love the tender chunks of potatoes combined with chewy al-dente macaroni pasta, sweet onions and crunchy carrots.
The recipe calls for a few hours in the refrigerator so that the flavors of the dressing come together and gets absorbed by the potatoes and pasta.
I love Hawaiian potato mac salad so much I also make them for summer cookouts and dinners. I think it makes the best party food as it can sit out for a couple of hours and still taste good.
If you haven't tried potato macaroni salad, I highly recommend giving this easy and fabulous recipe a try!
Ingredients
Hawaiian potato mac salad calls for only a few key ingredients:
mayonnaise – this is perfect the most important ingredient for the dressing. To retain a true authentic Hawaiian taste, the type of mayo used is super important, and the best mayo to use is Hellmann's, or called Best Food's on the West coast. Avoid using miracle whip, or other type of lower fat mayo. When it comes to a true Hawaiian potato mac salad, you really need to stick to the original stuff for best taste!
potatoes – I typically use yellow or red potatoes but any type of potatoes work for this.
macaroni pasta – sometimes called elbow macaroni, you can also whole wheat macaroni for a healthier spin (which is what I did in when photographing the recipe)
apple cider vinegar – this contributes it a nice tangy flavor that offset the creaminess in the potato mac salad. White vinegar works as well, but apple cider vinegar has a more distinct taste for this recipe
granulated sugar – a little bit of sugar will help balance out the creaminess and tanginess in the dressing
carrots – chop carrots into small pieces or chop up shredded carrots
sweet onions – grate it finely or chop it into very small pieces for best taste. You don't really want it to be super distinct in texture, we are using it more for its flavors. Avoid using red onions because sweet onions are sweeter and we are counting on the onions to bring an added dimension of sweetness to this dish.
salt – a must to open up the flavors of the salad dressing and also to salt the boiling water used to cook potatoes and macaroni
How to make potato mac salad
Let me show you how easy this potato mac salad recipe come together!
Step 1: Boil potatoes and macaroni
First, bring a large pot of water to boil, add two teaspoons of salt, and cook 1-inch cubed potatoes and macaroni pasta.
1-inch cubed potatoes takes about 10-12 minutes to boil and soften, and macaroni pasta typically takes 7-8 minutes (or based on your package instructions).
I like to boil both together to save time, but you can also boil them separately if you prefer.
If boiling both potatoes and macaroni together. Bring potatoes into boiling water first and then a few minutes later bring macaroni into the boiling water. Make sure they get cooked for their respective allotted times.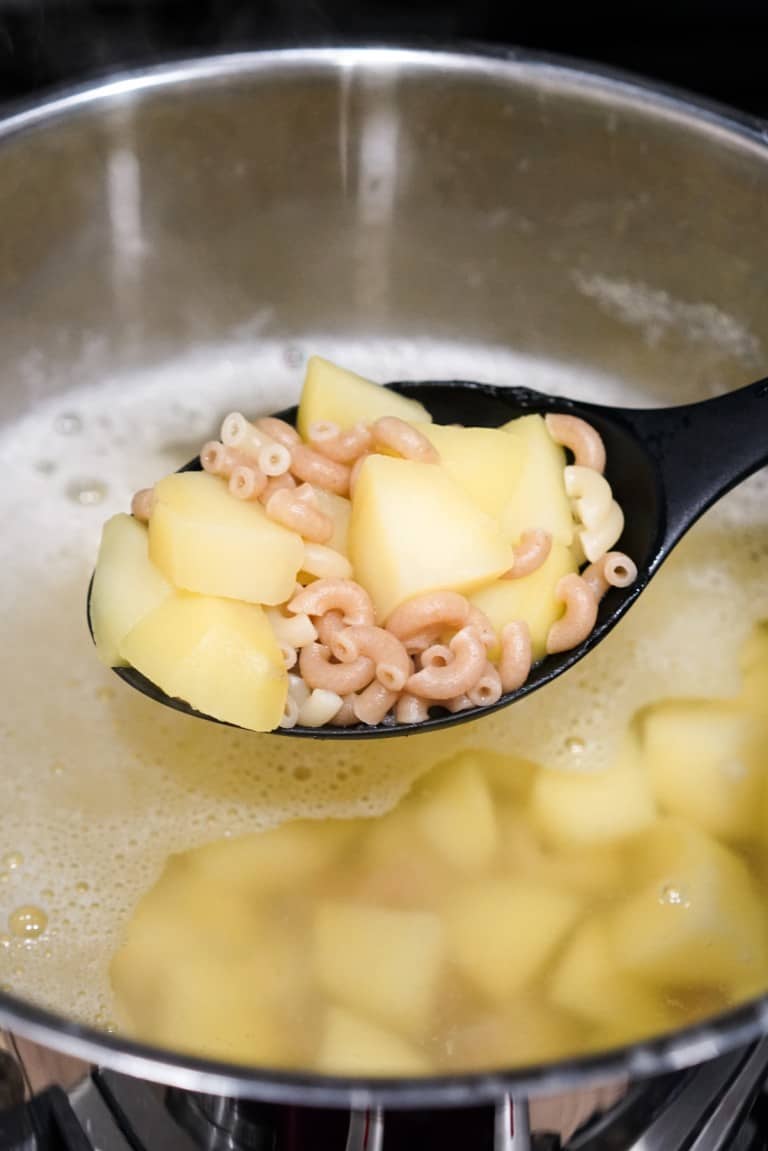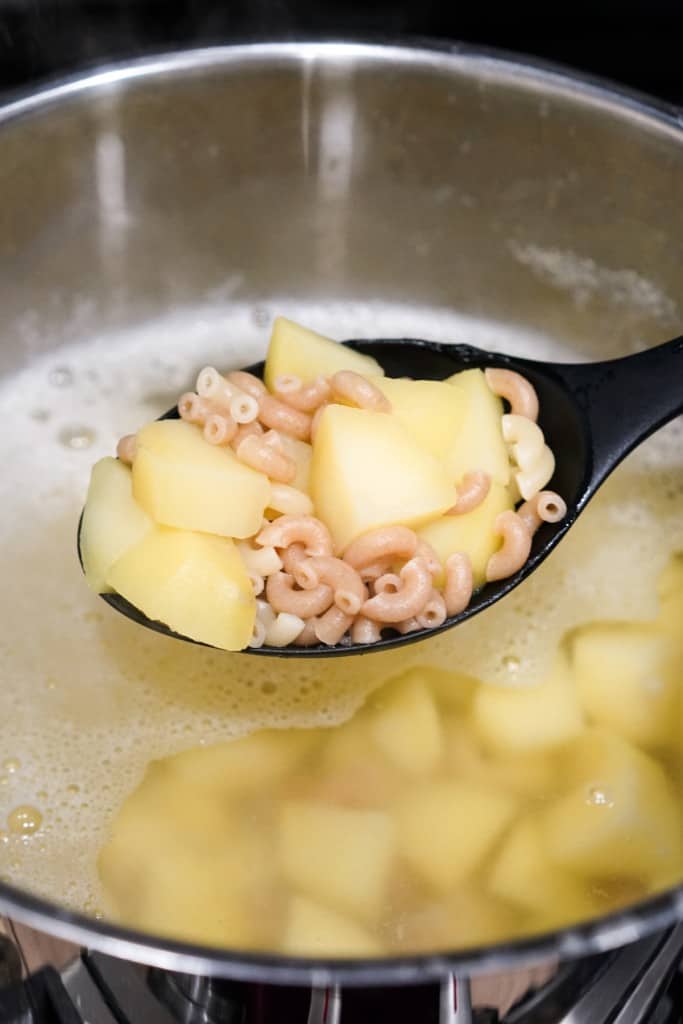 When potatoes and macaroni are done, drain access water.
Step 2: Make dressing
The creamy tangy dressing for this Hawaiian potato mac salad is a simple combination of four ingredients: mayonnaise, apple cider vinegar, salt and granulated sugar, combining flavors of creamy, tangy, sweet and salty.
To make the dressing, combine everything in a mixing bowl and whisk to remove all the lumps.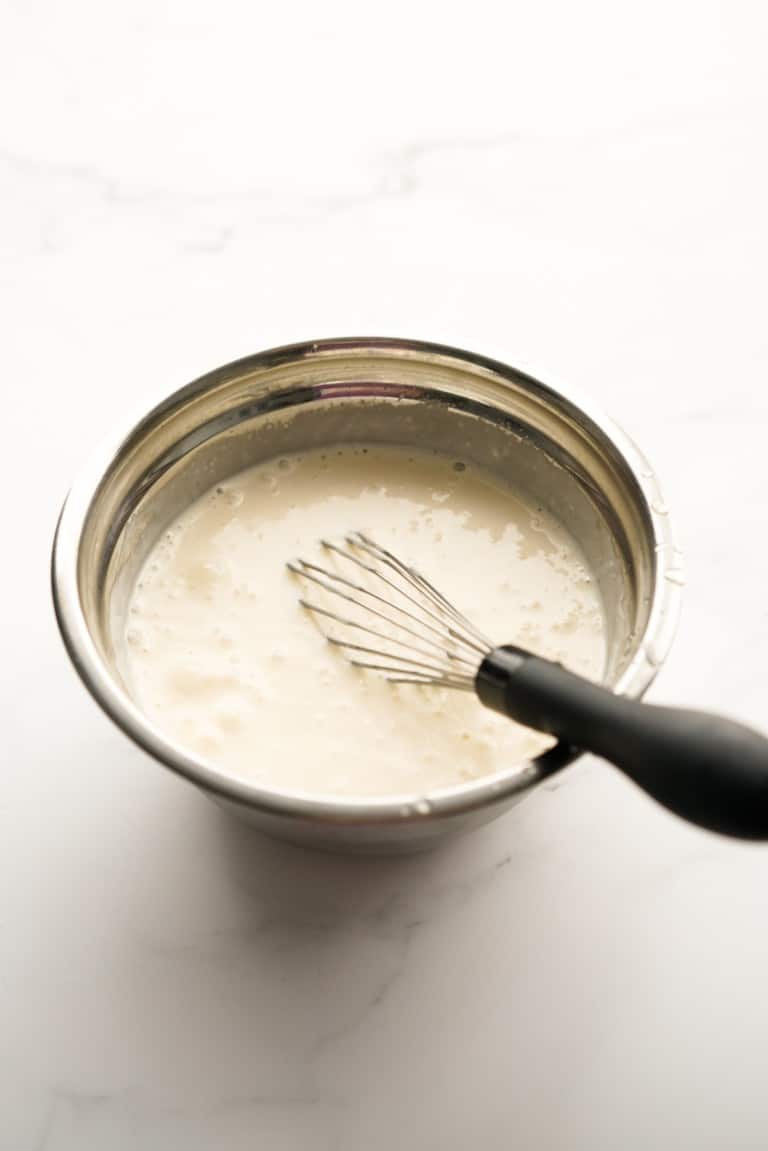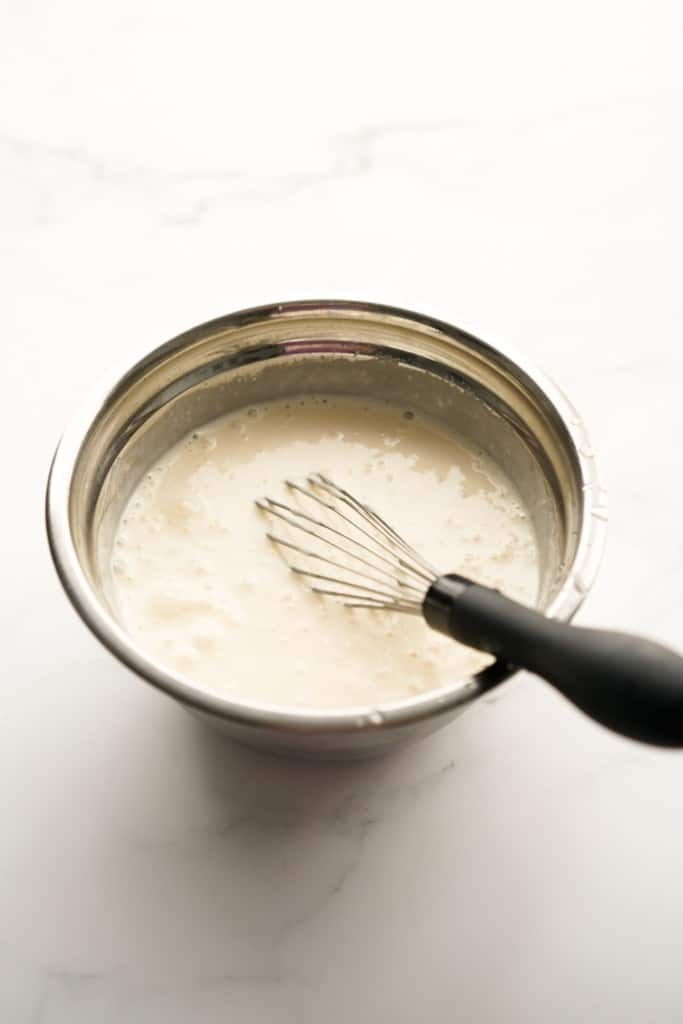 Step 3: Toss and combine
Bring the drained potato and macaroni in to a large mixing bowl, and add chopped carrots and grated sweet onions to it.
Then pour dressing into the potato and macaroni mixture, then toss to combine.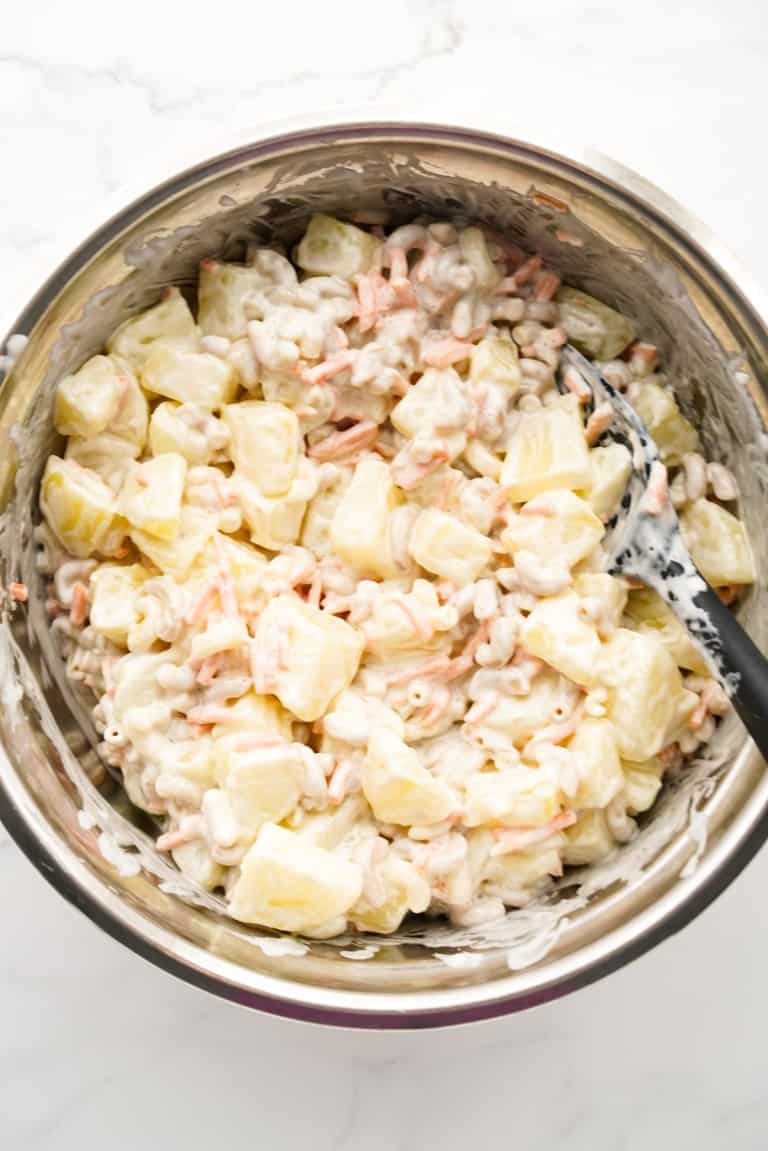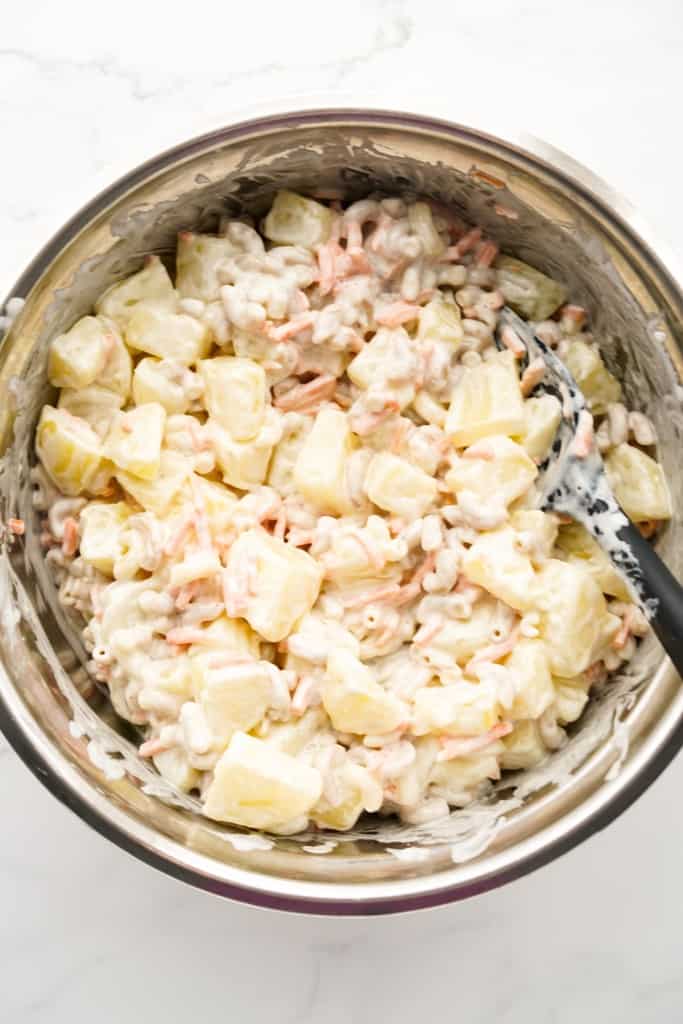 Step 4: Refrigerate
I know it's tempting to dive into the potato mac once you bring everything together, but trust me when I say, it tastes much better refrigerated.
You'll want to refrigerate potato mac salad for ~5 hours, this way the flavors of the dressing come together and gets absorbed into the potatoes and macaroni.
In fact, potato macaroni salad tastes even better after 24 hours or overnight in the fridge. So the longer you can hang in there, the more flavorful your potato mac salad will be!
After all, patience is indeed a virtue 😉
Hawaiian potato mac salad is typically served cold or in room temperature as a side dish. And I love it with grilled meats, burgers, hot dogs…honestly, anything that is made on the grill goes perfectly with it!
In our household, we love to make this delicious side dish for cookouts, get togethers, dinners with family and friends. It's a good one to serve a whole lot of people.
Variations
Potato mac salad can be made in multiple different ways and you will that there are multiple variations of it.
It can be made with just potatoes (no macaroni), or just macaroni (no potatoes), or you can also add green peas, hard boiled eggs, and/or pickled relish.
If you like your potato mac salad creamier, use more mayo, and if you like it with more tanginess or sweetness, add more apple cider vinegar or sugar. This recipe leans towards the tangy sweet side versus the rich creamy side.
Storage
Potato mac salad can be stored in an air tight container in the fridge for up to 5 days. It can be frozen as well.
Frequently Asked Questions
Can I use miracle whip or avocado mayo?
I highly recommend using Hellmann's (or as known as Best Foods) mayo. The rest just doesn't come out the same and it wouldn't be authentically Hawaiian macaroni potato salad. Hellmann's mayo is a crucial ingredient so I would try my very best to use exactly that.
What is the best way to serve potato macaroni salad?
Serve it cold or in room temperature.
Can I freeze this?
Yes! You can freeze after refrigerating potato mac salad for at least 5 hours.
DID YOU ENJOY THIS RECIPE? Please comment below and give us a 5-star rating! This will help others find this recipe on Google and Pinterest. We very much appreciate your help! 🤍
More Salad Recipes
Potato Mac Salad
Hawaiian style potato and mac salad features soft diced potatoes, macaroni, chopped carrots and grated sweet onions tossed in creamy and tangy dressing. It's the perfect side dish for spring and summer cookouts as well.
Print
Pin
Ingredients
3

lbs

gold potatoes

or red or russet potatoes

8

oz

macaroni

2

tsp

salt

1

cup

shredded carrots

chopped

1

medium sweet onion

finely shredded
Dressing
1 1/2

cup

mayonaise

Hellmann's or Best Foods

1/3

cup

apple cider vinegar

2

tbsp

granulated sugar

2

tsp

salt
Instructions
In a large pot, bring water to boil. Add 2 tsp salt. Add diced potatoes, after 2-3 minutes, add macaroni and cook based on package instructions n(typically 6-8 minutes). When done, drain water and set macaroni and potatoes aside

In a small mixing bowl, bring together all ingredients for dressing – mayo, apple cider vinegar, sugar and salt.

In a large mixing bowl, bring together cooked potatoes and macaroni, along with chopped shredded carrots and shredded sweet onions.

Pour dressing all over potato and macaroni mixture. Gently fold to combine salad.

Refrigerate for at least 5 hours, or up to 24 hours.
Nutrition
Calories:
444
kcal
|
Carbohydrates:
47
g
|
Protein:
6
g
|
Fat:
26
g
|
Saturated Fat:
4
g
|
Polyunsaturated Fat:
15
g
|
Monounsaturated Fat:
6
g
|
Trans Fat:
0.1
g
|
Cholesterol:
14
mg
|
Sodium:
1165
mg
|
Potassium:
717
mg
|
Fiber:
4
g
|
Sugar:
7
g
|
Vitamin A:
2163
IU
|
Vitamin C:
29
mg
|
Calcium:
36
mg
|
Iron:
2
mg