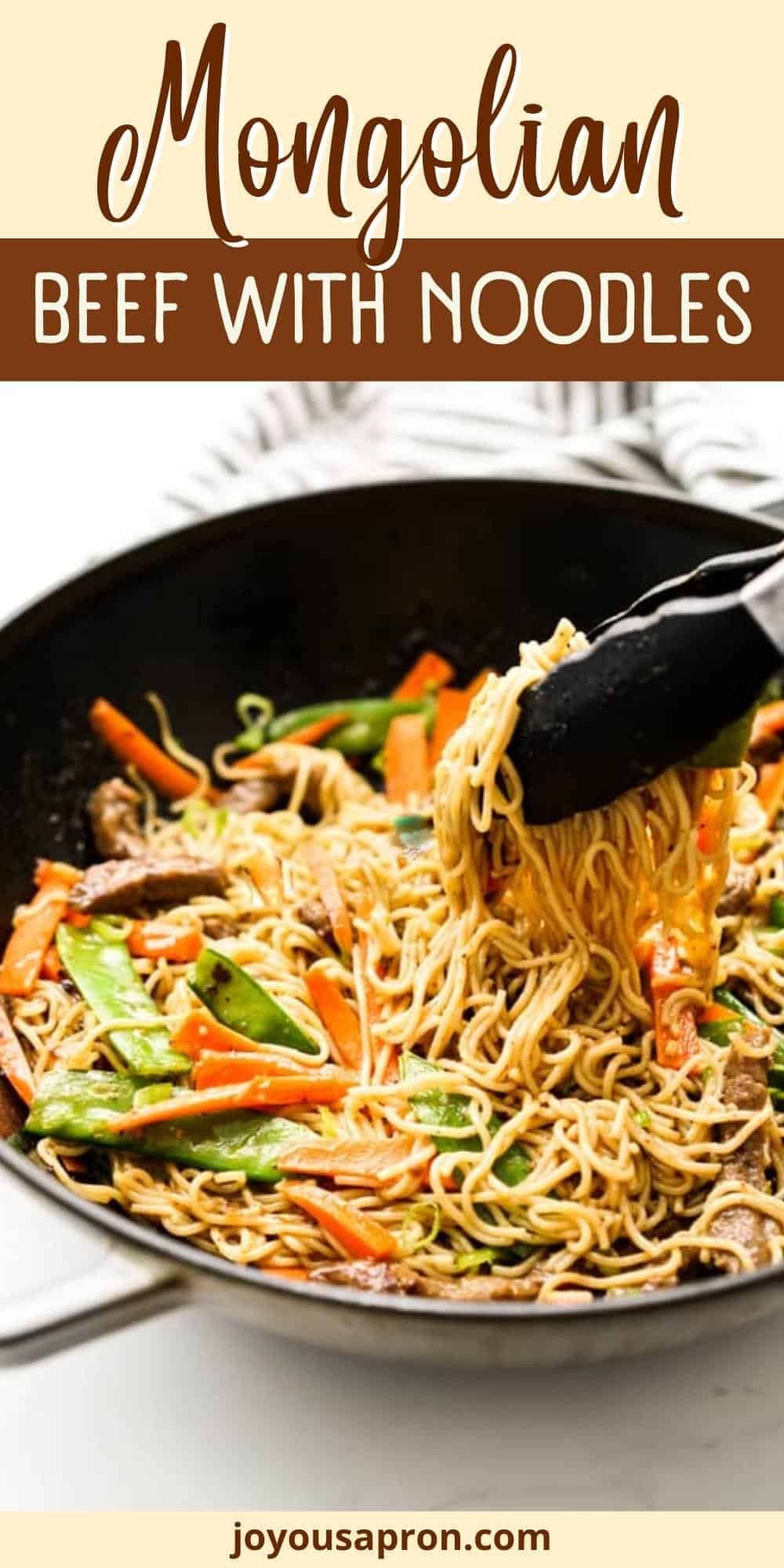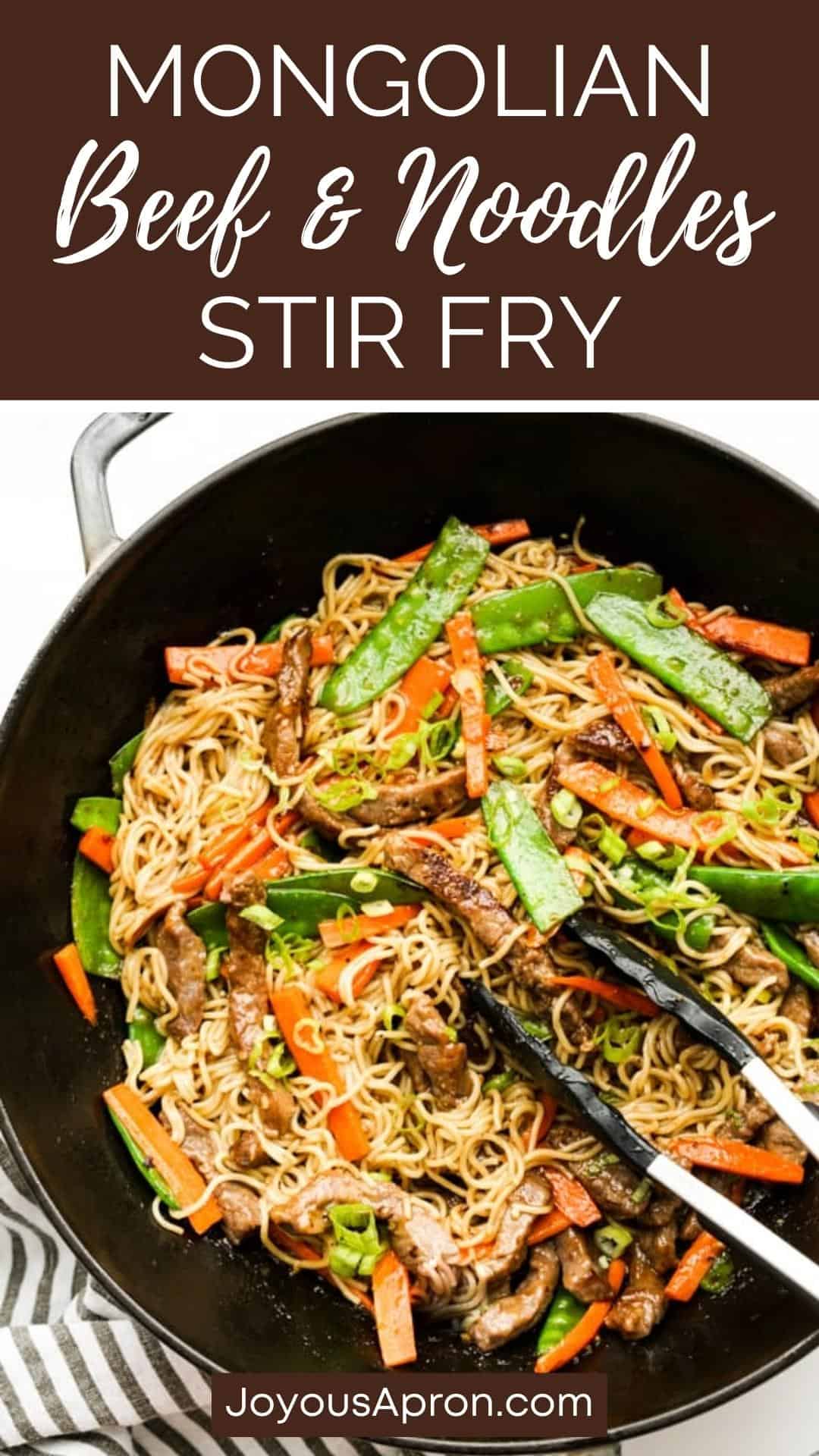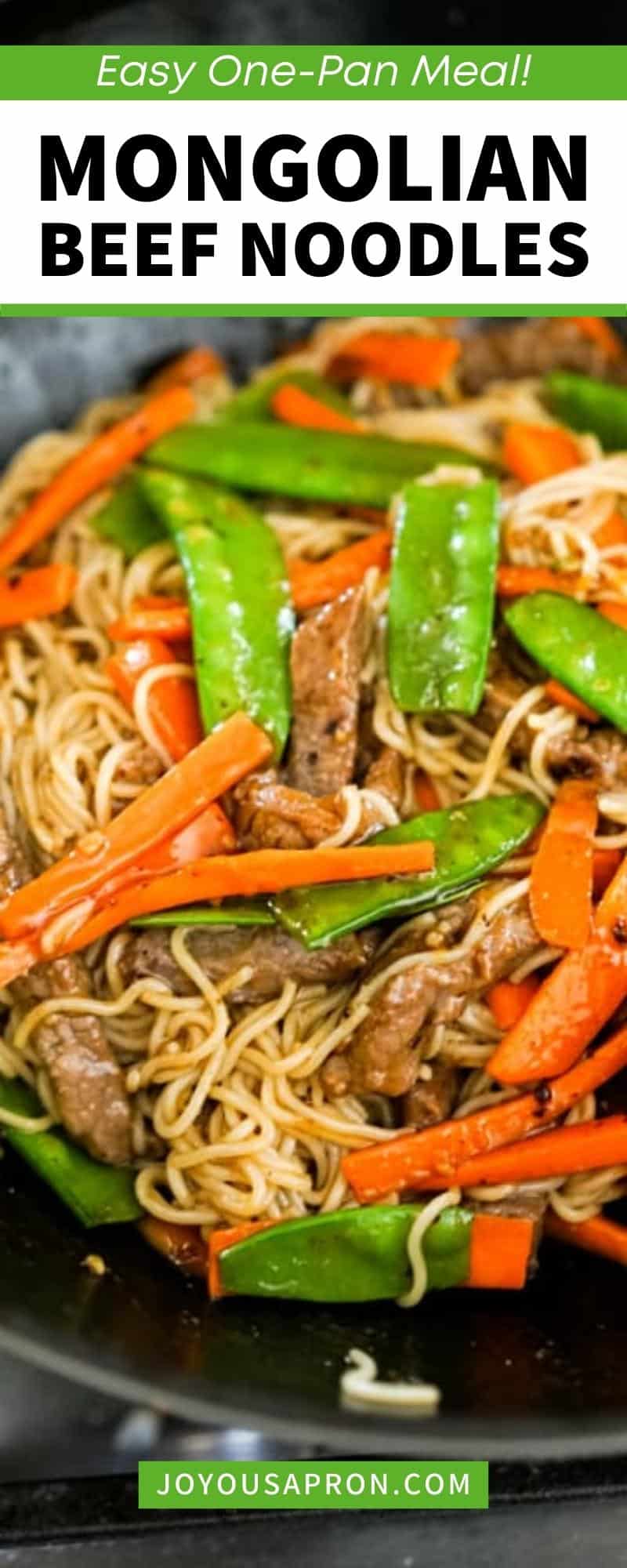 Mongolian Beef Noodles is a tasty Asian inspired dish that combines tender Mongolian Beef with chewy noodles and vegetables, tossed in that same delicious savory sweet sauce sauce. This delicious recipe is ready under 30 minutes and is a great alternative to Chinese takeout!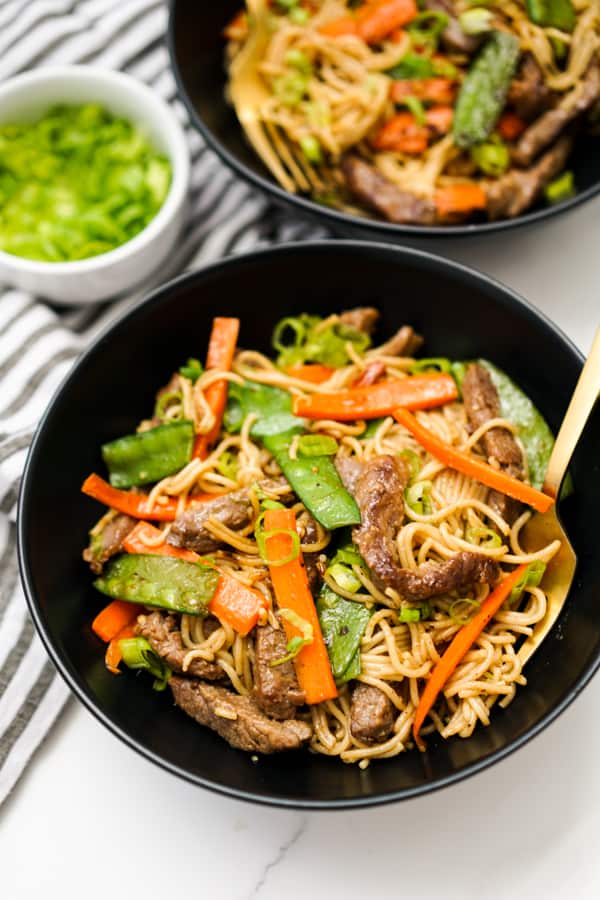 Love a good noodle dish? Check out my Vietnamese Noodle Salad, Simple Thai Noodle Bowl, Tom Yum Fried Noodles and Garlic Noodles with Shrimp recipes for more!
Mongolian Beef with Noodles
Mongolian Beef actually does not originate in Mongolia, nor does it have anything to do with Mongolian cuisine.
In fact, it is a common dish served in Chinese American restaurants across the United States, and typically consists of tender steak pieces marinated and stir fried in an Asian inspired savory sweet sauce.
Even though it's not authentically Mongolian, and its origin can be a bit confusing, there's one thing we know for sure. This dish is so delicious and full of amazing flavors.
In this Mongolian Beef Noodles recipe we are taking the classic Mongolian Beef we know and love from Chinese restaurants and combining it with chewy noodles and vegetables to get us a one-skillet/ one-bowl meal.
Ready under 30 minutes, loaded with amazing flavors and textures, it is seriously the perfect weeknight dinner.
I started making this because I love my Mongolian Beef and wanted to cook everything – carbs, protein, veggies in one skillet and serve it in one bowl for the ease of it.
We have had lots of Mongolian Beef Noodles on busy evenings and not only did we love every bite of it, it was a breeze to prepare and cleanup!
Ingredient Notes
To make Mongolian Beef Noodles, you can find all of the ingredients in mainstream grocery stores. No worries – this recipe does not call for obscure ingredients!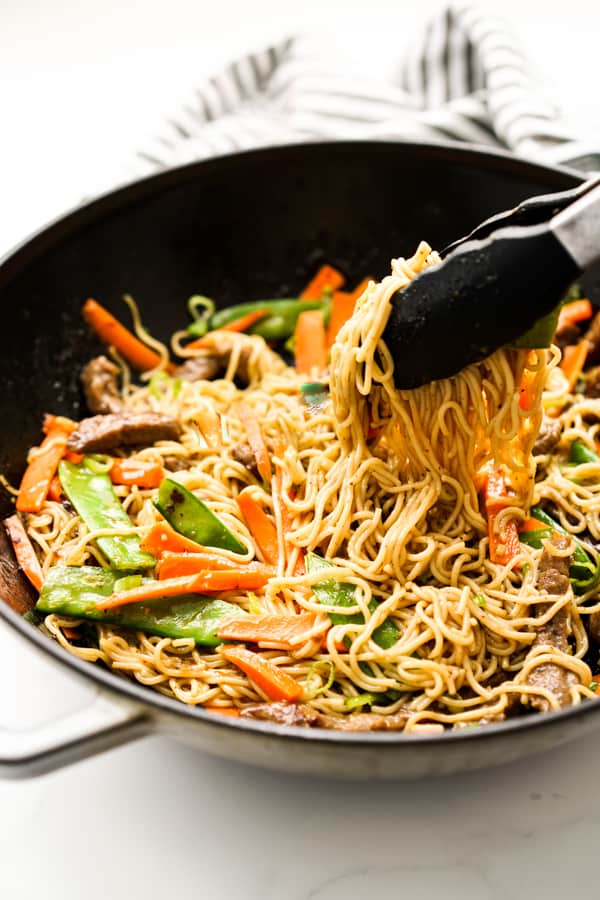 Here are the Ingredients needed:
Beef slices – sirloin, flank steak, strip steak works great. Thinly slice them cross grain so that they come out tender.
Noodles – I like to use this brand of Ramen Noodles, but feel free to use any noodles you have at hand. You can also use ramen noodles that come with flavors packets and use just the noodles.
Soy sauce
Corn starch – used to tenderize beef and thicken the sauce.
Brown sugar
Garlic – use fresh garlic, not garlic powder
Ginger – mince it finely. If you must, substitute with ground ginger.
Carrots – slice into thin slices so it cooks easily
Snow peas – or substitute with snap peas
Cooking oil – vegetable oil, avocado oil or oil of your choice!
How to make Mongolian Beef with Noodles
Step 1: Marinade beef
The first thing is to marinade thinly sliced beef steaks in a simple marinade so that beef would soak in the flavors and would be flavorful on the insides and not just the outsides.
During the process, we are also adding corn starch to the marinade to tenderize the beef.
Combine beef with soy sauce, corn starch and vegetable in a bowl, and let it sit for 30-60 minutes.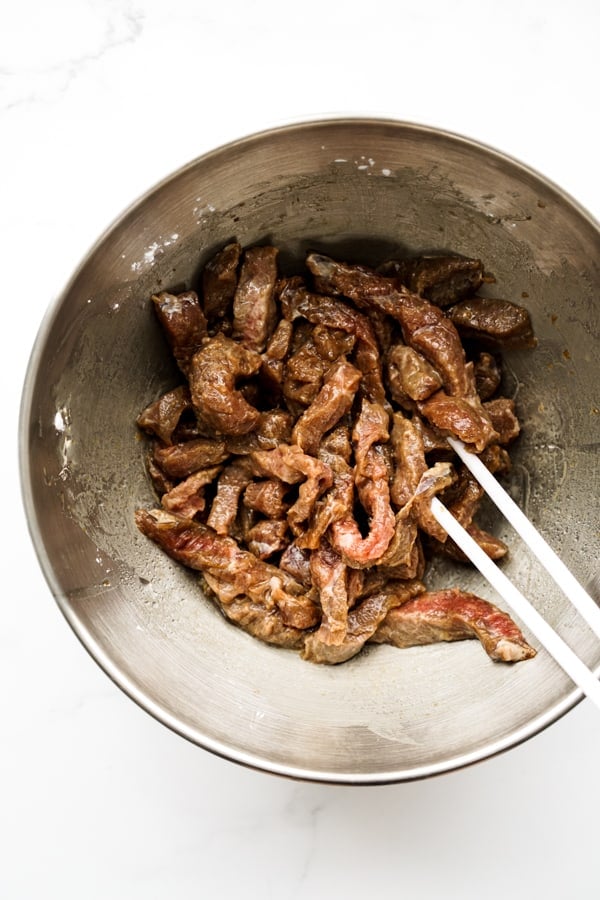 Once I marinade the beef, I typically use the wait time to prepare and make the rest of the items.
Step 2: Cook Noodles
For the noodles, I like to use this Ramen Noodles (they are so yummy!), but feel free to use any noodles you have at hand.
I'm going to soften the noodles by boiling them in water based on package instruction. Drain water when done, and rinse in cold water if noodles will be sitting for a while before it is stir fried.
Whatever types of noodles you use for your Mongolian Beef Noodles, make sure that you soften noodles if they come crunchy. Some may instruct you to soak them in hot water instead of boiling.
Noodles need to be soften and almost fully cooked before stir frying them with the other ingredients.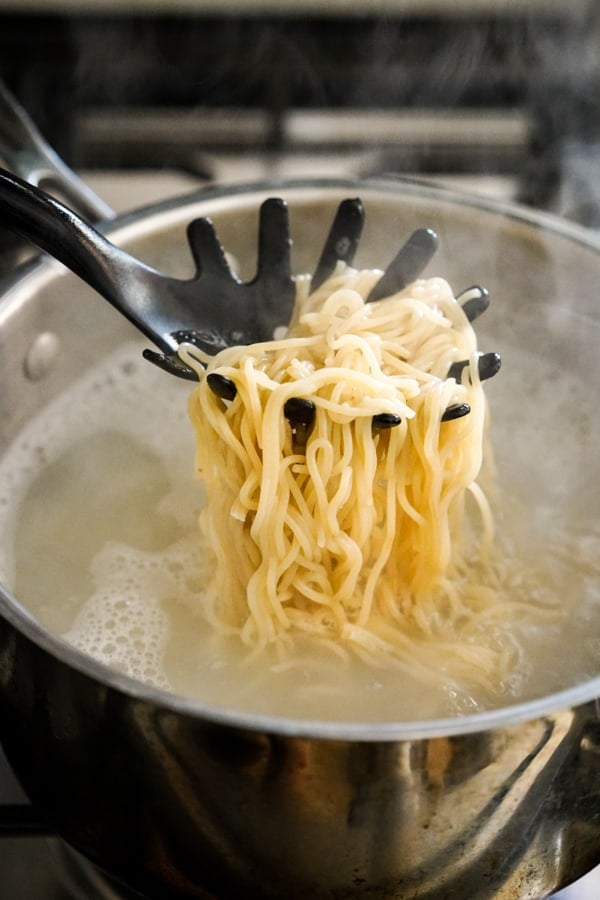 Step 3: Prepare veggies and sauce for stir fry
Next, we will slice up vegetables and also prepare the stir fry sauce for Mongolian Beef Noodles.
We are using carrots and snow peas for the veggies, but feel free to use other veggies such as onions, green beans, bell peppers, bak choy, or other veggies that you like.
Regardless of what veggies you use, try to slice them to about the same sizes so they cook evenly, and keep them at a reasonably small size so they don't take forever to cook.
As for the Mongolian Beef Noodles stir fry sauce, a.k.a. my favorite part of this recipe (in my humble opinion, there's nothing quite like good sauce), bring all these ingredients together and whisk well:
Soy sauce
Brown sugar
Minced garlic
Garlic
Ginger
Water
Cornstarch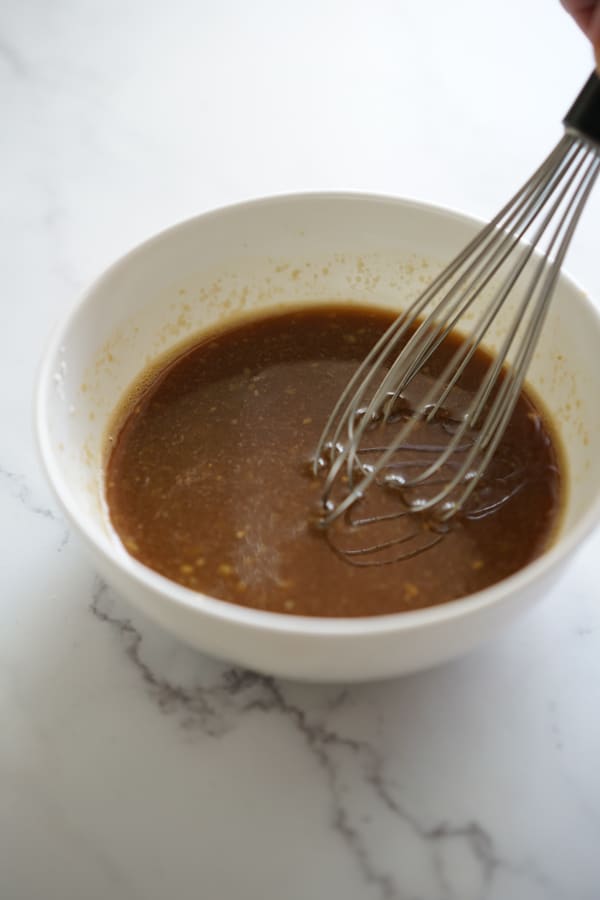 It might look like a blob of brown right now, but trust me, this sauce is GOLD and is what makes Mongolian Beef Noodles shine!
Step 4: Stir Fry Beef, Vegetables and Noodles
Before stir frying Mongolian Beef and Noodles, I always recommend bringing all your ingredients next to the stove top so that you can reach them easily because the stir fry process move fast!
We will be cooking this under high heat and we do not want to overcook it, especially the Mongolian beef and ramen noodles.
Heat a large skillet or wok under high heat, and add cooking oil. Once oil is hot, add steaks to the hot wok and stir to cook for a minute or two.
Thinly sliced beef cooks fast so they should be removed promptly once they are no longer pink to avoid overcooking beef.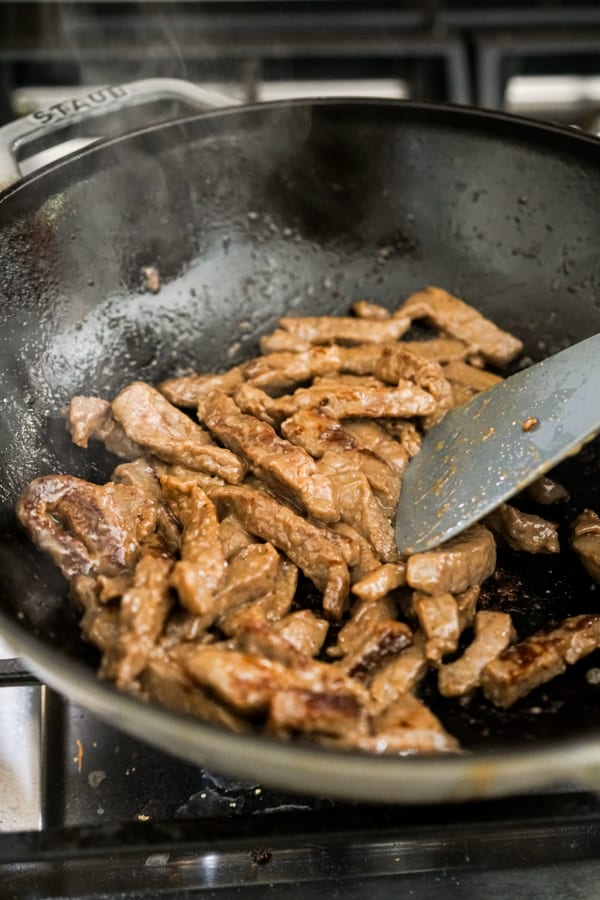 Next, we are going to stir fry the carrots and snow peas.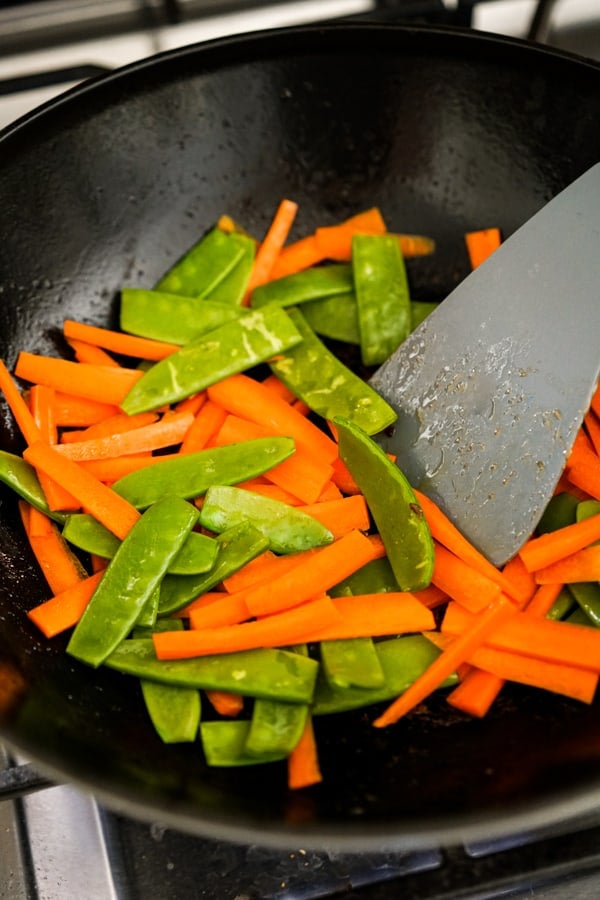 Also make sure to not overcook them so they remain crunchy.
Once they turn a deeply green and orange color, add in the stir fry sauce, beef and noodles to the wok. Toss to combine so everything is well coated in that delicious sticky sauce.
Then switch off the heat promptly so that they are not overcooked.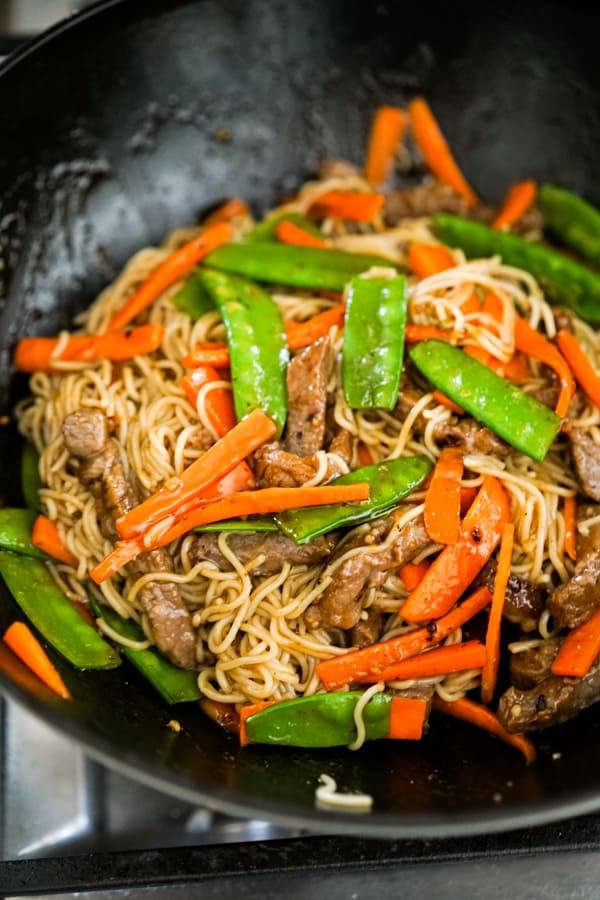 The stir fry process should take about 3-5 minutes from start to finish – it is super quick!
Step 4: Garnish and serve!
Garnish Mongolian Beef Noodles with chopped green onions and serve!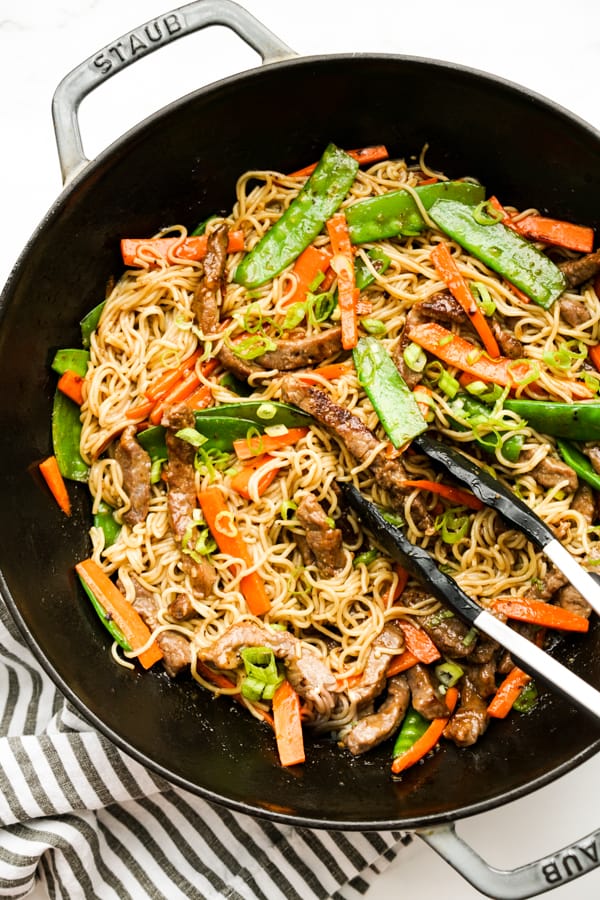 Here's what you can expect from this delicious Mongolian Beef Noodles recipe – chewy ramen noodles coated in sticky sweet and savory sauce, tossed with tender strips of beef, and crunchy carrots and snow peas.
It's a lovely combination of flavors of textures, and such a satisfying meal!
Stir Fry Tips and Tricks
Here are a few tips for stir frying your Mongolian Beef and Noodles:
Use a large wok or skillet so that you have plenty of room to move the items around and thus cooking them evenly.
Cook under high heat so that you get a nice char on the steak and veggies.
Stir frying process goes fast – should not take longer than 5 minutes if done right (high heat, large skillet/wok, etc), so have all your ingredients within arm's reach before starting the process.
We are cooking the items separately (beef first, remove, then add veggies) so that we can cook the items perfectly and not overcook them.
Keep stirring throughout the stir frying process so that items are cooked through.
Avoid overcooking Mongolian beef and noodles. Beef will become tough and no longer juicy, and ramen noodles (or most noodles) will turn mushy if overcooked.
Serving suggestions
This is definitely one of those meals that is great served just by itself. It has protein, veggies and carbs all in one bowl and it couldn't be easier.
However, if you are in the mood to fancy it up, you can serve Mongolian Beef and Noodles with some of my favorite Asian inspired appetizers and sides: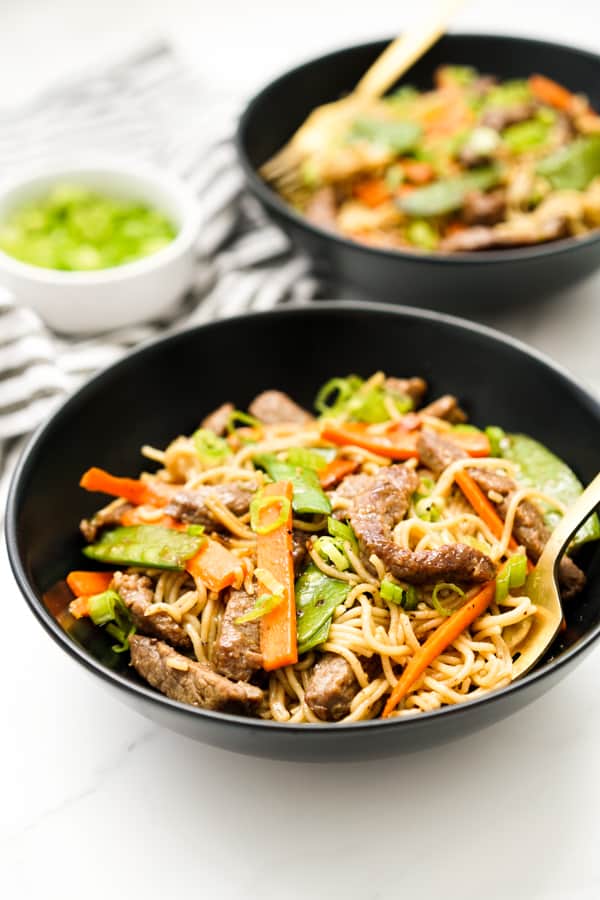 Frequently Asked Questions
How do I make the beef more tender?
1) Make sure to slice them cross grain and in thin strips.
2) Avoid overcooking. When stir frying, they should be cooked very briefly (a few minutes), once they are no longer pink, remove from heat promptly.
3) Use a good cut of meat – ribeye, sirloin, strip steak are typically pretty tender cuts.
Can I use another type of noodles?
You can use almost any noodles for this – rice noodles, egg noodles, Hokkien noodles, lo mein noodles, even spaghetti noodles! Whatever you use, just make sure to soften it (either by boiling or soaking in hot water) based on package instructions if noodles come dry before stir frying it.
I am short on time! Can I skip the marinating step?
Yes, that should be fine! Still mix beef with the marinade sauce, just no need to let it sit. Beef will not be as flavorful if compared to marinating for 30 minutes, but the marinade and Mongolian sauce will still coat the beef and make it tasty.
What is the best way to store and reheat leftovers?
Store in an airtight container in the refrigerator for up to 5 days. Microwave to reheat.
Skip Chinese takeout and make this delicious Mongolian Beef Noodles ASAP!🧡 I have a feeling you will enjoy this as much as I do!
DID YOU ENJOY THIS RECIPE? Please comment below and give us a 5-star rating! This will help others find this recipe on Google and Pinterest. We very much appreciate your help! 🤍
More Asian/Asian inspired Recipes
Here are some of our other favorites!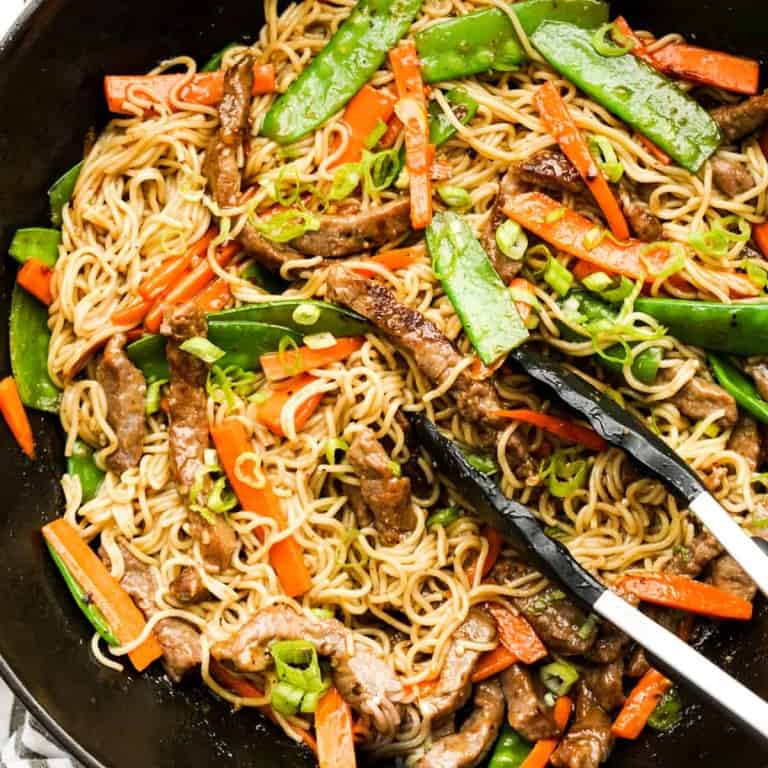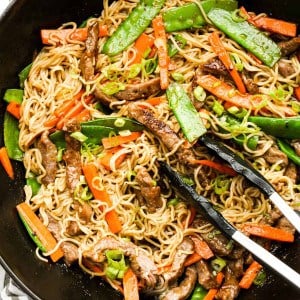 Mongolian Beef Noodles
The classic tender and marinated Mongolian Beef stir fry is combined with ramen noodles, carrots, and snow peas to make this tasty one-skillet easy dinner!
Print
Pin
Ingredients
10

oz

beef sirloin

or flank steak, NY Strip

2

tbsp

soy sauce

1

tbsp

cornstarch

2

tsp

cooking oil

plus more for stir frying

4

servings

ramen noodles

1-2

stalk

carrots

thinly sliced

3

oz

snow peas

1/4

cup

green onions

chopped
Mongolian Stir Fry Sauce
1/4

cup

soy sauce

3

tbsp

brown sugar

3

cloves

garlic

minced

1

tsp

ginger

minced

1/4

cup

water

2

tsp

cornstarch
Instructions
Slice beef into thin strips cross grain. Bring beef, soy sauce, corn starch and vegetable oil into a medium bowl. Stir to coat beef in seasonings. Marinade for 30 minutes.

While waiting on beef to marinade, bring water in a medium pot to boil and cook ramen noodles based on package instructions. Drain water and set aside. Rinse with cold water if they stick together.

Prepare Mongolian stir fry sauce by combining all ingredients in a bowl. Whisk to combine.

Heat a large skillet or wok with cooking oil under high/medium high heat. Once heated, add beef. Stir continuously for a few minutes until beef is no longer pink – this should take 1-2 minutes under high heat. Remove beef promptly and set aside – do not overcook beef.

Add more cooking oil if needed. Add snow peas and carrots. Stir continuously until they are cooked (brighter colors but still crunchy). This should take a couple of minutes.

Add stir fry sauce, noodles and beef to skillet. Toss to combine so noodles are coated in sauce. Remove from heat promptly.

Garnish with green onions. Serve and enjoy!
Nutrition
Calories:
384
kcal
|
Carbohydrates:
43
g
|
Protein:
23
g
|
Fat:
13
g
|
Saturated Fat:
4
g
|
Polyunsaturated Fat:
2
g
|
Monounsaturated Fat:
6
g
|
Trans Fat:
0.01
g
|
Cholesterol:
39
mg
|
Sodium:
2235
mg
|
Potassium:
449
mg
|
Fiber:
2
g
|
Sugar:
11
g
|
Vitamin A:
341
IU
|
Vitamin C:
15
mg
|
Calcium:
57
mg
|
Iron:
4
mg