This post may contain Amazon or other affiliate links. As an Amazon Associate I earn from qualifying purchases at no additional cost to you.
Pad Thai Noodles is a classic Thai noodle dish that is well-loved beyond the borders of Thailand. Tossed in a sweet, sour, savory, spicy sauce, these rice noodles are cooked under super high heat and bursting with flavors that will send your tastebuds on a wild adventure. So…buckle your seatbelts!
I am SO EXCITED to share this recipe with you for a few reasons. Number one: I do love Pad Thai Noodles with all my heart.
Number two: I partnered with HHS, a local hospitality service company here in Austin, to bring you this Pad Thai recipe, along with a video! YES. A VIDEO! I am seriously giddy about this. HHS also has a super cool Living Well Blog that features recipes, cooking tips, housekeeping tips that I love following and reading!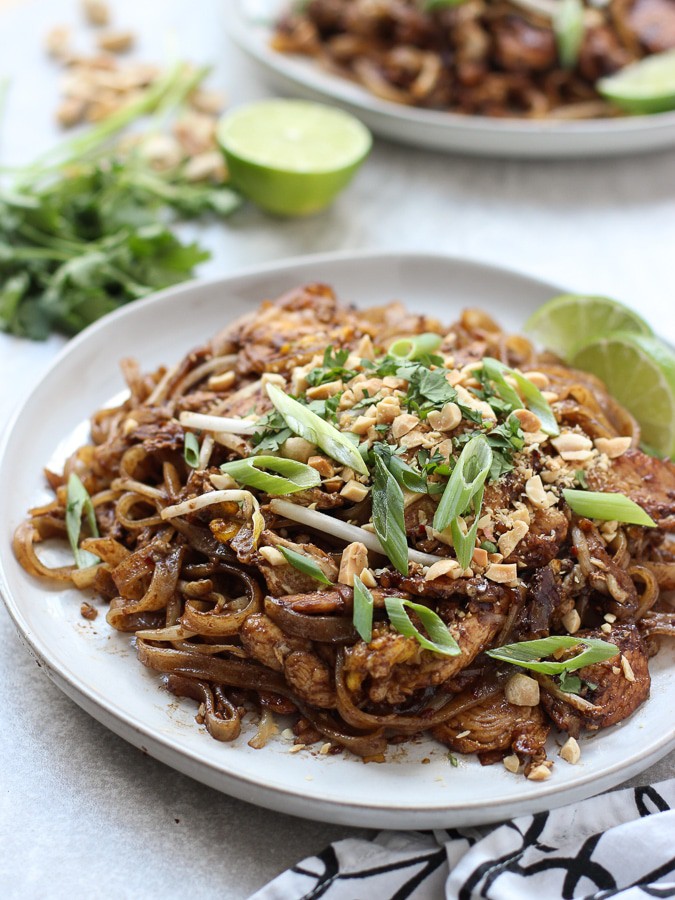 Pad Thai has become a popular and kinda hip noodle dish in the last couple of years, but it is way more than just a cool kid on the block. SO MUCH MORE.
I will be failing Pad Thai big time if I do not talk about the complexity and uniqueness in its flavors. And when I say complex, I don't mean a lot of ingredients. A good Pad Thai is bursting with amazing flavors and textures, and it is a delicate balancing act of the sweet, savory and sour.
The Pad Thai sauce brings about these flavors, and it is made out of brown sugar (traditionally, palm sugar is used), fish sauce and tamarind concentrate (traditionally, fresh tamarind is used). Brown sugar will bring about the sweet, fish sauce the salty, and tamarind concentrate the sour. The balancing of the flavors comes from using the perfect amount these three ingredients.
Sauce Ingredients – What are they and where to find them
Let's talk a little bit about some of these ingredients. Fish sauce is a key ingredient in most Thai and Vietnamese dishes. It is also incredibly salty, and a little goes a very long way. Good news is it can be found in most mainstream grocery stores today.
As for Tamarind concentrate, they can be harder to find, even in Asian grocery stores. Luckily Amazon carries a version I love (click here for the affiliate link) and is very affordable. This is my go-to tamarind concentrate.
As I experimented with different tamarind concentrates/pastes, I also learned that they can differ a lot in terms of consistency and taste. If you are using another brand, the amount needed can vary slightly, and you might have to experiment with it to get to your desired flavor palette.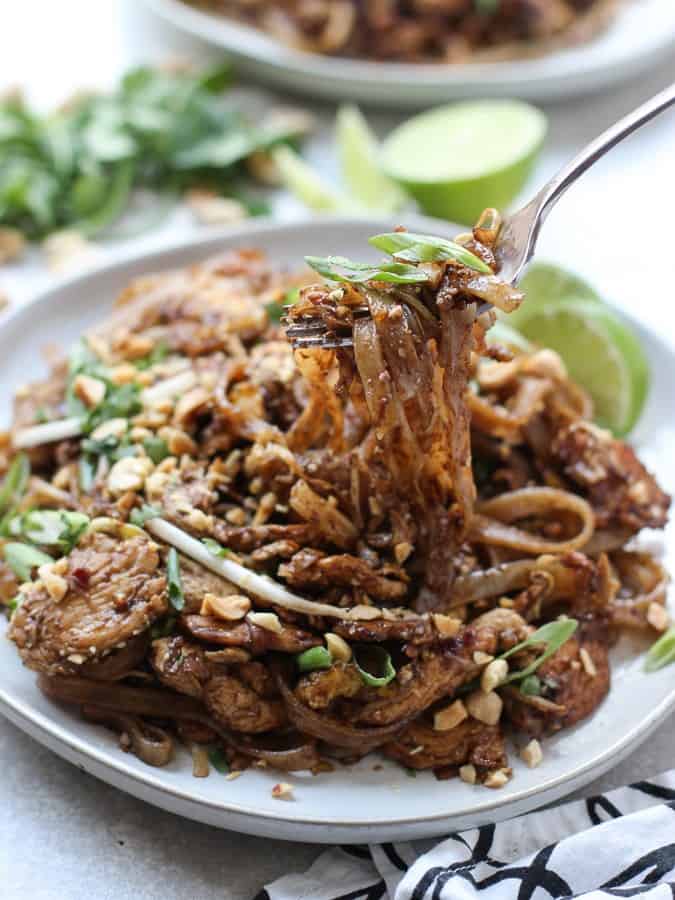 The noodles used in Pad Thai is thin rice noodles, and they typically comes dry, and look like noodle sticks. Sometimes called Pad Thai Noodles, I have seen these dry rice noodles sold in regular grocery stores in the U.S.
Soak the rice noodles in warm/hot water for 30-45 minutes, or according to package instructions. The goal is to soften and separate noodles (so they don't clump together).
You can find refrigerated (non-dry) noodles as well, but typically most stores carry dry noodles. If using wet noodles, you will have to soak them prior as well.
Just like any stir fry dishes, prep the ingredients before hand and lay it next to the stove so that it is within arm's reach.
We are cooking under super high heat, and once we start stir-frying, the process goes fast. You want to be able to reach your ingredients quickly.
This recipe is written for two servings, and when stir frying these noodles, I recommend cooking one serving at a time. This is because you want to be able to move the ingredients around when you cook them. This is crucial for ensuring the Pad Thai Noodles are cooked evenly.
A wok is highly recommended for making this dish. If you do not have a wok, I recommend a large skillet (so you can move it around) that can withstand high heat. Preferably non-stick as those rice noodles do have a tendency to stick to the pan. You can use more vegetable oil to avoid sticking if necessary.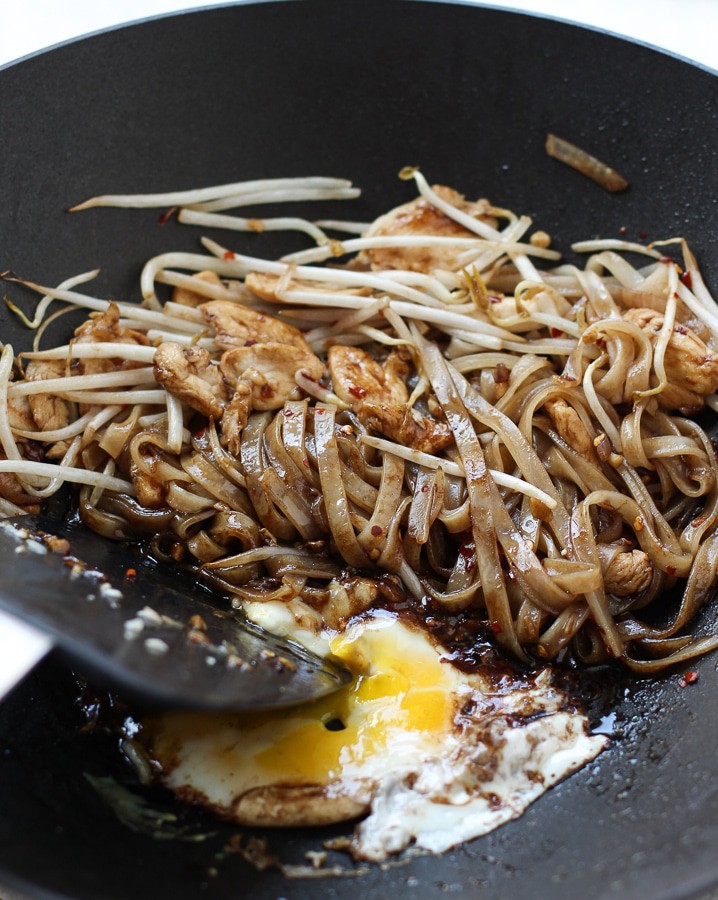 As I mentioned early, the stir-frying process goes fast. I have the details on what goes in for approximately how long in the recipe card below, but keep in mind that you will most likely be standing next to the stove, and stirring the wok most of the time, when you make this dish.
Remember to not overcook the dish! Rice noodles get soggy if overcooked, and can be tough to chew if undercooked. We throw the bean sprouts in at the end because you don't want to get them soggy by cooking them too early in the process.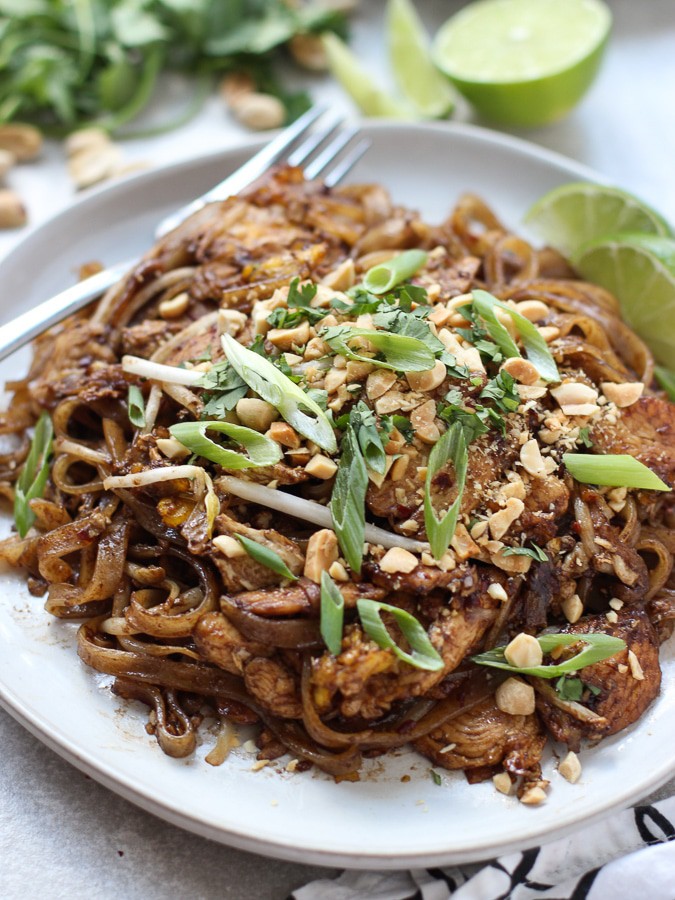 Stir frying is an art, not a science. There are a lot of external factors, such as how hot your wok gets, how frequently you were able to move your ingredients around, that will dictate how the dish turns out.
It reminds me a lot of bread-making, where there is an art to it, and external factors can make the end product slightly different each time.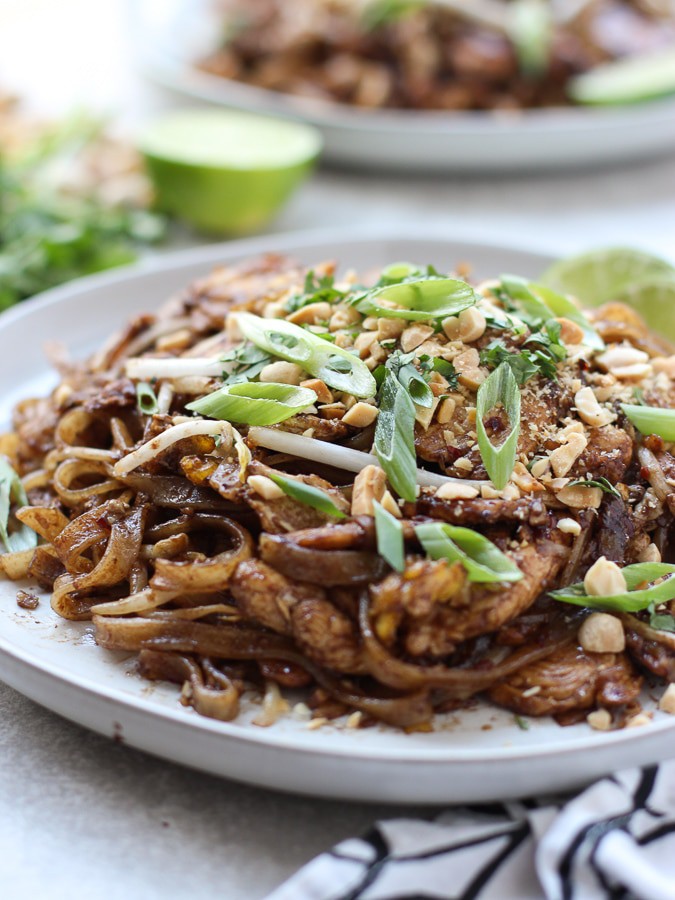 At the end prior to serving, remember to garnish with green onions, cilantro and chopped peanuts, and squeeze some lime juice onto it. These garnishes add texture, and the lime add to the sour bite in the noodles and open up the flavors.
Pad Thai Noodles. The most beautiful merger of flavors. The texture queen. The dish that takes yummy to the next level.
And now you get to make it all at home.
Friends, let's indulge together.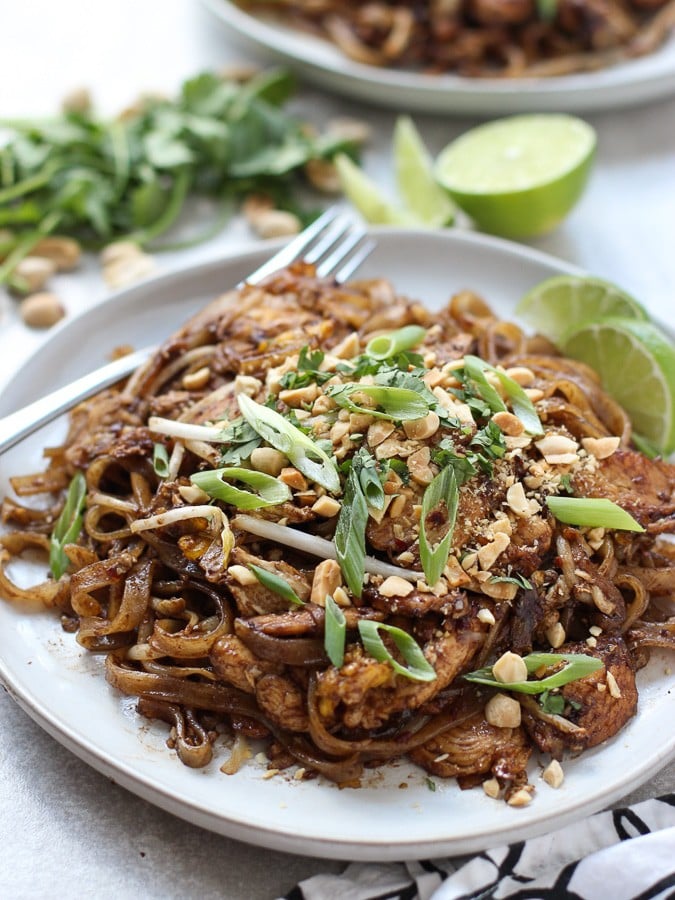 ALSO. Don't forget to also check out our Pad See Ew Noodles recipe, another authentic Thai noodle dish that is out of this world!