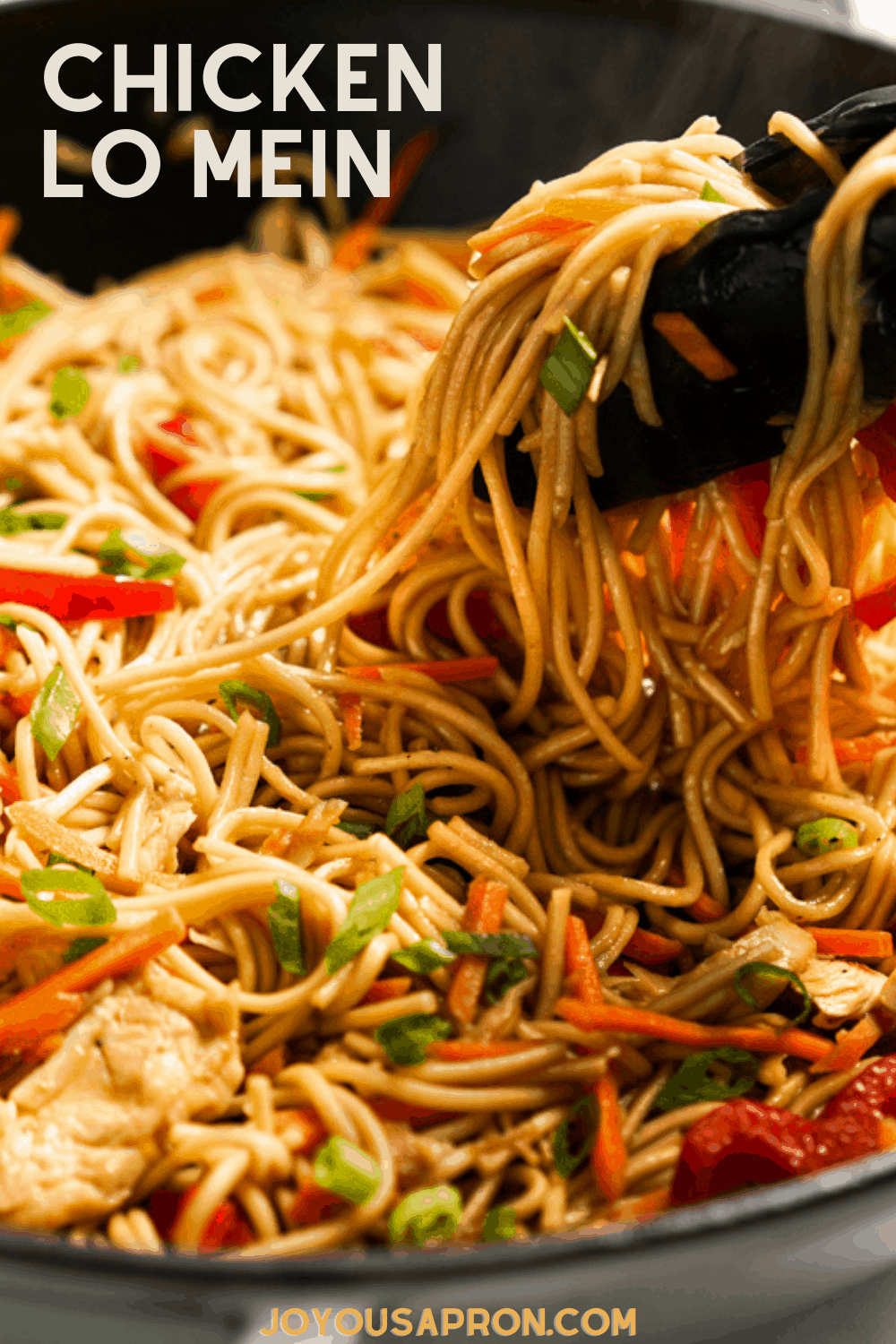 Restaurant style Chicken Lo Mein…or dare I say, even better than most restaurants'! Chewy lo mein noodles tossed in a yummy soy-based sauce and combined with chicken and veggies. A classic Chinese noodle recipe packed with crazy delicious flavors, and it takes only 30 minutes to make. No not kidding!
Because of that, it has quickly become one of our favorite easy weeknight dinners.
Ready to jump into all this Chicken Lo Mein goodness??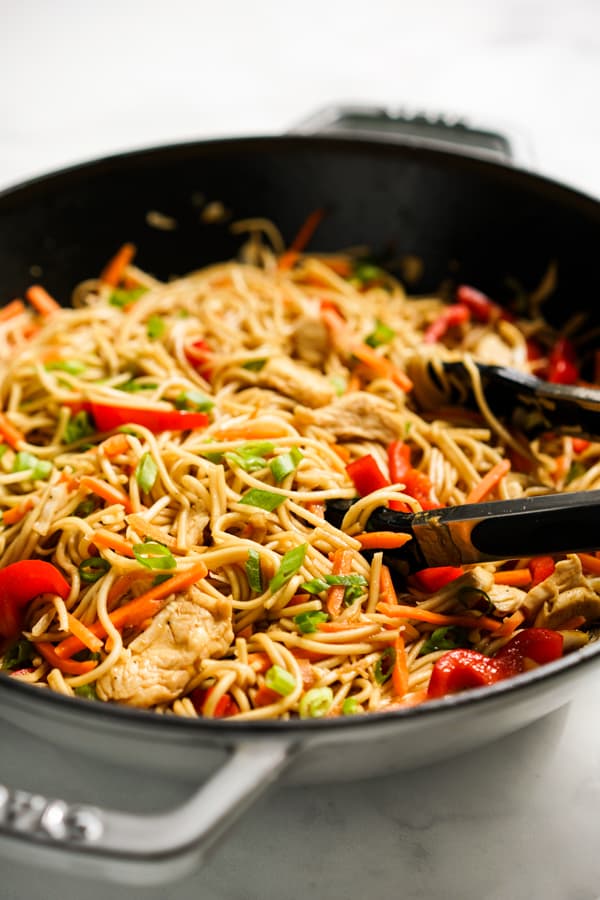 Love noodles? Try our Garlic Noodles with Shrimp, Vietnamese Rice Noodle Salad and Tom Yum Fried Noodles recipe as well!
The Best Chicken Lo Mein Recipe
Up until a couple of weeks ago, we went on our lives without this Chicken Lo Mein…oh, all the things we were missing out!!
The many reasons why this dish is necessary in your every day life! 🙂
30 minutes!!! I said it once, I will say it again. 30 minutes from start to finish. So dang easy!!
Amazing flavors. If you had Chicken Lo Mein from an average Chinese restaurant, you haven't truly experience Chicken Lo Mein. Just sayin'. This recipe is the MVP of all Chicken Lo Mein. It tastes soooo much better (not to mention it is also way healthier), and the secret is in the sauce.
Healthy-ish. Is it the healthiest thing in the world? Probably not. But it is not deep fried and soaked in grease, and is a fairly balanced meal with the vegetables and protein added to the noodles. It is also definitely much healthier than takeout, while tasting better! I MEAN…WHAT MORE DO YOU NEED. And if you want to make it even healthier, serve it with some Asian Style Green Beans (BEST green beans EVER) or Sautéed Garlic Brussel Sprouts and Carrots.
Keeps well a leftovers. Double or triple the batch and have it for lunch or dinner the next day, and the day after next. Which leads me too…
Meal prep!!! This one-pot meal screams meals prep. It will be the lunch all your co-workers wish they have!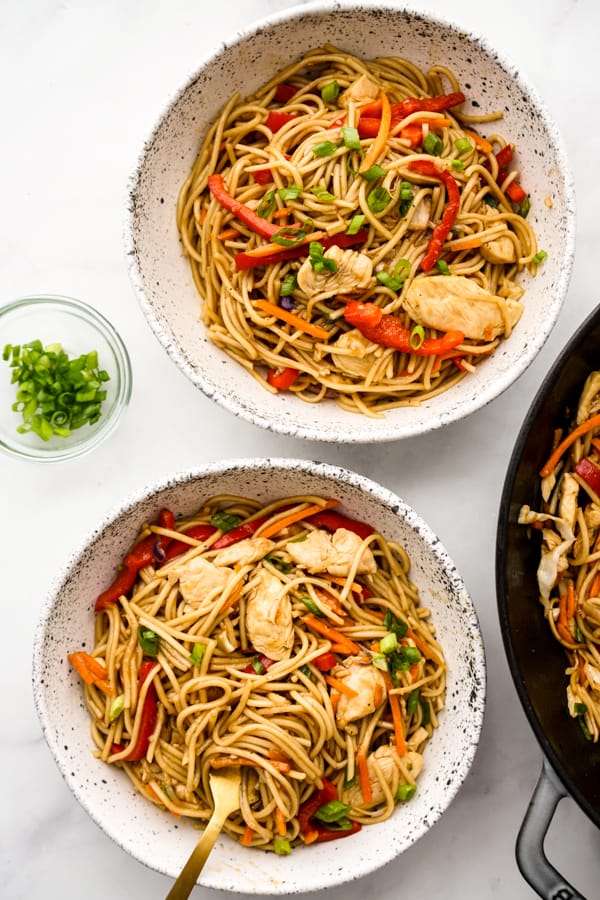 Appliances needed
Ready for this? Just a pot and a large skillet (and non-stick makes this easier!). No wok is required, although you can use that if you have it.
Chicken Lo Mein can sound like a fancy and complicate task. But truly it is not. Before you know it you'll be skipping takeout and making this restaurant style Chicken Lo Mein at home like a boss!
I prefer using a non-stick skillet because noodles do have a tendency to stick to the skillet. Make sure to use more vegetable oil if you are not using a non-stick skillet.
Noodles for Chicken Lo Mein
To make Chicken Lo Mein, I buy this Lo Mein noodles that comes dry and in "stick" form. If you cannot find Lo Mein noodles, believe it or not, spaghetti noodles work just as well.
If you are using fresh egg noodles (typically found in the Asian grocery stores in the refrigerated section), the amount use will vary from the way this recipe is written.
For example, this recipe calls for 10 oz of dry lo mein noodles, but 10 oz of fresh noodles will yield less noodles. Take note and proceed with caution. No not really but kinda yes. 😉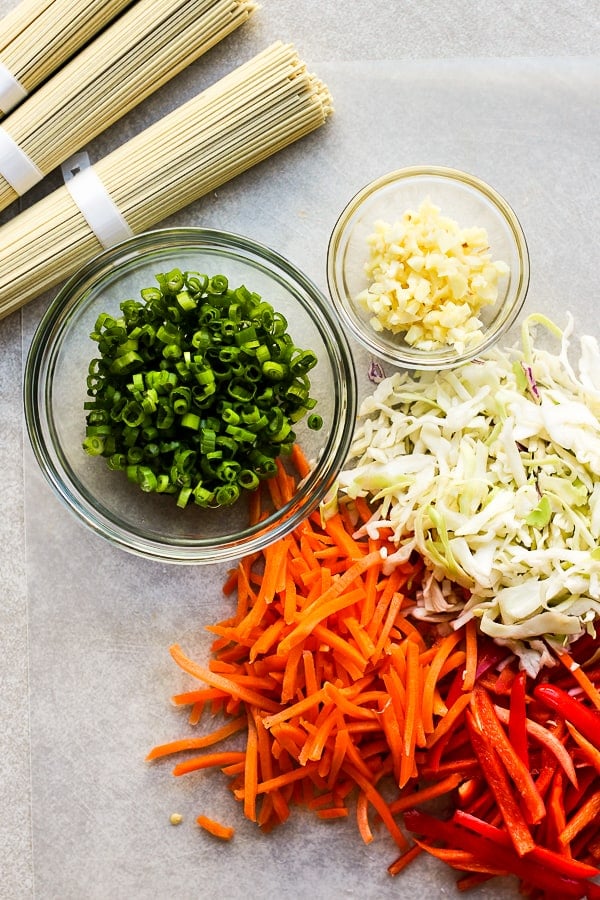 Other Ingredients
I like to incorporate vegetables into our diet because it is good for you. For this chicken lo mein dish, vegetables also add texture, and without them it just doesn't quite taste the same!
I added bell peppers, shredded carrots, and shredded cabbage to it but many other veggies will be just as yummy:
Snap peas
Spinach
Baby corn
Onions
Shelled edamame
I've been teasing about that sauce. It's about time we actually talk about it. The thing that makes this chicken lo mein dish what it is is in the sauce – savory with a hint of sweetness and nuttiness, this sauce is not to be messed around with. It is complex and has so many dimensions. In other words, so darn good.
Also, the good news is it calls for ingredients that you can find in regular stores:
soy sauce – sometimes called light soy sauce, this is the basic, regular soy sauce you find at Asian restaurants.
oyster (flavored) sauce – don't be intimidated by this! I don't care for oyster but love this. It is actually in most Chinese food recipes!
sesame oil – has a nutty flavor and elevates this dish! Another common ingredient in Asian cooking.
sugar
ground ginger
black pepper
chicken broth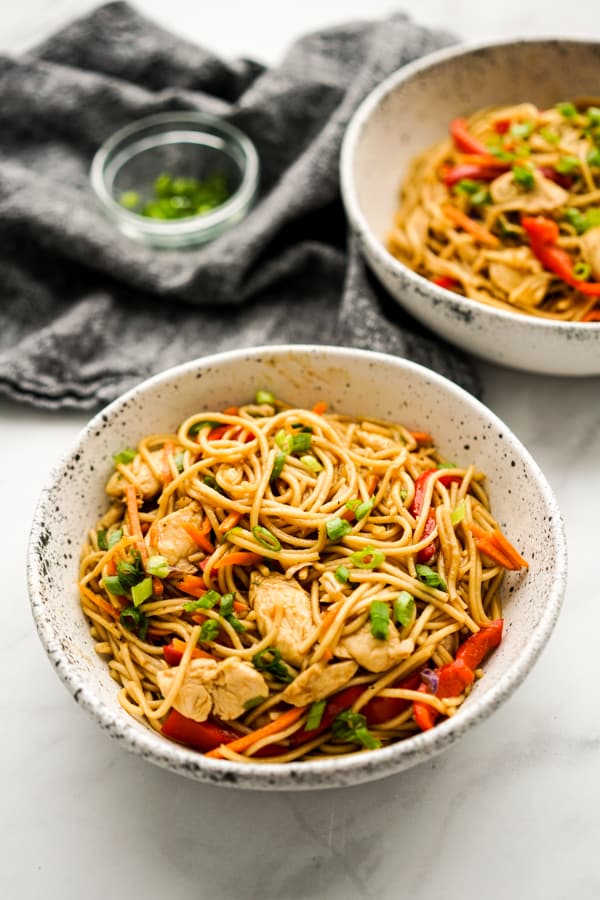 An optional ingredient for the sauce is dark soy sauce. Dark soy sauce contributes to the color and gives the noodles a hint of a deeper, richer flavor, however, not using it will not break the dish.
In fact, I didn't use it the first few rounds of recipe testing and it was just as delicious. I am also making it optional because it can be harder to find dark sauce at regular grocery stores.
The rest of the ingredients should be able to be found in the Asian aisle of most regular grocery stores.
How to Make It
Chicken Lo Mein may sound intimidating but it is a quick 30 minute kinda meal.
In fact, unlike more complicated noodle dishes like Pad Thai or Pad See Ew, the process for making chicken lo mein is very straight-forward and it can be quickly summed up to this:
Boil noodles
Prep/chop veggies
Mix together sauce
Combine everything. Sauté Sauté Sauté!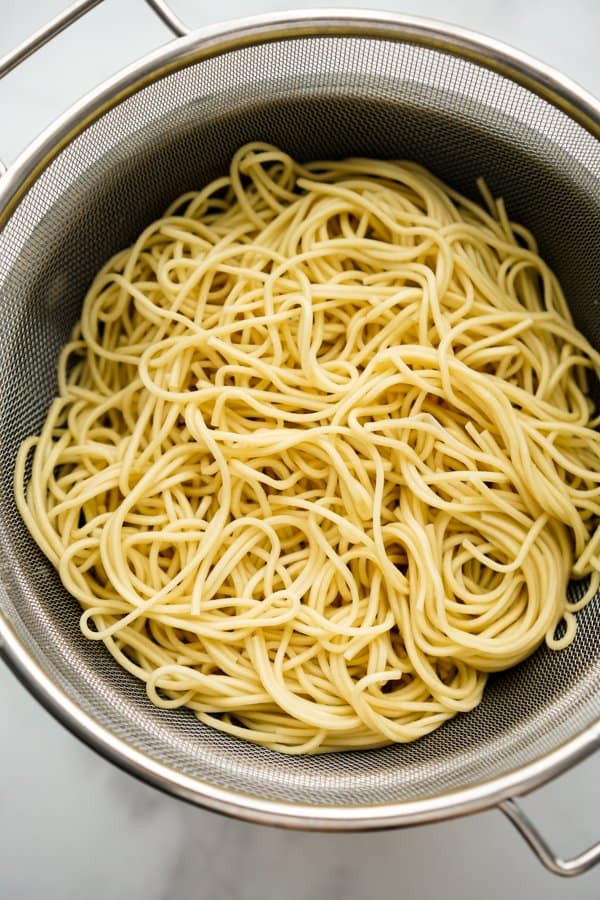 As for the lo mein sauce, it is as simple as combining them in a bowl or measuring cup, whisking so that everything is combined well, then pour it into the skillet when cooking the noodles.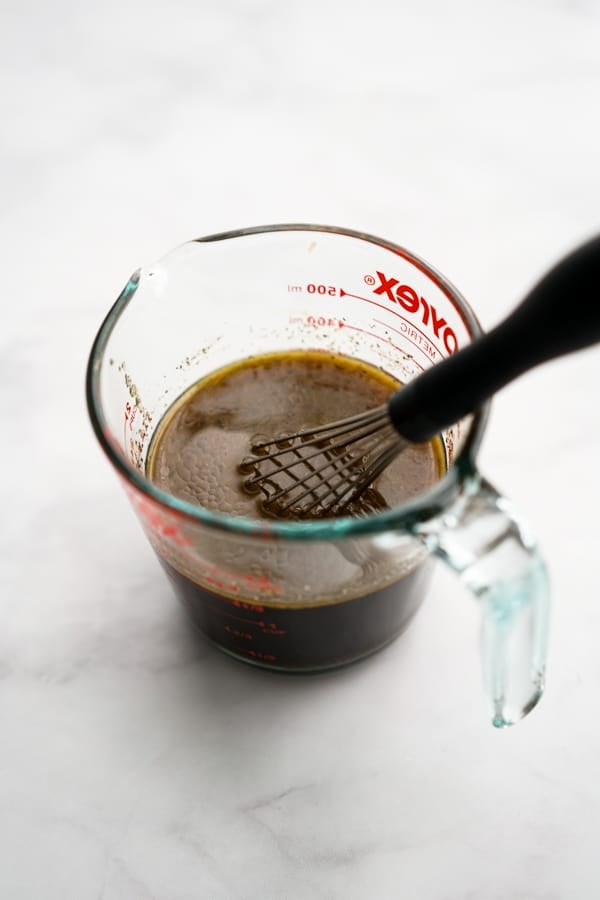 When sautéing, start by heating up vegetable oil and add garlic and chicken. Once chicken is cooked, add sauce and bring to boil.
Then add noodles, vegetables and combine so the lo mein noodles are coat in that sticky, yummy, amazing sauce.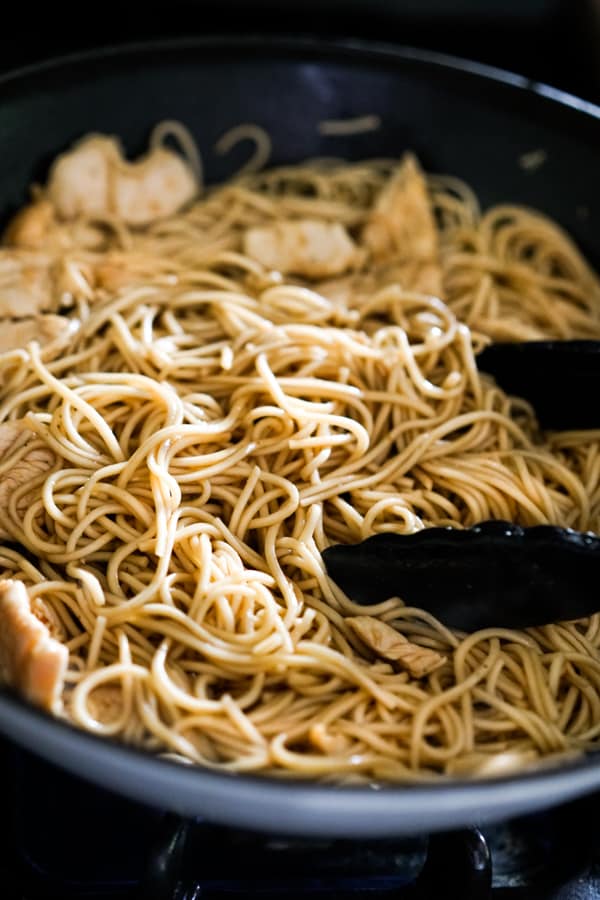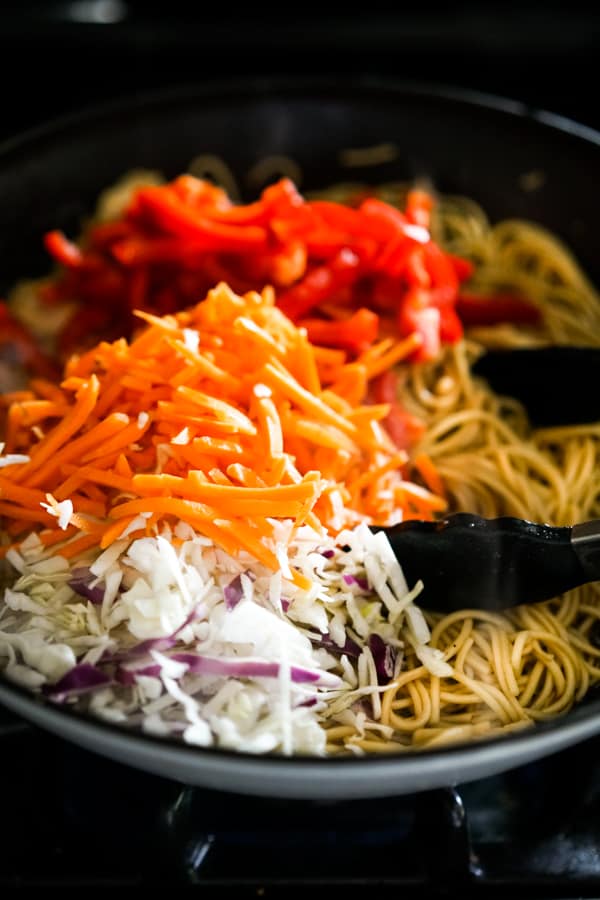 Once Chicken Lo Mein is done, here comes the very best part…grab a fork, chopsticks, whatever suits your fancy, DIG IN!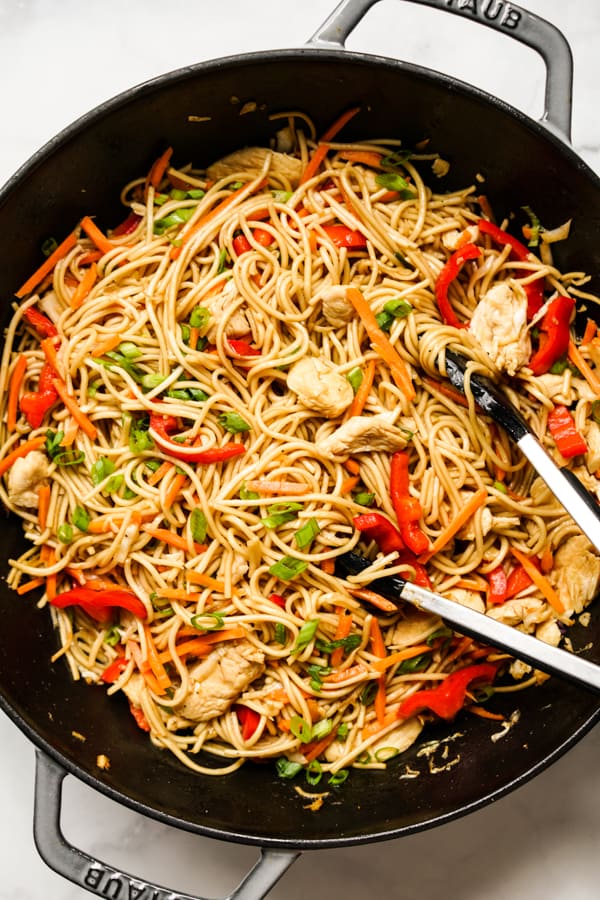 Lo Mein noodles are coated with the flavorful sticky sauce, slightly wet but not overly wet…just enough to have lots of amazing flavors.
Chewy noodles are combined with juicy chicken, and amazing crunchy textures from the cabbage, bell peppers and carrots.
Oo la la!
Everyone needs some Chicken Lo Mein in their lives!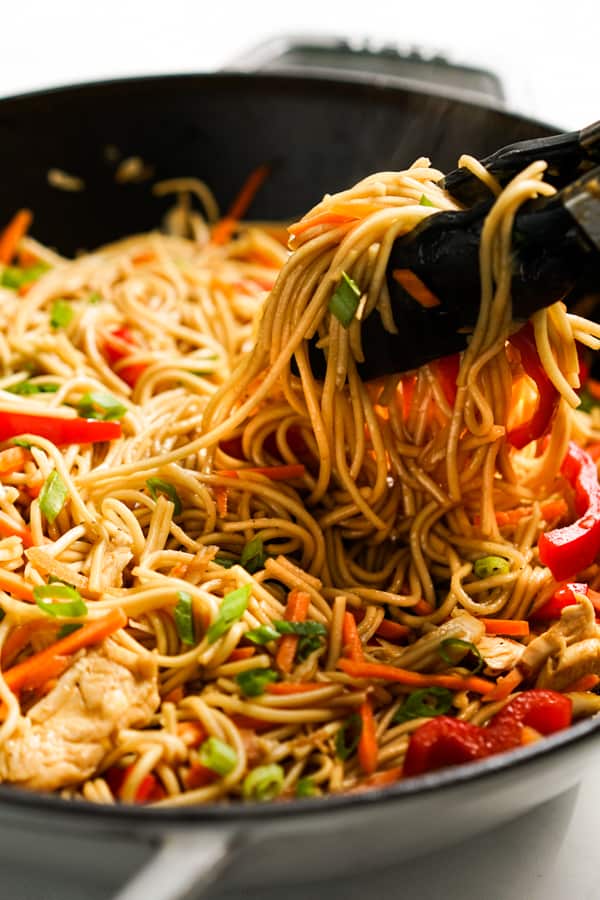 Frequently Asked Questions
I can't find lo mein noodles, can I use another type of noodles?
Yes! Any noodles would work with this! If noodles are hard, make sure to pre-boil it before cooking it in the skillet just like how I pre-boil the lo mein noodles in this recipe. Ramen noodles, rice noodles, egg noodles, and even spaghetti works well with this.
Can I use other veggies or protein?
This is a very versatile recipe and lots of protein and veggies work great with it. In fact, I usually use whatever veggies or meat in the fridge to make this! Veggies such as spinach, snap peas, broccoli, green beans, bak choy, beans sprouts, or leafy greens works great with this. Other protein you can use: tofu, shrimp, pork, beef, and much more!
Does Chicken Lo Mein keep well as leftover?
YES! In fact, this is one of our favorite meal prep dinners. I always make a lot and store leftovers in an air tight container in the fridge for up to 5 days.
Can I use low sodium soy sauce?
Absolutely! It will be slightly less salty but I would not change the amount the recipe calls for.
Are lo mein noodles healthy?
I would say it is healthy-ish because we are making it with lots of veggies and not using a lot of grease and cream. However, lo mein noodles do have lots of carbohydrate. See nutrition chart in the recipe card for full nutritional values of the recipe.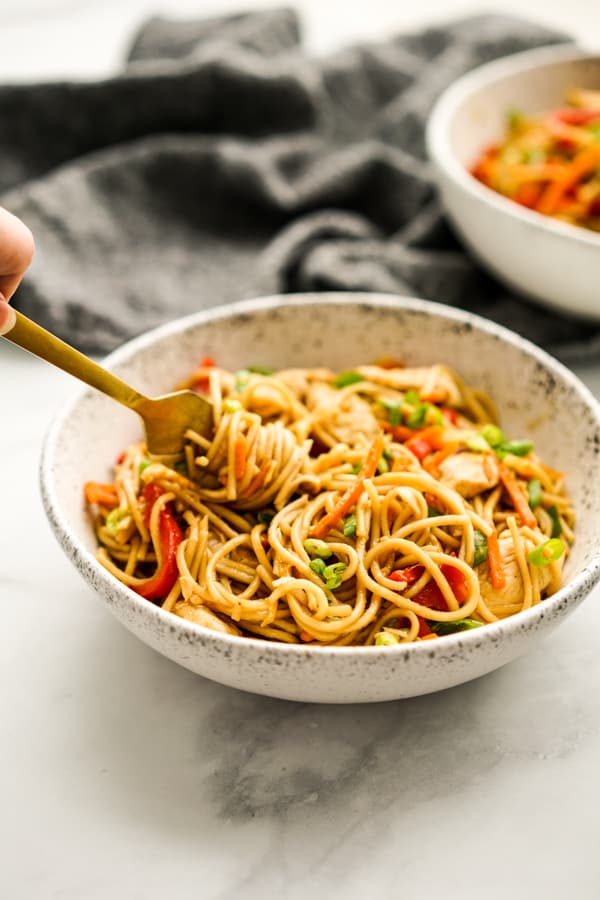 Other Noodle dishes on the blog!
We love noodles…here are some of our other favorites!
DID YOU ENJOY THIS RECIPE? Please comment below and give us a 5-star rating! This will help others find this recipe on Google and Pinterest. We very much appreciate your help! 🤍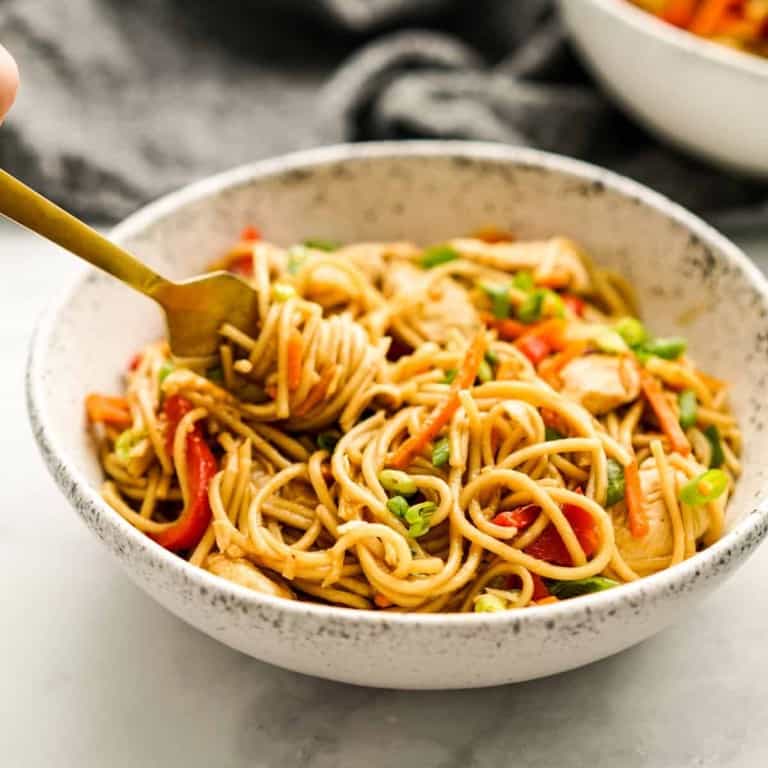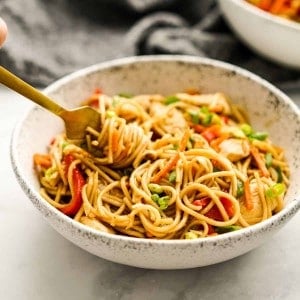 Chicken Lo Mein
Easy and delicious Chinese noodle dish! Delicious chewy lo mein noodles tossed in a flavorful savory soy based sauce, combined with crunchy veggies and chicken. Save well as leftovers and great for meal prep.
Print
Pin
Ingredients
10

oz

lo mein noodles (dried)

or spaghetti noodles

1

cup

carrots

shredded

1

cup

cabbage

shredded

1

bell pepper

sliced

3-4

cloves

garlic

minced

3

pieces

chicken tenderloins

1

tbsp

vegetable oil

2-3

spring

green onions

sliced
Sauce
3

tbsp

oyster (flavored) sauce

2

tbsp

soy sauce

1

tbsp

sesame oil

1

tbsp

sugar

1

cup

chicken broth

more if needed

1/4

tsp

ground ginger

1/4

tsp

black pepper

1

tsp

dark soy sauce

optional
Instructions
In a pot, bring water to boil and add lo mein noodles. Make sure noodles are completely submerged in water. Cook time will vary based on package instruction.

Once noodles are done, remove promptly and drain water, then rinse noodles with cold water (this will prevent noodles from continuing to cook and sticking to each other). Do not overcook noodles.

Prep/cut bell peppers, shredded carrots, shredded cabbage, garlic, green onions and chicken. (Start this step while waiting for noodles to boil to save time!)

Prepare sauce by combining all sauce ingredients into a bowl. Whisk to combine.

Heat skillet and add vegetable oil. Once oil is hot, add garlic and chicken slices. Sauté chicken until it is done, flipping occasionally. Add sauce. Bring to a boil.

Add noodles and gently stir them into the sauce and coat them evenly with sauce (much easier if using a paid of tongs). Add bell peppers, shredded carrots and shredded cabbage and continue to combine until they are all coat in sauce.

Add additional chicken broth if noodles seem too dry. Continue to combine for another 30 seconds or so, or until sauce thickens and everything are well coated with sauce. Avoid overcooking noodles.

Remove from heat and garnish with green onions. Serve and enjoy!
Notes
This post was updated with new photographs with an improved recipe on July 15, 2021!
Nutrition
Calories:
361
kcal
|
Carbohydrates:
63
g
|
Protein:
9
g
|
Fat:
9
g
|
Saturated Fat:
3
g
|
Polyunsaturated Fat:
2
g
|
Monounsaturated Fat:
2
g
|
Cholesterol:
1
mg
|
Sodium:
1414
mg
|
Potassium:
288
mg
|
Fiber:
3
g
|
Sugar:
7
g
|
Vitamin A:
6302
IU
|
Vitamin C:
51
mg
|
Calcium:
35
mg
|
Iron:
1
mg