Mee Goreng Mamak (Malaysian Fried Noodles)
Mee Goreng Mamak Indian Style is the Mee Goreng recipe I ate all the time growing up in Malaysia. Sticky savory, sweet, spicy, sour yellow noodles combined beans sprouts, fried tofu, red potatoes, tossed and stir fried fairly quickly under super high heat.
This post is sponsored by our wonderful friends at Idaho® Potato Commission! All opinions and texts are mine.
Mee Goreng means "fried noodles" in the Malay language. And I'm pretty sure it is called the same thing and means the same thing in the Indonesian language too.
You will find that there are many different types of Mee Goreng out there but this one in particular is of what we call "Mamak" style.
Mamak describes people of Indian Muslim origins in Malaysia. The merger of two cultures created this uniquely gorgeous flavored noodle dish that will only leave you wanting more.
Mee Goreng is a popular street food that can be found all over Malaysia. This Malaysian Fried Noodles is cooked in an extremely hot wok (usually placed outdoors), and has the most fabulous sticky spicy sour sweet savory sauce. It will open up your tastebuds…and also your sinuses.
Mee Goreng Mamak is usually served with fried tofu, beans sprouts, slices of potatoes and squid or seafood. Since squid is less common here, I got into the habit of cooking without it. And surprisingly, I have personally come to prefer it this way – the vegetarian version.
This is my take on the Mee Goreng I ate and love growing up. I think it's fairly authentic, but there are ingredients that I cannot find here that I have substituted with ones that are more easily available, for example the red chilies.
I consider this as close to the authentic version as I can get and as I can remember. 😉
The only way to get the 100% real thing is when you can cook it in crazy hot wok using a commercial stove and can easily get all the necessary ingredients. But I will settle for this simplified, carefully adapted, amazingly delicious version when I don't have access to the hawker stalls' version!
I'm pretty happy with the way it tastes and it definitely transport me back to the days of sitting by hawker stalls in Penang hungrily slurping up a plate of Mee Goreng…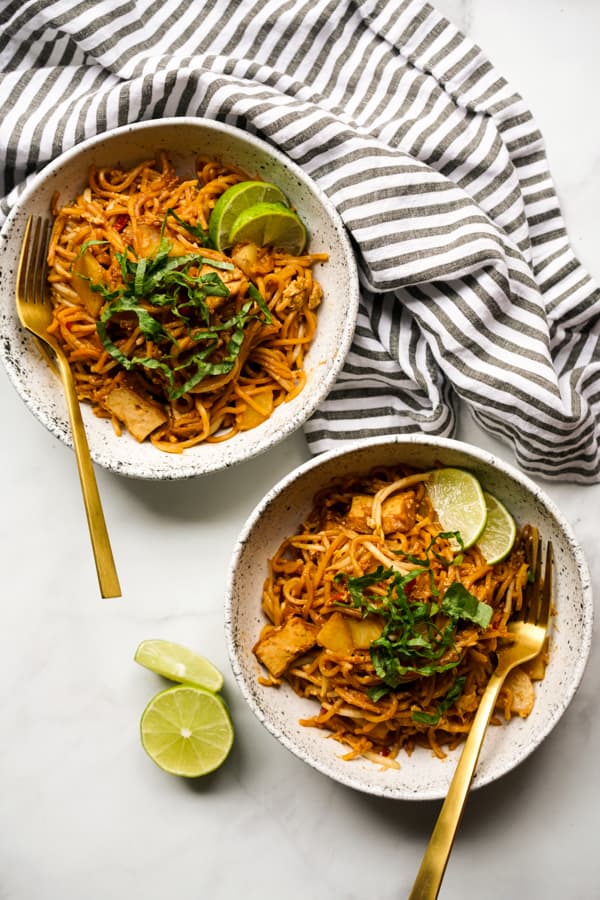 I am so excited to be sharing this Malaysian Fried Noodles recipe. Every recipe on my blog is loved and special, but every now and then, it also tugs the nostalgic heart strings.
And this definitely brings on the nostalgia.
So join me as I pay tribute to one of my childhood favorite dishes. 🤍
P/S: If this sounds yummy to you, be sure to also check out my amazing Tom Yum Fried Noodles. That is also a childhood favorite and shares a lot of similarities in terms of flavors with this recipe.
Ingredients
I want to spend some time talking about the ingredients because it does call for a few unique items.
They are however, accessible in many parts of the U.S. And if they are not, I will provide some substitution suggestions.
I truly believe in using the best ingredients possible for a dish, and take necessary short cuts when needed. But you better believe those short cuts do not short cut the flavor and amazing taste of the dish!
To make the noodle portion of Mee Goreng Mamak, here's what you need:
Yellow noodles – I use fresh yellow noodles from Asian grocery stores. They should be soft and ready to be stir fried. No pre-cooking necessary. If they are clump together, gently break them apart with your fingers before adding them to the wok to cook.
Red Idaho® potatoes – you know I love Idaho® potatoes, and it brings great textures and flavor to this dish. Slice thinly so they cook quickly! I do pre-boil or microwave the potatoes before cooking them with the noodles.
Beans sprouts – I also use fresh and have seen them in Asian grocery stores and some regular grocery stores.
Fried tofu – Tofu that is already fried. Mostly found in Asian grocery stores.
Garlic – highly recommend using fresh garlic! Do not substitute with garlic powder
Red chilies – I use small red chilies (see picture below), and I find that they are sometimes called "Thai red chilies" in my Asian grocery store. They are super spicy and be careful not to touch your eyes when handling them! Also, they need to be deseeded before cooking.
Eggs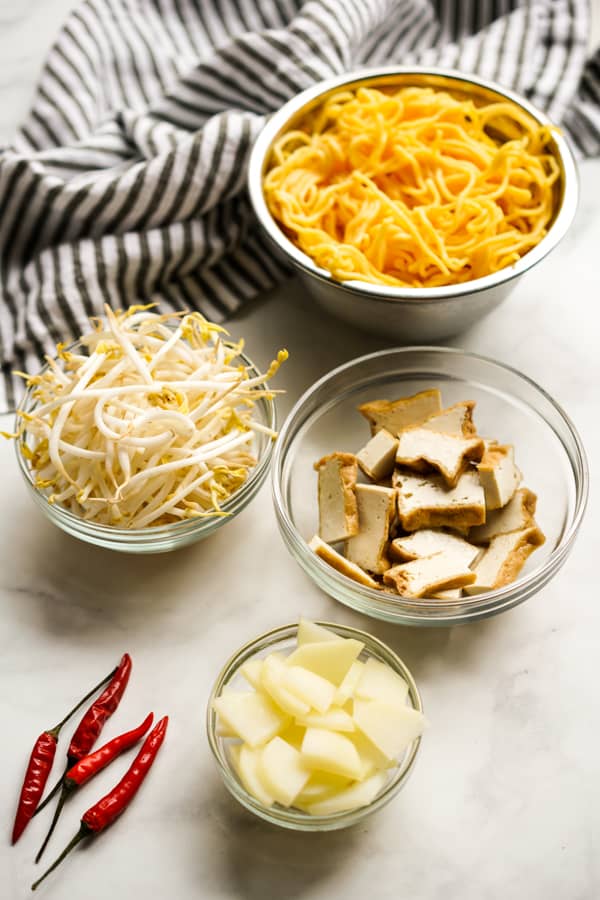 When it comes to the sauce, my advice is to try to get these ingredients as much as you can. Each ingredients plays an important role in shaping the flavors of this dish. I attached affiliate links to some of the ingredients so you can take a look at the pictures!
Sauce ingredients:
Sweet soy sauce – sometimes called kicap manis (in Malay language), this is a thicker, sweeter soy sauce that is an important ingredient in this recipe. Found in most Asian grocery stores or online (affiliate link attached).
Soy sauce – this is the regular soy sauce. I sometimes use this Thai soy sauce instead and I love its flavor in this dish. Even though it is called "thin soy sauce" it is similar to the regular soy sauce.
Ketchup
Granulated sugar
Substitution
Yellow noodles – substitute with any other types of noodles (rice noodles, lo mein noodles, ramen noodles….or even spaghetti!) Noodles that are 'hard' or dry most likely needs to be pre-cooked before stir frying.
Beans sprouts – if you cannot find this, use any type of crunchy veggies, such as bell peppers or shredded carrots.
Fried tofu – regular firm tofu would work well too. Traditionally fried tofu is used, but it doesn't have to be fried.
Red chilies – use crushed red pepper flakes if you cannot find this!
Stir Frying Tips and Tricks
Stir frying is truly an art. Here are a few tips and tricks:
A gas stove is recommended for stir fry because it heats up better. An electric stove should not deter you from stir frying but you will need to make sure you get the heat as high as you can.
Use a wok or a large skillet that can withstand high heat and have plenty of room to move the ingredients around.
If you are doubling the recipe, cook in two batches. Do not overcrowd the wok or skillet to cook everything evenly.
The stir fry process goes fast! Get ingredients ready and sit them next to the stovetop before stir frying begins.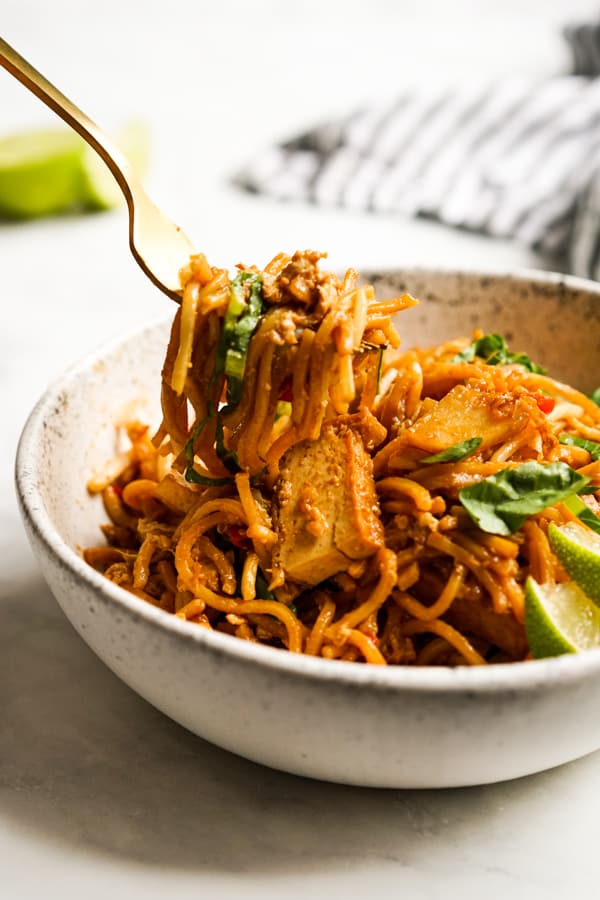 Get ready to eat your heart out on this one! ❤️
Other Noodle Recipes
DID YOU ENJOY THIS RECIPE? Please comment below and give us a 5-star rating! This will help others find this recipe on Google and Pinterest. We very much appreciate your help! 🤍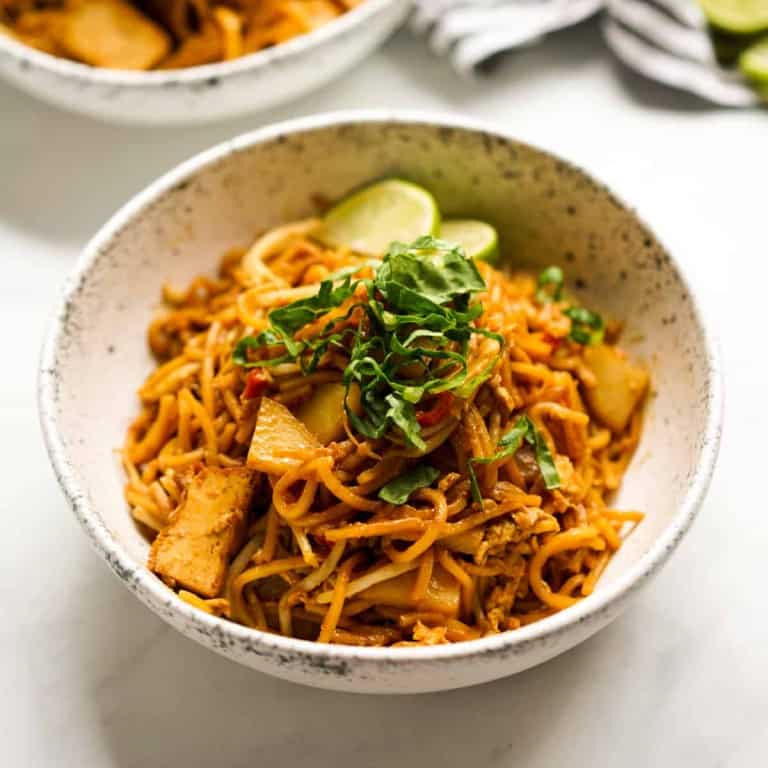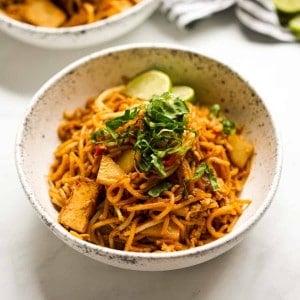 Mee Goreng (Mamak Style)
Stir fried yellow noodles combined with red Idaho® potatoes, tofu, beans sprouts, and eggs, tossed in an irresistible sticky, sour, spicy, and sweet sauce. A popular Indian Mamak style street food noodle dish from Malaysia!
Print
Pin
Ingredients
Sauce
3

tbsp

sweet soy sauce

2

tbsp

soy sauce

3

tbsp

ketchup

1

tbsp

granulated sugar

1

tbsp

water

more if needed
Fried Noodles
12

oz

yellow noodles

fresh

1

red Idaho® potatoes

1

tbsp

vegetable oil

3-4

cloves

garlic

3-5

red chilies

1

cup

fried tofu or regular tofu

1

cup

bean sprouts

2

large eggs
Garnish
1/4

cup

lettuce

chopped

1

lime

wedges
Instructions
In a small bowl, bring together sauce ingredients (use only 1 tablespoon of water). Whisk to combine.

Loosen up yellow noodles if they are clumped together.

Bring sliced red Idaho® potatoes to a bowl filled with warm water and heat in microwave for 60-90 seconds, or until they are soft. Alternatively, you can boil potatoes on the stovetop.

Add vegetable oil to wok or frying pan and heat under high heat. Add garlic, red chilies, tofu, and red Idaho® potatoes. Stir until garlic is fragrant.

Before garlic turn brown, add sauce mixture to wok.

Mix everything together and stir continuously for a minute or so, then add yellow noodles.Stir to coat noodles in sauce, then add bean sprouts.

Move noodles to the side of the wok, break two eggs onto the other side of the wok where there are no noodles. Use spatula to break the egg yolks and let it cook for 30seconds or so, then cover eggs with noodles. Let it sit for 10-15 seconds.

Optional: add another tablespoon of water if noodles are too dry.

Continue stirring for 15-20 seconds or until eggs are cooked, then remove from heat.

Garnish with lettuce and a wedge of lime. Serve and enjoy!
Notes
The stir fry process (step 4-9) goes fast! Get ingredients ready and sit them next to the stovetop before stir frying begins.
Nutrition
Calories:
548
kcal
|
Carbohydrates:
85
g
|
Protein:
22
g
|
Fat:
14
g
|
Saturated Fat:
6
g
|
Trans Fat:
1
g
|
Cholesterol:
109
mg
|
Sodium:
1407
mg
|
Potassium:
682
mg
|
Fiber:
6
g
|
Sugar:
28
g
|
Vitamin A:
728
IU
|
Vitamin C:
84
mg
|
Calcium:
157
mg
|
Iron:
6
mg