Shrimp Stir Fried Noodles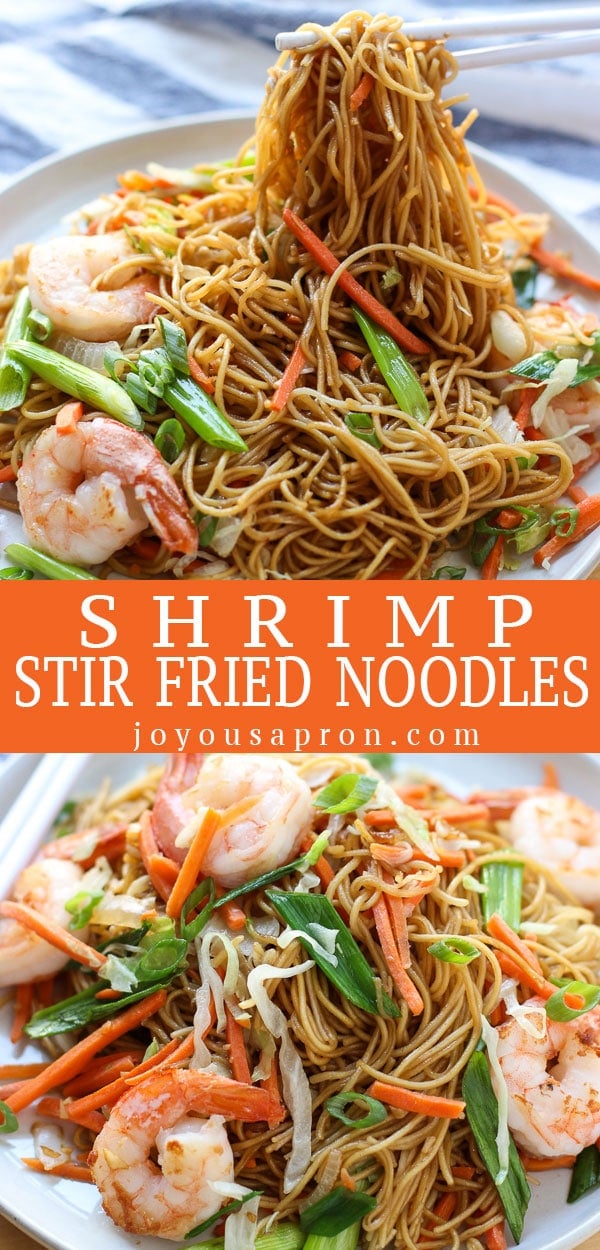 Feed your eyes (and your mouths) on these drool-worthy Shrimp Stir Fried Noodles.
IT'S ABOUT TIME. Time for a seriously basic, extremely versatile, 101% legit, super yummy basic stir fried noodle dish. What in the world took me so long? I have no idea. But these noodles are finally here, gracing us with its lovely presence.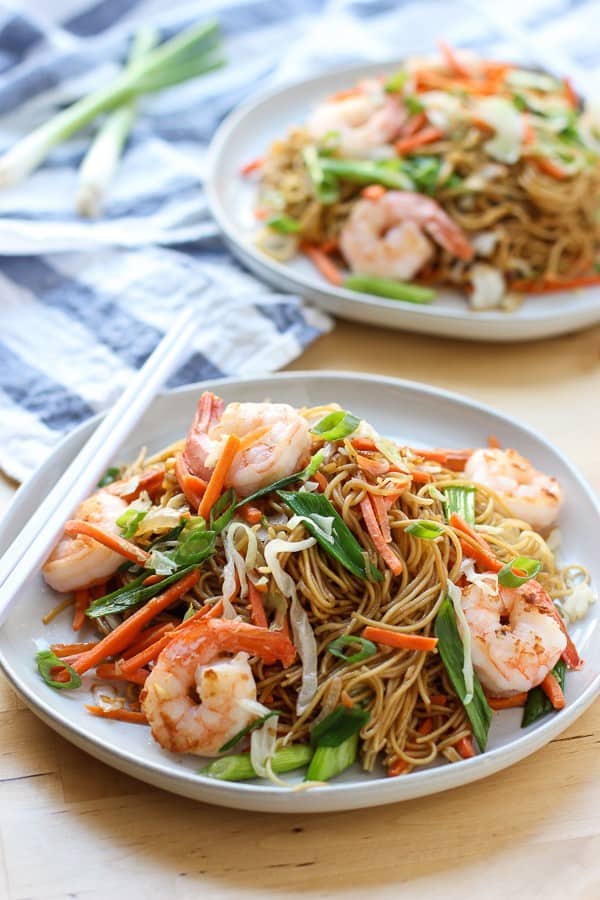 I love how easy it is to put together; I love the way it tastes; I love that it keeps super well as leftovers (hello, life-saver!); I love that the fried noodles are tossed in a superb sauce, accompanied by crunchy veggies and succulent shrimp.
Yes, a lot of love going on. 😉
If you want to turn this into a no-meat/no-seafood dish, simply omit the shrimp.
In fact, I cannot decide what is my favorite way to serve this – shrimp or shrimp-less.
I can totally be a shrimp-stir-fried-noodles girl one day and the shrimp-less-stir-fried-noodles girl the next.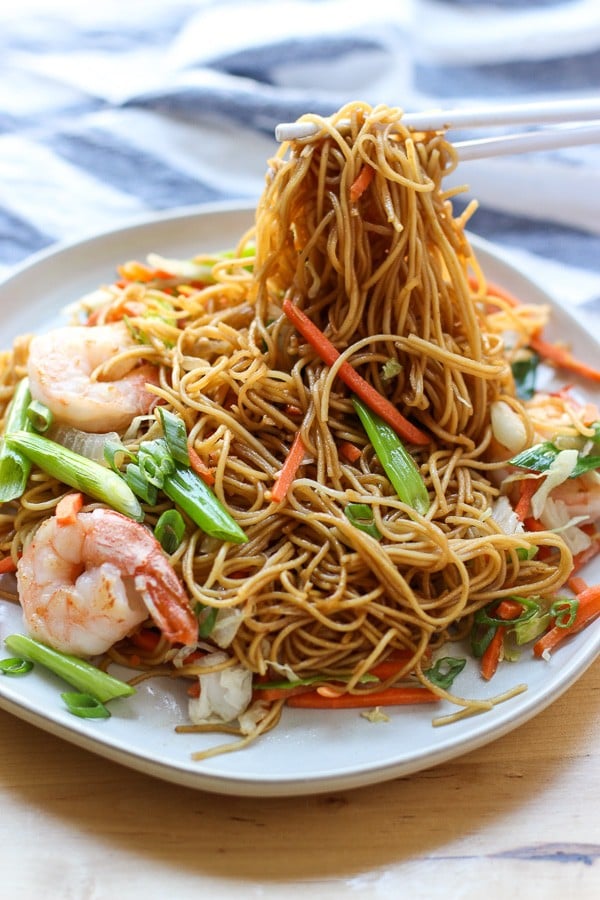 What Type of Noodles to use
Okay, first thing first. When talking about noodles, there are so many different types of Asian noodles it can be overwhelming.
For this recipe, I use dried thin egg noodles (see picture below), or sometimes called canton noodles.
They are dry, thin, and typically have instructions in the back for making "Fried Noodles" with them.
I get these noodles from the Asian grocery store.
However, if you don't have access to one, here's the beauty of this dish, you can use any thin noodles.
That's right – rice noodles, ramen noodles (yes! the 10 cents ones from the grocery store) etc.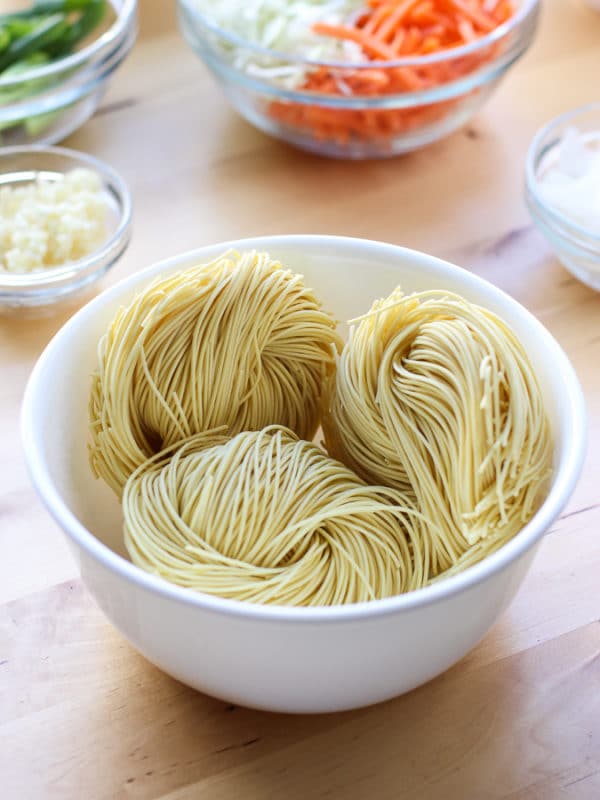 How to Make Shrimp Stir Fried Noodles
The important thing is to boil these noodles in water very briefly to soften them (but avoid over-cooking as they will turn soggy) prior to throwing them into the wok for stir fry.
If you are using a different noodle, you will most likely have to do that too if they are dried.
Another thing to note, is to prep the rest of the ingredients before you start heating up the wok. It will make the process go easier because it goes very quickly!
Whenever I stir fry, I spend more time cutting up and prepping the ingredients than the actual stir-frying itself!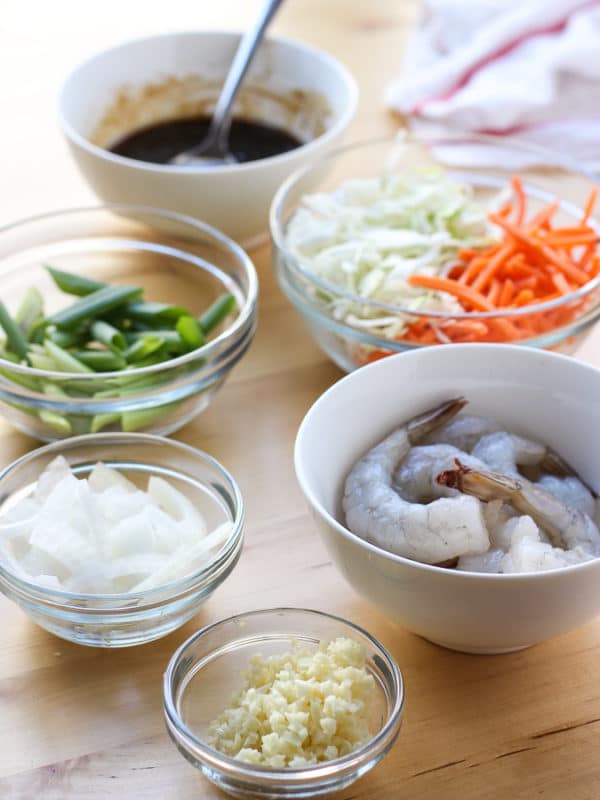 If you have been following this blog, you know I love my wok. This is one dish that will be made a lot easier when using a wok.
However, if you don't have one, the next best alternative is a large skillet, preferably non-stick.
A large-sized skillet will give you room to move the noodles and ingredients around when stir-frying…and this will make the dish cook more evenly.
A non-stick surface will prevent the noodles from sticking to the wok/skillet, so add more oil if not using a non-stick appliance.
Pro-tips to making Shrimp Stir Fried Noodles
Stir fry using high heat! Heat up wok with vegetable oil and always wait till you can feel the heat coming out from the wok before adding other items to it
Make sure to pay dry defrosted shrimp before adding them to the wok…no water puddle in the wok please! 😉
The stir-frying process goes fast. That is why we prep well and have all ingredients within arm's reach. Also, keep moving the ingredients around in the wok to ensure they cook evenly. Typically one should not have time to walk away during the stir fry process. 🙂
Stir-fry takes some time to master/perfect…but you totally got this!
If you want to learn even more general stir fry tips, check out my 8 Tips to a Great Stir Fry article!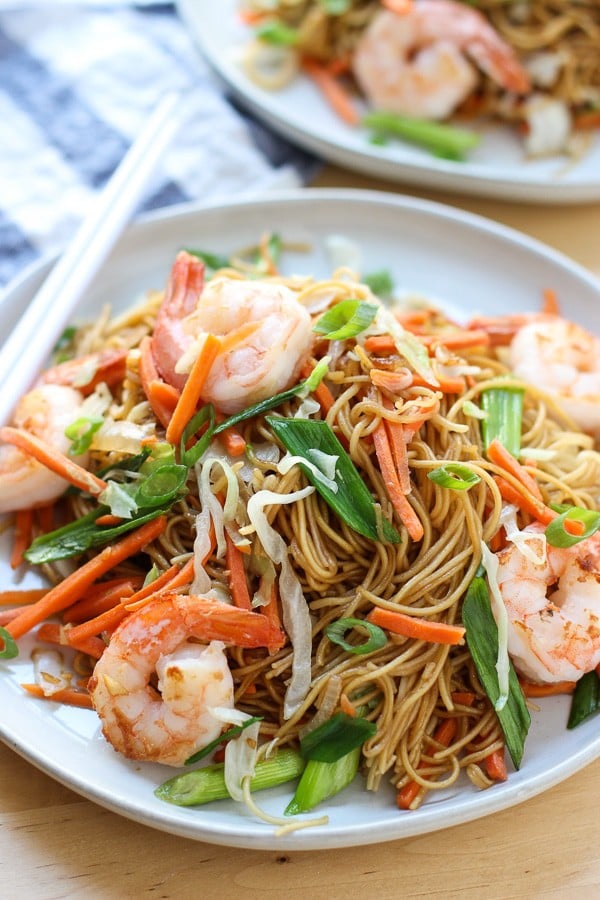 When making this particular dish, we cook the shrimp first, remove them, add the noodles, and then add the cooked shrimp back into the wok.
Removing the shrimp gives you the ability to control how long the shrimp is cook, and avoid overcooking.
You can definitely add other veggies to this dish.
I like adding carrots, cabbage and green onions to this because they require little cooking and cooks quickly, and frankly, I just like carrots and cabbage in my noodles.
If the veggie you use needs a longer cooking time, consider cooking them first before adding the noodles, just like we did with the shrimp.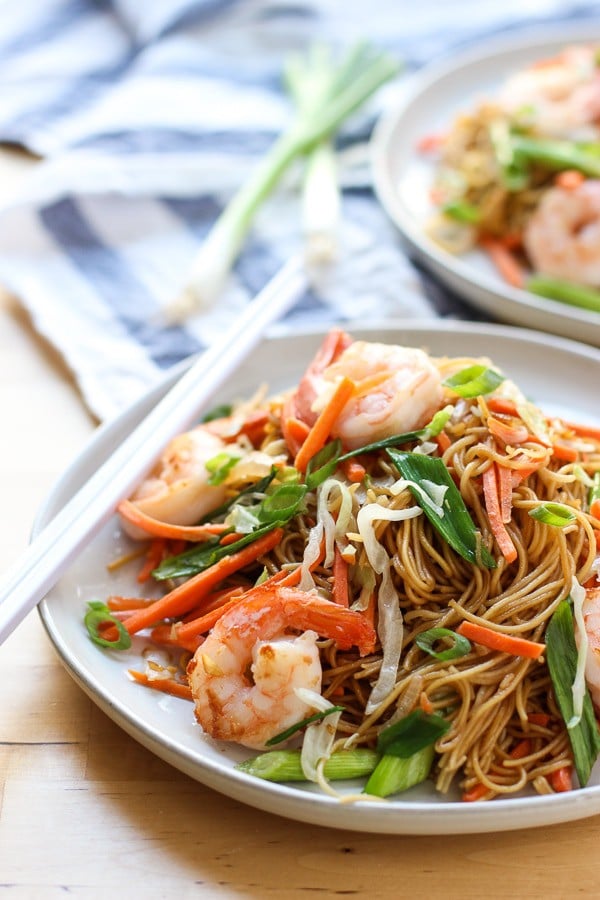 This is a fairly dry noodle dish. No sauce at the bottom of the pan, but just enough to coat the noodles and gives it all the layers of flavors from the sauce.
The sauce = DELICIOUSNESS.
Sauce ingredients
Speaking of how good the sauce is, it is made out of lots of great spice/sauces (they should be available in most regular grocery stores in the U.S) to create a complex, gorgeous flavor: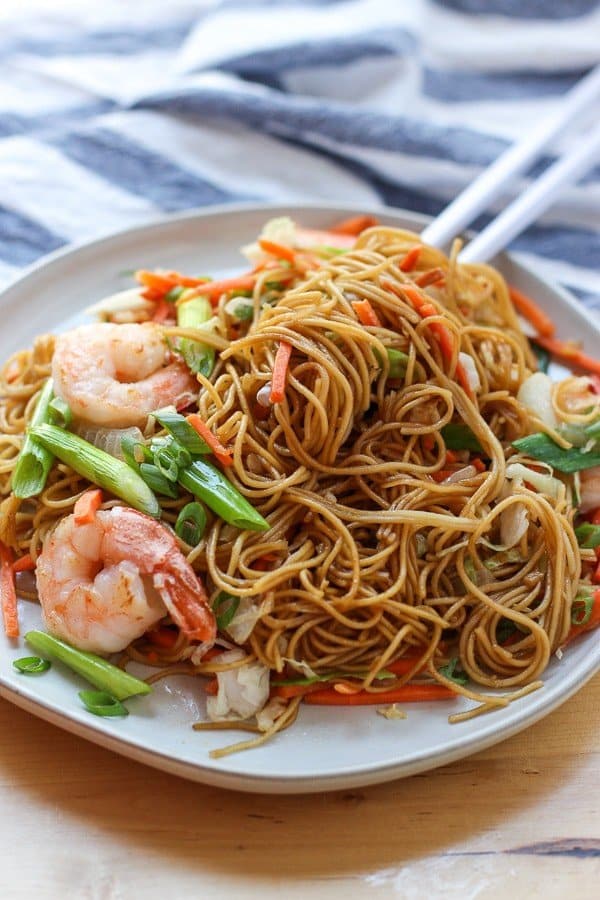 Is it just me or is anyone else hungry???
Make this TODAY!! Then let me know how it goes please! 🙂
DID YOU ENJOY THIS RECIPE? Please comment below and give us a 5-star rating! This will help others find this recipe on Google and Pinterest. We very much appreciate your help! 🤍
Calling all noodle fans
Oh hey you, noodle fan, you! Check out some other yummy Asian noodle dishes on the blog!
Other Shrimp Recipes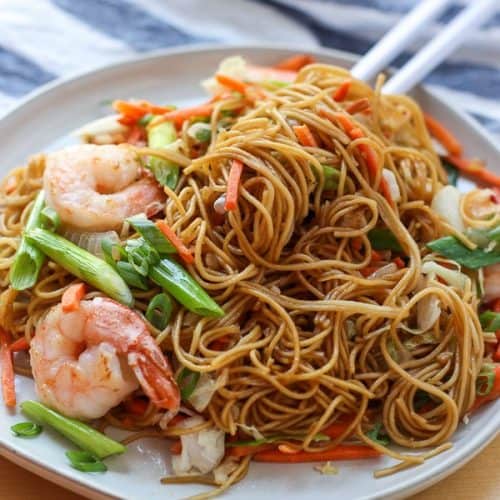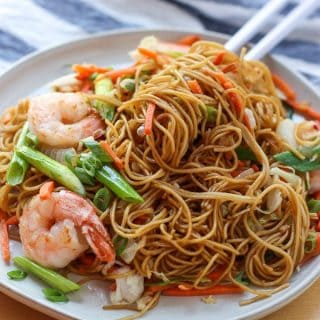 Shrimp Stir Fried Noodles
Your go-to recipe for a great stir fried noodle dish! Stir fried egg noodles tossed it a savory sweet sauce, veggies and succulent shrimp. Also includes tips for all kinds of variations!
Print
Pin
Ingredients
~6

oz

thin egg noodles/ canton noodles (dried kind)

6

oz

shrimp

1-2

tbsp

minced garlic

1/4

cup

sliced white onions

1/2

cup

chopped green onions (~1-inch long)

1

cup

shredded cabbage

1

cup

shredded carrots

1-2

tbsp

vegetable oil
Stir fry sauce
2

tbsp

oyster (flavored) sauce

1

tbsp

soy sauce

1/2

tbsp

sesame oil

1/2

tbsp

rice cooking wine

1-2

dash

white pepper

or black pepper

1

tsp

sugar

1

tsp

dark soy sauce

optional
Instructions
Fill a medium pot with water and bring to boil. Add noodles to boiling water and cook for 3 minutes (or according to package instruction for fried noodles). Drain water from noodles. Add some vegetable oil to the noodles and mix it around if it will be sitting for a while prior to cooking. This will prevent the noodles from clumping and sticking together.

In a small bowl, mix together all ingredients for stir fry sauce

Prep the other ingredients – shrimp, garlic, white onions, green onions, cabbage, and carrots.

Heat up wok under high heat. Add ~1/2 tbsp vegetable oil. Once wok is heated up, add defrosted shrimp (make sure it is pat dry) and cook for a few minutes until shrimp is done. Remove shrimp from wok.

Add ~1 tbsp vegetable oil to wok. Once oil is hot, add garlic and onions and cook for 30 seconds or so, avoid burning the garlic.

Add noodles and stir continuously for 1 minute or so, then add sauce to noodles. Continue stirring noodle for another minute or so, and coat noodles evenly with sauce. (See Note 1)

Add shrimp, green onions, shredded cabbage and shredded carrots to the noodles. Stir for 30 seconds or so, then remove promptly.
Notes
If you are doubling or tripling the recipe, consider cooking noodles in multiple batches.
Note 1: If you are using a different noodle, you might need less or more time frying them depending on the noodles. Some noodles will turn soggy quicker, and some will take longer to cook.
Nutrition
Calories:
323
kcal
|
Carbohydrates:
46
g
|
Protein:
19
g
|
Fat:
6
g
|
Saturated Fat:
2
g
|
Polyunsaturated Fat:
2
g
|
Monounsaturated Fat:
2
g
|
Trans Fat:
1
g
|
Cholesterol:
107
mg
|
Sodium:
1844
mg
|
Potassium:
511
mg
|
Fiber:
6
g
|
Sugar:
9
g
|
Vitamin A:
11129
IU
|
Vitamin C:
24
mg
|
Calcium:
121
mg
|
Iron:
3
mg