Chilly weather always calls for a bowl of cozy Miso Noodle Soup….
Miso Noodle Soup, where chewy ramen noodles are submerged in a flavorful miso broth, combined with ground pork, bamboo shoots and the much-required soft boiled egg.
If any food item can give warm, comforting hugs…it would be this Miso Noodle Soup.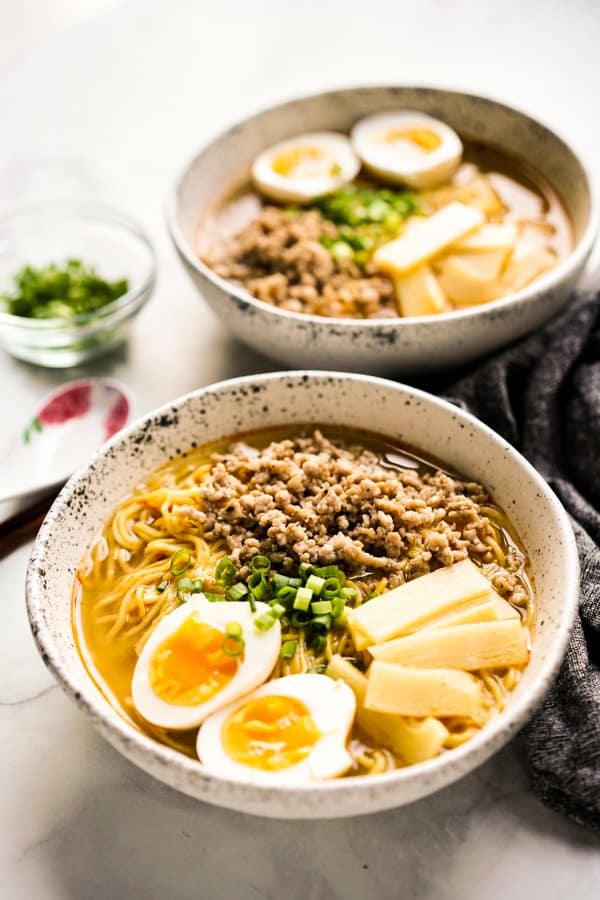 Easy Miso Noodle Soup Recipe
I started making this Miso Noodle Soup recipe after enjoying many bowls of Miso Ramen at my favorite Japanese ramen places.
The ramen cravings was hitting way too often and it became a problem to show up to a ramen place every time they happen.
Since my husband and I are ramen-obsessed humans (yes, such category of people do exists), we now make them at home and have ramen at our finger tips whenever we want, however we want.
Which I do realize just bumped us further up the ramen-obsessed scale…
I whole hearted acknowledge that. Thank you very much.
Here'e the beauty of this Miso Noodle Soup recipe. It gives you all the beautiful flavors of the Miso Ramen that you know and love, yet it simplifies the cooking process.
Making miso ramen the authentic way is actually quite a laborious task. One that many of us busy people will probably give up before even getting started.
My goal is always crazy yummy (maintaining all the lovely flavors), cutting corners when I can, and not cutting them when I cannot.
That's really what this Miso Noodle Soup recipe is all about!
It is delicious, has the flavor profiles of Miso Ramen you find at many restaurants, but is still a fairly easy ramen noodle soup recipe that you will be able to whip together in your kitchen without bending over backwards.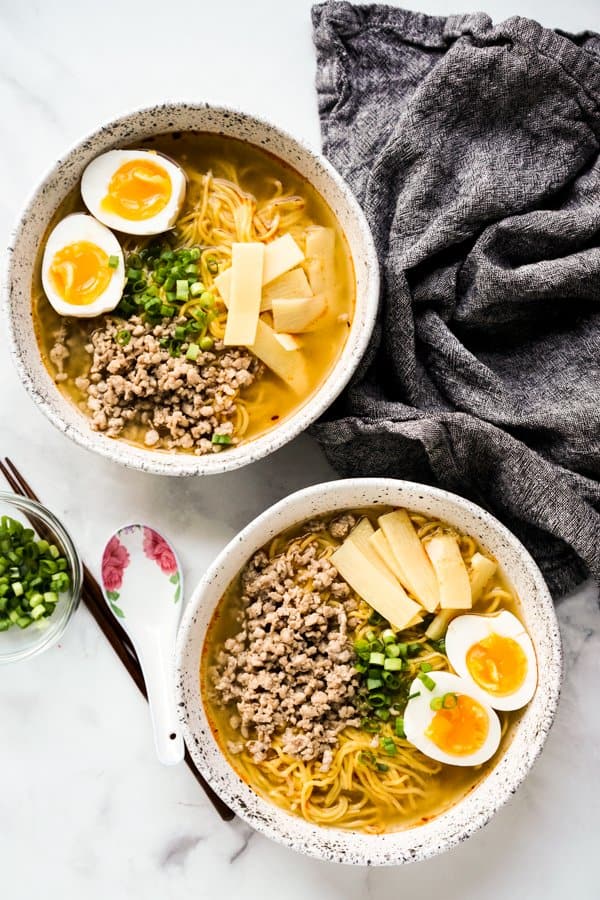 Miso Ramen Ingredients
Using the right ingredients makes a difference when making Miso Noodle Soup. I highly recommend tracking down these ingredients and not substituting them.
Each ingredients brings about a complex flavor profile to this miso ramen recipe.
Here are the key ingredients to make the soup for Miso Noodle Soup:
Miso paste (usually refrigerated)
Chili Bean Sauce, or Tou Ban Jiang in Mandarin (it is spicy but I highly encourage using just a teeny bit of this even if you don't like it spicy. It's okay to omit but the soup will taste less like the Miso Ramens at Japanese restaurants without it)
Chicken broth
Most likely you will have to get the miso paste and chili bean sauce from an Asian grocery store or online. As for the rest, most regular main stream grocery store should carry them! Affiliate links for each of these products are attached.
For the noodles, you can use traditional ramen noodles (fresh or dry), or use dry noodles from instant ramen packets.
If you are in a pinch, use any type of noodles you can get a hold of.
And last but not the least, let's discuss toppings. Toppings might be my favorite part in my Miso Noodle Soup.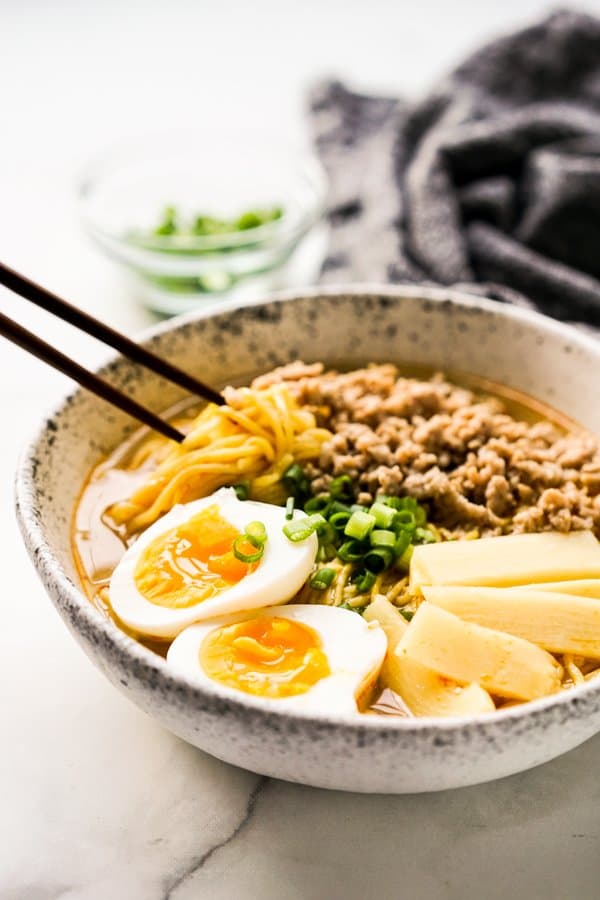 You can add any toppings to top off your Miso Noodle Soup, but here is what I recommend and typically make to go along with this recipe because they are a good combination of delicious and easy:
Ground pork with seasoning
Boiled Eggs (Authentic recipe seasoned the eggs but I am skipping that step). Here's a guide to make the perfect Hard Boiled Eggs.
Bamboo shoots (I use canned, drain water from can)
Green onions
Homemade and easy!
Time to make this delicious Miso Soup with Noodles!
Here are the three key parts when making Miso Ramen:
Boil ramen noodles & eggs
Sear ground pork with seasoning
Make the broth
Boiling the ramen noodles is fairly straight forward. Follow the package instructions and boil them and then drain and set aside.
If ramen noodles are done before the soup is done, rinse them with cold water so they don't continue to cook or get stuck together.
As for the ground pork, sear it in the same pot as you would make the soup. And do it before making the miso broth.
The seasoning for the ground pork are:
Mirin (used in miso broth as well)
Sesame oil (also used in miso broth)
Black or white pepper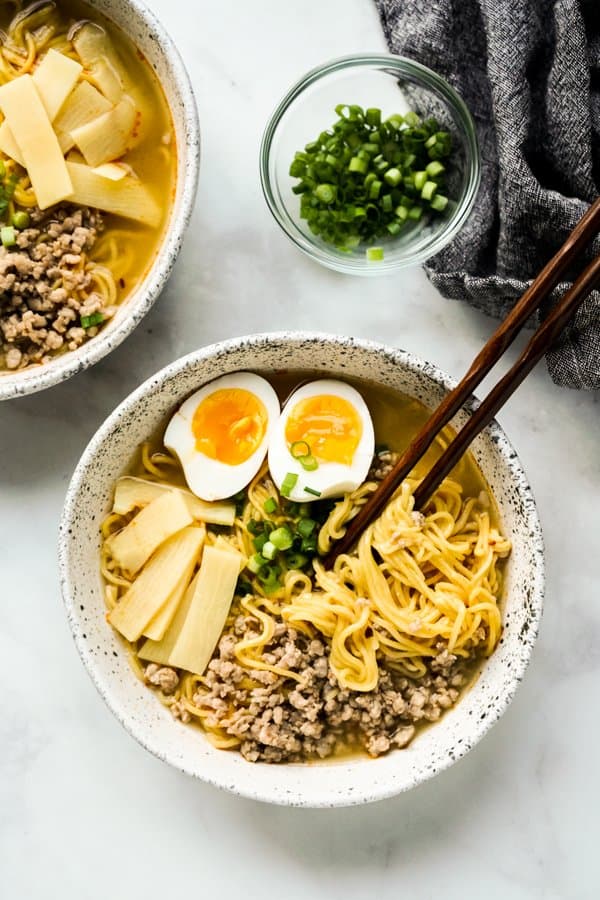 When pork is done, remove and set aside, and use the same pot to make the miso broth. No need to clean it as the pork juice will conveniently give flavor to the miso ramen broth.
Spicy or non spicy
As I mentioned earlier, this Miso Noodle Soup recipe will be slightly spicy with the Chili Bean Paste. Reduce the amount of Chili Bean Paste if spicy isn't your thing.
You can omit it and it will still taste good, but it won't taste as similar to the Miso Ramen that you get at ramen places. The beans in the chili bean paste gives the broth a distinct flavor in addition to making it spicy.
How to store leftovers
When storing leftover Miso Noodle Soup, I highly encourage storing the noodles separately from the soup in the refrigerator.
If noodles are left in the soup, it will become soggy.
However, feel free add the egg, ground pork and bamboo shoot into the soup when storing.
Other Noodle Recipes
Not only do we love this Miso Noodle Soup, we love noodles in general! Here are some of the other favorites!
DID YOU ENJOY THIS RECIPE? Please comment below and give us a 5-star rating! This will help others find this recipe on Google and Pinterest. We very much appreciate your help! 🤍
You can always find us eating ramen noodle soup anytime of the year, but there's something cozy about consuming in the winter months. So like clock work, our ramen consumption doubles during January and February.
Happy cooking/eating/noodle-slurping! 😋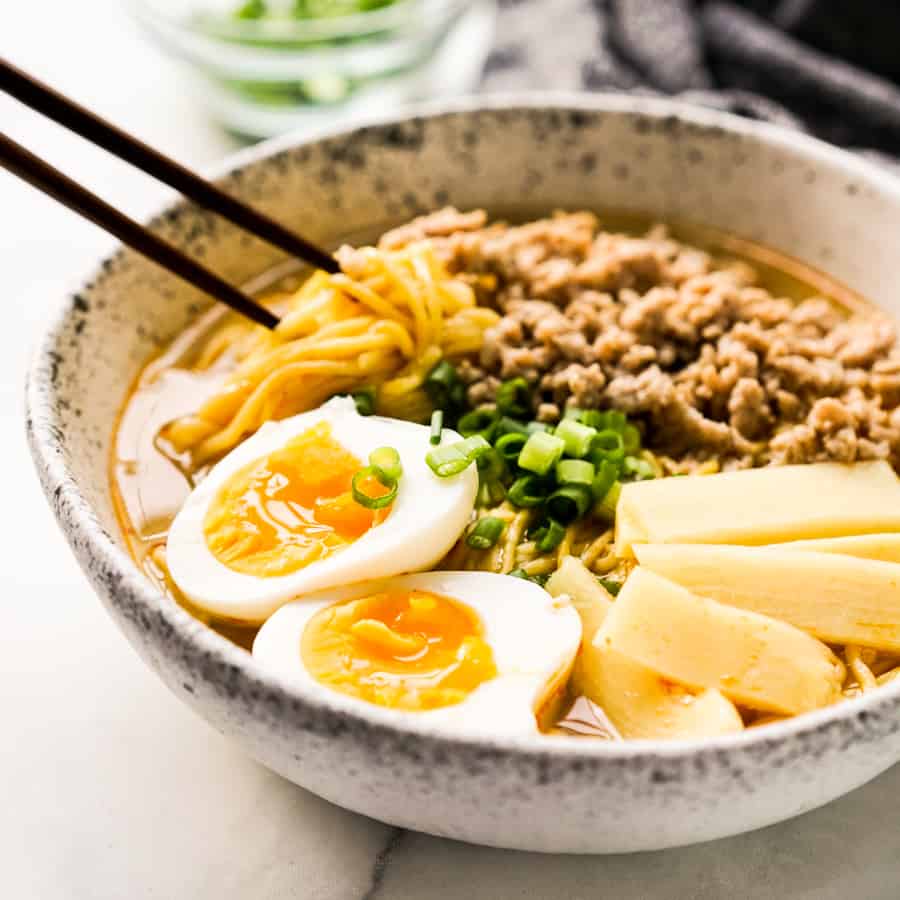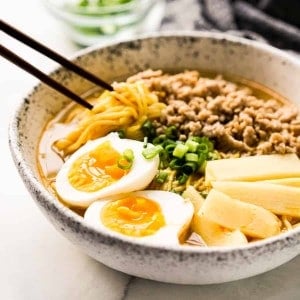 Miso Ramen Noodle Soup
Chewy ramen noodle in a flavorful, slightly spicy miso based broth, combined with seasoned ground pork, bamboo shoots, soft boiled egg and green onions. A delicious Miso Noodle Soup recipe just like Miso Ramen from your favorite Japanese restaurants.
Print
Pin
Ingredients
3

large eggs

3

servings

ramen noodles

1/2

cup

bamboo shoots

1/4

cup

green onions

chopped
Pork
1

tsp

cooking oil

1/2

lbs

ground pork

2

tsp

mirin

1

tsp

sesame oil

2

tsp

soy sauce

a

dash

black pepper
Miso Broth
5

cups

chicken broth

3

tbsp

miso paste

1

tsp

chili bean sauce

2

tbsp

mirin

1

tsp

sesame oil
Instructions
Bring to boil water in a pot, slowly submerge eggs into water. Cook for 7 minutes for a soft boil egg or 9-10 minutes for hard boil. Remove egg and submerge it into cold water. Once it is cool to the touch, peel eggs. Cut in half and set aside

Bring to boil water in a pot, then add ramen noodles. Cook according to package instructions. Drain water from ramen noodles. Set ramen noodles aside. Rinse with cold water if needed.

In a different pot, add cooking oil and ground pork. Immediately add the rest of the seasoning for the pork. Stir to combine and break up the pork. Once pork is cooked (no longer pink), remove from heat and set aside.

Bring to the pot all the Miso Broth ingredients (no need to clean out juices from cooking the pork). Bring boil. Stir and add more chili bean paste to taste if you want it spicier.

Divide ramen noodles into three bowls. Add Miso Broth to each bowl, then add eggs, ground pork and green onions.
Nutrition
Calories:
591
kcal
|
Carbohydrates:
56
g
|
Protein:
30
g
|
Fat:
27
g
|
Saturated Fat:
8
g
|
Cholesterol:
218
mg
|
Sodium:
2515
mg
|
Potassium:
795
mg
|
Fiber:
3
g
|
Sugar:
7
g
|
Vitamin A:
321
IU
|
Vitamin C:
30
mg
|
Calcium:
86
mg
|
Iron:
4
mg