This post may contain Amazon or other affiliate links. As an Amazon Associate I earn from qualifying purchases at no additional cost to you.
2019 here we come!!!
I cannot think of a more appropriate dish to kick off the new year than this healthy, delicious, I-cannot-get-enough-of-it Baked Salmon Sushi Bowl! With the holidays behind us (I still need to take down my Christmas tree), I am so excited to share more easy everyday meals, and some healthier options (with uncompromisable yumminess, of course) with you!
I have been wanting to update and rephotograph this Baked Salmon Sushi Bowl recipe for A LONG TIME. Because I love this dish so much, and new photographs do it justice. IT IS SO FREAKING GOOD, you guys!! Sushi is a necessary life pleasure – and I made it so easy for you to make it right in the comforts of your home! YOU ARE WELCOME. 😉
***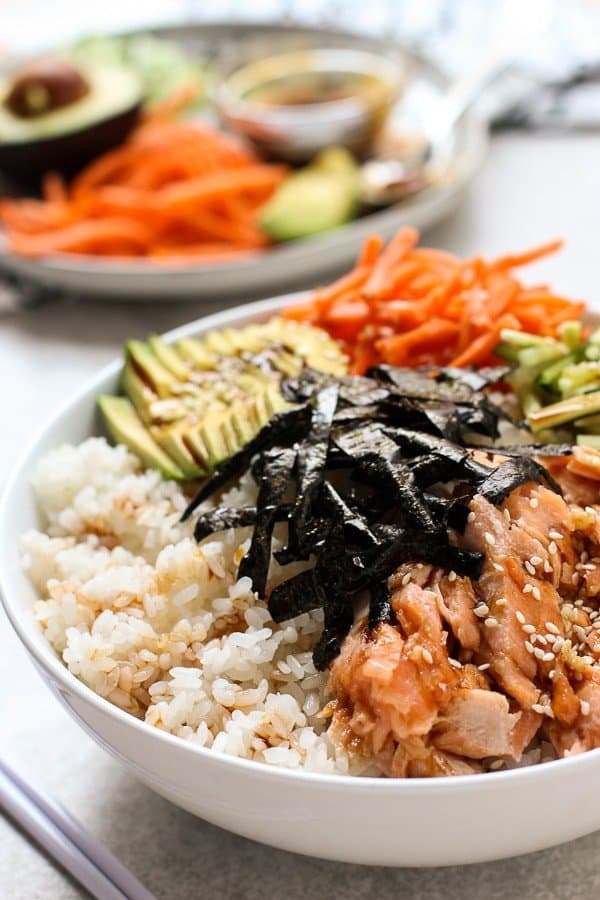 I constantly have sushi cravings. CONSTANTLY. The pairing of seasoned sticky rice and crunchy seaweed, with any type of seafood/fish/shellfish/veggie combination, is a match made in heaven.
When it comes to sushi, it really is a "you name it, I eat it" situation for me. Sushi me up and I am a happy girl. Anyone relate?
The truth is, I crave for sushi way too often. I don't necessarily want to go out for sushi every time I crave for it (translation: spending $$ we don't need to spend), but making traditional sushi rolls can be a time consuming task. But at the same time, friends, the sushi craving IS REAL.
There is, thankfully, a solution. Enter…Sushi Bowls. SUSHI BOWLS!! 🙂 🙂 🙂 (I'm a bit sushi happy today.)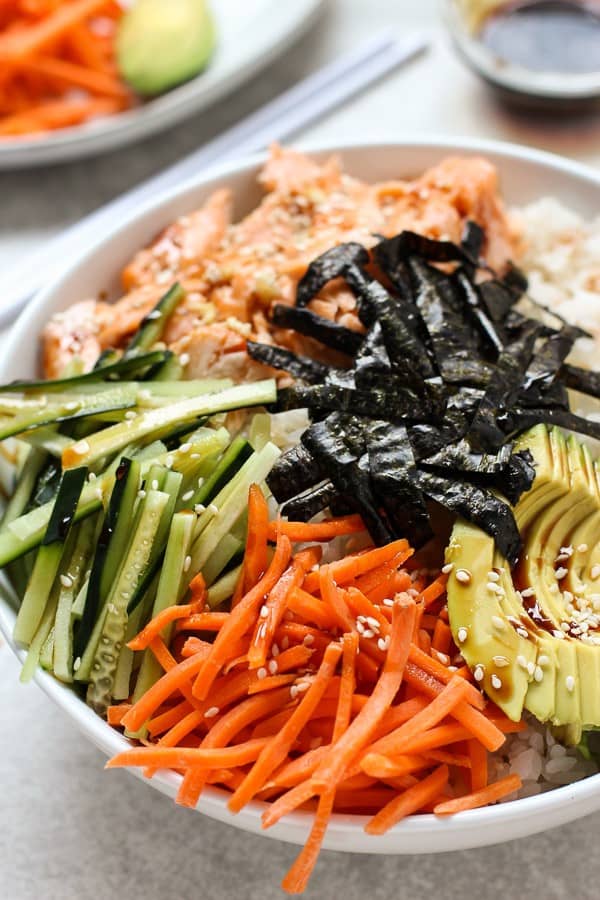 Or more specifically, for this post – Baked Salmon Sushi Bowl. This is our short-cut way of making sushi. Healthy, so much easier to make than traditional sushi, and just as lovely. I cannot claim authenticity to these bowls, but I will claim DELICIOUSNESS.
These sushi bowls definitely have key ingredients that makes up the sushi we all know and love, just without the intensely fine slicing of vegetables and the difficult (even though artistic and beautiful) rolling of the sushi. As you can imagine, we had a lot of these rice bowls for many dinners in my efforts to perfect the recipe for this post. And it hit the spot for us. Every. Single. Time.
There are multiple components to the dish, but each component is simple and straight forward to make, and you can make them concurrently. At the end, you can mix and match, add more or less of, the ingredients to your liking.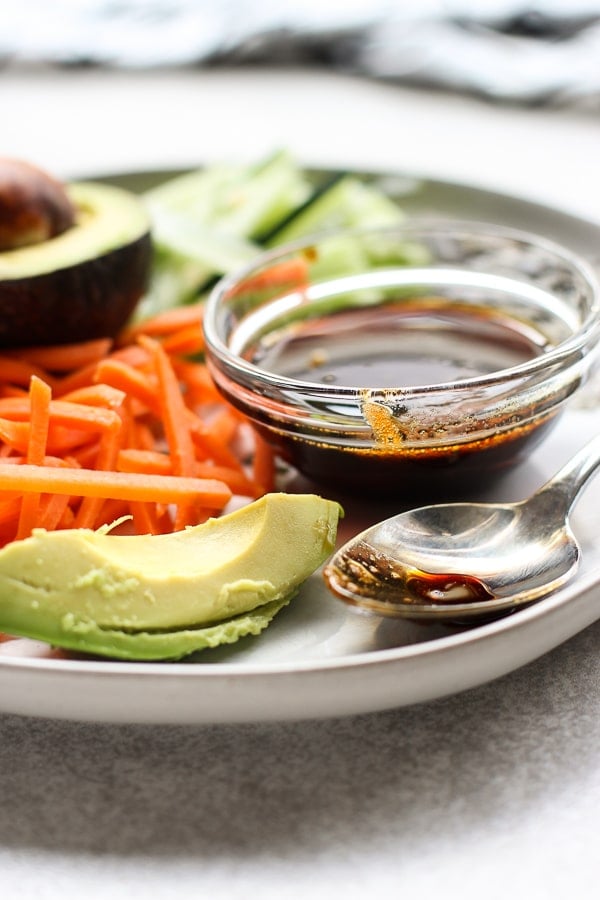 Sushi Rice
We are making sushi rice the same way it is made for sushi rolls. Same type of rice, same flavor, same seasoning, same stickiness, and of course, same amazingness.
When buying rice, pick either short grain rice, medium grain rice, or a rice that is labeled "sushi rice". Traditionally, sushi is made with short grain rice, but medium grain is totally acceptable. Cook rice with just water in the rice cooker (follow your rice cooker instructions on rice to water ratio) or stove top (2 cups rice; 3 cups water ratio).
While rice is cooking, in a small bowl, add rice vinegar, sugar and salt. Mix until sugar and salt dissolve, pour mixture into rice after it is done cooking but while it is still warm, then mix well.
Salmon
A good source of protein, omega-3 fatty acids, vitamins and minerals. And yummy in my tummy. Need I say more?
Grab a piece of salmon, make sure it is completely defrosted and pat dry. Then all you need is to sprinkle olive oil or vegetable oil, mince garlic, and salt on it, and bake at 425 degrees F for 11-14 minutes, or until done.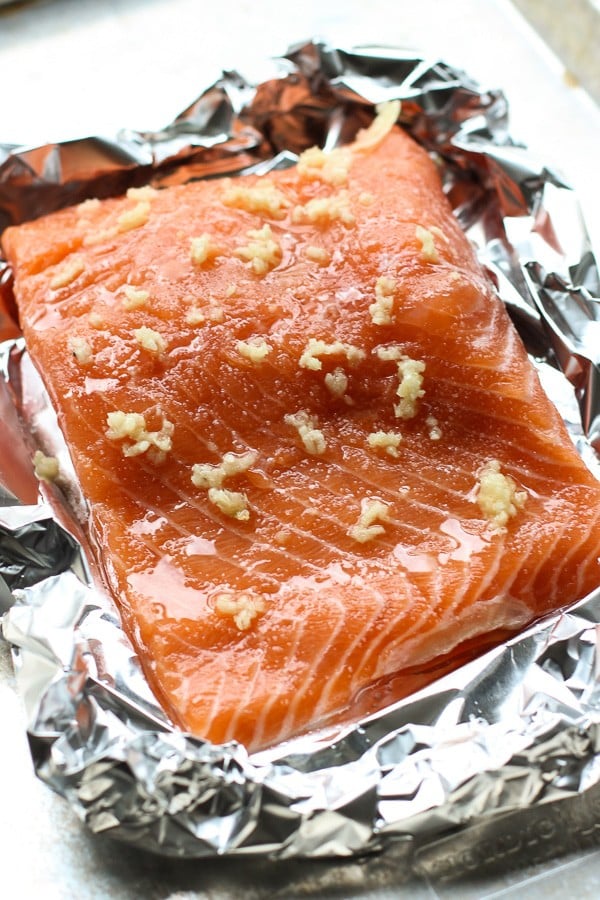 The Sauce
THE SAUCE!!!
Pardon me, I was just so excited about this because I am a believer in solid, bring-out-the-dish sauces. And THIS is one of them.
In a small pot, combine water, soy sauce, sugar, and Mirin. The secret here is Mirin. Mirin is a Japanese rice wine with a subtle sweet flavor.
On the bottle of my Kikoman's "aji-Mirin", it says "sweet cooking rice seasoning". It provides that hard-to-put-a-finger-on flavor that is in a lot of Japanese dishes. It is present in ramen, tempura dipping sauce, teriyaki sauces etc. YOU GUYS. Mirin is definitely the secret to this fantastic sauce.
Bring the sauce to a boil, then bring it to low heat and continue cooking for a few minute, or until sauce thickens slightly.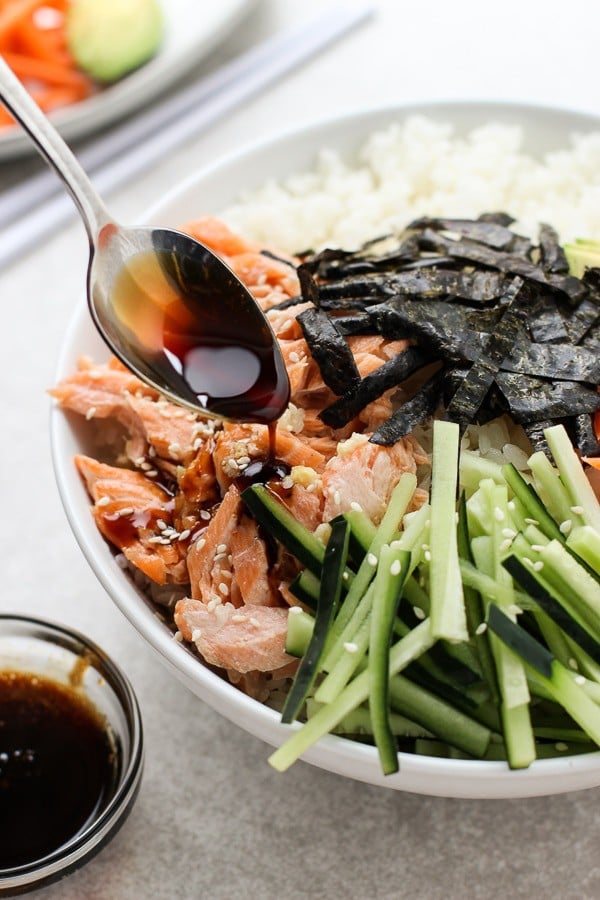 Create your bowl
In a bowl, add rice, then top with baked salmon, carrots, cucumbers, avocados, and dried seaweed. Garnish with sesame seeds if desire, but is totally optional.
You can definitely switch up the ingredients for the bowls. Use a different fish. Use shrimp instead of fish. Add or substitute with another veggie. Garnish with other items such as spring onions, fried shallots or fried garlic. So many options!

And of course, don't forget that sauce. That magic sauce with a gorgeous sweet and salty flavor, and an umami quality.
Yep. I actually used the word umami. It is THAT good.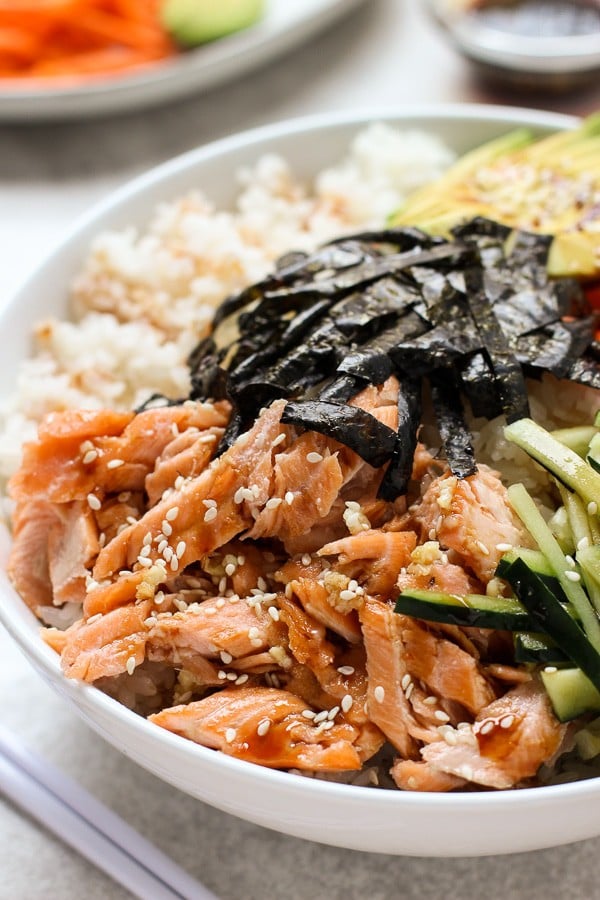 Baked Salmon Sushi Bowl – you look so good! And taste even better. And happen to be healthy. I have this feeling you will be sticking around in my life for a long time. 🙂
Perfect for a dinner at home anytime, and save well as leftovers. ENJOY.
More Salmon Recipes!
Check out these other salmon favorites of mine on the blog!
This post also contains Amazon affiliate link(s). I will earn a small commission if you purchase items via the affiliate links at no additional cost to you!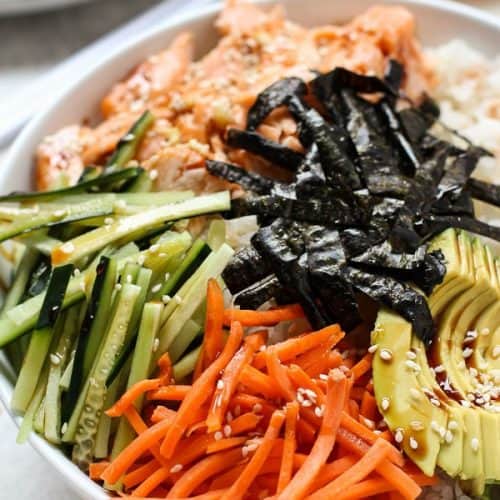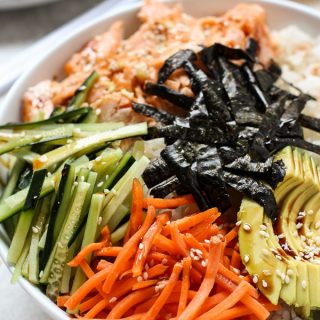 Baked Salmon Sushi Bowl
A bowl filled with seasoned sushi rice, topped with baked salmon, carrot cucumber, avocado, and crunchy dried seaweed. Then topped off with an out-of-this-world salty, sweet sauce with an umami quality. Perfect homemade meal to satisfy all your sushi cravings!
Print
Pin
Ingredients
Baked Salmon
1

lbs

fresh salmon

1-2

tbsp

minced garlic

salt
Sushi Rice
2

cups

short grain, medium grain or sushi rice

1/4

cup

rice vinegar

2

tbsp

sugar

1/2

tsp

salt
The Sauce
1/2

cup

water

4

tbsp

soy

3

tbsp

sugar

2

tsp

Mirin
Other
1

cucumber

1-2

cups

shredded carrots

1-2

avocado

1-2

sheets

dried seaweed

sesame seeds

optional
Instructions
Sushi Rice
Cook rice and water in rice cooker (follow rice instructions for water to rice ratio)

Or, cook rice on stovetop. In a pot with a tight lid, bring to boil rice and water (2 cups rice; ~3 cups water), then reduce heat to low and cook for about 20 minutes. Do not lift open the lid while rice is cooking. After 20 minutes, turn off the heat, and let rice sit for ~10 minutes.

While waiting for rice to cook, in a small bowl, mix together rice vinegar, sugar and salt until sugar and salt is dissolved.

When rice is ready, "fluff" rice by stirring rice around. Add vinegar, sugar and salt mixture to rice while rice is still warm, and mix well.
Baked Salmon
Pre-heat oven at 425 degrees F

Pat dry a defrosted salmon. Place salmon on a foil skin side down and lay foil on a baking tray. Lightly drizzle salmon with some vegetable oil, spread minced garlic on the top of the salmon, and sprinkle salt to taste.

Bake salmon for 11-14 minutes, or until done. Time needed will largely depend on the thickness of the salmon. Avoid overcooking salmon.

Fork baked salmon into smaller pieces, and removing salmon pieces from skin.
Sauce
Combine all sauce ingredients into a small pot. Mix well and then turn on the heat to medium. Bring to boil, then lower heat, and keep boiling for a few minutes, or until sauce thickens. Remove from heat.
Create the bowl
Prep the rest of the vegetables: Thinly slice cucumber, slice avocados into thin slices, cut up dried seaweed if you bought large sheets of dried seaweeds. If you bought smaller, already-cut-up dried seaweed, you are set on the seaweed front.

Add rice to the bowl, then top bowl with small pieces of salmon, slices of shredded carrots, cucumber, dried seaweed, sliced avocados. Garnish with sesame seeds and top with sauce.
Notes
Cook rice, salmon and sauce concurrently.
*This post was originally published on February 19, 2018 and revised on January 4, 2019.