Orange Ginger Salmon and Noodles
My new noodle obsession: this orange ginger salmon dish combined with chewy rice noodles and veggies tossed in more delicious soy sauce, mandarin orange, ginger concoction.
Crunchy, chewy, savory, sweet, tangy. And if you want, add a little spicy.
If you are a fan of a myriad of textures and flavors, you will love this!
This is a sponsored post written by me on behalf of BRIANNAS Fine Salad Dressings. All opinions and texts are mine.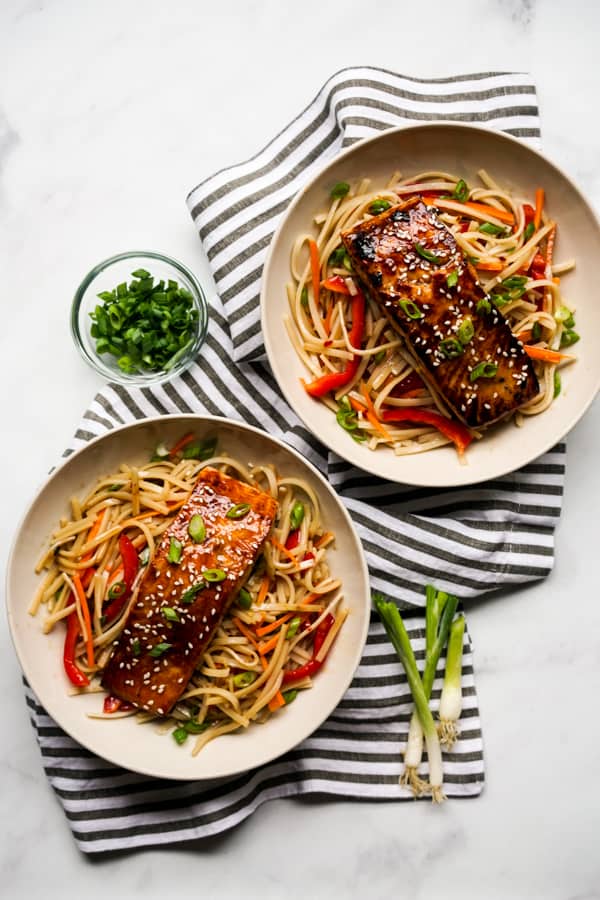 My love for noodles runs deep in this little blog of mine.
Some of my (and lots of your) favorites include Simple Thai Noodle Bowl, Shrimp Stir Fried Noodles, Pad See Ew, Ramen Noodle Stir Fry…And if you prefer soupy noodles, lots of you are loving this Instant Pot Chicken Ramen as well.
And now…time to add another delicious noodle dish to the list!
The beauty of this dish is that not only is it incredibly delicious, but it is also so easy to make! Thanks to BRIANNAS, making this dish is a walk in the park!
Except that it's kinda easier than a walk in the park.
Way less time consuming and definitely much yummier. 😉
I get my BRIANNAS dressing from my local grocery store. You will most likely be able to find it at a store near you too, but if you need some help, locate them using the BRIANNAS' store locator!
Or even better, have them ship to directly your door from BRIANNAS online store HERE!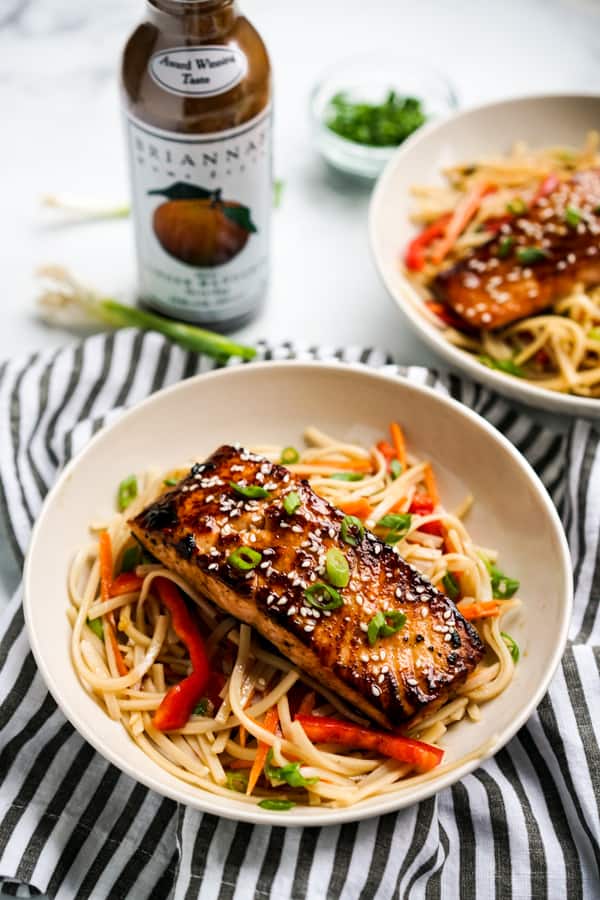 So here are a few things you need to know about the awesomeness of this dish:
Super easy – thank you thank you, BRIANNAS! ❤️
Makes a healthy and light meal – you actually feel full and good after eating this!
Oh so tasty! It has all the flavors (sweet, savory, tangy), and all the textures (chewy, crunchy, soft, crusty) in every single bite!
Noodles can be eaten cold, warm, or room temperature, which makes prepping ahead a lot easier. As for the salmon, I typically like it warm.
Let's make it!
There are two basic parts to this recipe:
Marinade and sear salmon
Boil noodles and toss in sauce
The very first thing I do is sprinkle salmon with some salt and coat it in BRIANNAS Mandarin Ginger Dressing and brown sugar so that salmon can sit in the sauce while I work on the other items.
I use rice noodles for this recipe, but feel free to use other types of noodles such as ramen noodles, soba noodles, lo mein noodles, or even spaghetti.
Cook noodles based on package instruction. In the case of rice noodles, I either boil them or soak them in freshly boiled water.
Once noodles are soft, toss them, along with veggies of your choice (I use red bell peppers, carrots, and green onions) in the yum sauce.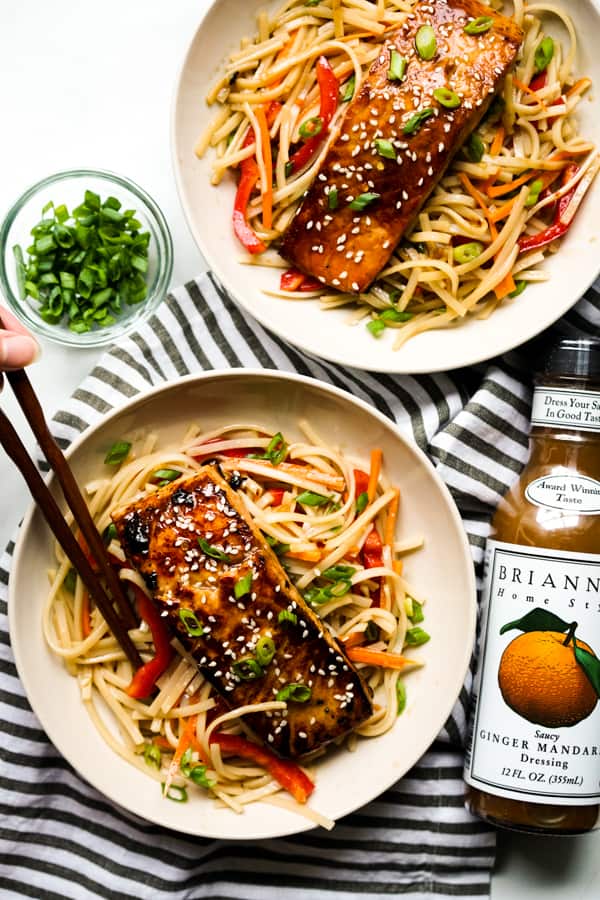 I don't have an official name for said sauce (so yum sauce it is), but it is basically a concoction of that yummy Ginger Mandarin Dressing along with these Asian-inspired seasonings to create a salad-like noodle bowl:
BRIANNAS's Ginger Mandarin Dressing
Soy sauce
Honey
Sesame oil
Minced garlic
Red pepper flakes (if you want it spicy!)
The sauce is a gorgeous combination of savory, sweet, and a bit of tangy because the Ginger Mandarin Dressing has some vinegar in it.
It is quite dream I must say.
Try not to skip any of the sauce ingredients if you want to experience the full effect of its dreaminess.
I like to make the sauce, cut the veggies, and finish cooking the noodles before searing the salmon.
This way once salmon is done, I immediately toss noodles and veggies in sauce and top with salmon.
And then feast to my heart's content.
That last part is truly, hands down, the best part. 🧡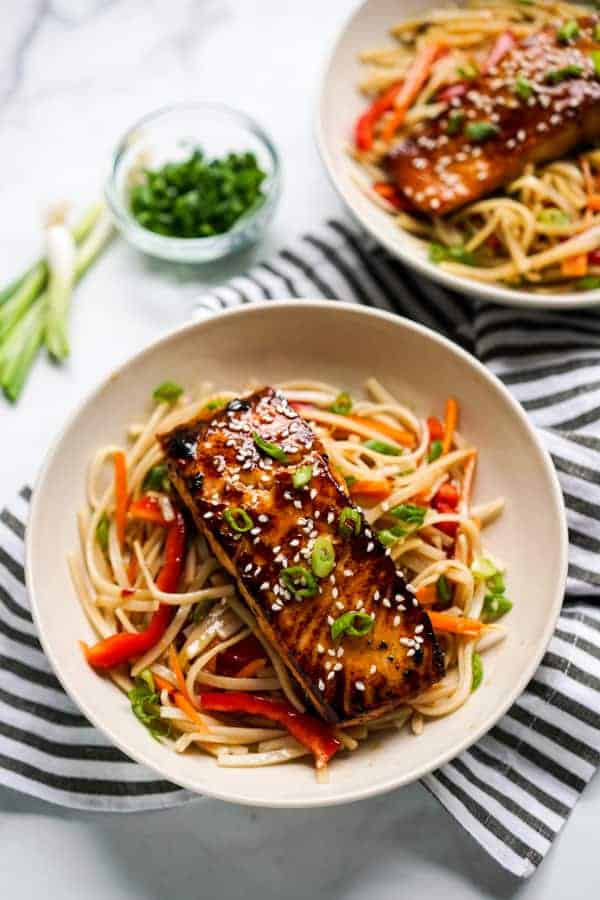 The final product is this. Salmon that is crusty on the outside, soft on the inside, and coated with that tangy sweet sticky glaze. The glaze is light, not overpowering, but merely enhancing the flavors of the salmon. Combined with the crunchy and flavorful noodles and veggies, it is quite a match made in heaven.
Side note: I like the dressing so much I sometimes pour it on the side and dip the salmon into it. If you are a dressing lover like me, and want to up the sauce to salmon ratio, this is a viable (and highly recommended) option!
My motto when it comes to BRIANNAS salad dressing is this – THE MORE THE BETTER.
Tips and Tricks
A couple of things to note and you are on your way to a fun, delicious and quick meal!
Cooking the salmon. Cook on medium low heat to avoid burning the outsides since there is sugar in the marinade. Lower heat and cover as needed. Avoid overcooking salmon as it cooks fairly fast – when the thickest part reaches 145℉ on a meat thermometer, it is done.
Cooking the rice noodles. If you are boiling the rice noodles, do not over-boil it. Overcooking rice noodles will turn noodles mushy and gooey. Rinse with cold water if noodles will sit for a while before being tossed in the sauce.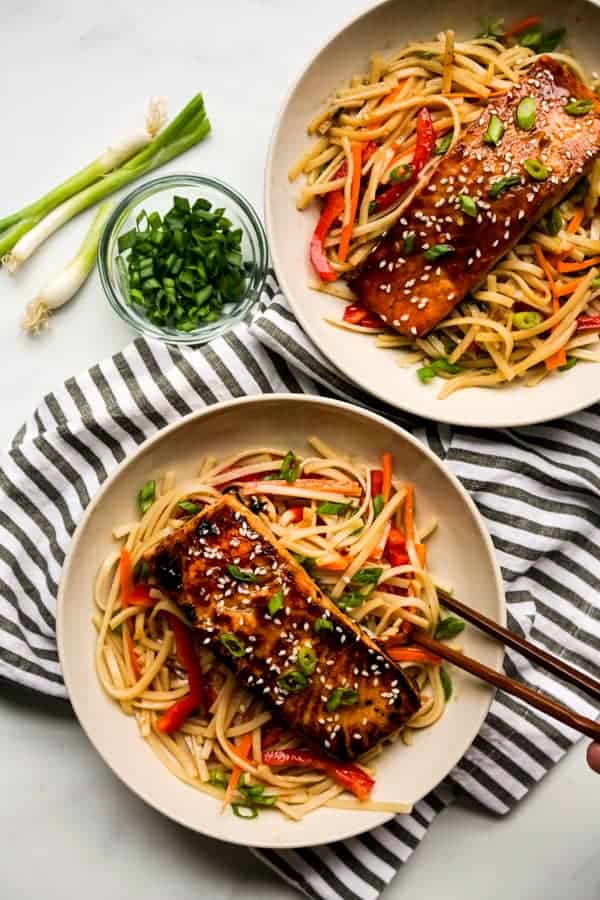 A noodle and salmon combo that is simply irresistible.
I like to think of this as a healthier option for the colder weather. Not your traditional lettuce kinda salad, but incorporates some warmer bites and a comforting, flavorful dressing.
Pick up that chopsticks and dig in!
DID YOU ENJOY THIS RECIPE? Please comment below and give us a 5-star rating! This will help others find this recipe on Google and Pinterest. We very much appreciate your help! 🤍
Other Salmon Recipe
Other Noodle Recipes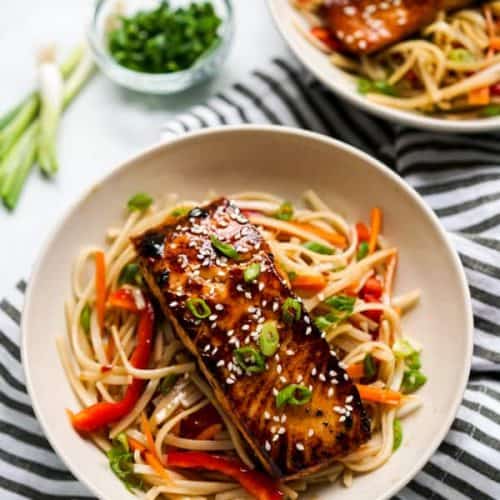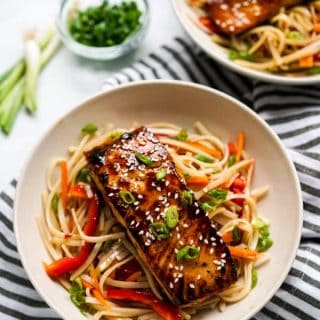 Orange Ginger Salmon and Noodles
A healthy, easy and delicious dinner! Salmon coated in a sticky sweet and tangy Orange glaze, sitting on a bed of noodles tossed with bell peppers, carrots, and a delicious Orange Ginger Sauce.
Print
Pin
Ingredients
Orange Ginger Salmon
1.5

lbs

salmon

a

pinch of

salt

1/3

cup

BRIANNAS Ginger Mandarin Dressing

1

tbsp

brown sugar

1/2 – 1

tbsp

vegetable oil
Noodles
8

oz

rice noodles

3-4

cloves

garlic

minced

1/2

cup

BRIANNAS Ginger Mandarin Dressing

1/4

cup

soy sauce

1/4

cup

honey

1/4

cup

sesame oil

1

tsp

red pepper flakes

optional

1

red bell pepper

sliced

1

stalk

carrots

sliced

1/8

cup

green onions

chopped
Instructions
Cut salmon into four fillets. Sprinkle salmon with salt. In a bowl, combine 1/3 cup of Ginger Mandarin Dressing with brown sugar and pour onto salmon. Set aside and let it marinade for 15 minutes or while preparing the other items.

Bring water to boil in a pot. Cook rice noodles based on package instructions. Drain water from noodles when done. Set aside. If noodles will sit for a while, rinse with cold water so they don't stick together.

In a bowl, combine the sauce ingredients for noodles – garlic, 1/2 cup Ginger Mandarin Dressing, soy sauce, honey, sesame oil and red pepper flakes (optional). Whisk to combine. Set aside.

Heat skillet with vegetable oil under medium low heat. Sear salmon skin side up for 1 minute or until golden brown, then flip. Brush leftover marinade onto the top of salmon. Lower heat and cover if needed to cook the insides of the salmon before the outsides browned. Once salmon is cooked (145℉ on a meat thermometer), remove from heat.

Add sauce to noodles and toss, then add sliced red bell pepper, sliced carrots and chopped green onions. Toss again to coat evenly.

Divide noodles into four bowls, and top each bowl with a piece of seared salmon. Serve and enjoy!
Nutrition
Calories:
926
kcal
|
Carbohydrates:
83
g
|
Protein:
40
g
|
Fat:
50
g
|
Saturated Fat:
10
g
|
Cholesterol:
94
mg
|
Sodium:
1523
mg
|
Potassium:
964
mg
|
Fiber:
2
g
|
Sugar:
30
g
|
Vitamin A:
1072
IU
|
Vitamin C:
39
mg
|
Calcium:
38
mg
|
Iron:
2
mg