What is not to love about this easy and delicious Miso Soy Salmon recipe. Salmon is lightly pan fried or oven baked, slightly crusty on the outside, juicy on the inside, and coated in luscious sweet and savory miso soy glaze.
This delicious miso salmon recipe is ready under 30 minutes, makes the best easy dinner, and is packed with incredibly flavors and textures.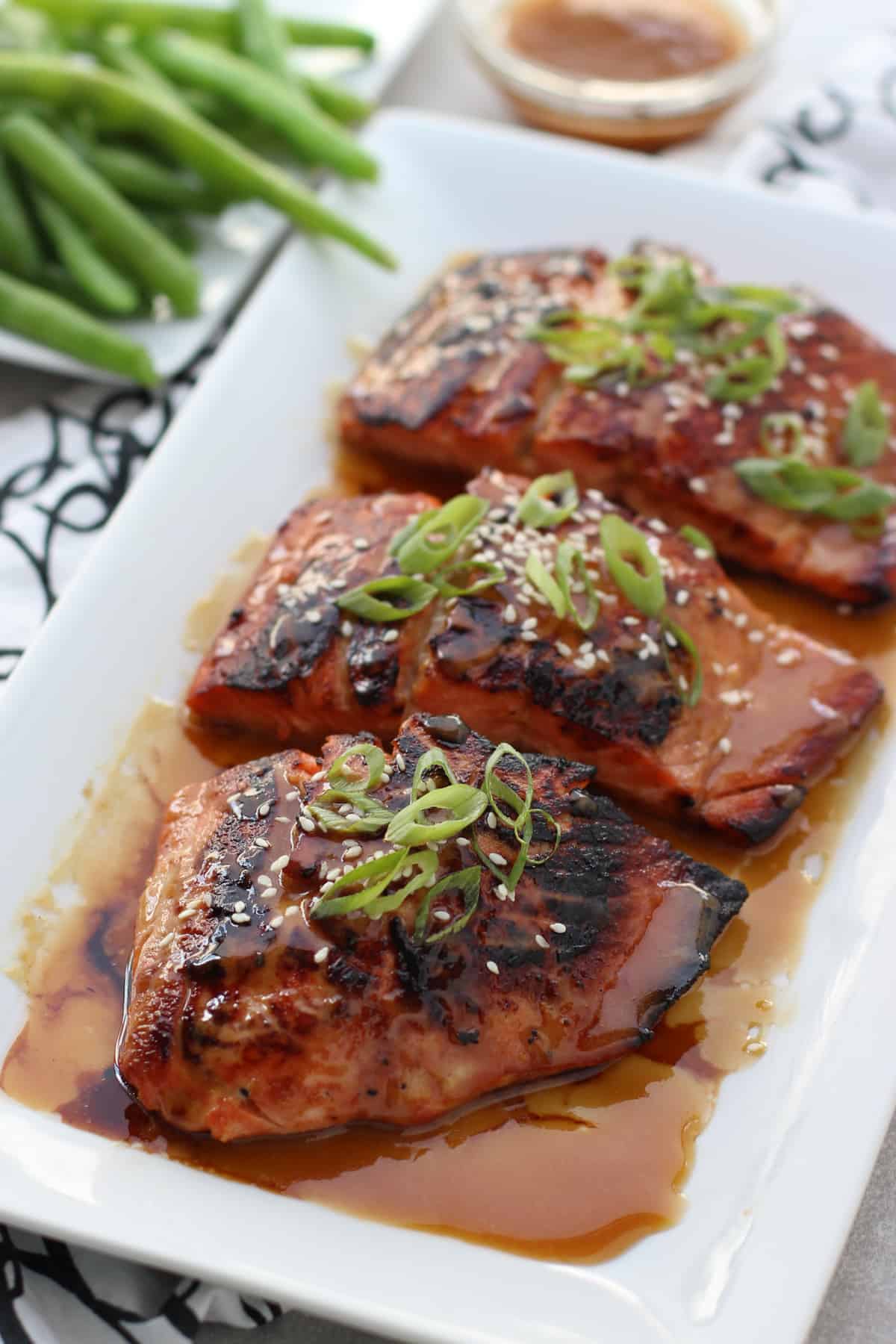 Miso Glazed Salmon Recipe
This simple and delicious Miso Soy Salmon is definitely one of my go-to quick meals, and makes its way to our dining table very often.
Miso is a fermented bean paste with salty umami flavor, and because of that, it makes an incredible marinate and sauce. Traditionally used in Japanese cuisine, miso is slowly becoming more and more mainstream today.
There are various types of miso, and typically red and white miso are the most common. Either one will work for this miso soy salmon recipe.
A little bit of miso goes a long way as it is packed with intense flavors, so keep that in mind when making this miso soy glazed salmon recipe.
I love cooking miso with salmon because salmon by itself is already incredibly flavorful, and miso on it is the perfect pairing to heighten and enhance the flavor profile of salmon.
One of my favorite things about salmon is that it's easy and quick to make.
Cooking salmon over a long period of time typically means over-cooking it. Over-cooking salmon makes the fish rubbery and tough, and therefore, is a waste of a good piece of seafood (therefore, a criminal act…a minor one).
So salmon has to be cooked quickly, which means it's perfect when you want a fast and easy meal
Not only is salmon quick to make, the fish itself has deep, gorgeous flavors. Salmon is one of the few fishes that you can add one or two simple ingredients, not overcook it, and it tastes like a dream.
And this Miso Soy Glazed Salmon recipe is also another beautiful dream that is about to happen.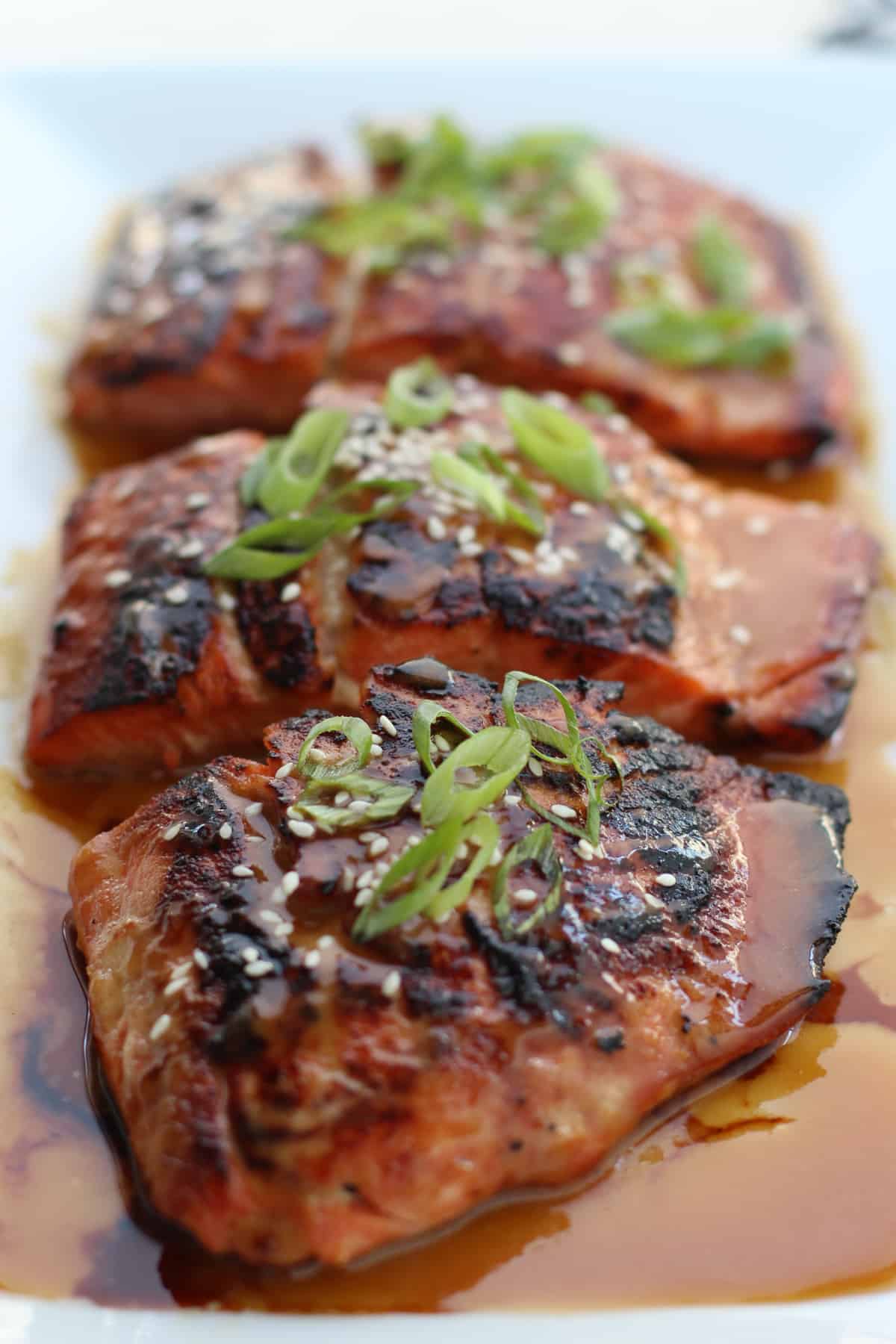 Ingredients
As we mentioned, miso itself packed a ton of flavor. Because of that, miso soy salmon is made with a fairly short list of ingredients, but brace yourself for some truly incredible flavors. Here are the ingredients you will need:
salmon – fresh, good quality salmon tastes the best. If you can get non-frozen salmon, they often have better flavor and quality.
miso paste – a fermented bean paste that is salty and has incredible umami flavors, typically found in the refrigerated section. There are various types of miso paste – red, white, yellow etc. Any of them works for this miso soy salmon recipe.
soy sauce – this is the regular soy sauce used in Asian cooking. Sometimes also called light soy sauce.
mirin – a Japanese cooking wine that is commonly used in a lot of Japanese dishes. This is an important ingredient that brings incredible umami flavors to the dish
sesame oil – this is a nutty oil commonly used in Asian cooking, which will give miso soy salmon a unique dimension of flavor. It is not the same as vegetable oil.
garlic – I highly recommend mincing fresh cloves of garlic. In a pinch, garlic powder can be used instead
ginger – fresh ginger root or ginger powder works fine.
honey – this will give it a touch of sweetness. Brown sugar can also be used instead of honey.
How to Make Miso Soy Salmon
Step 1: Marinate Salmon
To make Miso Soy Salmon, first marinate this salmon recipe for 30 minutes. Just let the salmon sit in the sauce for a little while. I want the flavors to both soak into the salmon and to coat the salmon.
If you don't have time, you can skip the marinating step.
The marinate is a simple mixture of miso paste or soybean paste (typically a refrigerated product found in Asian grocery stores), soy sauce, Mirin (Japanese rice cooking wine), sesame oil, fresh garlic, ginger powder, and honey. Either blend the ingredients in a blender or mix it into a small bowl.
Step 2: Cook Salmon
There are two ways to cook this salmon. Well, there are probably more ways, but here are two. 🙂
Using a cast iron skillet, fry the salmon with the non-skin part facing down for one minute. Then flip salmon over and bring the cast iron into the oven and bake for 8-11 minutes (depending on thickness of salmon)
Send salmon into the oven directly and bake for 11-15 minutes (depending on thickness of salmon)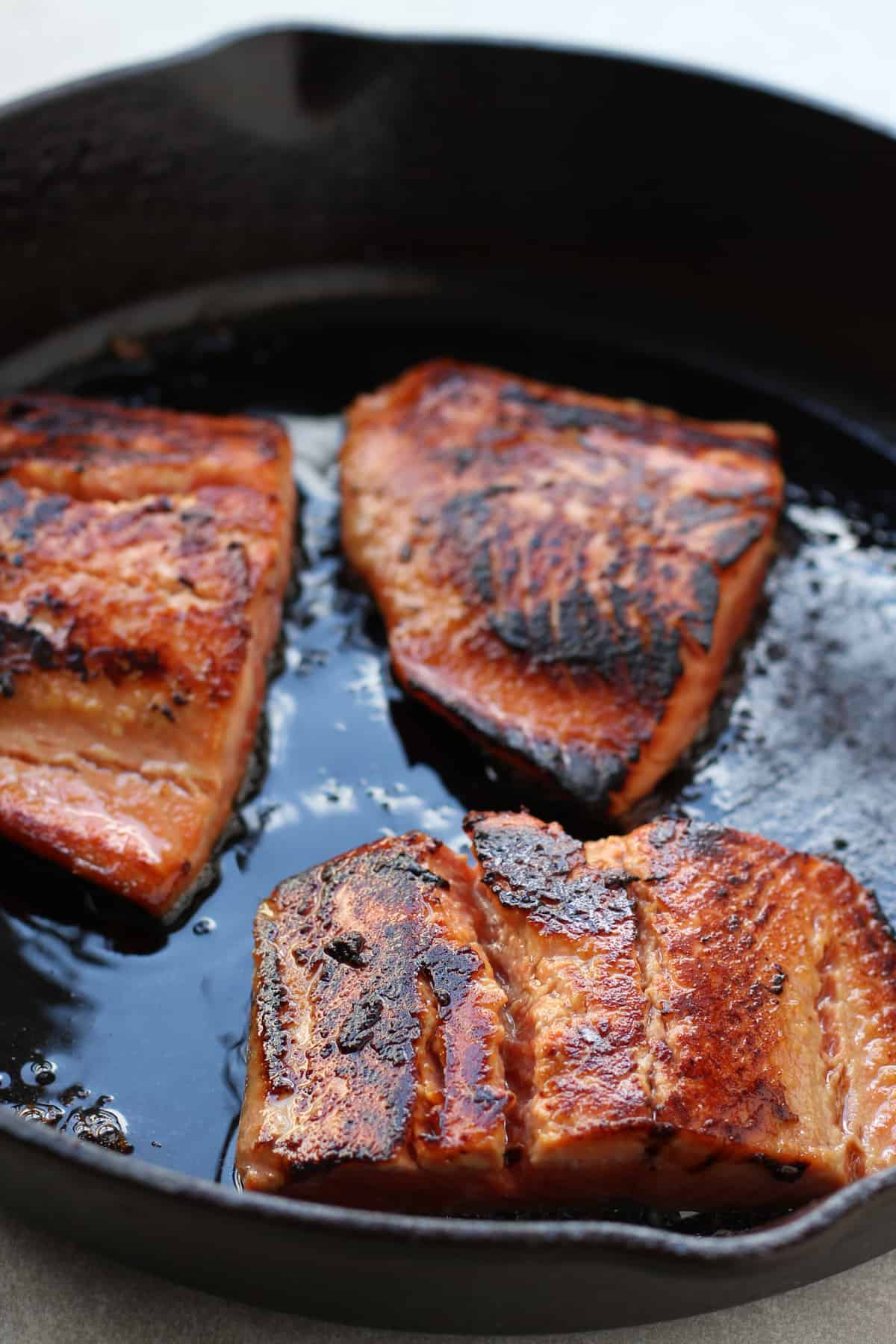 Cooking using method 1 will make the salmon crispy on the outside. If you are in a hurry and want a no-fuss, simpler way to get the work done, method 2 will be just as delicious.
Step 3: Make the miso soy glaze
When I make the marinade, I set aside half of it to make the glaze for the salmon. This is, after all, Miso Soy Glazed Salmon.
Add the other half of the sauce to a pot, and add a tablespoon or two of water. Bring to a boil, simmer for a minute or two, and viola, you got yourself a sticky, yummy glaze.
Pour some of that glaze onto the cooked salmon, and you can even serve some of it on the side if you'd like. The glaze is thick, savory, slightly sweet, nutty, and has that umami flavor that makes you go olala.
Our miso soy glaze is also thick, and a little goes a long way. The amount of glaze the recipe creates should be more than what the salmon needs. We typically use the rest of it on the rice and veggies, because when the glaze tastes that good we want it on EVERYTHING.
I'm tellin' you. I'm ALL about that glaze.
And there you have it, the lovely miso soy salmon in all its glory…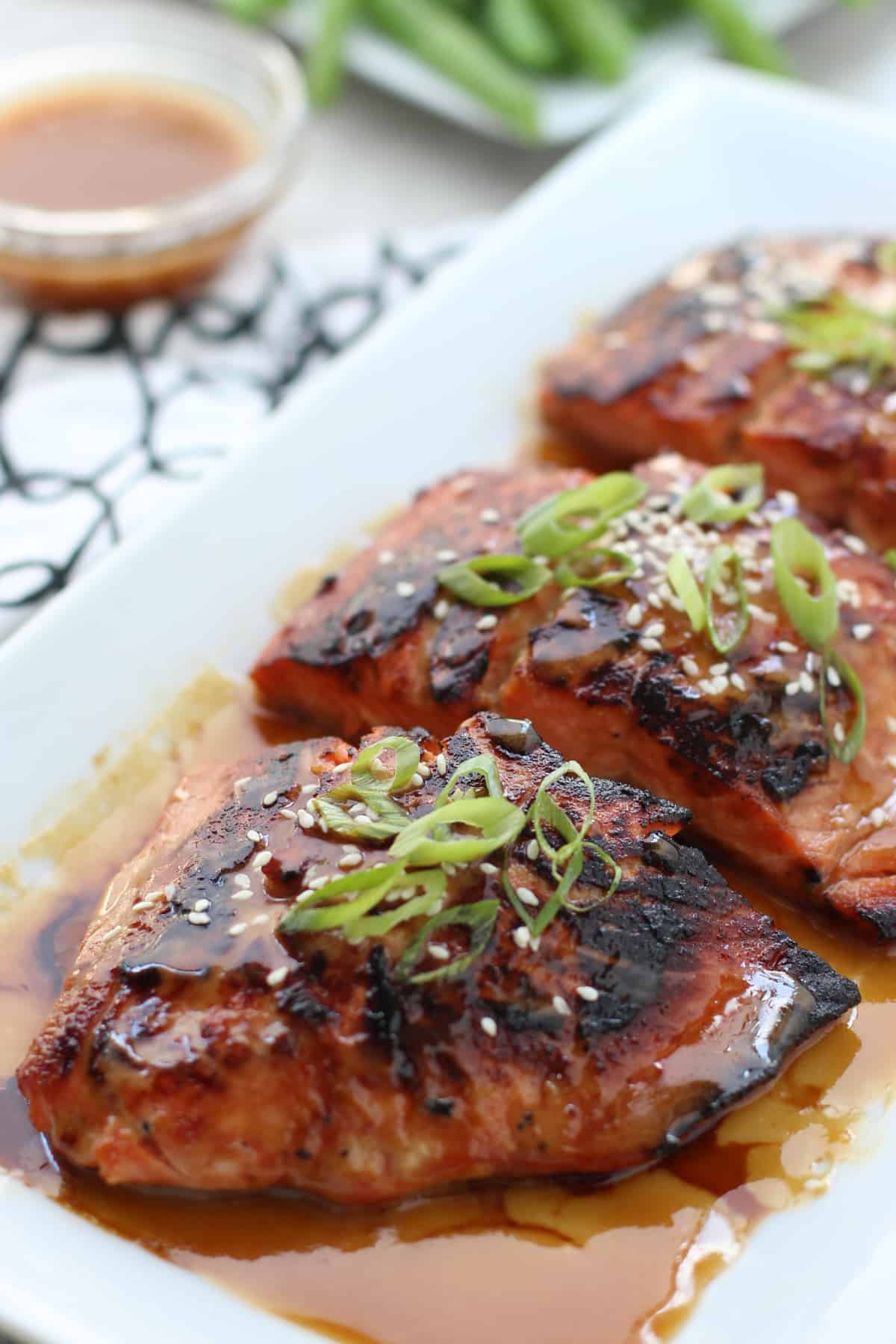 High quality salmon = high quality dish
A pro tip when cooking any seafood – using fresh seafood is the most important thing when making delicious seafood dishes. I grew up on a island so I am a bit particular about my seafood. The sauce and spices will enhance the salmon and makes it tastes over the moon, but it will not be able to cover non-freshness.
When purchasing salmon, I typically like to go up to the seafood counter to buy fresh, non-frozen salmon. Frozen salmon can work, but get to know the brands to know which ones typically comes in fresh and which ones aren't as fresh.
If you buy frozen salmon, let it defrost completely before marinating them.
Frequently Asked Questions
Do I have to marinade the salmon?
Marinating salmon will ensure the salmon absorbs the flavors of the miso soy marinade. If you are press on time, you can skip the step and just coat the salmon with the miso soy marinade before pan frying or cooking in the oven.
Can salmon be frozen after cooking?
Yes it can be. However, it tastes best when consumed right after cooking.
What's the best way to reheat this salmon dish?
Drizzle a few drops of water onto salmon and microwave salmon until it is warm. Drizzling water on it will prevent salmon from drying out.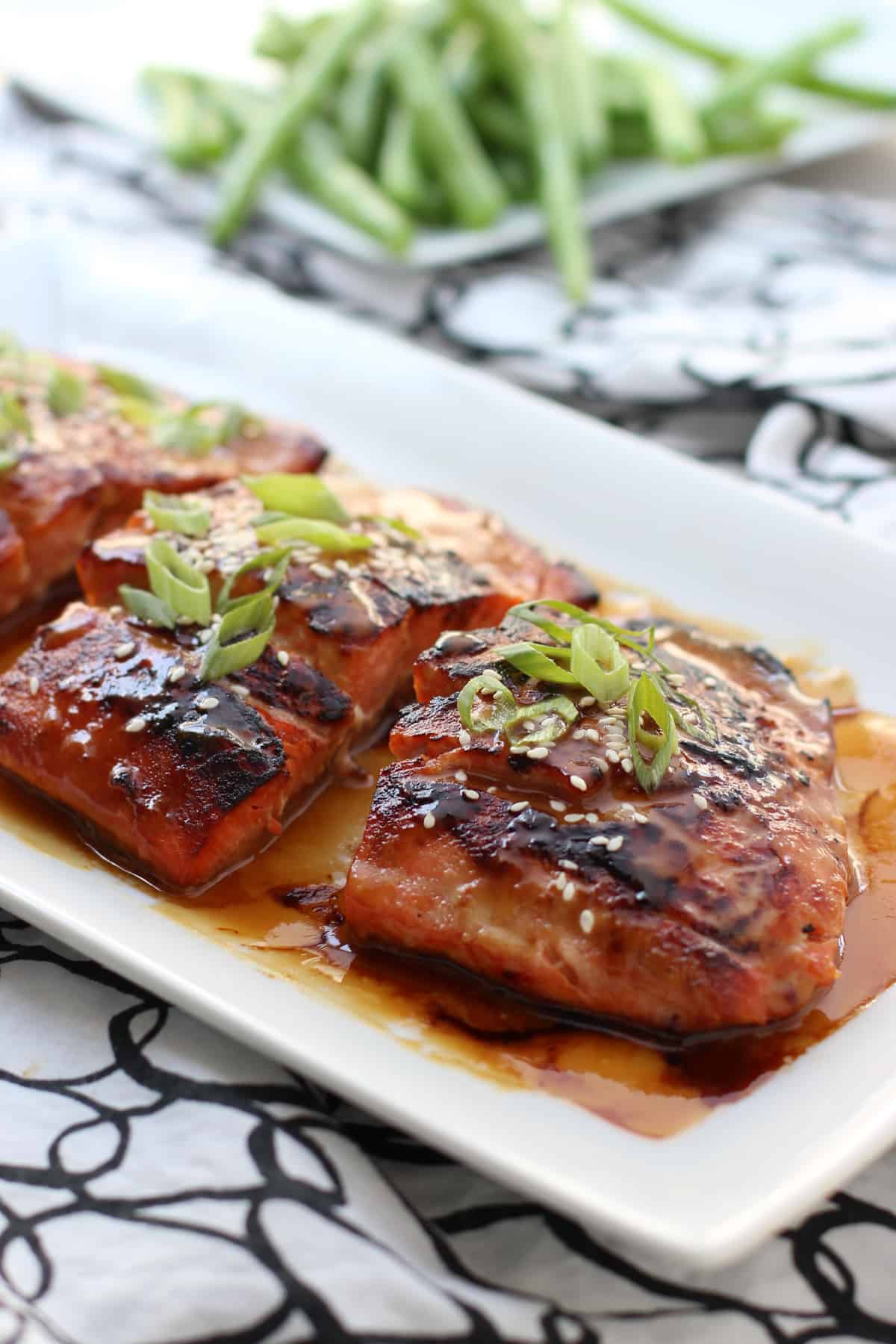 Serve miso soy salmon with white or brown rice, a side of veggie, splatter that yum glaze all over because it WILL transform the dish.
I'm totally digging' this miso soy salmon recipe – easy, healthy, yummy… It's our new favorite quick and healthy food with A TON of flavors.
TOTALLY DIGGIN' IT.
DID YOU ENJOY THIS RECIPE? Please comment below and give us a 5-star rating! This will help others find this recipe on Google and Pinterest. We very much appreciate your help! 🤍
More Salmon Recipes
More Asian Recipe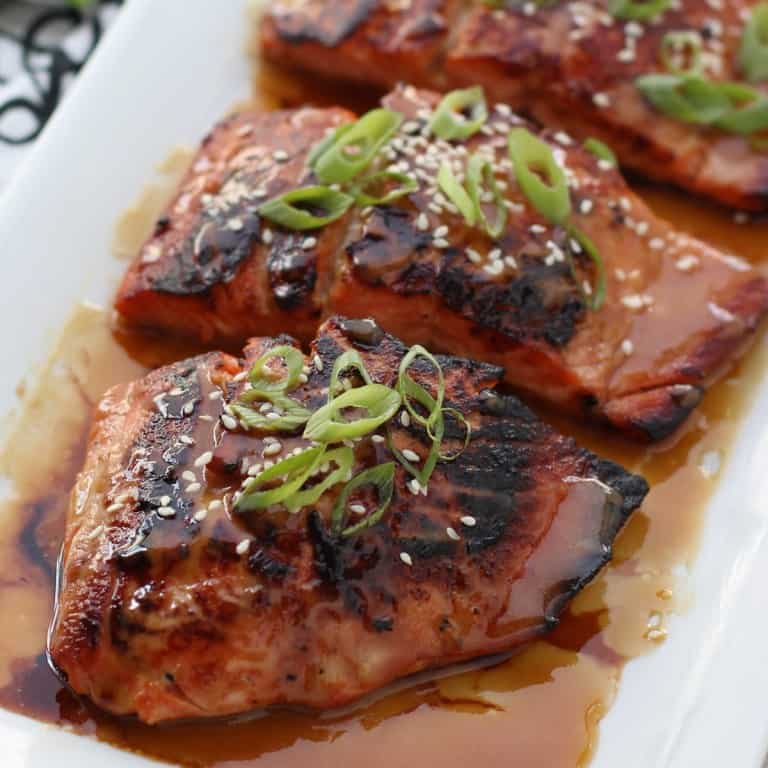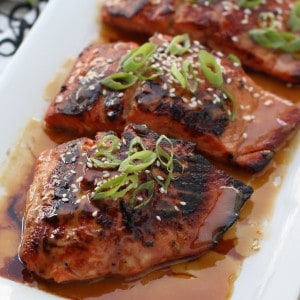 Miso Soy Glazed Salmon
Easy salmon dish with Asian-inspired flavors! Salmon is topped with a sticky, savory and sweet miso soy glaze with an umami flavor. Serve with rice and veggies.
Print
Pin
Ingredients
1

lbs

salmon

3

tbsp

miso paste/ soybean paste

2

tbsp

soy sauce

3

tbsp

mirin

2

tbsp

sesame oil

3-4

cloves garlic

1/2

tsp

ginger powder

1/4

cup

honey

1-2

tbsp

water
Instructions
Using a blender or food processor, mix together miso paste/soybean paste, soy sauce, mirin, sesame oil, garlic, ginger, honey, and water. Alternatively, mince garlic and mix the other ingredients together.

Marinate defrosted salmon with half of the sauce for 30-45 minutes. Set aside the other half of sauce to make the glaze later (Step 5). If short on time, simply coat salmon in half of the sauce, skip the marinating and go directly to step 3.

Cooking method 1: Add vegetable oil to cast iron skillet and heat up skillet. When the cast iron is heated up (you should be able to feel the heat), sear marinated salmon non-skin side down for 1 minute. Do not pour marinate to skillet. Flip the salmon over and immediately bring cast iron skillet and salmon into the already pre-heated oven. Cook for 8-11 minutes, depending on thickness of the salmon (see Note 1)

Cooking method 2: Pre-heat oven to 400 degrees F.. Place salmon on a baking tray greased with vegetable oil. Bake marinated salmon for 11-15 minutes (do not pour marinated to baking tray), depending on the thickness of the salmon (see Note 1)

Bring the sauce that was set aside earlier to a pot, add 1-2 tbsp of water, and bring to boil. Lower the heat and continue to cook sauce/glaze for a minute or so. Glaze should thicken slightly. Remove from heat.

Drizzle some of the glaze onto the salmon. Serve the rest of the glaze as a dipping sauce. Glaze is also good with rice and veggies served along with salmon. Enjoy!
Notes
Note 1: If you are not familiar with baking salmon, bake salmon using the minimal time provided. Bring it back to the oven to cook it further if needed. Salmon is done when it flakes easily using a fork.
Nutrition
Calories:
455
kcal
|
Carbohydrates:
37
g
|
Protein:
34
g
|
Fat:
20
g
|
Saturated Fat:
3
g
|
Cholesterol:
83
mg
|
Sodium:
1503
mg
|
Potassium:
833
mg
|
Fiber:
1
g
|
Sugar:
28
g
|
Vitamin A:
76
IU
|
Vitamin C:
1
mg
|
Calcium:
38
mg
|
Iron:
2
mg