Dutch Oven Herb Butter Turkey Breast
This Dutch Oven Turkey Breast recipe is seasoned with garlic herb butter along with lemon zest and lemon juice. Oven roasted in the Dutch oven to retain moisture in the turkey breast, producing a juicy, flavorful piece of meat. Perfect for a scale-down Thanksgiving dinner!
Cooking turkey breast in a Dutch oven is definitely much easier (and way less clean up) than making a whole turkey!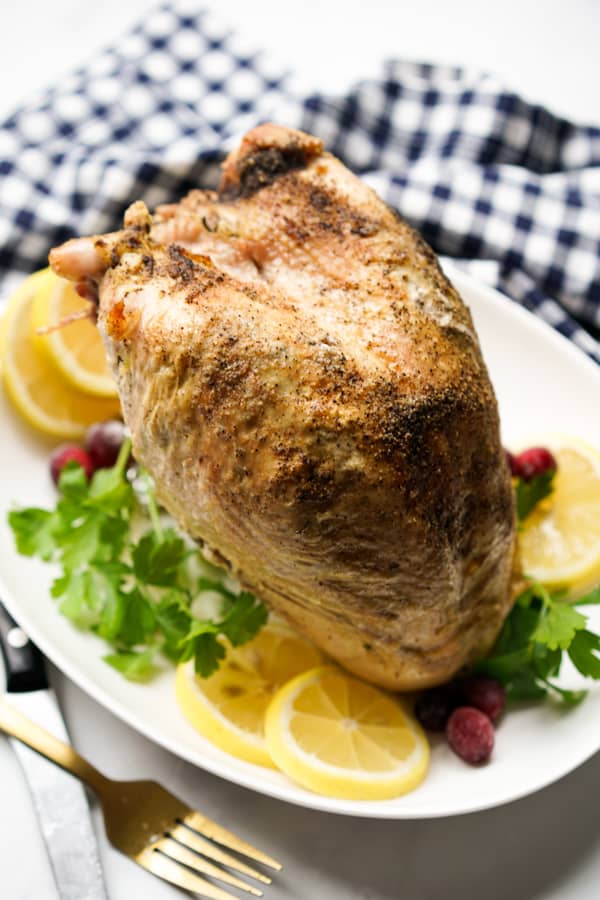 Looking for more yummy recipes made in the Dutch oven? Check out my Pot Roast, Beef Stew and Turkey Stew recipe as well!
Dutch Oven Turkey Breast
I started cooking turkey breast in a Dutch oven and found that it is my favorite way to make turkey breast because:
I have the option of covering the turkey breast with a Dutch oven lid the seals well and this helps retains juiciness and moisture in the turkey better.
Easy clean up – I am not messing with a large roasting pan, or metal racks which are so hard to clean. Also, the drippings are contained in a smaller container and doesn't get all crusty as easily in a dutch oven.
Easier to handle – Dutch ovens are smaller, and for a smaller piece of meat like the turkey breast, you really don't need a large roasting pan to get the job done.
I highly recommend using a Dutch oven that is 6 qt or larger for this to be able to fit a turkey breast in it while being able to put the lid on. A turkey breast that is 6 lbs or smaller should comfortably fit into it.
For this Dutch oven turkey breast recipe, we are using a skin on, bone-in turkey breast. I like using skin-on because it helps keep the turkey juicy while baking, and bone-in will bring a bit more flavor to the turkey as well.
Ingredients
A lot of times, the thought of roasting a turkey or even a turkey breast sounds intimidating. But with some instructions and tips, I promise this Dutch oven turkey breast recipe is not only easy and doable, it will turn out fantastic!
My goal is to break this recipe down as simple as possible so that you will feel less intimidated.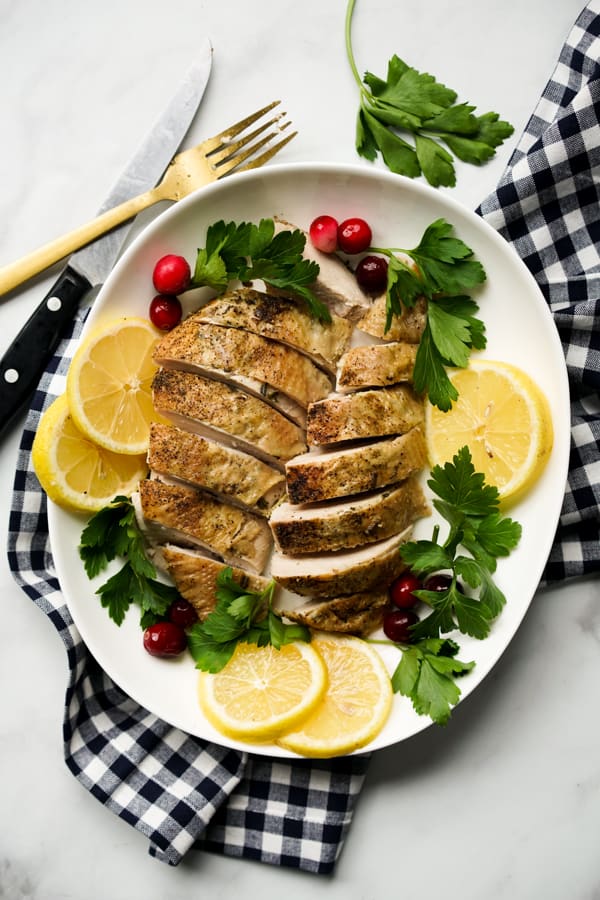 Let's start with the ingredients. The key to roasting a flavorful turkey is to use the right ingredients and use as much fresh ingredients.
Because let's be honest, turkey is a healthy and lean piece of meat, but it is lacking in real flavors unless we pack it with spices and flavors. Here's what we are using to really bring the flavor into this piece of turkey breast:
Lemon juice and lemon zest – get a fresh lemon and zest it and juice it yourself. Only 1 lemon is needed for 1 whole turkey breast.
Fresh herbs – we are using thyme and rosemary and I highly recommend using fresh herbs. Fresh herbs brings a lot more flavors than dried herbs. It will translate to a more flavorful, better-tasting turkey.
Salted butter – this is what we use to infused more flavor and retain the juiciness in the meat. Avoid using unsalted butter because salted butter is more flavorful.
Minced garlic – use fresh. Do not substitute with garlic powder as it is just not the same!
Salt and black pepper – essential to opening up all the flavors. Be generous with this!
As you probably already noticed, the list isn't very long! And many of these are simple ingredients that you probably already have at hand.
Let's Make It!
Here's a quick overview of the key steps to making this Dutch Oven Herb Butter Turkey Breast.
Prepare the Dutch oven. Fill the bottom of the dutch oven with large pieces of onions, and then submerge them partially in chicken broth. This is to provide some flavor and also moisture to the turkey breast while it is cooking.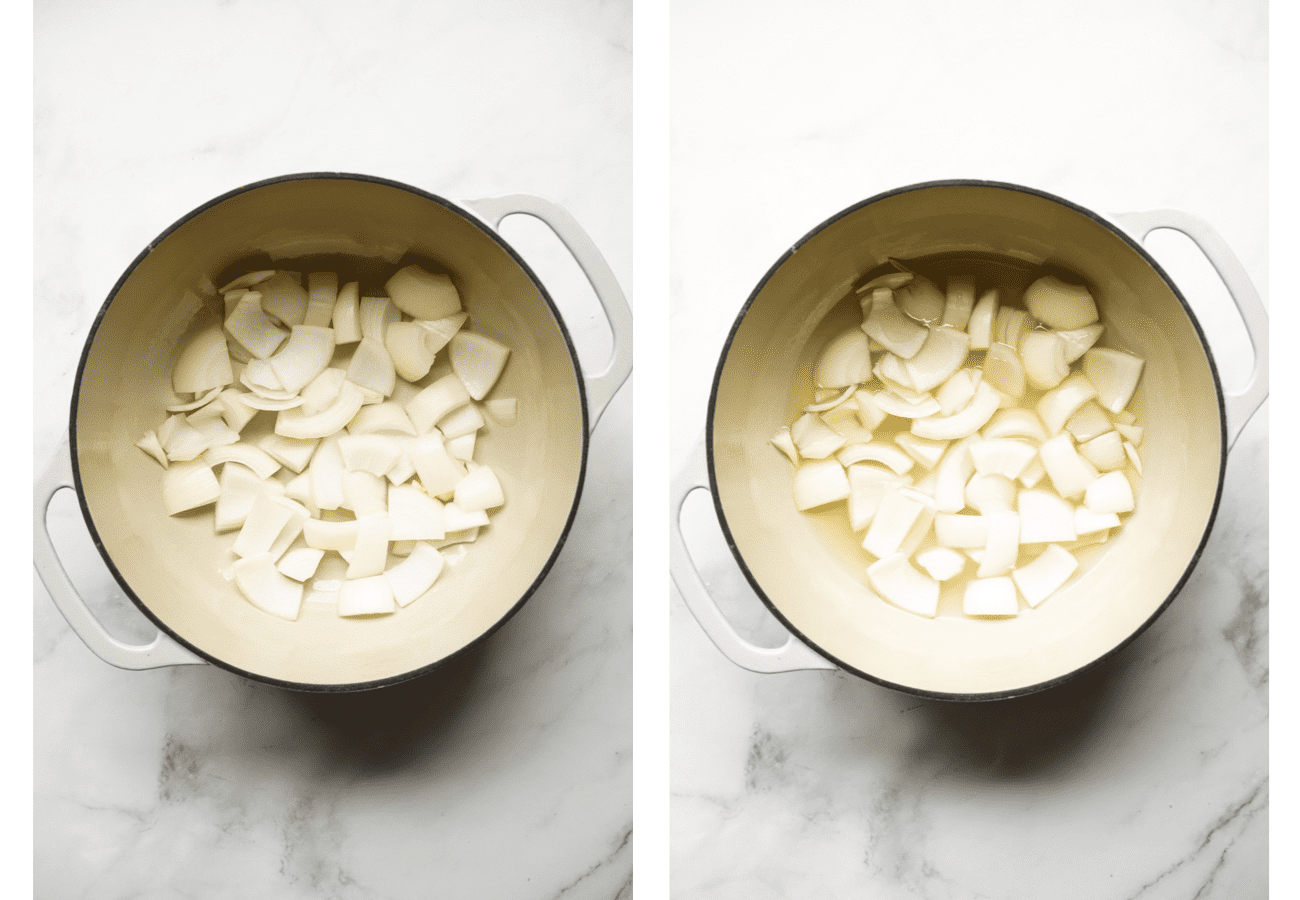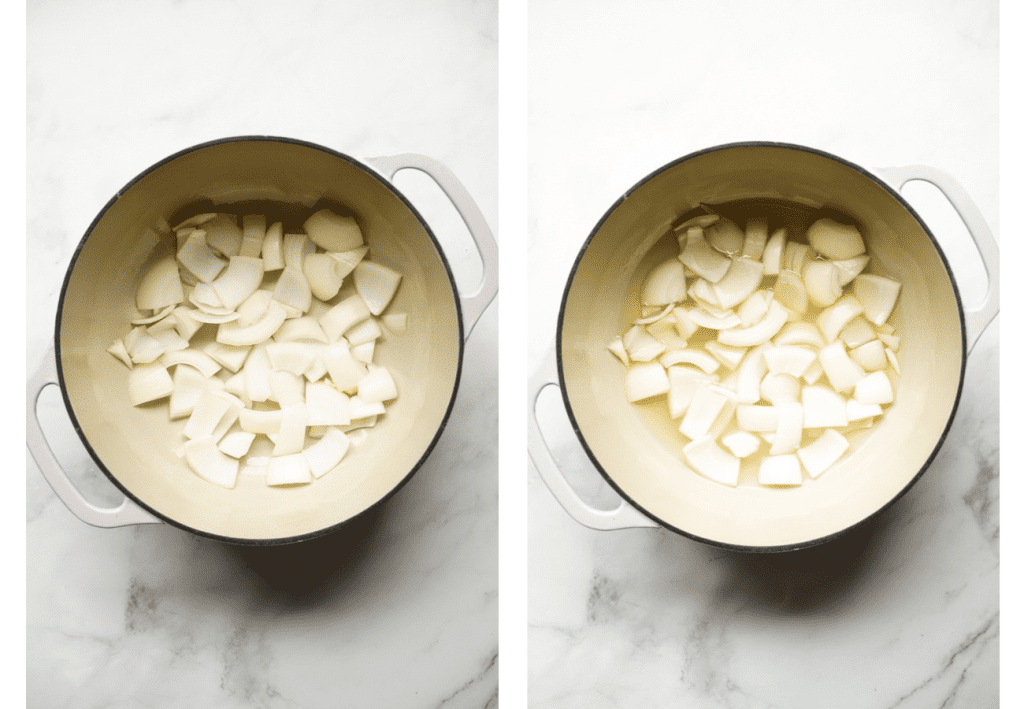 2. Prepare Herb Butter mixture. Simply bring everything together and combine! It is that easy.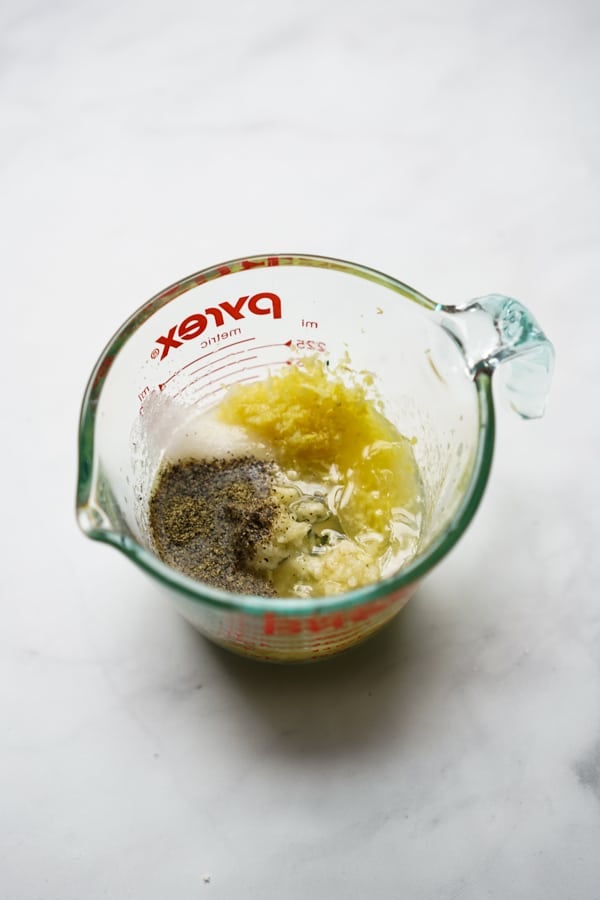 3. Season turkey breast. Place turkey breast onto Dutch oven and work from there. I find that it's the easiest and more mess-free way to handle the turkey.
Step-by-step how to season turkey breast:
a) Start by generously sprinkling the insides of the turkey breast with salt and black pepper.
b) Loosen skin and stuff herb butter mixture into the skin. Also rub herb butter mixture over turkey meat not covered by skin.
c) Stand it breast side up and sprinkle the outsides of the skin generously with salt and black pepper.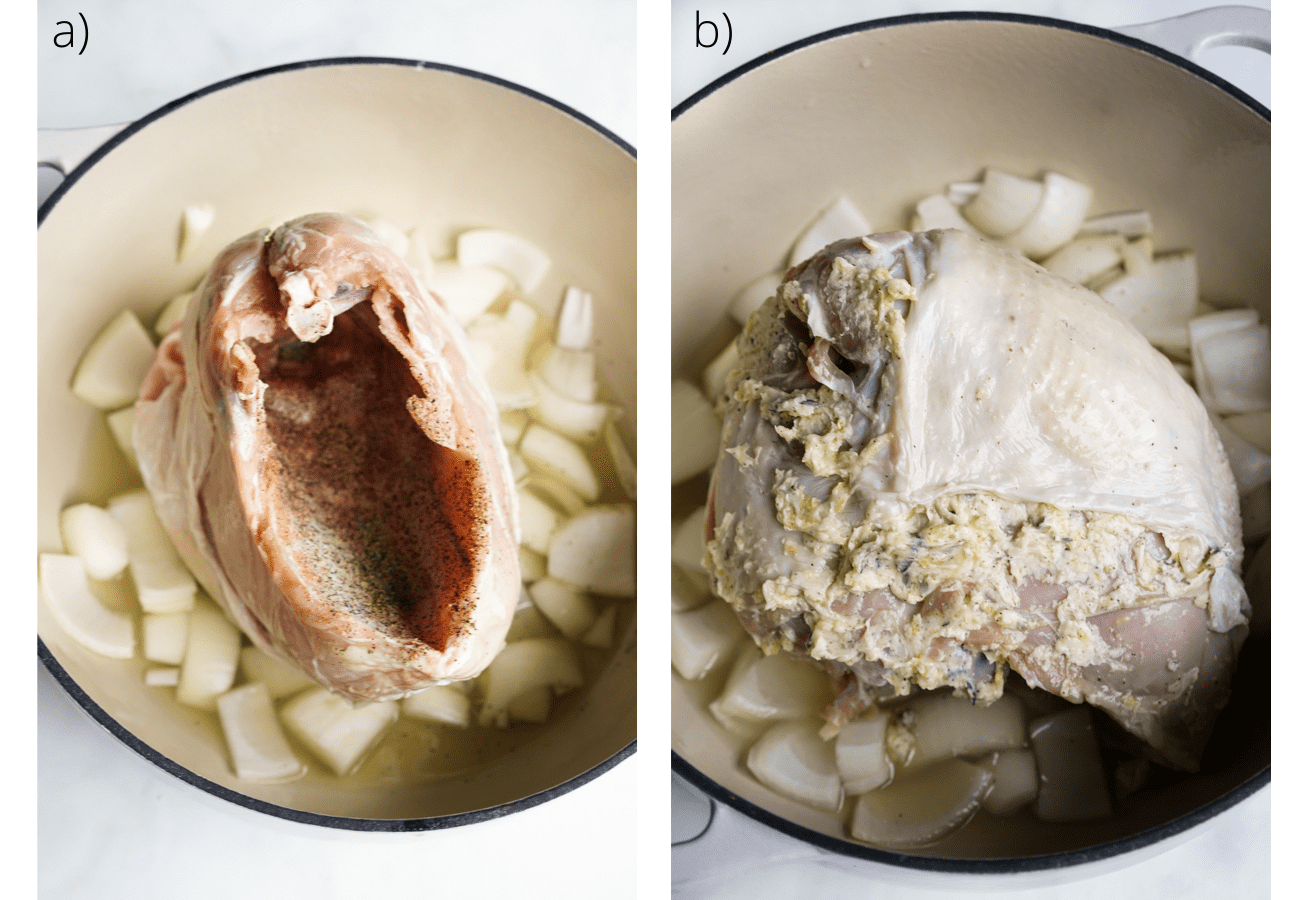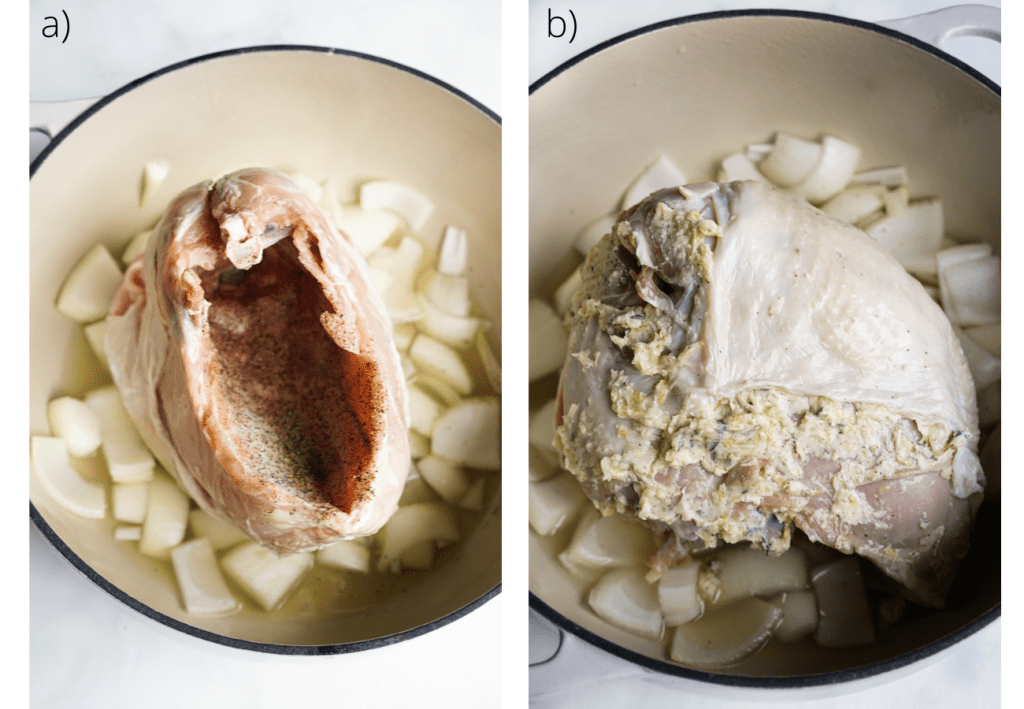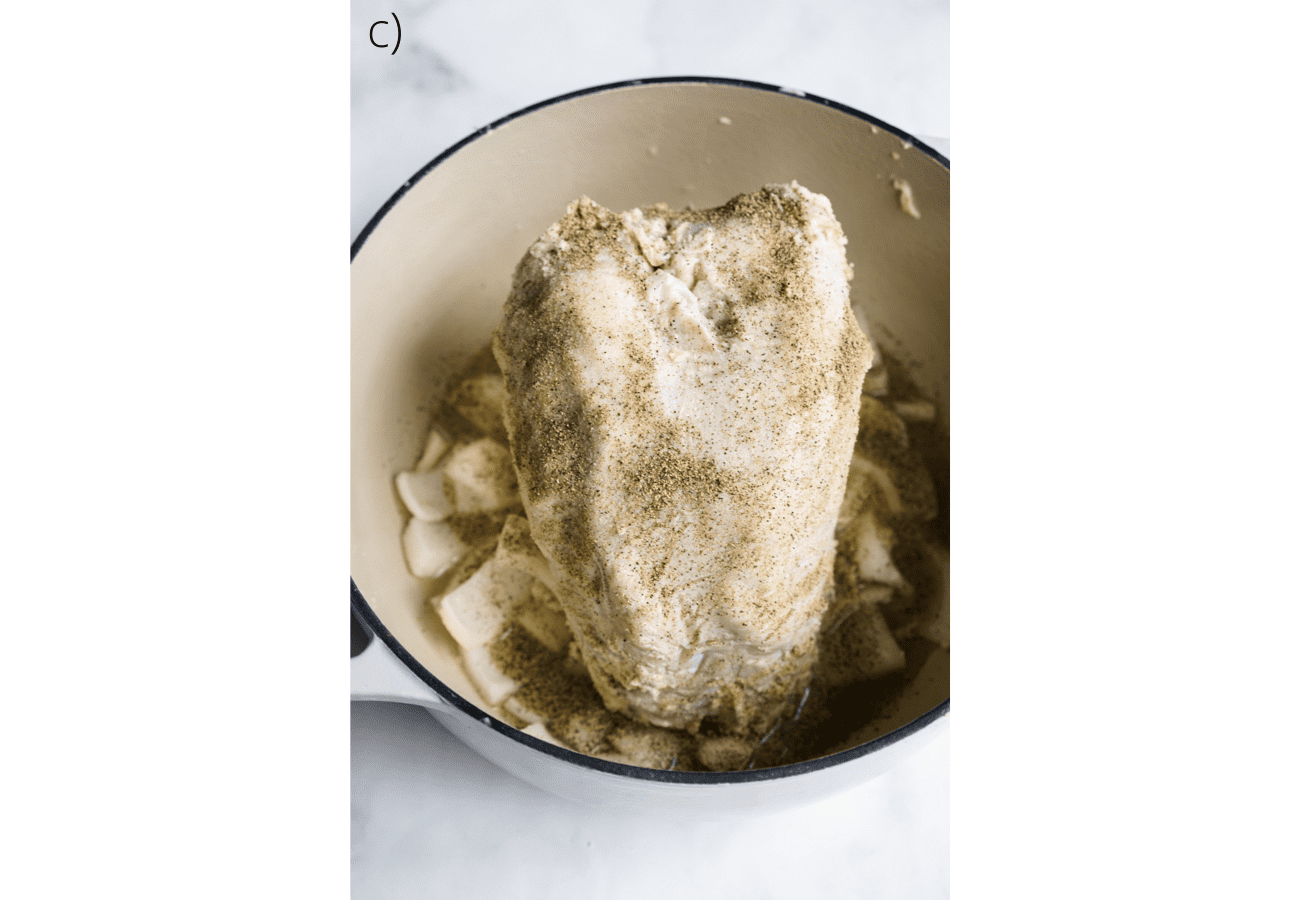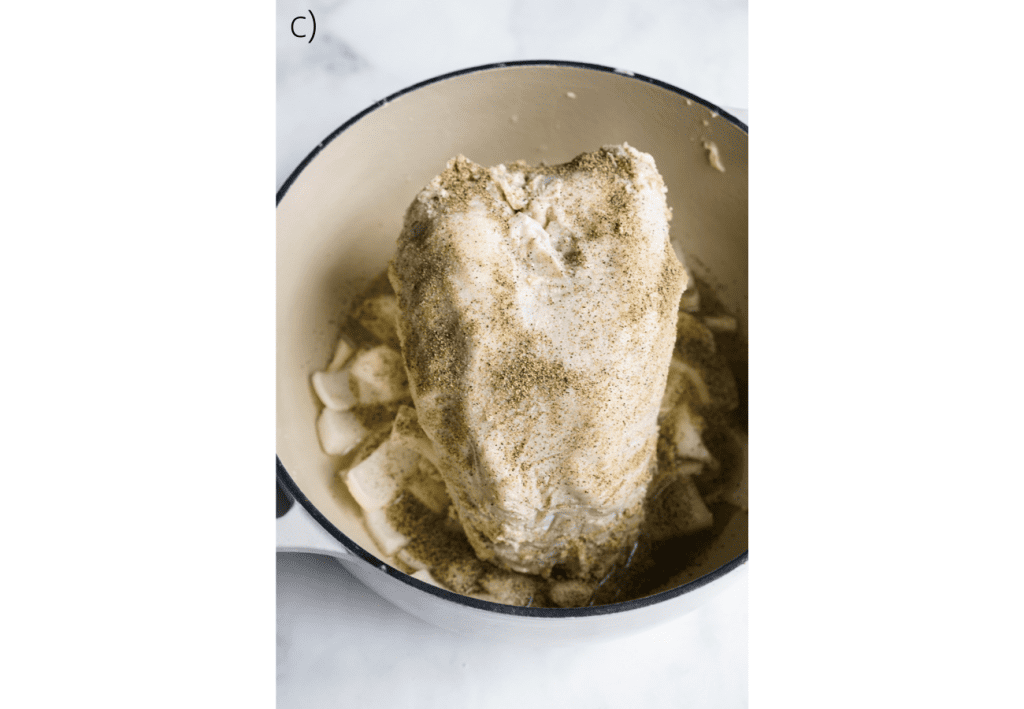 4. Bake it in the oven. We are cooking the turkey breast low and slow to retain as much of the moisture in the meat as possible. I will provide a suggested bake time but the trick is to pull the turkey out as soon as it reaches 160-165℉.
Do not overcook because we want a juicy, moist turkey. Cook time will vary based on the size and initial temperature of your turkey.
Checking the temperature using a meat thermometer (they are super affordable) is the key! See more baking details is in the recipe card below.
5. Let turkey sit and rest for 15 minutes before craving.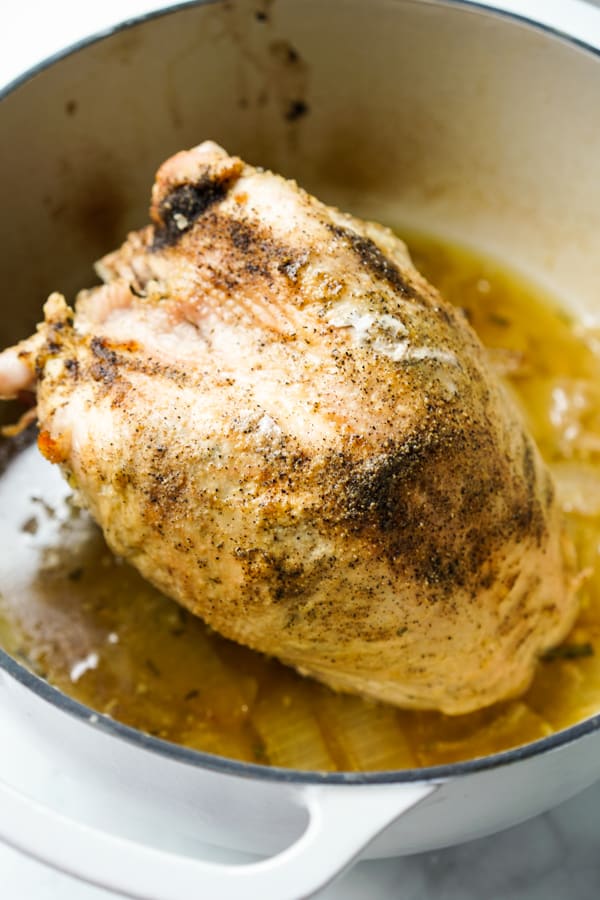 Depending on the size, this Herb Butter Turkey Breast recipe is perfect to serve 6-8 people.
Dutch oven turkey breast works great for a smaller Thanksgiving or Christmas dinner, for those who want a little turkey for the holidays but don't want to deal with cooking a whole turkey.
Turkey breast should be juicy and moist on the inside, with a slightly browned skin on the outside.
The herb garlic butter lemon flavor should be slightly infused into the meat itself, making the turkey. meat super flavorful.
Substitutions and Variations
Here are some options for a few slightly different way to make this Dutch Oven Turkey Breast recipe:
Besides thyme and rosemary, sage and parsley are also good fresh herbs to use. Herb de Provence can also be used on turkey, which is a combination of a handful of dried herbs. That works too, but I prefer using a mixture of fresh herbs versus a dried herb blend for this. Fresh herbs just bring more flavor to the turkey than dried herbs.
Instead of lemons, oranges (zest and juice) can be used as well.
Turkey broth or white wine can be used in place of chicken broth.
Tips and Tricks
A few notes when making this Dutch oven turkey breast to ensure success!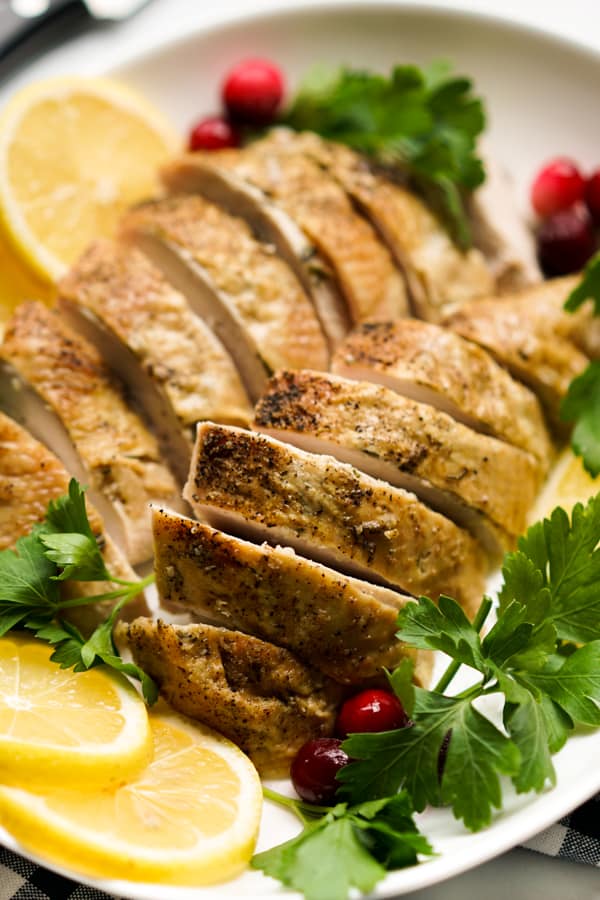 Use a dutch oven that is at least 6 qt or larger to comfortably accommodate most turkey breast.
When seasoning the turkey, I like to use Dutch oven as my "work space". This way you don't have raw turkey juice splattered all over the counter as you move the turkey around to season and dress it. Also, any remaining seasoning will not go to waste and will drop to the bottom of the Dutch oven and bring flavor to turkey while cooking.
Make sure to generously smother the turkey with butter mixture (especially under the skin) because that is a way to keep turkey breast juicy. Use more butter if what is called for is not enough, especially if you have a very large turkey breast (above 6 lbs)
Also be very generous with the salt and black pepper!
Do not overcook turkey! There's nothing worse than a dry turkey. To avoid that, make sure to check on the internal temperature using a meat thermometer. Cook time will vary depending on the size of the turkey, how cold the insides of the turkey is before placing in the oven, etc.
Frequently Asked Questions
Can I make this ahead of time?
I would not recommend making this ahead of time because the longer turkey sits out after it cooks, the dryer it gets. You could season the turkey and get everything ready 24 hours ahead, and then bake it right before serving. In fact, by doing so, you will get a deeper flavor in the turkey because it would have sat in seasonings for longer.
How long can I keep cooked turkey breast?
Store in an airtight container for up to 4 days in the refrigerator and up to 4 months in the freezer.
How do I use this recipe for boneless turkey breast?
Boneless turkey breast will require a shorter cook time. Check the internal temperature at the 1 hour mark and go from there.
What about skinless turkey breast? How do I cook that using this recipe?
Make sure to be even more generous and spread a thick layer of the butter mixture onto the turkey. You will want to watch it closely and pull it out as soon as it reaches an internal temperature of 165℉. I highly recommend skin on because turkey will be more juicy and flavorful. Turkey breast will definitely be dryer if it is not a skin-on turkey.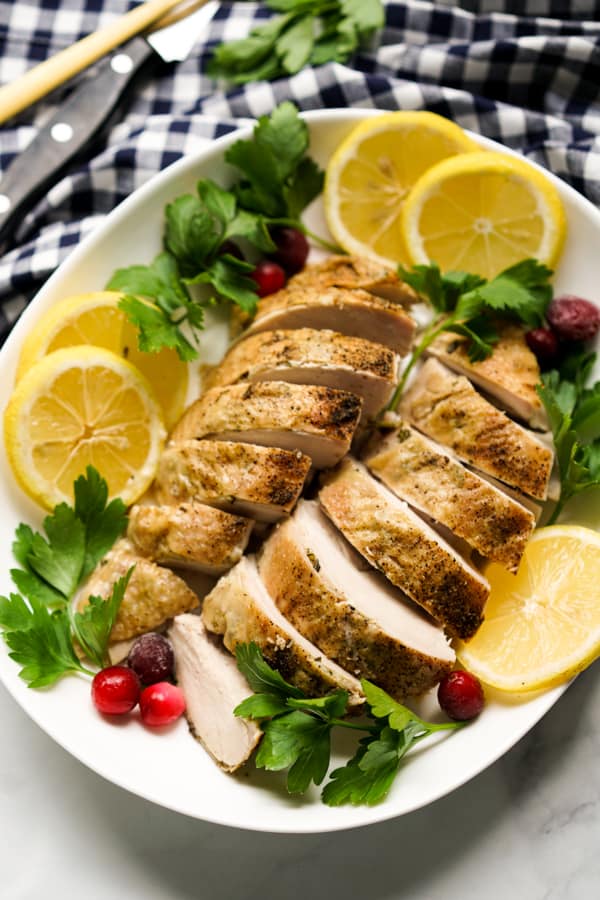 What to serve with Turkey Breast
Here are some good sides to go with turkey breast this holiday!
DID YOU ENJOY THIS RECIPE? Please comment below and give us a 5-star rating! This will help others find this recipe on Google and Pinterest. We very much appreciate your help! 🤍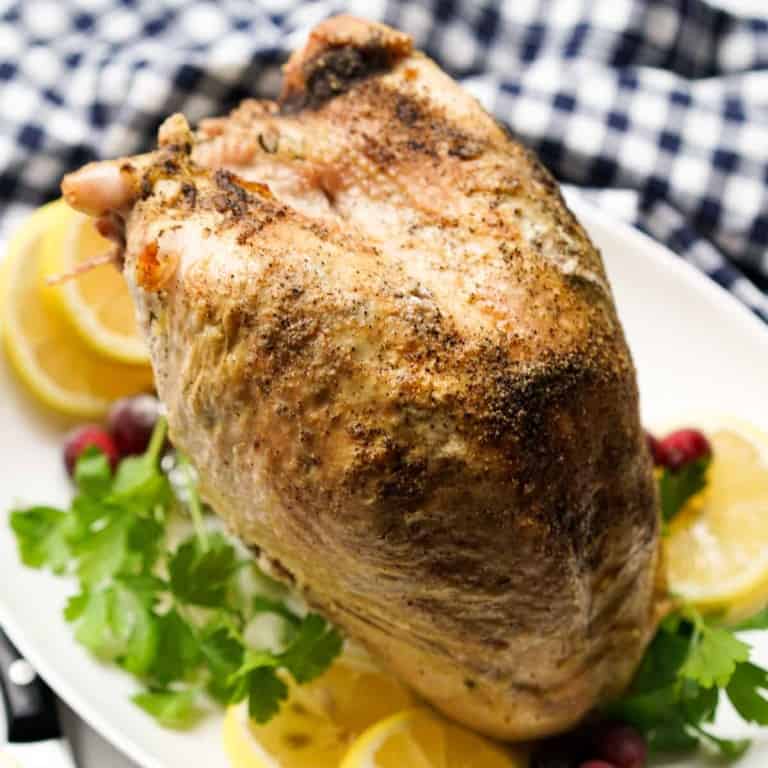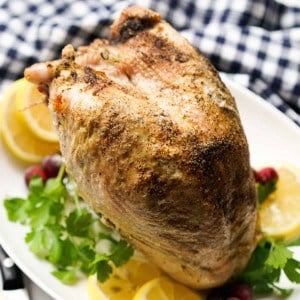 Dutch Oven Herb Butter Turkey Breast
Perfect main dish for a small Thanksgiving dinner! Turkey Breast is seasoned with garlic herb butter seasoning and roasted in a Dutch Oven. Flavorful, juicy and moist!
Print
Pin
Ingredients
4-6

lbs

turkey breast

skin-on, bone-in

6

tbsp

salted butter

melted or softened

4

cloves

garlic

minced

2-3

spring

fresh thyme

1-2

spring

fresh rosemary

1

lemon

zest and juice

2

tsp

salt

plus more

1

tsp

black pepper

plus more

1

large onion

slice into large chunks

1/2 -1

cup

chicken broth

or turkey broth
Instructions
Make sure turkey breast is completely defrosted and pat dry with a paper towel if it is wet.

Remove leaves from fresh thyme and rosemary. Chop rosemary leaves into smaller pieces. In a bowl, combine melted/softened butter, minced garlic, thyme, rosemary, lemon zest, lemon juice, 2 tsp salt and 1 tsp black pepper. Mix well.

Add onion pieces to a Dutch oven (at least 6 qt) and spread them out evenly, then add chicken broth until onions are half way submerged in chicken broth. Onions should NOT be floating in chicken broth.

Place turkey breast onto the Dutch oven with the opening side up. Generously sprinkle salt and black pepper inside turkey and use hand to spread spices out evenly.

Flip turkey over so that one of the breast side is facing upwards. Use fingers to loosen chicken skin but be careful not to break it.

Add 1/3 of the butter mixture under skin of one side of the breast and use finger to press down on the skin to spread the butter around under the skin. Do the same for the other side of the breast.

Spread the rest of the butter to other parts of the meat without skin.

Place turkey breast side up (see picture – this is also the position turkey breast is baked in) and sprinkle salt and pepper generously all over the skin.

Bake UNCOVERED for 1 hour 15 minutes. Remove to monitor internal temperature with a meat thermometer. If internal temperature at the thickest part of the breast is 165℉ or above, remove turkey breast from oven immediately. If not, continue cooking UNCOVERED. However, if skin is already golden brown, cover Dutch oven with lid. Check on turkey every 15-30 minutes. Turkey is done whenever the thickest part of the turkey breast reaches internal temperature of 165℉. The goal is to remove turkey breast from oven once it reaches 165℉, and catching it before temperature rises too much above 165℉. If turkey breast is still not fully cooked after a total of 2 hours in the oven, go ahead and cover with lid and bake until internal temperature reaches 165℉. (See Recipe Notes)

Once turkey is done, remove from oven, remove lid, and loosely cover with aluminum foil. Let it sit for 10-15 minutes.

Carve into smaller pieces. Serve and enjoy!
Notes
Oven-baking turkey breast: If internal temperature of the thickest part of the turkey breast rise too much above

165℉, turkey will be dry and no longer juicy. The ideal scenario is to get turkey out of the oven as soon as it reaches 165℉. Cook time for turkey breast varies significantly depending on the size of turkey, initial internal temperature of turkey etc. As a point of reference, my 5 lbs bone-in, skin-on turkey breast took about 2 hours to cook.
Nutrition
Calories:
424
kcal
|
Carbohydrates:
4
g
|
Protein:
66
g
|
Fat:
17
g
|
Saturated Fat:
8
g
|
Polyunsaturated Fat:
2
g
|
Monounsaturated Fat:
5
g
|
Trans Fat:
1
g
|
Cholesterol:
193
mg
|
Sodium:
1571
mg
|
Potassium:
818
mg
|
Fiber:
1
g
|
Sugar:
1
g
|
Vitamin A:
438
IU
|
Vitamin C:
13
mg
|
Calcium:
63
mg
|
Iron:
2
mg