Everything Bagel Pigs in the Blanket
Holiday party appetizer alert! Your Christmas and New Year parties require these cute little Everything Bagel Pigs in the Blanket. Because hello! It's the holidays. Treat yo-self. 🙂
But never limit these cute little finger foods to just the holidays! It is also perfect for game day, parties, showers…any day really. Make it a snack for your kid's lunch box, make it YOUR own snack, eat it as breakfast etc etc…
Little smokies wrapped in a simple but yummy dough, and sprinkled with the ever popular Everything Bagel seasoning. Err okay. I'll have one. Or multiple please. Seriously, how can anyone just have one?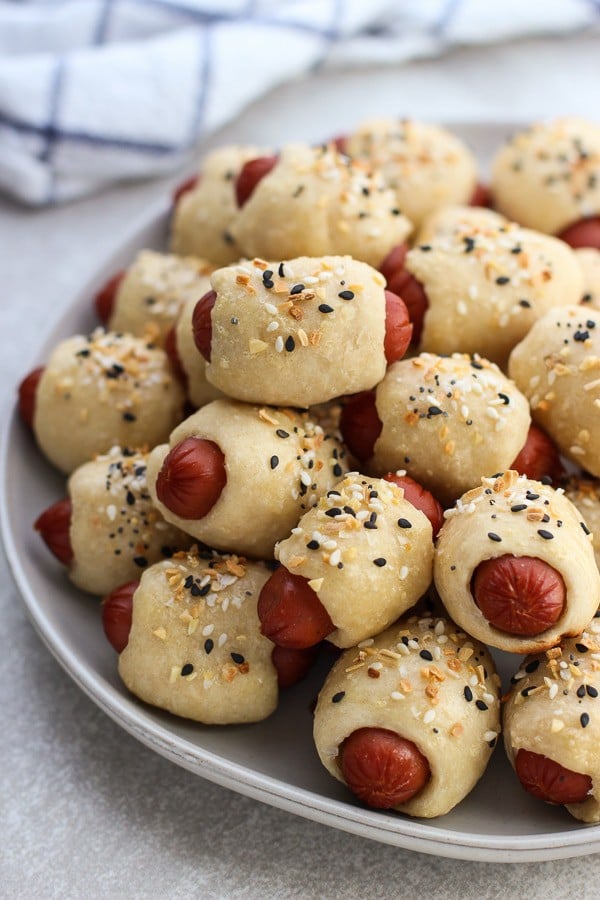 Being smack in the middle of the holiday party season, I added more sweets and finger foods to the blog lately for your festive needs/inspiration. See evidence – this, this and this. All in the last month or so!
Conveniently, I am also an appetizer and sweet junkie, and can totally live on appetizers and sweets. Forget the main course! But all that to say, I am loving these festive selections. 🙂 And I LOVE this one!
We will be presenting you with more everyday meal recipes once the holiday season is over and we are stuffed with all the sweet and appetizer our stomach and hearts can bare. 😉 I have started recipe testing, photographing some yummy meals and cannot wait to share them with you!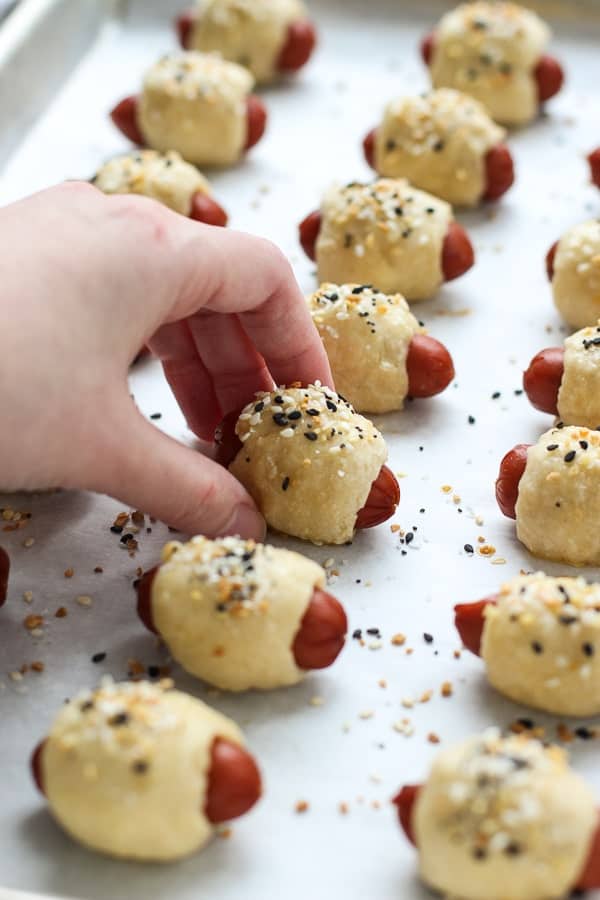 But for right now, because it is still the holiday season, I am totally all about these Everything Bagel Pigs in the Blanket today. Because it is so good! And you need it in your life!
Everything Bagel seasoning
First, let me tell you the gloriousness that is Everything Bagel seasoning. The honest truth is, I add Everything Bagel seasoning to everything – scrambled eggs, tuna salad, avocado toast, salmon, chicken, ramen…you get the idea.
And now we are adding them to this. And OMG it is perfect. The combination of garlic flakes, onions flakes, sea salt and sesame seeds give the extra oomph to the classic Pigs in the Blanket.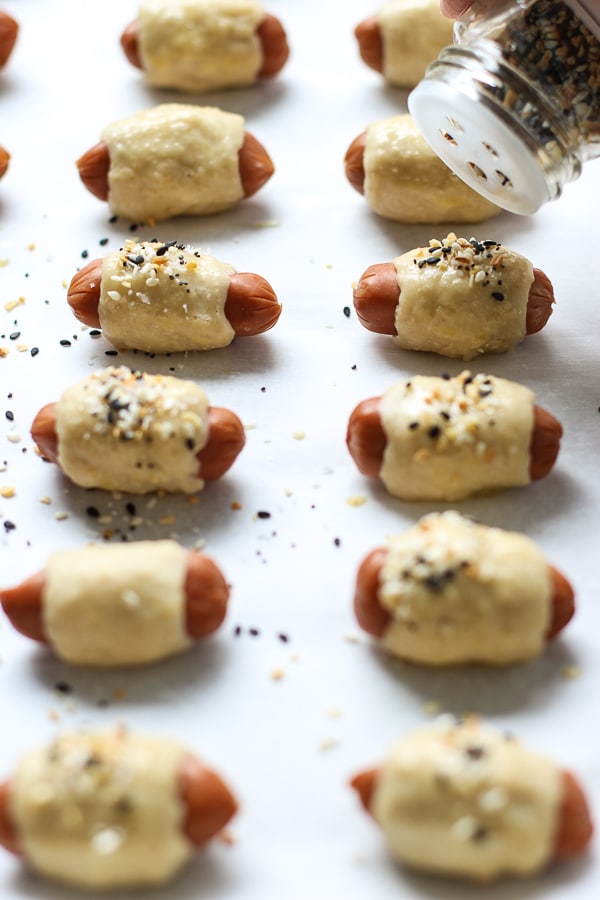 I find my Everything Bagel seasoning at Trader Joe's. It's actually labeled "Everything but the Bagel" seasoning – as in seasoning on an Everything Bagel, but without the bagel. But people shorten it a lot and call it Everything Bagel, so Everything Bagel it is.
Other stores carry it, although it is not widely sold everywhere. You can find it here online (affiliate link). Other options include sprinkling seas salt, sesame seeds and garlic flakes to the Pigs in the Blanket and it will still be super yummy.
If you cannot find them and want to make them exactly like the store-bought ones, here is a homemade Everything Bagel Seasoning recipe. If that is too much work, leave it out completely. You can eat it plain, or dip them in your favorite sauces – ketchup, mustard, bbq sauce etc, and it will be just as yummy.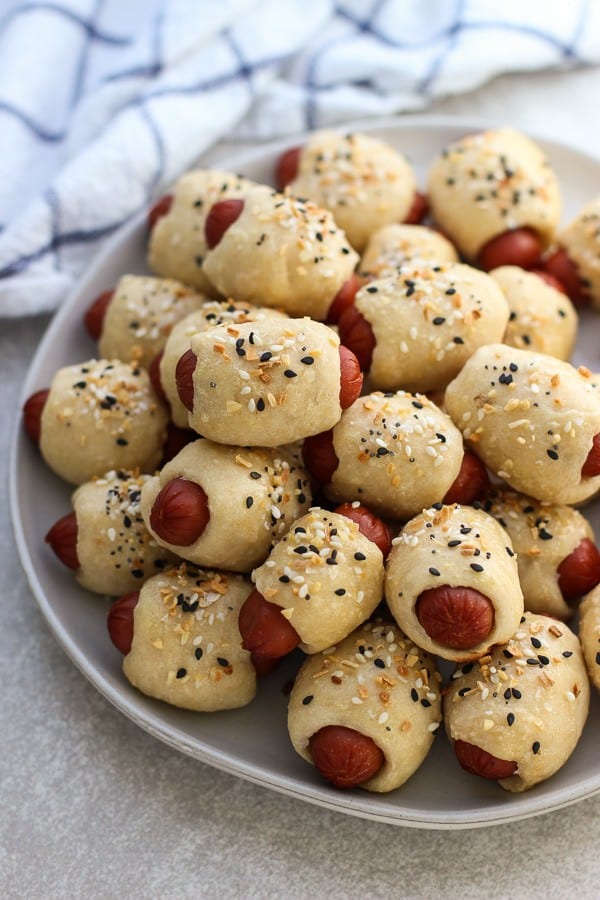 Making the bread
The bread portion of this recipe is a very simple yeast bread. If yeast bread sounds like a scary thing I'm here to tell you, just like I did when I showed you my Cinnamon Raisin Roll recipe – DO NOT FEAR YEAST!
Yeast comes in a small bottle in solid form, and because we are using instant yeast in this recipe, all you need do is add it to your dough. Make sure the liquid you pour into the dough is not super cold, and the yeast rises. That is it.
In addition, this recipe is super simple and also easy to handle because it is not a lot of bread. If you have a stand mixture to knead the dough, use it. If you don't, it is still pretty simple because we are dealing with a small amount of dough. Give it ample time to rise – I recommend 3-4 hours.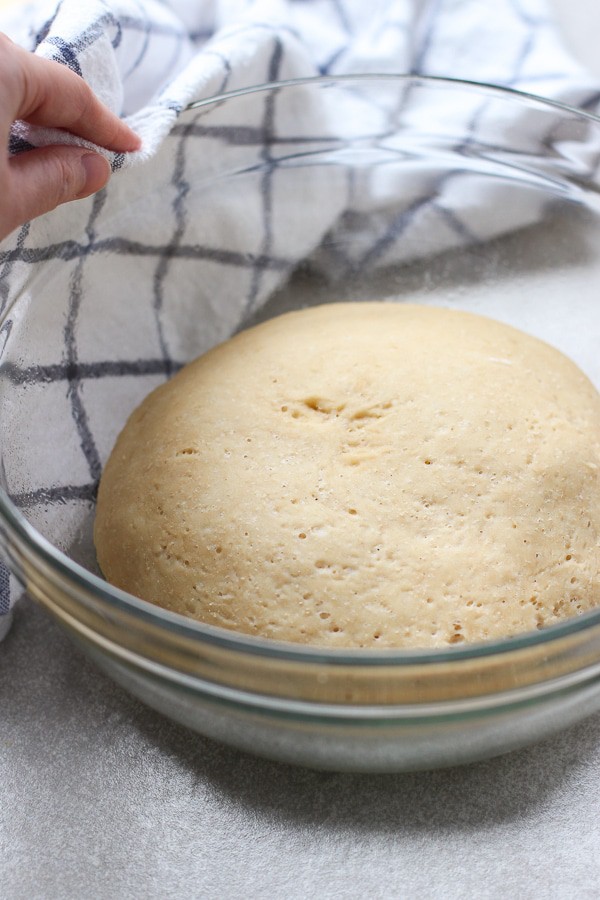 After the bread rises, pick up a small pinch of dough with your fingers, flatten and shape it into a rectangle-like shape, and wrap it around the smokies. Keep in mind that a little bit of dough goes a long way, and it will eventually puff up in the oven.
Here is how you wrap the pigs in the blanket:
Besides being delicious, these things are so fun to make! They also feed a crowd and therefore great for gatherings – this recipe makes about 40 pigs in the blankets!
And check out the chewy, pillowy bread. Bread lover = me.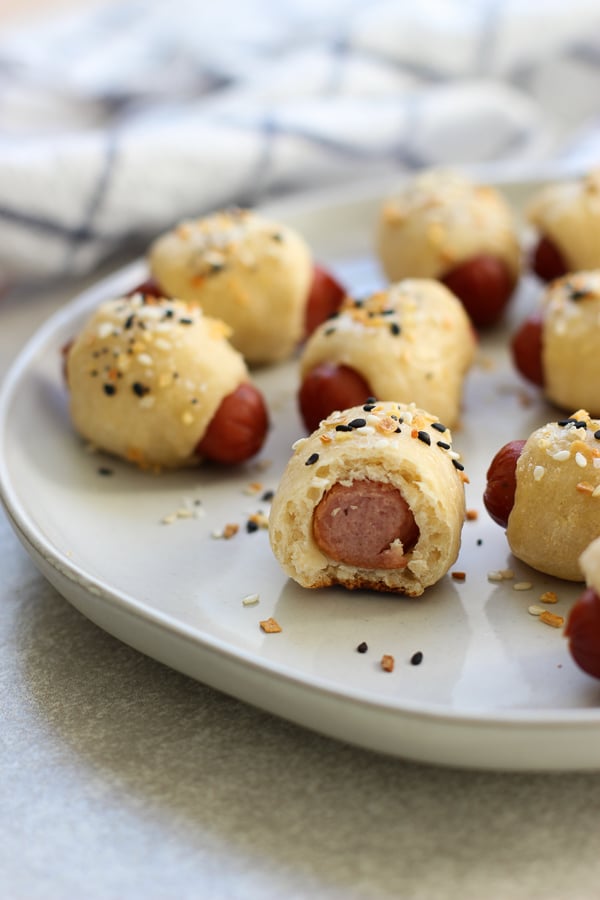 Going into the weekend before Christmas, I want to take the opportunity wish you and yours a very Merry Christmas…Enjoy the holidays – I hope it will be a lovely and relaxing one.
DID YOU ENJOY THIS RECIPE? Please comment below and give us a 5-star rating! This will help others find this recipe on Google and Pinterest. We very much appreciate your help! 🤍
More Delicious Party Foods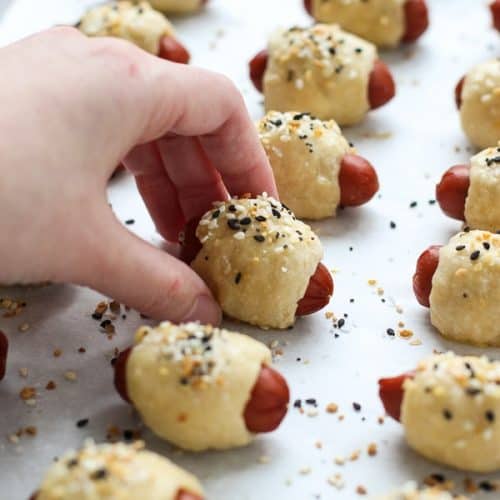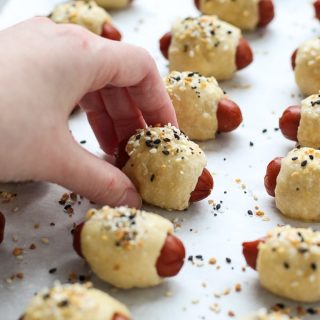 Everything Bagel Pigs in the Blanket
A twist to classic Pigs in the Blanket! This Everything Bagel Pigs in the Blanket is a fun snack and appetizer for game day, holidays, parties, or any day!
Print
Pin
Ingredients
14

oz

little smokies

1 1/2

cup

bread flour

1

tsp

instant yeast

3

tsp

sugar

1/2

tsp

salt

1/3

cup

milk

2

large egg

1

tbsp

unsalted butter

melted

3

tbsp

Everything bagel seasoning
Instructions
In a large bowl or bowl in stand mixer, combine bread flour, instant yeast, sugar and salt. Mix well.

Warm milk to 80-100 degree F (use microwave; avoid going above 100 degrees F). Melt unsalted butter. Crack one egg into a small bowl and beat up the egg.

Mix warm milk and melted unsalted butter with egg. Then pour the wet mixture into the bowl of dry ingredients.

If using a stand mixer, use a dough hook to knead dough. If not using a stand mixer, combine mixture as much as possible using hand. Lightly flour a clean surface, pour combined mixture to surface, and knead dough with hand. When kneading is complete dough should not stick to fingers when you press on the dough. Add 1/2 tbsp of flour to dough as needed if dough sticks to your fingers. (See Note 1)

Transfer dough to a bowl that is greased with butter or vegetable oil, and let dough rise for 3 to 4 hours.

When dough is risen, punch dough to release the air.

Pre-heat oven to 400 degrees F.

Then grab a small piece of dough (see picture). Remember that a little dough does go a long way!

Flatten dough into a rectangular-like shape.

Then wrap dough around the little smokies, and seal well.

Repeat steps 8-10 until all the little smokies are wrapped.

Place all wrapped little smokies on a baking sheet lined with parchment paper. If not using parchment paper, grease baking sheet with butter or vegetable oil. Crack the other egg and beat well. Then brush the egg wash to the top surface of each pigs in the blanket.

Sprinkle each pigs in the blanket with Everything Bagel seasoning.

Bake for 9-10 minutes. Remove from oven and let it cool for a few minutes.
Notes
Note 1: If dough is too dry add more melted butter, if dough is too wet, add more flour. Dryness/wetness of the dough can be influenced by humidity, temperature etc. Feel it out and get the dough to a point where it doesn't stick to your fingers when you press against it, but also not super dry!
Nutrition
Calories:
279
kcal
|
Carbohydrates:
21
g
|
Protein:
11
g
|
Fat:
17
g
|
Saturated Fat:
6
g
|
Polyunsaturated Fat:
2
g
|
Monounsaturated Fat:
7
g
|
Trans Fat:
1
g
|
Cholesterol:
77
mg
|
Sodium:
969
mg
|
Potassium:
153
mg
|
Fiber:
1
g
|
Sugar:
3
g
|
Vitamin A:
120
IU
|
Vitamin C:
1
mg
|
Calcium:
28
mg
|
Iron:
1
mg