This post may contain Amazon or other affiliate links. As an Amazon Associate I earn from qualifying purchases at no additional cost to you.
Mint Chocolate Cookie what??
Introducing a cookie with a twist. Because we don't know how to JUST make a regular cookie around here.
Warm, minty chocolate cookie stuffed with white chocolate chips, in the shape of a cup. YEP. The same texture, the same gooeyness, the same yumminess as a good ole American cookie, and filled with vanilla ice cream. Or anything else you want. Mint Chocolate Cookie Cup. OH HECK YESSS.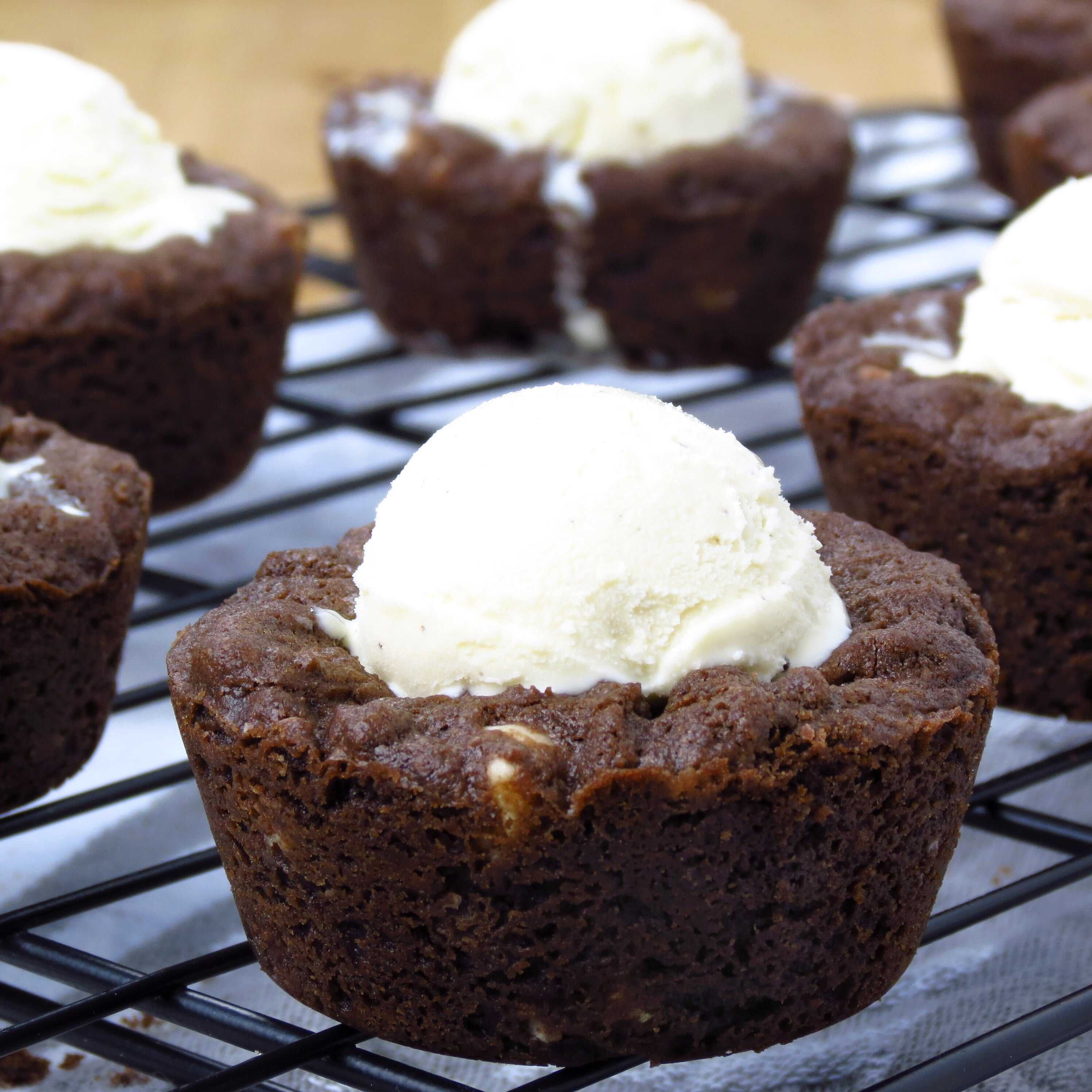 Okay. So I like my cookies either with milk or with ice cream. But mostly ice cream. Because who am I kidding. Ice cream might be my favorite food ever. John was playing around with this idea of a mint chocolate cookie dough recipe the other day because my husband loves his minty desserts. And he made the most ah-ma-zing, the most moist, soft, gorgeous cookies ever.
Giving credit where credit is due – this is really John's cookie recipe. My contribution? The "let's turn it into a cup and put ice cream on this thing" part. Because just like life, normal is overrated.
Wet ingredients on the left, dry ingredients on the right. Mix, mix, mix.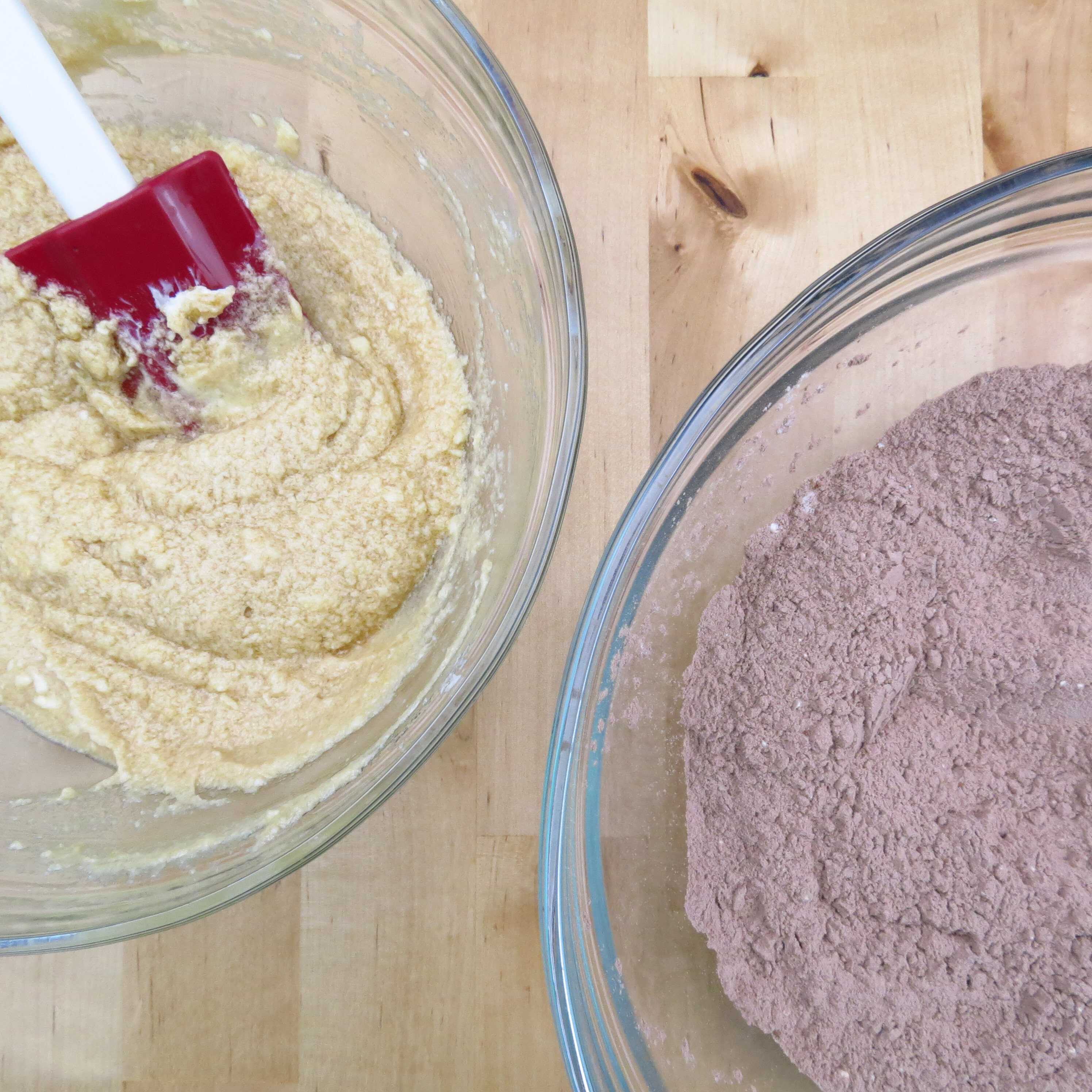 Wet ingredients – sugar, brown sugar, egg, vanilla extract (the real stuff), mint extract (this is the ingredient John has been dying to try in much of his desserts), softened unsalted butter, 2% milk (just a teeny tiny bit)
Dry ingredients – flour, cocoa powder, and baking soda.
Slowly add dry ingredients into wet ingredients, and then fold in white chocolate chips. The combination of dark chocolate cookies and white chocolate chips is probably one of my favorites. This is birthed from my dining hall days in college. I ate so much chocolate white chocolate chip cookies but my nineteen-year-old body took it just fine. Today, it's a bit different 🙂 . Anyway, you can use mint chocolate chips instead of white chocolate chips for a super minty cookie. A mint explosion experience, if you must.
Next, grease a muffin tin, then scoop about 2 tablespoons of dough into each muffin cup. Then gently dig a hole in the middle. The measurements given should fill out about a dozen muffin cups.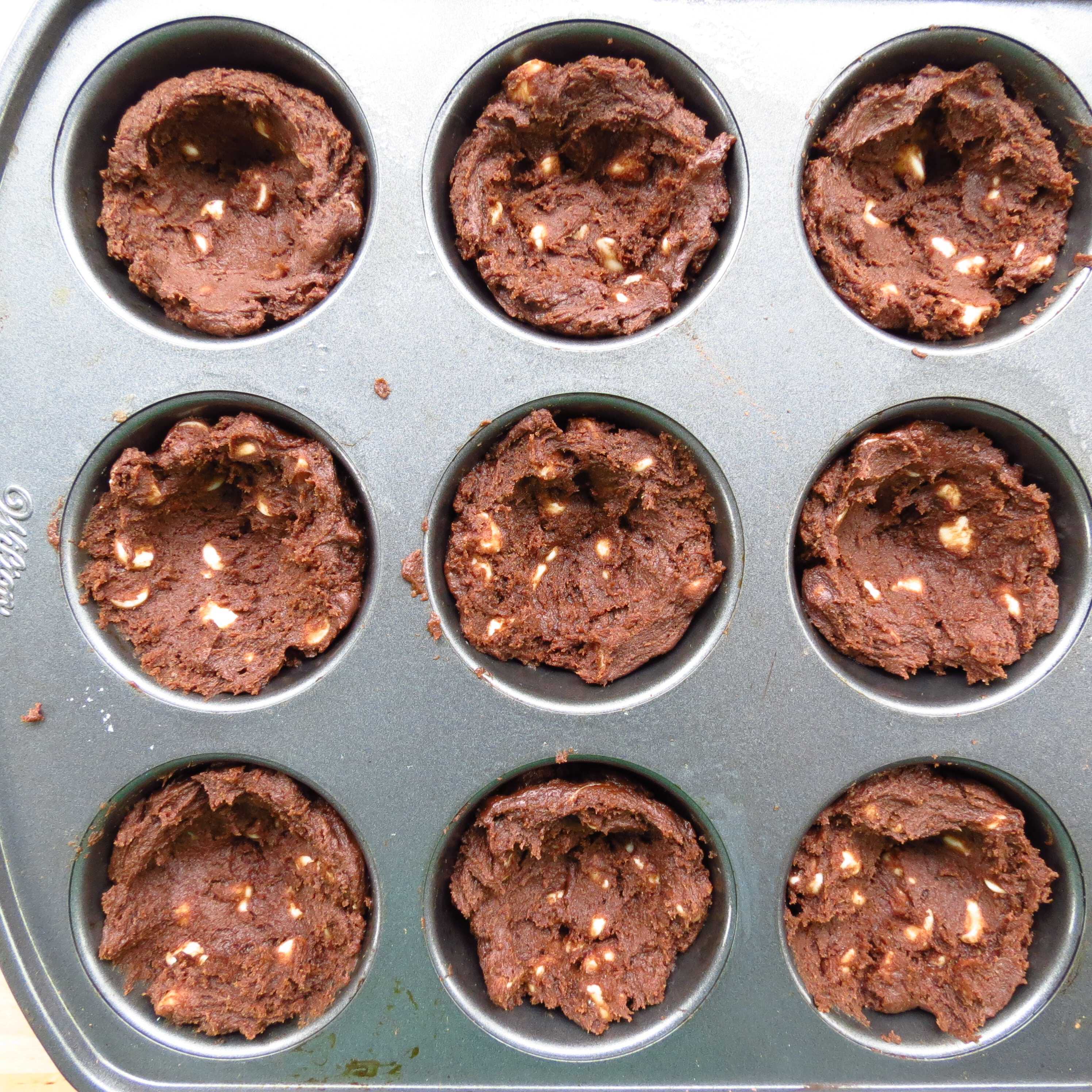 Send it into a 350 degree F oven for about 12-14 minutes.
When it comes out of the oven, you might think you just baked muffin-shaped cookies (no dent in the middle). Just let it cool for 10 minutes or so, and then the middle should slowly sink it. Kinda like this: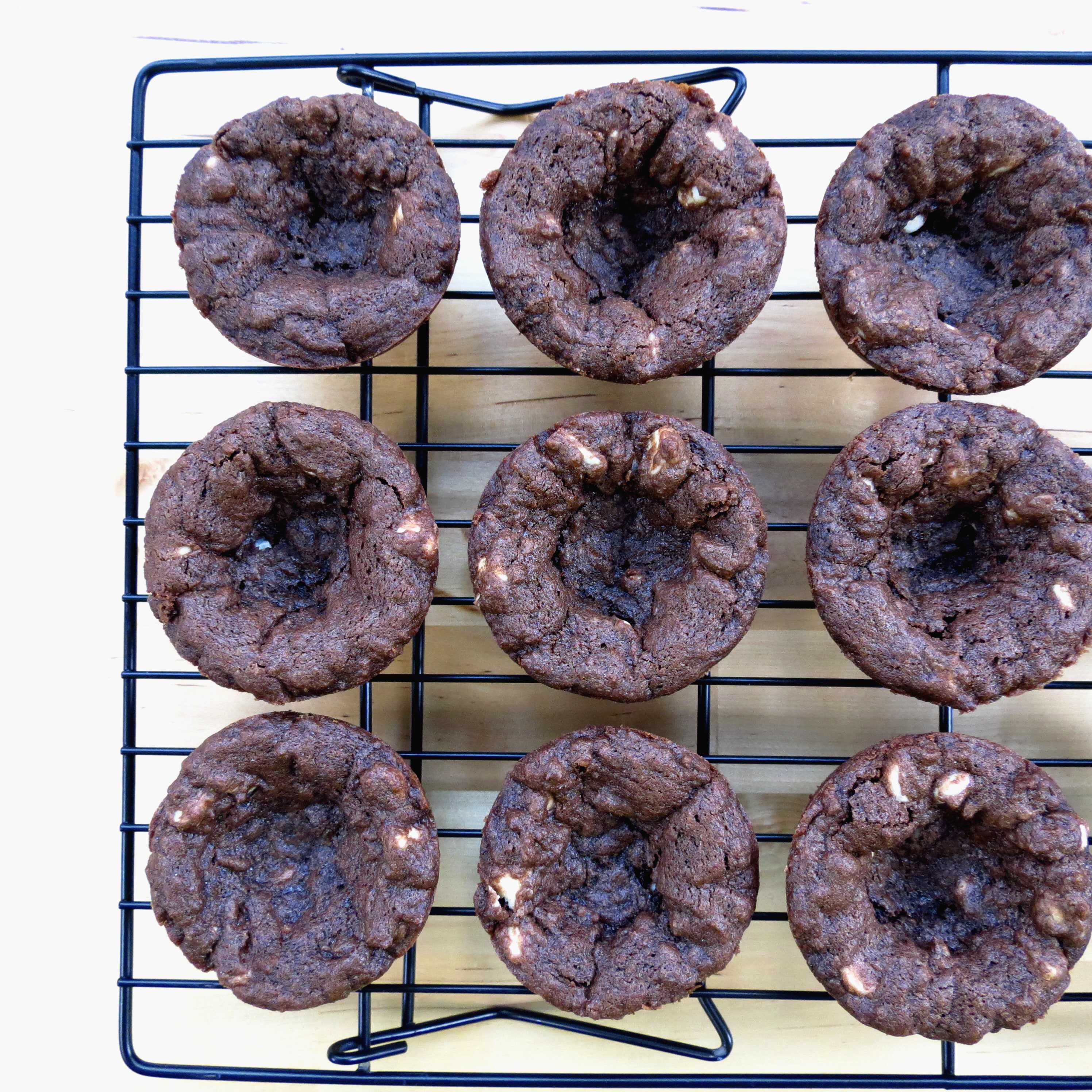 I promise you this thing tastes JUST like a cookie, and it doesn't really take any longer to make than regular cookies. The only difference between this an a regular cookie is the shape.
And you get to stuff vanilla ice cream into it, and make it all cutesy. I mean, come on.
COOKIE CUP ALL THE WAY.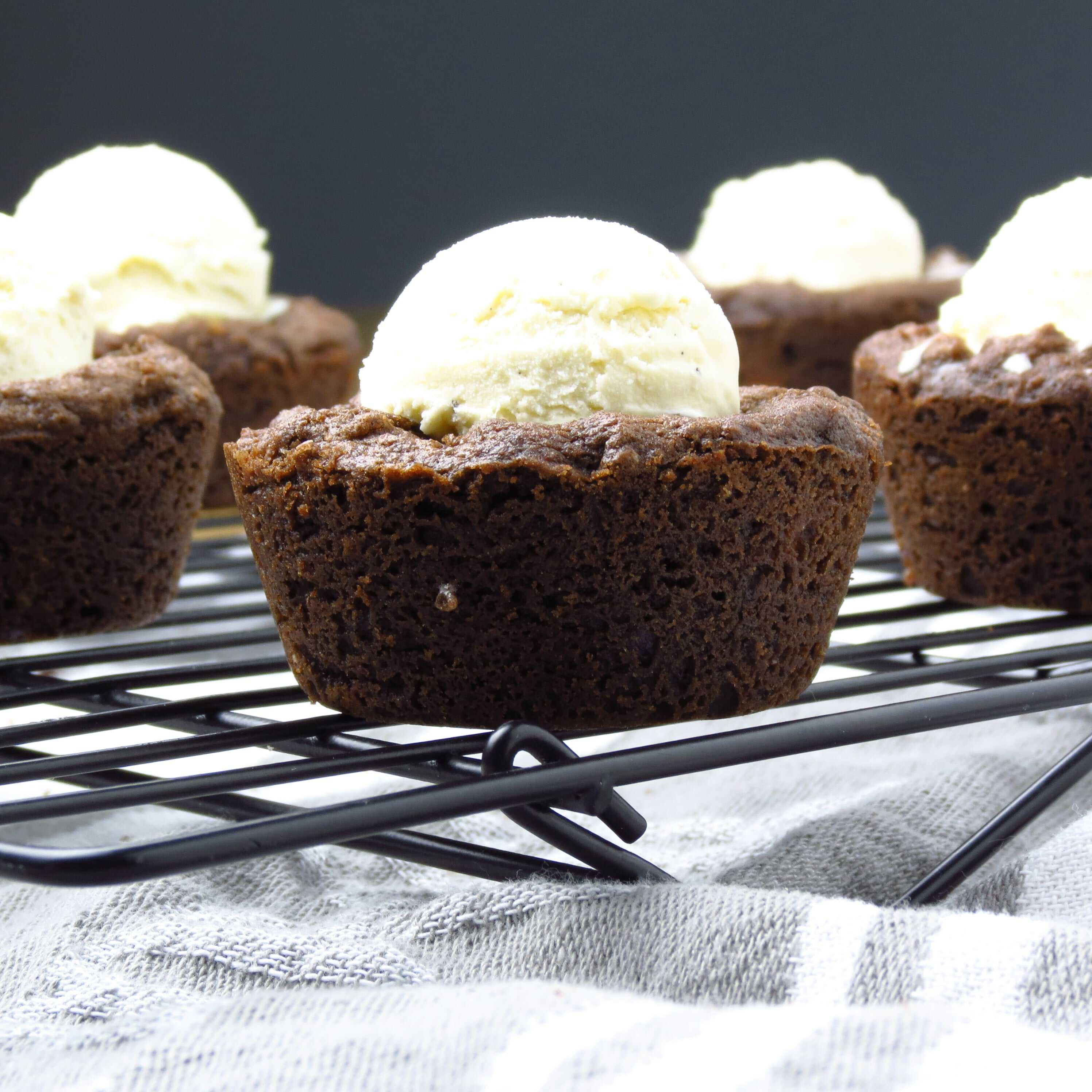 If you are curious, I topped the cookie cups with vanilla ice cream using a cookie scooper. It's the perfect size. If you don't have a cookie scooper, just stuff the ice cream into it. Nothing can go wrong at this point.
I ate SO much of these when I was photographing. But someone has got to bite into these delicious little things to capture them halfway eaten. Someone = me. 🙂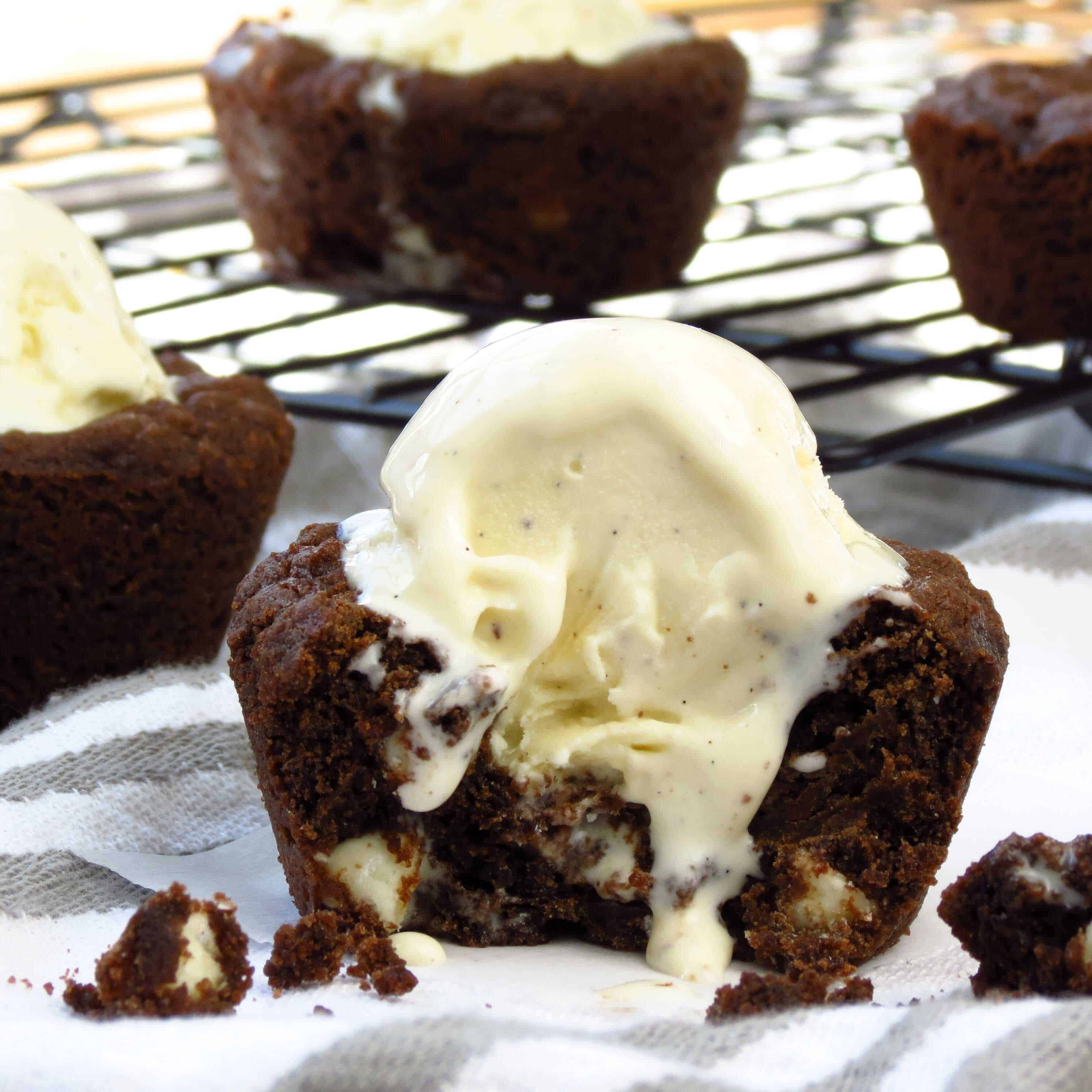 Tough life. I know.
The next time you think about making cookies, amuse us, take a chance, and make some cookie cups instead. After that, fill it up with your heart's desire. It could be ice cream, but it could be strawberries, blueberries, whipped cream, frosting… anything really. Cookie cup rule: There is no rule as to what you fill in a cookie cup.
Try this! Because cookie cups are just way more fun.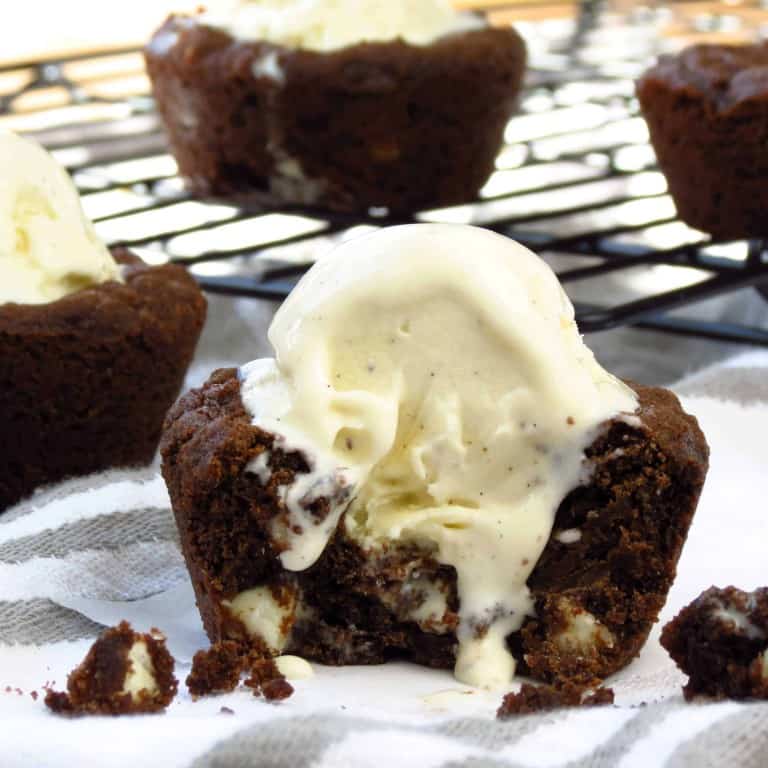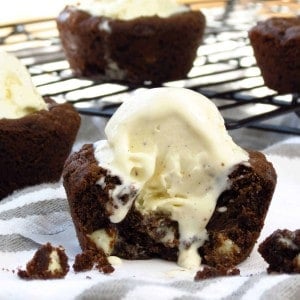 Mint Chocolate Cookie Cup with Ice Cream
Warm, gooey mint chocolate white chocolate chip cookie, in the shape of a cup, filled with vanilla ice cream. Best way to eat a cookie EVER!
Print
Pin
Ingredients
1

cup

flour

1/2

tsp

baking soda

1/3

cup

cocoa powder

1/4

cup

sugar

1/2

cup

brown sugar

1

egg

1/2

tsp

vanilla extract

1/2

tsp

mint extract

1/2

cup

unsalted butter

softened

1/2

tsp

2% milk

1

cup

white or mint chocolate chips

vegetable oil

vanilla ice cream
Instructions
Pre-heat oven to 350 degrees F

Mix together dry ingredients - flour, baking soda, and cocoa powder. Mix together wet ingredients - sugar, brown sugar, egg, vanilla extract, mint extract, unsalted butter, and milk. Slowly add dry ingredients to wet ingredients. Then fold in white or mint chocolate chips.

Grease each muffin cup in muffin tin with vegetable oil.

Scope ~2 tablespoon of dough into each muffin cups, and fill it to almost full. Gently create a hole in the middle of the dough.

Bake in oven for 12-14 minutes.

Remove muffin tin from oven and and cool for 10-15 minutes. The middle of the cookie should sink in creating a "cup" shape. Then remove each cookie cup from the muffin tin, and cool further on the drying rack.

Add vanilla ice cream onto the cookie cup. Serve and enjoy!
Nutrition
Calories:
305
kcal
|
Carbohydrates:
38
g
|
Protein:
4
g
|
Fat:
16
g
|
Saturated Fat:
10
g
|
Polyunsaturated Fat:
1
g
|
Monounsaturated Fat:
4
g
|
Trans Fat:
1
g
|
Cholesterol:
63
mg
|
Sodium:
108
mg
|
Potassium:
199
mg
|
Fiber:
2
g
|
Sugar:
27
g
|
Vitamin A:
534
IU
|
Vitamin C:
1
mg
|
Calcium:
101
mg
|
Iron:
1
mg