English Muffin Breakfast Sandwich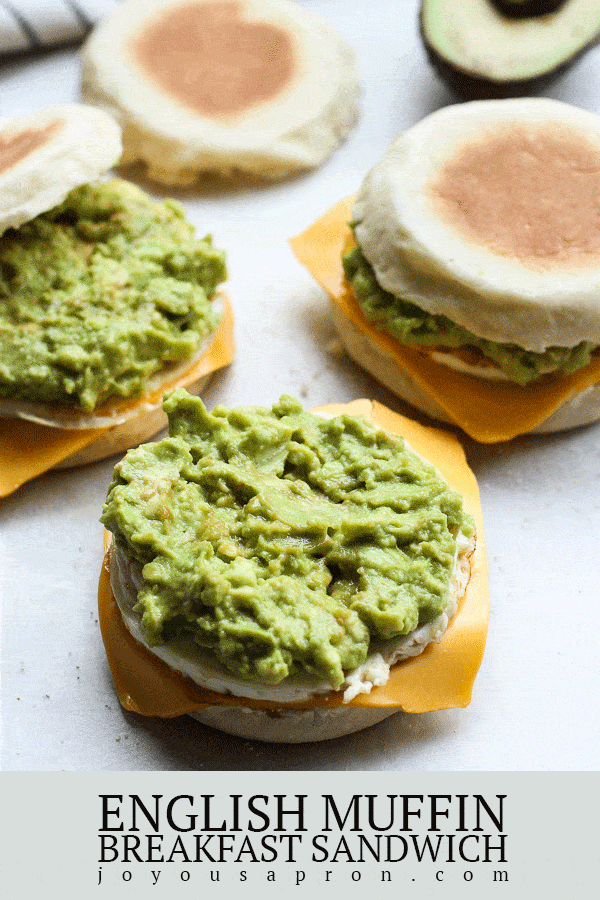 They say breakfast is the most important meal of the day, so let's do this breakfast thing right with this delicious English Muffin Breakfast Sandwich, where avocado, egg and cheese are sandwiched between two slices of toasted english muffin.
Perfect for a lazy weekend, or meal prep it and grab and go on busy mornings!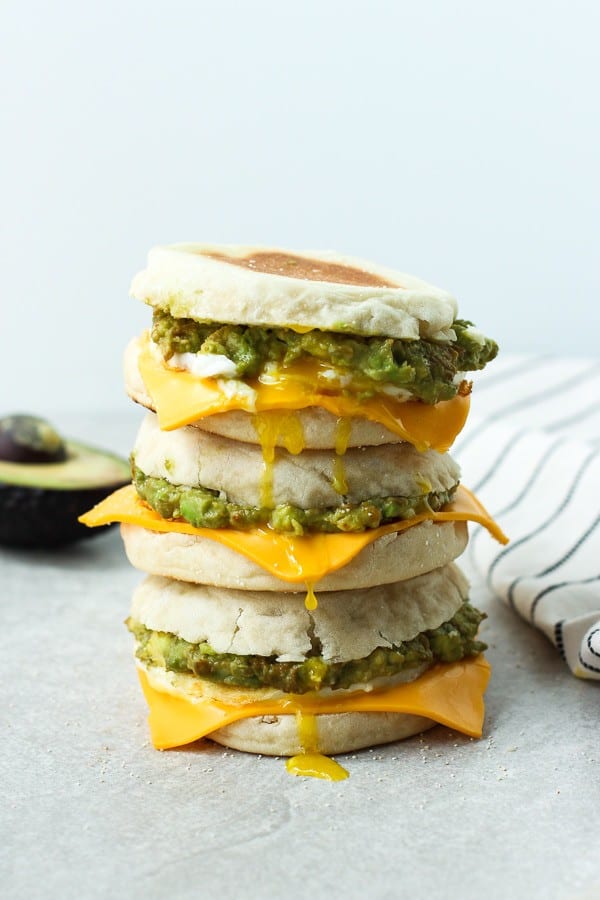 Avocado Egg Cheese English Muffin Breakfast Sandwich
This English Muffin Breakfast Sandwich is inspired by a combination of avocado toast and McDonald's egg muffin sandwich.
It is definitely my favorite way to put together a breakfast sandwich when I want to indulge in a hearty breakfast and brunch.
I love the beautiful combination of the creamy avocado, slightly crispy fried egg, gooey cheese, and that chewy toasted English muffin. Every bite is a party in the mouth!
In addition to being a delicious, protein-packed meal, English Muffin Breakfast Sandwich also makes a delicious make ahead breakfast option.
Make it the night before, then wake up and reheat your sandwich (20 seconds of your blurry morning life), eat a real and healthy-ish breakfast with lots of protein that will keep you full and ready to face the day.
English Muffin Avocado Egg Breakfast Sandwich – my partner/co-conquerer of crazy mornings.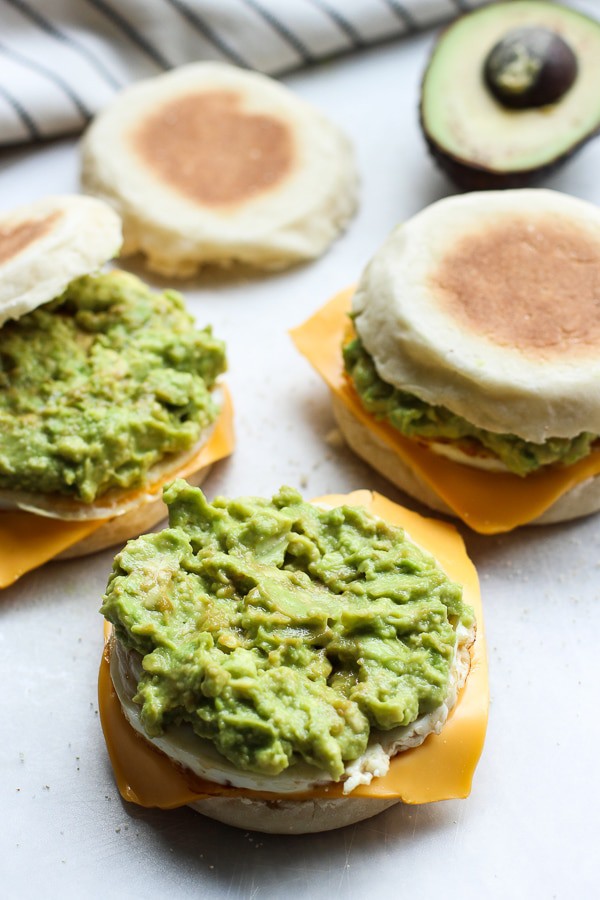 Ingredient Notes
Ready to make an English Breakfast Breakfast Sandwich? Gather up these ingredients!
English muffins – I like to lightly toast them so they are slightly crispy. I love some textures when I bite into my Avocado Egg Breakfast Sandwich!
eggs – fry them up however way you like them – sunny side up, over easy, well done etc. You can also poach or scramble them if you prefer!
avocado – we will be smashing them up, kinda like in a guacamole.
cheese – I'm using American cheese because I like how they melt easily. Feel free to use your favorite sliced cheese. Cheddar, Colby Jack, mozzarella, Swiss, provolone work great in English Muffin Breakfast Sandwiches as well!
salt – used on the smashed avocados.
cooking oil – used to cook the eggs
As you can see, it's a short list of ingredients that are super easy to find!
Tips for making a Breakfast Sandwich
English Muffin Breakfast Sandwich, or honestly sandwiches in general, are some of the easiest meals to make.
Toast the breads, sandwich those yummy goodies between two slices breads, and you've got yourself a meal you can eat using your hands. No utensils needed!
No sweat and ALL THE YUM.
However, if you want to make your Avocado Egg English Muffin Breakfast Sandwich slightly prettier and "fancier", here are some tips to take them to the next level:
When frying the egg, flip a 3 1/2″ cookie cutter upside down (so the blade is facing upward and doesn't scratch your skillet), grease the sides of the cookie cutter and the skillet, and crack the egg into the cookie cutter to give the egg a round shape.
Add seasonings to the smashed avocados. I typically use just salt, but also feel free to add garlic powder, pepper, red pepper flakes etc to jazz it up further. Or use Everything Bagel Seasoning in place of the salt.
After toasting the muffins, bring cheese to muffins and heat it in toaster oven for 15 seconds to warm and melt cheese.
None of these are highly necessary, just a nice touch if you are in the mood for nice touches. 😉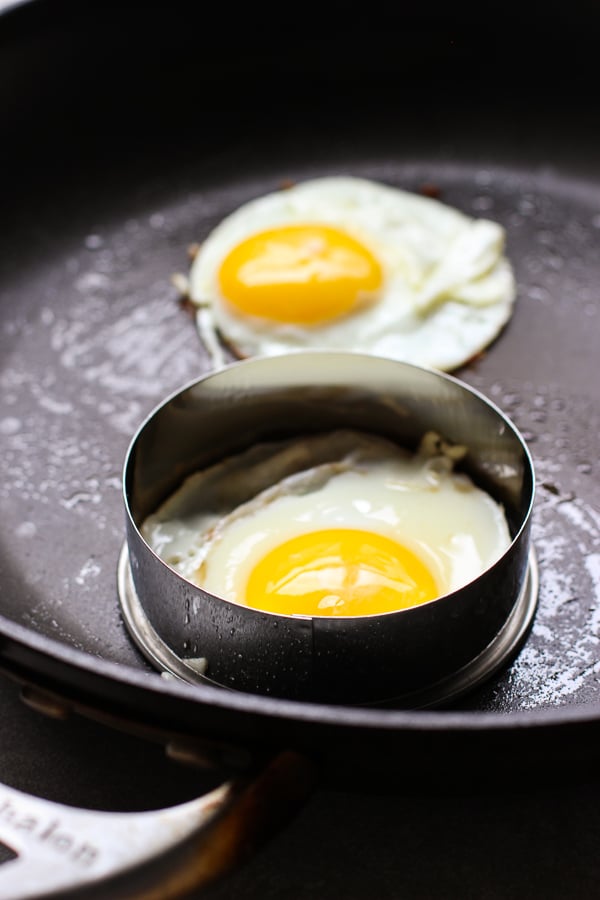 Meal Prep Instructions
Meal prep is life-changing, and gives you SO MUCH TIME back.
Whenever I prepare English Muffin Breakfast Sandwich, I make one for myself and one for my husband for breakfast, and then I buckle down and make a lot of them. Like a WHOLE lot.
Breakfast meal preps are awesome. Put in another 15-20 minutes of work, and you get breakfasts for many days.
When making ahead these Avocado Egg English Muffin Breakfast Sandwich, I typically either omit the smashed avocados for the meal prep sandwiches, or add the smashed avocados right after heating up the sandwiches and just before I'm about to consume them.
Unfortunately avocados don't keep well and they turn brown after a couple of hours once you cut into them.
I also do not toast the english muffins if I am meal prepping them and saving them for later.
When I am done making the english muffin breakfast sandwiches, I wrap them up individually in a saran wrap and keep them in the refrigerator. It keeps well for up to 3-4 days in the fridge.
When you are ready to eat them. Just unwrap them and heat them up. My husband grabs them from the fridge and brings them with him to work if he is running late. SO SO EASY.
Go conquer those busy morning with these yummies!!
Frequently Asked Questions
What other ingredients can I add to my english muffin breakfast sandwich?
I also love adding bacon, sausage, Canadian bacon, ham. If you like it spicy you can also add hot sauce to it.
Can I freeze this?
Absolutely! Make sure to omit the smashed avocados when assembling if you are freezing these sandwiches. Place them in an airtight container or freezer bag, freeze them individually (not stuck together), they should be good in the freezer for up to 6 weeks!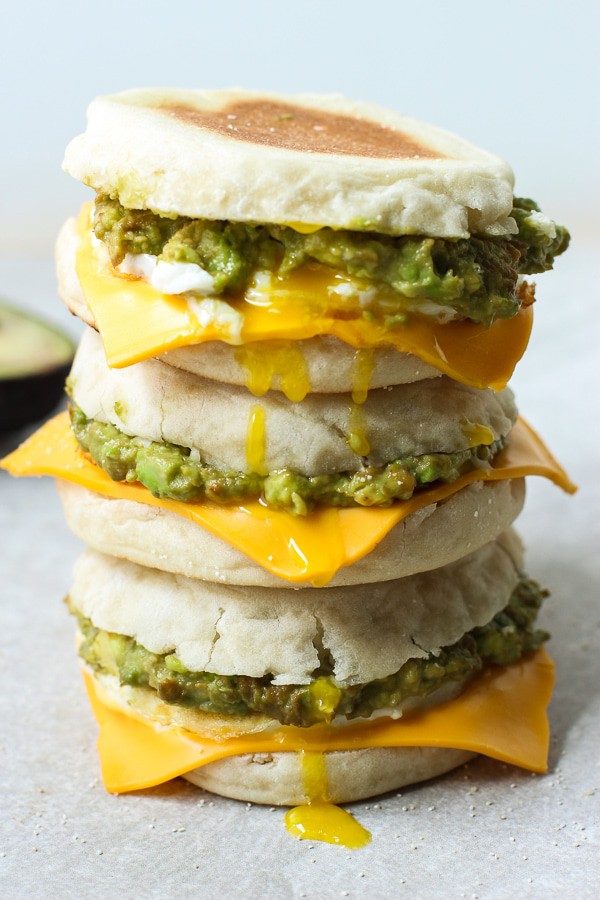 Other Easy Breakfast Ideas
These are other breakfast ideas that are simple to put together, or can be made ahead of time so your morning breakfasts are quick and easy!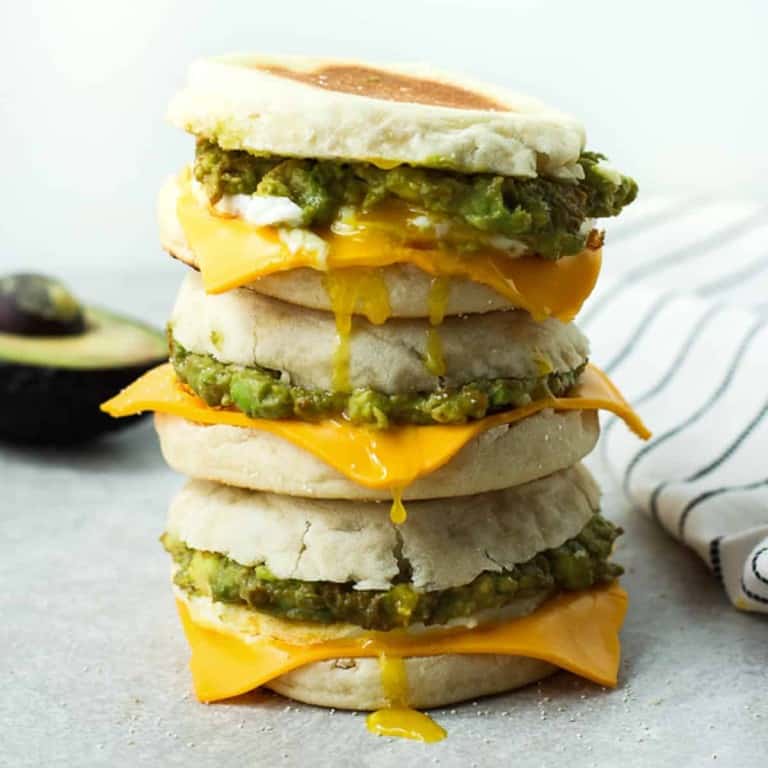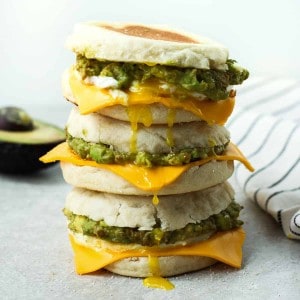 English Muffin Breakfast Sandwich
A simple and delicious breakfast, great for meal prep! Avocado, egg and cheese sandwiched between two slices of toasted english muffins.
Print
Pin
Ingredients
6

english muffins

6

eggs

6

slices

American cheese

2-3

avocados

small/medium

salt

to taste

vegetable oil
Instructions
Slice English muffins in half and toast them in toaster oven or toaster. Add a slice of cheese to english muffins. Optional: Reheat english muffins with cheese to melt the cheese.

Heat a large skillet and grease with canola/vegetable oil. Fry eggs, any style you prefer (sunny side up, over easy, well done etc).

Optional: To make the eggs round. Place a round 3 1/2" cookie cutter blade side up on the skillet, grease cookie cutter with canola/vegetable oil. Crack one egg into the cookie cutter. Remove cookie cutter as soon as one side of the egg is cooked and then flip egg over. Repeat and cook the other eggs.

Place eggs on english muffin that is topped with cheese.

Cut avocadoes in half, remove seeds, and use a spoon to scoop avocados into a bowl. Smash avocados with a fork and season with salt. Place smahed avocados on fried egg.

Place the other side of English muffins on smashed avocados
For Meal Prep
Follow the instructions above but omit toasting the English Muffin, and omit avocados (Step 5) or only do Step 5 after reheating the breakfast sandwich.

Wrap breakfast sandwich in saran wrap and keep in fridge for up to 3-4 days. When ready to eat, remove saran wrap and microwave for 20-30 seconds, or until warm. (Microwave varies).
Nutrition
Calories:
382
kcal
|
Carbohydrates:
33
g
|
Protein:
15
g
|
Fat:
22
g
|
Saturated Fat:
7
g
|
Polyunsaturated Fat:
3
g
|
Monounsaturated Fat:
10
g
|
Trans Fat:
1
g
|
Cholesterol:
185
mg
|
Sodium:
689
mg
|
Potassium:
488
mg
|
Fiber:
6
g
|
Sugar:
1
g
|
Vitamin A:
534
IU
|
Vitamin C:
7
mg
|
Calcium:
282
mg
|
Iron:
2
mg