This post may contain Amazon or other affiliate links. As an Amazon Associate I earn from qualifying purchases at no additional cost to you.
Self-proclaimed egg roll lover? I AM SO GLAD. Join us – there are lots of room in this Vietnamese Egg Rolls fan club. 😉
What are Vietnamese Egg Rolls?
Egg rolls exist in various forms, depending on the region. They are somewhat similar in concept, but vary in filling and the texture of the wrapper. I am keen on all kinds of egg rolls (egg roll lover here, duh), but I do love me some Vietnamese Egg Rolls, because it truly is unique and the flavor is amazing!
Pork, shrimp, bean thread noodles, and veggies are wrapped in a light and oh-so-crispy shell, then dipped in a classic savory, sweet sauce with an umami flavor. A party in your mouth!!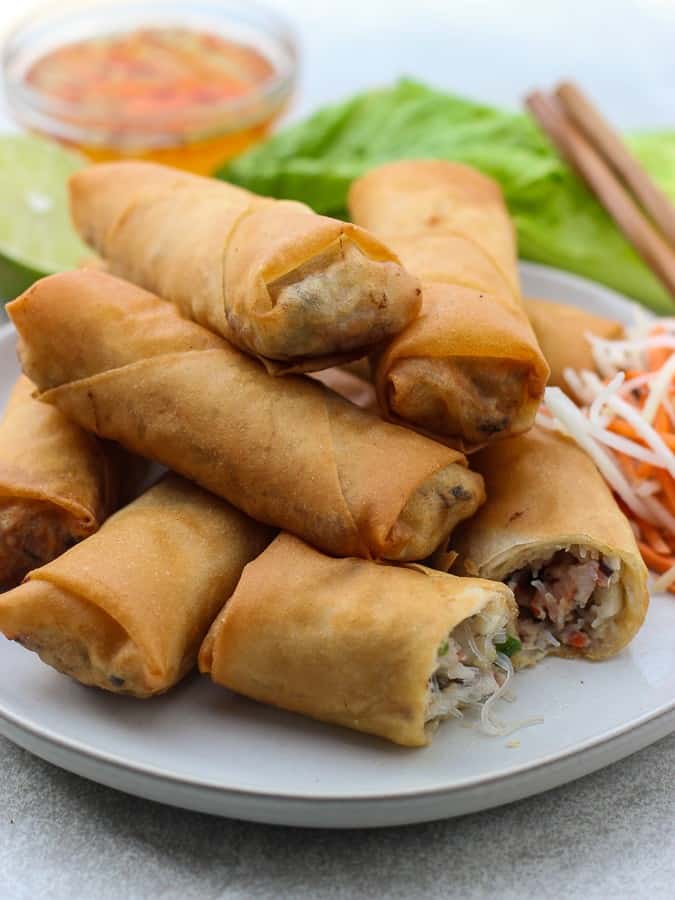 How did I learn to make Vietnamese Egg Rolls?
The party guilty of these yum things? Two lovely sisters name Katie and Natalie. This is their proud creation. It started with a recipe that was passed down in their family (a.k.a you know it is LEGIT).
They tested and tweaked it to PERFECTION many times over many years, and fed even more happy stomachs with it. Mine, being one of those lucky ones. 😉
So in other words, this is their baby. And they are kind and willing to share it with the world because they have big hearts, and they want the world to experience the beauty that is Vietnamese Egg Rolls.
Katie came over and taught me on all things Vietnamese Egg Rolls. We made so many egg rolls it fed me and my husband for multiple days.
I must say – those consequtive egg-roll-eating days were quite glorious. And I'm ready to do it all over again.
I also gained myself a shoot assistant for this recipe. The hand below – KATIE'S!!! (with no prior hand-modeling experience)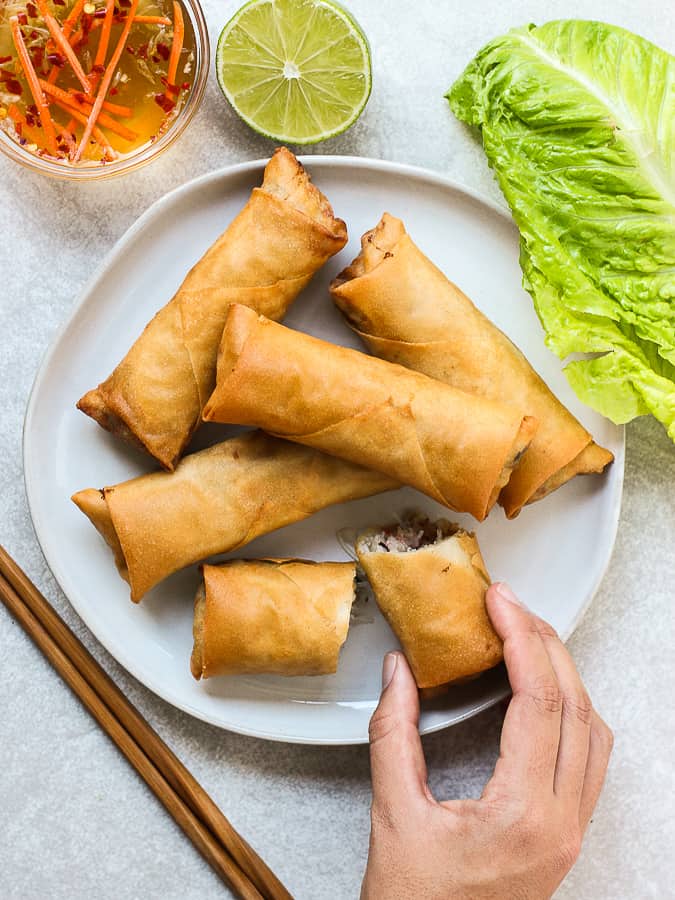 Egg Roll Wrappers – which one to buy?
If you bought egg roll wrappers in the past, you will most likely be presented with a variety of wrappers and many of them look different from each other.
For this Vietnamese Egg Roll recipe, we will be using thin wrappers and from my experience, most of them will actually be labeled "Spring Roll Wrapper" on the package, and they are found in the freezer section in most Asian grocery stores. YES! It is labeled "Spring roll wrappers". This is not a typo.
A lot of "Egg roll wrappers" are for Chinese egg rolls, which are thicker wrappers and have a bubbly texture when fried.
The spring roll wrappers are smother when fried and thiner, which is what Vietnamese egg rolls are traditionally made out of. These wrappers are somehow labeled as "spring rolls" when sold in the grocery store.
Confusing a bit…yeah…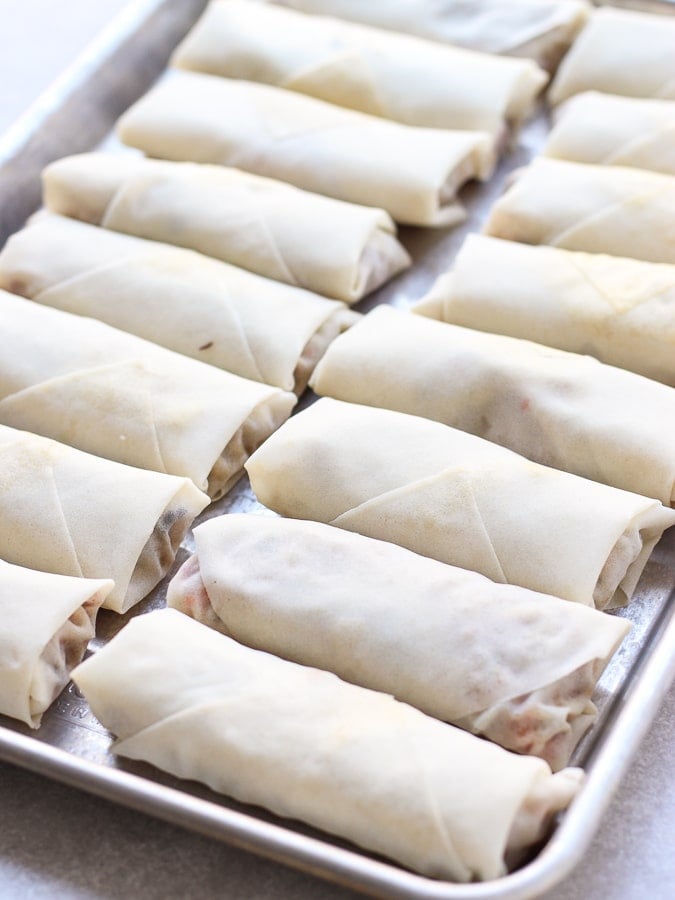 Besides the egg rolls wrappers, the other two ingredients that you will probably have to purchase at an Asian grocery store are Mung bean noodles or bean thread noodles (super thin, super fine rice noodles – sold dried) and wood ear mushrooms (many packages call them Black Fungus, with no mention of the wood ear mushrooms).
I know black fungus sounds kinda disgusting but they really are just a type of mushrooms. No fear!! It gives the egg roll filling a nice chewy/crunchy texture and a good.
If you really, really cannot deal, omit it! 🙂
How to Wrap Vietnamese Egg Rolls?
The beauty of egg rolls is that you basically chop up everything (meat, shrimp, veggies etc) and throw them into a big bowl. Then you're all set to wrap them and turn them into egg rolls.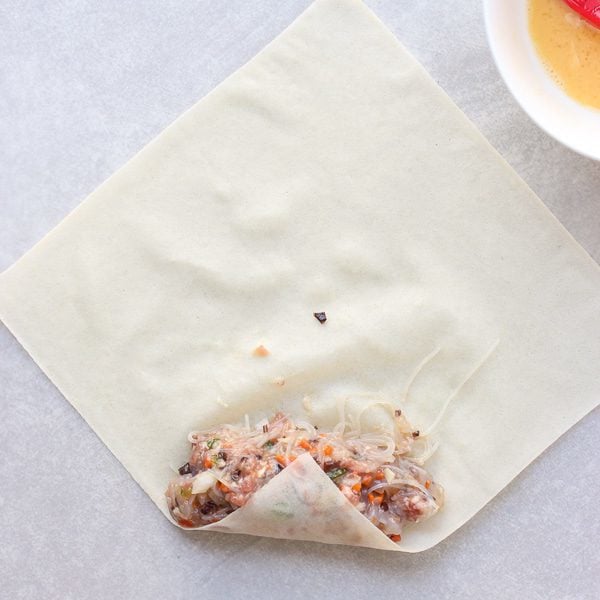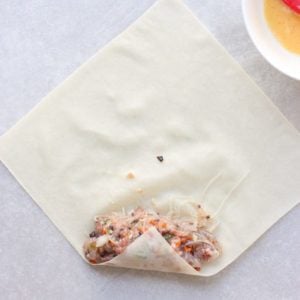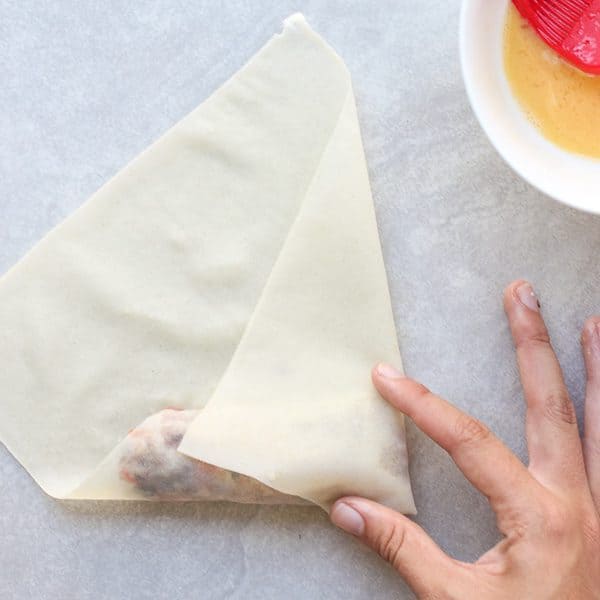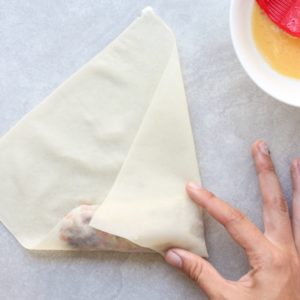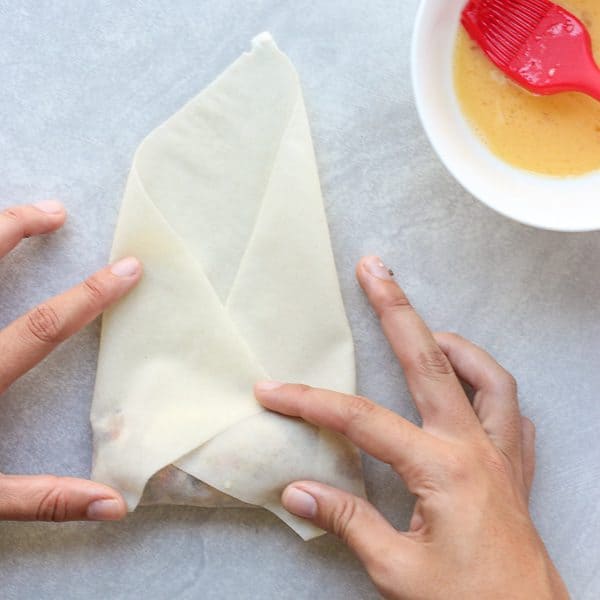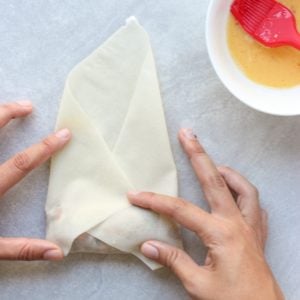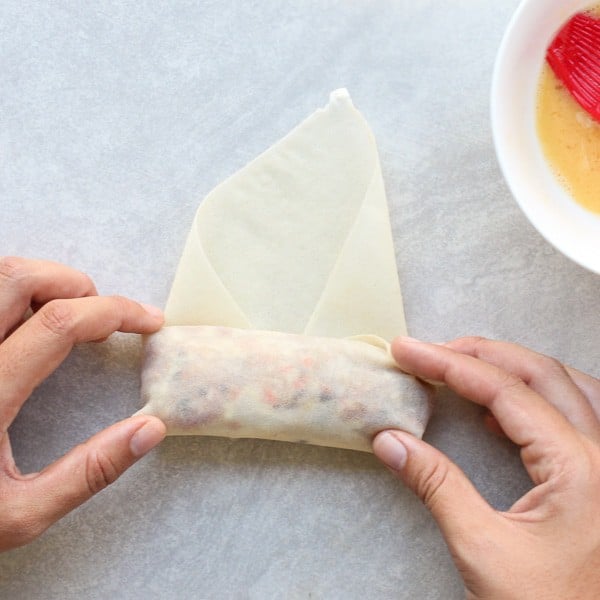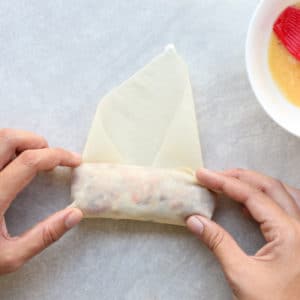 How to reheat leftover egg rolls?
This recipe will make 25-30 egg rolls. The egg rolls are yummy, but unless you have a lot of people to feed, my guess is you will not be consuming all 25-30 egg rolls in one setting despite it yumminess.
But then if eating it all at once is your thing, you are an egg-roll-eating machine and more power to you. 😉
I find that toasting leftover egg rolls in the toaster oven, or heating them in the oven, brings back the crispy shell a fresh egg roll promises, and are my favorite ways to heat up leftover Vietnamese Egg Rolls. Microwaving them will heat them up too, but they will no longer be crispy.
If you want the ultimate "taste-like-fresh experience" with leftover egg rolls, save the wrapped but un-fried egg rolls in the freezer. When you are ready to consume them, defrost them completely, then fry them up!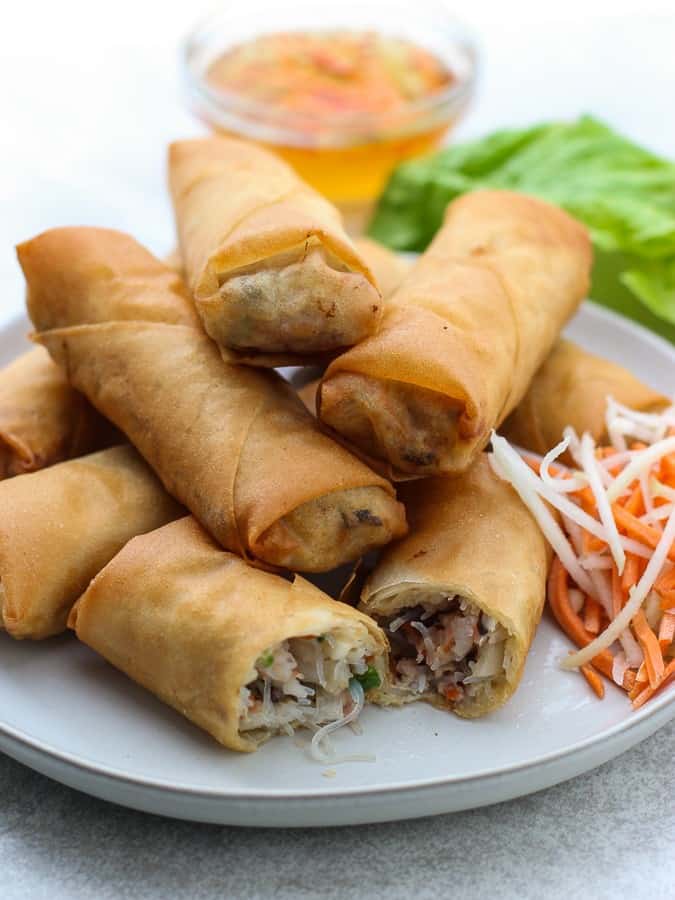 The Sauce, a.k.a. Nouc Mam Sauce
That little bowl with yummy sauce-looking stuff in it? That is call Nouc Mam Sauce, or aka, THE SAUCE. I love me a good sauce, and in my humble opinion, no egg roll is complete without its sidekick, THE SAUCE.
Simply toss fish sauce, lime juice, brown sugar, water, garlic, and red pepper flakes into a jar and shake it up. It's a watery, not thick, sauce. Throw some shredded carrots in there if you like. That's how they do it in a lots of restaurants, but it doesn't add or take away the taste.
Then dip those egg rolls into THE SAUCE like your life depends on it.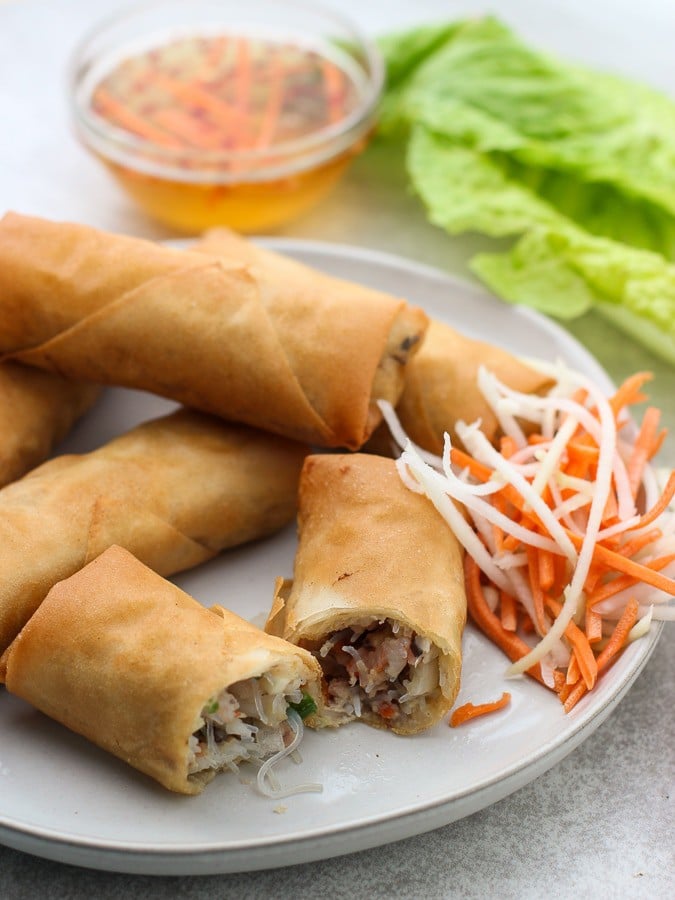 Okay, Egg roll party-people – there you have it. Vietnamese Egg Rolls – life-changing and necessary in your egg roll-eating adventure. On top of that, it is so fun to make. So, whatcha waiting for? Grab your egg-roll-loving peeps, make some egg rolls, and eat your heart out.
If you make this recipe, PLEASE let me know how it goes in the comment box below, and share pictures of your creations on instagram by tagging #joyousapron! And while you are there, don't forget to follow me!
Another Vietnamese Favorite
If you love this, you might also enjoy another authentic Vietnamese dish, one of my all time favorites on the blog – Vietnamese Noodle Bowl with Grilled Pork!
More Asian-inspired starters/appetizers on the blog!