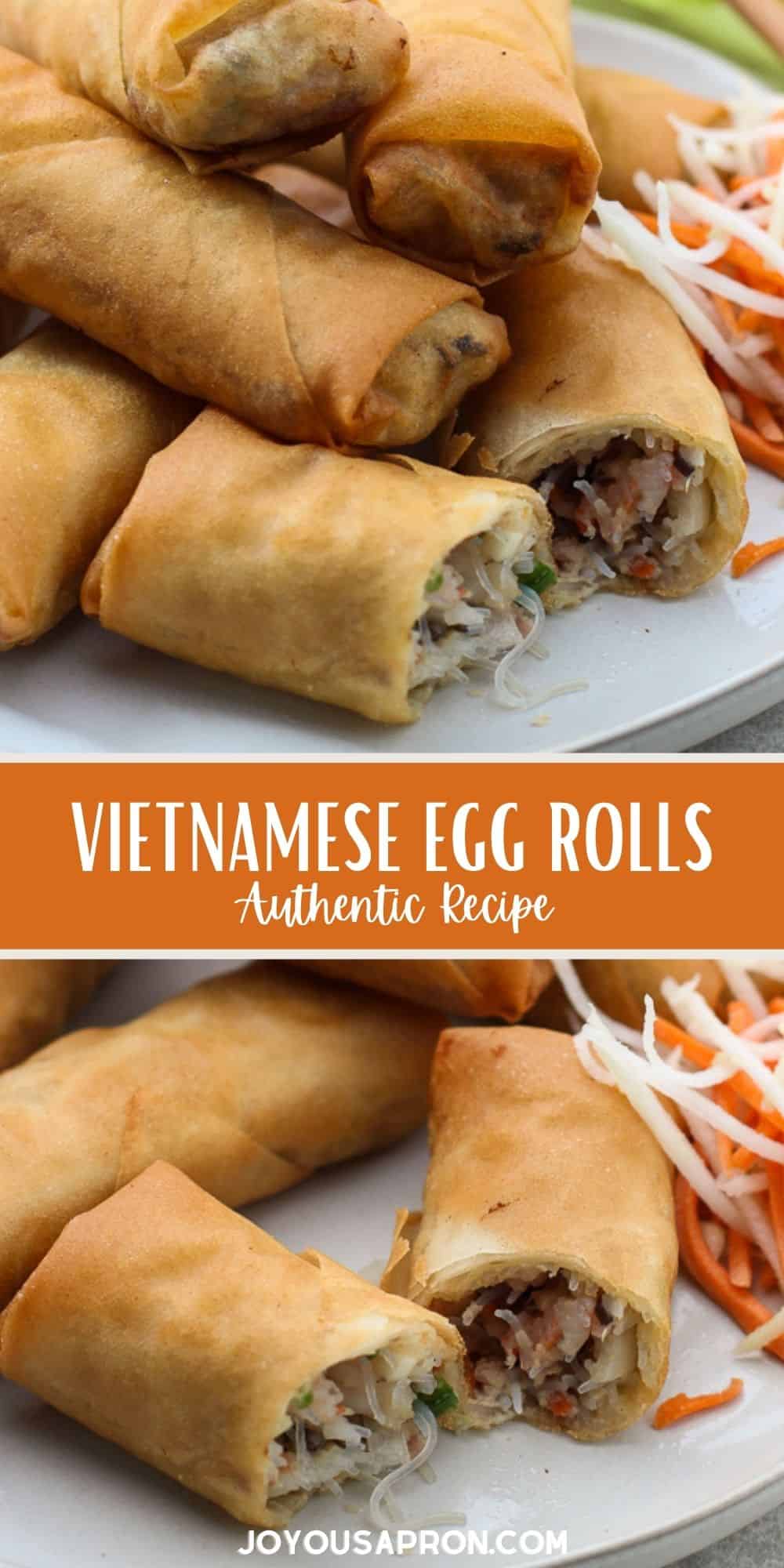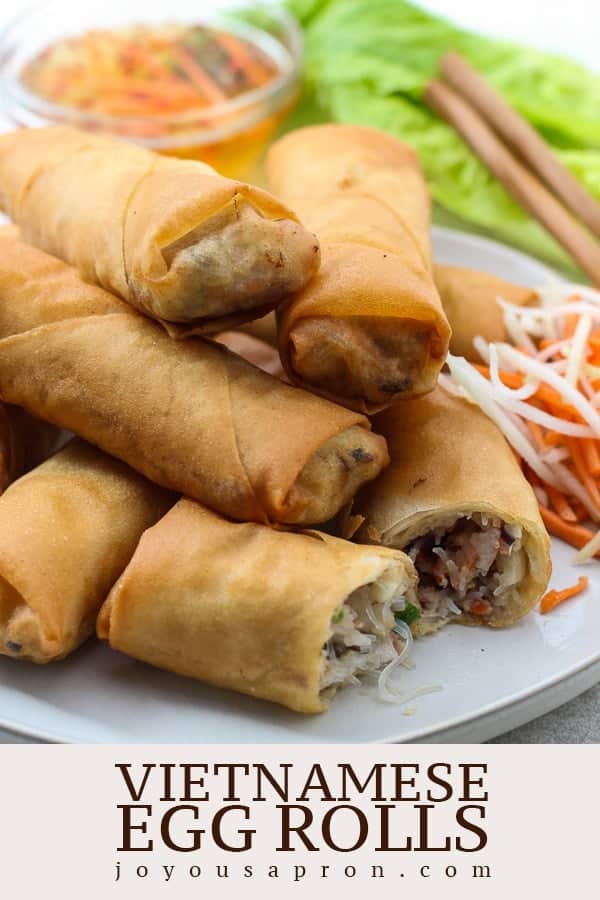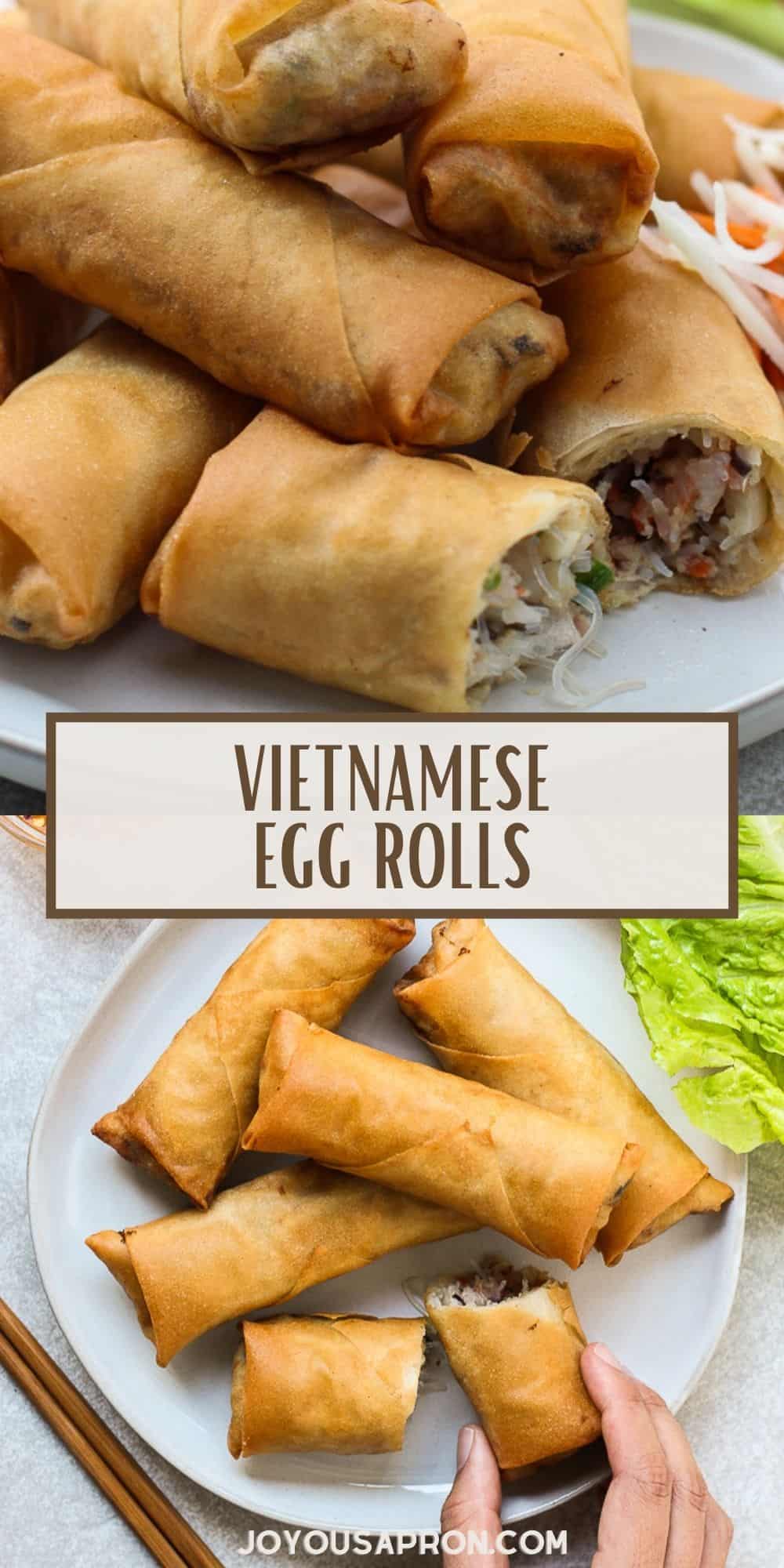 Vietnamese Egg Rolls, also called Cha Gio is a classic and popular Vietnamese recipe. These egg rolls are crispy on the outside, and wrapped with pork, shrimp, mung bean thread noodles, mushrooms and veggies. They typically served with a delicious fish sauce based dipping sauce.
This recipe post will provide you with step-by-step instructions on how to make an authentic and delicious Vietnamese egg rolls (Chao Gio).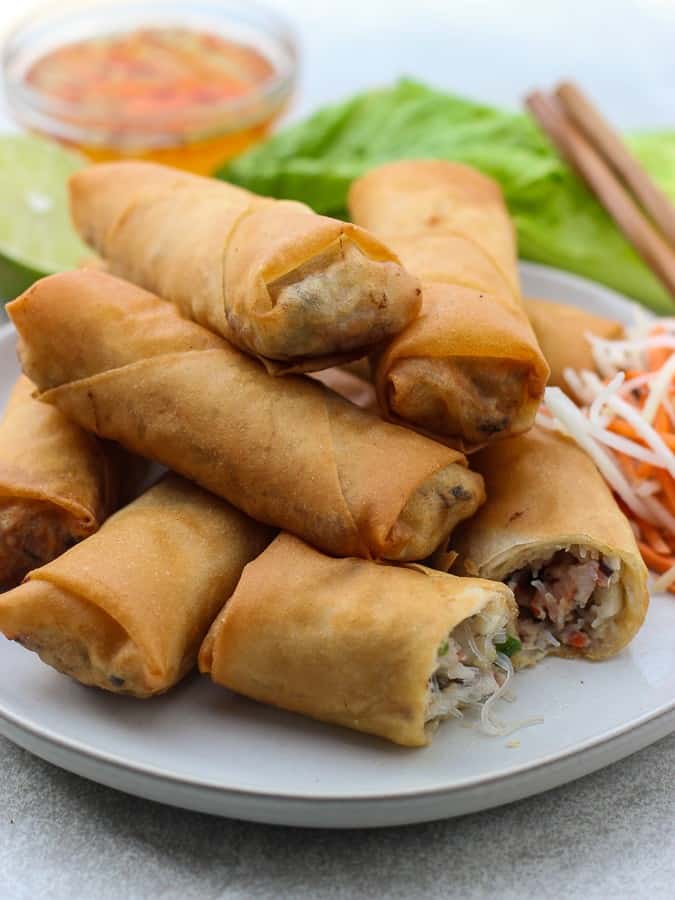 What are Vietnamese Egg Rolls (Cha Gio)?
Egg rolls exist in various forms, depending on the region. They are somewhat similar in concept, but vary in filling and the texture of the wrapper.
I am keen on all kinds of egg rolls (egg roll lover here, duh), but I do love me some Vietnamese Egg Rolls, or also called Cha Gio, because it truly is unique and the flavor is amazing!
There are many versions of Vietnamese egg rolls. I learned this version from a Vietnamese friend and it has become my go-to v ersion.
Ground pork, shrimp, bean thread noodles, and veggies are wrapped in a light and oh-so-crispy shell, then dipped in a classic savory, sweet sauce with an umami flavor. A party in your mouth!!
If you like this Vietnamese Egg Rolls, be sure to also check out Vietnamese Vermicelli Noodle Bowl recipe – one of my most popular recipe on the blog, and goes AMAZING with these Vietnamese egg rolls.
Homemade Vietnamese Egg Rolls (Cha Gio)
The party guilty of these yum things? Two lovely sisters name Katie and Natalie. This is a recipe that was passed down in their family (a.k.a you know it is LEGIT).
They tested and tweaked it to PERFECTION many times over many years, and fed even more happy stomachs with it. Mine, being one of those lucky ones. 😉
So in other words, this is their baby. And they are kind and willing to share it with the world because they have big hearts, and they want the world to experience the beauty that is Vietnamese Egg Rolls.
Katie came over and taught me on all things Vietnamese Egg Rolls. We made so many Cha Gio it fed me and my husband for multiple days.
I must say – those consequtive egg-roll-eating days were quite glorious. And I'm ready to do it all over again.
I also gained myself a shoot assistant for this recipe. The hand below – KATIE'S!!! (with no prior hand-modeling experience)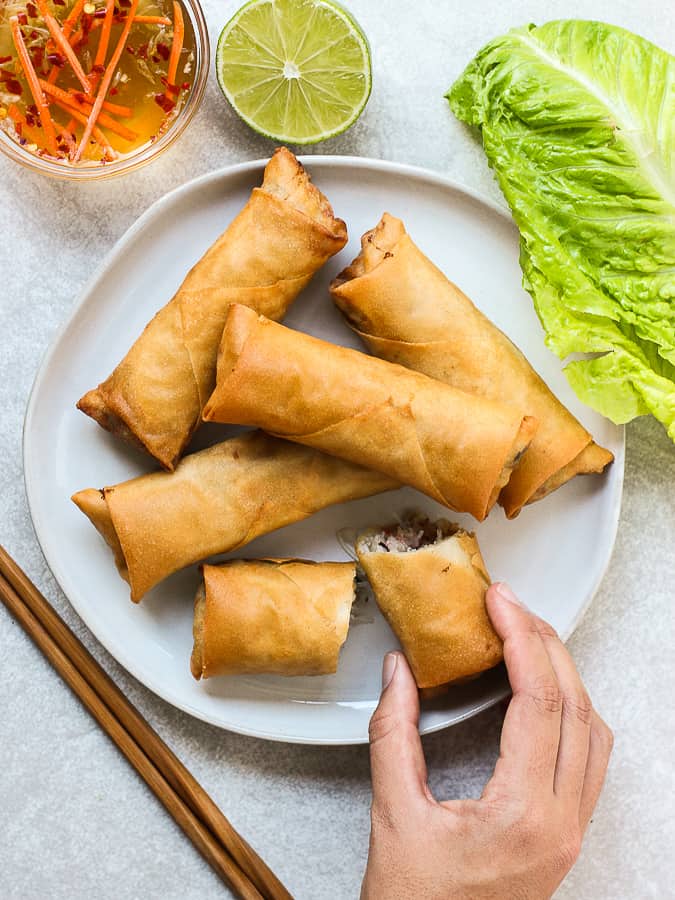 Egg Roll Wrappers – which one to buy?
If you bought egg roll wrappers in the past, you will most likely be presented with a variety of wrappers and many of them look different from each other.
For this Vietnamese Egg Roll (Cha Gio) recipe, we will be using thin wrappers and from my experience, most of them will actually be labeled "Spring Roll Wrapper" on the package, and they are found in the freezer section in most Asian grocery stores. YES! It is labeled "Spring roll wrappers". This is not a typo.
A lot of "Egg roll wrappers" are for Chinese egg rolls, which are thicker wrappers and have a bubbly texture when fried.
The spring roll wrappers are smother when fried and thiner, which is what Vietnamese egg rolls are traditionally made out of. These wrappers are somehow labeled as "spring rolls" when sold in the grocery store.
Confusing a bit…yeah…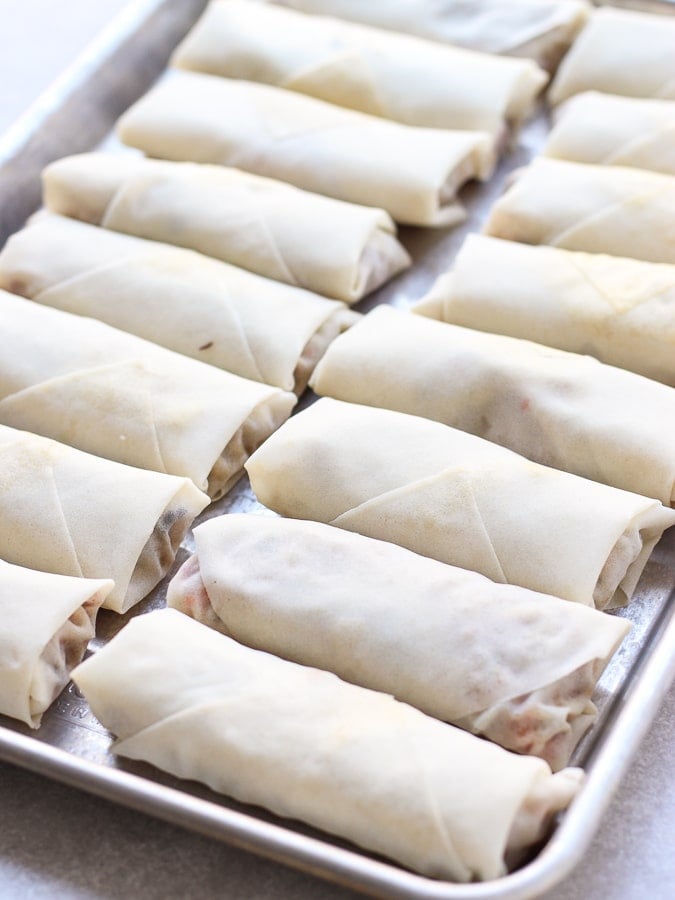 Other Ingredients
Besides the egg rolls wrappers, the other two ingredients that you will probably have to purchase at an Asian grocery store to make Vietnamese Egg Rolls are:
mung bean noodles or bean thread noodles – super thin, super fine rice noodles that are sold dried
wood ear mushrooms – many packages call them Black Fungus, with no mention of the wood ear mushrooms. I know black fungus sounds kinda disgusting but they really are just a type of mushrooms. No fear!! It gives the egg roll filling a nice chewy/crunchy texture and a good. And if you really, really cannot deal, omit it! 🙂
And here are the rest of the other key ingredients – all of which you should be able to find in a regular grocery store:
ground pork
shrimp
fish sauce – a must! Used widely in Vietnamese cooking. It has a strong scent but when it is cooked it brings amazing umami flavors to dishes
granulated sugar
garlic – use fresh garlic, avoid substituting with garlic powder
yellow onion
eggs
shredded carrots
jalapeño
How to Roll Vietnamese Egg Rolls?
The beauty of the fillings in Cha Gio is that you basically chop up everything (meat, shrimp, veggies etc) and throw them into a big bowl. Then you're all set to wrap them and roll them into egg rolls.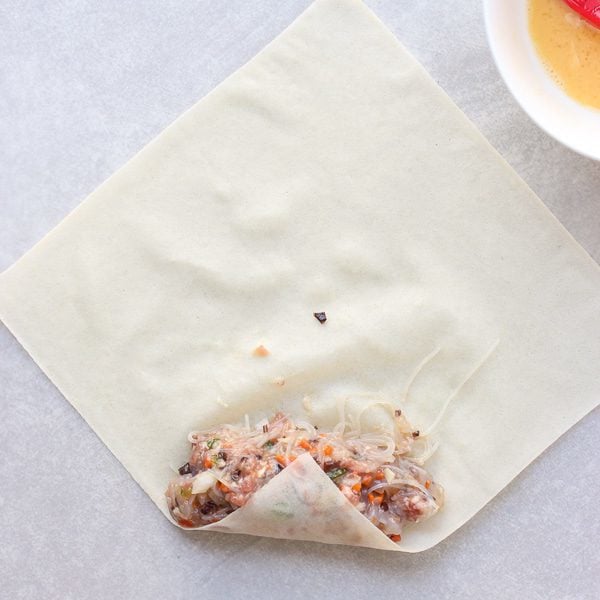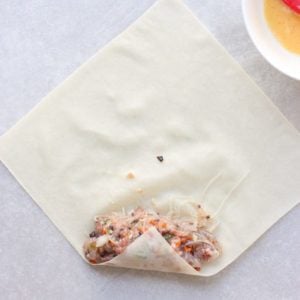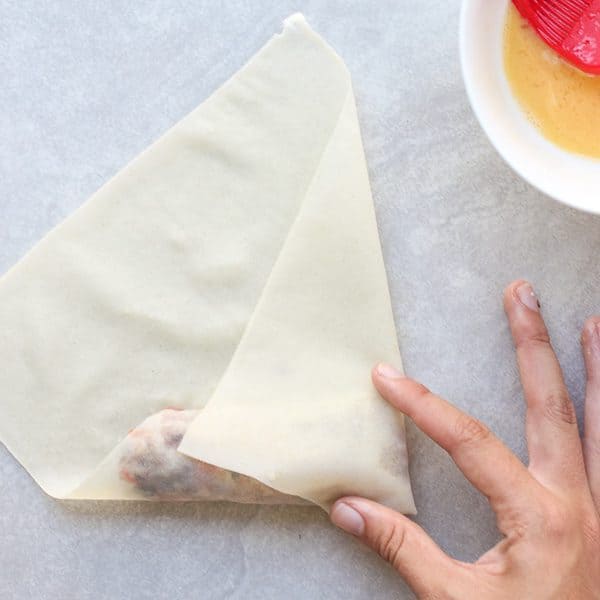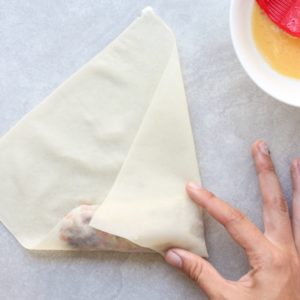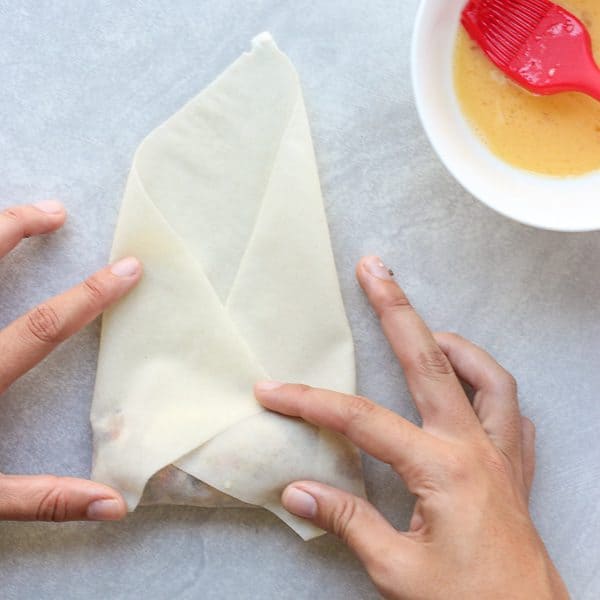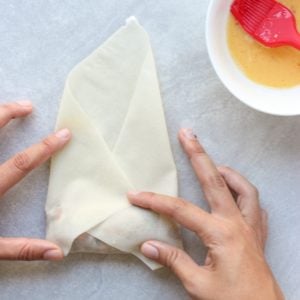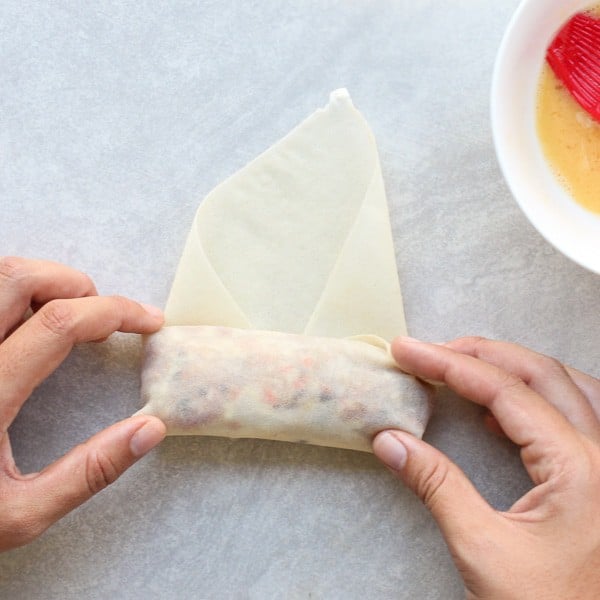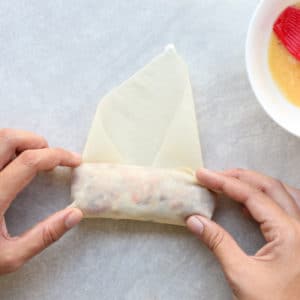 How to reheat leftover egg rolls?
This recipe will make 25-30 Vietnamese egg rolls. The egg rolls are yummy, but unless you have a lot of people to feed, my guess is you will not be consuming all 25-30 egg rolls in one setting despite it yumminess.
But then if eating it all at once is your thing, you are an egg-roll-eating machine and more power to you. 😉
I find that toasting leftover Cha Gio in the toaster oven, or heating them in the oven, brings back the crispy shell a fresh egg roll promises, and are my favorite ways to heat up leftover Vietnamese Egg Rolls. Microwaving them will heat them up too, but they will no longer be crispy.
If you want the ultimate "taste-like-fresh experience" with leftover Vietnamese Egg Rolls, save the wrapped but un-fried egg rolls in the freezer. When you are ready to consume them, defrost them completely, then fry them up!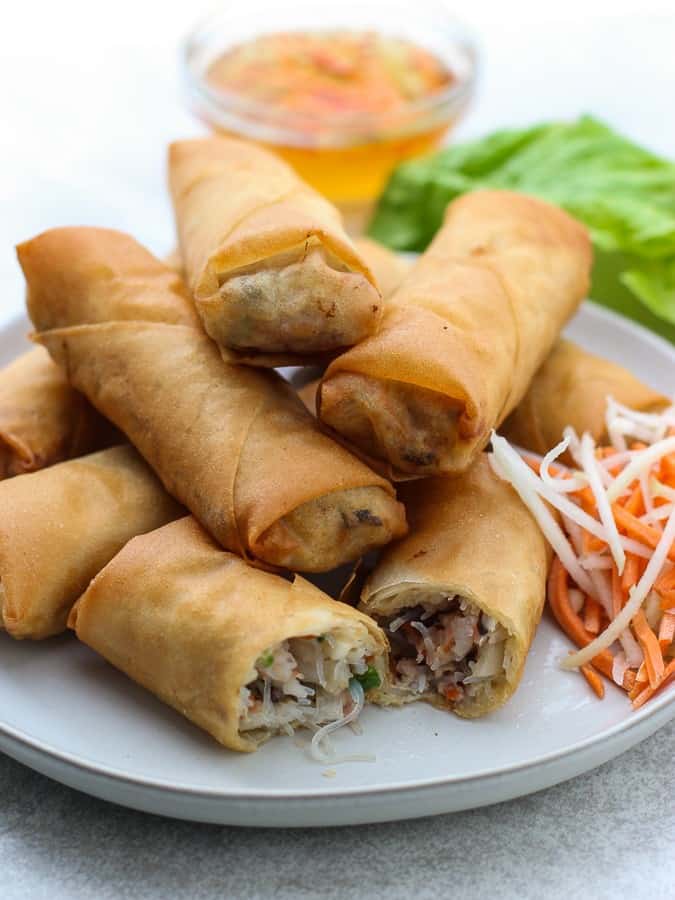 The Sauce, a.k.a. Nouc Mam Sauce
That little bowl with yummy sauce-looking stuff in it? That is call Nouc Mam Sauce, or aka, THE SAUCE.
I love me a good sauce, and in my humble opinion, no Cha Gio is complete without its sidekick, THE SAUCE.
Simply toss fish sauce, lime juice, brown sugar, water, garlic, and red pepper flakes into a jar and shake it up. It's a watery, not thick, sauce.
Throw some shredded carrots in there if you like. That's how they do it in a lots of restaurants, but it doesn't add or take away the taste.
Then dip those egg rolls into THE SAUCE like your life depends on it.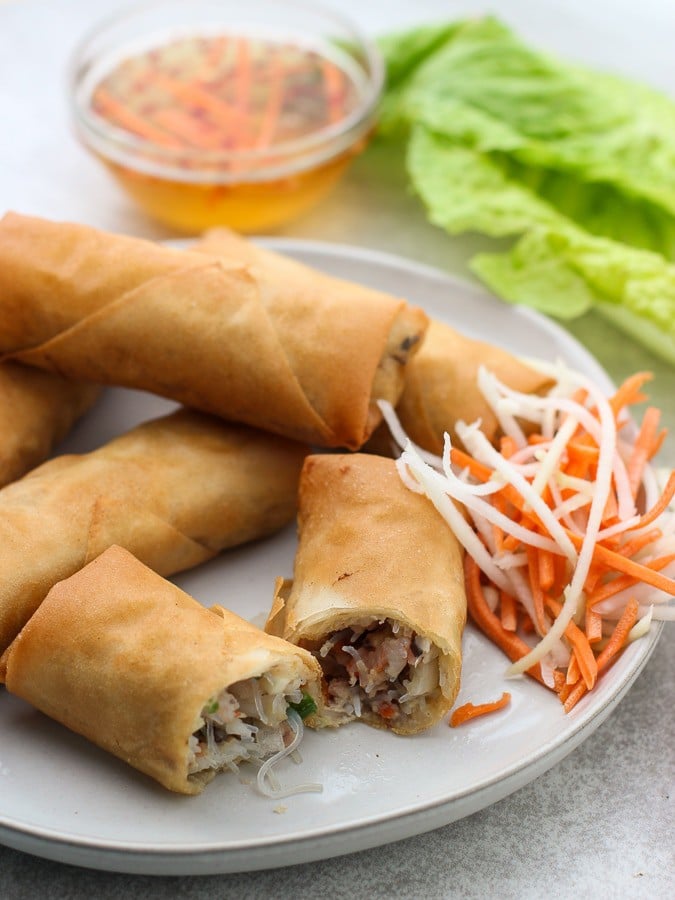 Okay, Egg roll party-people – there you have it. Vietnamese Egg Rolls – life-changing and necessary in your egg roll-eating adventure. On top of that, it is so fun to make.
So, whatcha waiting for? Grab your egg-roll-loving peeps, make some egg rolls, and eat your heart out.
Frequently Asked Questions
How do I make this vegetarian?
Omit shrimp and pork and fill the egg rolls with more of the other ingredients.
Can I air fry these Vietnamese egg rolls?
Yes you can but it will not be as crispy and delicious as oil fry (in my humble opinion). To air fry, set air fryer to 350℉ and air fry for 5 minutes, flip, and air fry the other side for another 5 minutes, or until the raw meat and shrimp are completely cooked.
How do I make ahead these egg rolls?
To make ahead, wrap egg rolls and freeze them (make sure they do not stick to each other when freezing). Then bring to a defrost and deep fried them, or deep fried them frozen for a longer time.
Can I freeze cooked egg rolls?
Yes you can! Make sure that they are cooled before freezing.
DID YOU ENJOY THIS RECIPE? Please comment below and give us a 5-star rating! This will help others find this recipe on Google and Pinterest. We very much appreciate your help! 🤍
Another Vietnamese Favorite
If you love this, you might also enjoy another authentic Vietnamese dish, one of my all time favorites on the blog – Vietnamese Noodle Bowl with Grilled Pork!
More Asian-inspired starters/appetizers on the blog!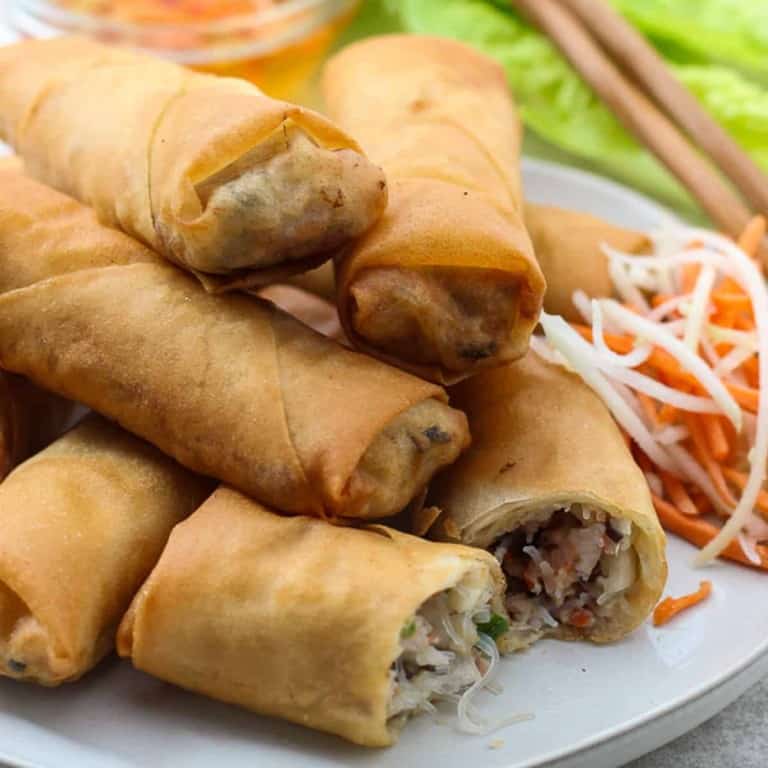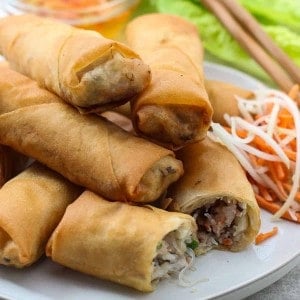 Vietnamese Egg Rolls (Cha Gio)
Authentic Vietnamese Egg Roll (Cha Gio) recipe! Crunchy egg rolls with a flavorful filling made with shrimp, ground pork, bean thread noodles, wood ear mushrooms and veggies. Serve with Nouc Mam sauce!
Print
Pin
Ingredients
1 1/4

lbs

ground pork

1

lbs

shrimp

1

tbsp

sugar

3-4

tbsp

fish sauce

1/4

tsp

ground black pepper

1/2

tsp

salt

6-8

cloves

garlic

1

large

yellow onion

4

eggs

2

small bundles

Mung Bean noodles (bean thread noodles)

~4oz

1/2

cup

Wood ear mushroom (black fungus)

1/2

cup

shredded carrots

1

jalepeno

25-30

8″ x 8″ spring roll wrappers

A few

cups

canola oil
Nounc Man Sauce
1/3

cup

fish sauce

1/3

cup

sugar

2

cups

water

1

clove

garlic

minced

1/4-1/2

tsp

red pepper flakes
Instructions
Soak wood ear mushrooms (black fungus) in warm/hot water for 15-20 minutes until they soften.

Mince garlic; Chop carrots, jalapeño, shrimp and soaked/softened wood ear mushrooms into small pieces.

Cut off 1/4 of the onion and set aside (for deep frying later), and mince the rest of the onion.

In a large bowl, combine minced garlic, chopped carrots, chopped jalapeño, chopped shrimp, chopped wood ear mushrooms, minced garlic, minced onions, ground pork, sugar, fish sauce, black pepper, salt, and 3 eggs (not 4, the other one is used later as egg wash).

Boil water in a pot and once the water is boiled, add bean thread noodles for 15-20 seconds to soften noodles. Do not overcook as they will become soggy. Remove promtply and rinse with cold water to prevent them from sticking together and overcooking. Add noodles to the large bowl and combine with the other ingredients.

Wrapping the egg rolls: Beat up the other egg in a small bowl to use as an egg wash. Make sure spring roll wrappers are completely defrost before use (it doesn't take long!).

Gently remove one wrapper and set it in front of you – it should sit in front of you in the shape of a diamond. Place 1/4 cup of mixture from the large bowl on the bottom corner, then fold the bottom corner over to cover the top of the mixture.

Roll egg roll over once, then fold the right corner over.

Next, fold the left corner over.

Continue rolling egg roll until it is completely wrapped. Dab some egg wash on and under the envelope-looking fold to seal the egg roll.

Repeat Step 7-11 until all the filling is done. Should yield 25-30 egg rolls.

Heat up a few cups of oil in a pot (we will be deep frying the egg rolls so use enough oil to submerge an egg roll), along with the 1/4 onion that was set aside earlier, until temperature reaches 345-355 degree F.

Fry a few egg rolls at a time, and avoid overcrowding the egg rolls in the pot. Egg rolls will take ~4-7 minutes to fry, and it should be slightly golden brown after frying. Keep an eye on the eggrolls and use tongs to flip them onto the other side every now and then. You will be frying in multiple batches unless you have very large pot. (See notes for more tips)

Remove egg rolls when done and set it on a paper towel to absorb access oil. Let it cool for a few minutes.

While waiting for the egg rolls to cool, combine all ingredients for Nouc Mam sauce together to make the sauce.

Serve Vietnamese Egg Rolls with Nounc Mam sauce – enjoy!
Notes
Egg Roll frying tips:
Cook under medium to medium high heat. However, as the oil gets hotter, lower the temperature slightly.
If you do not have a thermometer – when the onion bubbles up and sizzles intensely, oil should be hot enough! Once that happens, test out an eggroll. Gently place it in the pot – if it sounds nice and sizzly, add in 2 or 3 more depending on the size of your pot.
The first batch may not brown the way you might expect but the batches will get browner as you go (as the oil gets hotter). Also the onion will start to get really burnt so take out the pieces when you notice they're looking black as death. 🙂
Nutrition
Calories:
238
kcal
|
Carbohydrates:
16
g
|
Protein:
10
g
|
Fat:
15
g
|
Saturated Fat:
3
g
|
Polyunsaturated Fat:
3
g
|
Monounsaturated Fat:
8
g
|
Trans Fat:
1
g
|
Cholesterol:
67
mg
|
Sodium:
697
mg
|
Potassium:
168
mg
|
Fiber:
1
g
|
Sugar:
4
g
|
Vitamin A:
518
IU
|
Vitamin C:
2
mg
|
Calcium:
33
mg
|
Iron:
1
mg