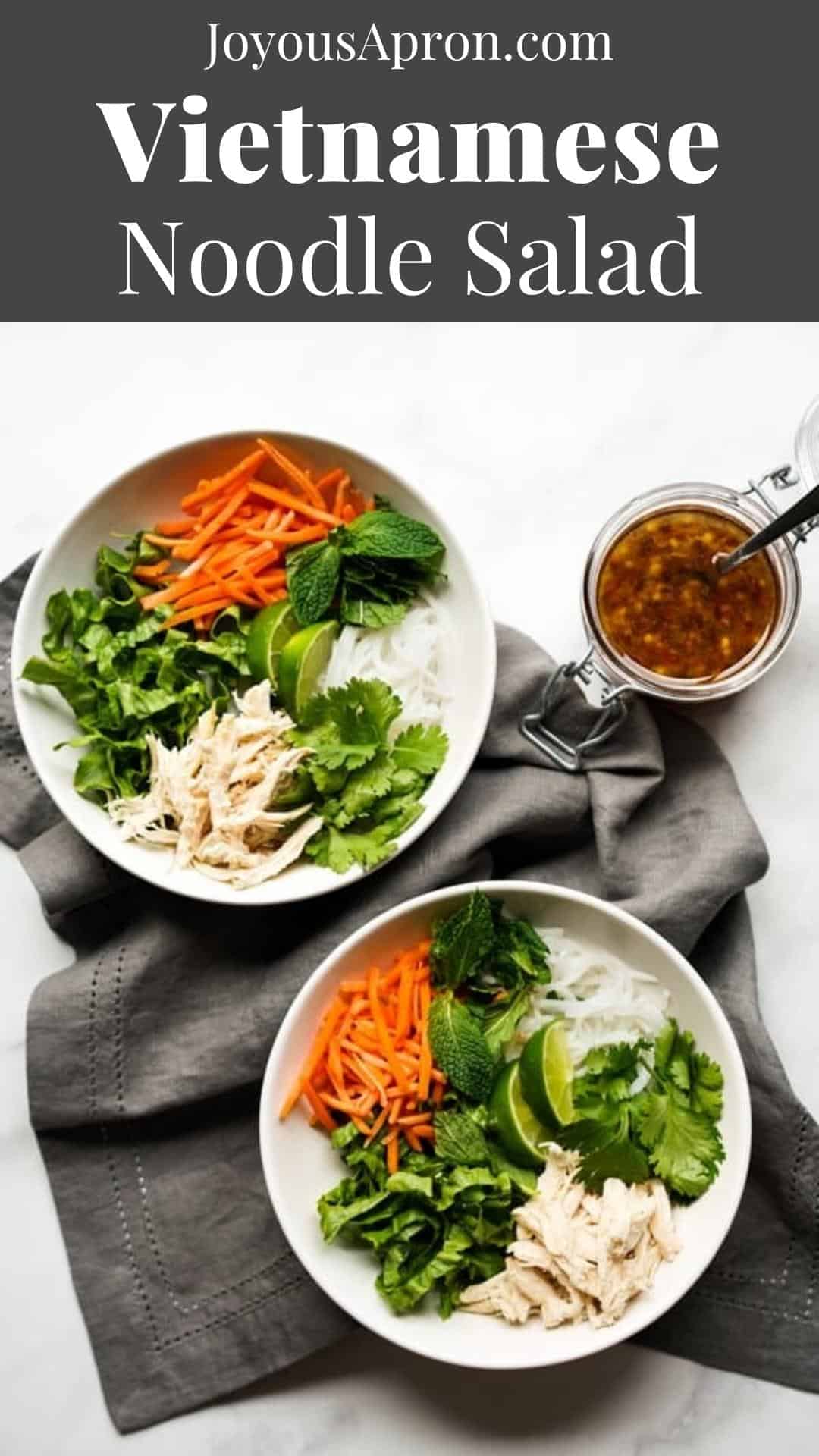 This post may contain Amazon or other affiliate links. As an Amazon Associate I earn from qualifying purchases at no additional cost to you.
What I've been craving big time (and eating non-stop): This fresh, bright, flavorful Vietnamese Noodle Salad drizzled with a bold-flavored savory sweet and tangy dressing.
This is a quick and easy Vietnamese inspired salad dish with your favorite Vietnamese ingredients. Rice noodles, carrots, lettuce, mint leaves, cilantro, and shredded rotisserie chicken tossed in an irresistible fish sauce and lime juice based homemade dressing.
If you are into gorgeous, complicated flavors and textures, this is the dish for you!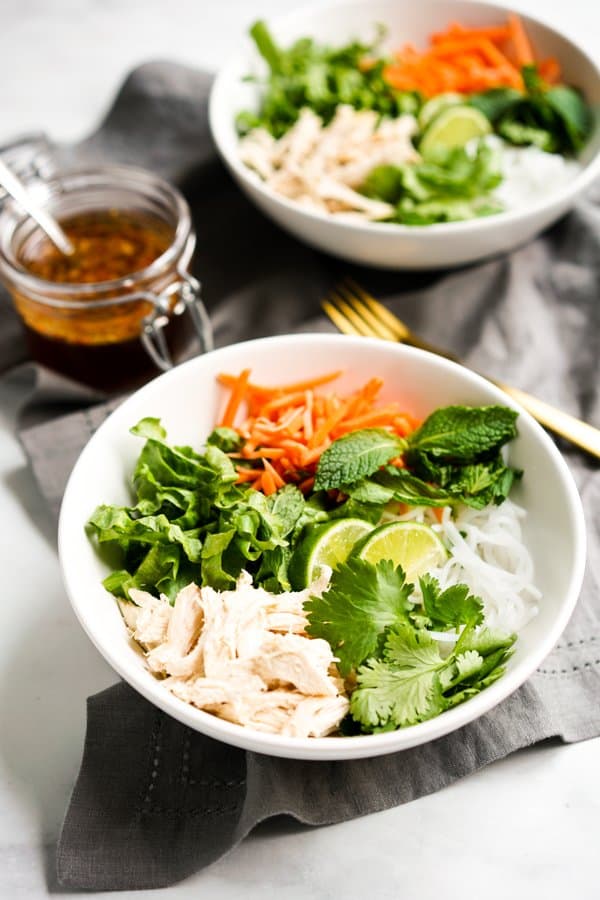 Think of this Vietnamese Noodle Salad as the made-easy version of the more authentic Vietnamese Noodle Bowl often served with grilled meats and nouc cham sauce.
When I am craving those vermicelli bowls and do not have time to make the full-blown traditional version of it, this is my alternative.
But let me tell you, this Vietnamese Noodle Salad is no runner-up/second-choice type alternative that makes you less excited. What you are looking at is a full-flavor, made-easy version that is every bit as tasty as the original. One that you will crave and love every bit as much.
The bowl is made with similar ingredients (rice vermicelli noodles, veggies, herbs), and the sauce is almost the same as the nouc cham sauce that is served with authentic Vietnamese Noodle Bowls.
The main difference is we are not marinated and grilling the meats, as more authentic Vietnamese Noodle Bowls come with smoky grilled meats. Instead we are adding shredded store-bought rotisserie chicken to it.
In other words, much quicker, less work, and perfect for those busy days for when you are craving Vietnamese food but do not have the time to make the authentic version.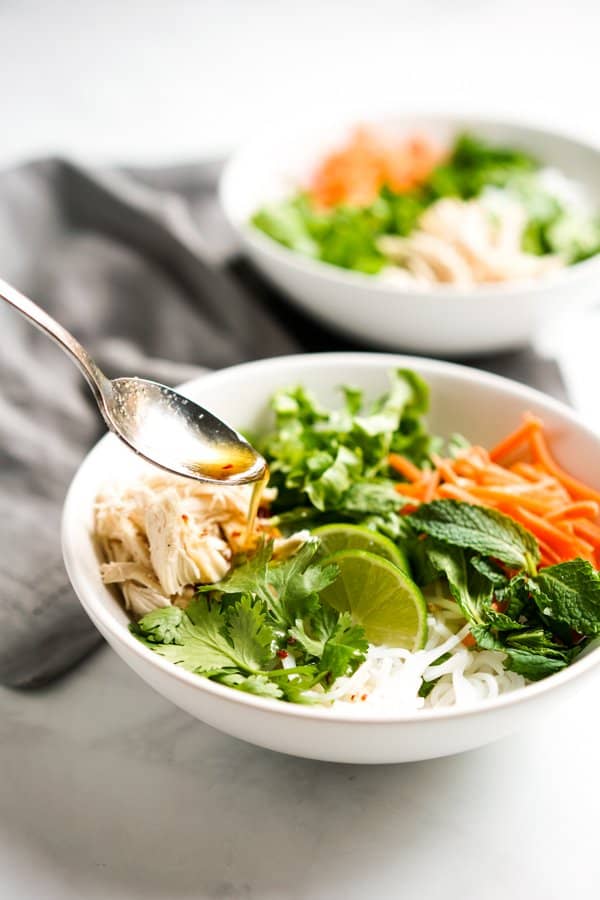 So if you haven't already concluded: I'm pretty obsessed with this Vietnamese Rice Noodle Bowl dish. It's my new addiction.
Ask my husband. He has witnessed me eating this multiple times a week (or at times, multiple times a day), me raving about how this delicious bowl is speaking to my soul…
Welcome to the life of living with a foodie/ food blogger.
I am a big fan of vermicelli noodle bowls and always order them at Vietnamese restaurants, and I love that I can now make a big batch of it in less than 20 minutes, and have leftovers for the rest of the week.
Yep. It is one heck of a meal-prep-friendly recipe as well and I often would double the recipe so I have leftover lunches for a whole week!
Ingredients
Fresh ingredients and a bold sauce is key to a good Vietnamese Noodle Salad…
Dressing ingredients
Let's talk about the sauce first. This is inspired by the more classic Vietnamese nouc cham sauce.
It is made with simple ingredients that I believe you can find in most main stream grocery store. If not, Asian grocery stores and online retailers (affiliate links attached below) should have them.
No cooking or heating is involve. Simply measure, add, and shake/whisk to combine!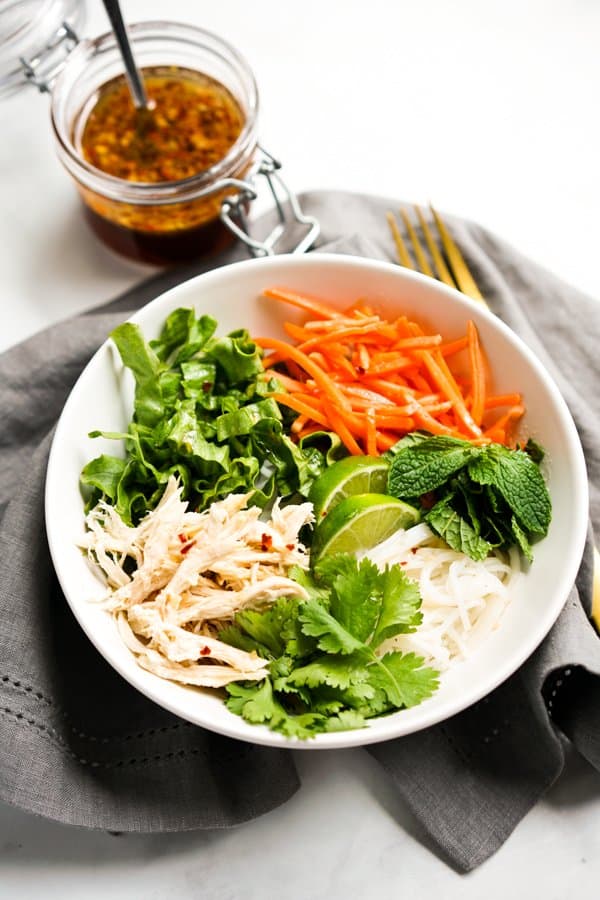 Here's what goes into the dressing:
Salad ingredients
As for the salad, here's what I used:
However, know that you can add on or substitute with your favorite veggies and toppings. Here are other ingredients that would be great in the salad as well!
How to make it
Making this Vietnamese Noodle Salad can quickly be summarized into four large sections, and it all comes together in 20 minutes! EASY PEASY.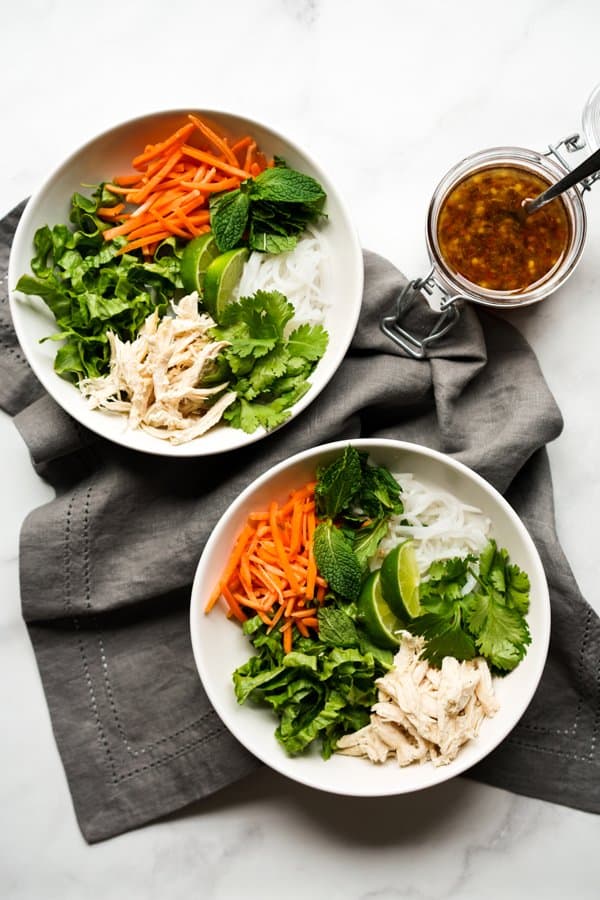 Frequently Asked Question
How to store leftovers?
Store the ingredients separately in an airtight container in the refrigerator, and only combine them with the dressing when ready to eat! I find that if you add sauce to it, lettuce, cilantro and mint leaves will wilt and turn yucky pretty quickly.
How do you serve it/ eat it?
I've served Vietnamese Noodle Salad multiple ways!
Let everyone serve themselves and customize their bowls with their favorite ingredients and the amount of dressing they want in it (note: the flavor of the dressing is bold and concentrated , so a little goes a long way!). Then everyone can toss their own individual bowls to combine everything.
Toss rice noodles with a little bit of the dressing and then let everyone add veggies and toppings to it. More dressing is served on the side. I always end up adding more dressing to it because I like my veggies coated in the sauce too.
If you want to take it to the next level, serve it with some Vietnamese Egg Rolls. It is crazy delicious with it!
Do you eat this hot or cold?
I would say whatever you prefer! It always becomes a Cold Noodle Salad for me when I eat it the day after because I am lazy and I don't heat it up. But you can definitely reheat the noodles and chicken, and add the veggies to it before tossing everything the sauce.
The beauty of this recipe is it can be eaten hot, cold, or room temperature! It stays out well for a few hours too if you are serving this at get-togethers or parties.
Fresh, delightful, and healthy…It truly is summer in a bowl! 💛
DID YOU ENJOY THIS RECIPE? Please comment below and give us a 5-star rating! This will help others find this recipe on Google and Pinterest! We very much appreciate your help! 🤍
More Asian Inspired Salad Recipes!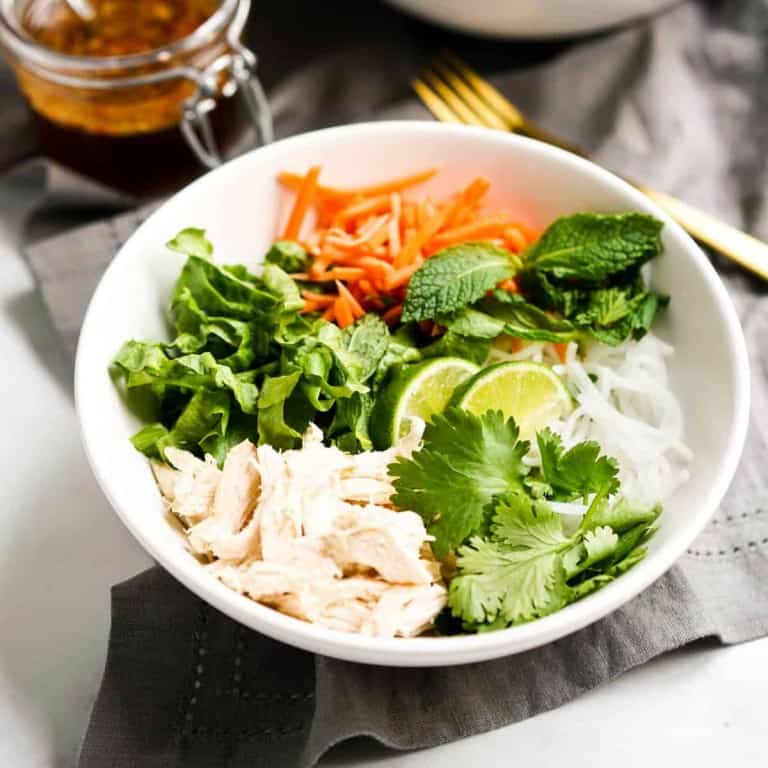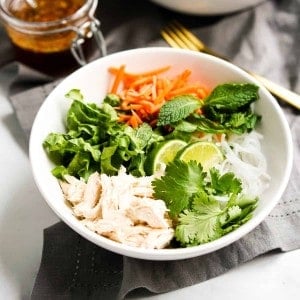 Vietnamese Noodle Salad
Fresh, healthy and delicious Vietnamese inspired salad recipe! Vermicelli rice noodles combined with crunchy veggies tossed in a homemade bold-flavored dressing.
Print
Pin
Ingredients
8

oz

Vermicelli rice noodle

2

cups

lettuce

shredded

1

cup

carrots

shredded

1/4

cup

cilantro

chopped

1/4

cup

mint leaves

chopped

1

cup

rotisserie chicken

shredded
Dressing
1/4

cup

fish sauce

2

tbsp

rice vinegar

3

tbsp

lime juice

freshly squeezed

2

cloves

garlic

minced

2

tbsp

brown sugar

1/2

tsp

red pepper flakes

1/4

cup

vegetable oil

2

tbsp

water
Instructions
Cook rice noodles based on package instructions. When done, drain and set aside. If it will be set aside for a while, rinse noodles in cold water to prevent them from sticking together and overcooking.

While noodles are cooking, prepare and chop the vegetables – lettuce, carrots, cilantro, mint leaves. Shred rotisserie chicken.

In a mason jar, combine all the dressing ingredients. Shake to mix well.

Divide noodles, lettuce, carrots, cilantro, and mind leave into three bowls. Add dressing and toss to mix well.
Nutrition
Calories:
651
kcal
|
Carbohydrates:
80
g
|
Protein:
27
g
|
Fat:
25
g
|
Saturated Fat:
17
g
|
Cholesterol:
76
mg
|
Sodium:
1974
mg
|
Potassium:
354
mg
|
Fiber:
4
g
|
Sugar:
12
g
|
Vitamin A:
7727
IU
|
Vitamin C:
11
mg
|
Calcium:
69
mg
|
Iron:
1
mg