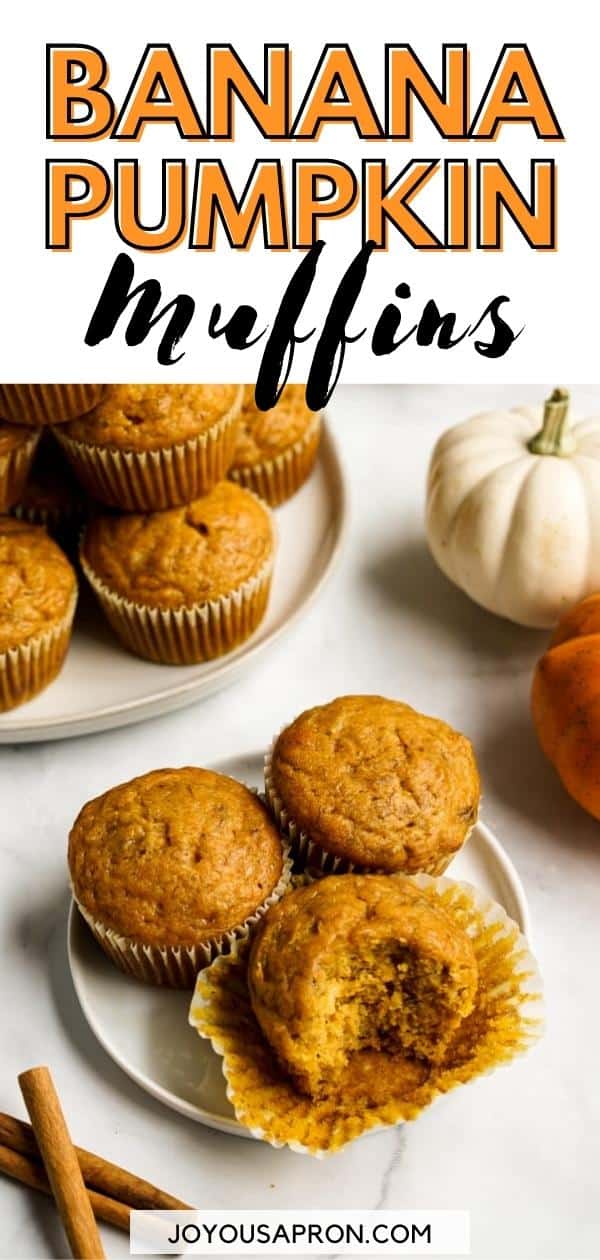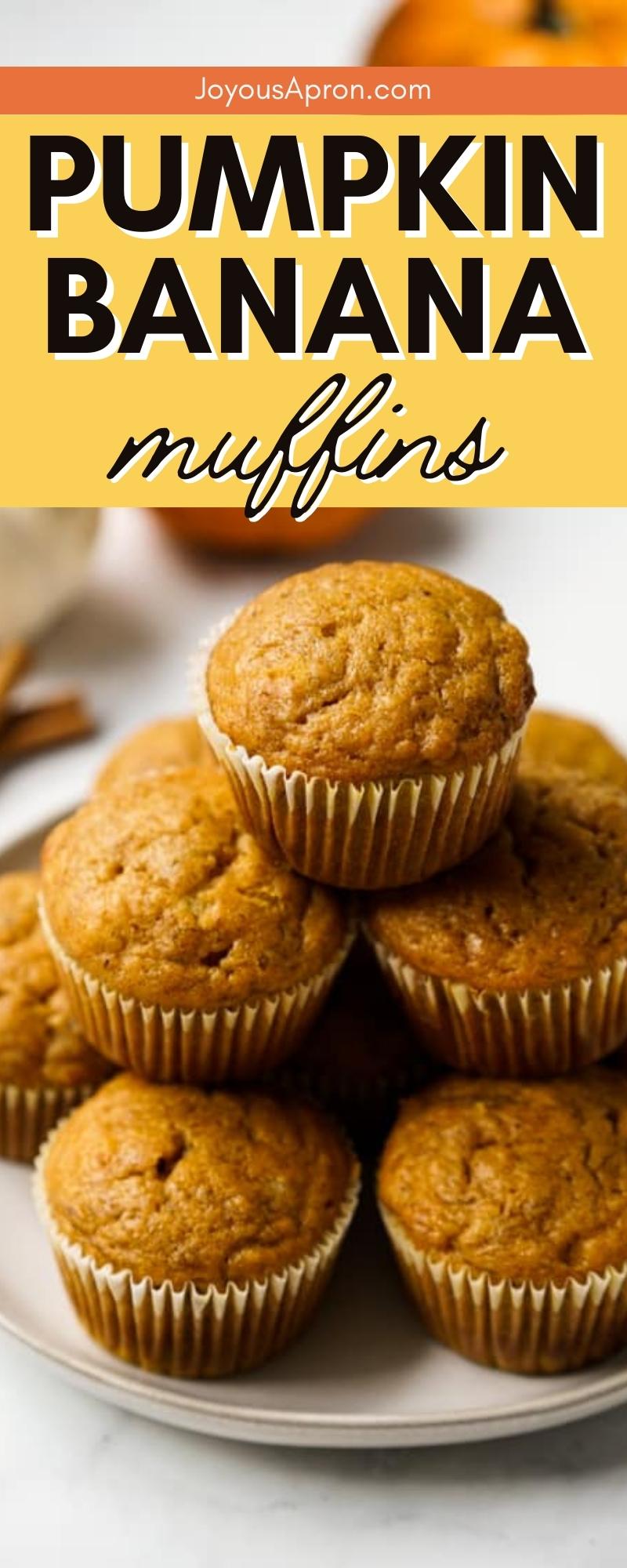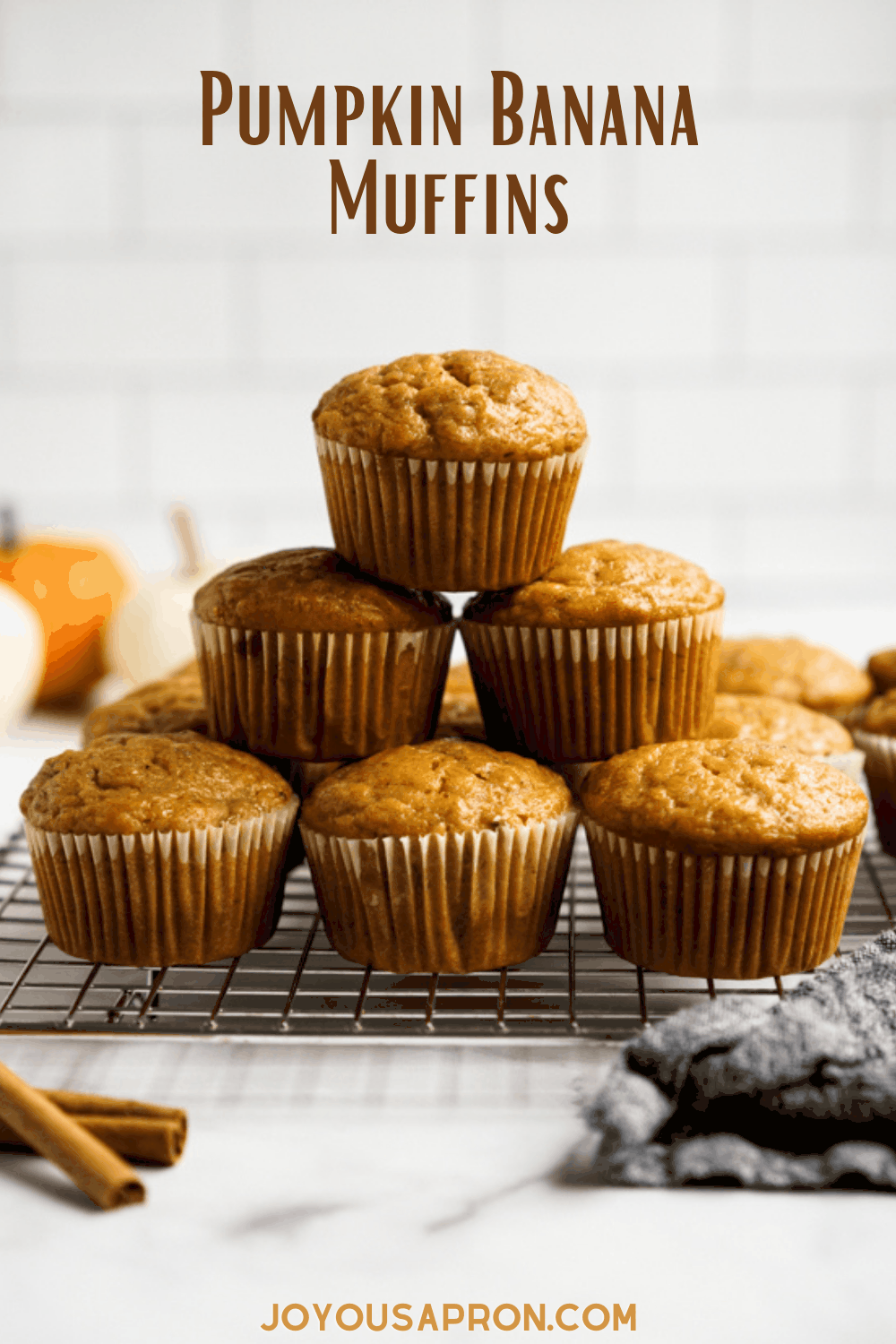 Oh YES. Pumpkin Banana Muffin is the Fall treat we never knew we needed! Moist, soft, and the perfect combination of banana and pumpkin flavors, these muffins make the best grab-and-go breakfast…or even dessert!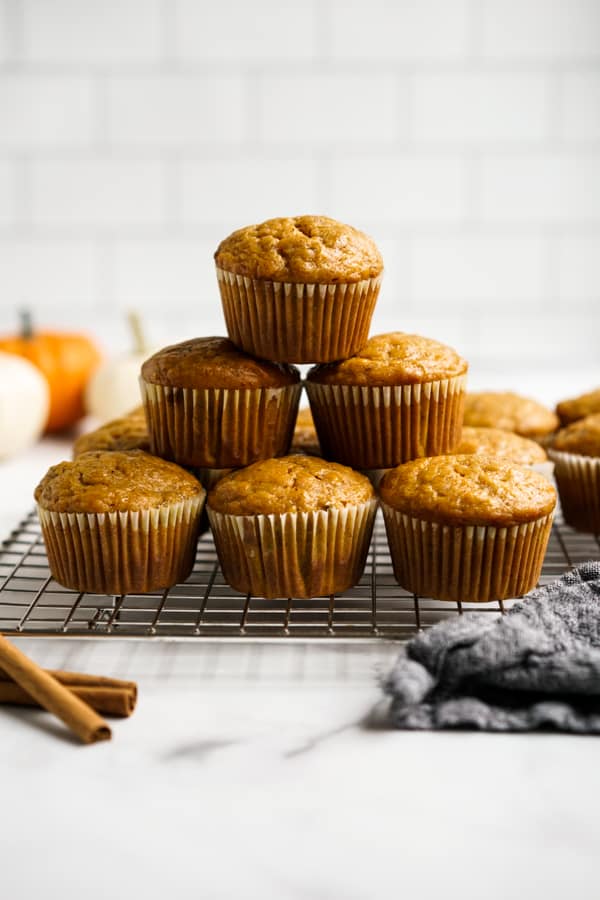 Talk about the dream combo.
These Pumpkin Banana Muffins are great for when you don't want too much of either a banana or pumpkin flavor in your muffins…or when you just want both and cannot decide.
I also absolutely love filling up my home with the aroma of these muffins.
That gorgeous smell of pumpkin and banana baking in the oven and permeating my entire house is what my Fall-loving heart needs.
If you are wondering, yes it's still warm in Texas in September, but a girl can dream…and pretend that Fall is here.
And yes. I have also officially kicked off Fall and baked all my favorite Fall baked goods – Pumpkin Chocolate Chip Scones, Pumpkin Chocolate Chip Scones, Easy Pumpkin Pie, Banana and Date Muffin, Apple Cinnamon Bread….
It's too hard to sit and wait for the temperature to drop significantly. Every year I eagerly wait for Fall to get here, and end up indulging in all the Fall fun before it does. HA.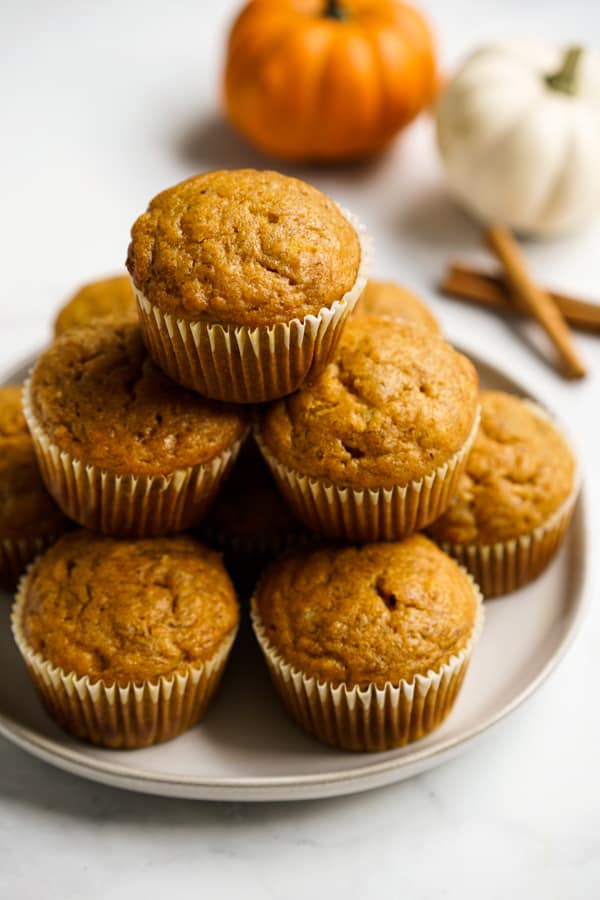 Easy Pumpkin Banana Muffin Recipe
So yeah, I've made my feelings known and clear. There's no secret that I am kinda into these Pumpkin Banana Muffins.
But there are reasons behind these strong emotions. Let me explain the many reasons why pumpkin banana muffins are the absolute gem:
The pumpkin and banana combination is unreal. And magical. In fact, I like it more than regular pumpkin muffins and banana muffins.
Only one bowl needed. Yep – mix everything into one bowl and transfer it all to muffin tin. Makes the process easy and quick!
Only 15 minutes active time – super simple! You'll never look at pre-mix mixture the same way again…
Uses pantry-friendly ingredients – great way to use up leftover bananas as well.
Perfect grab-and-go breakfast and snack. Great for kid's lunch boxes, make ahead for breakfast on busy mornings, or a great snack to keep at hand! Although I should warn you, based on my previous experiences, these things don't last long if they are lying around in your house!
Ingredients
One of the nice things about these pumpkin banana muffins are that they are made with pantry-friendly ingredients.
That makes this one of those things that you can probably whip together without planning ahead much…because you may already have all of these ingredients in your pantry or fridge!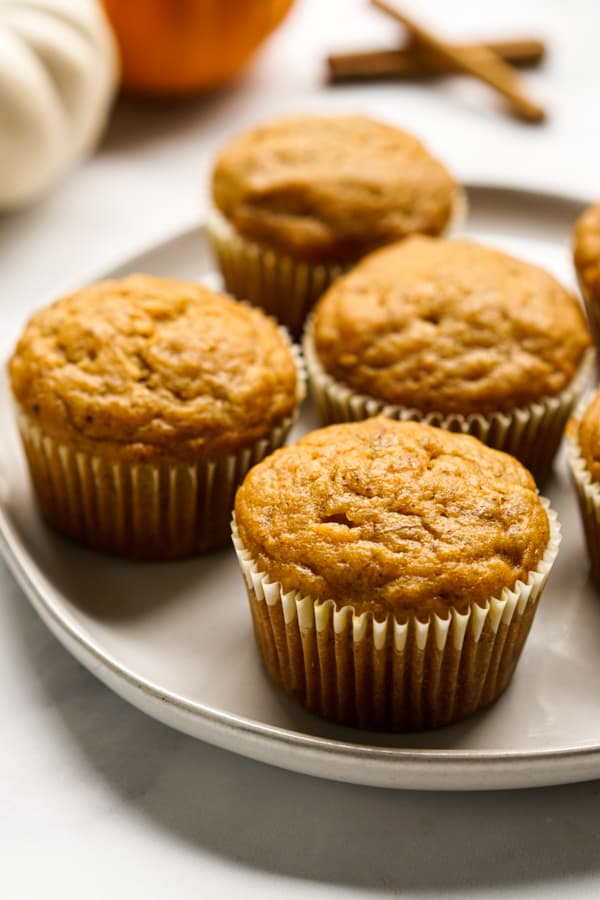 Which, by the way, is my favorite kind of things to bake.
These are the ingredients you will need to make pumpkin banana muffins:
All-purpose flour
Baking powder – rising agent
Baking soda – another rising agent
Ground cinnamon – feel free to add more if you like a strong cinnamon flavor
Granulated sugar
Salt – a little pinch of it is necessary whenever you bake!
Vegetable oil – canola oil will be fine as well.
Vanilla extract – pure vanilla extract gives the best flavor!
Pumpkin puree – I get the canned ones. Libby's is my favorite!
Mashed bananas – brown, fully ripen banana works best for this! When I mash the bananas I prefer to leave them slightly chunky so you can taste chunks of bananas in the muffins.
Let's Make Banana Pumpkin Muffins
To make pumpkin banana muffins, start by bringing together the dry ingredients – flour, baking powder, baking soda, ground cinnamon, sugar, salt.
Combine everything in a bowl, then add in the wet ingredients – vegetable oil, vanilla extract, eggs, pumpkin puree and mashed bananas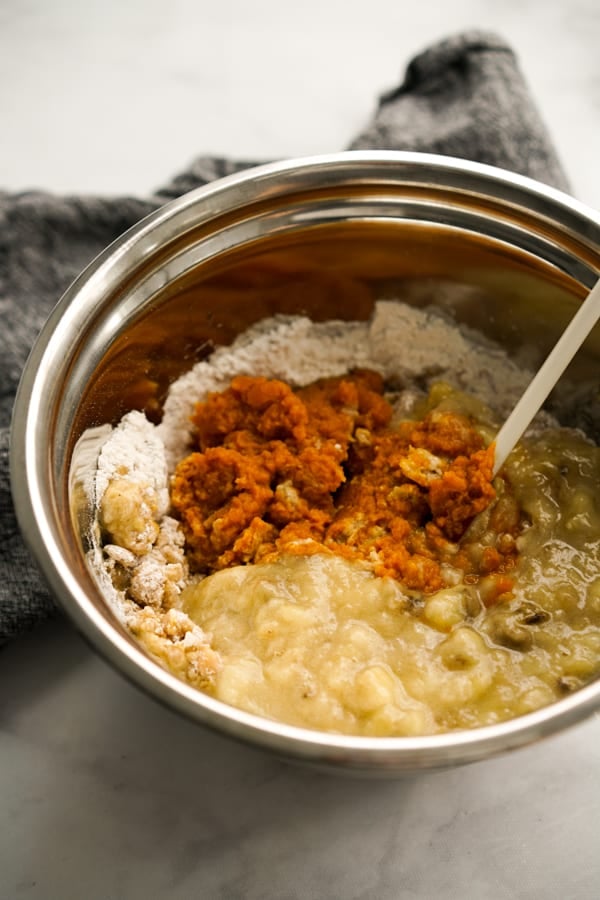 At this point you will need a 12-cup muffin tin. Line each muffin cups with muffin liners, then fill each cup with mixture until it is ~3/4 of the way full.
Mixture will yield approximately 12-16 muffins. usually cook it in two batches if there is leftover mixture.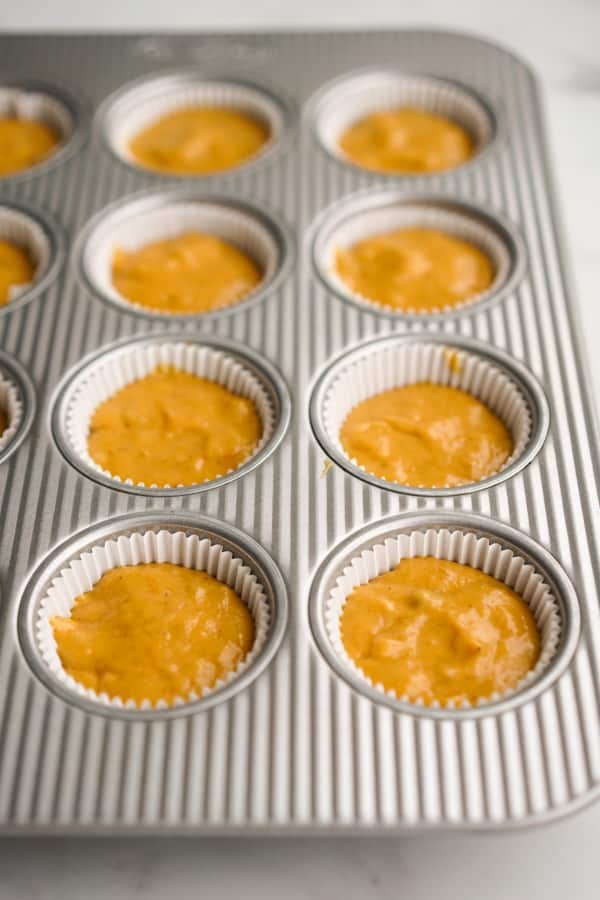 Bring these bad boys into the oven, bake at 350 for 25 minutes.
Check for doneness by inserting a toothpick to the center of one of the pumpkin banana muffins. If toothpick comes out clean, you are all set!
Let pumpkin banana muffins cool on the muffin tin for 3 minutes, then remove muffins and let it cool on cooling rack for 10-15 minutes so that muffin would set.
And then voila.
FEAST AWAY.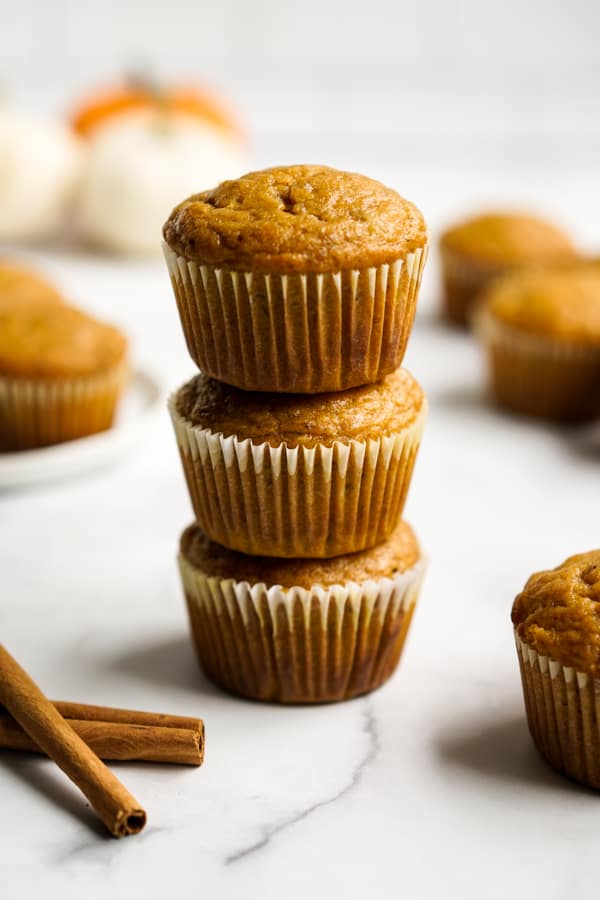 Tips and Tricks
A few things to keep in mind when making pumpkin banana muffins:
Line your muffin tin with muffin liners for easy removal! If you don't have muffin liners, grease it with cooking spray before adding the mixture
If you like chunks of bananas in the muffins, don't over-mash the bananas and leave some of it in small chunks.
It's tempting to eat the muffins immediately when it comes out of the oven, but let it sit instead so muffins will set. It also makes it easier to dig it out from the muffin tin and remove the wrapper once it has set a bit.
Variations
If you want to jazz these muffins up further, one of my favorite things to add to these muffins are chocolate chips. Simple fold in chocolate chips at the end when mixing the batter and prepare to take these muffins to the next level!
Other yummy ingredients to add to Pumpkin Banana Muffin (simply fold them into the batter):
pecans, macadamia or other nuts
peanut butter chips
caramel chips
chopped pieces of baking chocolate
raisins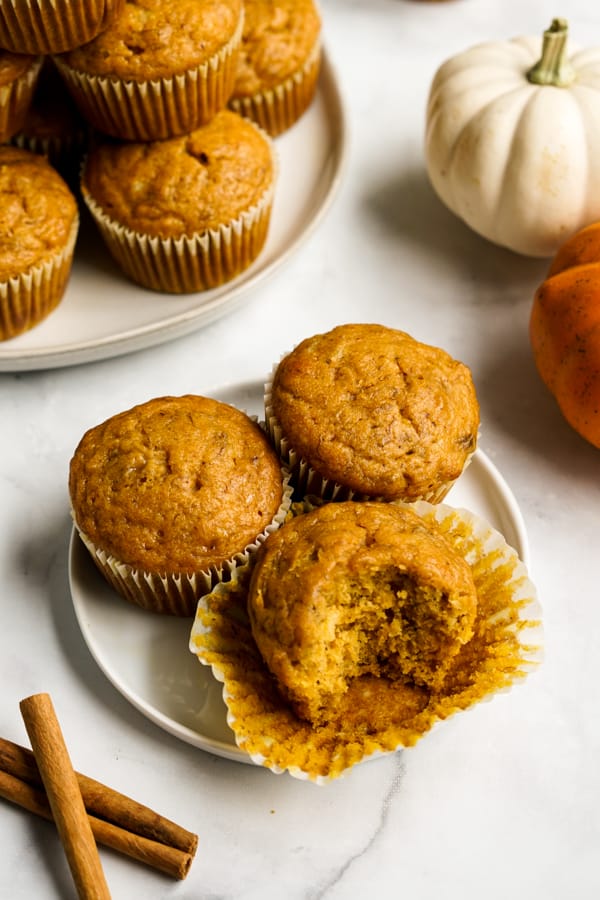 Frequently Asked Questions
Should I refrigerate muffins?
Muffins actually store better in room temperature as the cold temperature in the fridge will alter the texture of the muffins. Store muffins in a air tight container or bag for up to 2 days under room temperature.
Can you freeze these pumpkin banana muffins?
Absolutely. Make sure to cool muffins completely before bringing it into an air tight container or freezer bag. Freeze in freezer for up to 3 months.
Can you make the batter ahead of time?
Yes! Make sure to refrigerate it immediately and bake within 3 days.
Grab a few of these muffins, a cup of hot coffee, comfy couch and a fuzzy blanket, and my Saturday morning is MADE.
Pumpkin Banana Muffins FOREVER.🧡💛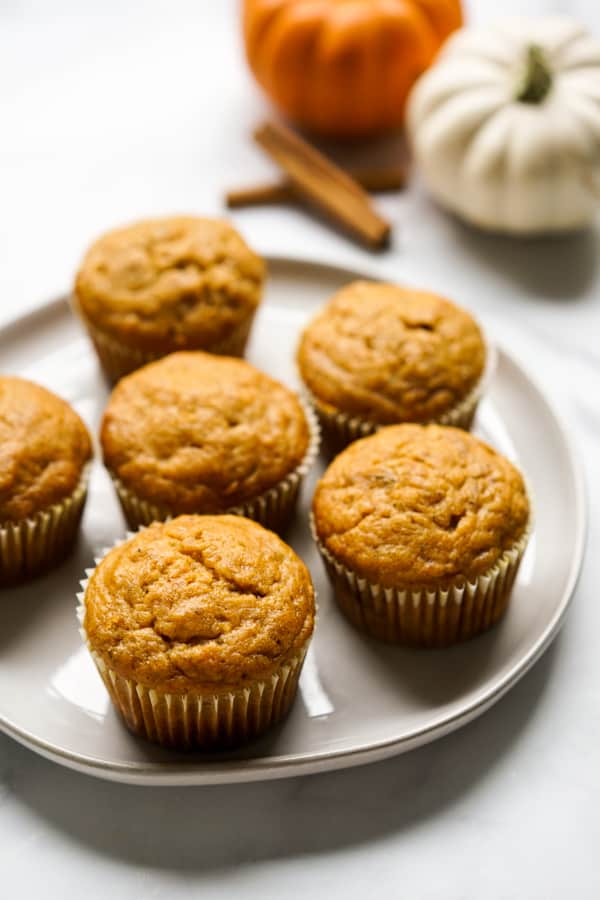 Other Fall theme baked goods you will enjoy
DID YOU ENJOY THIS RECIPE? Please comment below and give us a 5-star rating! This will help others find this recipe on Google and Pinterest. We very much appreciate your help! 🤍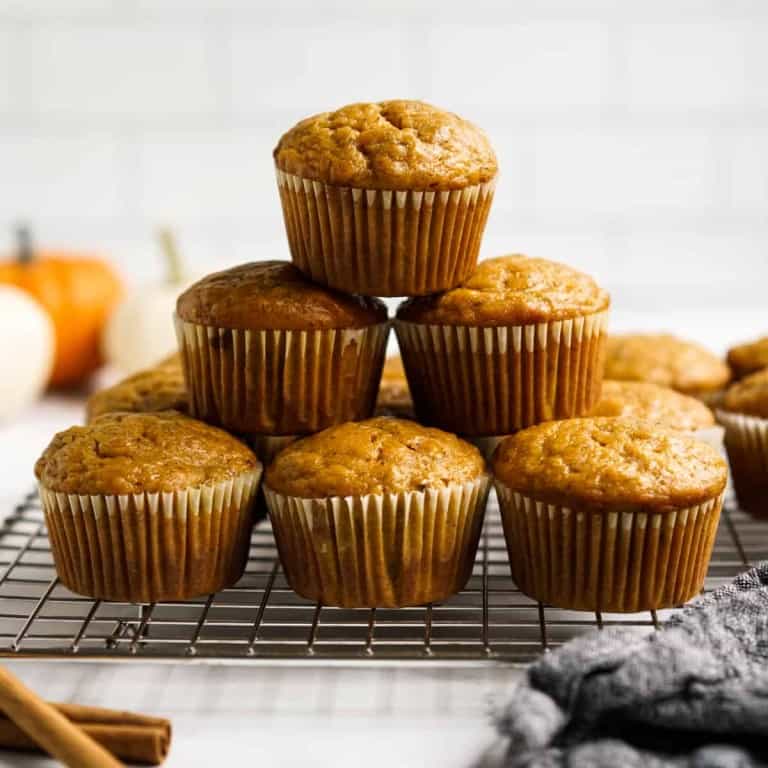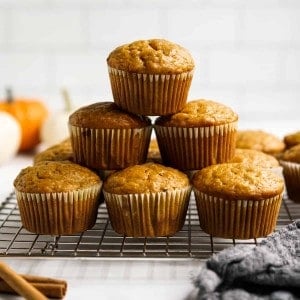 Pumpkin Banana Muffin
Moist and soft muffins with pumpkin and banana flavors make the perfect breakfast and dessert for the Fall! So easy and yummy!
Print
Pin
Ingredients
1 1/2

cup

all purpose flour

1

tsp

baking powder

1

tsp

baking soda

2

tsp

ground cinnamon

1

cup

granulated sugar

1/2

tsp

salt

1/3

cup

vegetable oil

or canola oil

1/2

tsp

vanilla extract

2

large eggs

3/4

cup

pumpkin puree

canned

1

cup

mashed bananas

~2 bananas
Instructions
In a large bowl, bring together dry ingredients: flour, baking powder, baking soda, ground cinnamon, sugar, and salt. Mix well.

Add wet ingredients – vegetable oil, vanilla extract, eggs, pumpkin puree and mashed bananas. Stir to combine.

Line a 12-cup muffin tin with liners or grease muffin tin. Fill each cup with batter until it is 3/4 full. (See Note 1)

Bake for 25 minutes. Remove from oven. Insert toothpick into one of the muffins and if it comes out clean, muffins are done.

Let muffins cool in muffin tin for 3 minutes. Then remove them and let them cool on a cooling rack for 10-15 minutes.
Notes
Note 1: Batter typically makes 12-16 muffins. If there is leftover batter after filling the 12-cup muffin tin, I usually bake the rest on a second batch.
Nutrition
Calories:
207
kcal
|
Carbohydrates:
35
g
|
Protein:
3
g
|
Fat:
7
g
|
Saturated Fat:
5
g
|
Polyunsaturated Fat:
1
g
|
Monounsaturated Fat:
1
g
|
Trans Fat:
1
g
|
Cholesterol:
27
mg
|
Sodium:
235
mg
|
Potassium:
128
mg
|
Fiber:
2
g
|
Sugar:
20
g
|
Vitamin A:
2436
IU
|
Vitamin C:
2
mg
|
Calcium:
35
mg
|
Iron:
1
mg