This post may contain Amazon or other affiliate links. As an Amazon Associate I earn from qualifying purchases at no additional cost to you.
Pumpkin season here we come! 🧡
This soft, crumbly and incredibly moist pumpkin scones is generously filled with chocolate chips and lightly drizzled with maple glaze.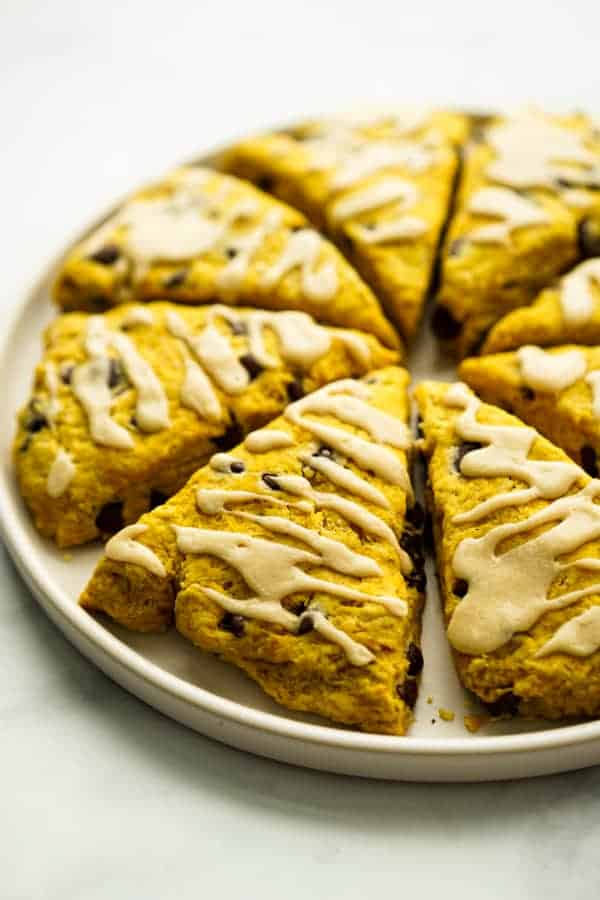 All my favorite Fall flavors wrapped up in the glorious package of one of my all time favorite pastry – scones.
Highly recommend serving this with a warm cup of hot coffee, or if you are a pumpkin fanatic who cannot get enough of all things pumpkin, I dare you to pair it with pumpkin spice latte.
Pumpkin and all things Fall
My heart cannot contain how much I'm looking forward to Fall, Fall food, and oh my gosh, Fall weather. YES PLEASE.
Fall doesn't happen in Texas until who knows when. But I will pretend that Fall is here even though it is still stinking hot outside.
There is nothing that screams Fall more than pumpkin. And there is nothing that goes more perfectly with pumpkin than chocolate chips. And what Fall food isn't the most Fall-like when you drizzle glorious maple sugar on it?
Ahh Pumpkin Chocolate Chip Scones topped with gloriously sticky maple glaze.
My heart is overjoyed.
Even my non pumpkin-lover husband is loving this. And that is saying a lot.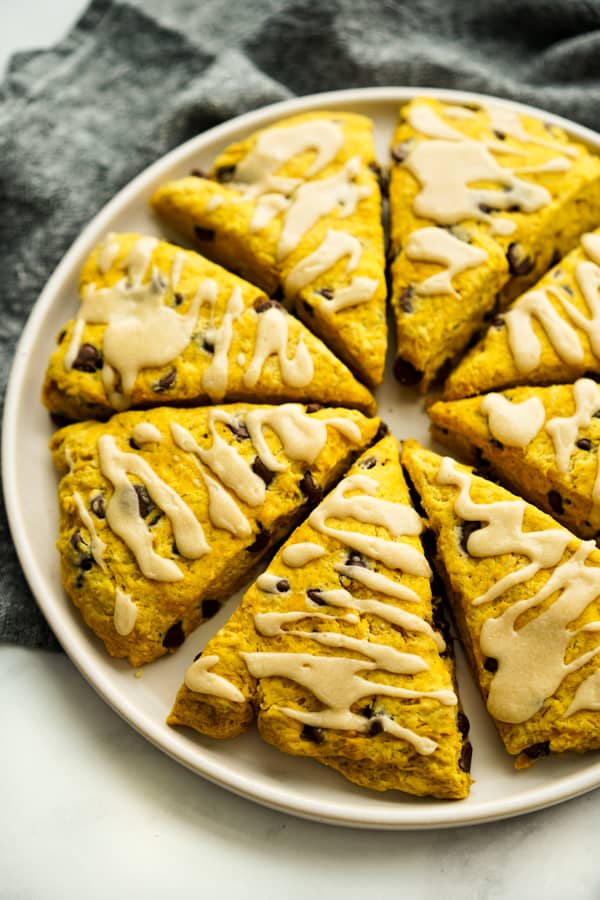 You may ask: Is it breakfast? Is it dessert?
Here's what I'll say: Make it whatever you want!
We've had it for breakfast. We've had it for dessert. We've had it as snack. I may or may not have eaten it for lunch.
It was a little too much sugar for a lunch meal, and I did get ahead of myself a little bit.
It was too hard to resist when these Pumpkin Chocolate Chip Scones were sitting in the ziplock bag on the kitchen counter, freshly baked from the night before, practically yelling "eat me!" at my face. Before I knew it I had two of these guys for lunch and too full to eat anything else.
How to make Pumpkin Chocolate Chip Scones
My favorite regular scone recipe originated from this recipe on All Recipes. I have used this for over a decade. It is my tried and true way of scone-making.
I have since made it my own, but my scone-loving journey started right there and it felt right to pay tribute to it.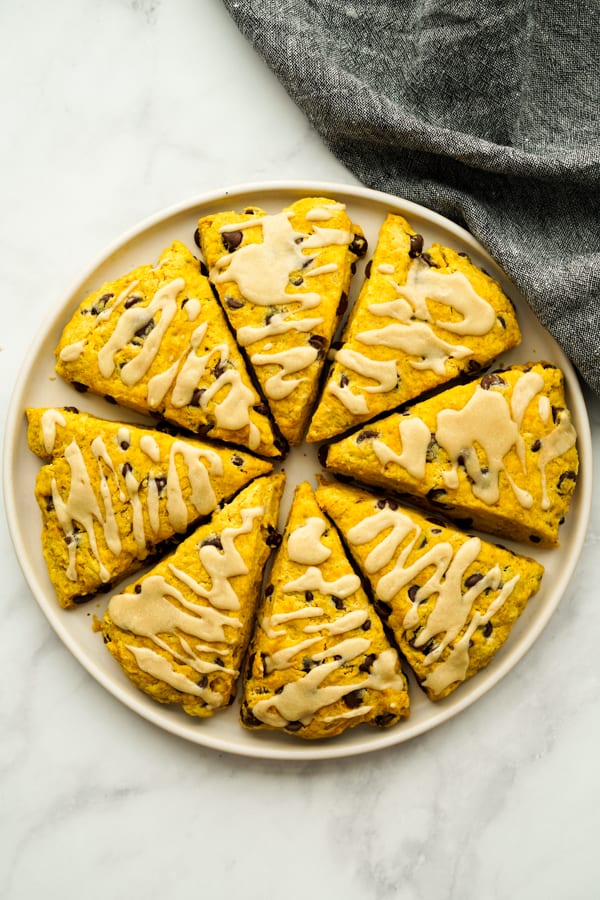 Scones are much easier to make than it sounds. Once you get a few techniques down, you will be a scone-making expert. 🙂
The dough is slightly different from a cake or a cookie. Not difficult to execute if you pay close attention to the details in the intructions, just different.
A few important tips when making the dough for scones:
Grate cold butter into dry mixture. This is probably the most unique to scone-making. Use a grater a pastry cutter to do so. Or, what I've learned over the years, is to use a food processor and pulse cubed butter into the dry mixture. Much quicker and just as effective.
Use cold butter that is right out from the refrigerator (or even freezer, but that can be hard to cut into). Do not, do not use soft or melted butter.
Once dry and wet mixture are combined, do not over mix dough.
Do not let dough sit out for too long otherwise butter will melt before baking.
Once the dough is done, roll it into a ball on a floured surface. Dough should be firm (but not super dry) and not very sticky to the touch.
Tip: flour a large cutting board instead of your kitchen counter (and roll the dough on the cutting board) for easier cleanup.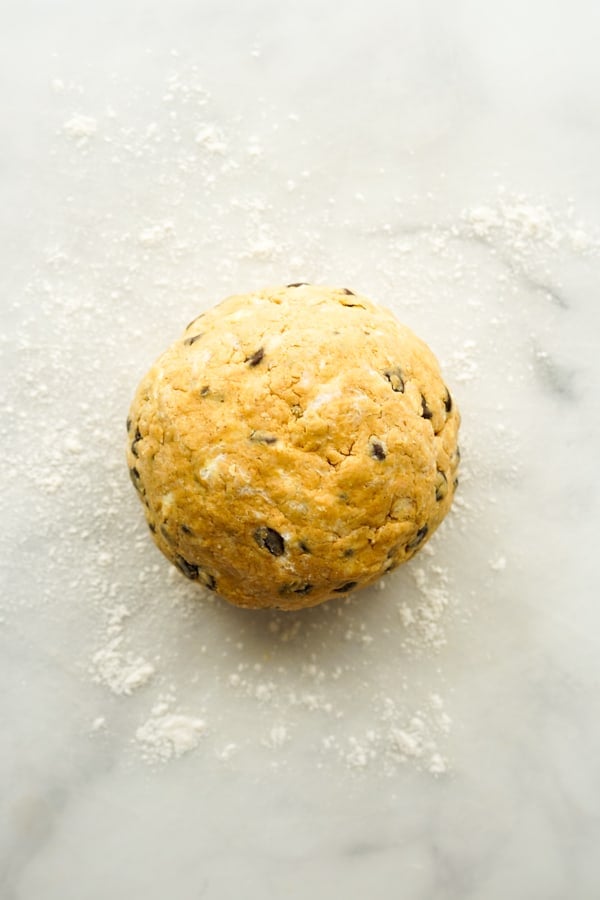 Flatten dough until a ~9 inch diameter round circle is formed.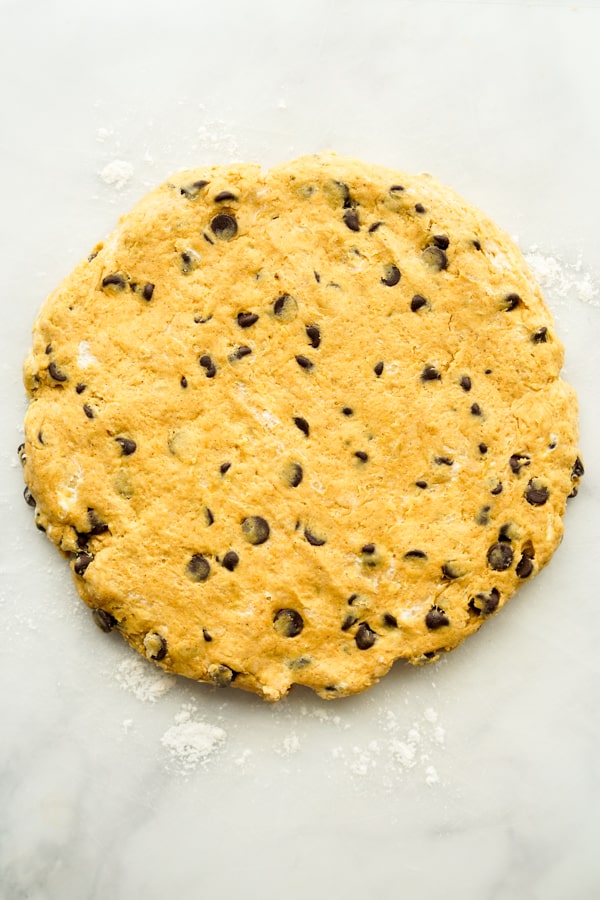 Then slice dough into eight triangular wedges, keeping each triangle about the same size.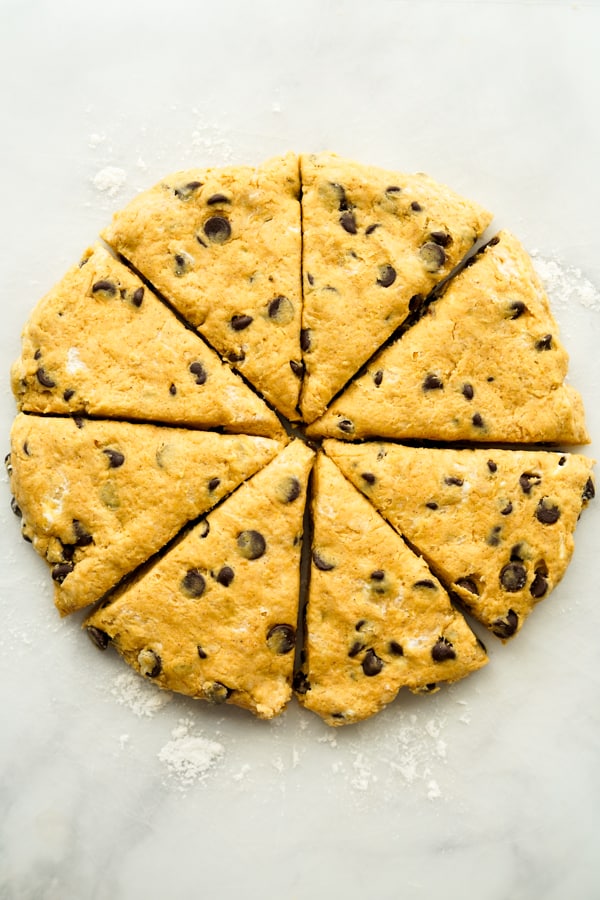 Then bake, let it cool, and drizzle a simple maple glaze onto the scones.
Do wait until scones are cooled completely before drizzling the maple glaze to avoid glaze from melting on the scones.
Alternatively, if you decide to forgo the maple glaze, you can also sprinkle coarse sugar on the scones before sending it to bake to give it that extra crispness and sweetness on the top.
Super simple. Takes about 30 minutes from start to finish. And always such a treat!
Helpful Tools
These are helpful tools to have to make these scones: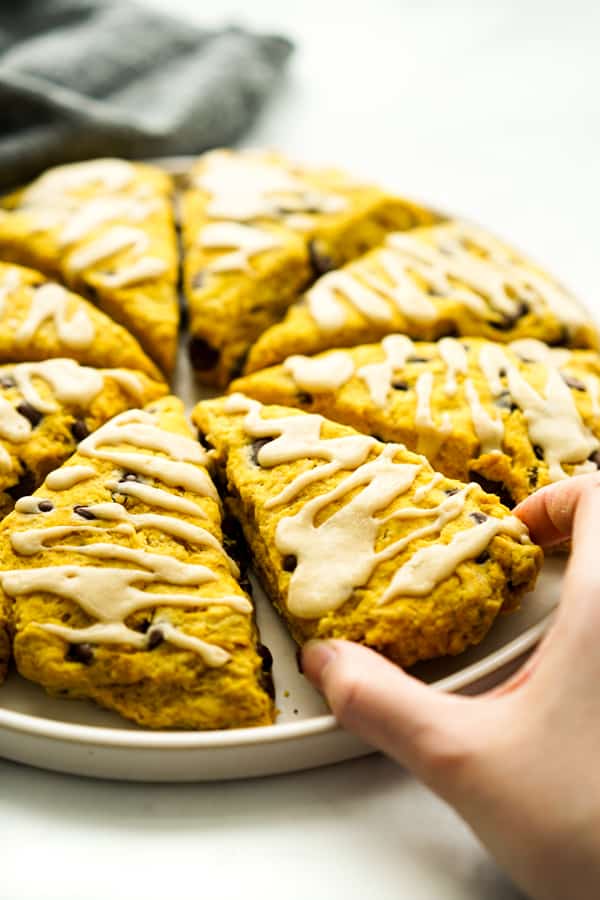 We are a scone-loving household. Yes, there is such a thing.
We love eating scones. We love baking scones. We love it when the house smells like scones baking in the oven.
All that to say, we love our scones. And we love this Pumpkin Chocolate Chip Scone recipe.
Summer is slowly but surely coming to a close. It's been a crazy unusual summer, but it's time.
Time to bring on Pumpkin Chocolate Chip Scones, and pumpkin spice everything.
As my friends in this side of the country often say…Happy Fall, y'all!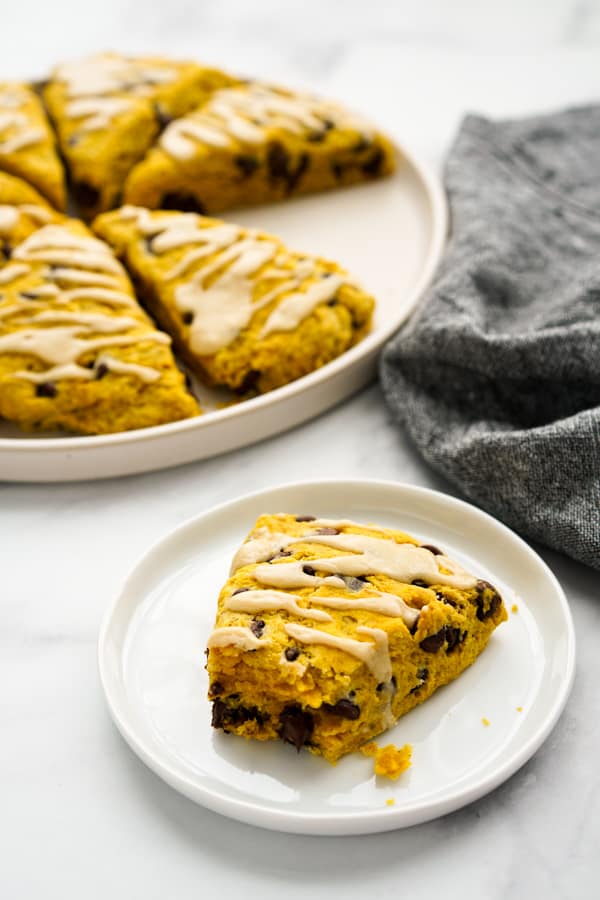 DID YOU ENJOY THIS RECIPE? Please comment below and give us a 5-star rating! This will help others find this recipe on Google and Pinterest! We very much appreciate your help! 🤍
Other Fun and Yummy Fall Bakes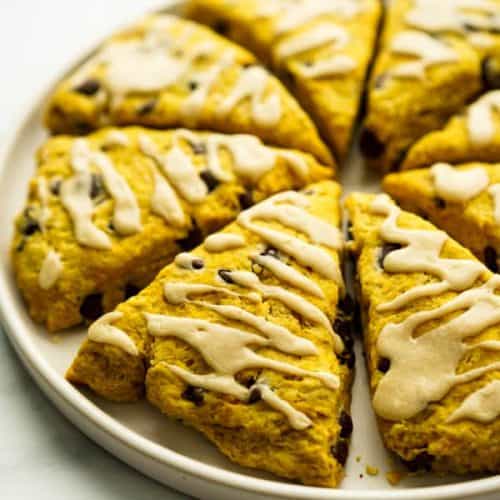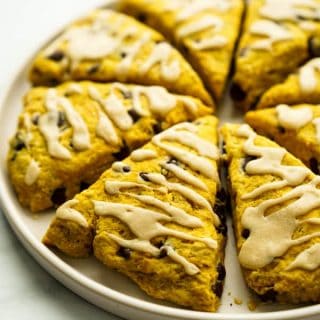 Pumpkin Chocolate Chip Scones with Maple Glaze
Moist and crumbly pumpkin scones filled with chocolate chips and topped with a sweet maple glaze. The perfect Fall pastry!
Print
Pin
Ingredients
2

cups

all purpose flour

plus more for dusting surface

1/3

cups

granulated sugar

1

tsp

baking powder

1/4

tsp

baking soda

1/2

tsp

salt

1/2

tsp

ground cinnamon

1/8

tsp

ground nutmeg

1/2

cup

cold unsalted butter

2

tbsp

sour cream

1/2

cup

pumpkin puree

1/2

tsp

vanilla extract

1

large egg

1

cup

chocolate chips
Maple Glaze
1

tbsp

unsalted butter

melted

1/4

cup

pure maple syrup

3/4

cup

confectioner sugar
Instructions
In a medium bowl, combine dry ingredients – flour, sugar, baking powder, baking soda, salt, cinnamon and nutmeg.

Slice cold butter (make sure it is cold!) into large cubes.

Cute cold butter into dry flour mixture by using a pastry cutter or grater and then combining them, or using a food processor to pulse butter into the dry mixture. At the end, flour mixture should be fairly dry with small chunks of cold butter. Do not overmix dough.

In a large bowl, whisk together wet mixture which consist of sour cream, pumpkin puree, vanilla extract and egg.

Pour four/butter mixture into wet mixture. Use hands to fold flour mixture into wet mixture. After combining, mixture should be slightly crumbly, not too wet or sticky. Do not overmix dough. Form dough into a large ball.

Flour surface, and place dough ball on surface.

Press dough down to form a round circle with ~9 inch in diameter.

Slice scones into 8 triangles of approximately the same size. Place each of them on a baking sheet lined with parchment paper, 1-2 inches apart from each other.

While scones are baking, make Maple Glaze by combining melted butter (use microwave to melt it completely until it is in liquid form), maple syrup and powdered sugar.

Once scones are done, cool completely using a baking rack.

Drizzle scones with maple glaze.
Nutrition
Calories:
465
kcal
|
Carbohydrates:
67
g
|
Protein:
5
g
|
Fat:
20
g
|
Saturated Fat:
12
g
|
Cholesterol:
60
mg
|
Sodium:
270
mg
|
Potassium:
95
mg
|
Fiber:
2
g
|
Sugar:
40
g
|
Vitamin A:
2881
IU
|
Vitamin C:
1
mg
|
Calcium:
89
mg
|
Iron:
2
mg