Honey Lemon Garlic Shrimp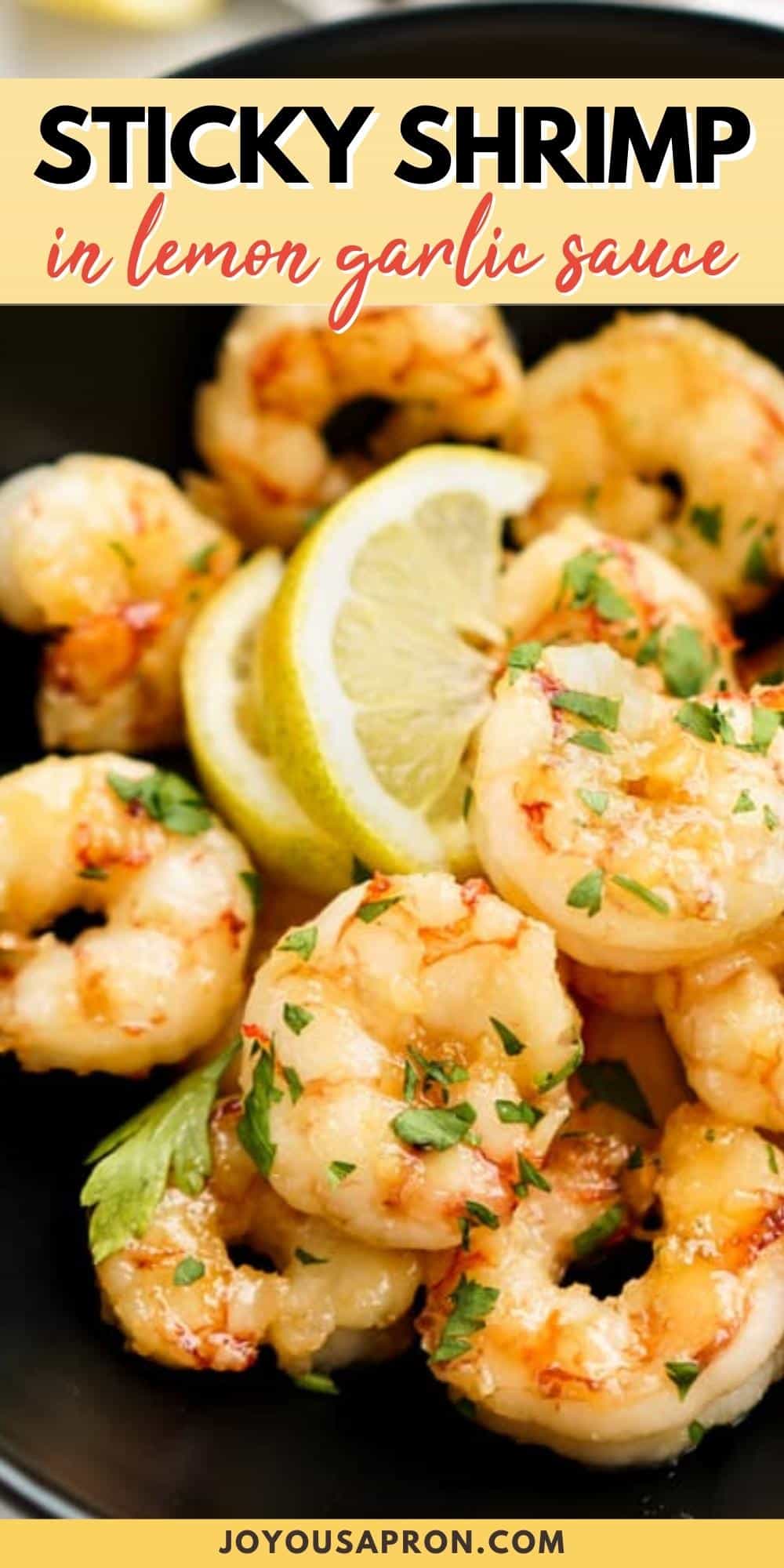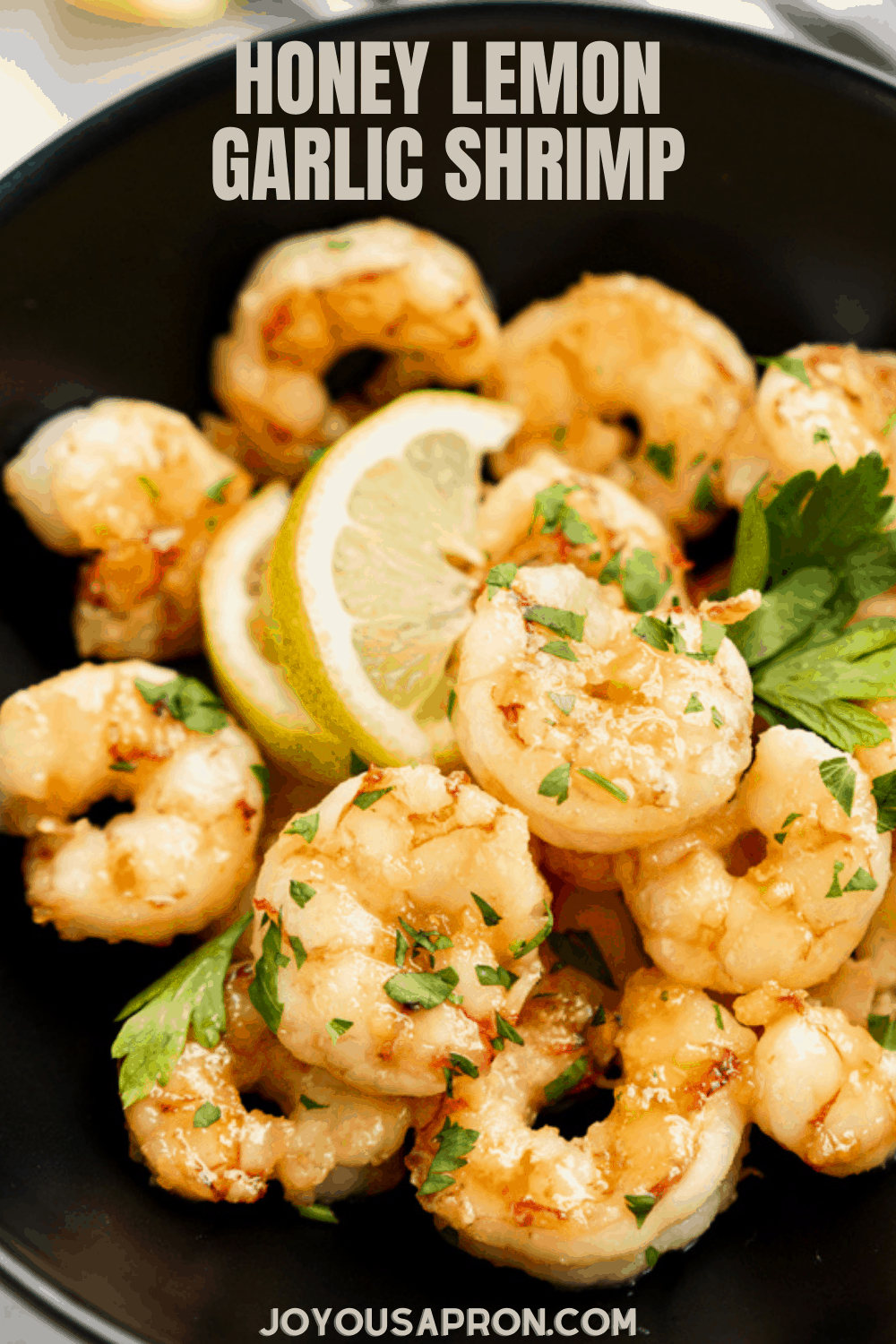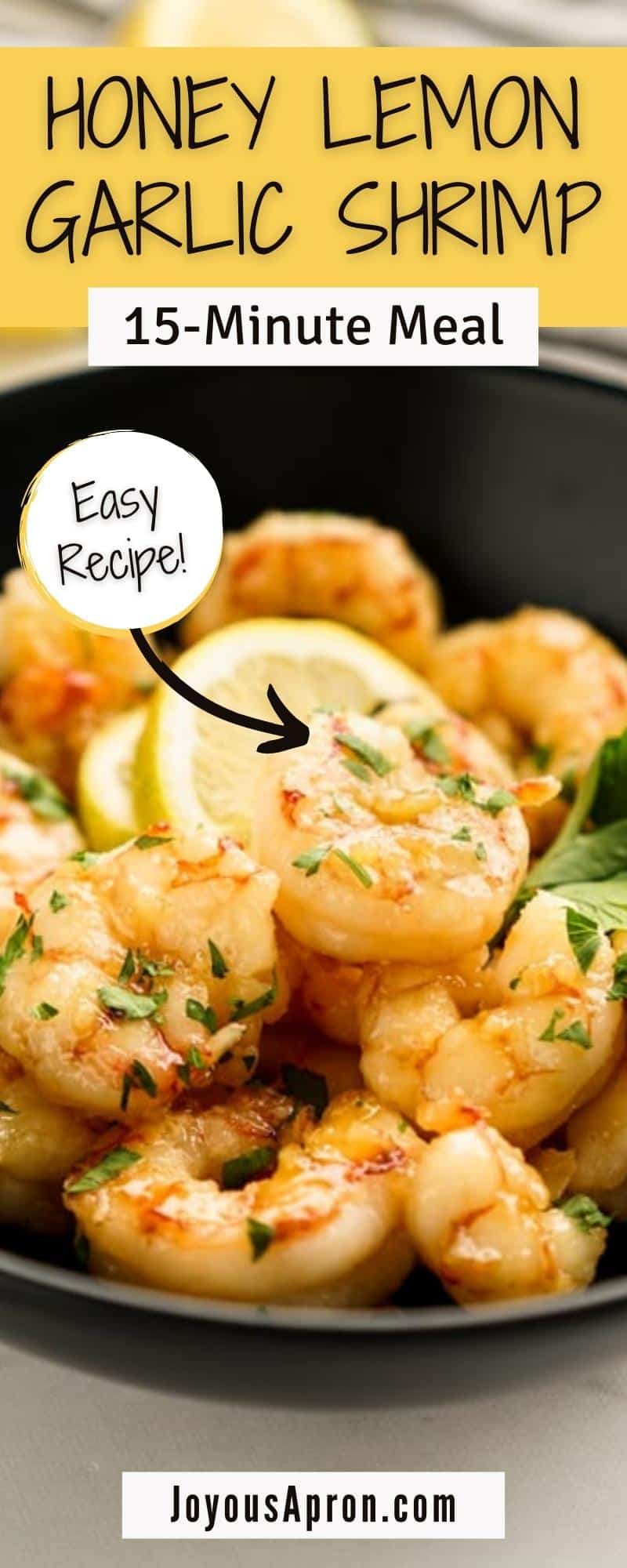 This Honey Lemon Garlic Shrimp recipe is my gem. So simple, so light, and so flavorful – coated with a sticky lemon garlic sauce that enhances the shrimp but doesn't overpower it.
15 minutes, delicious, healthy, UNREAL.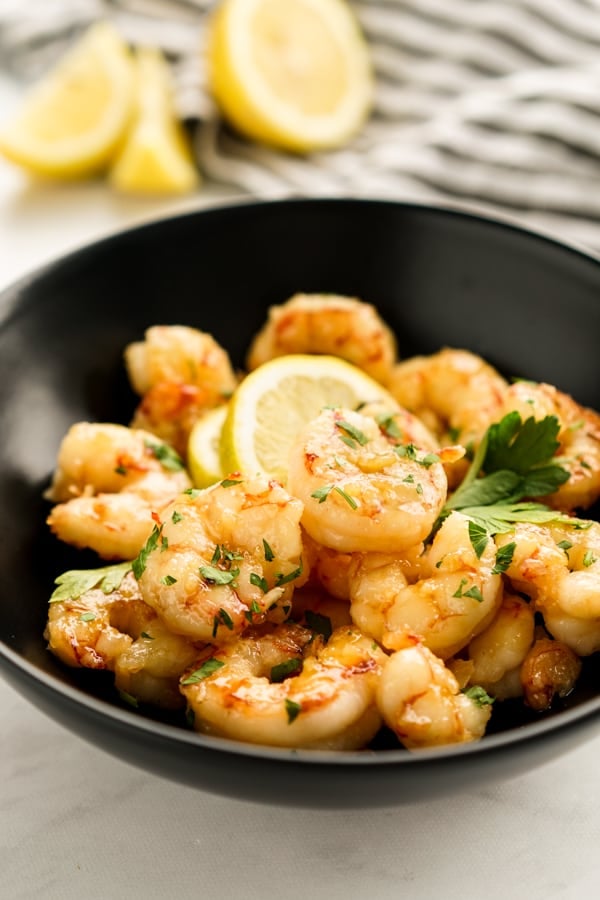 It makes my life easy, my stomach happy, and my husband's stomach's even happier.
What you can expect: This dish is elegant with a capital 'E'. The shrimp is succulent and drizzled with a sticky sauce that is a simple combination of honey, fresh lemon juice, fresh garlic and herbs.
And if you really want to up the elegance factor, serve it with some French bread to soak up that sauce because:
Wasting good sauce is a crime so let's soak that baby up
Bread + yum sauce is a sweet, sweet gift that keeps on giving
Ingredients
Made with minimal and simple ingredients, every item brings about a unique flavor to the dish:
Shrimp – use raw shrimp, not the pre-cooked once. Also make sure to defrost it completely overnight in the refrigerator, and then pat dry the shrimp so that it sears well.
Lemon juice – brings about a burst of freshness and citrus always compliments shrimp dishes well.
Honey – gives the dish some sweetness and a sticky consistency
Minced garlic – avoid substituting with garlic powder. Fresh is the best for this!
Salt – salt always enhances the flavor of the dish, in addition to adding saltiness. A little bit of salt always goes a long way.
Herbs – parsley or cilantro works well!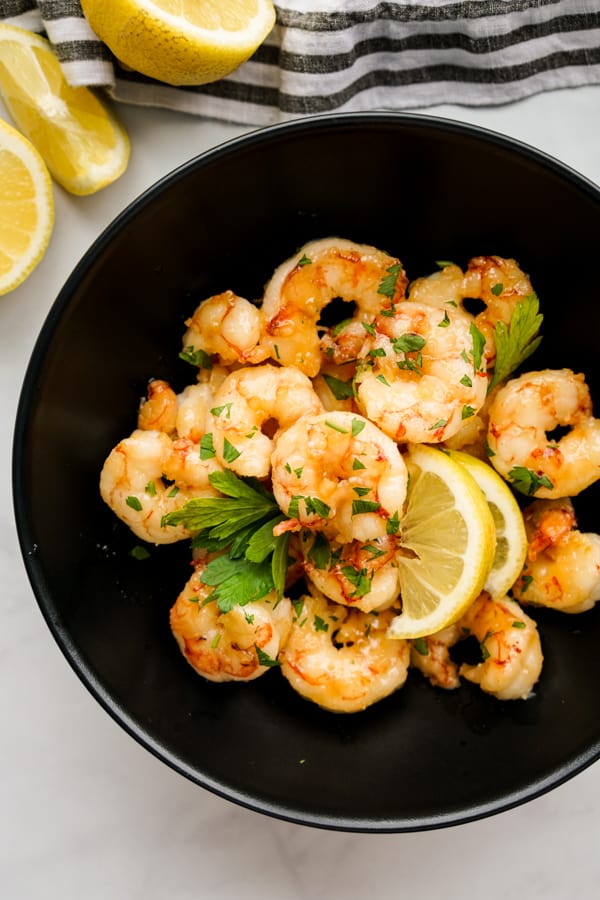 How to Make It
Let's rock this thing, shall we?
Start by grabbing a non-stick skillet. If you are not using a non-stick skillet, make sure to grease your skillet more to prevent shrimp from sticking to it.
We are also working with raw shrimp here, so keep that in mind and do not buy cooked ones.
I grew up on an island with an abundance of seafood. From my experience, the trick to a good seafood dish is truly the quality of the actual seafood itself. Sauce and spices can enhance the dish, but it is always hard to cover up the lack of freshness in the seafood.
With that being said, invest in good quality shrimp. I typically like to buy fresh from the seafood counter, however, recently I discovered that Target carries a pretty decent frozen raw jumbo shrimp (they have tail-on and tail-off options, both works). I do not know if the quality varies based on the Target locations, but I was impressed with the ones I got.
Add vegetable oil to the skillet, bring to medium high heat, and when the skillet is hot, add shrimp to it. Do not overlap shrimp on the skillet. If you double the recipes, you might want to cook in a few batches if your skillet doesn't fit everything.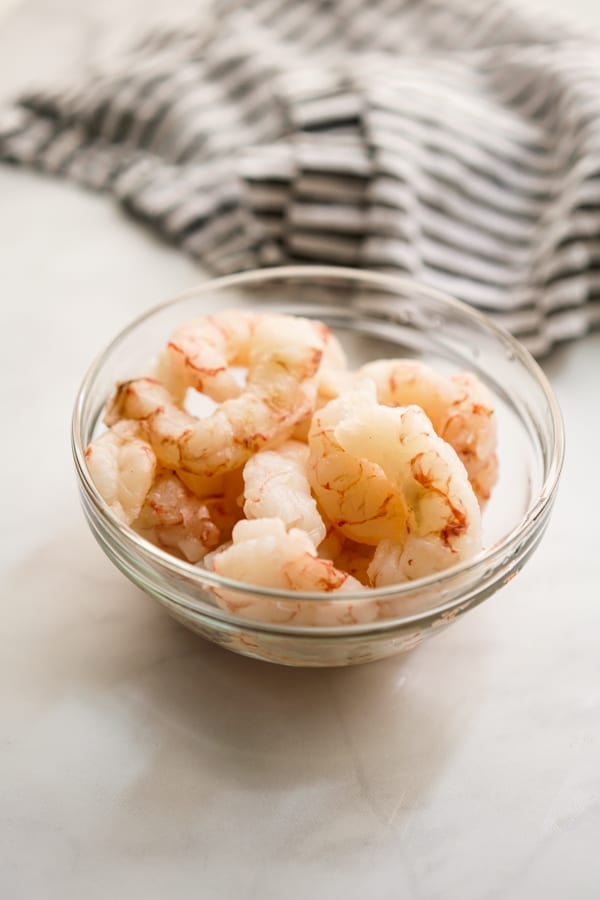 Another note about the raw shrimp – make sure to defrost completely and pat dry before cooking. The access water or ice on the shrimp will create a pool of water on the skillet, and the shrimp will be swimming in water, instead of being seared by hot oil.
Sprinkle with salt, flip shrimp over after cooking for ~2 minutes, and sprinkle with more salt on the other side of the shrimp. Cook for another ~2 minutes, or until shrimp is done. Cooked shrimp turn pink-dish/red-ish, will not longer be transparent, and will curl. Avoid overcooking shrimp.
Remove shrimp promptly from skillet once it is cook.
Next, add honey, freshly squeezed lemon juice, and minced garlic to the skillet. Scrap the bottom of the skillet to remove the juices and other good stuff from searing the shrimp so that it gives additional flavor to the sauce.
Bring sauce to a boil until it reaches your desired thickness. This sauce will not thicken a whole lot, but the longer you cook it the thicker the sauce will be.
Bring the cooked shrimp back into the skillet, stir it around so they are coated with sauce, then remove from heat promptly. This process should take a few seconds. Since the shrimp is already cooked, we don't really need to cook it further here, just trying to coat it with sauce.
Prior to serving, sprinkle with herbs such as parsley or cilantro.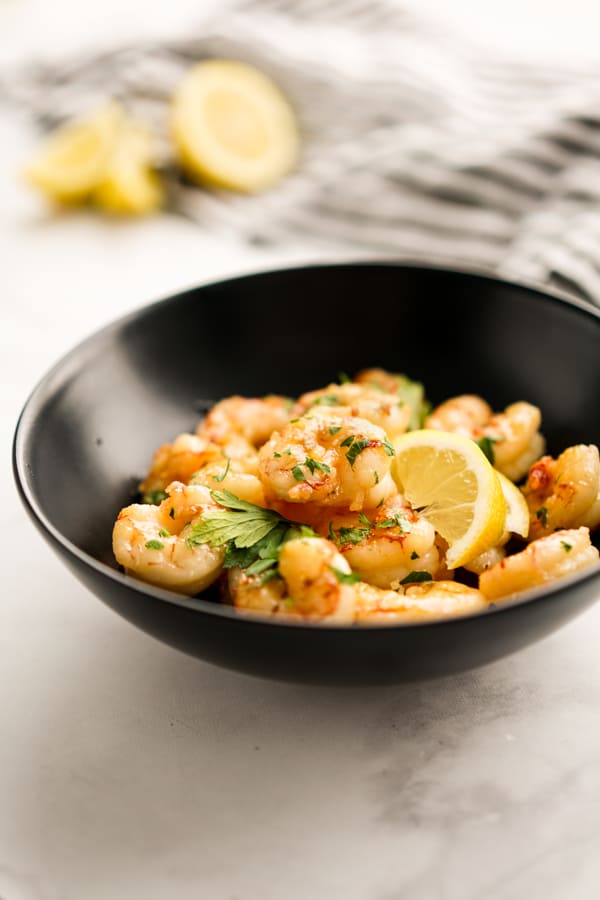 One of my favorite thing about this dish is the sauce. The sweet and tangy sauce is the perfect addition to these delicious shrimp. LOVE LOVE LOVE.
How to serve it
The sauce is so good I started dipping toasted bread in it so that I don't let it go to waste. But here are other ways to serve this dish:
And if you are feeling fancy, or have a party, or both, make it as an appetizer to kick off your main course!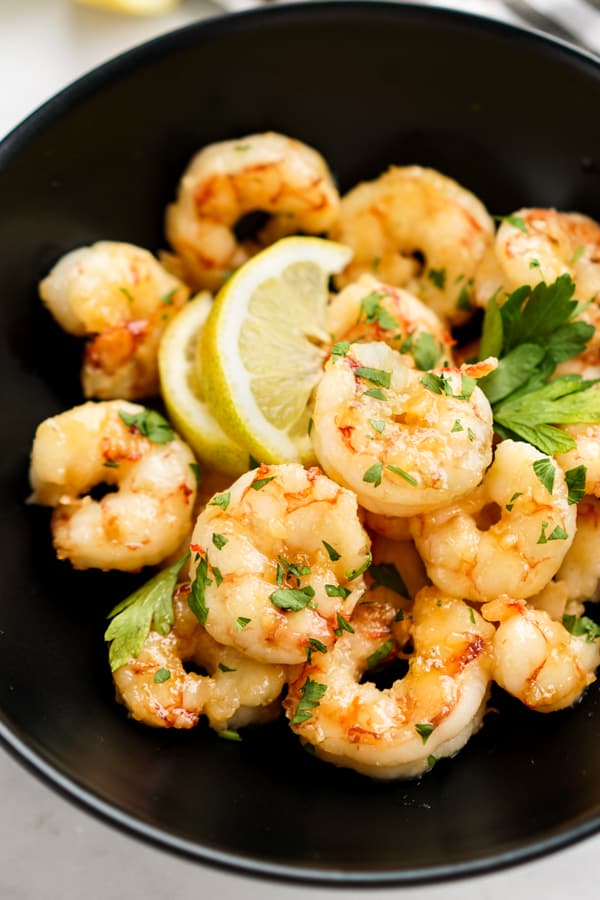 Feel free to double or triple the sauce if you are serving with lots of bread and want to take that dipping business to the extreme. I will be here cheering you on as you dip your heart out.
So good, and so easy, you need to make this one happen! Then tell me all about it in the comment boxes below! 🙂
Other Shrimp Recipes
DID YOU ENJOY THIS RECIPE? Please comment below and give us a 5-star rating! This will help others find this recipe on Google and Pinterest. We very much appreciate your help! 🤍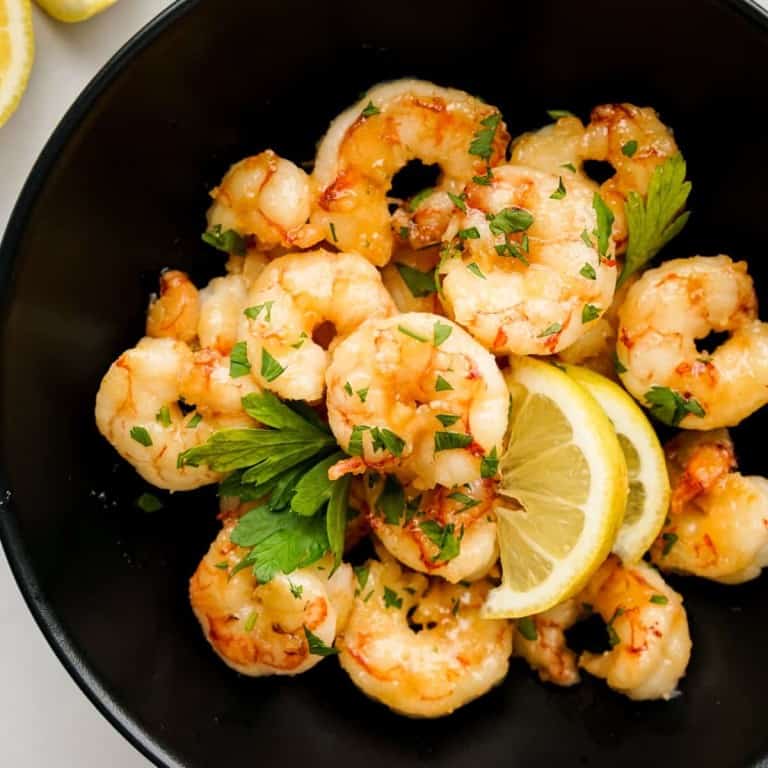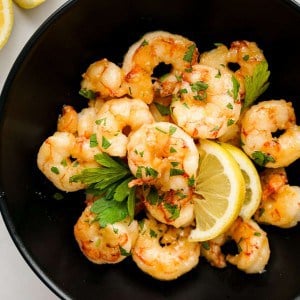 Honey Lemon Garlic Shrimp
Skillet shrimp coated in a sticky Honey Lemon Garlic glaze, garnish with lots of cilantro. The secret is in the sauce! Enjoy it with the shrimp then dip toasted French bread into the sauce to get the most out of it! YUM.
Print
Pin
Ingredients
3/4

lbs

large/jumbo raw shrimp

salt

to taste

2

tbsp

freshly squeezed lemon juice

3

tbsp

honey

1

tbsp

minced garlic

vegetable oil

1

tsp

chopped parsley

or cilantro
Instructions
Completely defrost shrimp and pat dry.

In a large skillet, add vegetable oil and heat skillet under medium high heat.

Once skillet is heated up, add shrimp to skillet. Do not overlap. Lightly sprinkle salt onto shrimp. Sear shrimp for ~2 minutes, then flip over. Lightly sprinkle salt again, and sear for another ~2 minutes, or until shrimp is done.

Remove shrimp from skillet and set aside.

Add freshly squeezed lemon juice, honey, and minced garlic onto skillet. Lightly scrap the bottom of the skillet to incorporate the juices from searing the shrimp into the sauce.

Bring to boil, then bring to medium low heat. Continue cooking sauce for a minute or so, or until the desired thickness.

Bring cooked shrimp back into skillet. Stir to coat shrimp with sauce. Remove from heat promptly.
Nutrition
Calories:
292
kcal
|
Carbohydrates:
28
g
|
Protein:
35
g
|
Fat:
4
g
|
Saturated Fat:
2
g
|
Polyunsaturated Fat:
1
g
|
Monounsaturated Fat:
1
g
|
Cholesterol:
429
mg
|
Sodium:
1614
mg
|
Potassium:
184
mg
|
Fiber:
1
g
|
Sugar:
26
g
|
Vitamin A:
5
IU
|
Vitamin C:
14
mg
|
Calcium:
257
mg
|
Iron:
4
mg