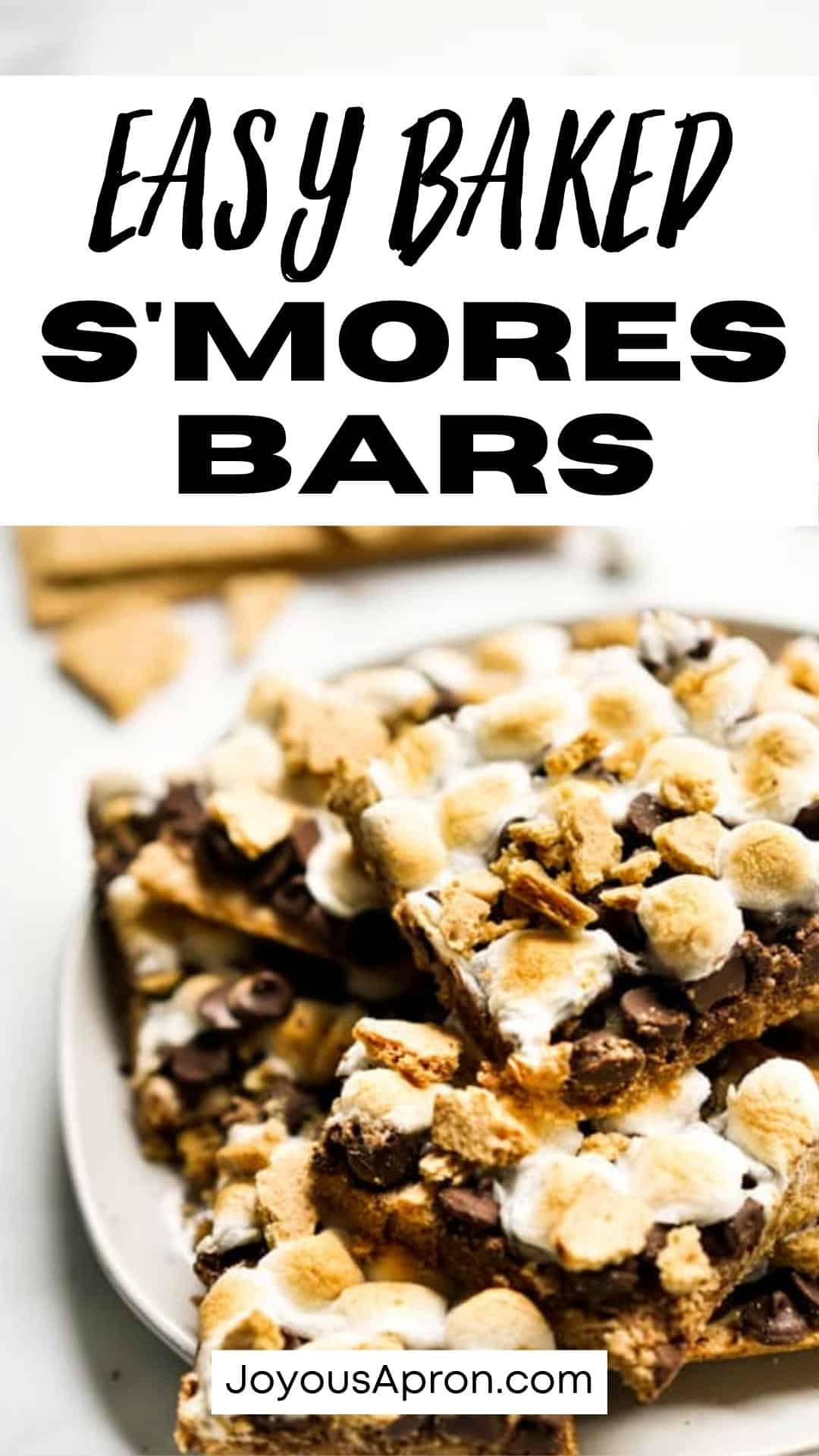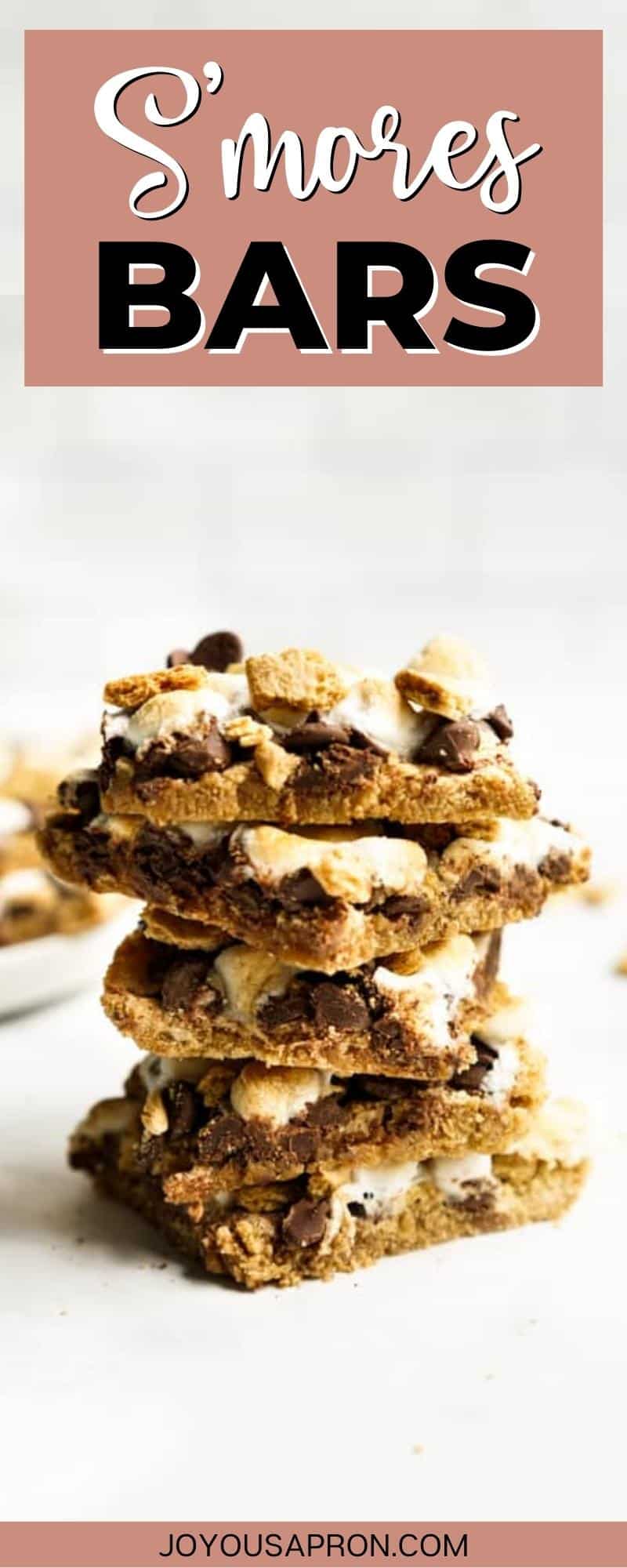 How tempting are these delicious S'mores Bars?
Layered with a crumbly graham cracker crust, chocolate and slightly charred mini marshmallow….it's summer in a nutshell. And we are officially OBSSESSED.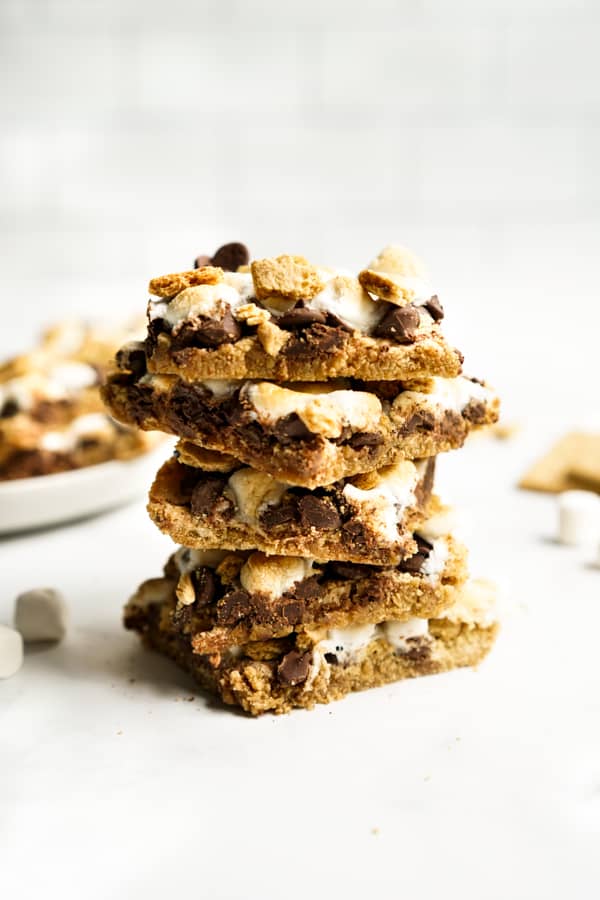 GO AHEAD. Take to bite into the melted chocolate, crumbly graham crackers, gooey marshmallow, and be forever converted as a S'mores Bars fanatic.
It's addictive, you'll get your hands dirty, but that perfect merger of flavors and textures is a transformative experience.
Another awesome thing about this recipe? Just like my S'mores Ice Cream recipe, you can make S'mores Bars anytime! No more waiting till you have a campfire. All you need is an oven in your kitchen and you can have it all the time, anytime, even during the winter months when it's snowing outside!
Ingredients
Here are the ingredients you need!
Butter
Brown sugar
Egg
Vanilla extract
Milk
All purpose flour
Baking soda
Graham crackers – this goes into the crusts and is also a topping for the S'mores Bars.
Chocolate chips – Chocolate chunks or pieces works too! Smaller pieces will melt faster
Mini marshmallows – use the mini ones so they melt faster!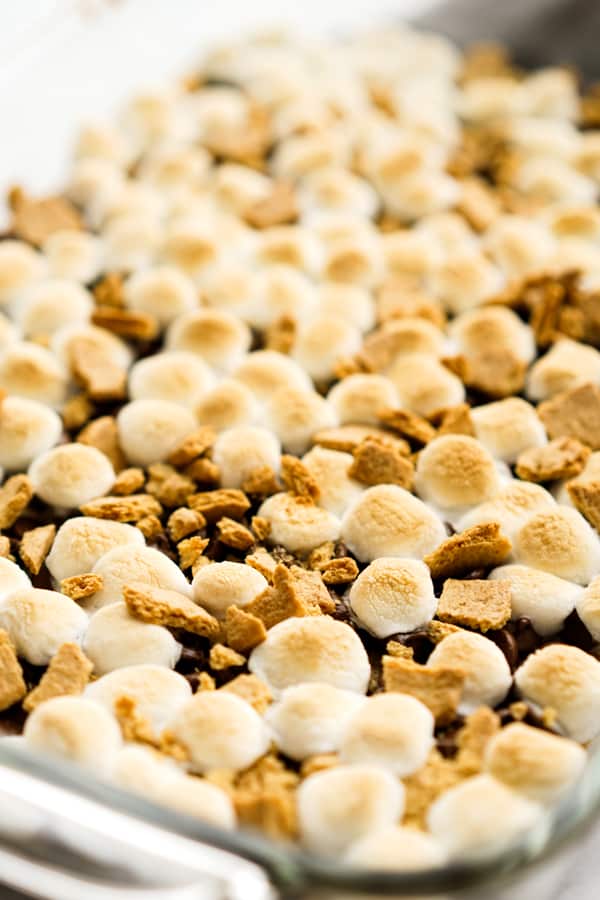 So as you can see, it's made with pantry-friendly ingredients, and it comes together in no time!
How to make S'mores Bars
You will also need a 9″x13″ rectangular casserole dish.
Start by greasing the dish with cooking spray. Then set it aside and let's get working on the graham cracker crust!
Bring softened or melted butter, brown sugar, egg, vanilla extract, milk to a big bowl and whisk to combine. Then add the dry mixture – flour, baking soda, and crushed graham crackers.
Make sure graham crackers are crushed finely so that it will incorporate well to form the crust. I typically bring graham crackers into a zip lock bag and use a meat tenderizer to beat it until they are in small fine pieces.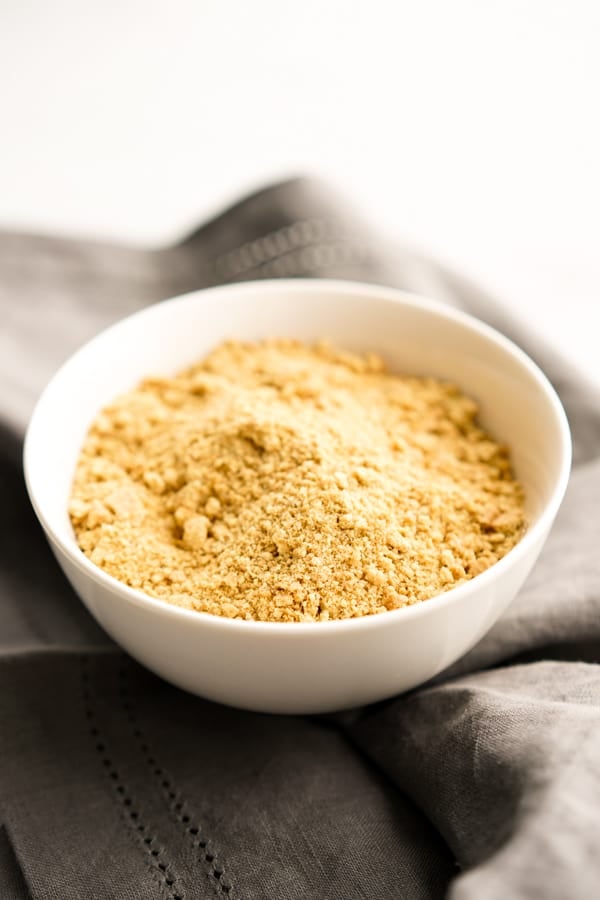 Once the mixture is combined, bring it to baking dish and spread it out evenly using a spatula.
It is a fairly thin layer but it will rise when baked because there's baking powder in it.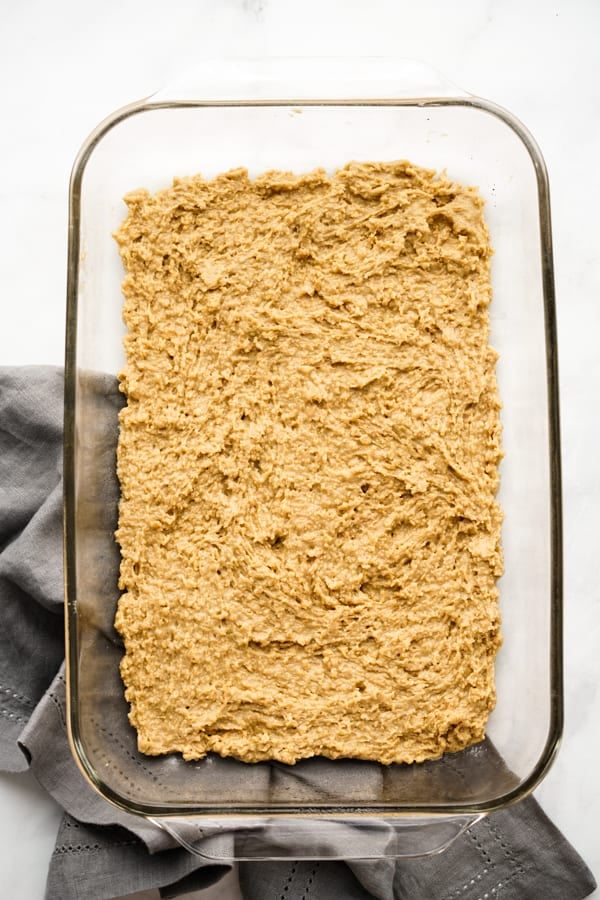 Let the crust bake and rise for about 10 minutes, then remove the baking dish from the oven and add the rest of the toppings to it
This is the fun part as we turn the crust into actual S'mores Bars! We will be adding all the important S'mores ingredients to it and then melting them in the oven so they are warm, gooey, and taste like S'mores you make in a campfire.
First comes the chocolate chips….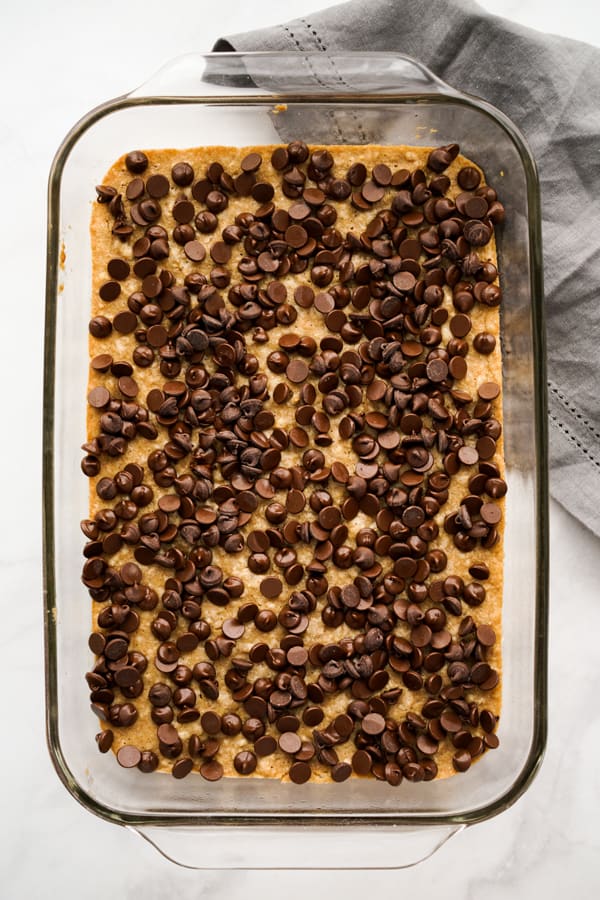 Then comes the marshmallows and graham crackers!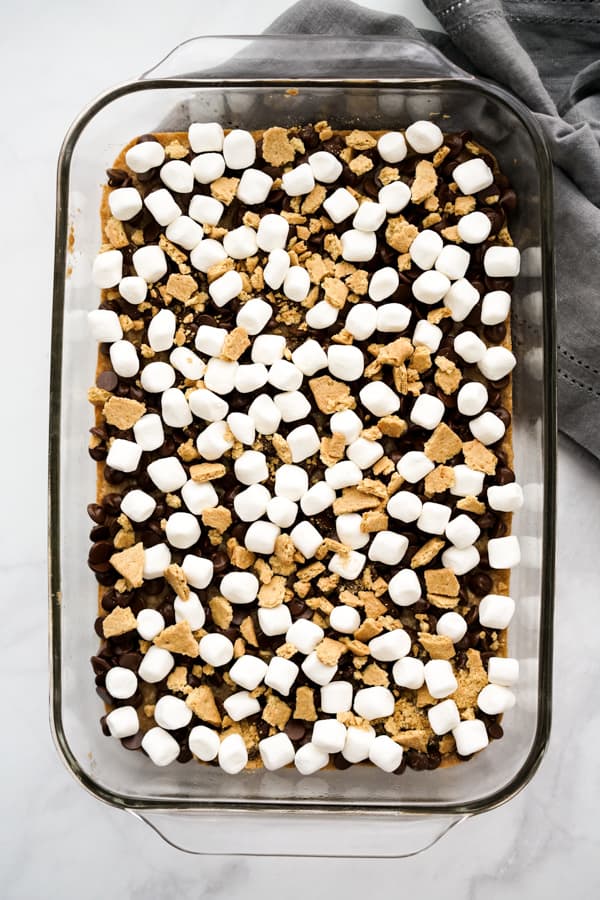 Note that graham crackers on top are in bigger pieces than the finely crushed graham crackers in the crust. What I do is I simply use my hands to break them into smaller pieces.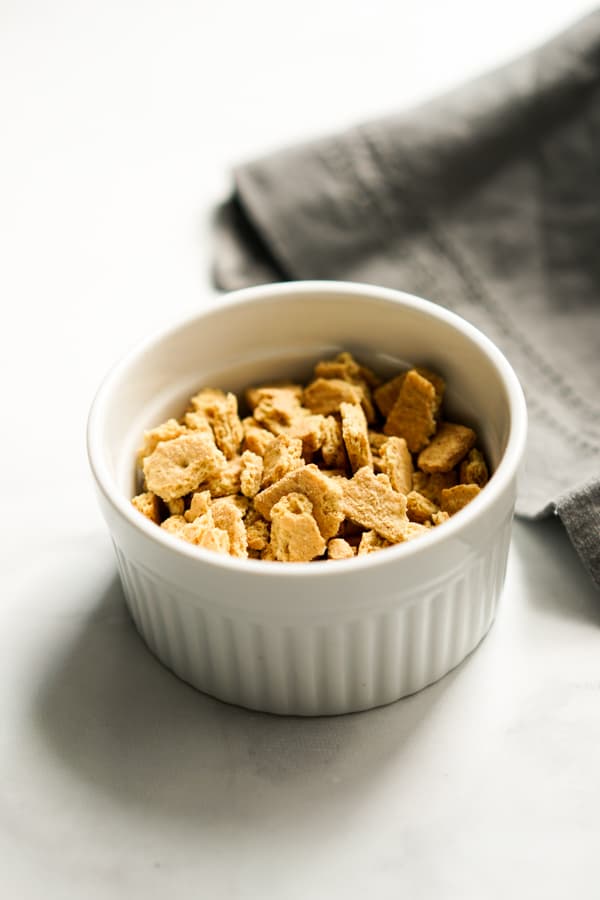 At this point, your kitchen will probably be filled with the aroma of chocolate combined with sugar and graham crackers, but hang in there with me for a little bit and bring that baking dish bake into the oven.
Bake it for 5-7 minutes, or until the chocolate and marshmallows are melted.
If you want the char the tops of the marshmallow, broil it for an additional 1-2 minutes in the oven.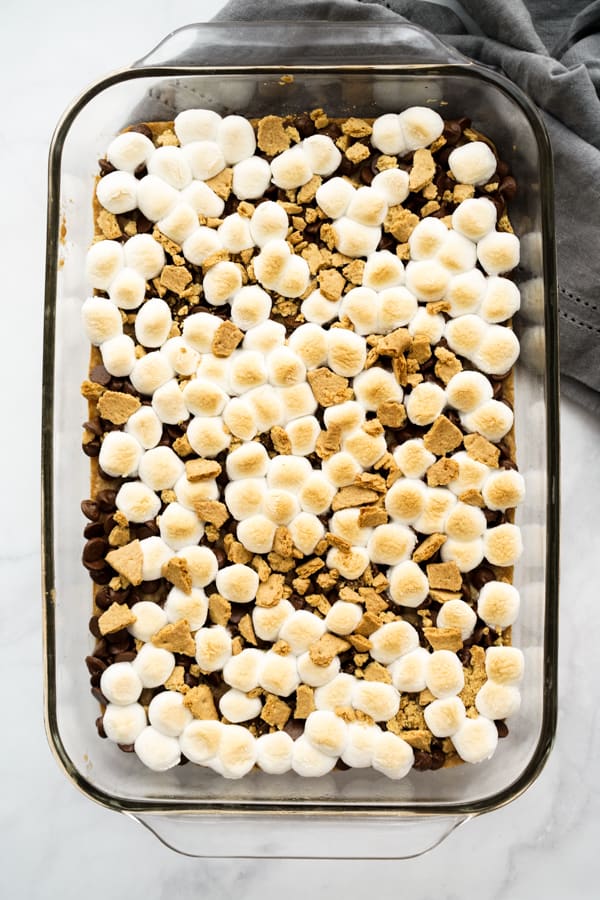 I highly recommend that we continue to practice patience and let the S'mores Bars cool completely because this is the thing, it is messy to cut into these S'mores Bars when it is warm.
We want everything to set and slightly harden before cutting into it.
Now if your patience is running out and you desperately need to stuff your face with S'mores Bars asap, have at it and go for it, just know that you won't get nice clean cuts of the squares when doing that.
I take one bite into this yum thing and I'm transported to summer nights sitting by the campfire roasting s'mores. Layers of chocolate, marshmallows and graham crackers are distinct yet merge together beautifully.
It is crumbly, buttery, gooey, rich, and everything your S'mores-loving heart will ever need! 💛
Tips and Tricks
Spray the baking sheet with cooking spray or line with parchment paper before adding ingredients to the dish.
Make sure the butter is melted or softened.
Cool S'mores Bars completely before cutting into square pieces.
Store baked S'mores Bars in airtight container for 24 hours in room temperature or up to 5 days in the refrigerator.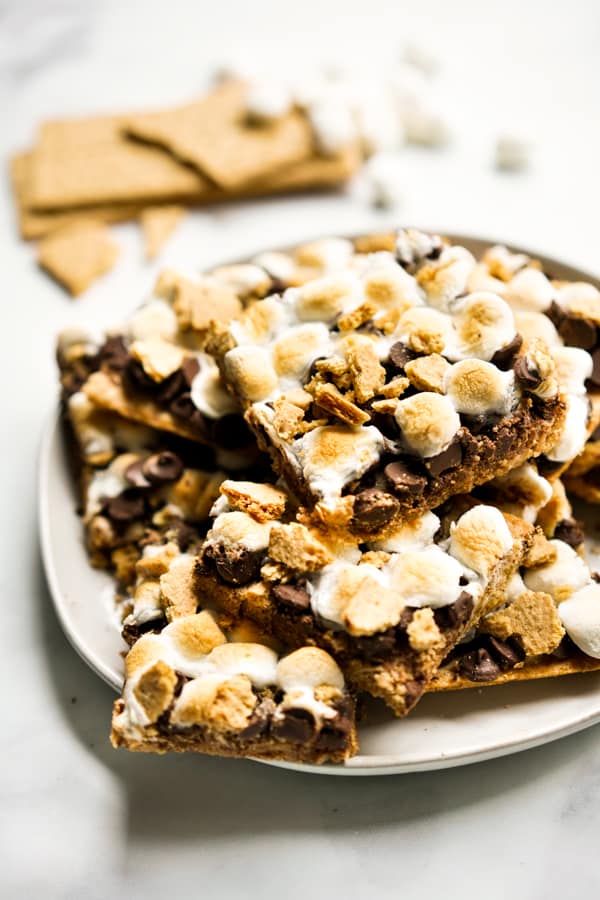 More Baked Desserts!
DID YOU ENJOY THIS RECIPE? Please comment below and give us a 5-star rating! This will help others find this recipe on Google and Pinterest. We very much appreciate your help! 🤍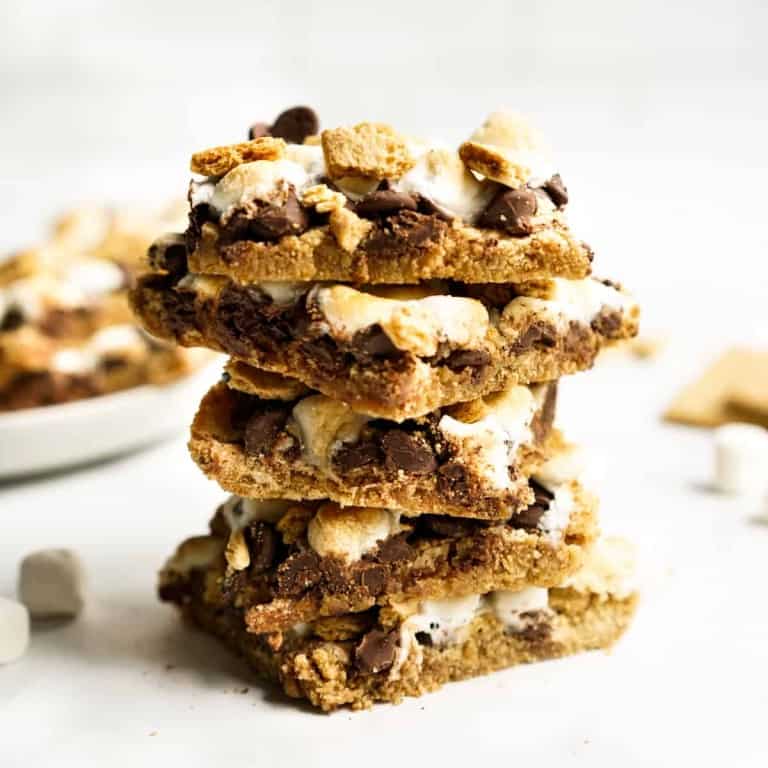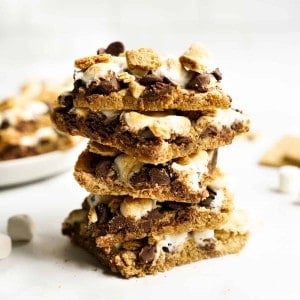 S'mores Bars
Easy and yummy dessert bars layered with everything you love in S'mores – graham cracker, marshmallow and chocolate! So delicious!
Print
Pin
Ingredients
cooking oil spray

1/4

cup

butter

softened or melted

1/2

cup

brown sugar

1

large egg

1

tsp

vanilla extract

1

tbsp

2% milk

1/2

cup

all purpose flour

1/2

tsp

baking soda

1

cup

graham crackers

finely crushed

1 1/2

cups

chocolate chips

1 1/2

cups

mini marshmallows

1/2

cup

graham crackers

break into small pieces
Instructions
Pre-heat oven to 375℉. Spray 9" x 13" baking dish with cooking spray.

In a big bowl, mix together wet ingredients – butter, brown sugar, egg, vanilla extract, and milk.

Then add these dry ingredients into wet ingredients mixture – flour, baking soda and crushed graham crackers. Mix to combine.

Evenly spread mixture onto the bottom of the baking dish, creating a thin layer. Bake in the oven for 10 minutes.

Remove baking dish from oven, then sprinkle chocolate chips, marshmallow and small pieces of graham crackers onto the top.

Bring baking dish back into the oven and bake for 5-7 minutes, or until chocolate has melted. Optional: broil for an additional 1-2 minutes to brown the tops of marshmallows.

Remove from oven and let it cool completely.

Cut into 12 square pieces. Serve and enjoy!
Nutrition
Calories:
278
kcal
|
Carbohydrates:
42
g
|
Protein:
3
g
|
Fat:
11
g
|
Saturated Fat:
6
g
|
Polyunsaturated Fat:
1
g
|
Monounsaturated Fat:
2
g
|
Trans Fat:
1
g
|
Cholesterol:
27
mg
|
Sodium:
183
mg
|
Potassium:
46
mg
|
Fiber:
1
g
|
Sugar:
29
g
|
Vitamin A:
190
IU
|
Vitamin C:
1
mg
|
Calcium:
48
mg
|
Iron:
1
mg